Here's my full list of goals I have for a lifetime, but you can also check out my yearly resolutions (20 goals in 2020) or any of our city bucket lists. Jacob doesn't keep his own bucket list, but he's always down for anything, so we have been checking these off together! <3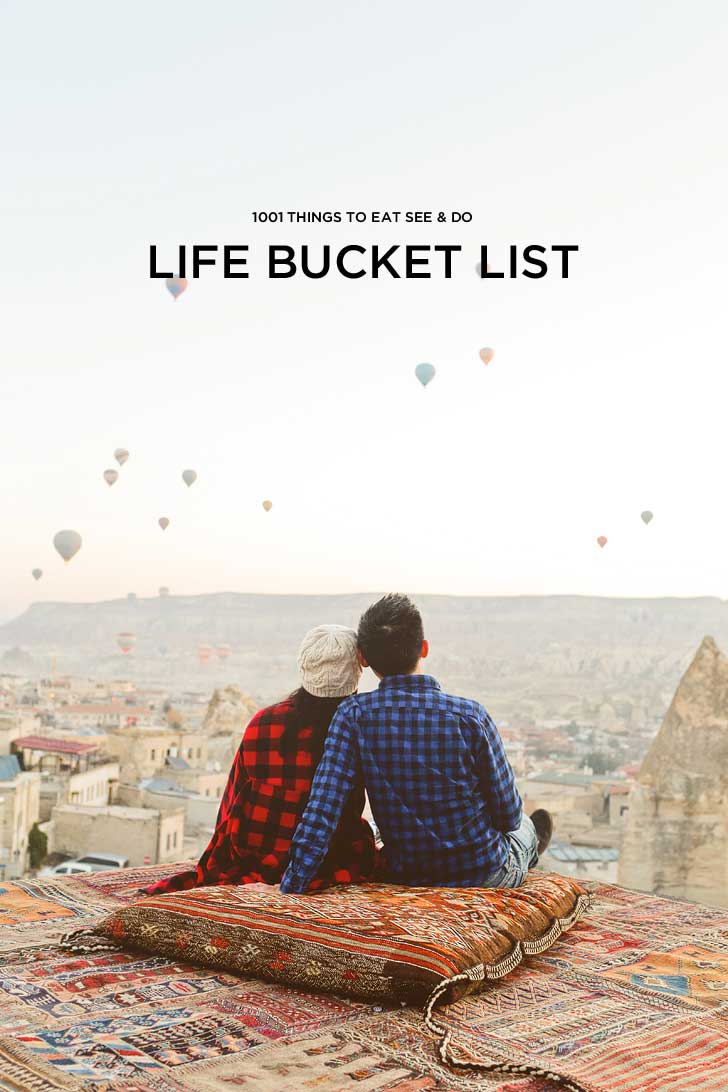 1001 AMAZING THINGS TO DO IN A LIFETIME (Our Bucket List):
USA Travel
Visit all 63 US National Parks
Visit all 400+ National Park Units
Visit all 50 states (Bonus: Visit every state capital)
Visit all the UNESCO World Heritage Sites in the US
Live in your dream city: San Diego, NYC (Next: SF) ✓
Boston, Massachusetts ✓
Four Corners Monument ✓
 Big Bend National Park, Texas (also Hamilton Pool)
 Congaree National Park, South Carolina – Go Back for the Fireflies
Take a pilgrimage to my childhood home (mine's in Iowa) ✓
Badlands National Park ✓
Bisti/De-Na-Zin Wilderness Pancakes in New Mexico
Boulder, Colorado
Canyonlands National Park, Utah ✓
Chicago, Illinois ✓
Denver, Colorado ✓
Garden of the Gods in Colorado ✓
Glass Beach in Fort Bragg California ✓
Horseshoe Bend, Page Arizona ✓
Jacob's Well in TX ✓
Lassen Volcanic National Park ✓
Miami, Florida ✓
Monument Valley in Utah (need to go back when it's not foggy) ✓
Mount Rainier National Park, Washington ✓
Mount Rushmore, South Dakota ✓
Multnomah Falls, Oregon ✓
Palouse Falls, Washington ✓
Pinnacles National Park, California ✓
Salt Lake City, Utah ✓
 Alaska – Denali National Park (Next: Katmai, Kenai Fjords, Mendenhall Ice Caves)
American Samoa
 Arizona – Sedona
Arkansas – Hot Springs National Park + Whitaker Point
 California – Laguna Beach 1000 Steps, Mammoth, Travertine Hot Springs
 Colorado – (Next: Maroon Bells, Rocky Mountain NP, Silverthorne Ice Castles, Strawberry Hot Springs)
 Florida (Next: Dry Tortugas, Everglades)
 Georgia – (Next: Savannah)
Great Lakes – Swim in all of them
Hawaii – Haiku Stairs of Oahu, Nahiku Waterfall in Maui, Hawaii Volcanoes National Park
Michigan – Eben Ice Caves, Isle Royale
Minnesota – Voyageurs
Missouri – St Louis City Museum
New England for fall foliage ✓
New Hampshire – Lincoln Town
 New Mexico – Carlsbad Caverns National Park
North Carolina – Asheville, Great Smoky Mountains National Park
 Utah – Salt Flats, UP House
 Washington – Skagit Tulip Festival (April)
International Travel
Visit Every Continent (6/7) – Time to Plan Antarctica!
Visit Every Country (39/196)
Visit Every UNESCO World Heritage Site (1052)
Visit Every Capital City in Europe
Visit One National Park in Every Country (that has one)
Visit every National Park in the World (3087+)
Italy – Colosseum in Rome + Venice Canals
Vatican City ✓
 London (Next: Recreate the Beatles Cover at Abbey Road)
 Singapore (Next: swim at Marina Bay Sands)
Egypt – Pyramids of Giza Necropolis ✓
 Indonesia (Next: Ulun Danu Beratan Temple in Bali)
 Portugal – Douro River Cruise, Livraria Lello in Porto (Next: Azores Islands)
 Spain (Next: Mallorca, Barcelona, San Sebastian)
 South Africa (Cape Town, Joburg, Durban + Still need Cape Agulhas)
 Turkey (Istanbul & Cappadocia)
Vietnam – Ha Long Bay
Algeria -Tassili n'Ajjer National Park + The Hoggar Mountains / Tamanrasset
Angola – Giant Sables in Quicama National Park + the Himba Tribe in Namibe
Antarctica
Argentina – Patagonia
Aruba – Flamingo Beach
Australia – Melbourne, Sydney, Twelve Apostles, Kangaroo Island ✓ + Pink Lake Hillier in Middle Island + White Haven Beach + Bird Watching on Christmas Island
Bahamas – Pink Sand Beach at Harbour Island
Belize Barrier Reef Reserve
Benin – Ganvie at Lake Nokoue
Bolivia's Salar de Uyuni
Brazil – Iguazu Falls + Christ the Redeemer in Rio de Janeiro
Bulgaria – Devetashkata Cave
Canada – Haida Gwaii in BC + Spotted Lake / Khiluk, Osoyoos, BC + Dusty Rose Lake in BC
Cambodia – Angkor Wat
Chad – Zakouma National Park
Chile – Elqui Valley (stargazing) + Marble Caves in Chile Chico + Easter Island
China – Pearl Waterfall in Jiuzhaigou Valley + Rice Field Terraces in Yunnan + Walk of Faith, Zhangjiajie National Forest Park / Hallelujah Mountain of Avatar
Corsica
Cote D'Ivoire – Yamoussoukro Basilica
Cuba
Czech Republic – Prague Castle (largest castle in the world)
Democratic Republic of the Congo – Wagenya Fisherman at Boyoma Falls
Djibouti – Lac Assal in Tadjourah Region
Egypt – Abu Simbel Temples in Aswan
Ethiopia – Danakil Depression in the Afar Region + Church of St George in Lalibela + Rock Churches of Tigray
Faroe Islands
France – Paris
Greece – Meteora
Greenland – Ice Canyon
Guatemala – Tikal Pyramids
Guyana – Kaieteur Falls in Kaieteur National Park in Essequibo
Hong Kong
Hungary – Budapest
India – Taj Majal
Ireland – Giant's Causeway in Northern Ireland
Italy – Amalfi Coast
Lebanon – Baatara Gorge Waterfall in Tannourine
Libya – Sabratha Ruins in the Zawiya District
Macedonia
Madagascar – Avenue of Baobabs in the Menabe Region + Tsingy de Bemaraha National Park in the Melaky Region
Malawi – Gule Wamkulu Malawi Lake
Mali – The Great Mosque in Djenne
Mauritania – Terjit Oasis in the Adrar Region
Maldives – Sea of Stars, Vaadhoo Island
Micronesia – Nan Madol in Nanwei
Namibia – Wind Cathedral in Namibia
Netherlands – Tulip Fields in Amsterdam
New Zealand – Middle Earth
Norway – Fjords, Trolltunga, Pulpit Rock in Preikestolen
Papua New Guinea
Russia – St. Basil's Cathedral in Moscow
Senegal – Lac Rose or Lake Retba
Seychelles – Anse Source D'Argent Beach in La Digue
Somalia – Laas Geel Cave Paintings in Somaliland
Spain – Salina de Torrevieja (SE Spain)
Sri Lanka
St Kitts
St Vincent and the Grenadines
Sudan – Meroe Pyramids in Kabushiya
Taiwan
Tanzania – The Maasai Tribe in Arusha
Togo – Takienta in Koutammakou
Thailand
Tunisia – Amphitheatre of El Djem
Turkey – Pamukkale, Resting Place of Noah's Ark
UAE – Abu Dhabi
Vietnam – Largest Cave + Pongua Falls
Venezuela – Angel Falls (inspired UP) + Mount Roraima (inspired UP)
Zambia – Victoria Falls
Experiences:
 Travel solo ✓
Backpack through Europe ✓
 Travel full time for at least a year ✓
Throw a dart at a map and go there
 Go to the airport or train station and take a random trip
Go Couchsurfing (in Verona, Italy) ✓
Go on a cross-country road trip – 6x East coast to West coast and once Mexico to Canada ✓
Drive Route 66
Drive along the Amalfi Coast
Travel cross-country via train
Fly in a private jet
Zero gravity flight
 Mediterranean Cruise
 Go to the Opera
Go to the Ballet ✓
Go backstage at a concert
See Flight of the Conchords live
Go to Saturday Night Live Taping
 Walk a suspension bridge (during Christmas is even better) ✓
 Go on a hot air balloon ride (in Temecula California) ✓
Go parasailing (in Indonesia) ✓
Ride a glider plane ✓
Ride in a tuk-tuk ✓
Ride a hoverboard ✓
Ride a motorcycle ✓
 Ride the cable car in SF ✓
 Ride a ferry ✓
 Ride in a gondola in Venice, Italy
 Ride the 10 largest coasters in the world
Flyboard ✓
Cliff Jumping ✓
 Kayaking ✓
Ride a camel (in Egypt ✓)
Ride a horse
Ride an ostrich
Ride the carriage around Central Park
Go see a movie at a drive-in theatre ✓
Go see the Room (bring plastic spoons) ✓
Bathe in a hot spring – in Kyrgyzstan ✓
 Go to all four Disney World parks in one day ✓
Attend a movie premiere ✓
Go to the Olympics
Go to the Superbowl
Attend the Kentucky Derby
Watch sumo wrestling
Try archery / Learn to shoot a bow (Next: hit the bullseye)
Learn to swim properly
Fly an airplane ✓
 Ride a submarine
Dark sky night hike (try this one)
Walk on the red carpet ✓
 Attend a black-tie gala ✓
 Play blackjack in Las Vegas ✓
 Test drive a Ferrari or Lambo
Shop on Rodeo Drive (bonus: in the private shopping rooms) ✓
Attend a luau and wear a fresh lei
Attend a masquerade at the Palace of Versailles
 Take a tree climbing course
Axe Throwing ✓
Albuquerque Balloon Fiesta (First week of Oct) ✓
 Hot air ballooning in Bagan, Myanmar + Burgundy, France + Serengeti National Park to see Wildebeest migration, Tanzania
 Party on a Yacht
 Lantern Festival in Pingxi Taiwan (late Feb / early Mar)
 Yi Peng Festival of Lights in Chiang Mai Thailand
Lantern Floating in Hawaii (Memorial Day)
 Snow and Ice Festival in Harbin, China (Jan 5-Feb 5)
 Holi Festival in India (end of Feb – mid-March)
 Mud Festival in Boryeong, Korea (July) ✓
Burning Man
 Coachella
 La Tomatina in Buñol Spain (last Wed in Aug)
 Carnevale in Venice, Italy (late Jan / early Feb)
 Carnaval in Rio, Brazil (late Feb / early Mar)
 Tomorrowland in Belgium (late July)
 Dia de los Muertos in Mexico City or LA (Nov 1)
 Running of the bulls in Pamplona, Spain (Jul 6-14)
 Swaziland – Umhlanga Festival at Ludzidzini Royal Village
 Mongol Rally
Watch the sunrise and sunset in one day (not on a plane)
Photograph the Sun Portal (Dec-Jan; Winter Solstice)
Watch a Total Eclipse / Solar Eclipse ✓
 Watch a rocket launch
 Watch the Green Flash in Hawaii
See an active volcano up close
Storm Chasing
Stay on a private island
Stay at a dude ranch
Stay at the world's most expensive hotel
Sleep in an ice hotel
Sleep in a castle
Sleep in a lighthouse
Sleep in an igloo
Sleep at an underwater hotel
Sleep among polar bears in Churchill
Watch a bear eat a jumping salmon during the salmon run
Fish and eat your own catch
Deep-Sea Fishing
Fly fishing
Ice Fishing
Dig for Clams
Shuck oysters
Central African Republic – Gorilla Tracking in Dzanga Sangha National Park / Special Reserve
Hug a koala bear
Horseback Ride on the Beach
Morocco – Camel Trek, Horseback riding in the Atlas Mountains Marrakech
Camel Trek on the Silk Road in Xinjiang in China
Comoros & Mayotte – Swim with Turtles at N'Gouja Beach
Congo – Jungle Trek in Odzala-Kokoua National Park
Reindeer sledding in Sweden
Sleigh ride in a Winter Wonderland (Dec – Feb Wyoming)
Go dog sledding in Scandinavia
Bathe an elephant
Kruger Wilderness Trails and Animal Encounters
Botswana – African Photo Safari + Cycling Safari at Mashatu Game Reserve + Safari on Elephant Okavango Delta.
Kenya – Lewa Marathon with Lewa Wildlife Conservancy
Kenya – Horseback Safari in Maasai Mara
Thailand – Flight of the Gibbons
South Africa – Sardine Run
Release baby turtles into the ocean
Photograph the Greater Bird of Paradise in West Papua Indonesia
 Ride a luge ✓
Ride a segway
Ride a tandem bike
Bike across the Golden Gate Bridge
Roller Skate along Venice Beach
Sandstorms in Erg Chebi, Morocco
 Sandboarding (Next: Dubai)
 Ski / snowboard lessons (Next: Aspen)
Go zorbing (in Dorset, UK)
 Hang gliding Rio De Janeiro
 Hang gliding in Interlaken, Switzerland
Learn to slackline
Rappel / Abseil (Next: In Maletsunyane Falls, Lesotho + Canyoneering in Grand Staircase Escalante)
 Zipline in the Dolomites in Italy
 Zipline in Cape Tribulation in Queensland Australia
 Zipline in Costa Rica
 Bungee Jump from Macau Tower
 The Nevis Bungee
 Verzasca Dam Bungee Jump in Switzerland
 Skydive at Victoria Falls, Zambia, Kamchatka, Russia, or the East Coast of Australia
 Scotland – Ride the Jacobite 
 New Zealand – Heli Hiking on Franz Josef
 Australia – Climb Harbour Bridge
Have a warm Christmas (in Australia) ✓
 Participate in flash mob (with Improv Everywhere & Jimmy Kimmel Live) ✓
 Water ski ✓
 Learn to Sail
 Kayak Tasman Lake in New Zealand
 Kayak with Orcas in Johnstone Straight Canada
 Kayak in Antarctica
 Kayak the Sainte-Luce Reserve, Madagascar
 River Tubing at Vang Vieng, Laos
 Bamboo Rafting in Chiang Mai
 Go whitewater rafting ✓
 Whitewater rafting in the Grand Canyon
 Whitewater rafting the Amazon Basin, Ecuador
 Cape Verde – Windsurfing in Boa Vista
Float in the Dead Sea ✓
 Go skinny dipping
 Swim the Blue Lagoon in Iceland (missed it bc we didn't book reservations way ahead of time!)
 Swim in the Devil's Pool in Zambia
Swim in the Marble Caves of Patagonia
 Cage diving with sharks
 Crocasaurus Cove in Australia
Swim with wild dolphins in Kaikoura, New Zealand
Swim with stingrays
Swim with pigs
Polar bear plunge (Bonus: in Antartica)
Snorkel in Ambergris Caye Belize
Snuba
Dive at 1000 Steps Beach
Dive in Moorea, French Polynesia
Dive Socotra, Yemen (pristine corals & wrecks + least recognized)
Dive the Great Barrier Reef
Dive the Similan Islands National Park (Thailand)
Dive the Devil's Crown (Galapagos Islands)
Dive in Perhentian Islands (Malaysia)
Dive with Rays in Cayman Islands
Dive with Narwhals in Newfoundland
Dive in Pulau, Sipadan, Borneo
Dive to the Titanic
Egypt – Wreck Diving in SS Thistlegorm
Mauritius – Diving at Rempart Serpent
…
Fitness / Health / Hikes / Climbs
 Aerial Silks ✓
Aqua Cycling
 Barre Class ✓
Soulcycle
 Surfset ✓
 Kickbox ✓
 Finish Insanity ✓
 Couch to 5k running plan ✓
Participate in Warrior Dash
Learn to play tennis
Do 60 pounds in shoulder press (for a bet with Andrew)
Fit back into my skinny jeans comfortably
Don't eat out for an entire month
 Don't drink diet coke for 1 month ✓
 The Narrows in Zion (Next: The Subway)  ✓
Appalachian Trail (or parts of it)
The PCT (or parts of it)
Continental Divide Trail (parts of it)
Black Angel Trail in New Hampshire
Canada – Sunshine Coast Trail in BC
Caribou Tracks in Gates of the Arctic NP Alaska
Cascade Mountain in NY
Castle Dome in Castle Crags State Park
Chilkoot Trail in Alaska / Canada
Dosewallips to Lake Quinault in Olympic NP (34 mi)
Elephant Canyon in Canyonlands
Elwodsen Trail in Big Sur
Foxen Canyon Wine Trail in California
Franconia Ridge Loop in New Hampshire
Grand Canyon Rim to Rim in Arizona
Grayson Highlands in Virginia
 Grinnell Glacier Overlook Trail in Glacier NP
Halemau'u Trail in Hawaii
Highline Trail in Glacier National Park
Jewels Route in Arizona
John Muir Trail
Kalalau Trail in Hawaii
Kelso Dunes in Mohave National Preserve
Kings Peak in Utah
Lassen Peak in Lassen National Park
Long Trail in Vermont
Lost Coast in California
Mt Diablo in Mt Diablo State Park California
Mount Baldy in California
Mount Whitney
Muliwai Trail in Hawaii
North Vista Trail in Gunnison National Park
Pilgrim Creek Trail in Wyoming
Precipice Trail in Acadia National Park
Root Glacier Trail in Alaska
Sandstone Peak in Malibu
Savage River Canyon Trail in Denali
Sierra High Route in California
Snake Bight Trail in Everglades
Solomon Gulch Trail in Valdez Alaska (3.8 mi)
Timberline Trail in Oregon
Titcomb Basin Trail in Wyoming
Telescope Peak outside Death Valley
Upper Salt Wash in Utah
Whiskeytown Falls in Whiskeytown National Recreation Area
Wyoming Cascade Canyon Trail
Yosemite Grand Traverse in California
Aconcagua in Argentina
Ancascocha Trail in Peru (19 mi)
Bay of Fires in Tasmania
Bibbulmun Track in Australia
Cinque Terre National Park
Croagh Patrick in Ireland
El Choro Inca Trail in Peru
Everest Base Camp in Nepal (40 mi)
Fitz Roy Trek in Patagonia
Grindelwald in Switzerland
Israel National Trail
Kungsleden in Sweden
Larres Valley in Peru
Laugavegurinn / Fimmvörðuháls Pass in Iceland
Long Range Traverse, Newfoundland, Canada (25 mi)
Mayan Temple trekking in Tikal Guatamala
Milford Track in New Zealand
Mountains of the Moon in Uganda
Overland Track in Tasmania Australia (40 mi)
Petra in Jordan
Queen Charlotte Track in New Zealand
Santa Cruz Trek in Peru
Skyline Trail in Alberta
Tanzania – Mount Kilimanjaro
Tongariro Northern Circuit in New Zealand
Tonquin Valley in Alberta Canada
Tour de Mont Blanc (parts of it)
Uran Chirripo Loop in Costa Rica
Urique-Batopilas Trail in Copper Canyon Mexico (30 mi)
White Mountain in Inyo County
Food Experiences + Cooking
Oktoberfest in Germany (last week Sept – first weekend of Oct)
Champagne tasting in Champagne
Guinness in Ireland (Bonus if it's St Patty's Day)
 Do a tea tasting in China ✓
Do a tea tasting in Japan
 Have drinks at an Ice Bar ✓
Drink around the world at Epcot
Grape stomping at a vineyard
 Afternoon Tea in the UK ✓
 Eat fried everything at the fair ✓
 Attend a crawfish boil ✓
Truffle Hunting (Bonus: hunt for truffles at twilight in Croatia)
Cut down your own coconut from a tree
Cooking class with a celebrity chef
Cooking class in Italy
Perfect one cocktail (the old fashioned for me)
Make pasta from scratch
Make cookies from scratch ✓
Make every recipe in a recipe book
Find my 12 healthy go-to recipes
Dine in the dark
Order room service ✓
Egg Custard Tart at Golden Gate Bakery (They're always closed!)
Eat in a celebrity chef's restaurant (Las Vegas) ✓
Barcelona
Tuscany Foodcation
Bangkok Foodcation
Copenhagen Foodcation
Tokyo Foodcation
Paris Foodcation
Hong Kong Foodcation
Oaxaco, Mexico Foodcation
Eat at Joel Robuchon (any location)
Eat at Addison (San Diego)
Mille Fleurs (San Diego / Rancho Sante Fe)
Eat at n'naka (LA)
Animal (LA)
Eat at Sukiyabashi Jiro (Tokyo)
Alinea, Chicago
Saison, San Francisco
Benu, San Francisco
Grace, Chicago
Volt Restaurant, Maryland
Daniel (NYC Upper East Side, michelin ✩✩)
Soto (NYC West Village, michelin ✩✩)
Jean-Gorges, NYC ✓
Le Bernardin, NYC
Eleven Madison Park, NYC ✓
Peter Luger's Steak House, NYC ✓
Chef's Table at Brooklyn Fare, NYC ✓
Masa, NYC ✓
Per Se, NYC ✓
Joel Robuchon, Las Vegas ✓
Bazaar Meats by Jose Andre ✓
….
Education / Career / Finance
 Graduate with an undergrad degree (bachelors in science) ✓
Get a masters degree
Pay off all loans and be debt-free ✓
Live in a house on the beach
Live in a tiny home
Have all "adult" furniture
 Start your own business – photography and this blog ✓
Earn over 6 figures
Teach a photography class ✓
Get fan mail ✓
Create an e-course
Make an App
Put together a commercial portfolio
Publish a photography book
Do a photography series
Be able to support ourselves and give away 50% of income to support others
Make youtube videos until I'm comfortable in front of the camera
Film a documentary
…
Personal Growth / Marriage / Paying it Fwd:
 Write a letter to myself to open in 10 years ✓
Create a wardrobe you're proud of
 Read the bible cover to cover in one year ✓
 Journal 1000 things I'm Thankful for (Next: 2000) ✓
Write a list of 101 life lessons
 Volunteer abroad – 3 months in Egypt ✓
 Give a public speech ✓
 Fill Gratitude jar with at least 52 notes ✓
Project 333: 33 pieces of clothes for 3 months
Declutter entire home
Organize the all my computer files and create an efficient workflow
Zero Waste Challenge
Journal once a week for an entire year
Don't complain about anything for one week
Turn off all electronics for one week
Finish all exercises in 7 principles of marriage
Complete the 3 year journal
Learn to talk to strangers (have 10 go-to phrases you're comfortable with)
Read the bible every day no matter how little
Read a devotional together
Go without driving or using electricity for 24 hours (in the US, not camping)
Go without talking for 24 hours
Write your memoir
Join a small group
Renew vows
Celebrate our 50th wedding anniversary
 Loan money on Kiva (if you sign up using this link, you can help me loan another $25) ✓
 Go on a Relief trip (New Orleans, Haiti, Philippines) ✓
 Send a care package to a soldier ✓
 Volunteer at an animal shelter ✓
 Work on a Habitat for Humanity Home ✓
 Help with photography for a non-profit ✓
 Pay a stranger's toll ✓
 Throw someone a surprise party ✓
 Make a meal and take it to a neighbor ✓
 Send one handwritten letter a month for 1 year ✓
 Participate in Operation Christmas Child ✓
Write 50 encouraging notes and leave them all over the city
Learn the Heimlich maneuver
Learn CPR
Learn Self Defense
Try street performing / busking
Send a box of our fave donuts / bagels / muffins to a construction site
Send my parents on a nice vacation
Anonymously pay the dinner bill for someone / maybe some college students.
Buy morning coffee for the person behind you
Put change in someone's expired parking meter
Pay the grocery bill for someone behind you
Bring flowers to a nursing home
Leave a 100% tip for good service.
Hobbies + Creativity
Make jewelry ✓
Make candles
Build a bike ✓
Learn basic knitting & crocheting ✓
Learn glass blowing ✓
Take a painting class ✓
Learn to tie these 20 knots
Open an etsy shop, Zazzle, or CafePress
Paint and frame own painting
Learn to watercolor
Complete a granny square blanket
Complete a 365 (with camera) and blog it
Do the 50 states photography challenge
52 photo projects in 52 weeks
Make one pinterest craft a month for a year
Create own font
Learn calligraphy
Create a personal cookbook with 52 favorite recipes (one a wk)
Participate in a craft exchange with at least one friend
Sew something you can wear / learn to hem pants
Make a pie from scratch
Learn to brew own beer
Learn to pickle something
Learn to make jam
Make some art with light painting
Take a cooking course
Take a food style course
Learn to cook an elaborate 5-course meal
Learn to cook 15 basic Korean meals
…
Learning / Reading / Writing:
 Learn a foreign language ✓
 Complete Rosetta Stone Level 1, 2, 3 Italian ✓
 Learn to play basic chords on the guitar ✓
 Learn to swing dance ✓
 Learn to salsa ✓
 Learn to line dance
 Learn to hula dance
 Learn to tango ✓
 Learn a choreographed dance – tangoed at our wedding! ✓
 Take a wine class ✓
 Learn to change a tire ✓
 Learn to do an oil change ✓
 Read all the books currently on my shelf
 Read a banned book
 Read 36 books in a year 3 / mo
 Read these 100 Books to Read in a Lifetime
 Read 30 books from the 1001 Books You Must Read Before You Die list
 Read the whole encyclopedia
 Read a whole dictionary
 Complete Rosetta Stone Level 1, 2, 3 Spanish
 Learn a new GRE word a week for a whole year
 Learn sign language
 Take speech classes or join Toastmasters
 Publish a book
 Join NaNoWriMo
Learn to write with my left hand
 Take a beginner's improv class
 Finish the last piano piece I was playing before I quit
 Write a song
 Brush up on Korean Rosetta Stone Korean Lvl 1-3
 Join a book club
…
Miscellaneous
 Get a tattoo ✓
 Smoke a Cuban cigar ✓
 Get a masters in taco mac's brewniversity (PhD next?) ✓
 Be a bridesmaid ✓
 Buy a lotto ticket ✓
 Set a world record ✓
 Win a Bingo ✓
 Win a slap bet ✓
 Be in a viral video with over 1M hits ✓
 Be on TV ✓ A National Comercial, Jacob was on Jimmy Fallon
Solve a Rubik's cube
 Leash train our cats so we can walk them! ✓
Learn to juggle
Learn a party trick
Do a handstand (haven't been able to as an adult)
Send a message in bottle
Bury a time capsule
Have a real Christmas tree
Go shopping with a personal stylist
Invent something
Get a family portrait painted of us
Create and pass down a family heirloom
Create your family tree
Create your own puzzle
Name a star after you
Make a build-a-bear
Milk a cow
Meet our doppelgangers
Meet the president (maybe not this one)
Host a couchsurfer
 Have a professional photoshoot done of us ✓
Take a giraffed photo with Conan
…
As you can see, it's a work in progress… and I'm still adding every day! Do you have any suggestions?! :) I'm always drawing inspiration from other people's bucket lists to add to mine, so hopefully likewise, this list can also inspire you to add to yours.
Also, read our why you should make a reverse bucket list + 7 reasons not to make a bucket list (had to have one from the opposing side!)
If you already have one or made one recently, I'd love to see them. Link them in the comments below!