The rain pitter-pattered on our windshield as we glanced at each other with a defeated look. As our window to the outside world started to blur with the heavier rain, we pulled on our raincoats and secured our gear. After a few more moments, we each took a deep breath and stepped outside into the cold rain.
Samuel H. Boardman State Scenic Corridor is one of Oregon's best-kept secrets. Okay, it might not be that much of a secret on instagram, but because it's located on the southwest corner of Oregon, not many people make it there. If you're ever close by, we highly recommend giving yourself a couple of days to explore the area.
For our road trip down the entire Oregon Coast, we ended the trip at Samuel H. Boardman. It rained the entire time (just our luck because it's supposed to be much sunnier than the rest of the Oregon coast), but we still did some short hikes and it was enough to fall in love with the park.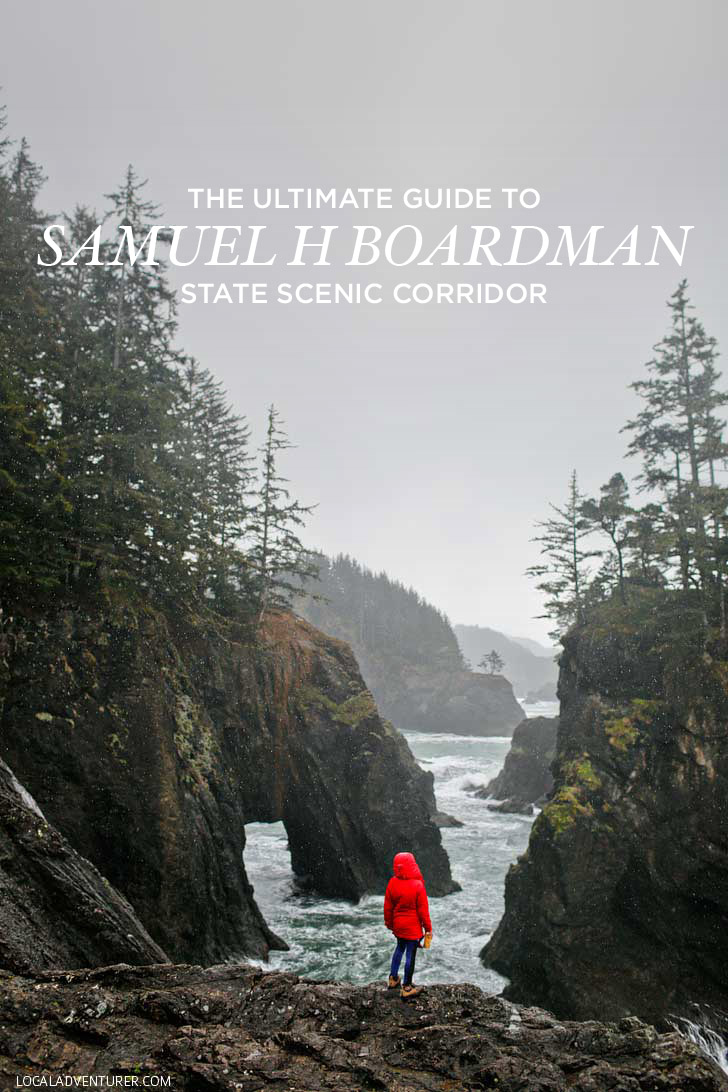 This post may contain affiliate links, where we receive a small commission on sales of the products that are linked at no additional cost to you. All opinions are always our own. Read our full disclosure for more info. Thank you for supporting the brands that make Local Adventurer possible.
Last Updated: May 31, 2021
The Ultimate Guide to Samuel H Boardman State Scenic Corridor
The corridor stretches 12 miles along the coast, and as the name suggests, is full of beautiful scenery. The area is full of huge Sitka spruce trees, rugged coastline, and small sandy beaches. You can also walk 27 miles of the Oregon Coast Trail within the corridor.
Places to See at Samuel H Boardman - Viewpoints
Although you can hike the park to see all the connected viewpoints, if you don't have a lot of time and just want see as much as possible, you can stop by all of these spots. The parking lot usually takes you directly to the view or the viewpoint is just a short walk from the lot. Starred are the most popular spots.
*Arch Rock (Mile 344.8) – they have bathrooms
Spruce Island (Mile 345.0)
*Thunder Rock Cove (Mile 345.8)
*Natural Bridges (Mile 346.0)
North Island (Mile 347.4)
Thomas Creek Bridge (Mile 347.8)
Indian Sands (Mile 348.6)
Whaleshead Viewpoint (Mile 349.3)
House Rock Viewpoint (Mile 351.2)
Cape Ferrelo Viewpoint (Mile 351.9)
Lone Ranch Picnic Area (Mile 352.6)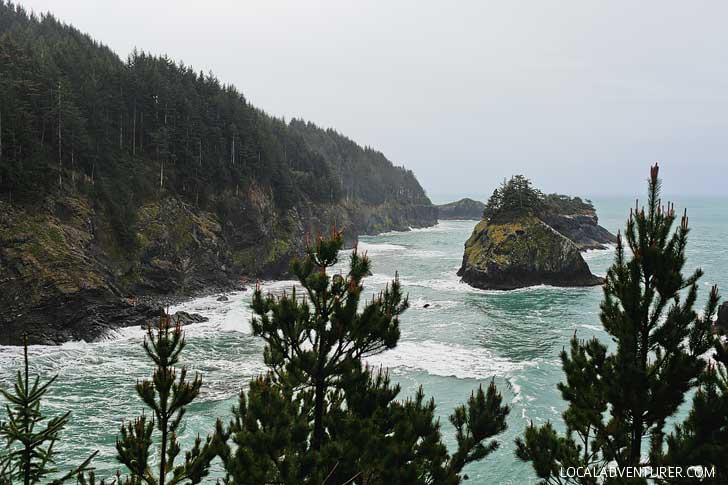 If you have a bit more time, it's worth hitting the trails! You can get better views of the coasts and find secret and secluded spots.
Arch Rock Point & Spruce Island Viewpoints Trail
Distance: 0.2 mile loop
Elevation Change: 29 ft
Difficulty: Easy
This is one of the more iconic spots in Samuel H. Boardman. The short loop trail takes you to a few overlooks and a small window amongst the trees to gaze upon Arch Rock below.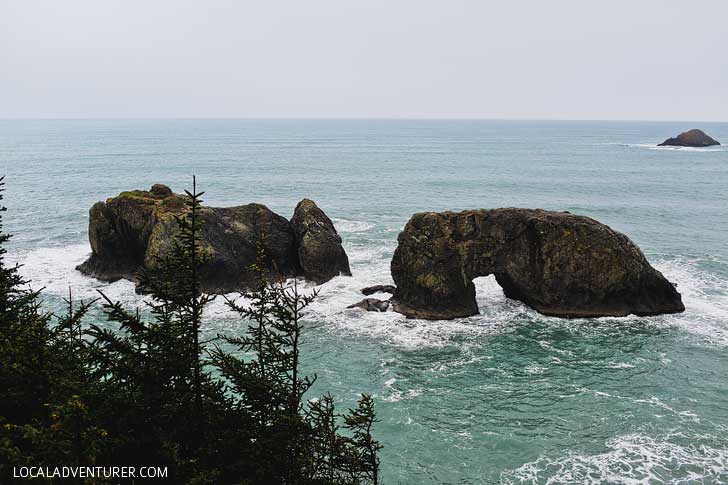 Distance: 0.2 mile
Elevation Change: 364 ft
Difficulty: Easy
This is definitely worth the stop! There is a way to get here via Thunder Rock Cove, but if you pull out .6 miles south of Arch Rock Picnic Area, there is a small area to park behind the guard rail and a trail that takes you straight the beach. It's the third pullout going south after Arch Rock.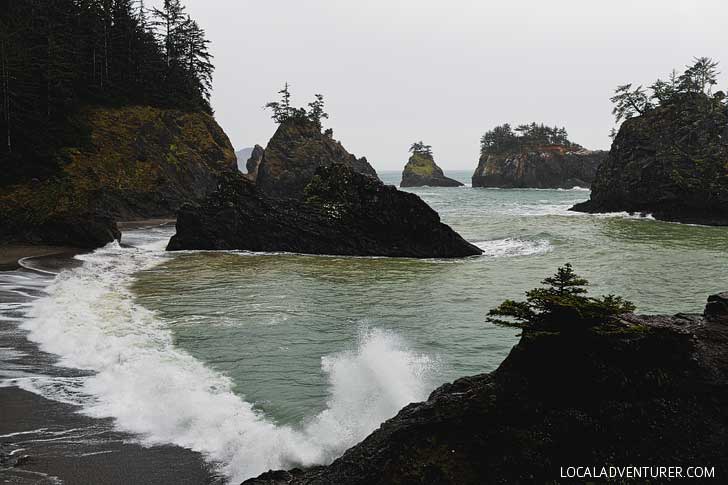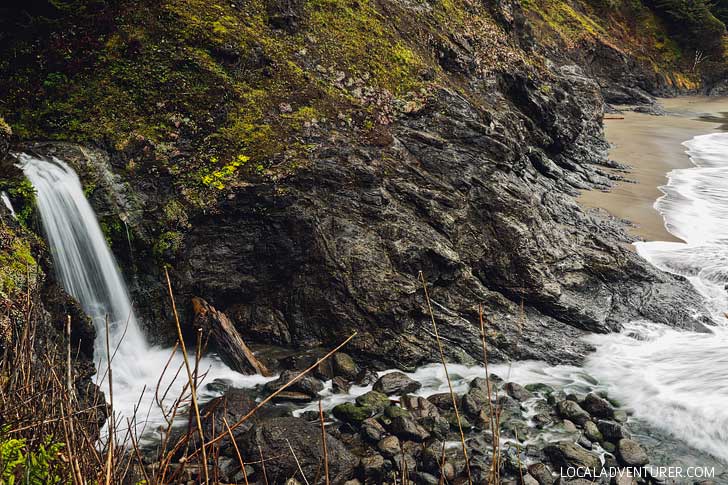 Natural Bridges to North Island Viewpoint (China Beach) Trail
Distance: 0.5 mile
Elevation Change: 160 ft
Difficulty: Easy
A short walk from the parking lot will take you to one of the best viewpoints in the park as you gaze upon Natural Bridges. Continue on towards China Beach to find a sandy beach.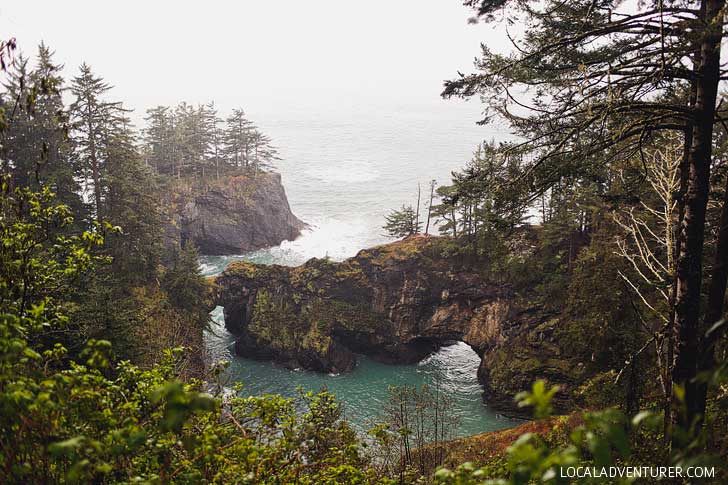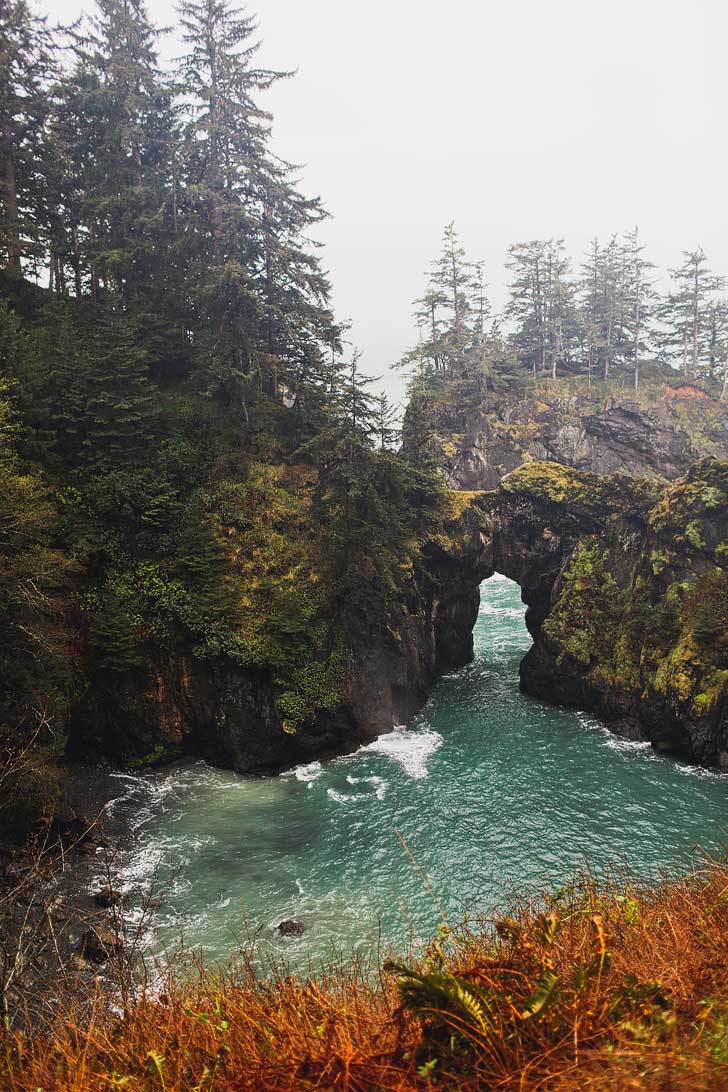 Distance: .9 mile loop
Elevation Change: 3830 ft
Difficulty: Easy
Indian Sands is a unique phenomenon because the sand comes from the sandstone and not the ocean. If you're looking for a longer hike, you can hike to China Beach from Indian Sands to make it a 7 mile roundtrip hike.
Thomas Creek Whaleshead Beach Trail
Distance: 2.9 mile loop
Elevation Change: 793 ft
Difficulty: Moderate
Hike from Thomas Creek to Whaleshead Beach to get some amazing views of the coast and a nice walk through the forest. If you're looking for something shorter, you can also walk down to the beach from the Whaleshead Beach Picnic Area or Whaleshead Viewpoint.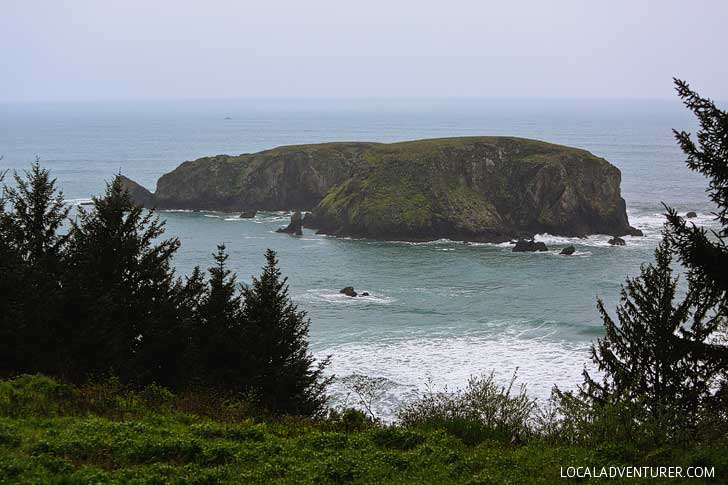 Distance: 1 mile loop
Elevation Change: 298 ft
Difficulty: Easy
Climb this grassy slope to the top of the cape to get an amazing view of the coastline. It's a great spot to watch sunset and whale watching in fall and spring.
Distance: 382 miles
Difficulty: Difficult
The Oregon Coast Trail stretches the entire state, but you can hike 27 miles of it within Samuel H. Boardman. If you're looking to continue, you'll walk sandy beaches, see dramatic coastlines, and walk through magnificent forests. Most of the route is on the beach, but you'll also walk through state parks, public lands, and some shortcuts through generous landowners.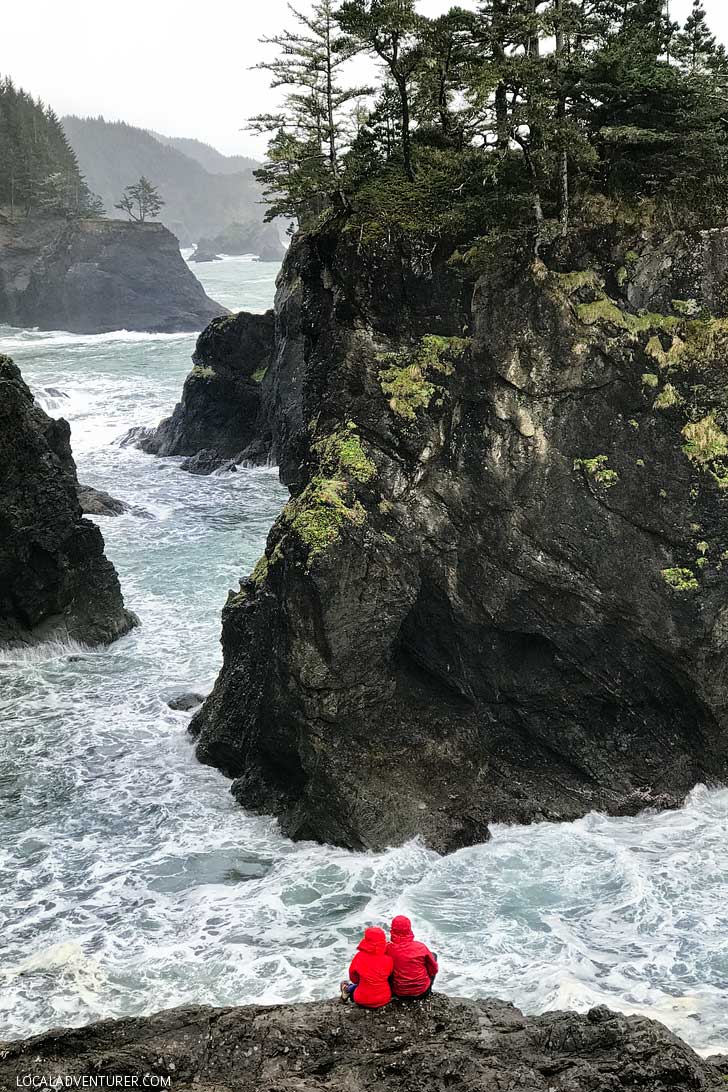 Tips for First Time Visitors
Best Time to Visit – Late Spring to Fall. It's supposed to be consistently drier and sunnier here than other parts of Oregon so it's great to visit year round. Even if it rains, it gives it an amazing moody feel. Winter tends to bring more rain and lodges/restaurants will have more limited hours or be closed.
Park Pass You Need – None Needed! It's all free.
Check the tides, many places cannot be accessed unless it's low tide. Do not try to swim, the pacific ocean is crazy powerful. We got owned by it many times.
Bathrooms and Picnic Tables at Lone Ranch, Whaleshead Beach and Arch Rock
It's always smart to be prepared with rain and waterproof gear. See our packing guide below to see what we use.
We stayed at Tu Tu' Tun Lodge and it was our favorite spot on the entire Oregon coast (Shh don't tell the others!). It's a 20-minute drive from Samuel H. Boardman and a nice place to retreat and relax.
More Hotel Deals in and near Brookings Oregon
If you're looking for Camping Spots, Harris Beach State Park is close by and a great spot to camp year round. Find more details on their site.
If you're in an RV, these are some great RV spots: Harris Beach State Park, Chetco River, and Brookings.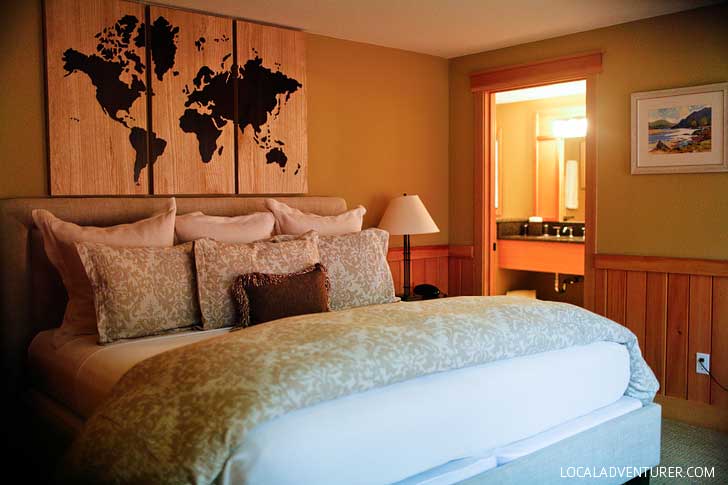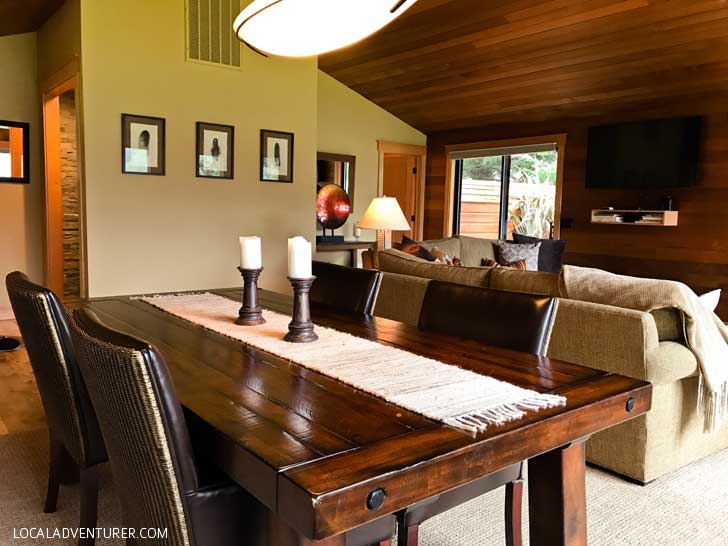 Wipes – your clothes and gear can get really muddy
Bathing Suit / Wet Suit
Waterproof Clothes (when raining)
GPS – most trails are well marked, but just in case.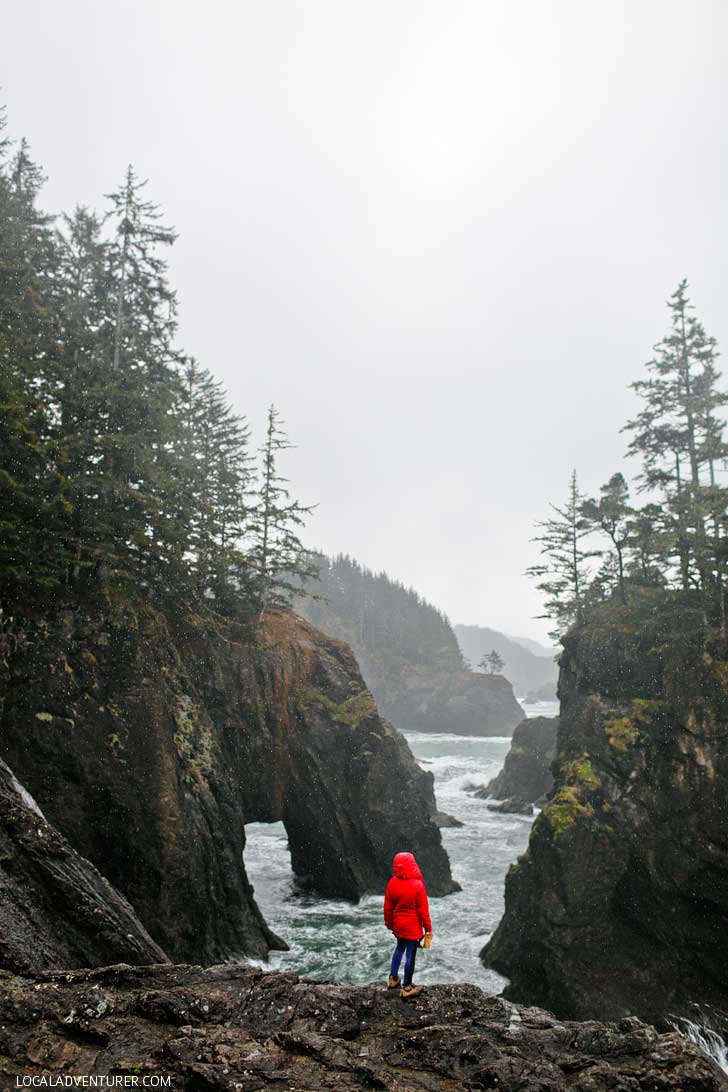 Harris Beach State Park (2 mi / 5 min away)
Brookings (4 mi / 6 min away)
Crissey Field State Recreation Site (10 mi / 15 min away)
Pistol River State Scenic Viewpoint 14 mi / 18 min away)
Cape Sebastian State Scenic Corridor (19 mi / 21 min away)
Gold Beach 24 mi / 27 min away)
Have you been to Samuel H Boardman? Which hikes would you do?
Did you enjoy this post? Pin it for later
"Discovery consists not of seeking new lands but in seeing with new eyes" – M. Proust
Esther and Jacob are the founders of Local Adventurer, which is one of the top 5 travel blogs in the US. They believe that adventure can be found both near and far and hope to inspire others to explore locally. They explore a new city in depth every year and currently base themselves in Las Vegas.