Sequoia National Park and Kings Canyon National Park are home to natural giants and some of the most beautiful scenery America has to offer. These two parks are connected to each other, which makes it easy to see two National Parks on one trip! Most people end up doing both. During our visit, we camped one night in Sequoia and one night in Kings Canyon.
This post may contain affiliate links, where we receive a small commission on sales of the products that are linked at no additional cost to you. All opinions are always our own. Read our full disclosure for more info. Thank you for supporting the brands that make Local Adventurer possible.
Last Updated: September 8, 2022
What You Need to Know Before You Go
Pick up an America the Beautiful National Park Pass to save money on multiple park visits.
The five different visitor service areas are Grant Grove, Giant Forest, Foothills, Cedar Grove, and Mineral King. Cedar Grove and Mineral King are open from late spring to early fall, while the others are open year-round.
Cell service is limited in the park. You can find free public WiFi at Kings Canyon Visitor Center or Foothills Visitor Center.
Bring layers. Elevation and weather vary throughout the park. While you may find flowers blooming in the foothills, there can be snow at higher elevations, which limits access to certain parts of the park. Check the park's website to see what current conditions are.
You are required to have tire chains in certain parts of the park during the cooler seasons.
Wildlife – There are black bears in the park, and they can break into cars that contain food. If you're unsure how to properly store food, check out this page.
During the summer, free shuttles run through the Giant Forest and Lodgepole areas.
Check yourself for ticks after. Ticks are common in the foothill and Kings Canyon grasses.
Poison Oak is common up to 5000 feet elevation. If you touch any part of it, wash your skin and clothes right away.
Stay inside a large building or vehicle if you see dark clouds or lightning. Do not stand under trees, in shallow caves, or on high points like Moro Rock.
They recently had some massive wildfires go through the park. Fortunately, none of the major trees were destroyed but it did change the landscape quite a bit.
15 AMAZING THINGS TO DO IN SEQUOIA NATIONAL PARK + KINGS CANYON
The Giant Forest is exactly like it sounds. When you walk amongst these huge trees you'll feel really small. On this trail, you will find the General Sherman Tree, the largest tree in the world by volume weighing 1,385 tons! 
Also, check out the President Tree (the 3rd largest tree) and the 2-mile Congress Trail that takes you on a nice stroll away from the crowds.
2. Climb the Steps of Moro Rock
Rising above the Giant Forest, you can climb 400 stone steps to the summit of the granite dome to get some of the best views of the park. Be sure to keep your eye out as you're driving through the park to get views of it from a distance as well.
Only open in the summer, this is the only car-accessible backcountry in the park. There are plenty of hikes to choose from, and it's worth the 28-mile windy road trek.
4. Drive or Walk Through the Tunnel Log
This fallen sequoia is the only tree you can drive through in this national park (as long as your vehicle isn't over 8 feet tall)! Also, make a quick pit stop at Auto Log. You can't drive over it anymore, but you can hop out to take a photo.
This is the tallest mountain in the contiguous United States and stands at the impressive height of 14,494 feet. Join the thousands of people who summit this mountain every year through a long one-day hike or a two-day hike. After all, it's only a 22-mile round trip hike!
Note: This photo is from Alabama Hills where people usually start their hike to the summit.
Purchase tickets for a tour of this beautiful marble cave at the Foothills Visitor Center or Lodgepole. The cave is only open in the summer but is worth checking out for anyone into stalactites and stalagmites.
Pro Tip: They recommend that you purchase tickets online at least two days in advance, and earlier for weekend or holiday tours. If you're already at the park, tickets can be purchased at visitor centers (not at the cave).
This fire lookout gives you amazing views of the area. Climb the 172 metal steps and chat with the folks up top.
Note: Be sure to hold onto your stuff as it can get quite windy up there.
This beautiful lake between Grant Grove and Kings Canyon was initially built as a water supply for a flume. Now it's a recreation area where you can swim or paddle boat.
This treeless meadow seems out of place amidst all the giant sequoias. Here you can take a walk, have a picnic, or just rest and take in the views.
For serious hikers, Sequoia National Park is the start of the High Sierra Trail. If you want to make the trek to Mount Whitney, the park suggests taking 6 days (10 miles a day) to enjoy all the views.
11. Kings Canyon Scenic Byway
This is a scenic 50-mile drive where you get gorgeous views of the river and mountain ranges. There are plenty of pit stops.
The General Grant Tree is the second-largest tree in the world, and it makes its home in Grant Grove. It is also the nation's official Christmas tree! There is an easily accessible trail that takes you to see the settler's cabin and the Fallen Giant as well.
This is a privately-owned cavern but offers tours that leave every hour. If you're looking for more adventure, they also have canyoneering and rappelling tours.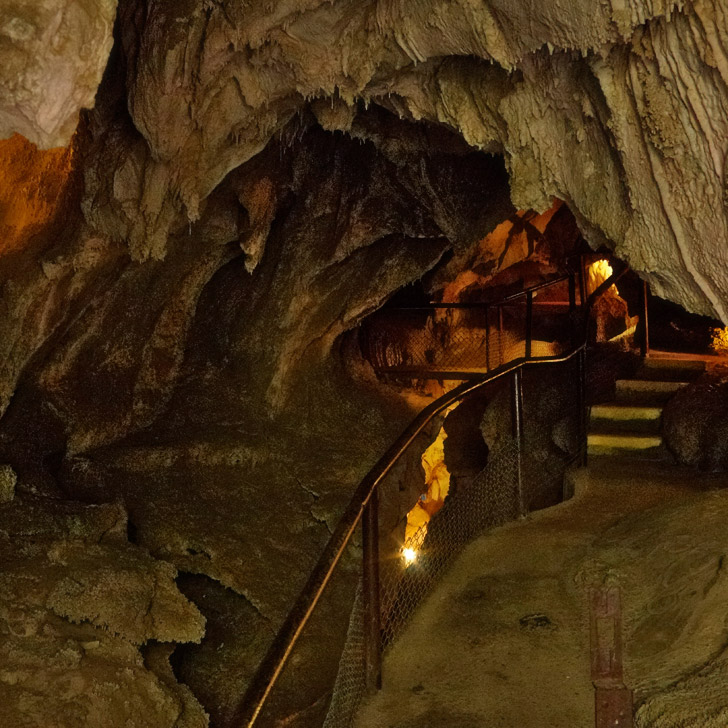 This 75-foot waterfall is a short hike off the Kings Canyon Scenic Byway. The best time to visit is spring when it's at its full force.
This is the starting point if you're looking to cross the Sierra and also the end point if you're doing the scenic bypass. You can also enjoy the river, and there's a spot where you can jump in.
Sequoia National Park Map to Help You Get Around
More Things to Do in Sequoia NP + Kings Canyon NP
Generals Highway
Junction View, Sequoia
Muir Grove, Sequoia
Grant Grove Tree, Kings Canyon
Zumwalt Meadow, Kings Canyon
Buy a baby Sequoia tree to plant somewhere.
Sequoia National Park Hikes (From Easy to Difficult)
Big Trees Trail (1.3 mi loop, 121 ft △, easy)
Congress Trail (3.2 mi RT, 498 ft △, easy)
Crescent and Log Meadows (1.8 mi RT, 206 ft △, easy)
General Sherman Tree (.8 mi RT, 154 ft △, easy)
Giant Forest Loop Trail (7 mi loop, 1,282 ft △, easy)
Big Baldy Ridge (5.5 mi loop, 1,391 ft △, moderate)
Crystal Cave Trail (0.8 mi RT, 291 ft △, moderate)
Crystal Lake (3.1 mi RT, 833 ft △, moderate)
Lady Bug Trail (7.2 mi RT, 1,952 ft △, moderate)
Moro Rock (0.4 mi RT, 187 ft △, moderate)
Marble Falls Trail (7.4 mi RT, 1,627 ft △, moderate)
Tokopah Falls (4 mi RT, 639 ft △, moderate)
Alta Peak Trail (14.9 mi RT, 4,064 ft △, strenuous)
Eagle and Mosquito Lakes (10.8 mi RT, 3,097 ft △, strenuous) 
Franklin Lakes (11.2 mi RT, 3,458 △, strenuous)
Garfield Grove Trail (13.6 mi RT, 5,019 ft △, strenuous)
Heather Lake, Emerald Lake, and Pearl Lake (11.8 mi RT, 2913 ft △, strenuous)
Lakes Trail Hike (12.2 mi round trip, 2792 ft elevation, moderate to difficult)
Middle Fork Kaweah Falls (9.1 RT, 1,627 ft △, strenuous)
Monarch Lakes (8.4 mi RT, 2,650 ft △, strenuous)
Timber Gap (9.8 mi RT, 4,110 ft △, strenuous)
Twin Lakes Trail (13.1 mi RT, 3,238 ft △, strenuous)
White Chief Trail (7.1 mi RT, 2,230 ft △, strenuous)
Kings Canyon National Park Hikes (From Easy to Difficult)
Big Stump Trail (1.8 mi loop, 236 ft △, easy)
Buena Vista Peak (2 mi RT, 413 ft △, easy)
General Grant Tree Trail (0.5 mi loop, 29 ft △, easy)
Grizzly Falls (0.1 mi loop, 19 ft △, easy)
North Grove Loop (2.8 mi RT, 449 ft △, easy)
Road's End to Bailey Bridge (4.4 mi loop, 209 ft △, easy)
Roaring River Falls (0.3 mi RT, 26 ft △, easy)
Zumwalt Meadow (1.5 mi loop, 134 ft △, easy)
Hart Tree, Fallen Goliath, Redwood Creek (7.1 mi loop, 1,354 ft △, moderate)
Hotel Creek Trail (3.8 mi RT, 1,614 ft △, moderate)
Mist Falls (8.1 mi loop, 889 ft △, moderate)
Paradise Valley (17.1 mi RT, 2,972 ft △, moderate)
Redwood Canyon (10.9 mi loop, 2,185 ft △, moderate)
Don Cecil Trail (9.3 mi RT, 3,339 ft △, strenuous)
Lookout Peak (13 mi RT, 4000 ft △, strenuous)
What to Pack for Your Trip
Sequoia National Park Camping
There are fourteen campgrounds in the two parks and three of them are open year-round. Most of them are first-come, first-served sites, with reservable sites at Potwisha, Buckeye Flat, Lodgepole, Dorst Creek, Sunset, and Sentinel campgrounds.
Campgrounds are usually full on weekends during the summer (Jun – Aug) so it's good to arrive early or make reservations where you can. Here is a quick overview of the campsites:
Sequoia National Park
Lodgepole Campground – 214 sites for tents, RVs, and trailers
Dorst Creek Campground – 218 sites for tents, RVs, and trailers
Potwisha Campground (open year-round) – 42 sites for tents, RVs, and trailers
Buckeye Flat Campground – 28 sites for tents
South Fork Campground (open year-round) – 10 sites for tents
Atwell Mill Campground – 21 sites for tents
Cold Springs Campground – 40 sites for tents
Kings Canyon National Park
Azalea Campground (open year-round) – 110 sites for tents, RVs, and trailers
Crystal Springs Campground – 36 sites for tents, RVs, and trailers
Sunset Campground – 157 sites for tents, RVs, and trailers
Sentinel Campground – 82 sites for tents, RVs, and trailers
Sheep Creek Campground – 111 sites for tents, RVs, and trailers
Moraine Campground – 121 sites for tents, RVs, and trailers
Canyon View Campground – group sites only
To find more details on campgrounds, visit this page.
Best Places to Stay in Sequoia National Park + Kings Canyon
How many of these things in Sequoia National Park have you done? What is the next National Park that you want to visit?
See More National Park Guides
"Discovery consists not of seeking new lands but in seeing with new eyes" – M. Proust
Esther and Jacob are the founders of Local Adventurer, which is one of the top 5 travel blogs in the US. They believe that adventure can be found both near and far and hope to inspire others to explore locally. They explore a new city in depth every year and currently base themselves in NYC.