We are currently in the Philippines (learn our Philippines trip here and here). Meanwhile, I wanted to give you an overview of our trip to the Galapagos Islands.
Galapagos National Park covers 97% of the 18 islands and it is a UNESCO World Heritage Site. Only four of the islands are inhabited by people: Santa Cruz, Floreana, Isabela, and San Cristobal. We were able to visit Santa Cruz Island and Isabella Island during our 4-day stay, and these were the highlights of our trip in the order that we visited them.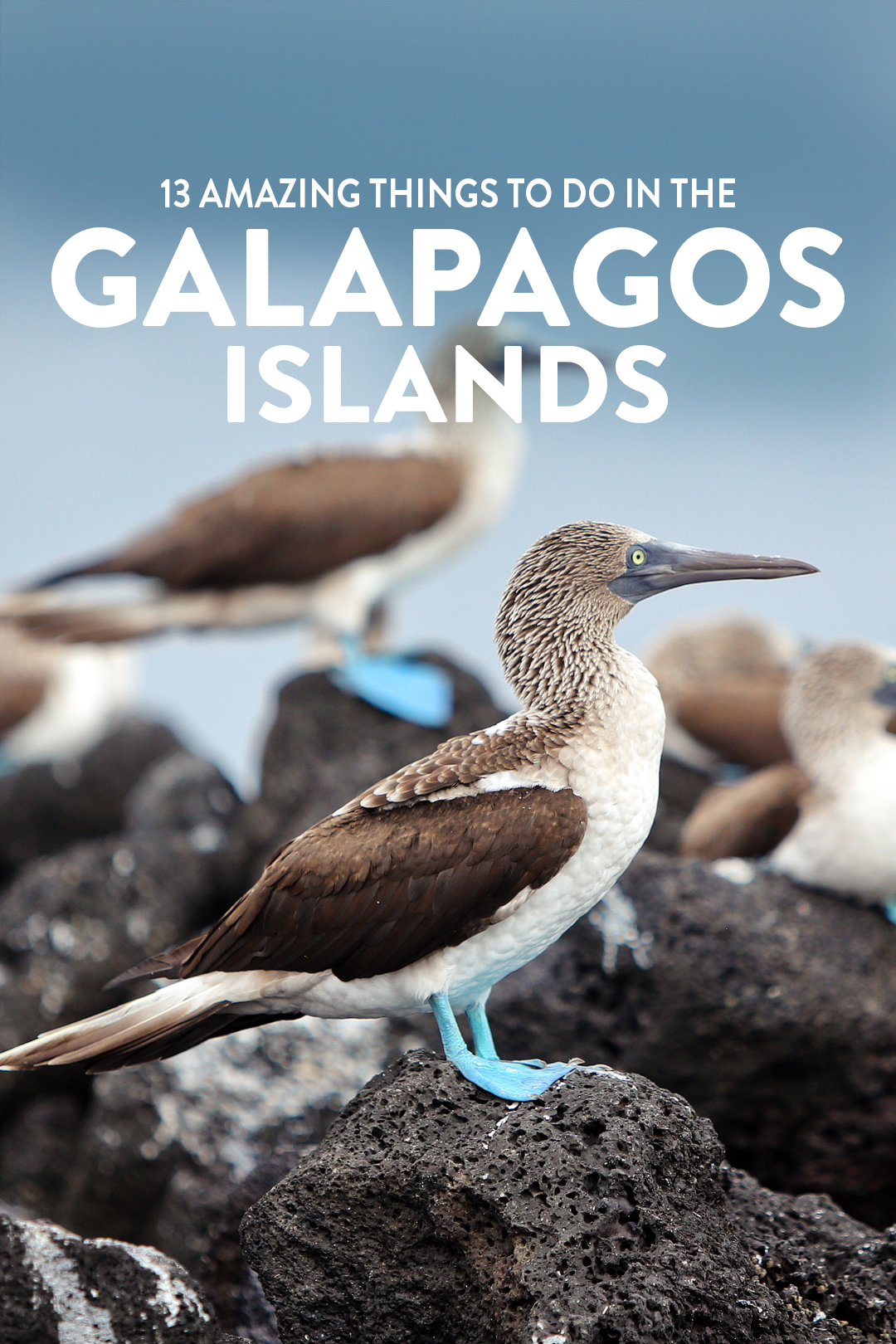 Pin
WHERE ARE THE GALAPAGOS ISLANDS LOCATED?
In case you didn't know, the Galapagos Islands are part of Ecuador in South America and are located nearly 1000 km or 600 mi off the coast of Ecuador.
WHAT YOU NEED TO KNOW BEFORE YOU GO
You must book a cruise 1 year in advance. We booked 3 months in advance and only had the option of land tours.
The land tour was through Galapagos Alternative, who booked all our activities and hotels. I wouldn't recommend them especially because some of the operators didn't show up on time and had us waiting half an hour or more.
You can also check out Surtrek Adventures as an option, they're specialist in South American trips.
Cruises are pricier, but I would recommend the cruise if your priority is to see a lot of different animals and landscapes since it transports you to each island while you are sleeping rather than taking up part of your day.
Our priority was seeing the animals and photography. If it is yours also, you can search by animal here and see which islands to visit.
If you are not going on a photography specific tour, they usually move at too quick of a pace to capture great wildlife photography. The tours will usually be snap and go. This was one of our first trips where we focused on wildlife photography, and we learned how much time and patience it takes.
This post may contain affiliate links, where we receive a small commission on sales of the products that are linked at no additional cost to you. Read our full disclosure for more info. Thank you for supporting the brands that make Local Adventurer possible.
13 THINGS TO DO IN THE GALAPAGOS ISLANDS
Click the links to see more details on each excursion. Be prepared for lots of photos. I haven't taken so many photos since I quit wedding photography!
Distance Trail 1: 500 m / 0.3 mi
Distance Trail 2: 723 m / 0.45 mi
Time required: 1 hr 30 mins
Hours: 6AM – 6PM
Twin Craters formed by the collapse of the volcanic roof. They are not actual craters caused by impact but are sink holes that were created when the volcanic roof of empty magma chambers collapsed from tectonic shifts and erosion over time.
Los Gemelos, Isla Santa Cruz, map

Pin
Trail length: 2 km / 1.2 mi
Hours: 8AM – 5PM
In Bellavista village in the Highlands of Santa Cruz Island, you can walk through lava tunnels or lava tubes. They were formed by flowing lava that moves under the hardened surface of lava flow. They drain lava and once the lava flow stops and the rock cools, it leaves behind a cave. The Lava Tunnels are just 7 km (4.3 miles) inland from Puerto Ayora, the main town where most people base themselves.
Note: Bring sturdy shoes and some crawling required.
Bellavista, Isla Santa Cruz, map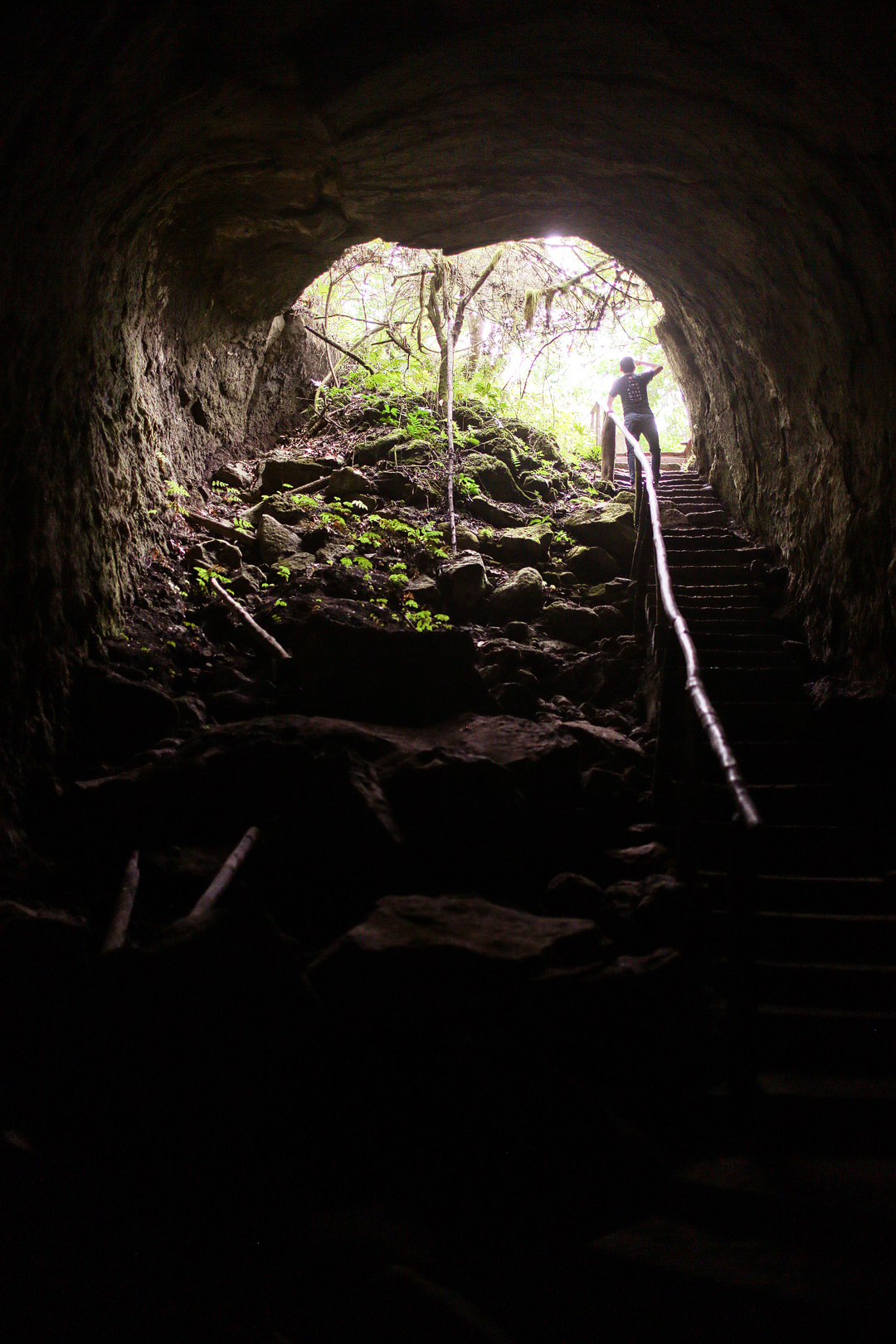 Pin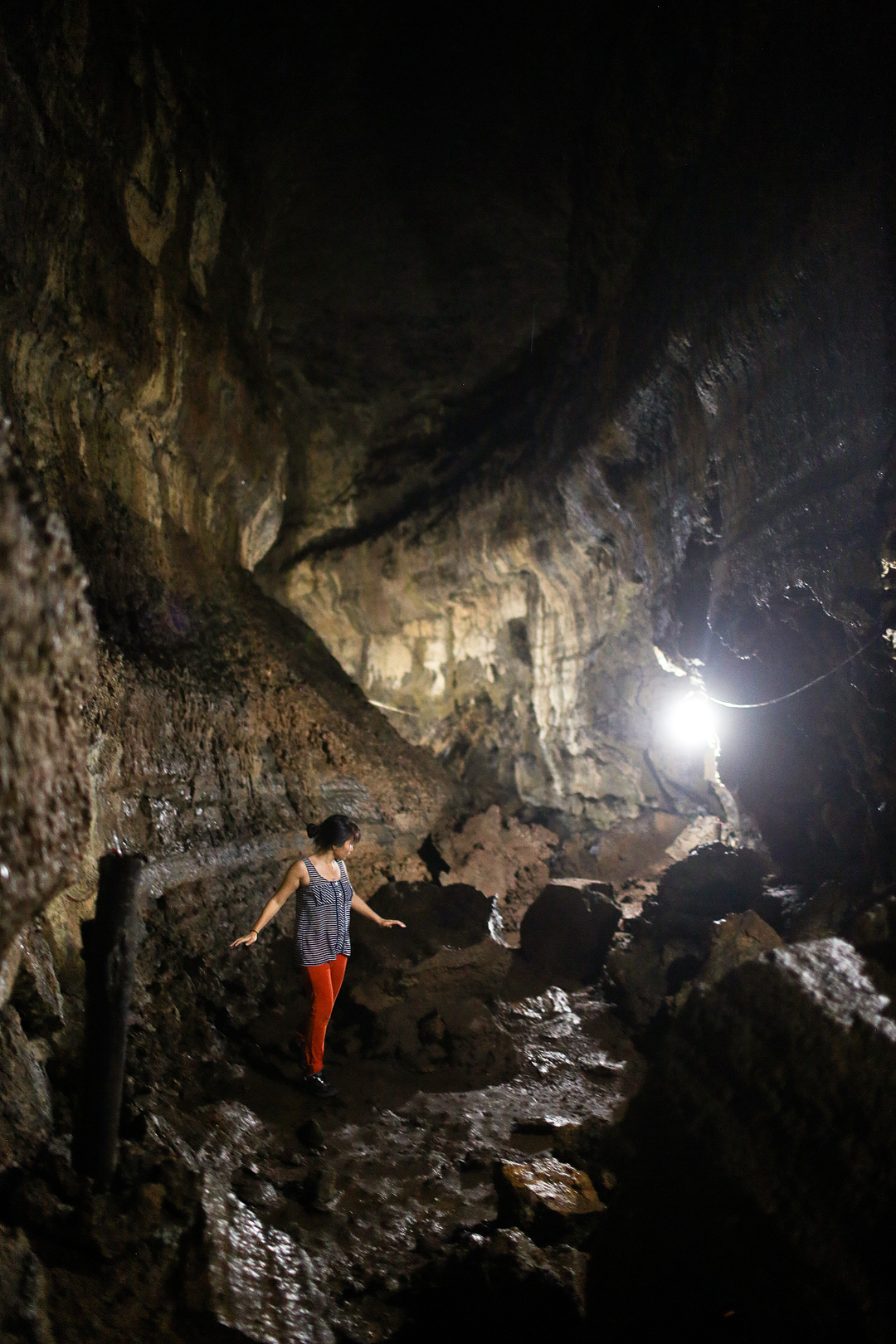 Pin
Rancho Primicias is a Giant Galapagos Tortoise ranch or reserve. It was exciting being able to take photos with one of the most iconic animals of Galapagos Islands!
Note: You will have to stay 2 m (6.5 ft) away from them, but these guys were pretty intimidating to get near anyways.
Rancho Primicias, Isla Santa Cruz, map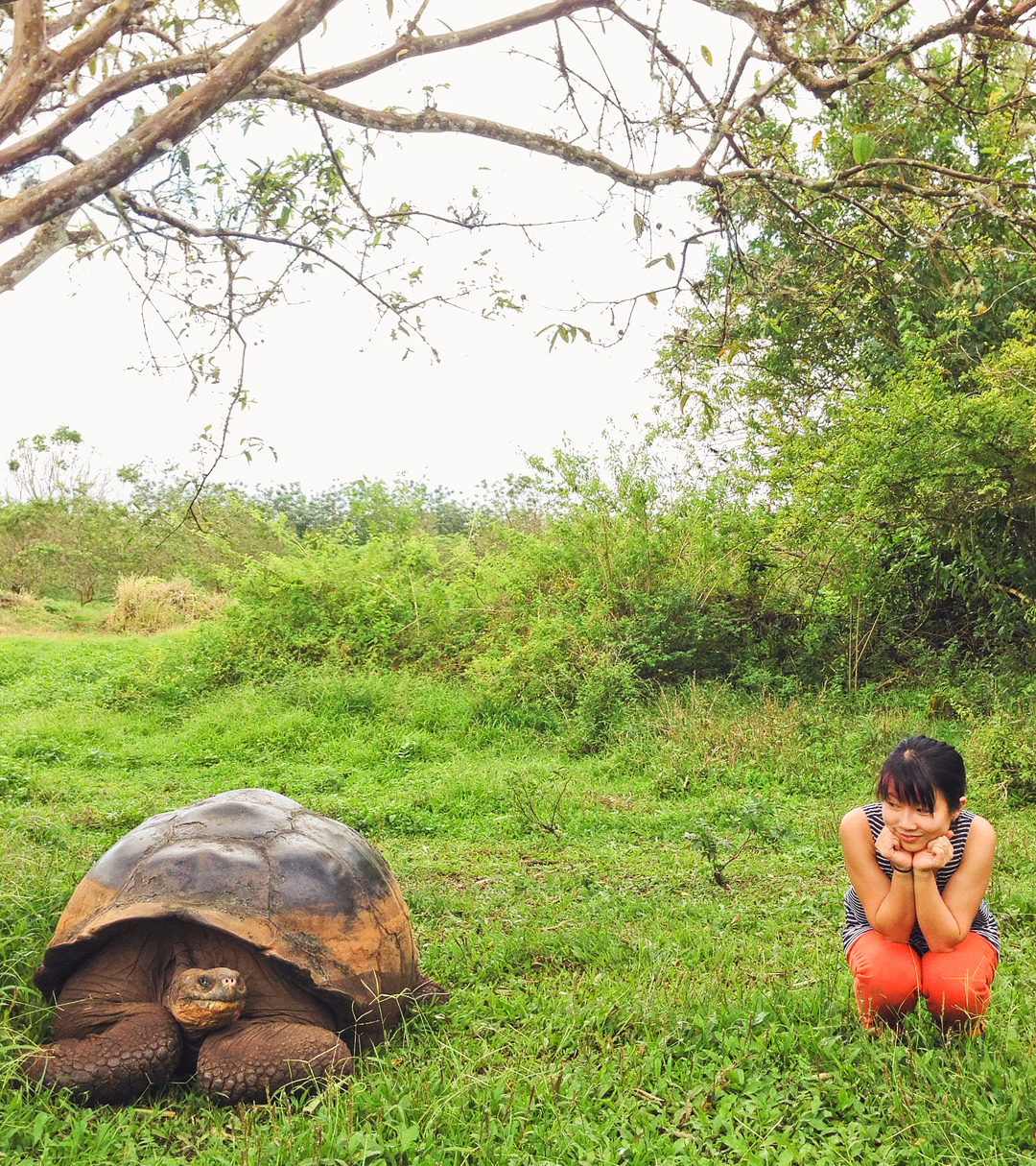 Pin
We saw that fishermen were unloading their catches from the day, and locals picked out their dinner while tourists took photos of pelicans trying to steal the fish or waiting for scraps. It was a nice spot to do people and bird watching. Here you will find shore birds picking up fish scraps and also sally lightfoot crabs and iguanas.
The fish market becomes an outdoor restaurant that opens in the evening. It has a set menu, but you get a plate full of seafood and two sides for a really good price (around $5)!
Ave Charles Darwin, Puerto Ayora, map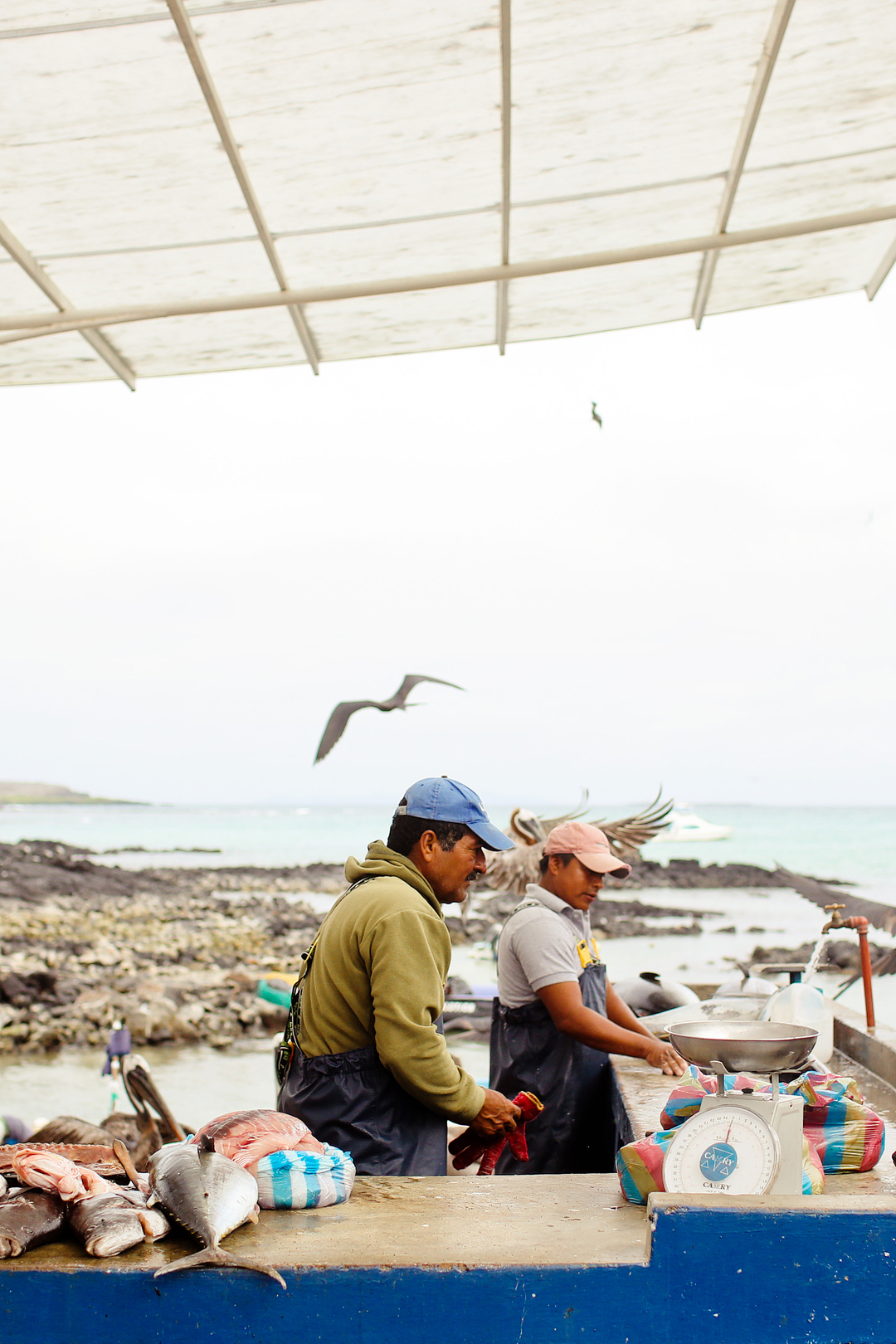 Pin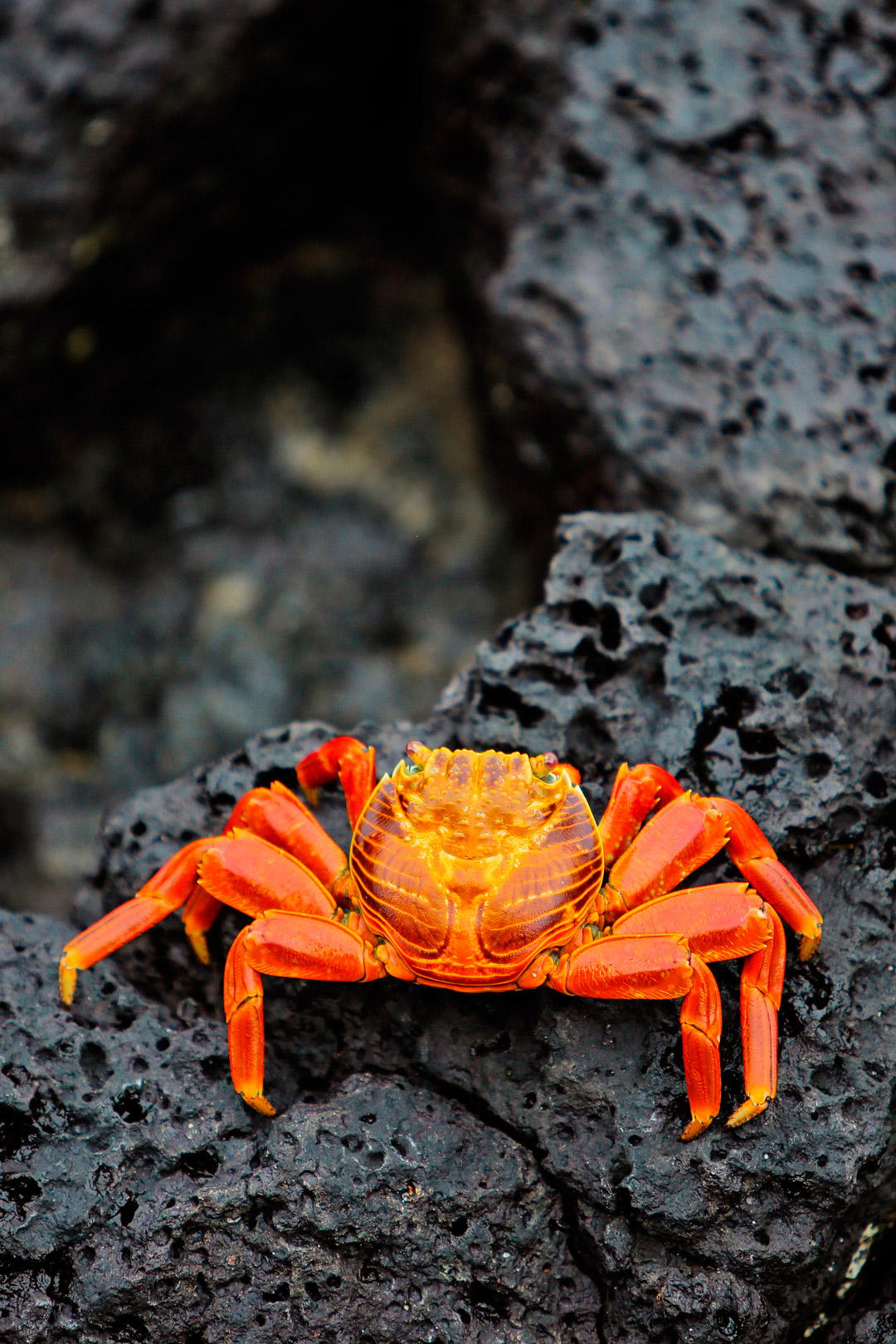 Pin
La Loberia was only a short boat ride from Puerto Ayora. These sea lions will come up and swim with you and sometimes playfully nip at your fins. In case you get confused with the names La Loberia or Loberia because you see it everywhere, it just means sea lion community. Why not keep it simple and name it how it is. There are several sea lion colonies on each island that are commonly called loberia.
You can expect to see sea lions and sea turtles at many of the snorkeling sites.
Other spots to snorkel with sea lions:
La Loberia, Floreana Island – It's a 2 hour boat ride from Santa Cruz. There's a 900 m / 0.5 mi path that takes you to a sea lion colony, which are the main attraction here. You can also see marine iguanas, sea turtles. Snorkeling for all levels and also kayaking available. A tour includes Asilo de La Paz where you can see dolphins and whales when in season.
La Loberia, San Cristobal Island – San Cristobal is where it's at when it comes to sea lions. Not only can you snorkel with tons of sea lions, but you will also see marine iguanas, lava lizards, frigate birds, and more. If you want to skip the 30 min walk from Puerto Baquerizo Moreno to the beach, take a taxi (around $3). The beach is open 24 hours.
Playa Mann, San Cristobal Island
Punta Estrada Beach, Santa Cruz – there is a small dock where water taxis arrive and is a great place to snorkel. If you're diving, the depth is up to 11 m (36 ft) and visibility 5 – 12 m (16 – 40 ft), and you can also see sharks, sea turtles, stingrays, and more. The trail from the dock leads to Playa de los Perros.
Santa Fe, Santa Cruz Island
Los Tuneles, Isabela Island – one of the most popular day tours on Isabela. You can see sea lions, penguins, green sea turtles, white tipped reef sharks, blue-footed boobies, golden sting rays, sea horses, tropical fish, and more. Great for beginners and kids.
Las Tintoreras Islet, Isabela Island – the islet is 10 minutes off Isabela. You can swim with sea lions, penguins, sea turtles, eagle rays, and you can see blue footed boobies and sally lightfoot crabs.
Laguna Concha y Perla or "Shell and Peral Lagoon", Isabela Island – great for beginners and kids. You'll see sea lions, sea turtles, manta rays, penguins, white tipped sharks, marine iguanas, tropical fish, and more. This place is crowded.
Kicker Rock, San Cristobal Island – you can snorkel with sea lions, white-tipped sharks, eagle rays, sea turtles and on rare occasions Galapagos sharks, hammerhead sharks, and dolphins. Snorkeling is available for all levels but diving is only for intermediate to advanced.
Lobos Islet, San Cristobal Island – there isn't much other than swimming with sea lions, but they are the main attraction.
Sombrero Chino Islet or Chinese Hat, Santiago Island – sea lions, marine iguanas, sally lightfoot crabs, lava lizards, white tipped reef sharks, and if you're lucky Galapagos penguins. This small island is not as crowded since it's protected by the Park. Bring good walking shoes.
Bartolome – swim with sea lions, Galapagos white tipped reef sharks, and a colony of penguins.
James Bay, Santiago Island – easy snorkeling and you see sea lions, penguins, rays, sharks, and sometimes octopus. If you're lucky you'll get to snorkel with both California sea lions and fur sea lions.
Note: Be aware of swimming in certain areas. Alpha male sea lions can be protective of their territory.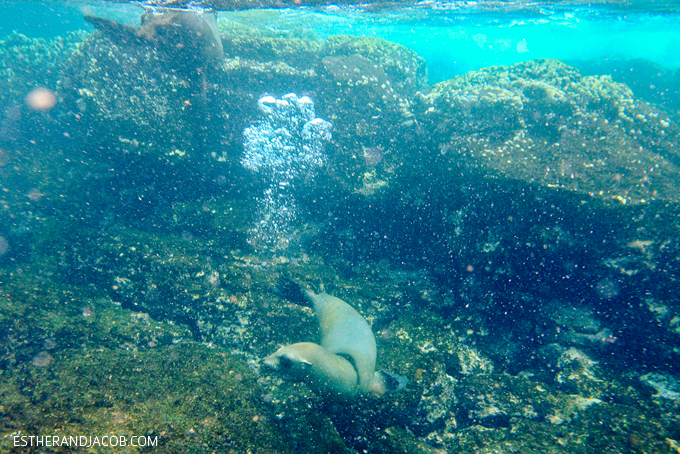 Pin
Here you will see Marine Iguanas and sharks in the Canal de las Tintoreras (shark canals).
Distance: 550 m / 0.3 mi
Time: 20 min
Hours: 6AM – 6PM
Las Grietas is literally translated as "crevice". We did some light hiking over lava rocks and passed salt lagoons to Las Grietas, but once we arrived, we had to go down steep stairs onto an area of large rocks.
Note: It was so crowded that we ended up hanging out on the rocks watching other people cliff jump and snorkel.
Distance: 2500 m / 1.56 mi
Hours: 6AM – 6PM
A 45 minute hike leads you to a beach and bay for snorkeling. You can typically see white tip reef sharks, and occasionally tiger sharks, but when we went the water was murky and all the fish were gone. There were, however, plenty of shore birds and marine iguanas in the water and on the beach.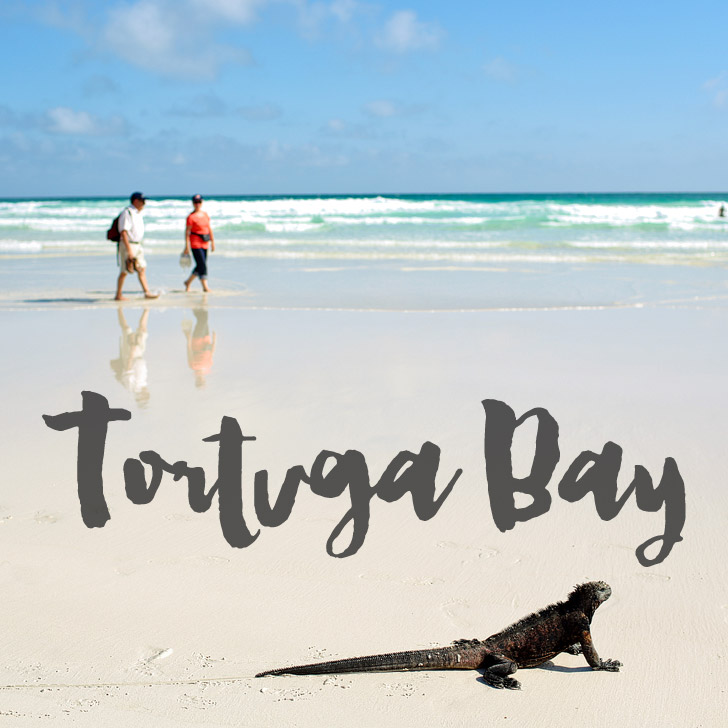 Pin
Las Tintoreras is and islet just 10 minutes off of Isabela and is often called mini Galapagos since almost all the marine wildlife are here. There is actually more wildlife here than on the main island. This is a wonderful habitat for the Galapagos penguins, the second smallest penguins in the world, and we also snorkeled with sea turtles and saw sharks in the canals called Shark Alley.
You can either take a boat or kayak out with a guide.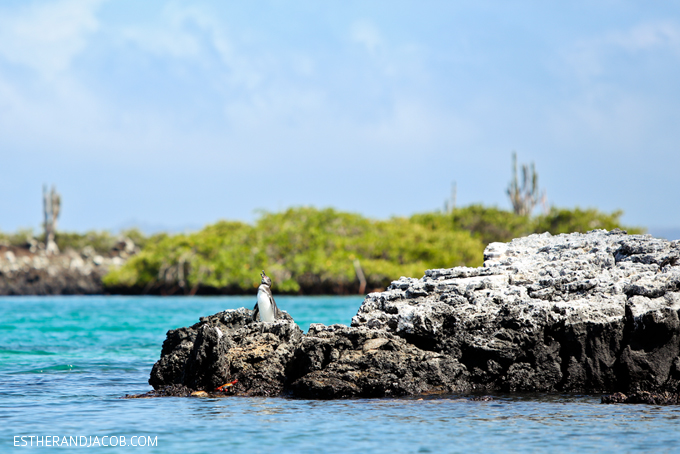 Pin
The world's second largest volcanic crater.
a Galapagos safari camp and quaint highlands farm with roaming giant tortoises.
We explored along the coastline by bike and found tortoises, marine iguanas, and blue-footed boobies!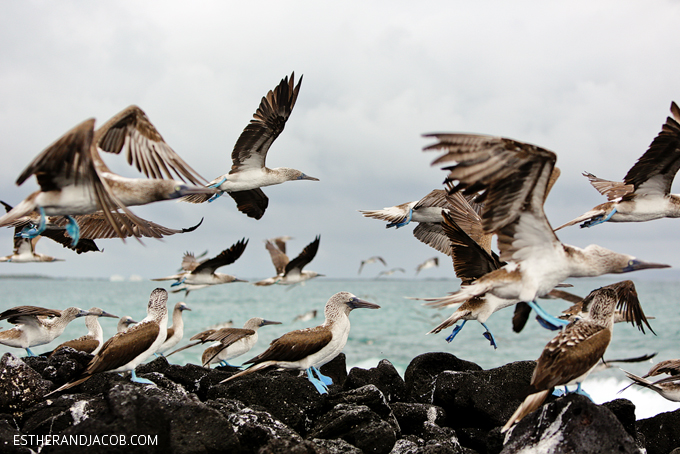 Pin
BONUS. Snorkel or Dive at Devil's Crown, Floreana Island
We didn't have a chance to do this, but this will absolutely be on our next trip's itinerary. The jagged rocks roughly resemble a crown that only the devil would wear, and this spot has the reputation of being one of the top diving and snorkeling spots in all of the Galapagos and the world.
What You See: The rocks are an attractive spot for both small and large fish, and it's common to see a variety of coral and schools of fish including the parrotfish, king angelfish, grouper, snappers, warasses, amberjacks, yellow-tailed grunts, scorpion fish, and surgeonfish. On the inside of the crown, you will find pencil sea urchins, garden eels, and moray eels. If you're lucky, you can see white tipped reef sharks, hammerheads, large manta rays, eagle rays, moorish idol fish (Gill from Nemo!), and a sea lion from the nearby colony.
Note: This can only be reached on a cruise, and not all stop on Devil's Crown for a snorkeling excursion, so check the different itineraries. Because of the strong currents, it's only for strong swimmers and divers.
Snorkel or Kayak at Punta Espinosa, Fernandina Island
Punta Espinosa is on the Bolivar Channel on the western side of Fernandina Island.
What You See: Galapagos dolphins, humpback whales, orcas, pilot whales, sea lions, cormorants, marine iguanas, sea turtles. If you're lucky, you'll see Galapagos penguins or flightless cormorants swimming.
Tips for your visit to the Galapagos Islands
Each individual post will have specific tips for the excursion.
Bring small change in US dollars, which is their currency.
It was 100 USD to enter the Galapagos Islands, and an additional $5 to enter Isabela Island.
Learn some Spanish! The majority of the people there do not speak English, so it helps to know the basics.
If you are traveling between islands, try to travel by plane instead of by small boats. If you don't have a choice, bring motion sickness medication. It's very likely that you will get motion sick with its poor ventilation combined with choppy waters. I kid you not, 3 people threw up on our boat, and I felt sick the entire time. If you don't feel sick from the boat, you will feel sick from the smell of vomit.
Print your flight itineraries and bring them just in case, because sometimes smaller international airports want to see a printed copy before they let you inside.
Will be putting together photography tips and a how to pack video & blog for a 4 day trip to the Galapagos soon!
Check out our video montage of our Galapagos trip! Any of these seem like interesting excursions to you?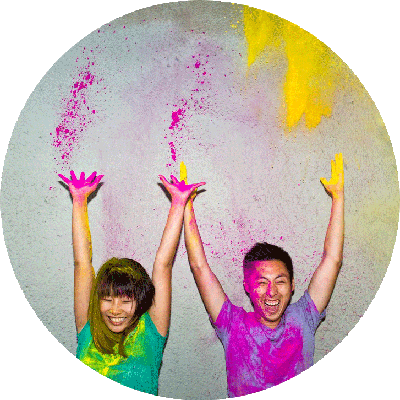 Pin
ESTHER + JACOB
Esther and Jacob are the founders of Local Adventurer, which is one of the top 25 travel blogs in the world. They believe that adventure can be found both near and far and hope to inspire others to explore locally. They explore a new city every year and currently base themselves in NYC.