We visited Kyoto twice during cherry blossom season, and the second time we fell even more in love with the city. If you've ever been to Tokyo, it feels like quite the contrast. It's almost like you're stepping back in time since so much of the city is preserved. Even if you're not a history buff, the scenery around every bend makes it beautiful city to sightsee, not to mention a photographer's playground.
Kyoto is considered the cultural capital of Japan with numerous temples and shrines. If you wanted to visit a new temple or shrine every day, it would take you over 4 years to get to them all. Also, if you're into visiting UNESCO sites, Kyoto has 17 of them.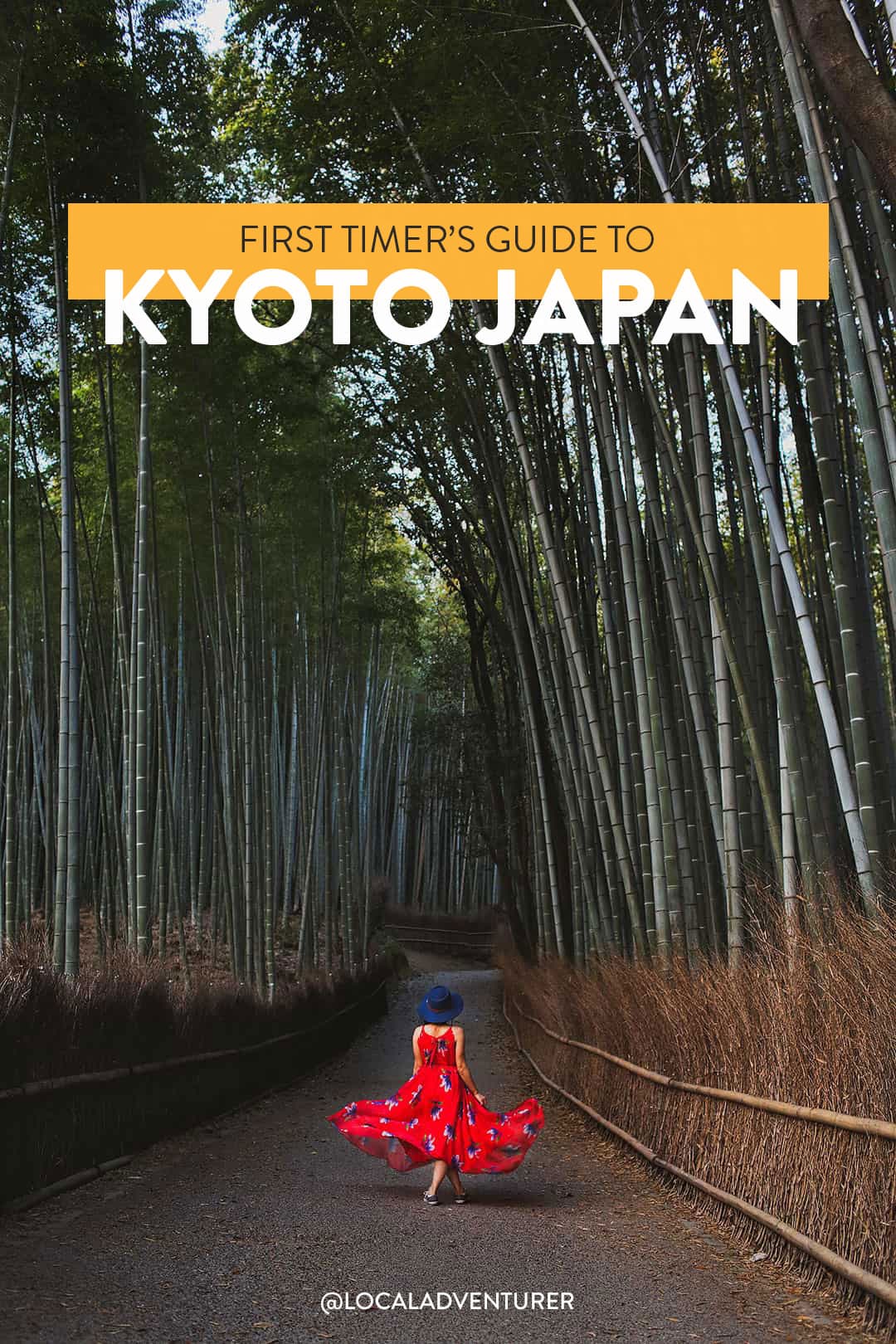 This post may contain affiliate links, where we receive a small commission on sales of the products that are linked at no additional cost to you. All opinions are always our own. Read our full disclosure for more info. Thank you for supporting the brands that make Local Adventurer possible.
Last Updated: Feb 5, 2020
15+ Amazing Things to Do in Kyoto Japan for First Timers
Here are a few reasons why we love Kyoto:
The city is beautiful with its preserved streets and many temples and shrines. It's no wonder photographers flock here.
The city center is walkable and transportation is easy to navigate when you want to explore outside of town. Gotta love a walkable city.
Delicious food. We love Japanese food and how they spend so much time on excellence even for one specific dish. My mouth is watering just thinking about the food we ate.
I hate early mornings but we made an exception for two places in Kyoto, and Fushimi Inari shrine was one of them. We arrived before dark and waited at the entrance of the torii (gates) until sunrise with a handful of others hoping to take the same iconic shot without people in it.
The hike to the top is 4 km and typically takes 2-3 hours round trip. Since we had a full day planned, we only made it to the halfway point where we could enjoy some views before heading back.
If you prefer, you can explore Fushimi Inari Taisha with a guide or book an after dusk photography tour. It can feel a bit creepy if you're there alone in the dark.
Getting Here: JR Inari Station on the JR Nara Line or the Fushimi Inari Station on the Keihan Main Line
Local Tip: If it's crowded where you are, head deeper into the shrine. The further you go, the less people there are. There are 10,000 torii (gates) and 12,000 steps, so plenty of spots to find small moments of solitude.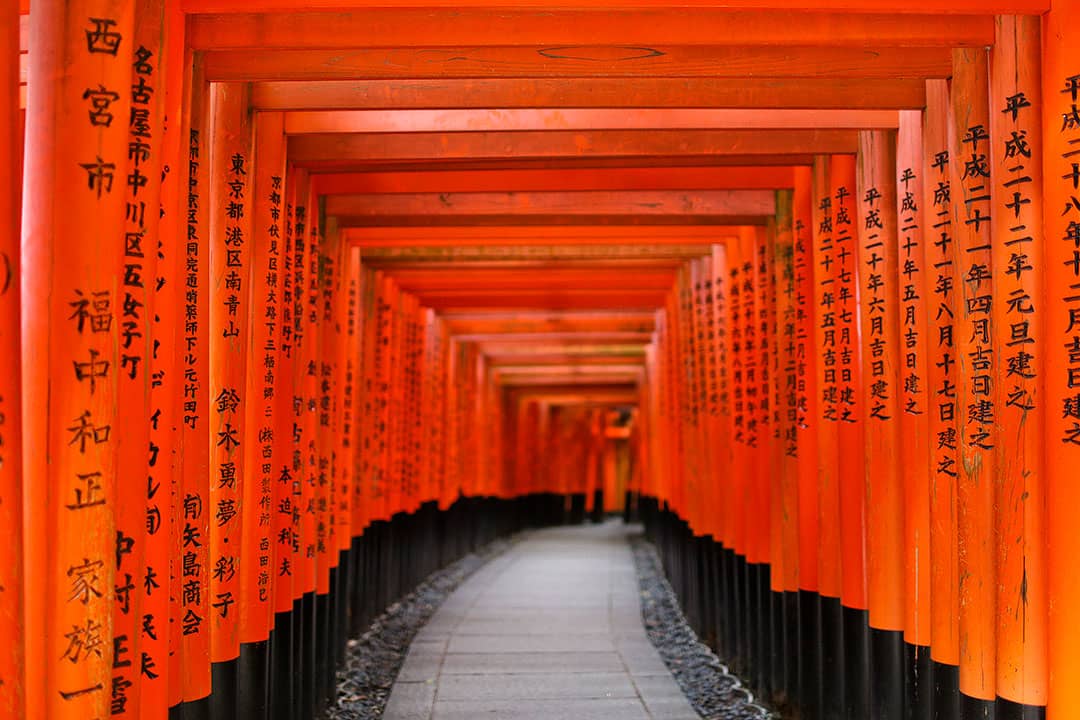 The Bamboo Forest in Arashiyama is one of the most popular spots in Kyoto. This was the second spot we woke up absurdly early for.
Again, we took the first train out so that we could arrive before sunrise. There were others on the same early morning train, and we thought surely there aren't that many dedicated people who go before the sun rises. Wrong. As soon as the train doors opened, we saw everyone pick up the pace, starting the unofficial race to the bamboo forest.
There were 8-10 other people already there shooting. Since it's a single walkway, we became friends with the other photographers taking turns getting the shots we wanted. It was a polite crowd. If we wanted to be in a shot, we asked and made sure everyone was happy with their shots. Though from time to time, someone would set up their tripod in front of the row of photographers.
If you're in Arashiyama in the spring, also visit near the Togetsukyo Bridge. We found many cherry trees planted at Nakanoshima Park along the river.
Book a tour of the Arashiyama area here or a bike tour if you like riding.
Getting Here: Saga-Arashiyama Station on the JR Sanin Line or Keifuku Arashiyama Line on the Keifuku Line
Pro Tip: It's worth the effort to get there before sunrise. Within an hour, it started to get crowded. If you go early, keep in mind the town doesn't really open until much later. Pack some snacks and water in case you get hangry.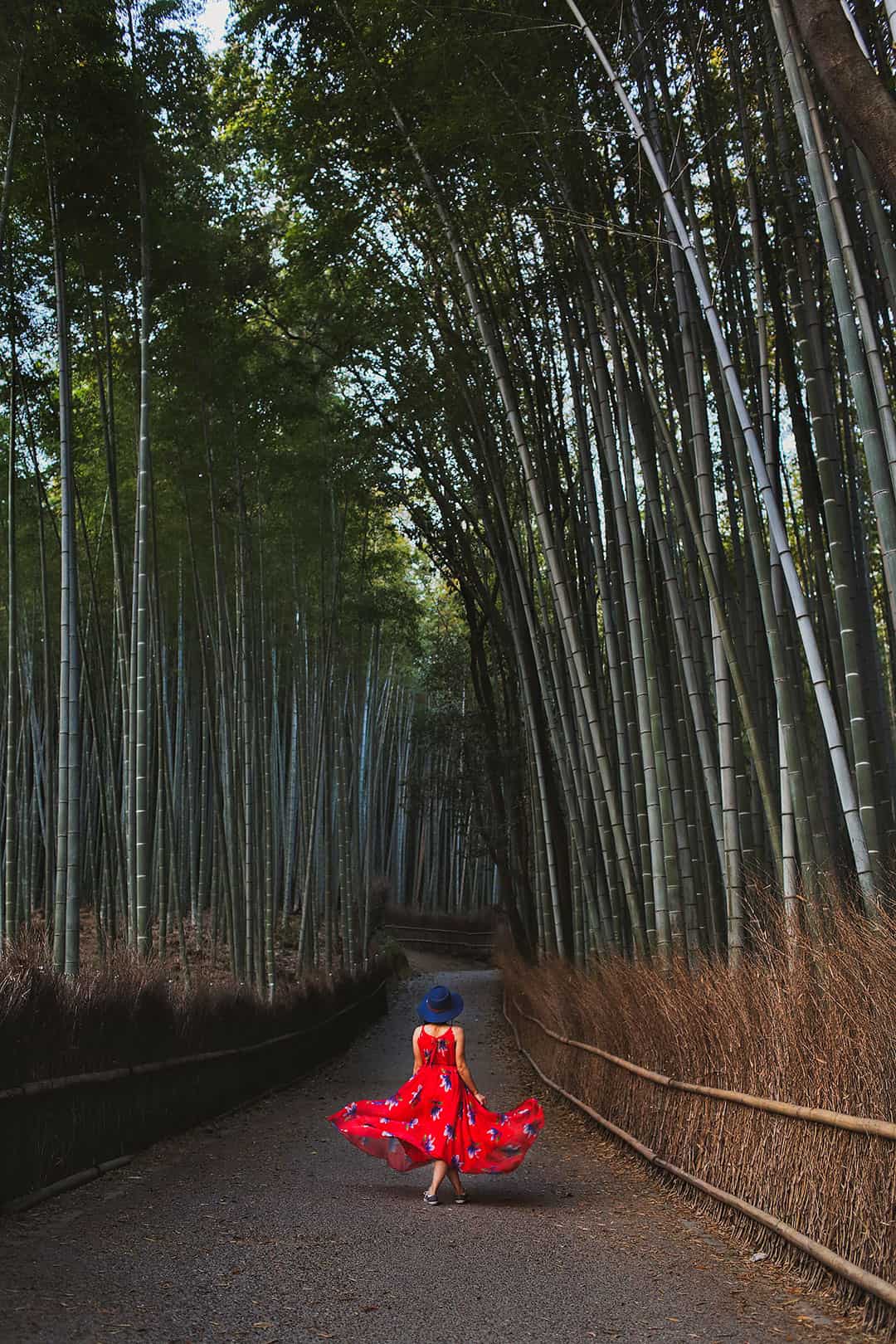 Gion is the geisha district where you'll spot geisha at the restaurants and boutiques on Hanamikoji Street. During our visit, we didn't see many but the one time we did was because we noticed a few tourists running after one. Because it has become so popular, real geishas are usually only spotted running to and from work. If you want to photograph a geisha, it's important to be respectful and stay out of their way.
The best experience is to head to a local ochaya (teahouse) where you'll be entertained by a Geisha while dining, but this will cost you (think minimum 1000 USD). Many of these shops are exclusive and only speak Japanese, but since there are so many tourists, there are some companies that will help you book the experiences. If you're unable to do this, head to Gion Corner where they have a cultural show every day.
You can do a guided tour of the Gion area or even book a tour guided by a local.
Be sure to check out Yasaka-no-to Pagoda or Hokan-ji Temple in the neighboring Southern Higashiyama district. The beautiful 46-meter pagoda that towers over everything and is hard to miss if you're walking the area.
Getting Here: Gion-Shijo Station on the Keihan Line or Kyoto-Kawaramachi Station on the Hankyu Line
Pro Tip: You're more likely to spot a geisha if you visit the area around 5:45 pm, right before their evening engagements. Also, 'Geiko' is the Kyoto dialect for geisha and 'maiko' means a geiko apprentice.
There are experiences where you dress up like a Geisha for a day and even have a photographer follow you. It's quite popular, which means you're more likely to run into a dressed up tourist than an actual geisha.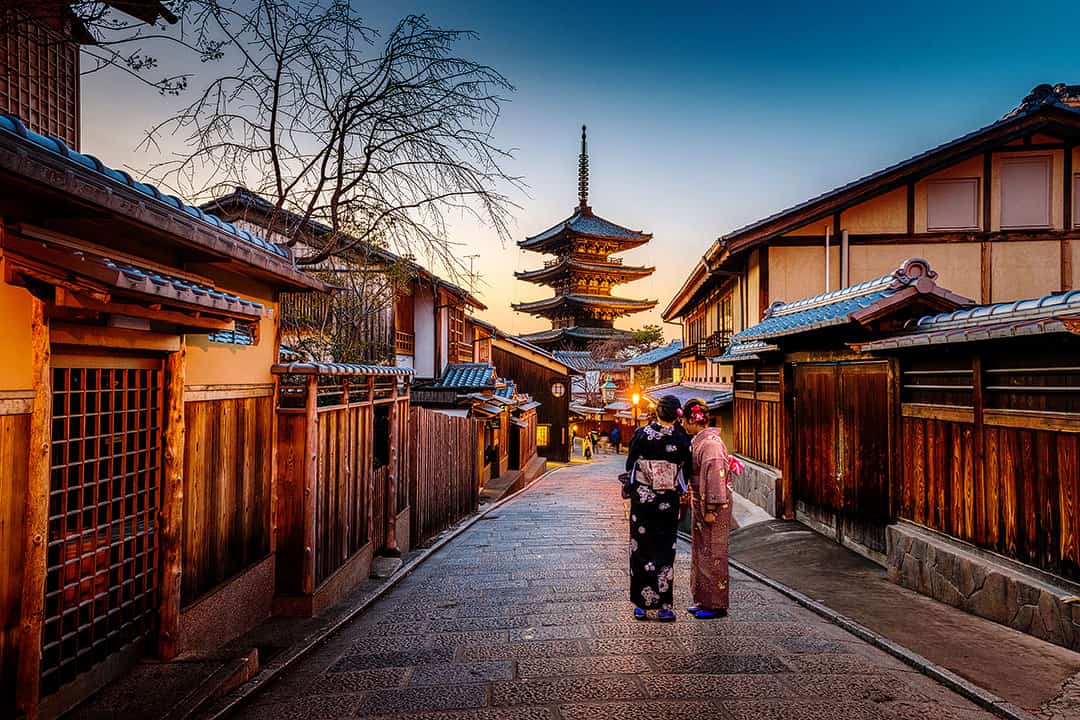 4 Sagaosawacho, Ukyo Ward, Kyoto, 616-8411, map
Admission: 500 yen (temple) / 200 yen (garden around Osawa Pond)
In contrast to many of the other temples and shrines, Daikaku-ji felt much more serene. We didn't go inside the temple but spent an hour wandering the beautiful gardens and walking the path around the lake.
The temple was built in the early 800s as a getaway for the emperor, and 30 years after the emperor's death it was converted from a palace to a Buddhist temple. One of the most important treasures is a copy of the Heart Sutra handwritten by Emperor Saga, which is now stored in the Heart Sutra Hall. It's only displayed to the public once every 60 years.
Getting Here: 15 minute walk from JR Saga-Arashiyama Station or 25 minute walk from Keifuku Arashiyama Station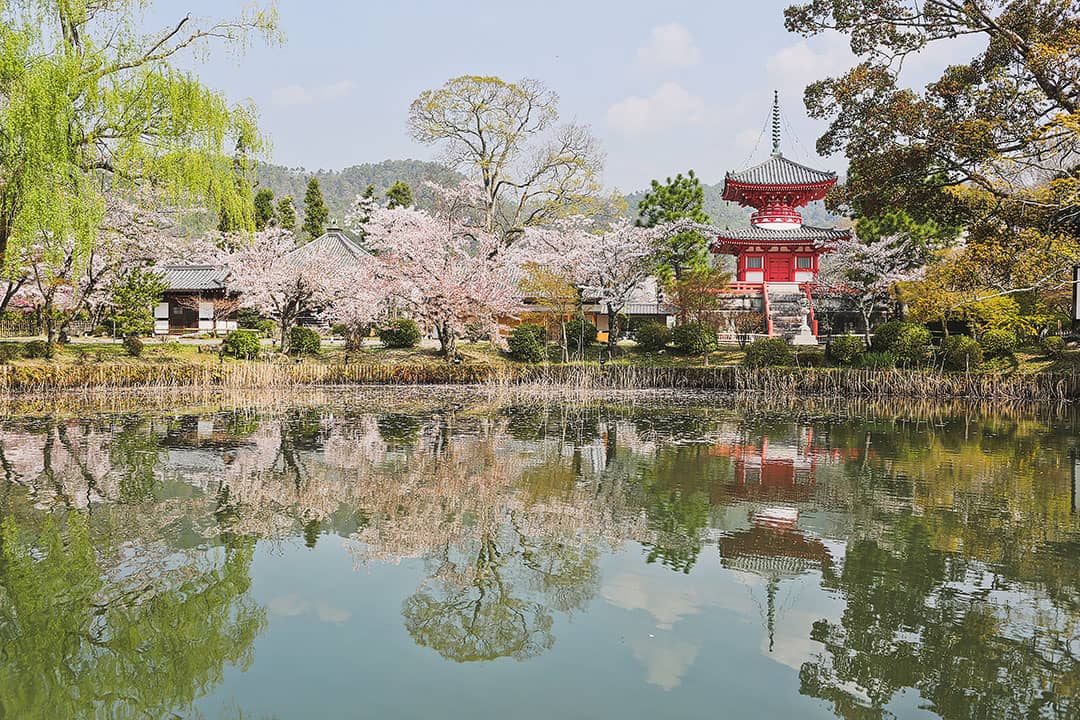 Kiyomizu-dera, which translates to Pure Water Temple, is a UNESCO world heritage site and one of the most popular temples in Japan. We didn't visit during our last visit because it was undergoing renovations so the main hall has been covered up, but they started dismantling the scaffolding as of January 2020 and is scheduled to be done by March.
The temple is best known for its wooden balcony connected to the main hall. It floats above the hillside below giving you a great view of cherry and maple trees below, which are brightly colored in the spring and fall. The grounds have roughly 1,500 cherry blossoms and 1,000 trees that turn in the fall making it one of the best destinations in the city for both sakura and fall foliage season. Also, don't miss the Otowa Waterfall and pay attention to the construction of the main hall as it was built without the use of nails.
Book a tour of the Kiyomizu-dera Temple here.
Getting Here: 20 minute walk from Kiyomizu-Gojo Station on the Keihan Railway Line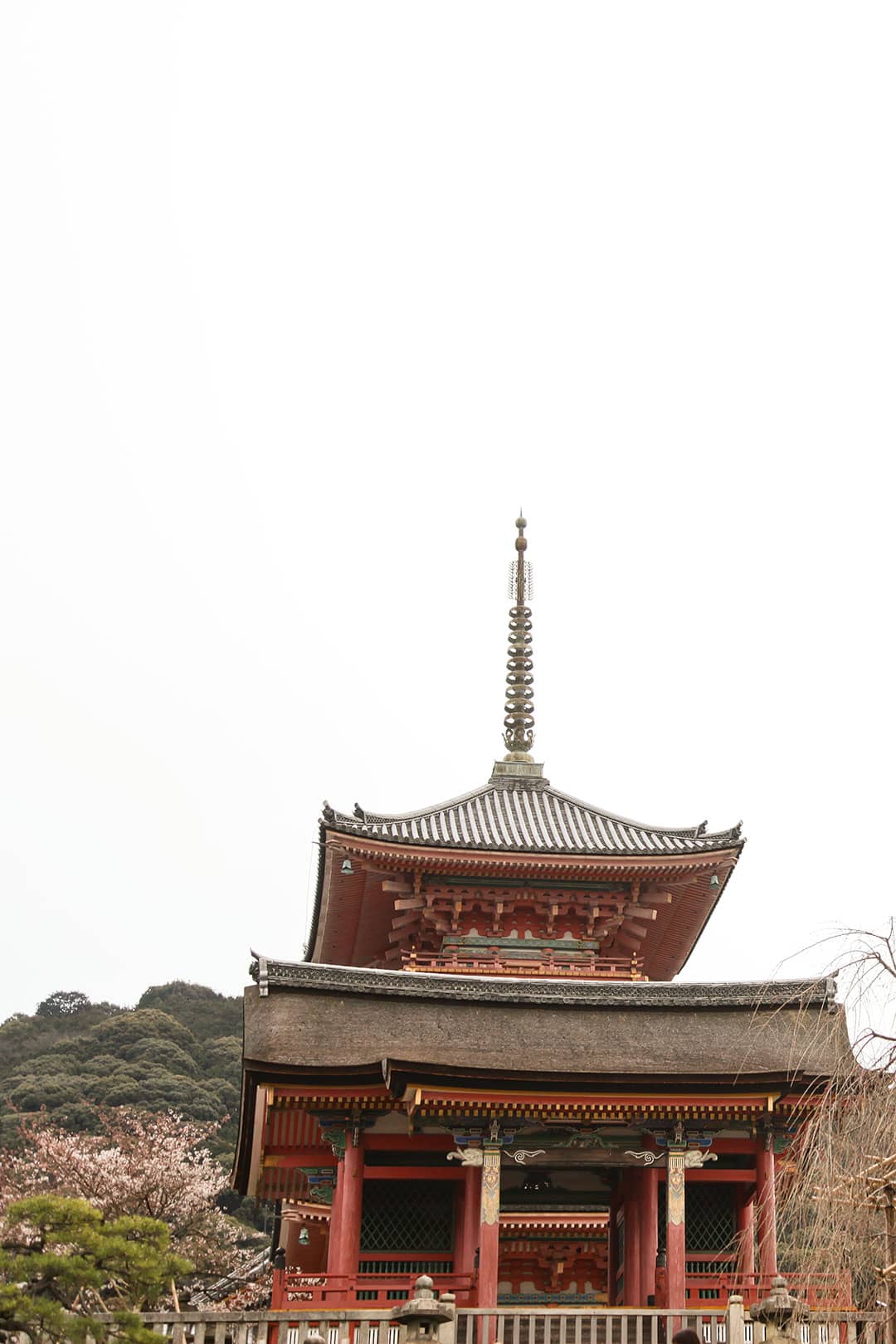 If you love everything that glitters, you need to check out this temple appropriately named for its top two floors covered in gold leaf. Like many of our favorite temples, it overlooks a pond making it really picturesque.
Each floor of the temple calls back to a different style of architecture calling by to the extravagant Kitayama culture. While you're there, you can check out the head priest's former living quarters (hojo), the temple's gardens, and the Sekkatei Teahouse.
The temple has been burned down multiple times. Twice during the Onin War, a civil war that did a ton of damage in Kyoto, and once in 1950. The current structure you see was rebuilt in 1955.
Book a Golden Pavilion tour here.
Getting Here: Kitaoji Station on the Karasuma Subway Line then Bus Number 101, 102, 204, or 205 to Kinkaku-ji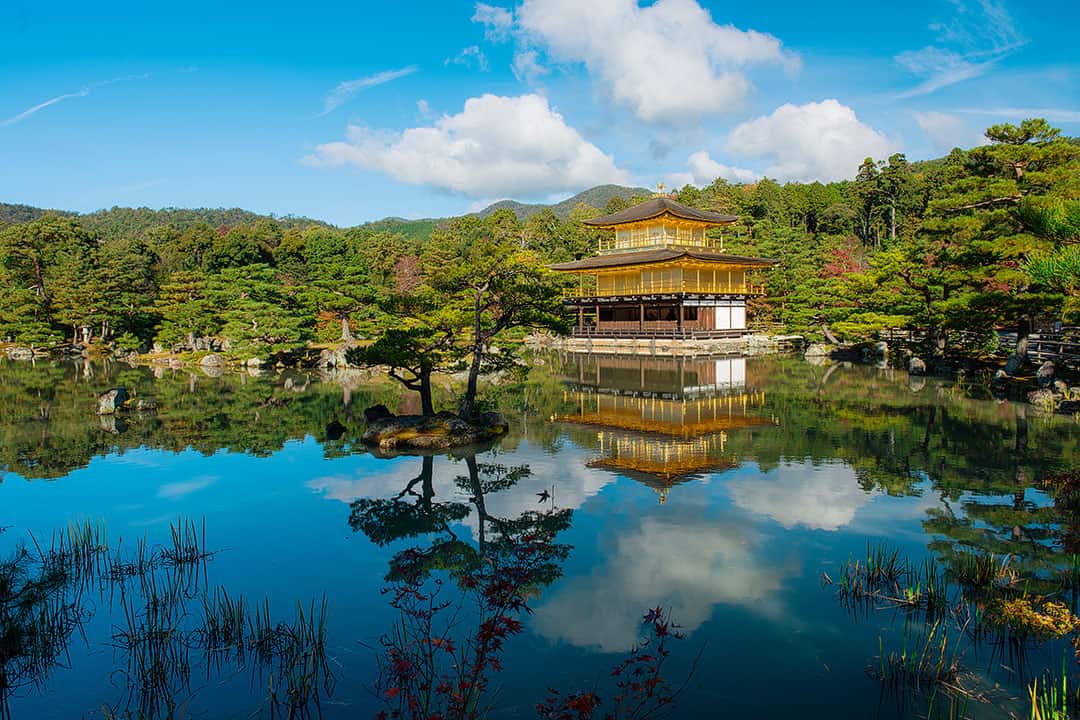 Ginkaku-ji, officially named Higashiyama Jisho-ji or commonly called Silver Pavilion, is not covered in silver like you would expect if you've visited the Golden Pavilion. The scenery is still very beautiful with the pond and reflection when the pond is still.
During your visit, don't miss the Kannon Hall, sand garden, Hondo, Todugo, and moss garden. You can also climb a small hill behind the buildings to get an overhead view of the entire grounds and the city behind it. 
There are a few theories on how it earned its nickname. The first is to contrast it with the Golden Pavilion. The second, which I like better, is that the building used to be covered in black lacquer and when the moonlight reflected off of it, it looked silvery. Which do you think it is?
Getting Here: Bus 5, 17, or 100 from Kyoto Station. 
Self guided or book a tour here.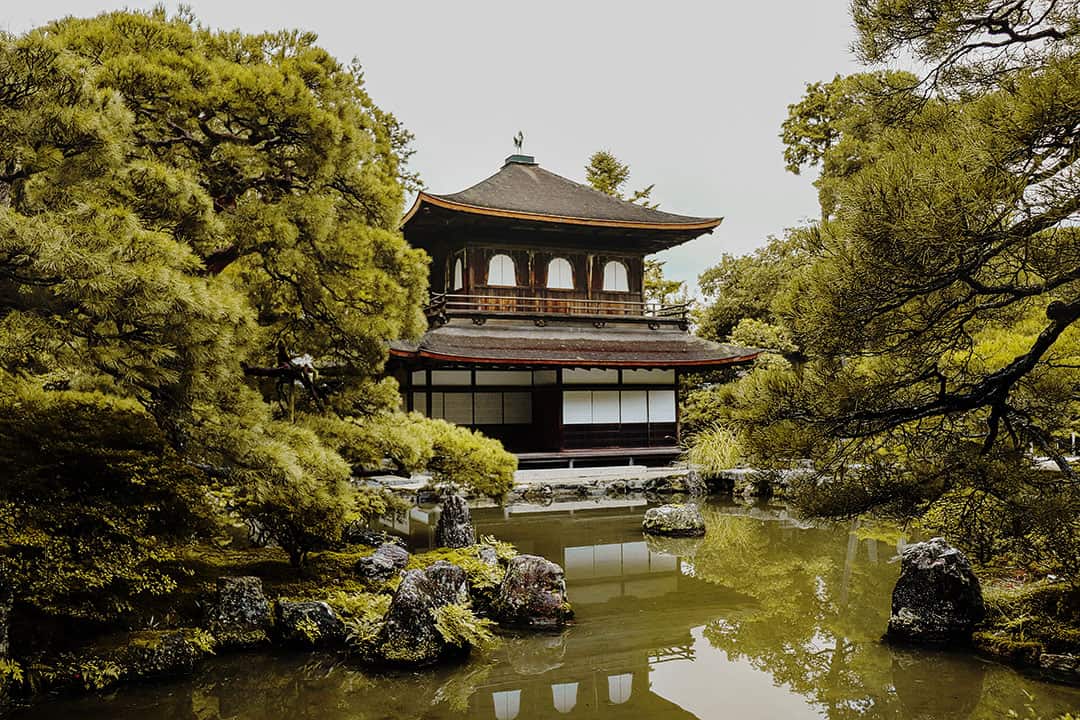 Did someone say food? I'm always down. We loved walking the narrow streets of the Nishiki Market lined with hundreds of food shops and restaurants. I couldn't help but stop at every few stalls to try every type of food on a stick.
The entire market runs five blocks and you can find fresh seafood, seasonal and local specialties, knives, cookware, and more. Each spot usually specializes in one type of food and there are plenty of options.
You can even book a tasting tour of the market.
Getting Here: Shijo Station on the Karasuma Subway Line or Kawaramachi Station on the Hankyu Line
Local Tip: Make sure you have cash with you! Also, be sure to avoid walking and eating or eating on local trains, since it's frowned upon.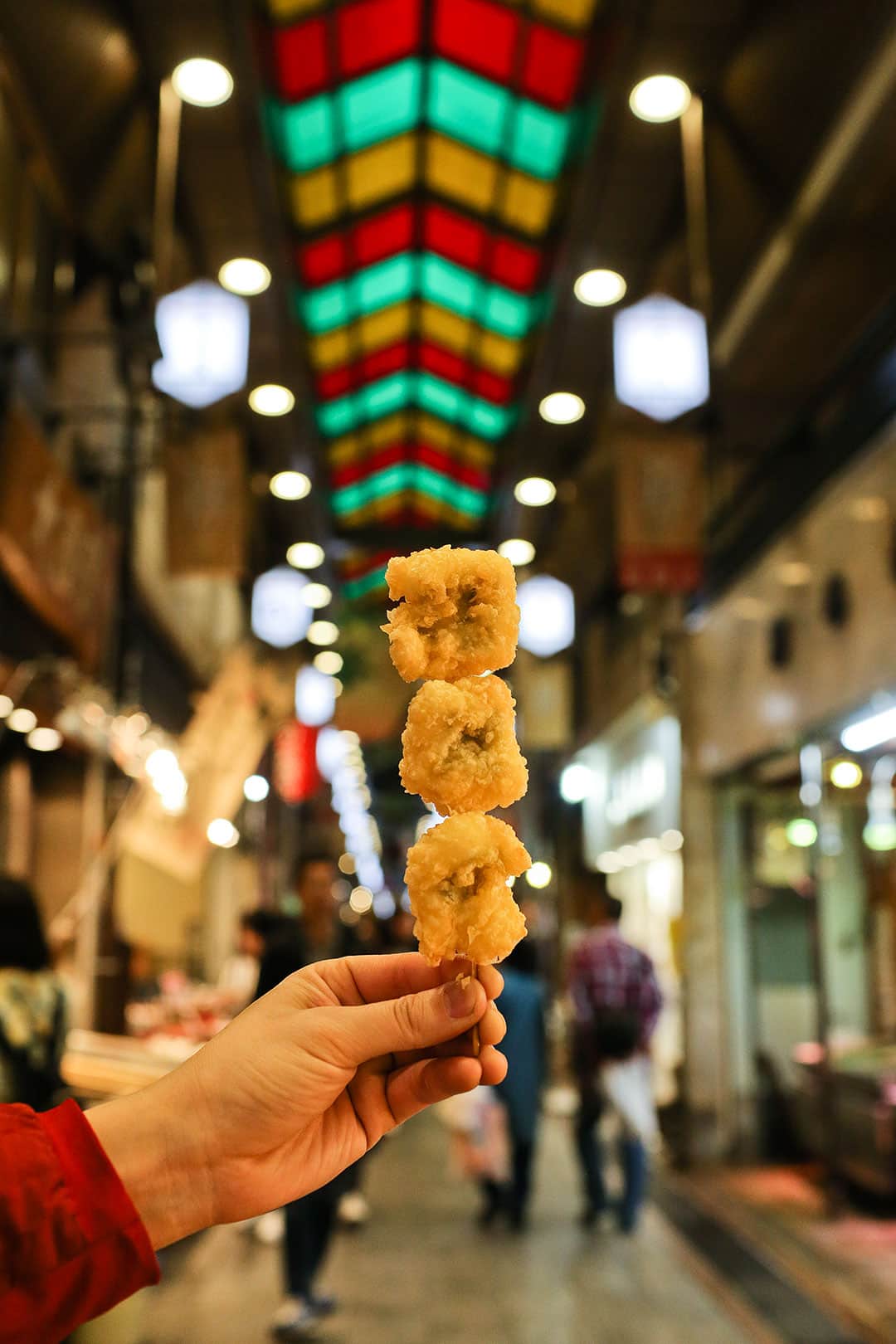 In a city mostly known for its ancient temples and preserved streets, Kyoto Tower stands towering above all the other buildings like something from the future. It's the city's tallest structure and there is a viewing platform 100 meters above ground giving you a 360 view of the city.
Pick up tickets ahead of time here.
Getting Here: Kyoto Station
Note: On clear days, you can see as far as Osaka.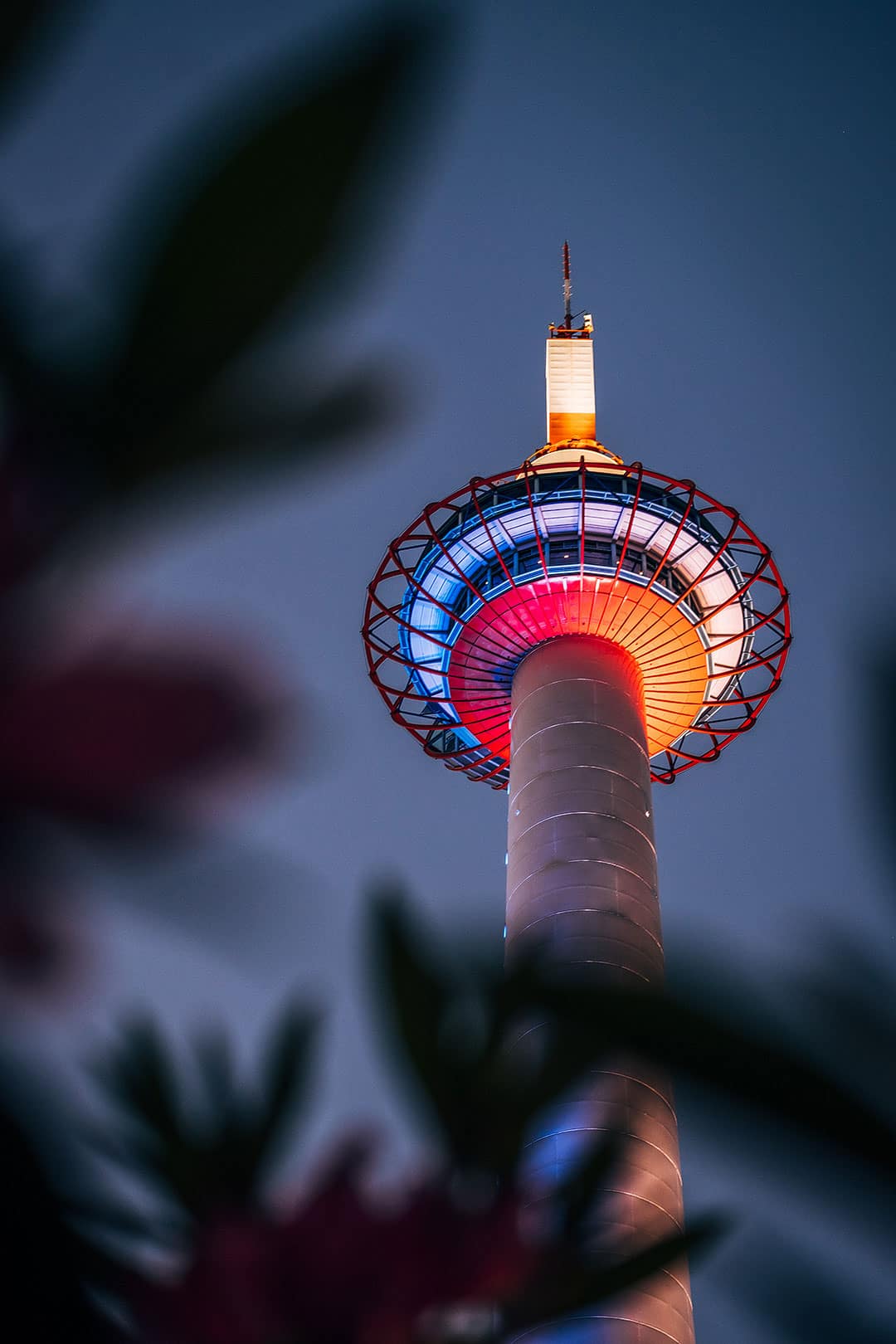 10. Tetsugaku no Michi (Philosopher's Path)
The Philosophers Path is famously known as one of the most beautiful walks in the world during cherry blossom season. It runs from the Silver Pavilion to the Nanzenji neighborhood totaling about 2m.
The stone path follows a canal lined by hundreds of cherry blossoms making it the most popular cherry blossom spot in the city.
If you prefer cycling, check out this tour that stops by Philosopher's Path too.
Pro Tip: It's hard to predict the exact time when they will bloom, but it's typically in early April. Both times we visited, the season was cut short due to rainy weather. 
11. Kamo River - Bike or Picnic Here
The Kamo River (or Kamo-gawa in Japanese) is a popular spot for locals. If you visit in the morning, you'll see people walking their dogs or going for a morning jog. Later in the day, you'll see picnickers getting some vitamin D. My favorite time to visit was during the evening, since the lanterns light up the streets. When the water is calm you can see reflections.
It's also a very popular place to visit during spring since many cherry trees are planted along the river.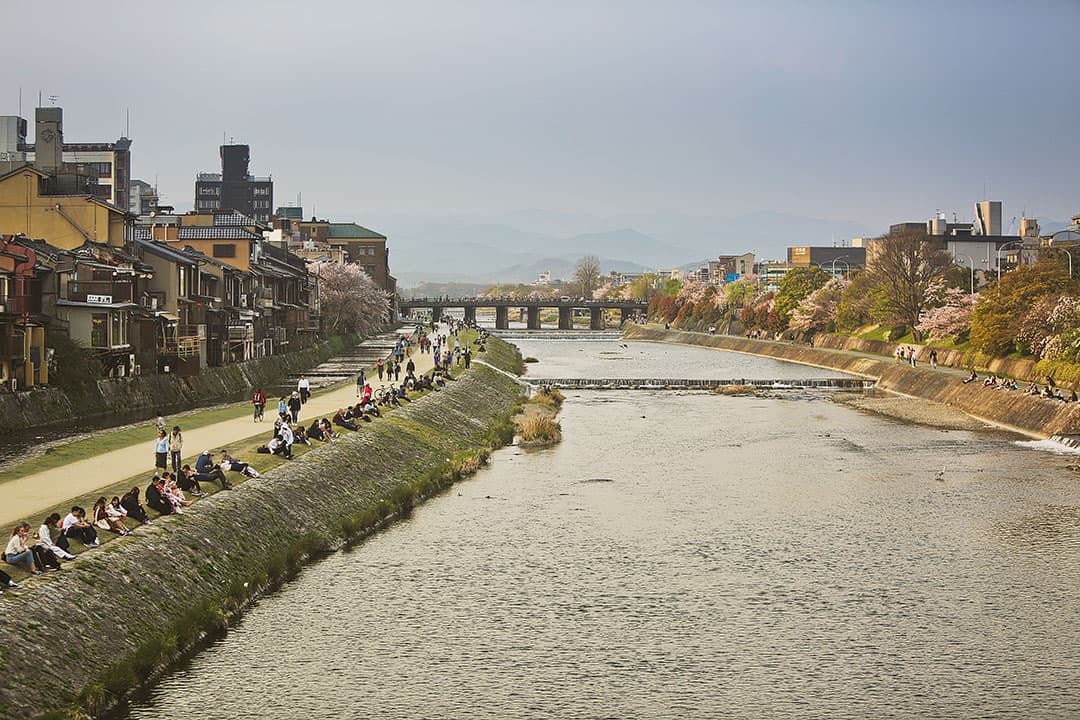 This temple is a UNESCO world heritage site and best known for its rock garden. It's the most famous one in Japan. Little is known about its construction and history, but maybe that's why it's so interesting.
Head to the Hojo, or head priest's former residence, for the best views. Also, take the time to walk around the park and pond below the main buildings. There's even a restaurant there that specializes in Yudofu (boiled tofu).
Getting Here: Ryoanji-michi Station on the Keifuku Kitano Line or via a JR bus from Kyoto Station.
Note: You may notice that at any given vantage point, at least one rock is hidden from your view. Try it!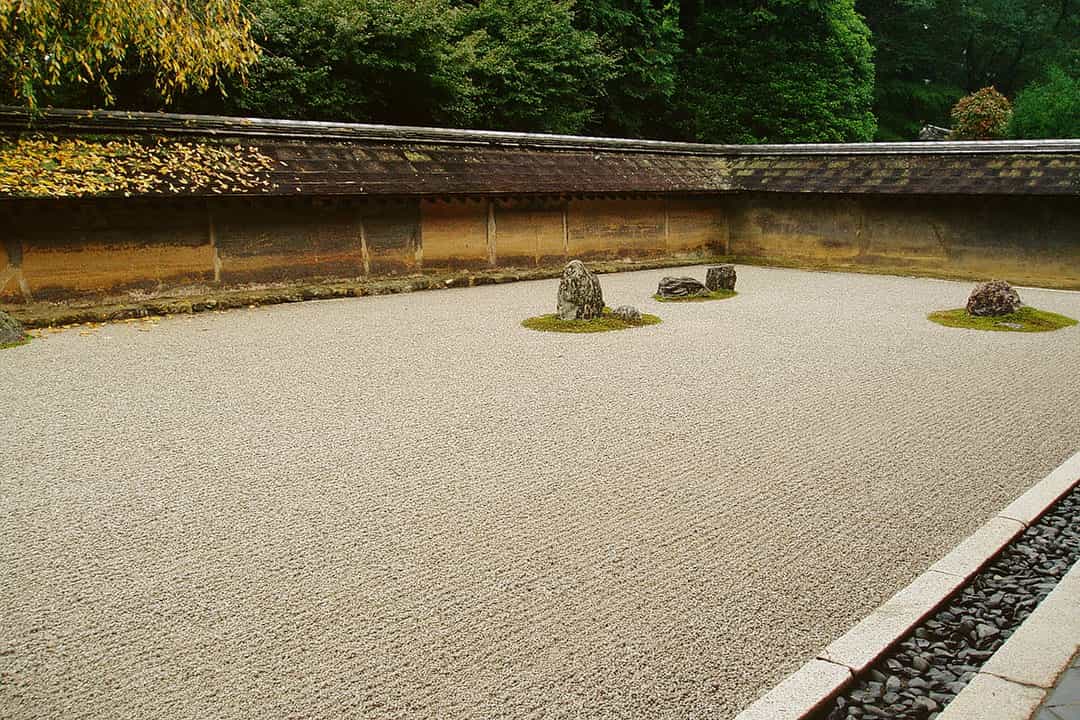 13. Kyoto International Manga Museum
We both grew up reading manga (Japanese comics) and Jacob still does from time to time. Unlike the States, where comics are considered mostly for kids, manga is hugely popular in Japan and all ages enjoy it. The museum has 3 floors and a basement lined with shelves of manga.
The majority of them are in Japanese, so be prepared to learn some. Or there is a small section dedicated to foreign and translated manga, but that's not as fun. There are also temporary exhibitions that come through.
Getting Here: Karasuma-Oike Subway Station
Local Tip: The museum is closed on Wednesdays (or the following day if Wednesday is a national holiday) so keep that in mind when planning your trip.
This was our favorite temple and a bit of a gem because of its remote location. Hidden in the hills of Arashiyama, we walked up here after visiting the bamboo forest and had the whole place to ourselves among 1200 Rakan statues.
The statues are relatively new, added between 1981 and 1991, but look much older since the moss covers them. Each one represents Buddha's disciples and was actually carved by different visitors under the guidance of the priest.
Getting Here: Otagi Dear Mae Bus Stop on Bus 64, 74, 84, or 94 from Kyoto Station.
Local Tip: Pay close attention to each individual statue. They are truly whimsical and some hold items like sake, a tennis racket, or a cassette player. You might also be able to find your doppleganger.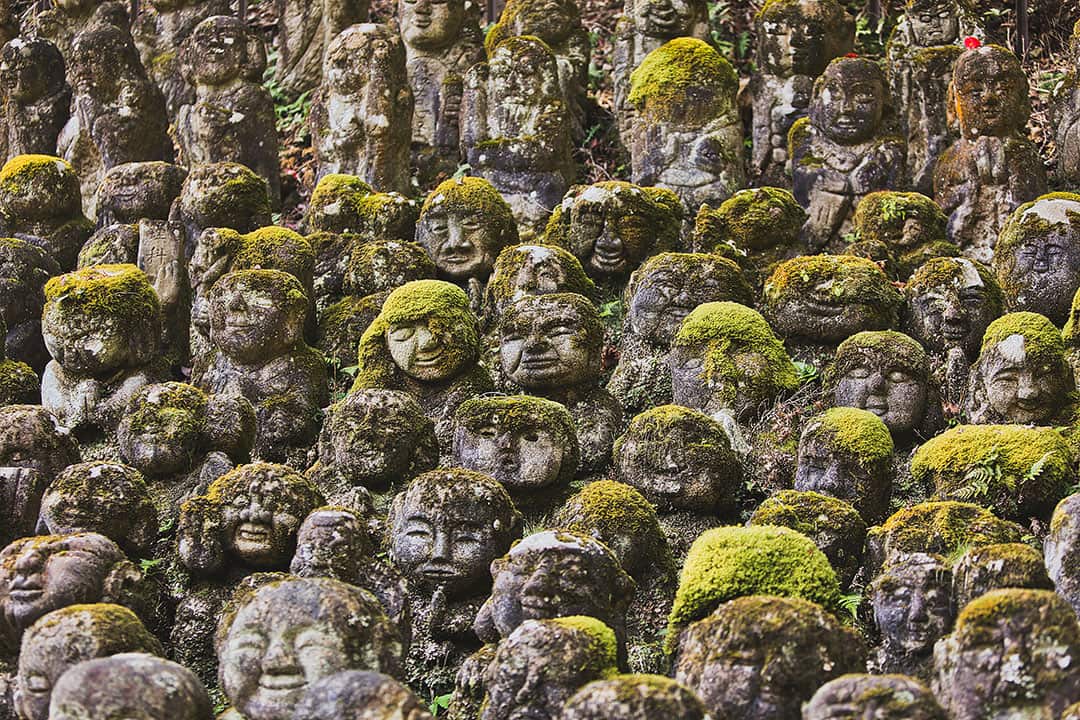 If you're a nature lover, less than an hour from the city, Kurama is a small rural town known for its temple and hot spring. The Kurama-dera temple is set on a mountainside and the climb takes 30-45 minutes. There's also a cablecar that gets you about halfway up for 200 yen.
The Kurama Onsen is one of the easiest to access from Kyoto and has outdoor and indoor baths. Guests staying there can use it for free, or you can pay 2500 yen to access them for the day.
Getting Here: Kurama Station on the Eizan Railway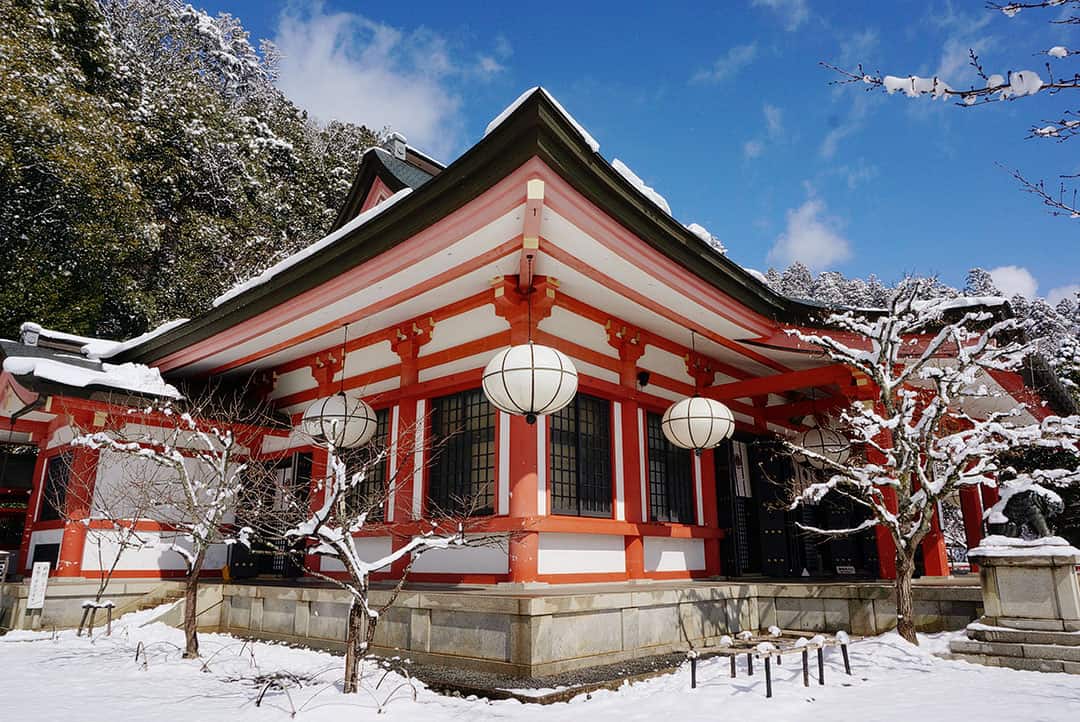 Map of the Best Things to Do in Kyoto
More Temples & Shrines in Kyoto
Adashino Nenbutsu-ji – temple with memorial statues, better in fall than spring
Bishamon-do Temple
Byodo-in (UNESCO)
Chion-in (popular for fall foliage)
Daigoji (UNESCO, popular for fall foliage and cherry blossoms)
Daitoku-ji – temple + gardens
Eikan-do-Zenrin-ji (popular for fall foliage)
Enko-ji (popular for fall foliage)
Enryaku-ji (UNESCO site)
Entoku-in
Giouji Temple – fall leaves
Heian Shrine (popular for cherry blossoms)
Higashi Honganji
Hirano Shrine (popular for cherry blossoms)
Hiyoshi Taisha Shrine – fall leaves
Hogon-in
Honen-in Temple – escape crowds
Ishiyama-dera Temple – fall leaves
Jingo-ji (popular for fall foliage)
Jishu-Jinja Shrine
Jisso-in Temple (popular for fall foliage)
Jojakko-ji – maple trees
Kamigamo-jinja (UNESCO)
Kennin-ji
Kitano Tenmangu (popular for fall foliage) – they hold an annual plum blossom festival and fall festival
Kodaiji Temple (popular for fall foliage) – quieter temple with bamboo grove
Kozan-ji (UNESCO)
Mimuroto Temple – fall leaves
Mii-dera – fall leaves
Myoshinji Temple – landscaped gardens
Nanzen-ji (popular for fall foliage)
Ninna-ji (UNESCO, popular for cherry blossoms)
Nishi Hongan-ji (UNESCO)
Nison-in Temple – fall leaves
Nonomiya Shrine
Rengeoin Sanjusangendo
Ruriko-in Temple – fall leaves
Tenryu-ji
Saiho-ji (UNESCO)
Sanzen-in Temple (UNESCO, popular for fall foliage)
Shinshogokuraku-ji – fall leaves
Shinnyodo (popular for fall foliage for locals)
Shisen-do Temple
Shoren-in Temple (popular for fall foliage)
Tofuku-ji (popular for fall foliage)
Toji (UNESCO)
Ujigami Shrine (UNESCO)
Yasaka Shrine – once called Gion shrine
Yasaka Koshin-do – temple with colorful balls
Yoshida Temples and Shrines
Yoshiminedera (popular for fall foliage)
More Parks & Gardens in Kyoto
Haradani-en Garden (popular for cherry blossoms)
Lake Biwa Canal – fall leaves
Katsura Imperial Villa
Keage Incline (popular for cherry blossoms)
Kyoto Botanical Garden (popular for cherry blossoms)
Kyoto Gyoen National Garden or Kyoto Imperial Palace Park
Maruyama Park (popular for cherry blossoms)
Mount Atago – hiking, fall leaves, and ruins
Mount Hiei
Okazaki Canal (popular for cherry blossoms)
Okochi Sanso Villa – japanese garden & tea house
Shosei-en Garden – garden + tea houses
Shugakuin Imperial Villa (popular for fall foliage)
Kyoto Aquarium
Kyoto National Museum
Museum of Kyoto
Kyoto Railway Museum
Kyoto Station Building
Sento Imperial Palace
Gekkeikan Okura Sake Museum
National Museum of Modern Art Kyoto
Cherry Blossoms (early April)
Aoi Matsuri Festival (May)

Gion Matsuri Festival (July)

Jidai Matsuri Festival (Oct)

Best Places to Eat in Kyoto
Matcha – Ramen & Sushi
L'Escamoteur – Kyoto's best cocktail bar
Honke Nishio Yatsuhashi Gion – Uji matcha parfait
Kichi Kichi – famous omurice
Best Time to Visit. Spring and fall are the most beautiful times to visit but also the most crowded. November has the best weather and fall foliage. Late March to early April is Sakura season, but you'll get some rain.
Be Prepared for Crowds. Kyoto is one of the most popular spots to visit and the city that can barely handle the crowds. Be prepared to wait or wake up early if you want to avoid crowds. Typically, most attractions are busiest between 9am and 2pm.
Ask Your Concierge. If you want to dine at upscale restaurants or dine with geisha, stay at a luxury hotel where the concierge can help you get a reservation. Most places need a local's recommendation.
Use Google Maps. There are multiple train lines and bus options which can be confusing, but download the area on google maps, and it can help you figure out which one to take. Pick up a hotspot if you won't have cell service.
Kyoto Has Distinct Seasons. Pack appropriately to ensure you have enough layers or shorts depending on when you visit.
Don't Try to See it All. There are so many temples in Kyoto. Don't try to see them all otherwise you'll get 'temple fatigue'. Pick a few you're really interested and break up your day.
Be Ready to Squat. A lot of the toilets are squat toilets. They're easy to use, just squat! Also, carry your own toilet paper just in case.
Have Cash on You. Japan still favors cash over credit cards.
Want to know what to wear to the airport? These are our ideal airport outfits.
Carry on essentials

to improve your next flight.
By Plane – the closest airport to Kyoto is Osaka's Itami Airport which is a roughly one-hour bus ride from Kyoto.
By Train


Shinkansen – Tokyo & Kyoto are connected by the JR Tokaido Shinkansen and takes roughly 140 minutes. It's by far the most convenient way to get there. Get a Japan Rail Pass

since it's about the same price as a round trip ticket and you can use it for other trips. 

Local Trains – are a cheaper option but usually take 9ish hours and involve multiple transfers.

By Bus – a one way trip from Tokyo to Kyoto via bus takes about 7-8 hours. On the plus side, it's cheaper.
Best Places to Stay in Kyoto
Be sure to book your accommodations early, especially if you're there during fall or spring. We booked our rooms so late that we couldn't find much available. 
Are there any of your favorite things to do in Kyoto Japan that we missed? How many of these spot have you been to?
Did you enjoy this post? Pin it for later
SEE MORE IDEAS FOR TRAVELING ASIA
"Discovery consists not of seeking new lands but in seeing with new eyes" – M. Proust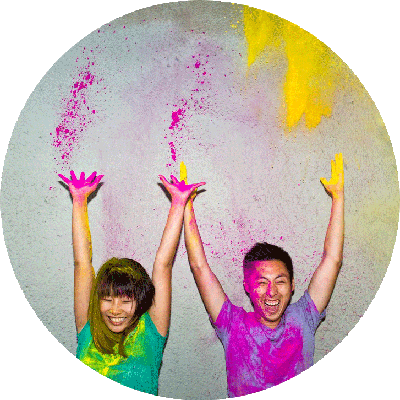 Esther and Jacob are the founders of Local Adventurer, which is one of the top 5 travel blogs in the US. They believe that adventure can be found both near and far and hope to inspire others to explore locally. They explore a new city in depth every year and currently base themselves in Las Vegas.