When we started planning our trip to Iceland, one of the most awe-inspiring photos we kept seeing was a brilliant blue ice cave is in the Breiðamerkurjökull glacier (everybody ready to say that with me?) or more easily called "the Crystal Cave" by tourists. This is the largest ice cave in Vatnajökull National Park at the moment and was discovered in 2005. These ice caves are always melting and forming, so in a few years it might be located somewhere else!
We were so excited to finally explore and photograph this natural wonder, which had been on our dream bucket list even before this blog was born. Unfortunately, there was a celebrity… that spoiled the experience for us. Can you guess who?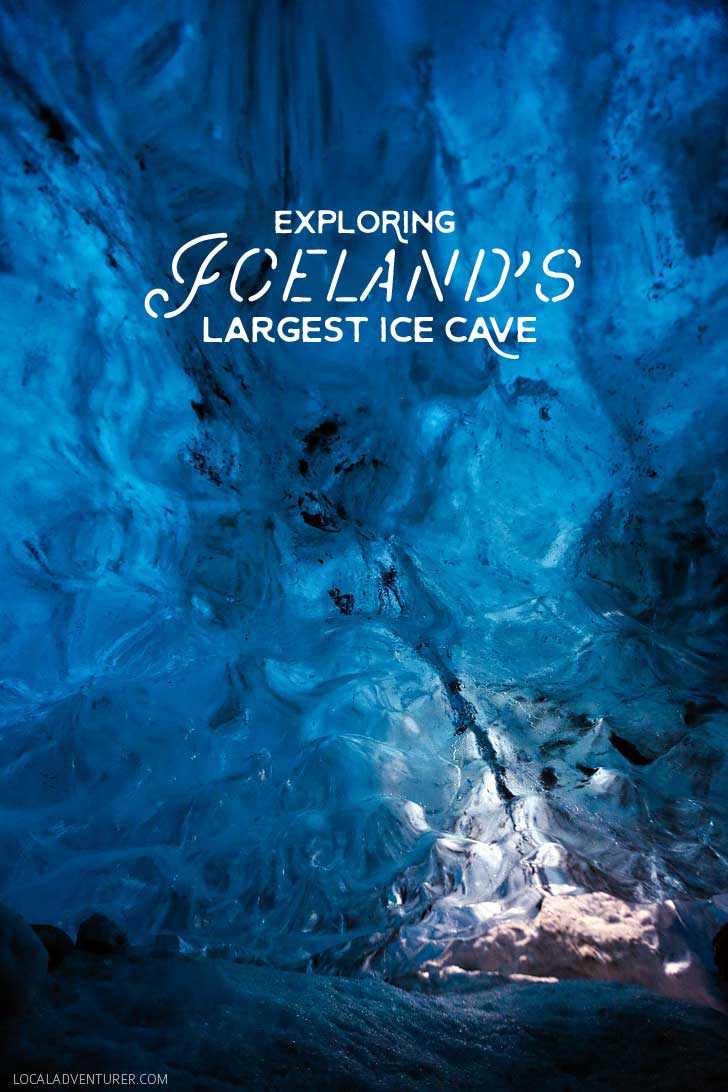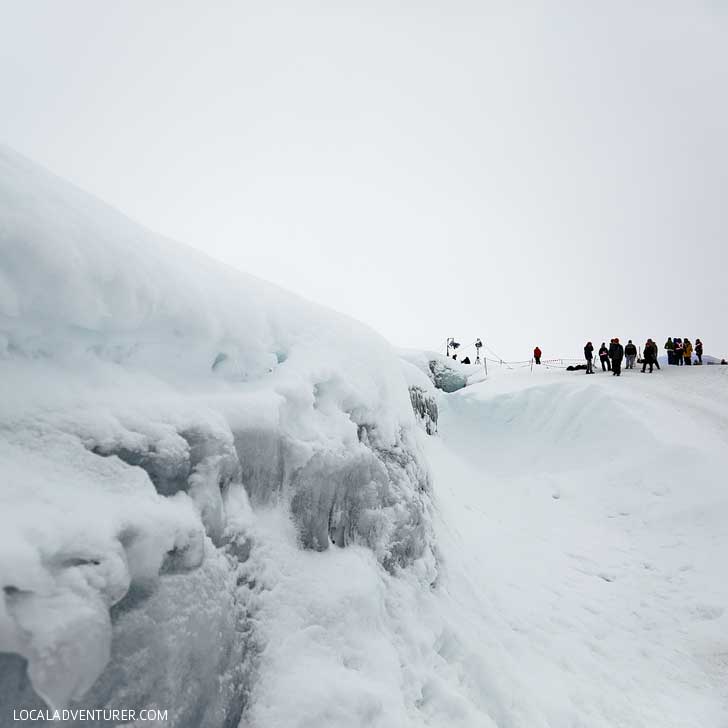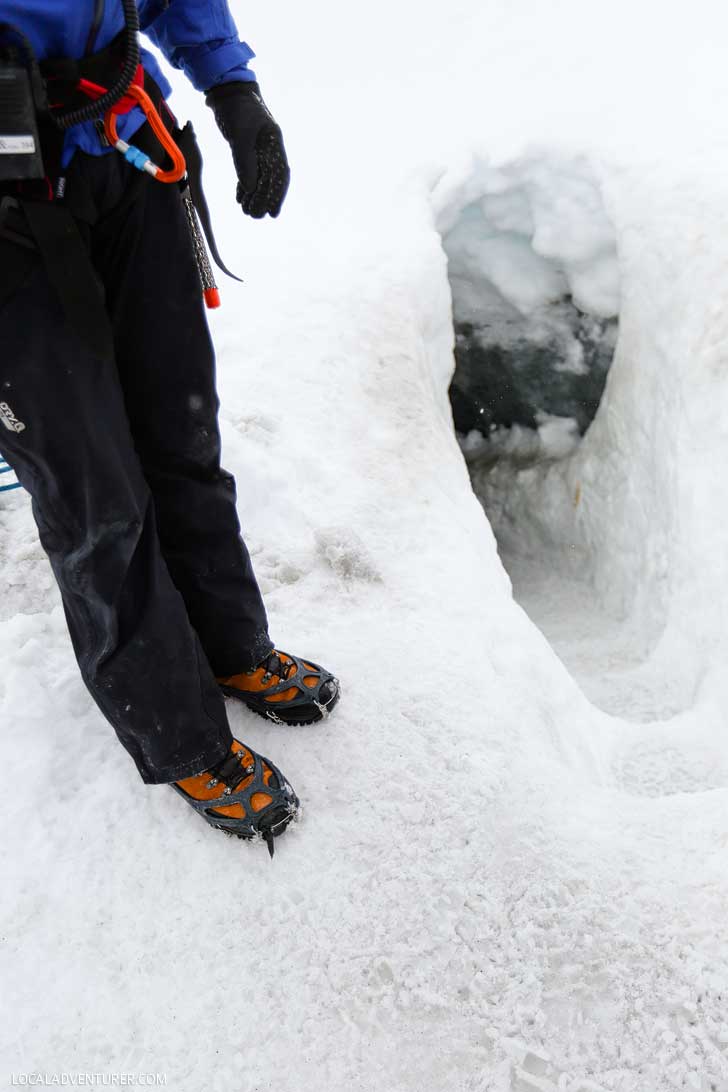 OUR EXPERIENCE
When we heard that they were currently filming a movie with Jackie Chan, rather than doing a happy dance about possibly meeting him, I was more worried about our experience (Jacob had already met him on another trip. What are the chances they meet again!). Though it might appear to be a massive cave in photos, photos can be deceiving. The ice cave was made up of two main larger caverns with a narrow (and sometimes low) walkway in between.
With the film crew and the tour groups of around 70 people, the cave was uber cramped. There was one small corner in the back where everyone got a turn taking photos, but the main and most photogenic area with the best light was being filmed and was off limits to us. Too bad I snuck a photo… to remember that from now on, Jackie Chan is my nemesis!!! 😡😭 (Well, okay.. I hear he's a really nice guy, but it was really unfortunate that their film day was the day we went! Or fortunate if it's your dream to see Jackie Chan!)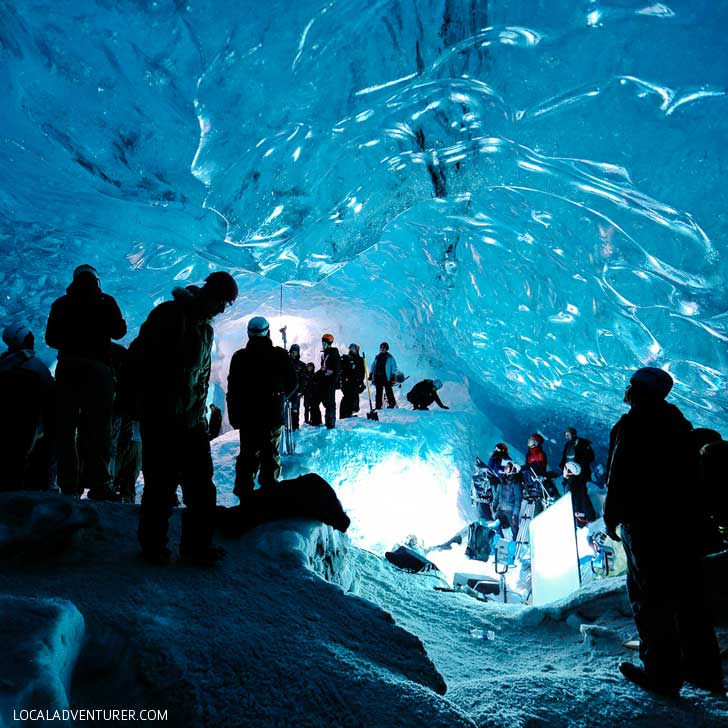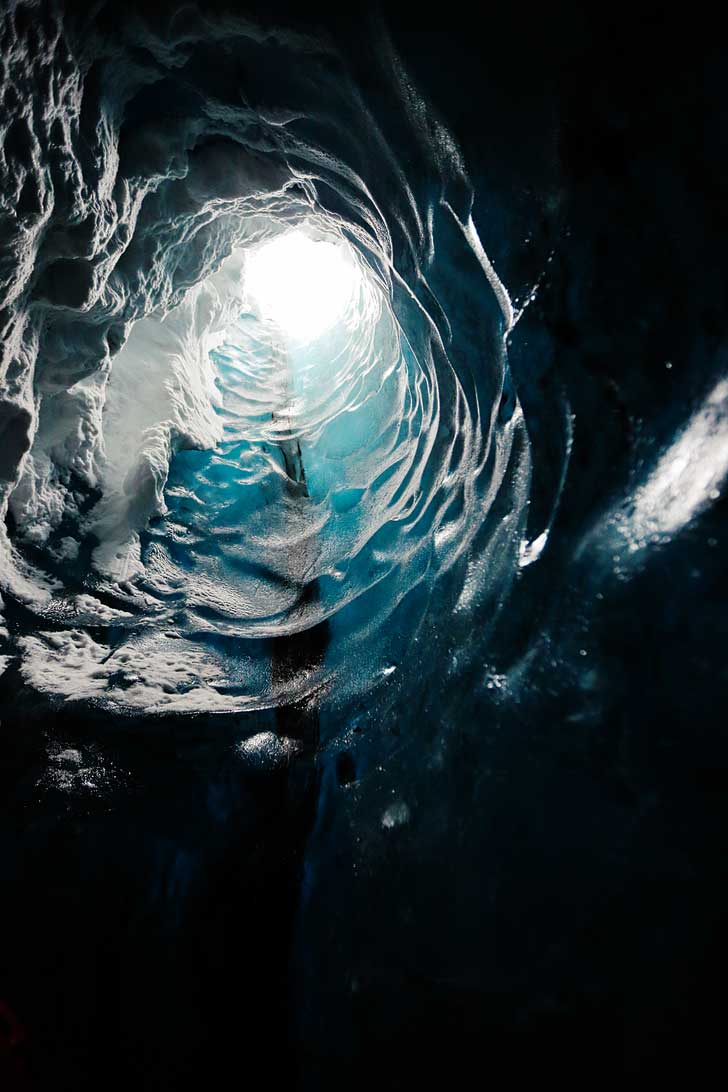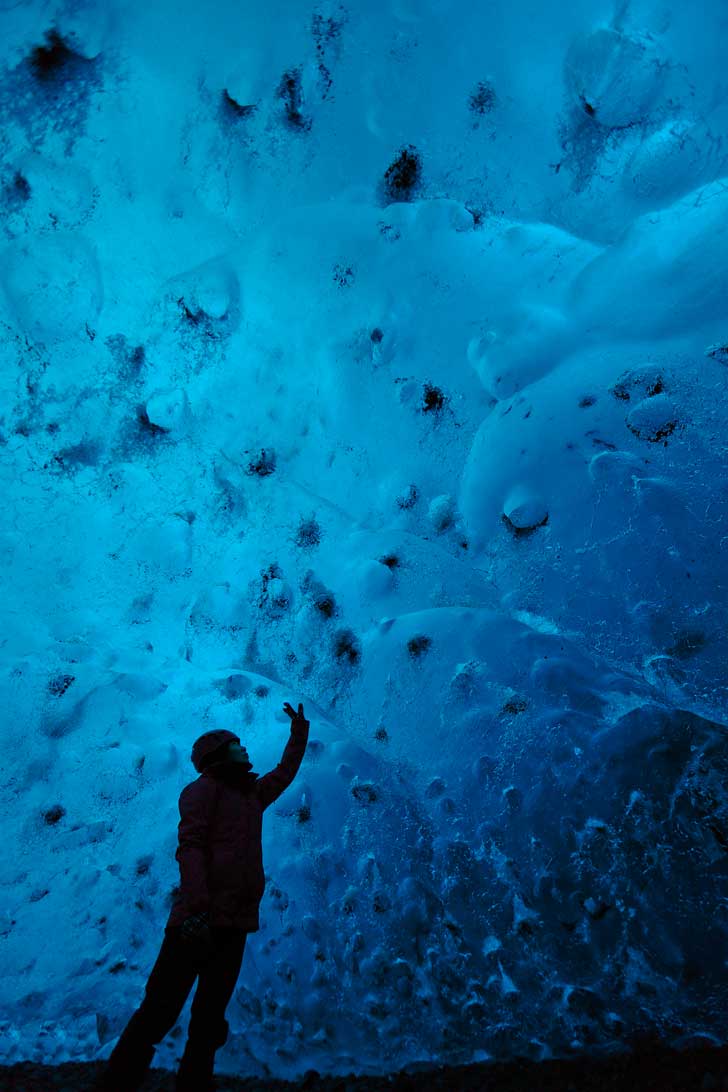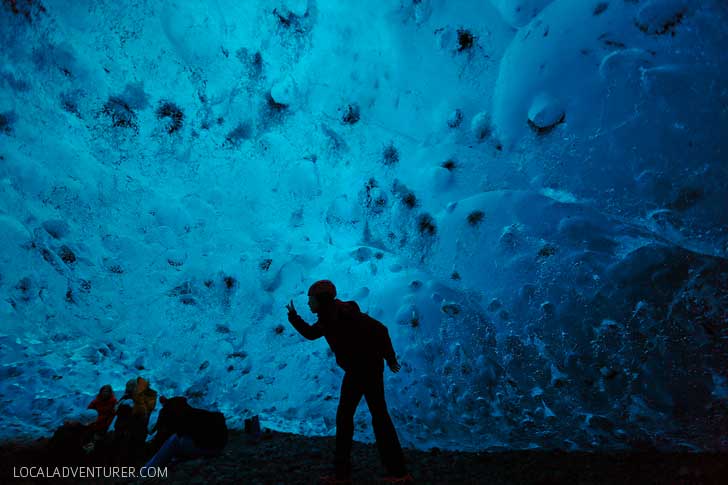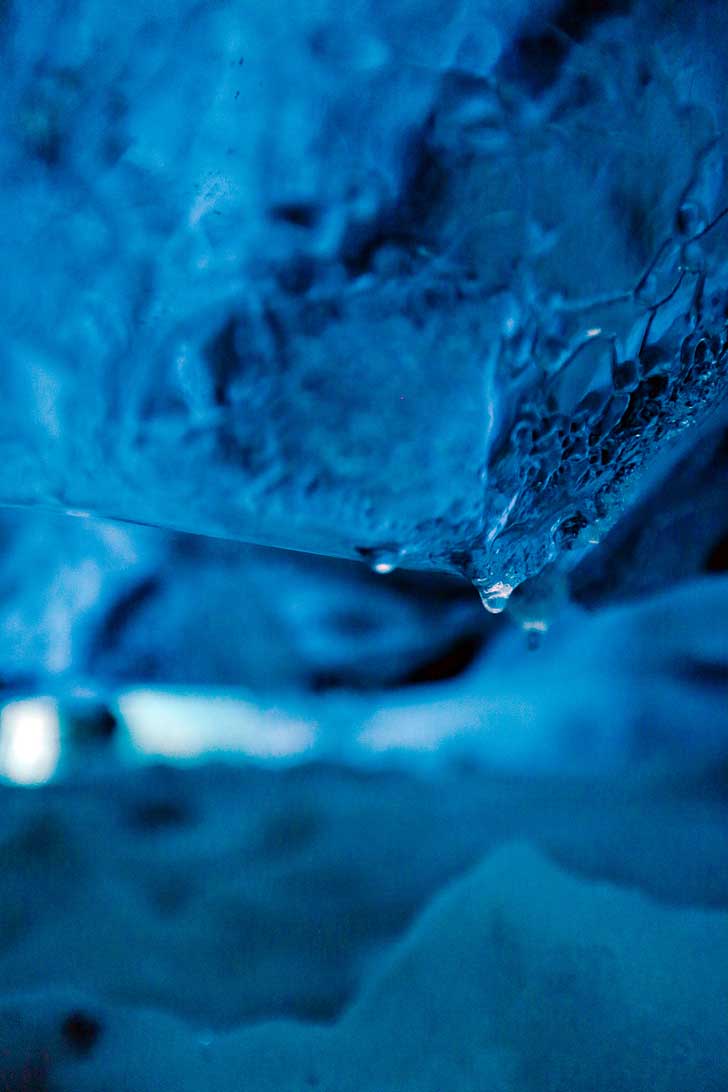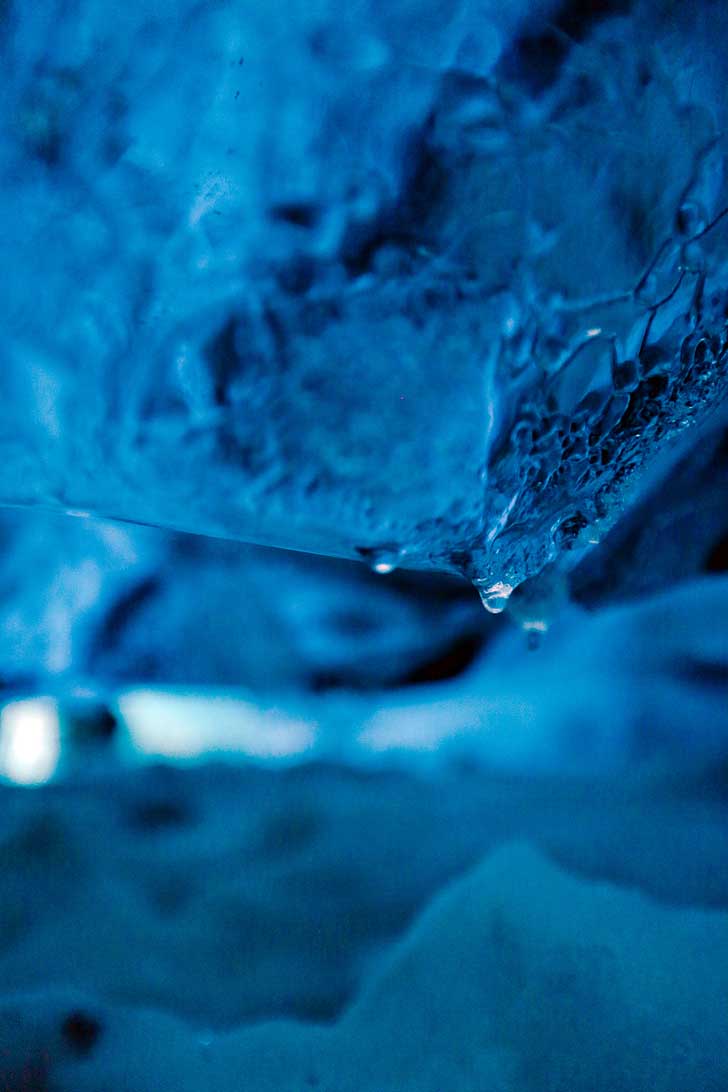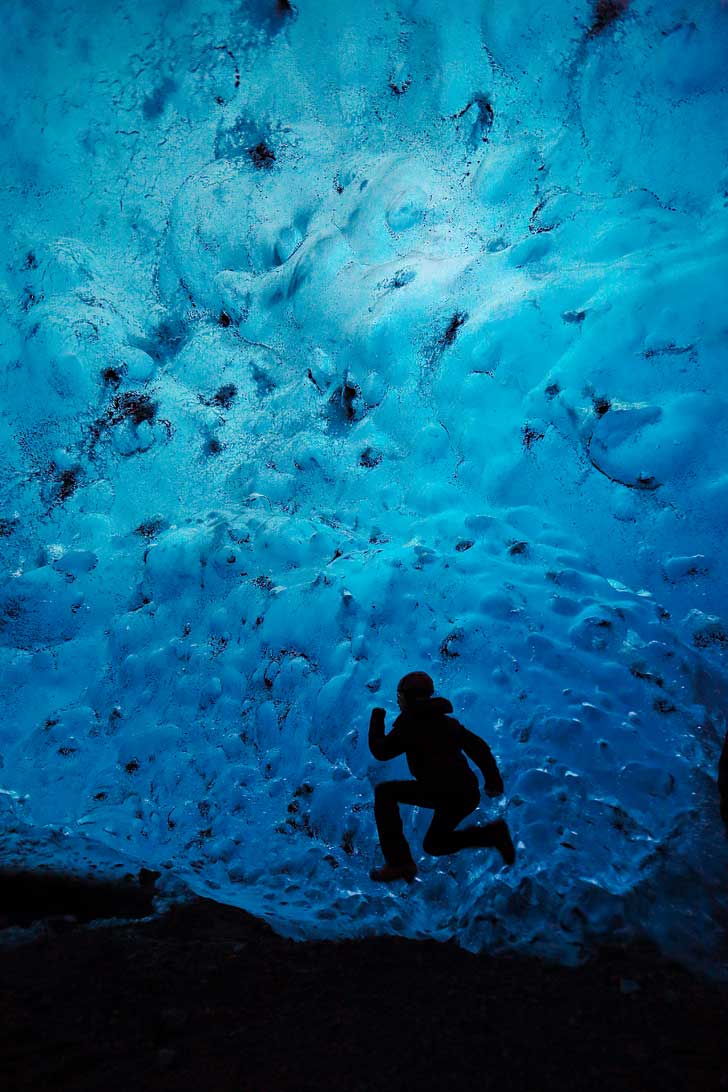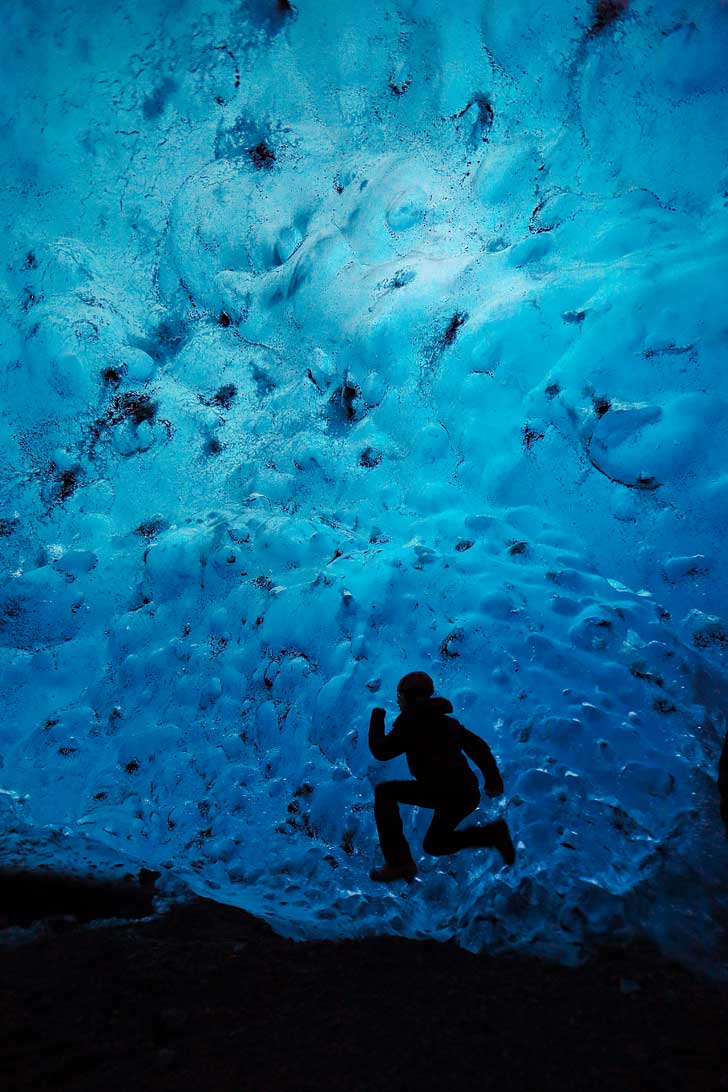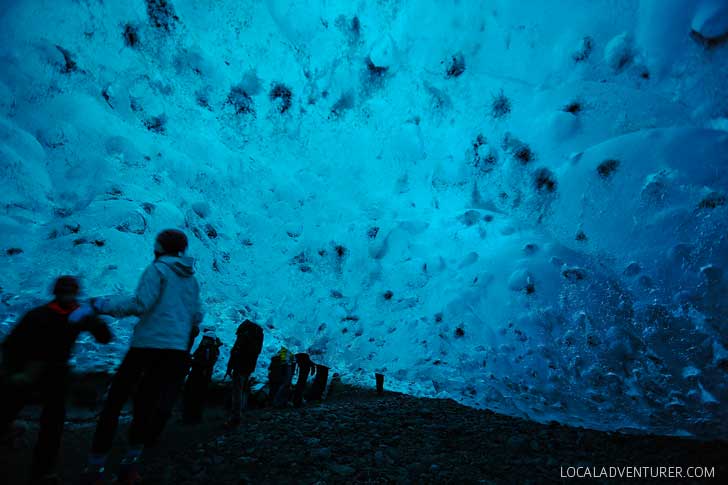 After a few photos, we left ahead of most of our group and ducked into a small tunnel that our guide showed us approximately 20 feet (6 m) away from the entrance of this cave. There wasn't anyone here and the light was much nicer!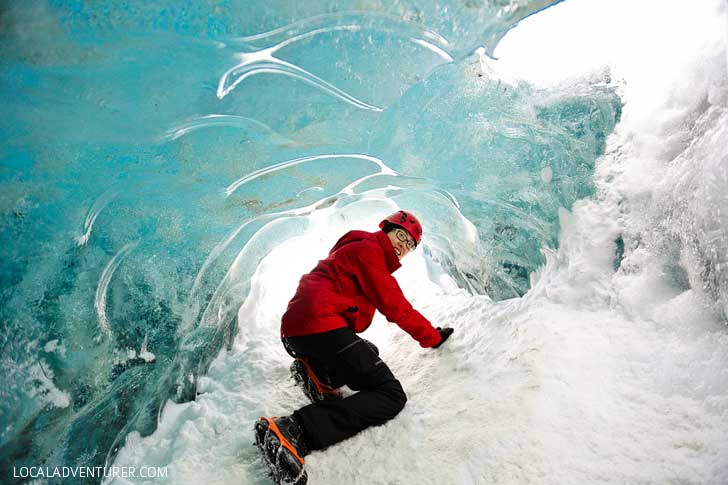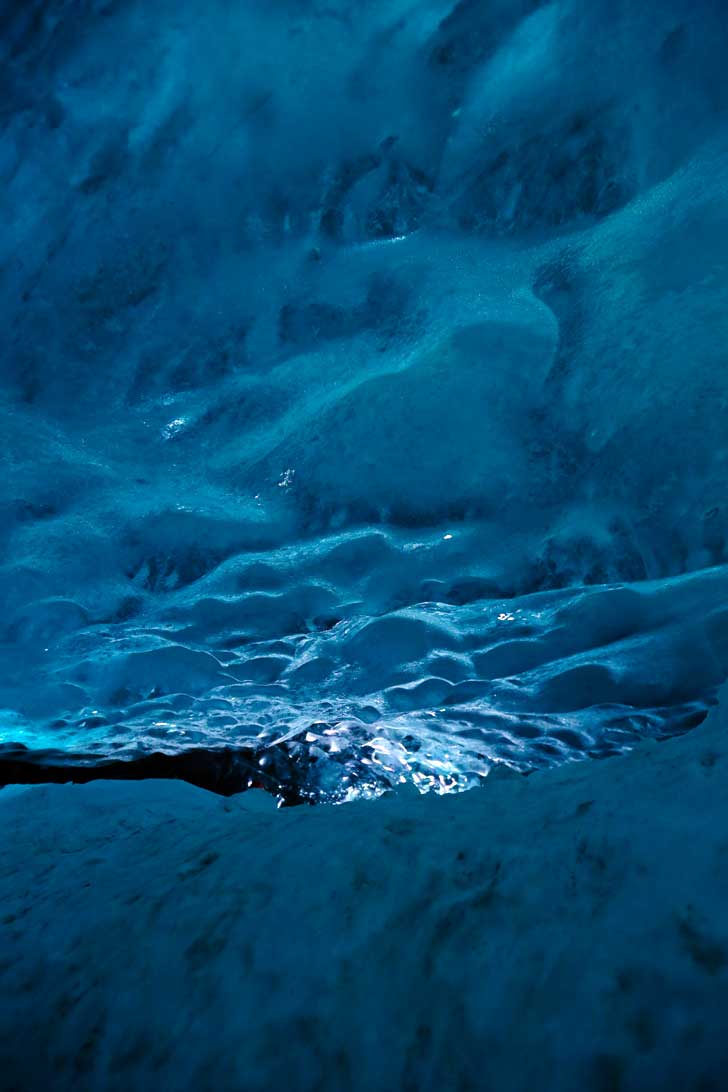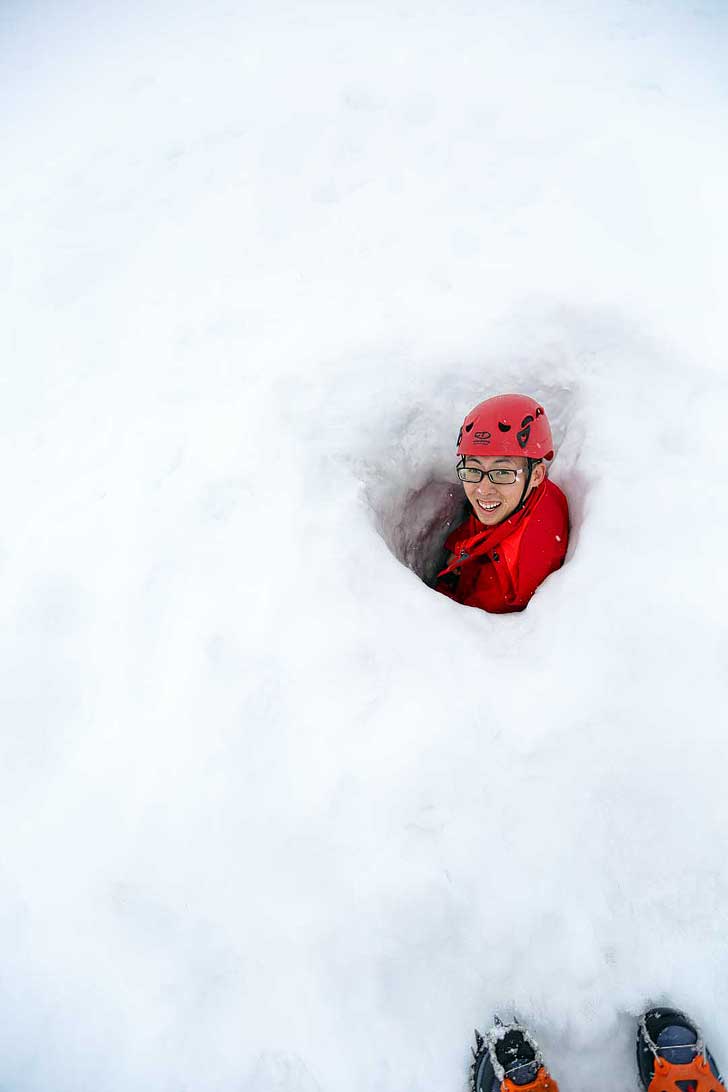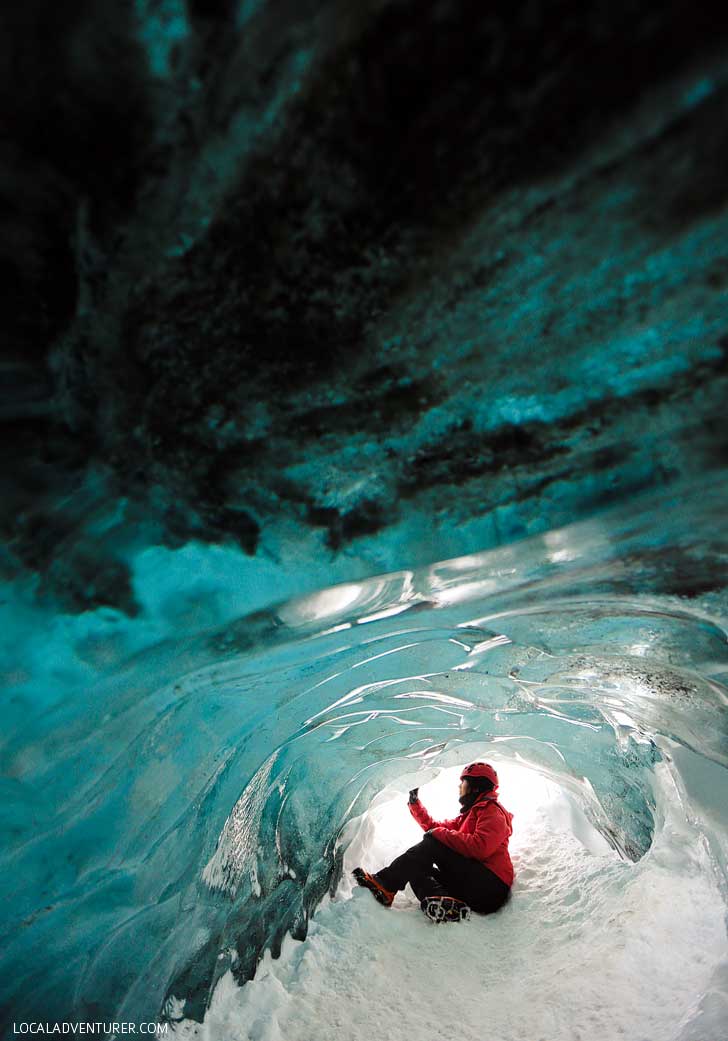 WHAT'S IN A NAME?
There were so many names used to reference this ice cave that it can be quite confusing to keep track of whether you're going to the right cave. If you see "the Crystal Cave", "Skaftafell ice cave", "Vatnajökull ice cave", or "Breiðamerkurjökull ice cave", it's probably all the same cave or at least in the same area!
Jökull means glacier. The specific cave we went to is part of Breiðamerkurjökull, which is an outlet glacier of the larger Vatnajökull glacier within Vatnajökull National Park. Prior to 2008, Vatnajökull was simply the name of the glacier, and this cave was part of Skaftafell National Park, which is why many people still refer to it as the Skaftafell ice cave. When Vatnajökull officially became a National Park in 2008, Skaftafell and Jökulsárgljúfur National Parks also became a part of the larger Vatnajökull National Park. Phew! Does that make sense?
FINAL THOUGHTS
Overall, we found the price to be steep and much more crowded than we expected but so was almost everything in Iceland. However, if it's something you've been wanting to do, you gotta do it!
You should ALWAYS go with a guide or someone who is knowledgeable about the area. First of all, you need big wheels to get through the snow (even a 4-wheel drive won't do). Also, the fragile nature of these ice caves can make it extremely dangerous should it collapse. The ice cave season is rather short and dependent on weather. We booked this tour and loved our guide! You can see their other tours here.
Guide to Iceland
Laugavegur 12, 101 Reykjavik
+345 519 79 99
[email protected]
PRO TIPS TO VISITING THE CRYSTAL CAVE
The ice cave season is generally November-March.
In total, the trip is 2 hours and 30 minutes from Jökulsárlón and our group had about one hour in the cave. If you're coming from Reykavik, this is an all-day excursion with a 9-hour drive back and forth to Jökulsárlón.
4.5 hours one-way is a long drive to get out here for a day trip, so we decided to spend a night in Vik, which was halfway between this cave and Reykjavik. It gives you a much shorter drive and there is plenty to see in the area.
The capacity of each tour is 28, but ours had 6 people.
The capacity of the cave changes based on the weather. The beginning of the season was 150-200 people, but in February, snow-filled the cave and made the cave much smaller. In March, the rain emptied the snow, and the cave is bigger again.
Please note that next year this cave might not be there. Last year, there were two accessible caves, and this year, there's only one. Nobody knows what will happen in the future.
Book ASAP. This tour has been more or less fully booked all year, especially during Christmas and Chinese New Year. They had to turn away a lot of people this year, and the excursion is becoming increasingly popular.
The most crowded season is December and Chinese New Year, which changes annually.
We weren't notified about the filming until we arrived. It wasn't in the tour company's control, but make sure you check with them in case you'd rather go on a different day.
WHAT TO PACK
Wear hiking shoes or snow boots (these are not provided).
Dress warm but in layers. It's cold outside but once you start moving and crawling in the cave, it can get warm. Check out our packing guide to see what clothes layer well.
Don't bring a big bag since you're going through tight spaces. A small daypack is ideal.
Be prepared to get a little dirty and dress appropriately. The ground was made up of wet rocks and dirt, and at some points, you might be crawling.
Guide to Iceland provided us with helmets and crampons, so no need to pack them unless you're exploring other areas nearby.
PHOTOGRAPHY TIPS FOR THE CRYSTAL CAVE
Bring a wide-angle lens! You'll need it. We shot with our Canon 5D Mark III (full-frame camera) and 16-35mm lens at 16 the whole time.
Our videos were shot with our Sony RX 100 which shoots amazing slo-mo's (have you seen this video?)
Have a lens cloth handy since water might drip onto your lens.
A packable tripod is useful if you want to take long exposure shots. It's much darker in the back cavern.
In hindsight, even though it's much pricier, we would have liked to book a photography tour. If photography is important to you, this will give you more time and freedom to shoot.
WHAT ELSE IS NEAR THE CRYSTAL CAVE:
Jökulsárlón Glacier Lagoon
Jökulsárlón Ice Beach / Diamond Beach
Svínafellsjökull Glacier
Svartifoss
Would you be more excited about Jackie Chan or the cave? Is this something you'd put on your Iceland itinerary? If you have any other questions about the excursion not answered on this post, please leave a comment below so others can learn and discuss too! :)