Thank you so much for your interest in partnering with our blog! We're so honored that you're here. If you think your company is a right fit for our blog and would like more information about advertising and sponsorship, please email [email protected] A full media kit is available upon request.
BRANDS WE'VE PARTNERED WITH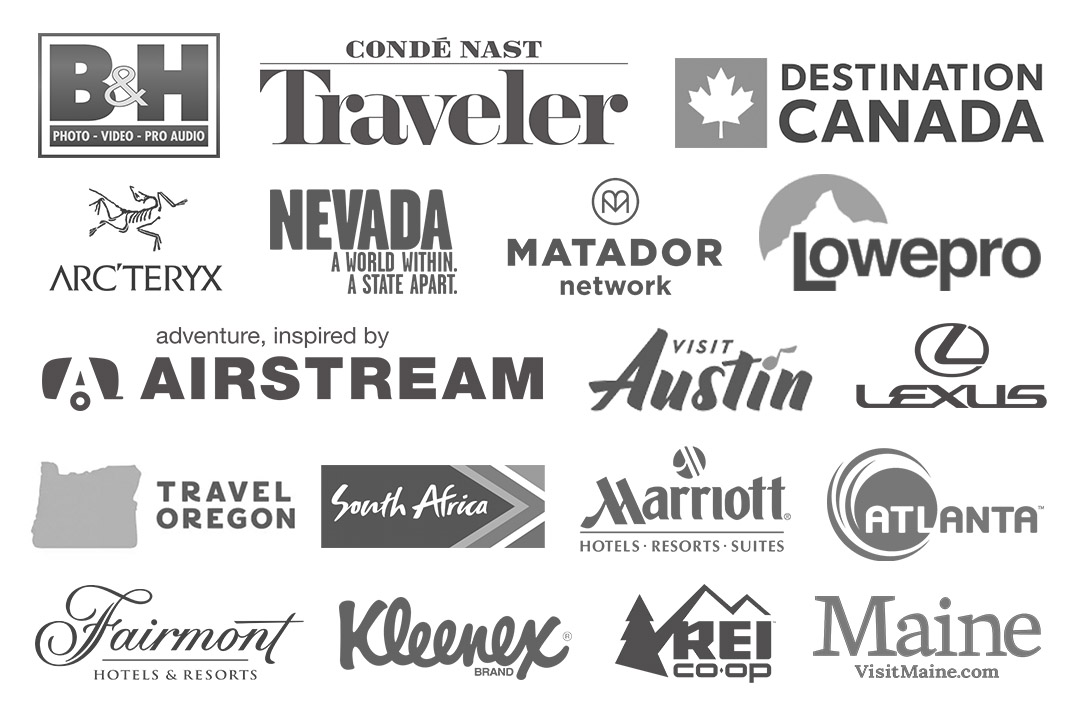 Opportunities for brand collaborations include but are not limited to advertising buttons, sponsored posts, reviews, and giveaways. Brands are hand-selected to be great resources to our readers, and we give full disclosure for sponsored posts per FTC guidelines.
More: See Full List of Brand Partners
BLOG STATISTICS (01/2020)
Over 24.5+ Million Pageviews
Over 13.4+ Million Unique Users
Monthly Pageviews: 628k+ (30-Day avg for 3 months)
Monthly Users: 304k+ (30-Day avg for 3 months)
AMPLIFICATION (01/2020)
Awards + Press
More: See the Full List of Awards and Press
Why You Should Partner with Local Adventurer
Jacob and Esther's positive energy is contagious. Their writing, video, and photography skills are top-notch, and they have a keen ability to convey important ideas and messages in their own unique voices. I've thoroughly enjoyed the opportunity to work with them as they share the Find Your Park/Encuentra Tu Parque movement far and wide and inspire more people to connect with our country's more than 400 national parks. I look forward to more opportunities to collaborate with such a fantastic and talented duo.
Alanna Sobel, Senior Manager of Communications at the National Park Foundation
Jacob & Esther make content creation look easy. They have witty personalities and bring creative ideas to the table that make for memorable experiences. Their personalities scream adventure. Jacob & Esther added an exuberant fun-factor to the Endless Caravan project and had no fear in marching toward an undefined journey. They truly made the project their own and managed to create authentic stories for our consumers that are both memorable and spirited.
Mollie Hansen, VP of Marketing at Airstream
It is such a pleasure to work with Jacob and Esther from LocalAdventurer.com. They are consummate professionals, always responsive and open to collaborating with the brands to make sure their content fits the parameters we are looking for. They consistently provide quality content with stunning images that reflect our brand messaging, but they maintain an honesty in their writing and that authenticity comes across in all their posts. I never have to worry when working with Jacob and Esther that I'm going to get amazing content from this power couple – that's why we have worked with them time and time again!
Vy Spear, Public Relations Manager at Contiki Vacations
It has been an absolute pleasure working with Jacob and Esther. They are such a fantastic fit for the Swiffer brand and the content they produce is exceptional – high quality, visually engaging and professional. I love how they are able to support our messaging and support Swiffer while staying true to their blog brand and their readers. I also appreciate how efficient they are with email correspondence!
Chelsea Levy, Client Service Manager at Citizen Relations
We were pleased to host Jacob and Esther in an exclusive digital influencer press trip to Fallon, Nev. The goal was to showcase the natural beauty behind Fallon's grit through outdoor sport activities, nature and wildlife, history and landmarks, locally grown food and cultural influences. Jacob and Esther welcomed each opportunity, and showcased their experiences through unparalleled creativity. They are professional, punctual and dedicated, and encompass a true heart for travel. They were able to capture the heartbeat of Fallon after only three days. Their positivity and openness make them perfect candidates for any media trip, and we would be honored to use their services again. They are brave, genuine, uninhibited, and true, local adventurers!
Stephanie Myers, Senior Account Executive at The Abbi Agency
It's been great having Local Adventurer as a Swiffer Fanatic this year! Great enthusiasm for our program and appreciate the fact that Jacob comes up with unique ways to write about the brand and isn't afraid to ask us for more information to help make his content even better.
Julia LaFeldt, Home Care Communications at Procter & Gamble
Jacob and Esther are not only 'Local Adventurers' but explorers who seek to highlight the adventure many of us forget is right outside our front door. In working with them, we admire their enthusiasm, integrity, and ability to create engaging content. They're also considerate in keeping us informed on how they liked/used our products and when it will be featured on their blog. We love reading about how our product enhances their adventure!