Many of our memorable hikes have been in Zion National Park, whether its the dizzying heights of Angels Landing or when we got completely soaked in the Narrows.
Since we first visited five years ago, the park's popularity has skyrocketed. To help you make the most use of your time, we've put together the things you can't miss in Zion National Park with our best tips.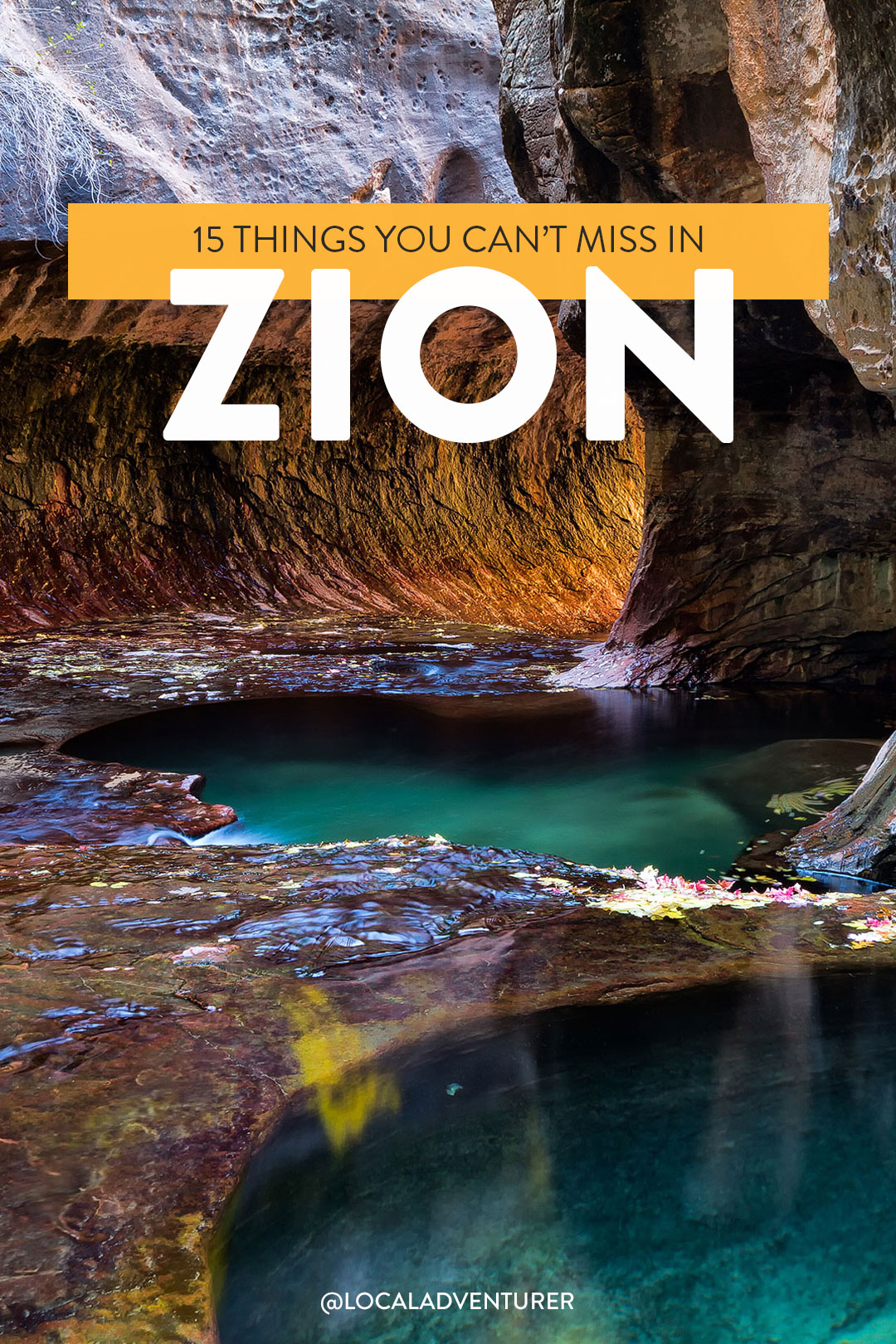 This post may contain affiliate links, where we receive a small commission on sales of the products that are linked at no additional cost to you. All opinions are always our own. Read our full disclosure for more info. Thank you for supporting the brands that make Local Adventurer possible.
Last Updated: February 1, 2022
15 Incredible Things to do in Zion National Park
Now that we live in Las Vegas, we've even done Zion as a day trip, though we recommend at least 3 days. We put together a list of our top things to do in Zion National Park. Keep in mind some activities require planning and applying for competitive permits.
Essential Tips for Visiting Zion - What You Need to Know Before You Go
Park Fees: Zion National Park charges an entry fee of $35 for private vehicles valid up to 7 days or $20 per person valid for 7 days. If you plan on visiting more than 2 National Parks within one year, we highly recommend picking up the American the Beautiful pass to save money and save time at the gate.
Be Prepared for Crowds: Zion is the busiest of all the Utah parks and the top 5 busiest in the US. During peak season, it may feel like you're at Disneyland. Just go in with the right expectations and know you can always find less popular corners of the park.
Weather at Zion: The Park is open year-round, but depending on the season, your experience will differ especially with crowds.

Spring (Mar-Apr): expect highs in the low 70s and lows in the high 30s
Summer (May-Sept): the busiest time of year with highs reaching 100 and lows in the 60s
Fall (Oct-Nov): expect highs in the 70s and lows in the 40s
Winter (Dec-Feb): the quietest time of the year with highs in the 50s and lows in the low 30.

Best Time to Visit Zion: To avoid the majority of crowds but still get good weather, the shoulder season is spring or fall.
Shuttle System: The main roads in Zion National Park are closed to public vehicles between March and November. You can only visit the park via its free shuttles. This helps alleviate noise and traffic in the canyon and protects the environment. Click here to learn more about the Zion Shuttle System.
This park was made for hikers. Most of the iconic parts of the park require some level of hiking.
Best Things to do in Zion National Park
5.4 miles, 1488 ft elevation, strenuous
NOTE: Angels Landing will require a permit to hike starting April 1, 2022. Find details about the lottery here.
Angels Landing is easily the most popular hike in the park. You would think that means it's an easy hike, but it almost destroyed us going in with that mindset. On top of that, there are exposed sections, so it can be a mental challenge for those afraid of heights.
We've only hiked it once, and haven't done it since seeing the videos of the insane lines that look like you're waiting for a Disneyland ride. It's still worth doing once.
Pro Tip: They recommend arriving to the park 90 minutes before you want to start your hike. The lines can get really long simply to start the hike.
3 -16 miles, difficult
The Narrows can be hiked in two ways. The popular option is the bottom-up hike since it's only a day hike. Depending on how fast you hike, you can go up as far as Big Springs (10 miles) before hiking back out. Most people hike up 3-4 miles and then back.
The top-down hike, which is what we highly recommend, requires a wilderness permit. It's a 2-day 16-mile thru-hike and an amazing experience to have the canyons to yourself on the first day. You even get to camp inside the canyon. Who needs sleep meditation apps when you have the natural sound of the river!
The second day you meet up with all the day hikers and it can get crowded. Check out our photo guide for The Narrows here.
Pro Tip: Regardless of which hike you plan on doing, we highly recommend water shoes. People also recommend renting dry suits (I rented one), but they're really not necessary most of the year.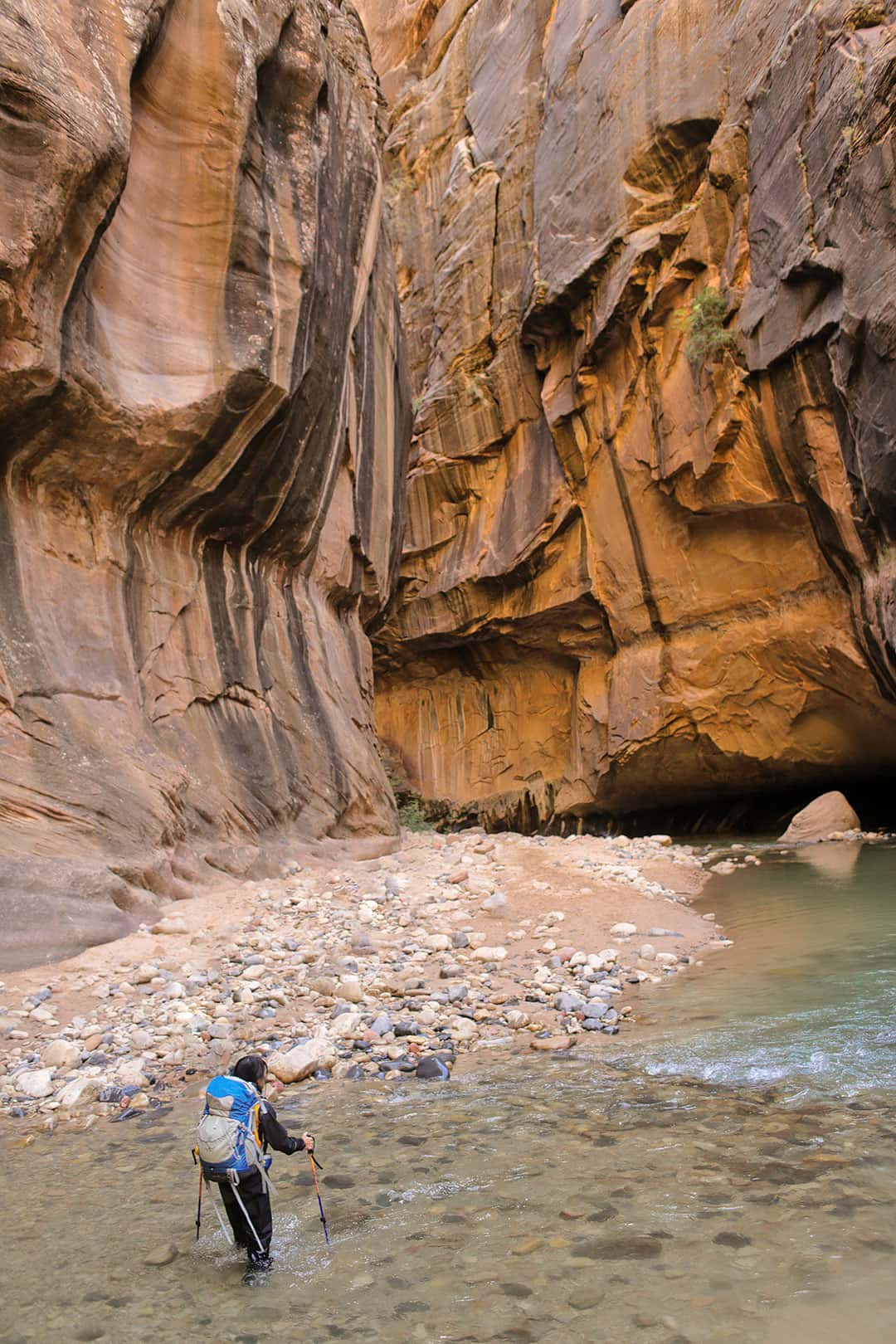 1 mile round trip, 442 ft elevation, easy to moderate
When it comes to the best bang-for-buck hike, the Canyon Overlook Trail wins the pot. It's a relatively easy hike that gets you an amazing panoramic view of Zion Canyon. You also get to walk through a large natural cave.
This hike gets really crowded too and is popular for sunrise.
Pro Tip: Parking is limited and can fill up quickly so try to get here early.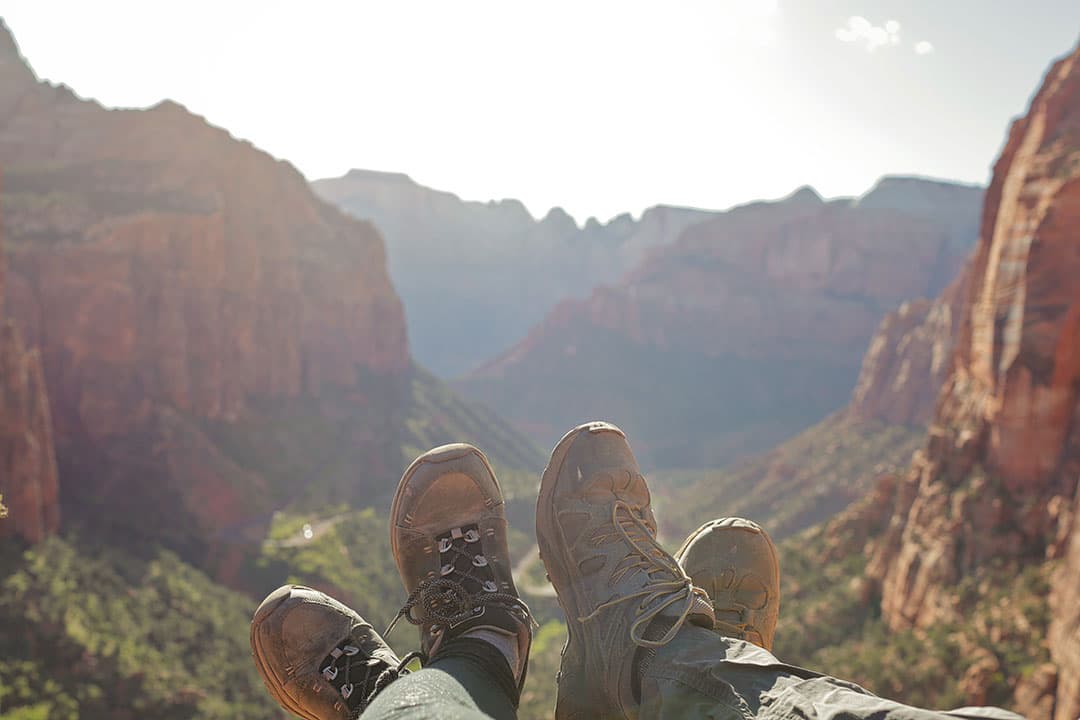 Lower Emerald Pools is closed for construction during Summer 2020.
1.2 miles round trip, easy
The glistening pools and waterfalls of Emerald Pools are worth a visit. Lower Emerald Pool is the easiest to get to and is mostly flat. The upper pool adds less than a mile to the hike but gains a couple hundred feet in elevation. Like most hikes, the further you go, the fewer the people you'll see
Note: Swimming is not allowed in the pools.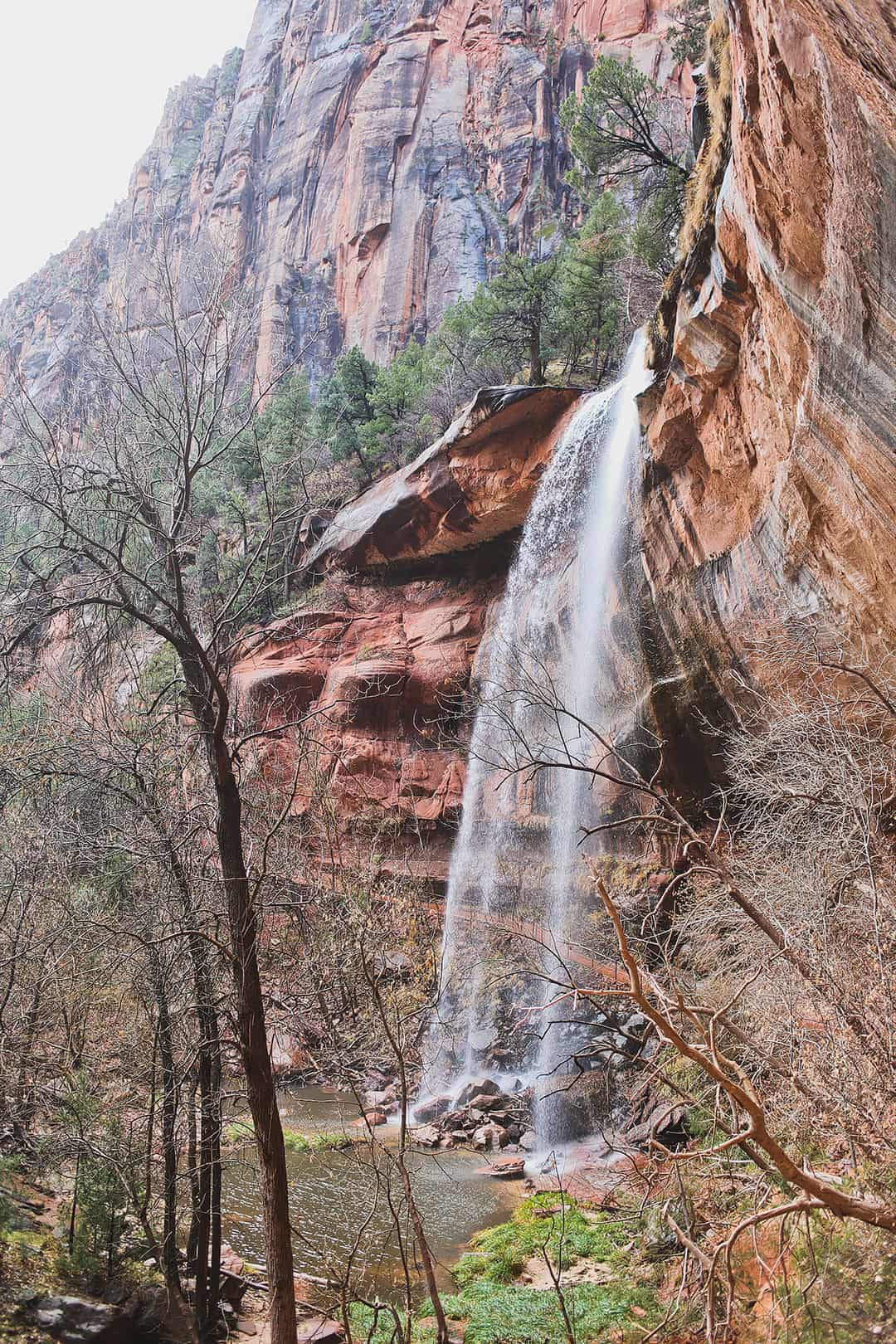 5. Zion National Park Lodge
The Zion Lodge is the only in-park lodging at Zion National Park. But regardless of if you plan on staying there, it's worth stopping by to get food, run to the restroom, and ask the rangers for up to date info on the park.
There are two dining options in the lodge, and there's also a Beer Garden Cart that serves local microbrews.
Pro Tip: If you want to save money, you can also bring your own picnic and then grab a couple of local brews from the cart.
Long term closure due to rockfall.
0.4 mile walk, eaasy
Weeping Rock is exactly what it sounds like, it's a rock that is "crying." It's a short walk to an iconic spot where you'll find trickling streams of water on the rock wall covered in fern and moss.
Pro Tip: The trail is not recommended for wheelchairs or strollers because it's narrow.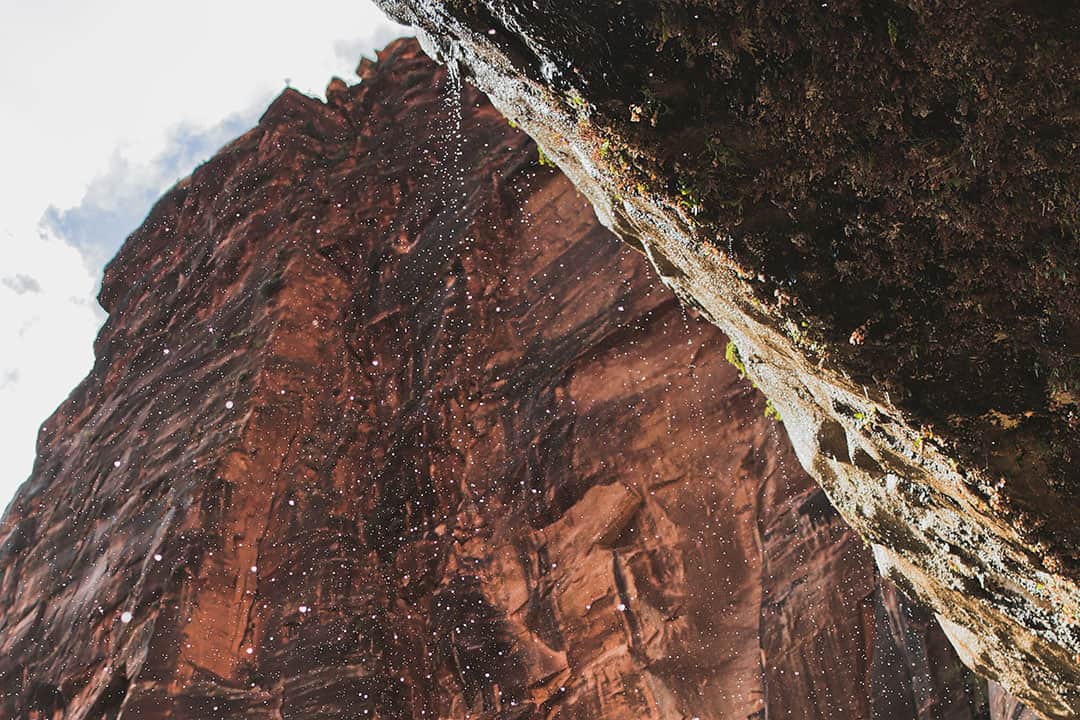 7. Zion Canyon Scenic Drive
If you're visiting the park, you'll most likely be taking the Zion Canyon Scenic Drive whether you're driving or taking the shuttle. You can only drive into the park during the offseason and the parking spots are extremely limited. From April through October, you can only take the shuttle.
Be sure to look up from time to time as you drive through the canyon to appreciate its sheer size and magnificence. Just make sure the driver is watching the roads for turns, pedestrians, and wildlife.
You can also check out:
Zion Park Scenic Byway – 54 miles one way. The canyon scenic drive is part of this. Switchbacks and two narrow tunnels.

Zion-Mount Carmel Highway – 25 miles. Goes through Mt Carmel tunnel (pictured below).

Kolob Canyons Road / Kolob Fingers Road Scenic Byway – 5 miles. Narrow winding canyons, wooded trails, and fewer crowds.
Pro Tip: The shuttle closes between Thanksgiving and late December (and again from January to President's Day weekend) which is the perfect time to drive through the canyon to see it in the winter.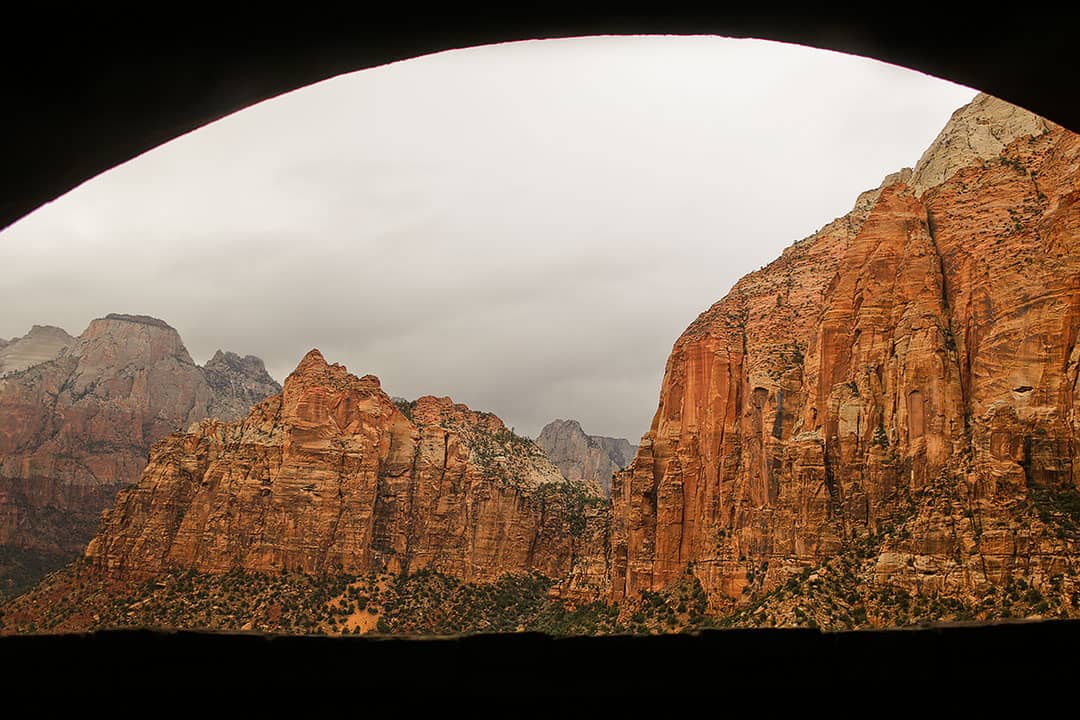 Closed via the East Rim trail from Weeping Rock due to large rockfall.
6.7 mile round trip, 2100 ft elevation, difficult
Observation Point is another great hike in Zion National Park. This hike gives you amazing views of the canyon from above, and you even get to look down on Angels Landing dotted with hikers.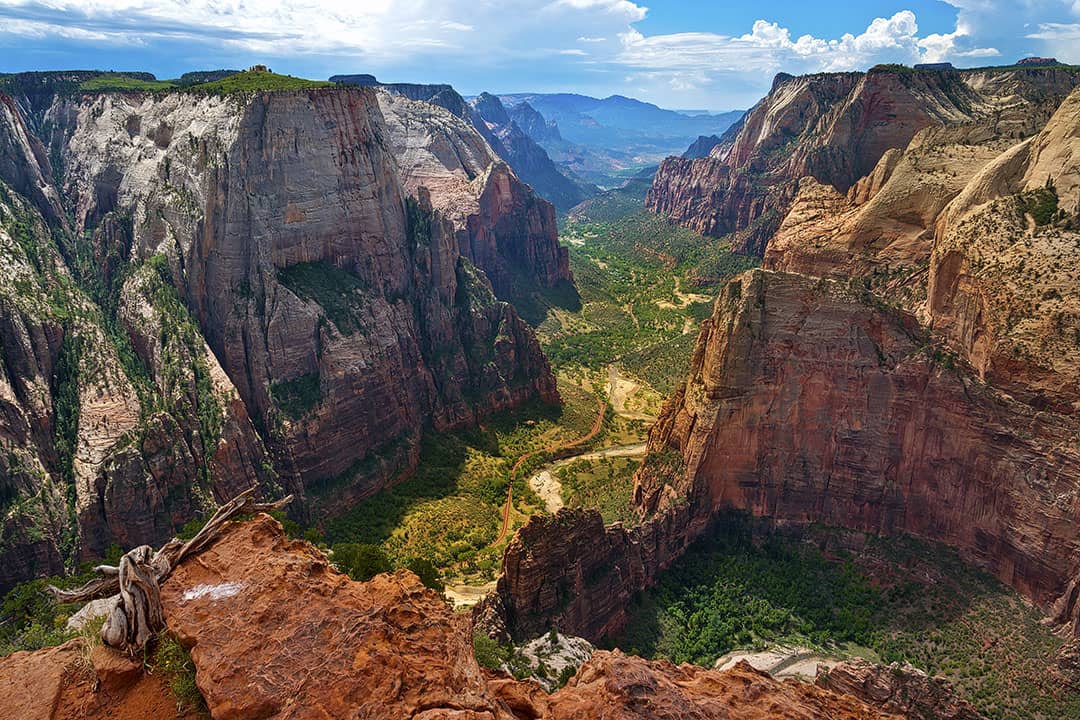 3.1 mile loop, 650 ft elevation,  moderate
The Watchman Trail starts at the Visitor Center and is a great introduction to the beauty of the park. At the end you get a viewpoint of the Temples and Towers, lower Zion Canyon, Watchman Peak, and Springdale.
Pro Tip: If it's been raining, this trail can be muddy. We love these hiking boots since they're ready for any situation.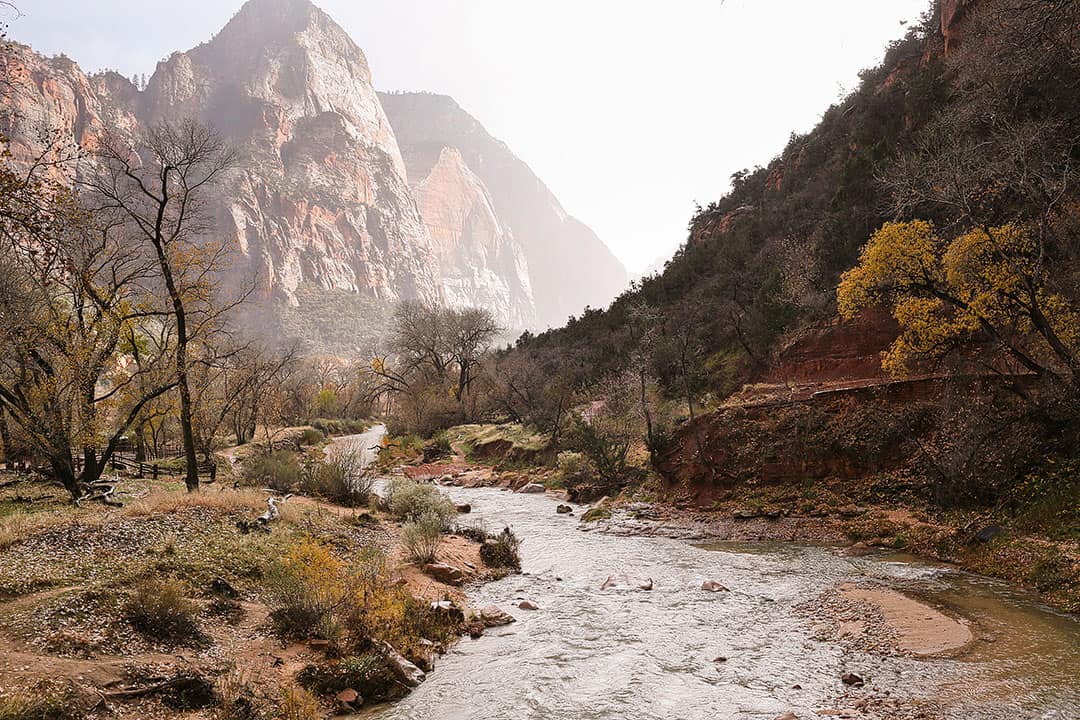 1.9 miles round trip, 193 ft elevation, easy
The Riverside Walk is known as the Gateway to the Narrows. It's the paved portion of the hike along the Virgin River that you walk to get to the Narrows trailhead.
Even if you're not planning on hiking the Narrows, the Riverside Walk is the perfect spot to see a portion of the canyons, picnic, and splash in the river.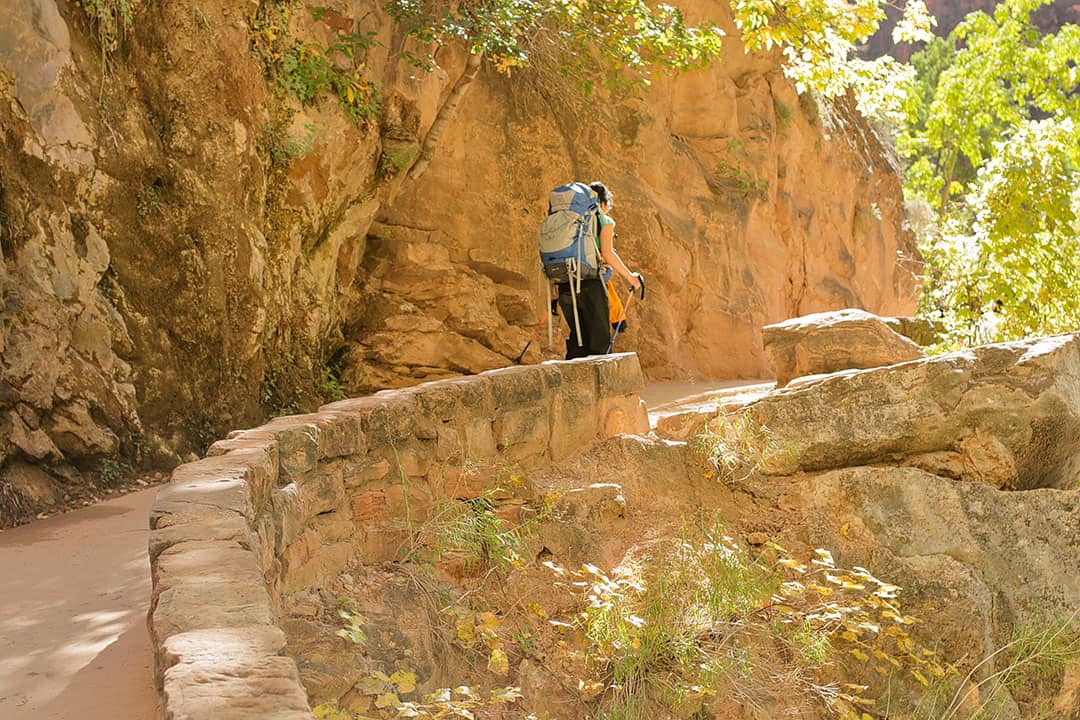 The Checkerboard Mesa is close to the East entrance of Zion National Park. You can actually see the unique checkered cracks right from the road. There are a few pullouts along the highway if you want to get out to take some photos.
7 miles, strenuous and technical
The Subway is the next permitted hike we want to do. It's similar to the Narrows but much more technical and requires you to scramble over boulders, swim through cold water, and climb down waterfalls. Ropes aren't required but are helpful to get over cliffs and lower your gear.
The hike takes you to a gorge that looks like a subway tunnel. We've heard mixed reviews on whether it's worth the effort, but we have to see for ourselves. Some of our friends went and told us depending on the weather and rainfall in previous days, it could look muddy and gross instead of what you often see in the photos.
Pro Tip: When hiking to the Subway bottom-up, you don't need to rappel or swim, but you will still be hiking in water. Our friend did both and recommended the top down if you're experienced at canyoneering. You need to be able to comfortably set up anchors, down climb, and rappel.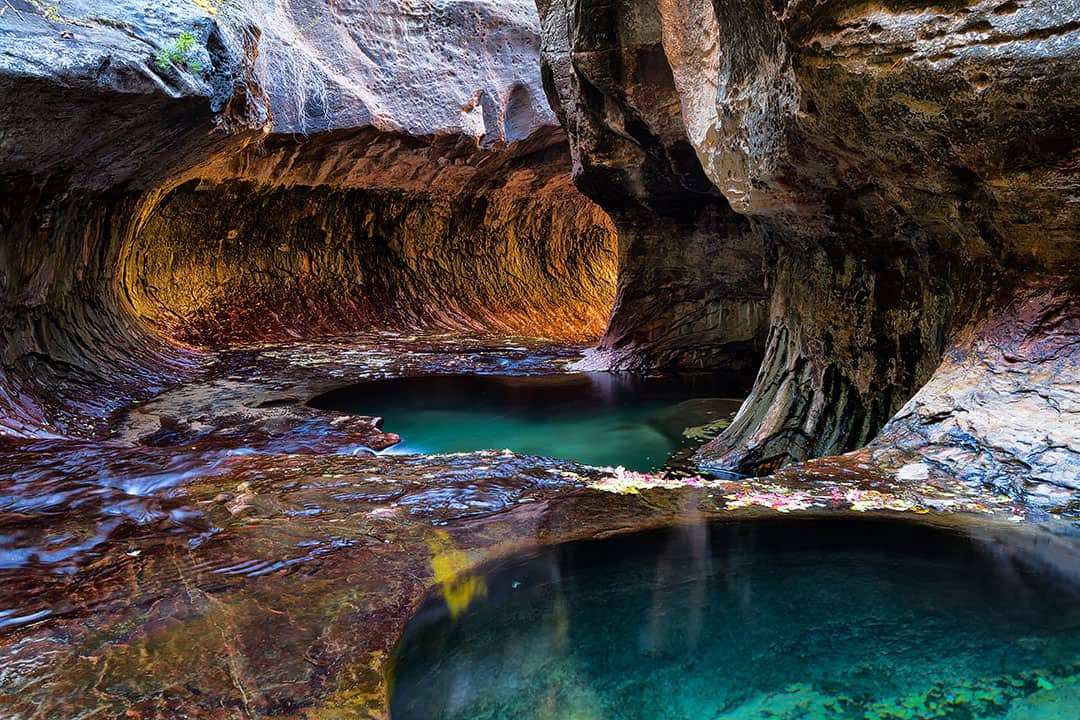 Head to this cultural museum to learn about the history of the American Indians, pioneers & Zion National Park. It's a great spot to stop if you need to escape the heat or cold. It's also a great spot for sunset and much less crowded than Canyon Junction.
14. Canyoneering and Rock Climbing
There are multiple options when it comes to canyoneering and climbing in the park. Most canyoneering trips require permits.
For climbing, there aren't many great routes for inexperienced climbers and there aren't many top rope or sport climbing areas. We haven't picked up our own trad gear yet, so that may have to wait. 
We saw a couple of small bouldering areas, which we're excited to check out first. Day climbs do not require permits, and you can check out the popular routes here.
Pro Tip:
There may be closures due to nesting. Check
this site
and the Visitor Center for the most up-to-date info on closures.
The Court of Patriarchs is made up of three sandstone peaks on the west side of the canyon. They are one of the most recognizable features in the park and are named after biblical fathers, Abraham, Isaac, and Jacob.
You can see them from almost anywhere in the valley, but for the classic shot, get off at the 4th shuttle stop and take the short trail that leads to the viewpoint. There are also other great vantage points around the area if you do a little bit of exploring.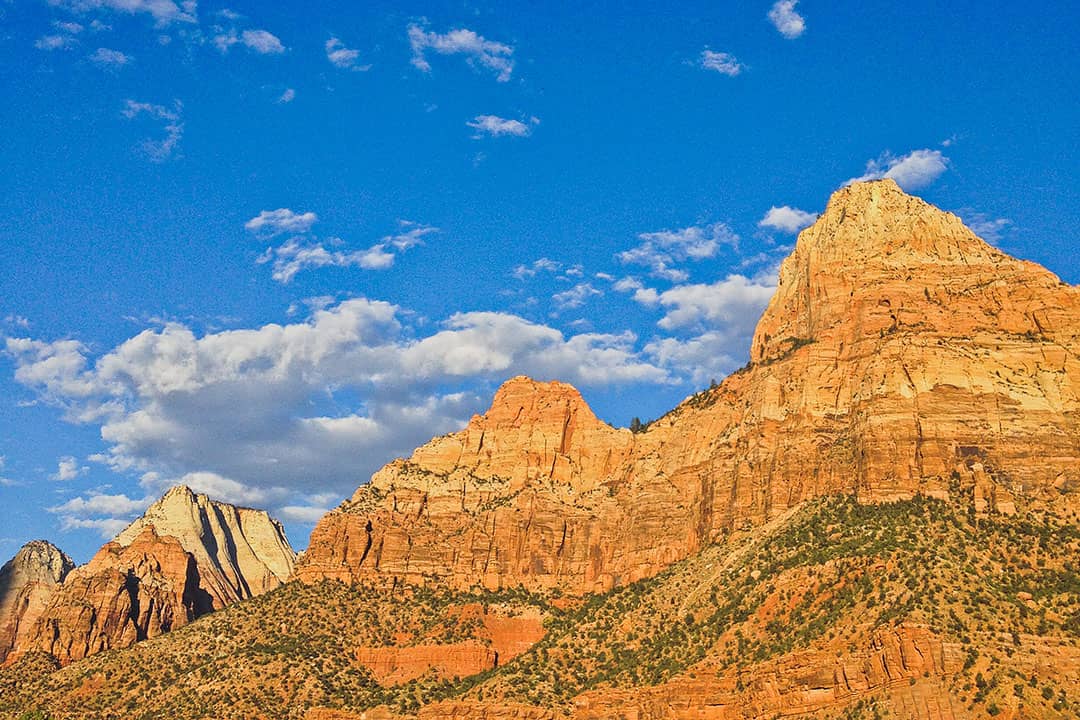 Map of Zion National Park
Zion National Park Visitor Center
The park has two Visitor Centers, although only one of them is easily accessible. 
Zion National Park Visitor Center
1101 Zion – Mount Carmel Hwy
Hurricane, UT 84737
Hours (Starting June 6, 2020): 8 am to 5 pm
Kolob Canyons Visitor Center
3752 E Kolob Canyon Rd
New Harmony, UT 84757Hours (Starting June 6, 2020): Closed
Zion National Park Shuttle
Zion National Park Shuttle Stops:
Visitor Center (Watchman Trail, Pa'rus Trail, South and Watchman Campground)
Human History Museum (Bridge Mountain Arch Views, Altar of Sacrifice Views)
Canyon Junction (End of Pa'rus Trail, River Access)
Court of the Patriarchs (Sandbench Loop)
Zion Lodge (Emerald Pools Trailhead)
The Grotto (West Rim Trail, Angel's Landing)
Weeping Rock (Hidden Canyon, East Rim Trail, Observation Point)
Big Bend (Angel's Landing Views, Great White Throne Views)
Temple of Sinawava (The Narrows, Riverside Walk)
Springdale Shuttle Stops:
Zion Canyon Village
Cafe 'Soleil, Thai Sapa, Cliffrose
Flanigan's Inn
Desert Pearl Inn
Zion Pizza & Noodle Co, Bumbleberry Inn
Hampton Inn, Holiday Inn Express
Quality Inn, Driftwood Lodge
Park House Cafe, Silver Pear Enterprises
Majestic View Lodge
Since parking is limited inside Zion, the shuttle is used to decrease congestion in the park, protect vegetation, and restore tranquility in the canyon. When the shuttles are running, they do not allow private vehicles into the park, but if you are arriving before or after the shuttles stop, you can park in designated areas.
Most visitors park in Springdale, take the free Springdale Shuttle to the park, then catch the in-park shuttle to where they want to go.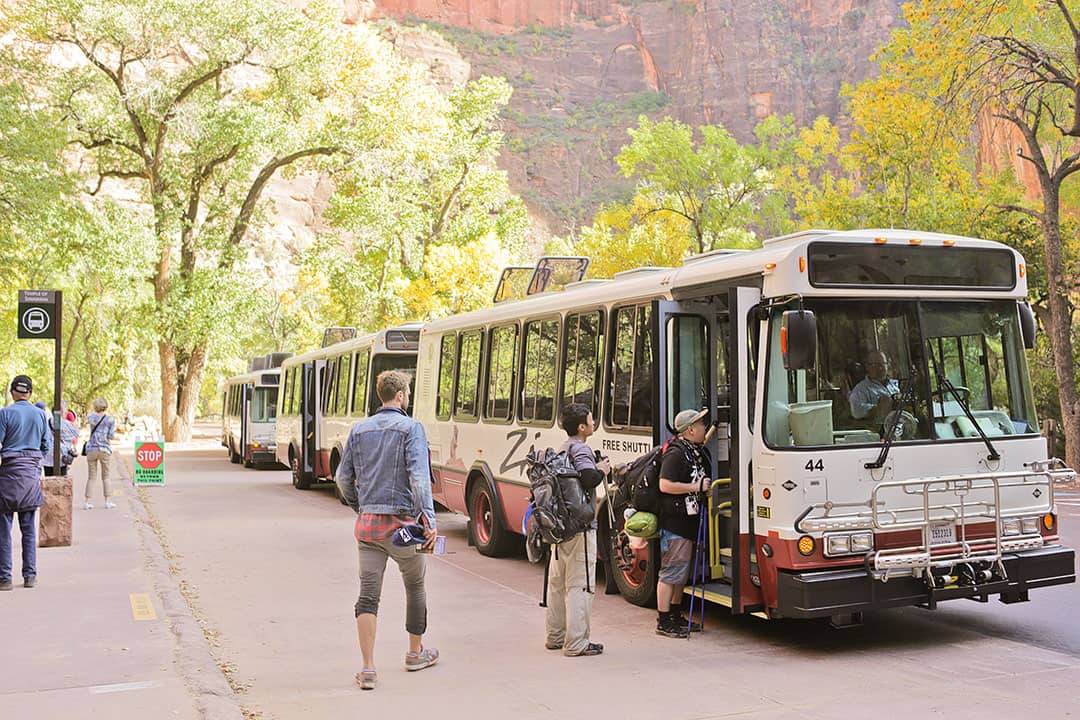 More Things to Do in Zion National Park
Backpacking Kolob Canyons
Drive the Zion-Mount Carmel Highway
Ranger Talks, Hikes, and Ranger Led Programs
Junior Ranger Program
Canyon Trail Rides / Horseback Riding
ATV Tour or Jeep Tour
Ride a Bike Along the Pa'rus Trail
Stargazing / Astrophotography 
Helicopter Tour
Zion Half Marathon or Butch Cassidy Race
Birding – there are over 200 species of birds, most notably, the peregrine falcon, bald eagle, and California condor. You can see the full list at the visitor center.
Getting to Zion National Park
Zion National Park is located in Springdale, Utah. The closest major airport is McCarren International in Las Vegas. Unless you live within driving distance, your best bet is to fly into Las Vegas, rent a car, and drive up to the park.
By Plane:
Las Vegas, NV (airport code LAS)
Salt Lake City, UT (airport code SLC)
Salt Lake City, UT (307 miles)
Las Vegas, NV (163 miles)
Mesquite, NV (80 miles)
Saint George, UT (40 miles)
Cedar City, UT (57 miles)
Where to Eat in Zion and Near Zion
Best Places to Stay in Zion
Zion Lodge (luxury) – it's the only hotel inside the park. You must reserve rooms at least 6 months in advance especially during peak season.
Best Friends Roadhouse and Mercantile (mid-range) – in Kanab and great if you have your pets with you!
The Advenire St George (luxury) – loved our stay here for Zion and also the nearby hikes. It has a nice luxury boutique feel and is conveniently located in historic St George with plenty of great walking distance food options after a full, active day.
There are three campgrounds in Zion National Park. The campsites fill up really fast and are full most nights especially during the busy season from Spring to Fall. Reservations are available for South and Watchman Campground.
South Campground (Zion Canyon) – 117 Campsite, no hook-ups, dump station with potable water available, $20 per night
Watchman Campground (Zion Canyon) – 190 sites, B Loop is RV only, no full-hookup sites, a dump station is available, $20 per night ($30 per night for electric campsites)
Lava Point Campground (Kolob Terrace Road) – typically only open May through September, 6 primitive campsites available first come, first serve
Additional notes:
Campsites are drive-up and allow a maximum of two vehicles.
Only one RV or trailer is allowed.
Each campground has overflow parking for additional vehicles.
Each campsite allows a maximum of six people and two texts.
Hammocks are allowed but only within the footprint of the campsite.
Check out time is 11 am.
Comfort stations provide flush toilets, cold running drinkable water, and trash containers.
There are no showers or electrical outlets.
Each campsite has a picnic table and fire pit.
Quiet hours are 10 pm to 8 am.
Pets are allowed on leash no longer than six feet (pets are only allowed on roads and Pa'rus Trail in the rest of the park).
There is a 14 night camping limit from March through mid-November.
Bryce Canyon National Park (72.4 mi NE / 1 h 21 min, map)
Glen Canyon National Recreation Area (89.4 mi E, 1 h 28 min, map)
Antelope Canyon (113 mi, 1 h 58 min, map)
 
Bryce Canyon National Park (72.4 mi NE / 1 h 21 min, map)
Glen Canyon National Recreation Area (89.4 mi E, 1 h 28 min, map)
Antelope Canyon (113 mi, 1 h 58 min, map)
Can you think of any other things to do in Zion National Park? How many have you done and what is your favorite part of the park?
Did you enjoy this post? Pin it for later
See More National Park Guides
"Discovery consists not of seeking new lands but in seeing with new eyes" – M. Proust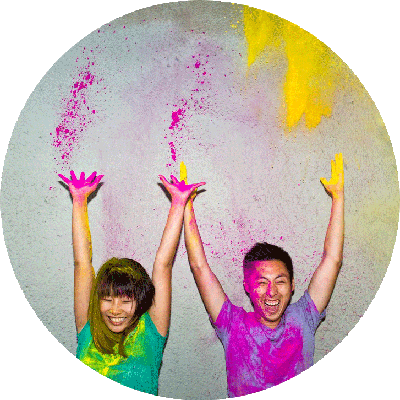 Esther and Jacob are the founders of Local Adventurer, which is one of the top 5 travel blogs in the US. They believe that adventure can be found both near and far and hope to inspire others to explore locally. They explore a new city in depth every year and currently base themselves in Las Vegas.