Here is everything you need to know about the RISE Festival in Las Vegas.
The anticipation was building as our lantern filled with hot air. The people around us were already releasing their lanterns one by one, while ours was a straggler. To our relief, it only took a few more minutes before the lantern along with our prayer was ready to RISE.
The countdown begins for the next RiSE Festival for 2023!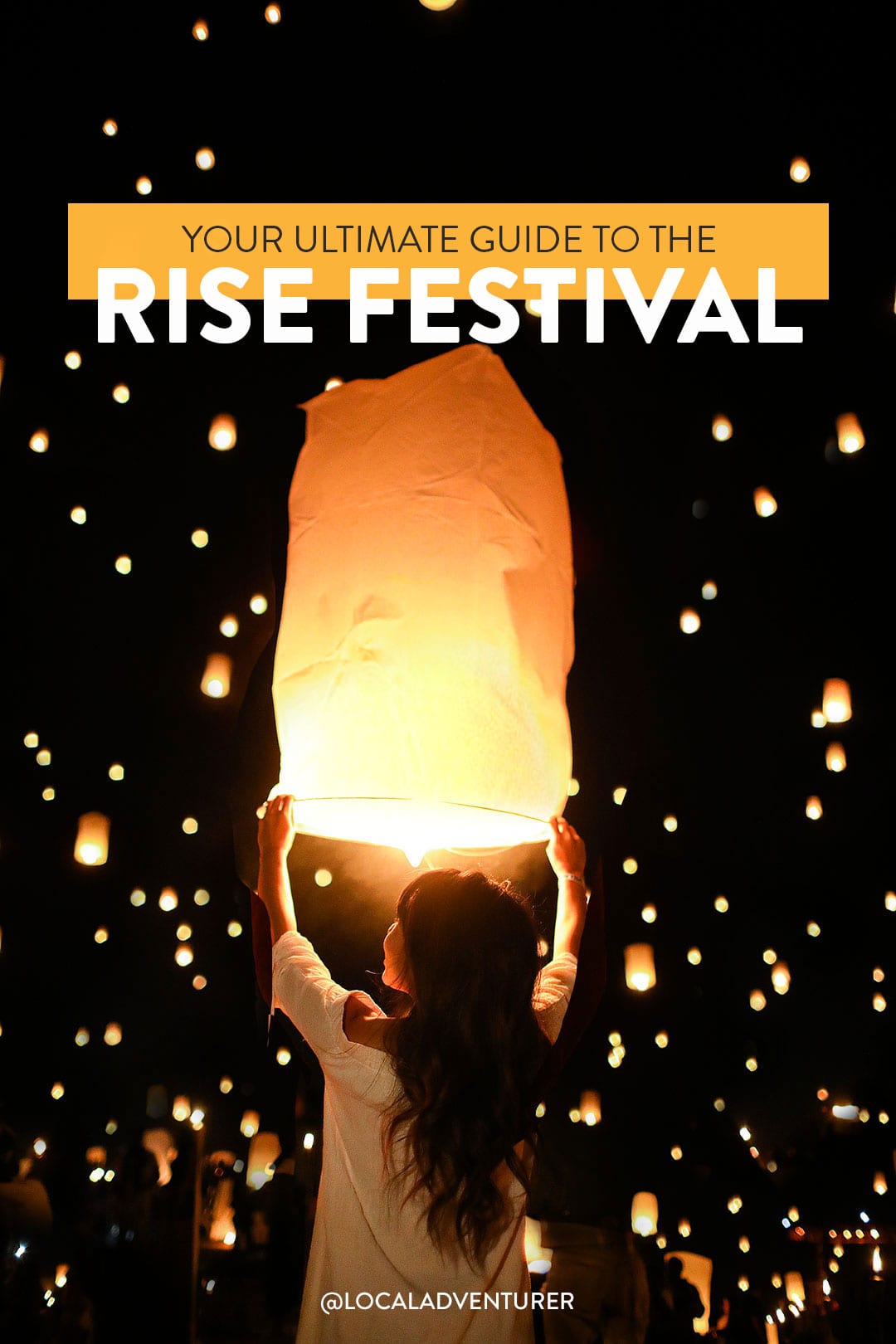 This post may contain affiliate links, where we receive a small commission on sales of the products that are linked at no additional cost to you. All opinions are always our own. Read our full disclosure for more info. Thank you for supporting the brands that make Local Adventurer possible.
Last Updated: January 10, 2023
Your Ultimate Guide to the Rise Festival Las Vegas
The RiSE Festival is the largest lantern release in the world. It's a magical experience as you see thousands of lanterns dotting the dark sky like stars.
It started in 2014, and we've attended in 2019 and 2021. In 2021, they had over 24,000 attendees with Saturday sold out at 13,000 attendees.
I'm not usually a fan of big festival events, because I'm petite and get buried in a crowd. Fortunately, this one is spread out in the desert with plenty of breathing room.
We've heard from people who went in previous years that they didn't have the best experience, but we really enjoyed our time there. Over the years, they've made a lot of improvements to the festival, including insured tickets based on weather, additional parking, longer lantern release times, and overall just trying to make everything more efficient.
If you're hoping to go this year, we've put together a guide with all the details to help you plan your trip.
Information on Attending the RiSE Festival LAS VEGAS
Let's start off by talking through all the information you need to attend.
When is the RiSE Festival?
The RiSE Festival takes flight every October. It usually happens on the first weekend of the month on Friday and Saturday. The 2023 dates are October 6 and October 7, 2023.
If you plan on attending, buy tickets as soon as you know.
Tickets officially go on sale on their website on April 1, 2023.
How Much Does the RiSE Festival Cost?
You will get your e-tickets via email at the time of purchase. Ticket prices for the RiSE Festival depend on when you purchase them.
Early Bird ticket prices range from $99 (for Friday) to $119 (for Saturday). Tickets will increase on July 6th to $119 and $139. Children Tickets (ages 4-10) are $79 regardless of when you purchase them.
Two new upgrade packages this year:
The Chandon Picnic Experience includes two Chandon Sparkling Wines, a premium charcuterie board, two bottles of Rain Water, two custom RiSE tumblers, and a special edition Sackcloth & Ashes x RiSE Blanket. Prices are $193 pp for Friday and $208 pp for Saturday.
Resorts World Village One VIP Tickets include access to the VIP lounge, hors d'oeuvres, premium private bar access, shaded seating, and expedited private festival entrance. Prices are $309 for Friday and Saturday.
Use the links below to get your tickets now! Be sure to use the correct day's link.
BUY FRIDAY TICKETS – COMING SOON
BUY SATURDAY TICKETS – COMING SOON
This year, there is no limit to the number of tickets you can purchase in one transaction. There is also a payment plan where you can reserve your ticket for only $29 plus a $10 financing fee.
Besides the tickets, other costs and purchases:
You need to purchase a $29 parking pass or pay $49 for a shuttle ride. If you order them ahead of time, which is highly recommended, you will be mailed the parking tag that you hang in your car.
For $20, you can purchase weather cancellation protection. That way if the lanterns are not able to be released, you will receive a refund equal to 100% of your event ticket price.
You can also pre-purchase additional lanterns for $12 each or purchase them on-site for $15 each (while supplies last).
Note: Besides weather cancellation, there are no refunds if you can no longer attend. You can, however, sell them or gift them to a friend since the name on the ticket doesn't matter.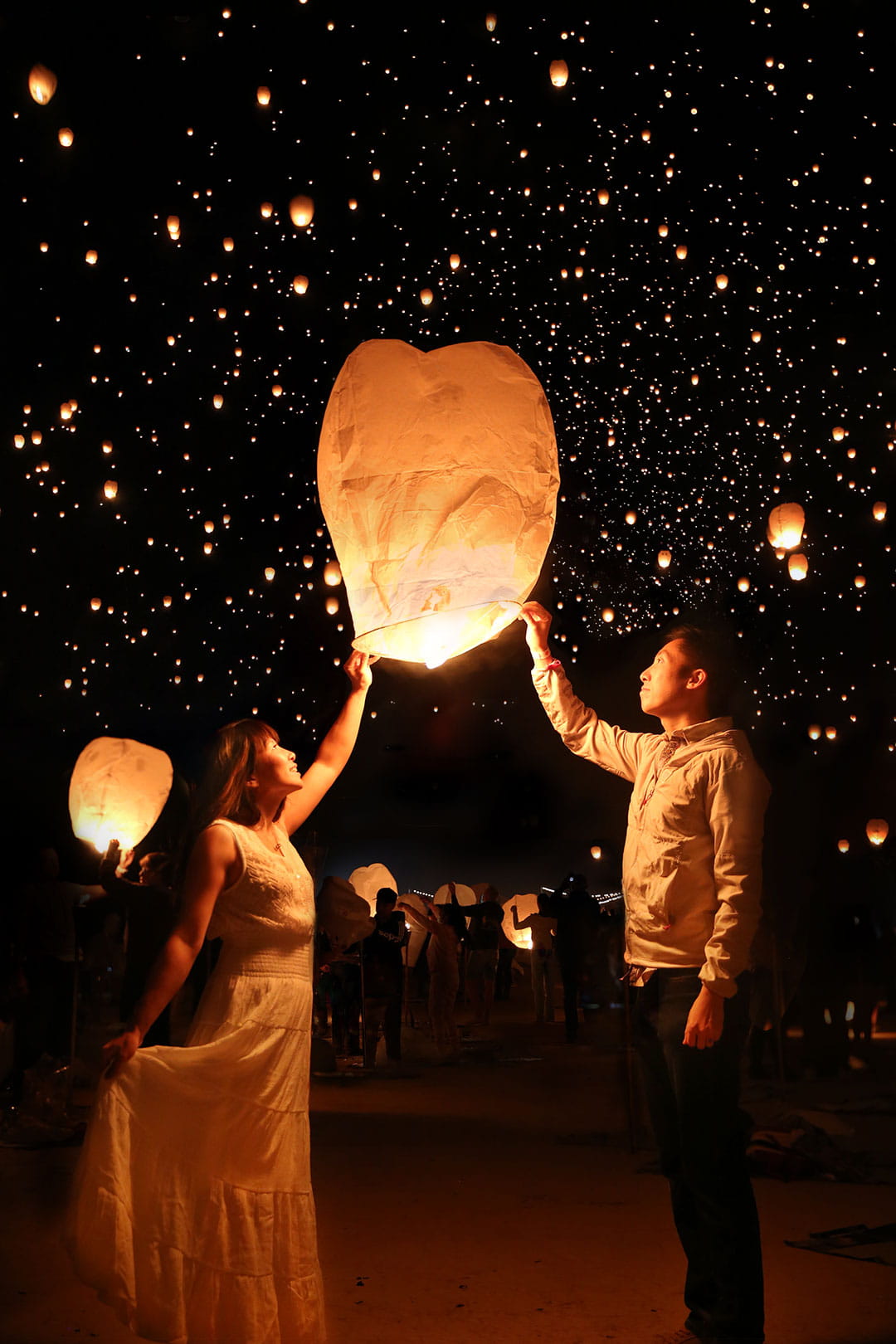 What Comes with My Ticket?
Each ticket comes with a kit that you can pick up as you enter the gates. The kit includes:
2 Lanterns
A Marker (For You to Write on Your Lantern)
A Sitting Mat
You can purchase additional lanterns for:
$12 each at registration
$15 each at the venue (while supplies last)
Lanterns cannot be taken home.
Which Day Should I Attend the RiSE Festival & do Tickets Sell Out?
Events on both days of the RiSE Festival are pretty much identical, although Saturday historically has the larger lantern release. That means tickets sell out quicker on Saturday (usually by mid-summer), and it will be more crowded.
After attending two separate nights, if it's your first experience, it's better with more lanterns in the sky.
Note: The tickets you purchase are for a specific day and are not transferable to a different night.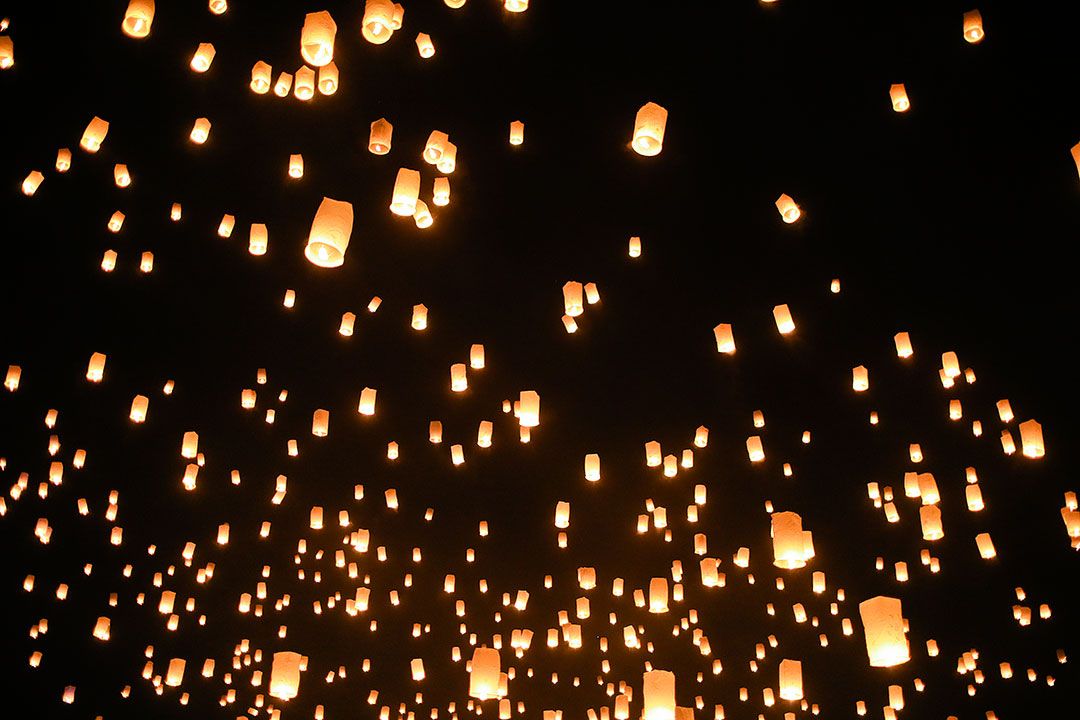 What happens in the case of inclement weather?
If it is raining or the winds are over 10mph, the lantern release may be delayed or canceled. 
Everyone will be refunded the price of the tickets (minus ticketing and processing fees) if the event is canceled before the gates are open, which will be announced on all RiSE Festival social accounts and via email.
If the event started and the lantern release is canceled, you will receive a 50% refund of the ticket price (minus ticketing and processing fees).
You can purchase weather cancellation protection for $20 that ensure you received a full refund (minus the fees).
Directions - Where is the RiSE Festival and How do I get there?
The RiSE Festival takes place on the Jean Dry Lake Bed located in the Mojave Desert 25 miles south of Las Vegas.
By Plane: The closest airport is the McCarran International Airport in Las Vegas. Once you arrive, you need to coordinate how to get to the festival site using one of the options below.
By Car: If you are coming from the North on I-15 (from Las Vegas), take exit 25 for Sloan and follow the signs to the parking area. If you are coming from the South on 1-15 (from California), take exit 12 for Jean Goodsprings and follow signs to the Jean Dry Lake Bed. Parking attendants will be there to tell you where to park. The earlier you arrive, the closer you will park to the grounds.
Note that parking is $29 and is only good for entry to the event once. Once you leave the grounds, you will not be allowed to re-enter.
Shuttle: If you are staying on the Strip, the RiSE Festival runs a shuttle for $39. The exact pick-up location has not been announced yet, but it will be at a hotel on or near the Strip. Shuttles will leave every 30 minutes from 2:30 to 6:30 pm and back to the hotels from 8:30 to 11 pm continuously once they are full. Shuttle passes must be purchased by September 14th.
By RV: Unfortunately parking for RV's is not allowed on site.
Rideshare: Since you are in a remote location and cell service is limited, Ubers, Lyfts, and other rideshares are not allowed to ensure that you don't get stranded there.
Walking: Once you park or arrive in the shuttle, there is a 10-15 minutes 1000 meter walk from the parking lot to the venue. If you are unable to make the walk, they do provide complimentary shuttles for those with ADA needs. There are also wheelchair accessible toilets on the grounds.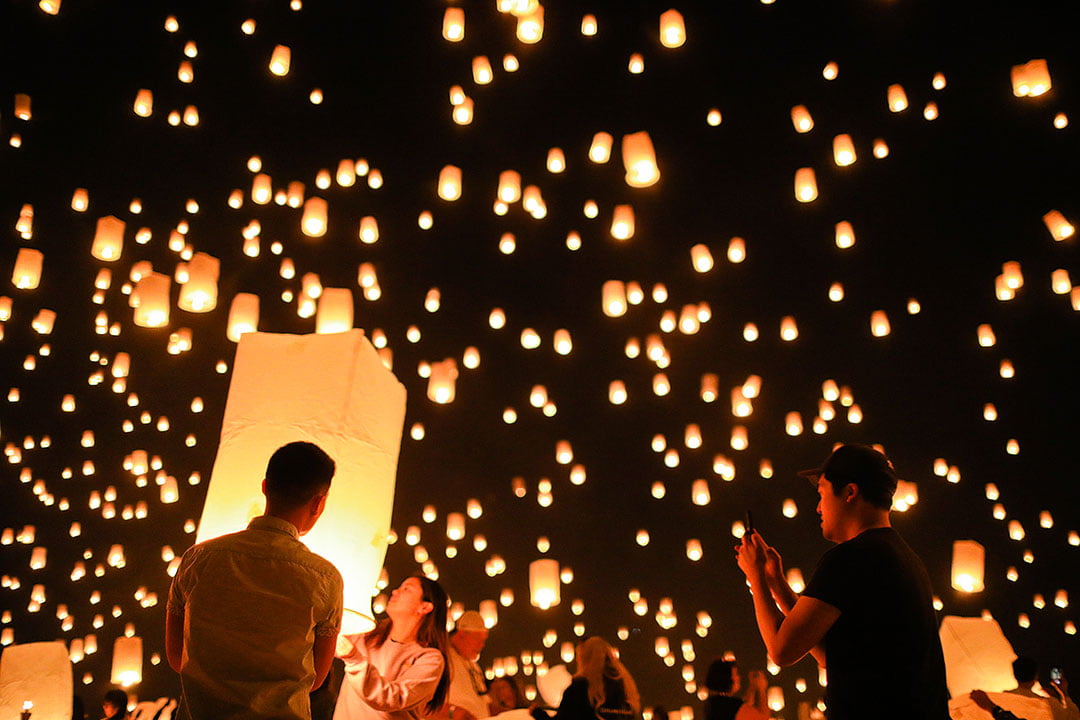 What are the Main Events at the RiSE Festival?
The schedule of events is the same on Friday and Saturday. The festival starts at 3 pm and runs until 10 pm. During the day, there are musical acts and once it gets dark, they guide you through two mass lantern releases. The rest of the evening you can enjoy the fireworks or release more lanterns on your own.
2022 RiSE Festival Las Vegas Schedule of Events (2023 TBD):
3 PM – Live Music by  ASCENSiON
4:45 PM – Live Music by Gone Gone Beyond
6:15 PM – Live Music by Ry X
7:15 PM – Lantern Releases
Note that lantern release times may change based on weather.
They also have a new area called Space Apart this year where you can wander, explore, meditate, or enjoy the sound-bat at the Flow mindfulness area.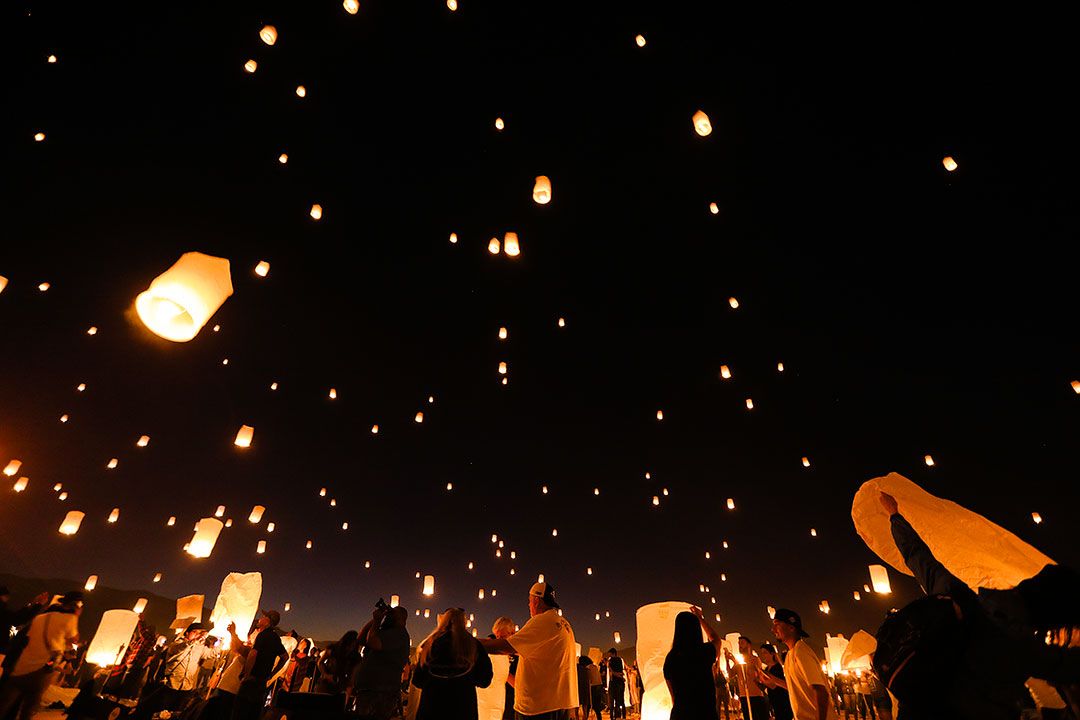 The RiSE Festival Las Vegas FAQ
Before and during our attendance, we had a lot of questions come to mind so we did some research afterwards.
What can and can't I bring to the festival?
The RiSE Festival does its best to provide you with everything you need at the space. With that said, you can bring small bags or backpacks with you that will be searched before entry.
Here are the items that you are NOT allowed to bring:
blankets
chairs
coolers
strollers
tripods
wagons
pillows
umbrellas
drones
large cameras (anything larger that a DSLR)
outside food or drinks (except bottled water)
drugs
alcohol
vapes / cigarettes
There's a security check and, we're not sure how strict they are, but we did see people with foldable chairs inside.
Animals are not allowed unless they are service animals, which requires proper identification and paperwork.
What Food Is Available at the RiSE Festival?
There are over a dozen local food truck options on-site and a fresh food market serving:
Fresh Fruit
Chips
Almonds
Trail-mix
Cookies
Candies
Beer
Red & White Wine
Cider
Water
Sodas
What's the bathroom situation?
There are multiple bathroom areas at the festival. Each area is lines with a bunch of porter potties and handwashing stations outside. We never had to wait very long to use the bathrooms and they were relatively clean.
Notes: There are wheelchair accessible bathrooms on-site and no baby changing stations.
Where do All the Lanterns Go?
The lanterns are designed specifically with a short burn and flight time.  Each lantern is 100% biodegradable, and this year, the lanterns are smaller and have a bamboo frame instead of a metal one. 
They also have a leave it better than you found it policy. After the event, they have an entire team that retrieve 100% of the lanterns from the surrounding desert along with any other litter they find.
They also purchase carbon offsets for every vehicle used to build the festival.
Note: If you're a zero-waste eco-warrior, the biggest concern would be the plastic packaging for the lanterns. On the flip side, that's also a complex issue of creating waste if the lanterns get damaged from no protection.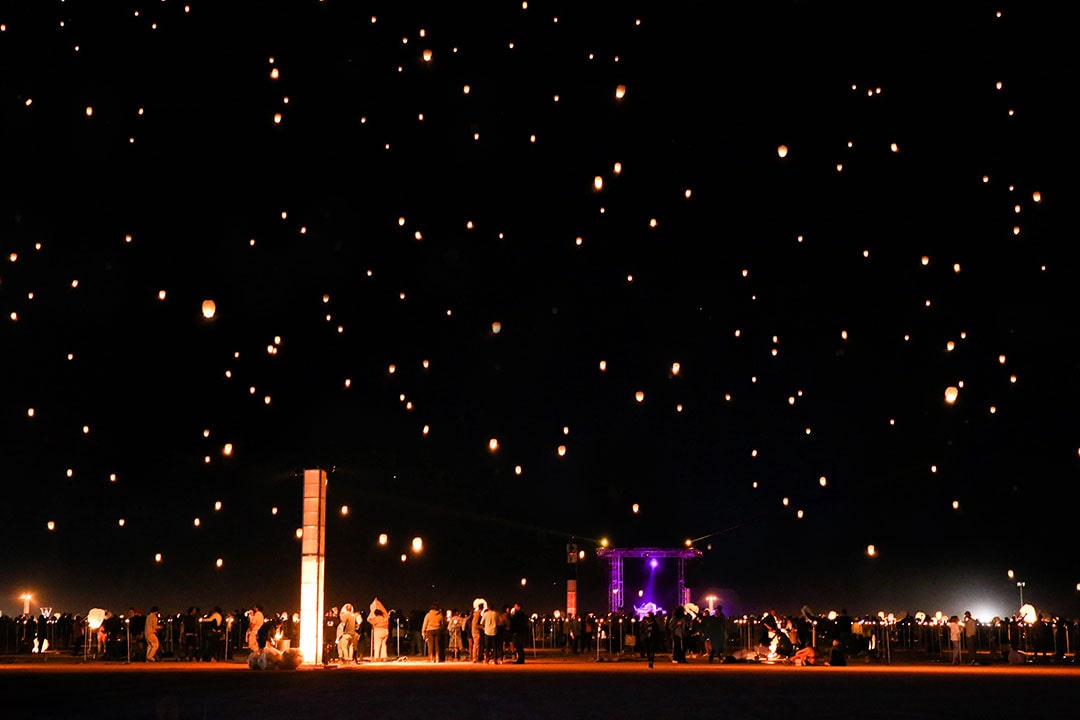 How Many People Does it Take to Light a Lantern? Can I do it Alone?
You can absolutely attend the event alone, but you will want to ask for help when lighting your lantern. It usually requires 2-3 people to launch, although I've done a couple by myself. You just hold the lantern from the top when it's on the ground.
NOTE: They've announced upgraded lanterns this year that are easier to release. Unsure if that means you can release them on your own.
It's a friendly environment and since we were focused on taking photos to cover the event, there was only one of us lighting the lantern. Our neighbors saw us struggling and helped us out.
If it's windy make sure you have plenty of people holding it in different places so that the lantern doesn't topple over onto the flame. The flame ended up burning a hole into one of our lanterns, but luckily we had a total of 4 to send off. Plus, ones with smaller holes can still launch.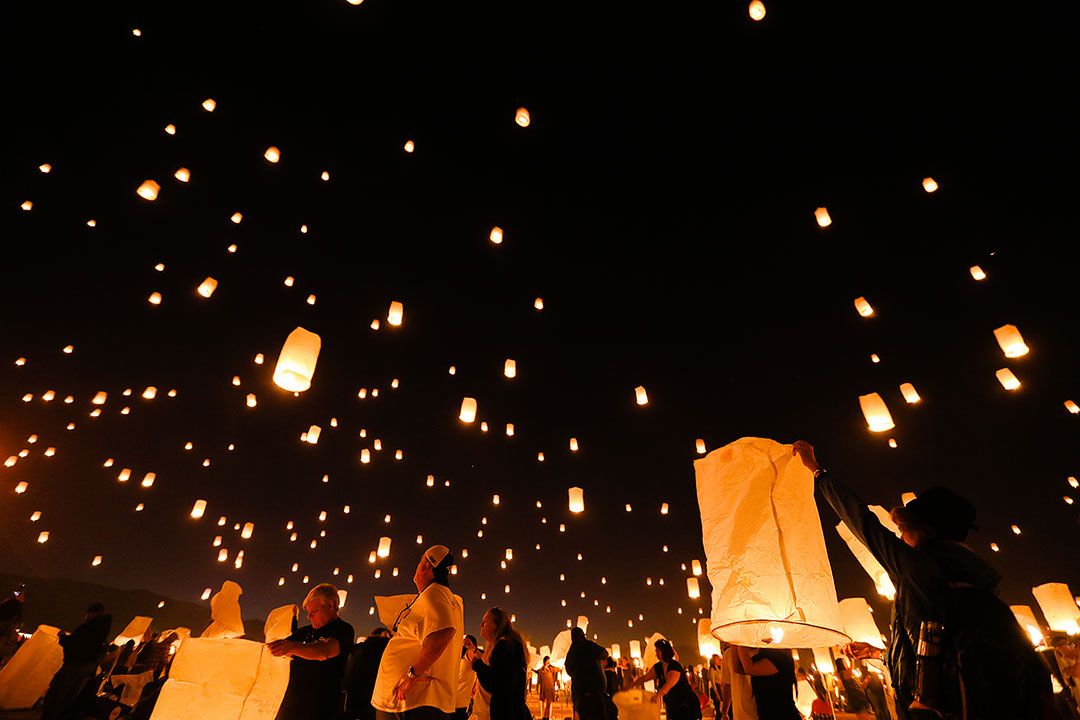 How long does it take to light a lantern?
It takes roughly 3-5 minute to fill the lantern with enough hot air before it's ready to be released. In our experience it took a little longer than 5 minutes because it was windy and some of the hot air kept escaping through the bottom.
Be patient and make sure you don't release the lantern prematurely, or it will just drift near the ground and might run into other people. We were dodging plenty of lanterns that got released too early since we were on the outer edge and the wind was blowing our way.
There are VIP type tickets but they have not been announced yet. We'll update that information once we have it!
Can I Volunteer for the RiSE Festival?
Yes! The information hasn't been released yet and won't come out until Summer (around June), but locals will be able to volunteer for on-site support like ushers, mat distribution, torches, and more. They will send an email once sign up is available and post to their social channels.
Volunteers will be able to stay to enjoy the release the day that they are working.
What Do I Write on My Lantern?
Your lanterns are meant to be personal. You can write a message, prayer, or resolution on them. Be sure to use the markers they provide so you don't poke holes or damage the lantern.
Where Should I Stay During the RiSE Festival?
Best Accommodation Options Near Rise Festival Las Vegas
If you are using the shuttle, I recommend staying at a hotel close to one of the pick up locations. Once those are announced, we'll give you some suggestions.
If you are renting a car or driving your own car in, look for a hotel near other spots you want to check out while in town.
Camping is currently not allowed, although they plan on adding that in the future.
Our Experience and What to Expect
Below we've shared more about our experience, so that you know what to expect.
Full disclaimer: We attended the festival as media.
Before attending, we weren't sure what to expect. We read through the rules on what you were allowed to bring so we packed one backpack for the both of us. Since we decided to go to check out some of the concerts, we also brought sunscreen to stay protected in the desert sun.
October weather can go either way, but regardless of how hot or cold it is, as soon as the sun drops, the temperature cools significantly.
We tend to pack light, but no matter what we do, it's always a good idea to bring layers in case it gets cold. Plus, it's just a good idea for Vegas in general. Even if it's hot outside, they keep the AC pumping inside.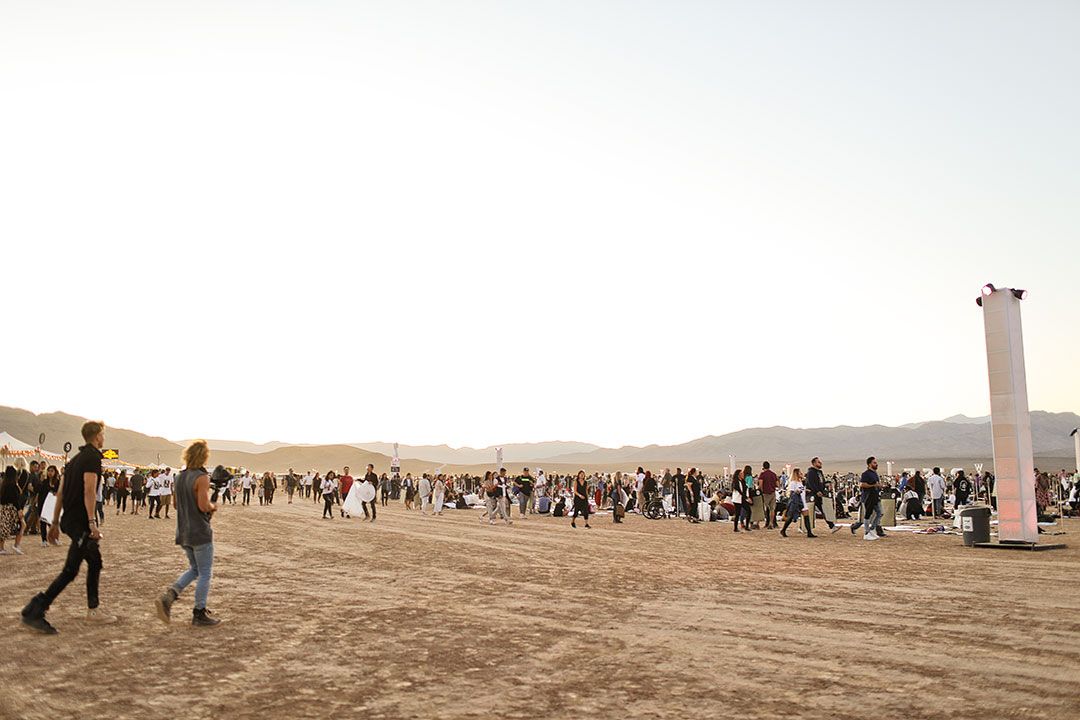 Arriving at the RiSE Festival
With so many people arriving at one location, we were a bit nervous about how long it would take to get in and out. 
Since we didn't want to miss anything, we left Vegas at 4 pm the first day to get there early. When we arrived, the signage was clear and there were hardly any cars in line to get in. The traffic directors pointed us to parking and we were on the grounds in no time.
The next day, we decided to go back and left Vegas around 5:15 pm. There was a line cars to get in, but nothing unbearable, and it took us an extra 20 minutes to park.
While inside the festival, the crowds exponentially increased closer to the first launch.
RiSE Festival During the Day
The festival is still trying to grow its audience of music lovers. For the most part, it felt pretty empty until later in the evening. 
That means if you arrive to see the acts, you can be front and center at the stage. Otherwise, you can walk the grounds taking photos with the art installations or getting food at the food trucks.
We spent our time walking around checking out the different areas, getting our lanterns ready, writing on our lanterns, and going on a bathroom run so we wouldn't have to worry about it during the launch.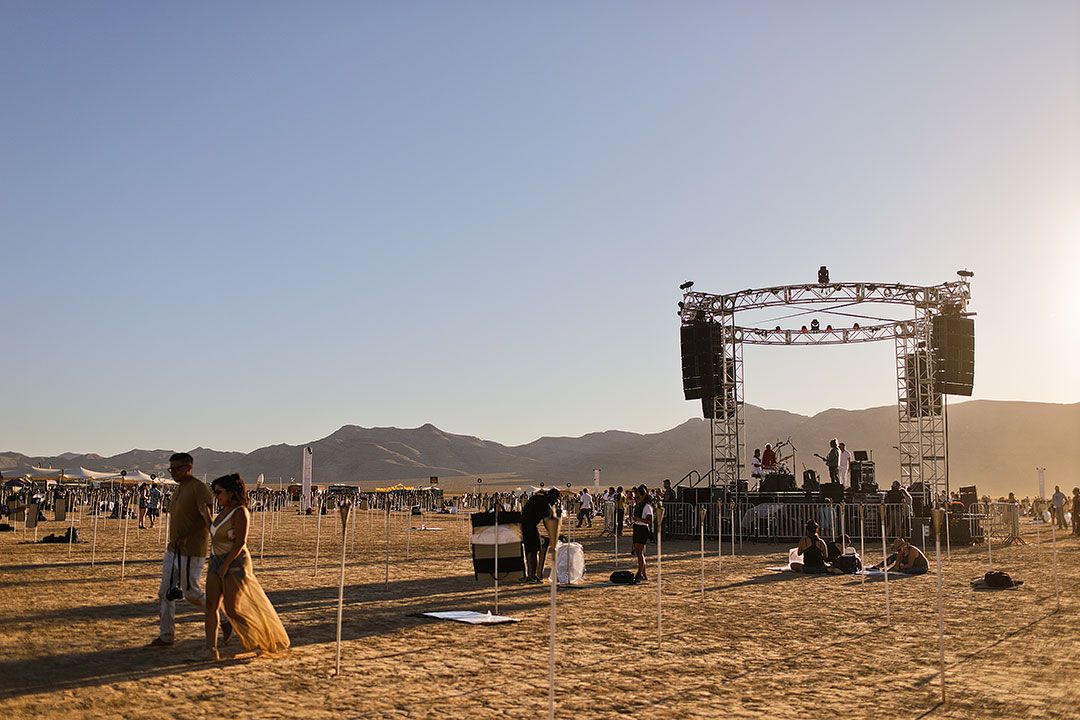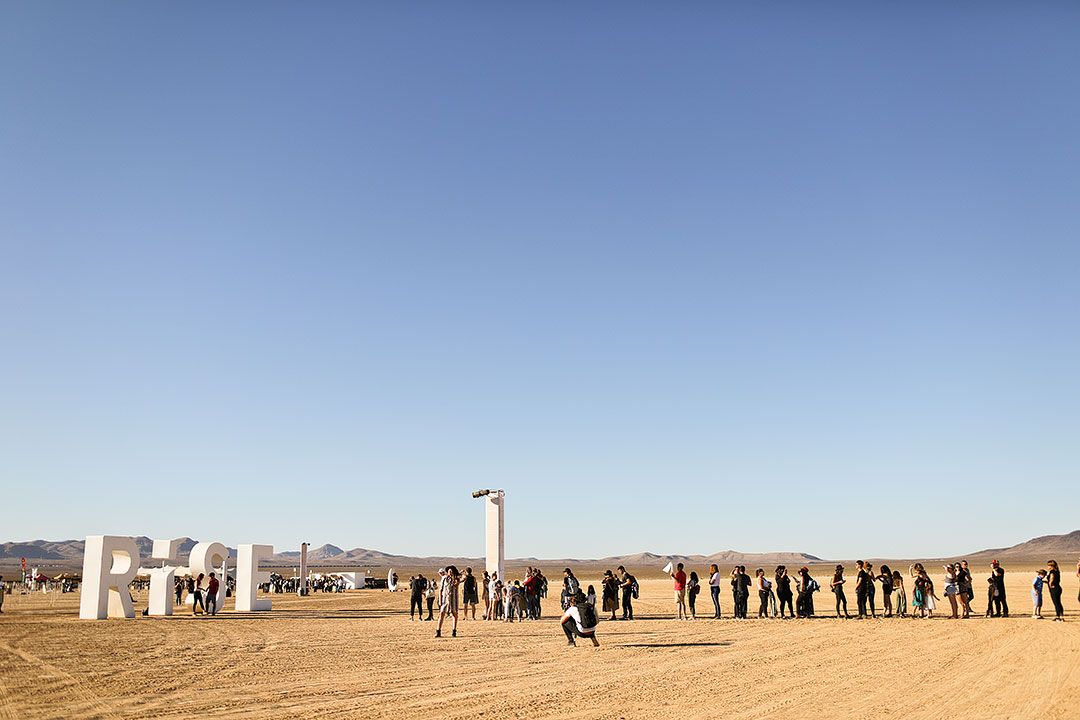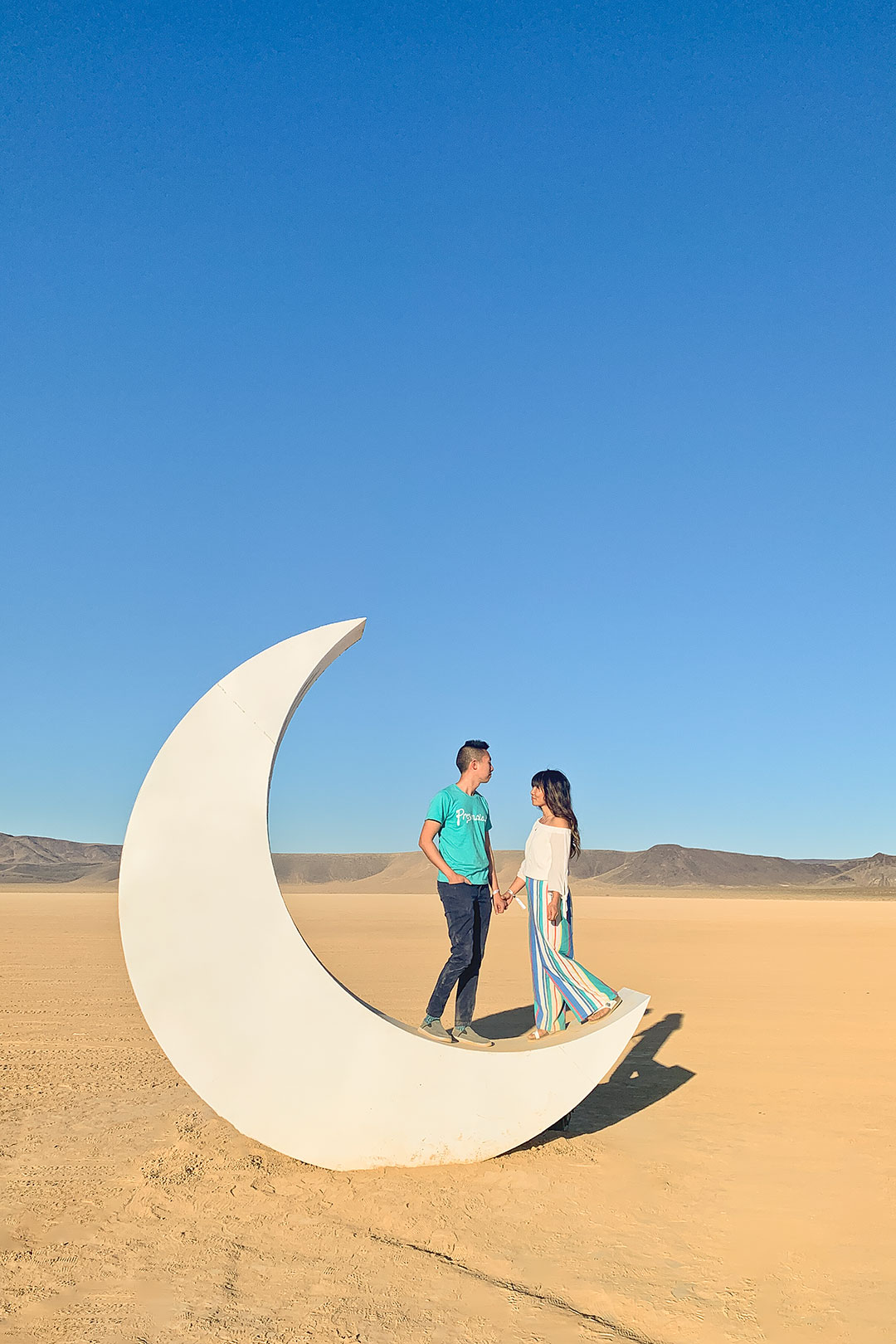 RiSE Festival Lantern Release
As the sun started to set, the anticipation for the lantern release was palpable. Someone from the RiSE team made announcements on stage and most people had already claimed a spot in their section. 
We headed to the outskirts of the giant circle and found a spot with plenty of space. As we followed the instructions, we lit our lantern and waited for it to expand. 
This is where my impatience got the best of me when I saw all the other lanterns being released around me. I ended up letting go of my first one too early so it started to float but then returned to the ground.
For the most part, people didn't' have issues with their lanterns, but there were definitely some in the crowd. The key is to be really patient to make sure that it's full enough to start rising on its own before you let it go. You'll feel it.
The best part is after you release them all, you can enjoy the view of the thousands of lanterns filling the sky. There's nothing quite like it.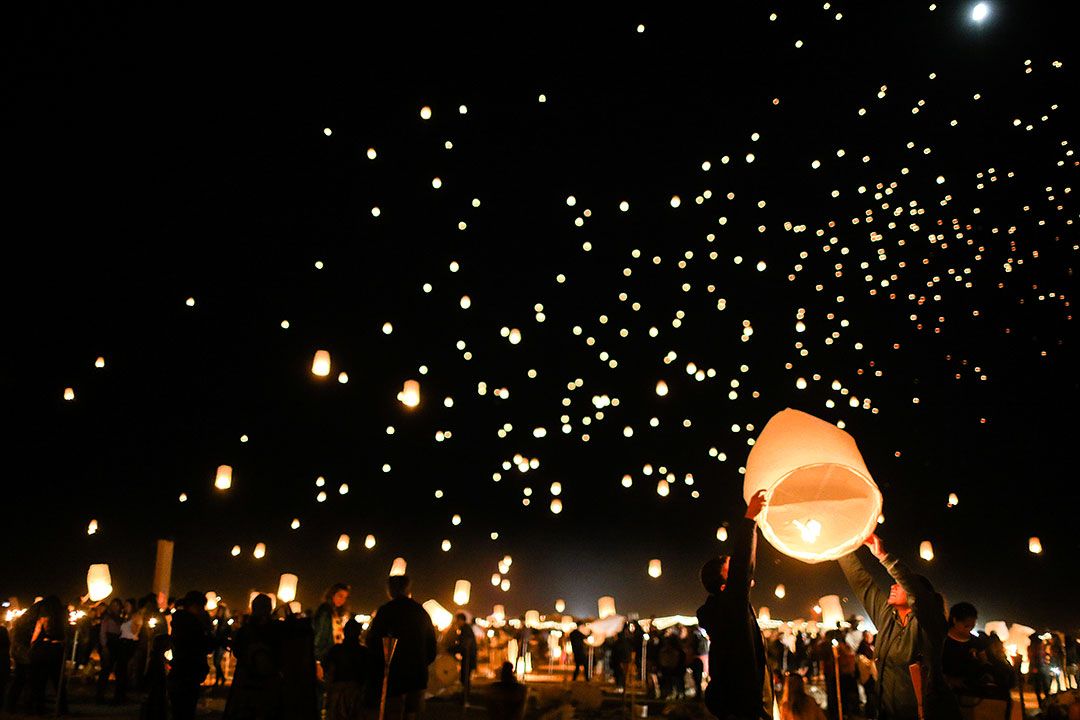 Leaving the RiSE Festival
The first night we were there, we stayed to watch the fireworks. A big portion of the crowd started leaving afterward so there were lines of cars to get out, but we still made it onto the highway within 20-25 minutes. The second night, we left right after the release to beat the crowds, which saved us 10 minutes.
Overall, we were impressed with the logistics of how they got people in and out efficiently. In previous years, we heard they had some logistical issues where people got stranded, but last year when we attended, they seemed to have implemented plenty of changes to make it a smoother experience.
Essential Tips to Make the Most out of the Rise Festival in Vegas
Get tickets early for the best prices.
Arrive at least an hour before the first lantern release to get settled and find your spot.
Pack layers since it gets colder once the sun starts to set.
Wear light colors if you're in the photos. Darker colors will blend into the night sky.
Bring extra batteries for your camera and a phone charger (this is our favorite) since they don't have charging stations.
Carpool if you can. It saves you money and it's easier than driving multiple cars there.
Be patient when releasing your lanterns – make sure they are full. Watch out for other lanterns that get released prematurely, so you or your stuff doesn't accidentally get burned.
Do not push your lanterns when you release them. It will push the air out the bottom. Gently allow it to rise on its own and let go.
Before you go, re-read what you can and cannot bring.
More Things to Do near the RiSE Festival in Las Vegas
Have you attended the RiSe festival? What about any other lantern festival? How was your experience? If you have any other questions, let us know in the comments below so that others can benefit from them too. :)
Did you enjoy this post? Pin it for later
SEE MORE CITY BUCKET LISTS
"Discovery consists not of seeking new lands but in seeing with new eyes" – M. Proust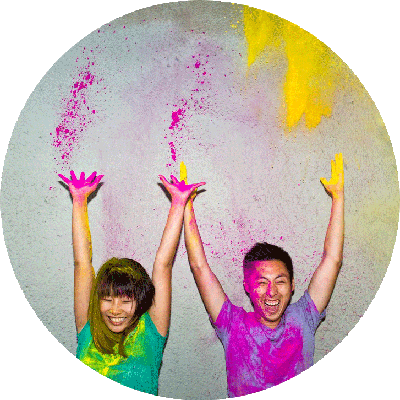 Esther and Jacob are the founders of Local Adventurer, which is one of the top 5 travel blogs in the US. They believe that adventure can be found both near and far and hope to inspire others to explore locally. They explore a new city in depth every year and currently base themselves in Las Vegas.