I'm terrified of bugs. Ask Jacob. I'll be scrolling through Instagram and even if a photo of a bug comes up, I chuck my phone across the room. I still remember reading books in biology class where I would have to cover up the photo before I could read the page (so I promise no pictures of bugs!).
When we were heading to Congaree National Park with Experience Columbia SC, I started to do some research and saw that one of the things repeatedly mentioned was… the bugs. I just about had an anxiety attack right then and there.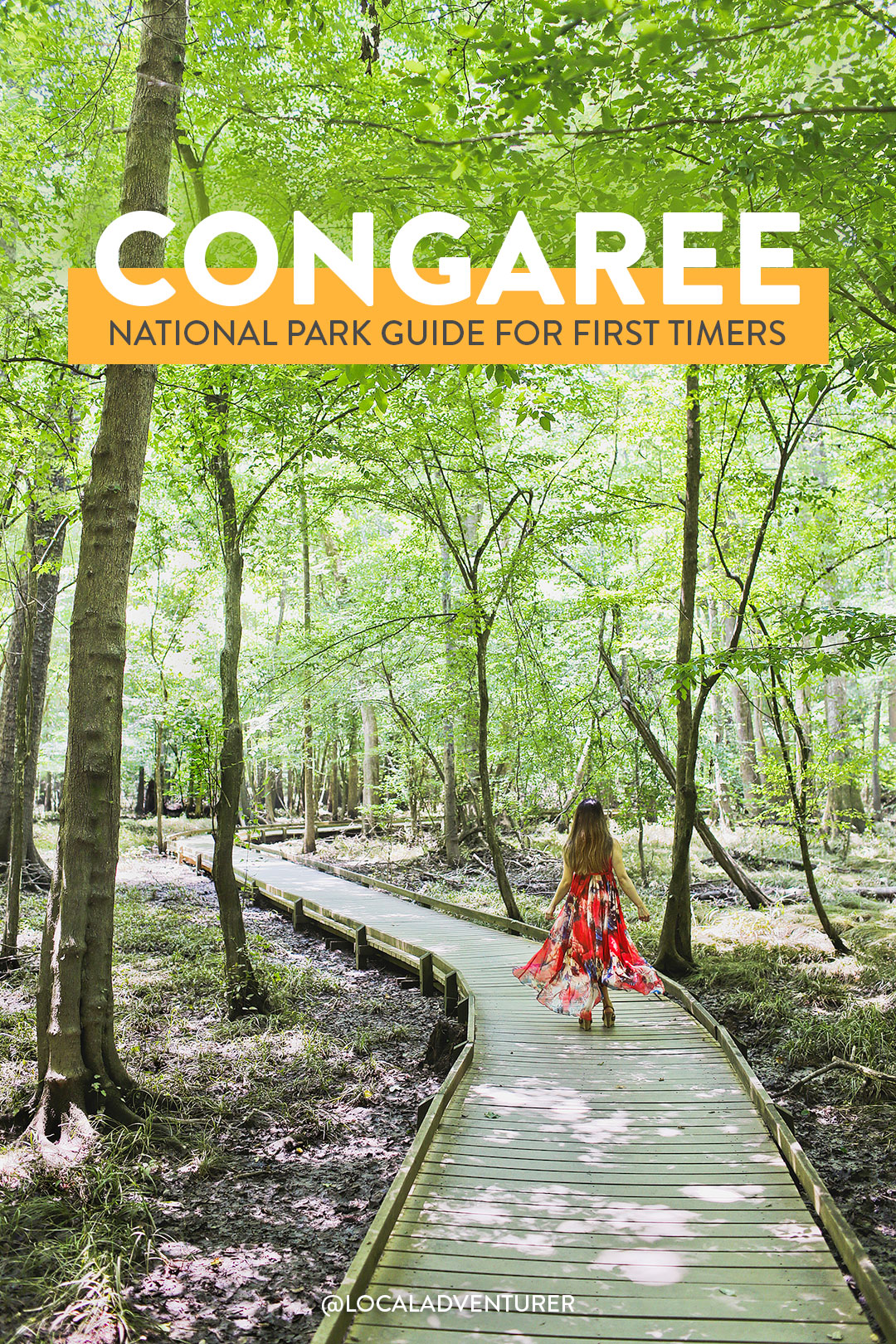 A big thank you to Experience Columbia SC for hosting our trip and sponsoring this post. All opinions are always our own. This post may contain affiliate links, where we receive a small commission on sales of the products that are linked at no additional cost to you. Read our full disclosure for more info. Thank you for supporting the brands that make Local Adventurer possible.
Last Updated: April 5, 2019
7 Unique Things to Do in Congaree National Park
So why would I put myself through that?
I hate the idea that a fear can hold me back from doing something that I truly enjoy. I still have fond memories of summer nights as a kid playing outside chasing fireflies as they light up the night. Sometime as I grew older, I learned to fear bugs.  When I found out that there was a place where hundreds of them blink in synchronization, I knew I had to see this phenomenon for myself. Maybe it was about time to get over my fear of bugs.
If you're visiting South Carolina or like exploring all the National Parks like us, you need to visit Congaree National Park. We put together a list of all the best things to do here and our experiences with each.
1. Hiking a Trail at Congaree National Park
Hiking is one of the best ways to see Congaree National Park. There is a short Boardwalk Trail, multiple established trails, and you can even explore the backcountry. Since we only had a short time at the park (and Esther is deathly afraid of bugs), we only explore the Boardwalk Trail, but we were still able to see how full of life the park is.
Established Hiking Trails in Congaree National Park
Boardwalk Loop Trail (2.4 miles) – An elevated trail that takes you through the old-grown hardwood forest. There is also a brochure you can pick up at the Visitor Center to learn more about the natural and cultural history. Watch out for spiders on the boardwalk.
Bluff Trail #1 (1.7 miles) – Takes you through a young forest of loblolly and longleaf pines.
Sims Trail #2 (3.2 miles) – Follows an old gravel road and crosses the site of a hunt club where Harry Hampton was once a member.
Weston Lake Loop Trail #3 (4.4 miles) – Gives you great views of Cedar Creek.
Oakridge Trail #4 (7 miles) – Hike through old-growth forest, along a subtle ridge, and keep your eye out for wildlife like deer and turkey.
River Trail #5 (10.4 miles) – Hike to Congaree River through dense vegetation.
Kingsnake Trail #6 (11.7 miles) – A favorite for birders.
Bates Ferry Trail #7 (2.2 miles) – Follow a 1920s ferry road south to the Congaree.
Longleaf Trail #8 (0.3 miles) – Short train from Bluff Trail that gives access to Longleaf Campground.
Fork Swamp Trail #9 (0.6 miles) – This trail is the newest in the park and gives access to the Fork Swamp area of the park.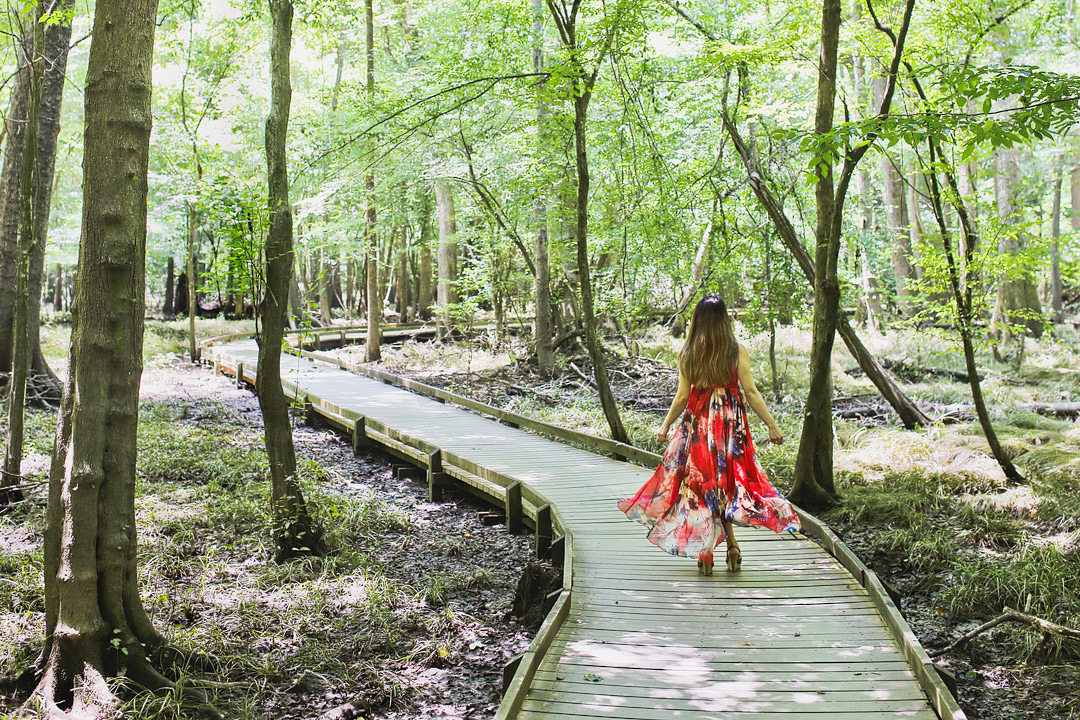 2. Go on a Guided Walk and Talk
If you want to learn more about the natural and cultural history of the park, go on a guided walk and talk led by park rangers or volunteers. You can see what is planned on the Schedule of Events.
Nature Discovery Walk – A knowledgeable volunteer naturalist takes you along the boardwalk and tells you more about the park wildlife and plant life.
Big Tree Hike – John Cely, the park founder, takes you on a 3-hour and 5-mile hike to some of the National Park's big trees.
3. Canoe or Kayak on the Congaree River
If you want to see the park from a different angle, you can hop in a canoe or kayak and follow the marked Cedar Creek Canoe Trail. This route is approximately 15 miles and takes you through some of the most beautiful portions of the park. We loved being able to kayak up to the bald cypress trees.
Note:
 Stay midstream. Watch out for snakes, poison ivy vines, spiders, wasps and other stinging insects along and in the river (especially in the summer). Snakes and spiders falling into your canoe or kayak are the biggest reasons people tend to flip. Be sure to check in with the Visitor Center to find out current conditions, but here are a few things to keep in mind.
You must bring your canoe or kayak.
The park does not rent canoes or kayaks but there are outfitters in Columbia, SC.
Have all the appropriate equipment (personal floatation device, whistle, weather appropritate clothes, water, food, sunscreen, and insect repellent).
Water levels can affect the visibility of the canoe trail markers.
Always carry a map and compass regardless of how long you plan on paddling.
Water levels can fluctuate up to 10 feet on the creek – be aware of what they are before starting.
When the water levels are high, the current can be unpredictable and dangerous.
Downed trees and log jams are common.
If you see an obstacle along the trail, report it to the park ranger so they can pass along that information.
BONUS. Paddle the Congaree River Blue Trail
For the serious paddlers, check out this 50-mile designated trail. It runs from Columbia to Congaree National Park. Starting the trail in an urban environment really shows you the contrast as you continue to float downstream and enter the National Park. Although it's only 50 miles, it feels like you're in a completely different world.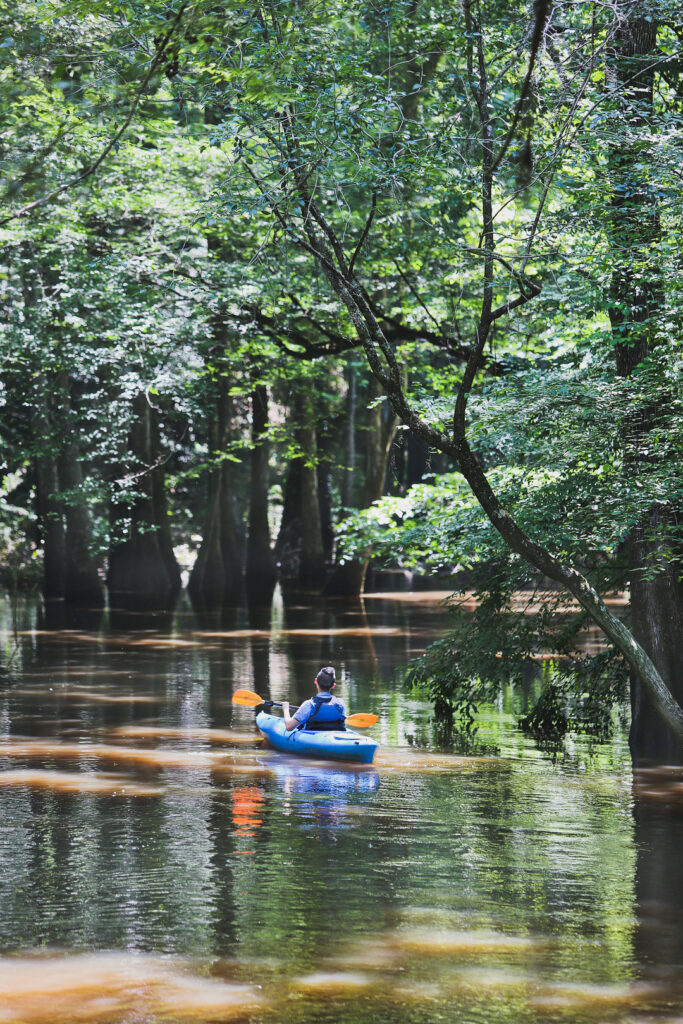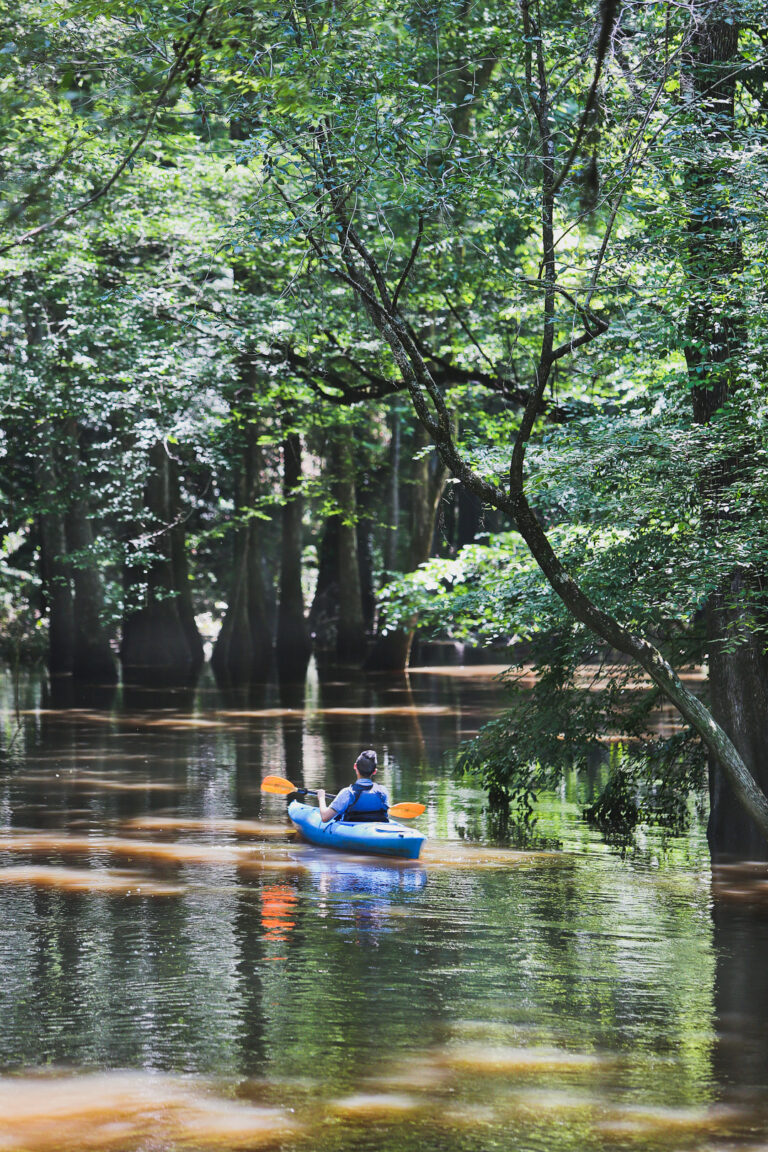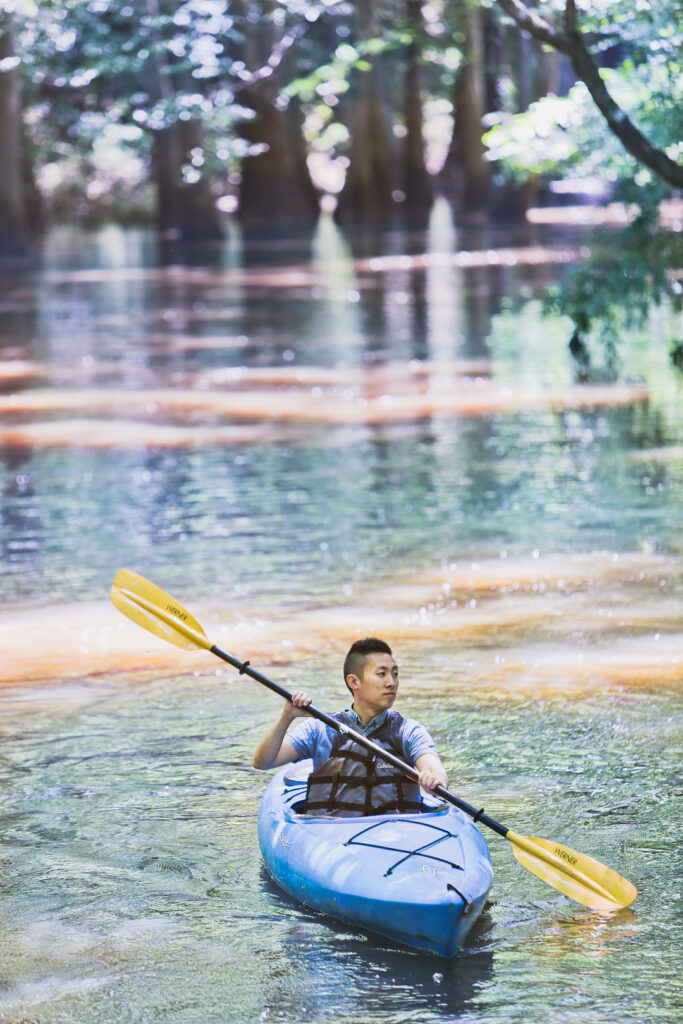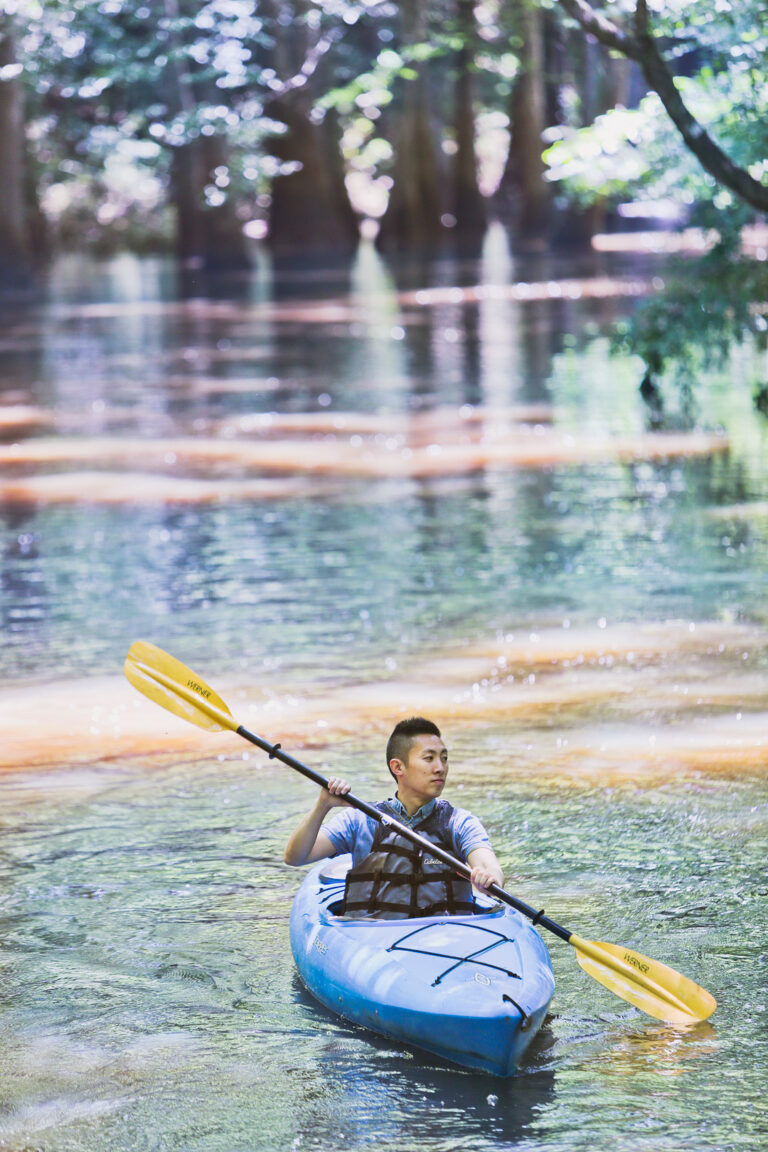 4. Go on a Ranger Led Canoe Tour
If you are a novice paddler or don't want to bother with your own equipment, sign up for a Ranger Led Canoe Tour. These only happen in the Spring (usually in April and May) and Fall (September to mid-November) on Friday and Saturdays. As they expertly guide you along the river, they will tell you more about the natural and cultural history of the park.
I highly recommend doing this if you visit during the tour season. It's amazing how calming it can be as you float down the river, and something about not being on a trail made it feel like I was exploring untouched land.
The tour lasts roughly 3.5-4 hours and each tour is limited to 12 people. Reservations can be made through Recreation.gov and each month's tours open for reservation on the first of the prior month. The park staff will cancel tours for a number of reasons, like inclement weather, high winds, or unsafe water conditions.
Participants must meet the following requirement:
At least one person must have experience.
At least one adult (18 or older) must be in each canoe
Children must be at least 6 years old
Participants must know how to swim without the aid of a flotation device
The park provides all canoes, paddles, and personal flotation devices, you are responsible for:
Weather appropriate clothes.
Footwear that straps or ties around feet (flip flops or Crocs are not permitted).
Water (at least 1 liter per person)
Snacks
Sunscreen
Insect Repellent
5. Catch the Synchronous Fireflies
This is the biggest highlight of the park. Every year sometime between mid-May and mid-June, visitors flock to the park to see the awe-inspiring display of the synchronous fireflies (photuris frontalis). They do this as they search for mates. There are only three known places in the Western Hemisphere that are known to have fireflies that synchronize their flashes and Congaree National park is one of these places!
This was the main reason we visited the park, but unfortunately, we missed the fireflies by two days! After dark, we were still able to see plenty of fireflies but we'll have to visit again to catch the synchronous fireflies in the future. You can look up photos of what they look like here. They generally stay near the ground and look so trippy! Since we missed out, I just put together layers and layers of fireflies we saw that night, but these were not even the same species of firefly. Did you know that fireflies only live a couple weeks for the purpose of mating and die shortly after they mate?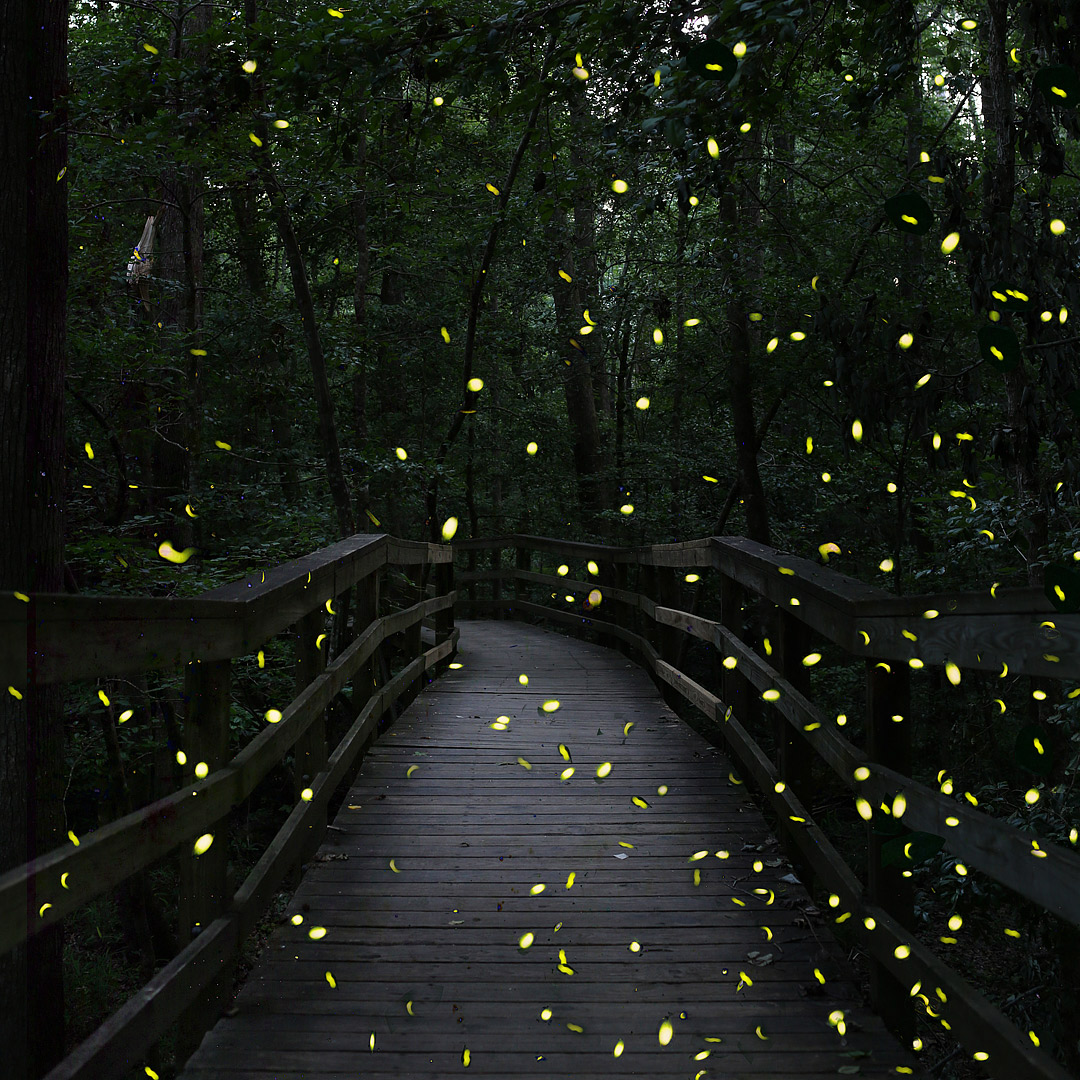 Viewing Tips:
The Visitor Center is open for extended hours during the Synchronous Fireflies Season (usually until 10 PM).
You can find updates on the fireflies here.
Because of the large number of attendees, there is a designed Fireflies trail that gives access to the best viewing areas.
Wear closed toed shoes as there are roots and biting insects along the trail.
Setting up chairs, hammocks, and/or blankets is not allowed.
If you plan on using insect repellent, apply it BEFORE entering the park. It repellent will affect the fireflies.
Flashlights should only be used when absolutely necessary and when used, they should be pointed at the ground.
If you plan on shooting, do not use flash. This should be obvious for any photographer.
Parking is very limited. Carpool if possible. Arrive at 6 to get a decent parking spot (since there are only 50 established spots) otherwise you have to walk.  During the 2018 season, there were over 600 cars and 1000 people on the busiest night.
Do not capture fireflies in jars or take them with you.
Unlike fireflies when they normally fly around, they usually only hover 3-4 feet above ground during synchronization.
There are two designated campgrounds in Congaree National Park:
Longleaf Campground has 10 individual and 4 group camping sites. Individual sites can have up to 3 tents and 8 people, group sites can have up to 10 tents and between 9 to 24 people. Each site has a fire ring and picnic table, and there are two vault toilets at the front of the campground. Fees: $0 per night for individual sites, $20 per night for group sites.
Bluff Campground has no vehicle access so you have to carry in your own equipment. There are 6 individual sites that allow up to 3 tents and 8 people. Each site has a fire ring and picnic table, and there are no restrooms. Fees: $5 per night for individual sites.
You can also Backcountry Camp for free, but you must get a permit at the Harry Hampton Visitor Center on the day of your arrival to the park. To obtain a permit, you must have a valid state-issued ID.
More helpful info:
You can get water 24 hours a day at the Harry Hampton Visitor Center.
Camping in Congaree is tent only (no RV or car camping).
You can camp up to 14 consecutive days, and no more than 28 days in a six month period.
Fires are only permitted in designated fire rings and firewood must be purchased from a local supplier (must provide receipt) or wood that is certified USDA pest free (must have original packaging). You cannot bring in any other wood, and dead wood can be collected from surrounding areas for fires, but you cannot cut live trees down.
Congaree National Park is also a great place to fish and is allowed with a valid South Carolina fishing license. It is permitted in all areas of the park except for the Weston Lake overlook and the area 100 feet around the overlook.
What you can catch:  Catfish, bream, crappie and others can be caught in Cedar Creek or in Oxbow lakes and striped bass on the Congaree river.
WHAT YOU NEED TO KNOW BEFORE YOU GO
Congaree National Park is amongst a humid subtropical climate. Although you can visit during any season, the best time to go is spring and fall because the weather is best. Note that almost 80% of the park is within the floodplain of the Congaree River, which means flooding occurs throughout the year (usually about ten times a year).
Spring (March to May) – Best time to visit the park. Highs of mid to upper 70s and insects are generally not a problem during this time. The park has an official mosquito meter that goes from mild to war zone.
Summer (June to August) – This is the hottest time of the year with temperatures up to the 90s with high humidity. Thunderstorms are common and can occur with little to no warning. We visited in early June, where it was hot and humid and the mosquitoes were out for blood. However, it's the only time you can see the synchronous fireflies.
Fall (September to November) – Average daily temperatures in the 70s with low humidity. Fall colors peak between late October and early November. Water levels are ideal for paddling on Cedar Creek.
Winter (November to February) – Mild temperatures with highs of the mid-50s. Nighttime can dip below freezing. Flooding is most frequent this time of year.
Visitor Center & Fees
Entrance to Congaree National Park is free. The Harry Hampton Visitor Center is open 7 days a week, 9 AM to 5 PM (closed on federal holidays). Trail maps, brochures, water, and restrooms are available at the Visitor Center breezeway 24 hours a day.
Directions
Since some GPS devices don't give accurate directions, use the following address for driving directions: 100 National Park Road, Hopkins, SC. The nearest major airport is Columbia Metropolitan Airport (CAE).
What to Pack for Your Congaree Trip
Weather Appropriate Clothes. I packed a dress for the photos, but if you're exploring the park, you'll want to wear clothes that are wicking and cooling.
ExOfficio Bugsaway gives you an extra layer of protection
Hat and/or Sunglasses
Sunscreen
With Columbia, SC so close, you can stay in the city and visit the park each day. We stayed at Hotel Trundle, which is Main Street's first boutique hotel, and we absolutely loved our room. It was really convenient to downtown and the staff was so friendly. When you want to head to the park, it's only 30 minutes away and less than 20 miles.
Have you been to Congaree National Park? Did you get to see the synchronous fireflies?
Did you enjoy this post? Pin it for later
See More National Park Guides
"Discovery consists not of seeking new lands but in seeing with new eyes" – M. Proust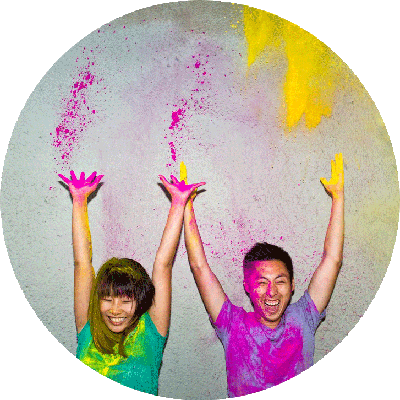 Esther and Jacob are the founders of Local Adventurer, which is one of the top 5 travel blogs in the US. They believe that adventure can be found both near and far and hope to inspire others to explore locally. They explore a new city in depth every year and currently base themselves in NYC.