One of the reasons we decided to move to Portland was how close it was to a plethora of outdoor destinations and also only a 3 hour drive from Seattle.
On our first trip up to the city, thanks to the magic of connecting through instagram, we met up and stayed with the Mandagies. They're Washington natives and have been living in Seattle for over six years, so we got their help in putting together our 101 for Seattle.
We'll be updating this list as we visit, so check the date at the bottom for the latest update!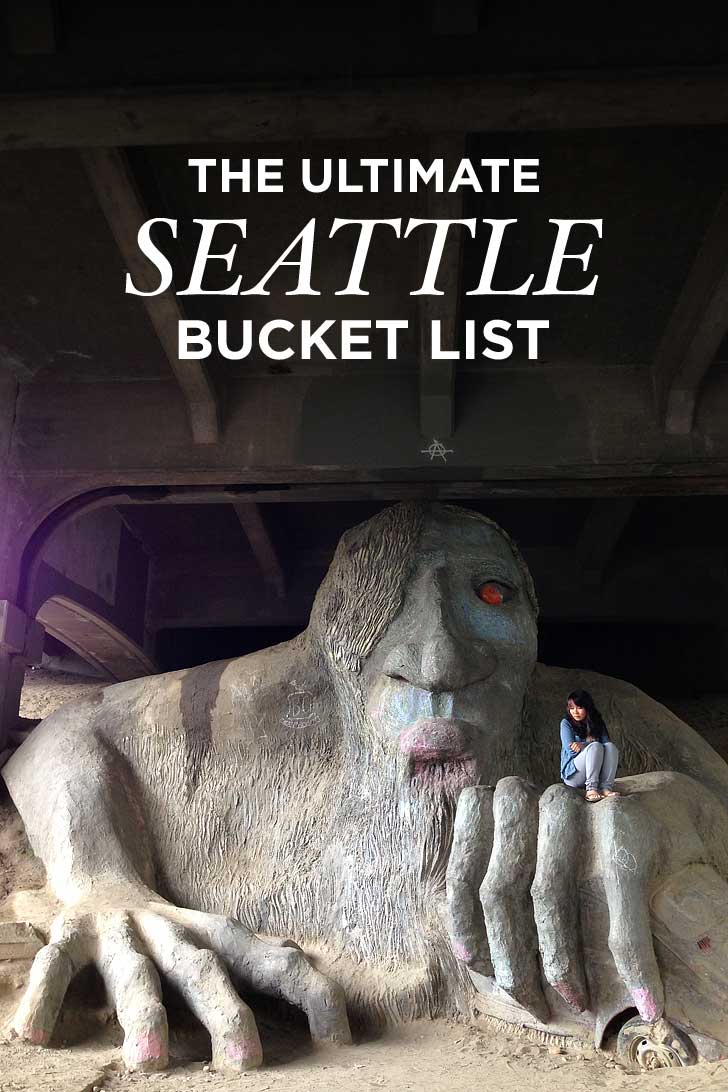 THE ULTIMATE SEATTLE BUCKET LIST (101 THINGS TO DO IN SEATTLE WA)
ATTRACTIONS
⬢ Pike Place Market
⬢ Stick a piece of chewed gum on the gum wall
⬢ Take photos with the Fremont Troll
⬢ Go Visit the Original Up House
⬢ Take Skyline Pictures at Kerry Park
⬡ See the Salmon Ladder at the Ballard Locks
⬢ Go up to the Space Needle Observation Deck
⬡ Go up to the Smith Tower Observation Deck
⬡ Go up (higher) in the Columbia Tower Observation Deck
⬡ Ride the Seattle Great Wheel
⬡ Read at the Famous Seattle Public Library
⬡ Park at Hamilton Viewpoint for Skyline Pictures
⬡ Take Photos at Jose Rizal Park at Night
⬡ Ride the Seattle Center Monorail
⬢ Go to the very first Starbucks (near Pike Place)
⬡ Visit the Starbucks Reserve & Roastery in Capitol Hill
⬡ Take a Tour at Theo's Chocolate Factory (Free choco!) Pro Tip: You can go dumpster diving in Theo's Chocolate scrap chocolate bin
⬡ Take the Pioneer Square Underground Tour
⬢ Visit the Woodland Park Zoo
⬢ Play with marine life at the Seattle Aquarium
⬡ Study Harry Potter Spells in Suzzallo Library
⬡ Take a Ferry to the Olympics! (Do the Seattle > Bremerton or Edmonds > Kingston)
⬡ Japanese Garden at the WA Arboretum
⬢ Visit the Chihuly Glass Sculpture Museum
⬢ MoPOP / Museum of Pop Culture (formerly EMP)
⬢ Boat Rides at the Center For Wooden Boats (free and Sundays only! Get there early in the summer; the spots fill up fast)
⬢ Seattle Museum of Art
⬢ Living Computers
⬢ Seattle Pinball Museum
⬢ Explore the Pacific Science Center
URBAN PARKS
⬢ Gasworks Park (have a picnic in the day or watch fire dancers at night)
⬡ Visit the Lighthouse at Discovery Park
⬡ Bonfire at Golden Gardens Park
⬡ Rollerblade around Greenlake
⬡ Rollerblade around Alki Beach
⬡ Bike around Seward Park
⬡ Bike The Burke-Gilman Trail from SPU to Matthew's Beach
⬡ Rent a canoe or paddle boat at the WAC
⬡ Go SUPing at Ballard Surf
⬡ Go Swimming at Madrona Beach
⬡ Walk through the Olympic Sculpture Park
⬡ Visit the Greenhouse in Volunteer Park
⬡ Rent Kayaks and go around Lake Union / Lake Washington
⬡ Take a tour of the University of Washington campus
⬡ Discovery Park Loop
⬡ Magnuson Park
SHOPPING
⬡ Visit the REI Flagship Store
⬡ Shop at the Nordstrom Flagship store downtown
⬡ Get fresh produce at the Ballard Farmer's Market
⬡ Shop The Goodwill Outlet
⬡ Shop at Seattle's Antique Market
⬡ Go shopping at University Village
⬡ Get Asian Treats at Uwajimaya Grocery Store
FOOD & DRINK
⬡ Get a "Seattle Dog" in Capitol Hill
⬡ Go out to the Bars in Capitol Hill (favorite spots: "Cider" and "The Unicorn")
⬡ Chuck's Hop Shop (Esther + Jacob's fave beer spot)
⬡ Cafe Juanita (Kirkland, $$$$, Italian)
⬡ Salare (Ravenna, $$$, New American)
⬢ Il Corvo (Pioneer Square, $$, Italian)
⬡ Sam Choy's Poke to the Max (Columbia City, $$, Hawaiian)
⬡ Tsukushinbo (International District, $$, Japanese)
⬡ Taylor Shellfish Farms (Capitol Hill, $$, Seafood)
COFFEE
⬡ Herkimer Coffee (U District)
⬡ Slate Coffee (U District)
⬡ Cafe Allegro (U District)
⬡ Milstead (Fremont)
⬢ Miir (Wallingford/Fremont)
⬡ Storyville (Pike Place + Queen Anne)
⬡ Cherry Street Coffee
⬢ General Porpoise (Capitol Hill) – PRO-TIP eat all their donuts!
⬡ Vivace (Capitol Hill)
⬡ Fuel (Wallingford)
⬡ Chocolati Cafe (Greenwood, Greenlake, Wallingford)
⬡ Zoka Coffee (U District)
⬡ Seattle Meowtropolitan Cat Cafe (Ballard)
⬡ Craftworks Coffee (Queen Anne)
⬡ La Marzocco Cafe (Seattle Center)
⬡ Anchorhead Coffee Co (Downtown)
⬡ Union Coffee (Central District)
⬡ Fremont Coffee Co. (Fremont, fun latte art)
⬡ Tougo Coffee Co (Central District)
⬡ Peet's Coffee (Greenlake)
⬡ Victrola Coffee Roasters (Capitol Hill)
EVENTS
⬡ Visit the Tulip Festival in April (Mt. Vernon)
⬡ Attend a sports event (Seahawks, Sounders, Mariners, Huskies)
⬡ Go Sailgating before a UW Husky Game
⬡ Attend Bumbershoot Music Festival
⬡ Listen to the Choir practice at St. Mark's Cathedral (Sun,

9pm

)
⬡ Participate in Seattle's SeaFair
⬡ Watch a Musical at the 5th Avenue Theater
⬡ See a music concert at the Paramount Theater
HIKING AND OUTDOORS
⬡ Poo Poo Point (Tiger Mountain, 19 mi / 26 min away)
⬡ Rattlesnake Ledge (Snoqualmie, 26 mi / 29 min away)
⬢ Snoqualmie Falls (Snoqualmie, 29 mi / 34 min away)
⬡ Big Si + Little Si (Snoqualmie Pass, 33 mi / 36 min away)
⬡ Twin Falls (Snoqualmie Pass, 35 mi / 35 min away)
⬡ Mailbox Peak (Snoqualmie Pass, 37 mi / 43 min away)
⬡ Franklin Falls (Snoqualmie Pass, 52 mi / 53 min away)
⬡ Wallace Falls (Stevens Pass, 47 mi / 53 min away)
⬡ Gold Creek Pond (Snoqualmie Pass, 55 mi / 58 min away)
⬡ Lake Serene (Stevens Pass, 53 mi / 1 h 5 min away)
PRO TIPS FOR FIRST TIME VISITORS
Many of the museums are free on the first

Thursday

of the month and some are free year round.
A rain jacket is always a good idea! (this one is currently our favorite and has insulation)
Summer is the sunniest and there are a plethora of outdoor activities then.
If you're looking for the classic, moody PNW vibes come in Sept – Nov, and head to the mountains for some fog envy! Expect lots of time in the car, but the end destinations are always worth it!
Emily and Berty are photographers and love exploring their local area. They're constantly looking for hidden spots around Seattle. Go follow their blog and instagram to see their adventures in the PNW and beyond.
Did you enjoy this post? We'd love for you to pin it for later!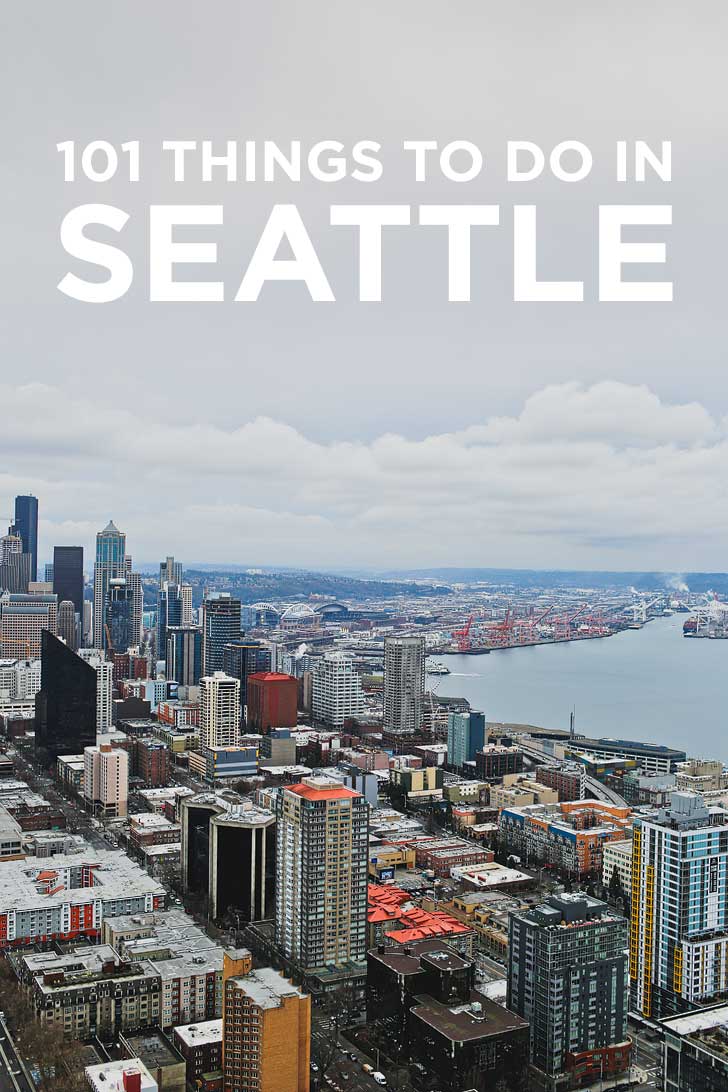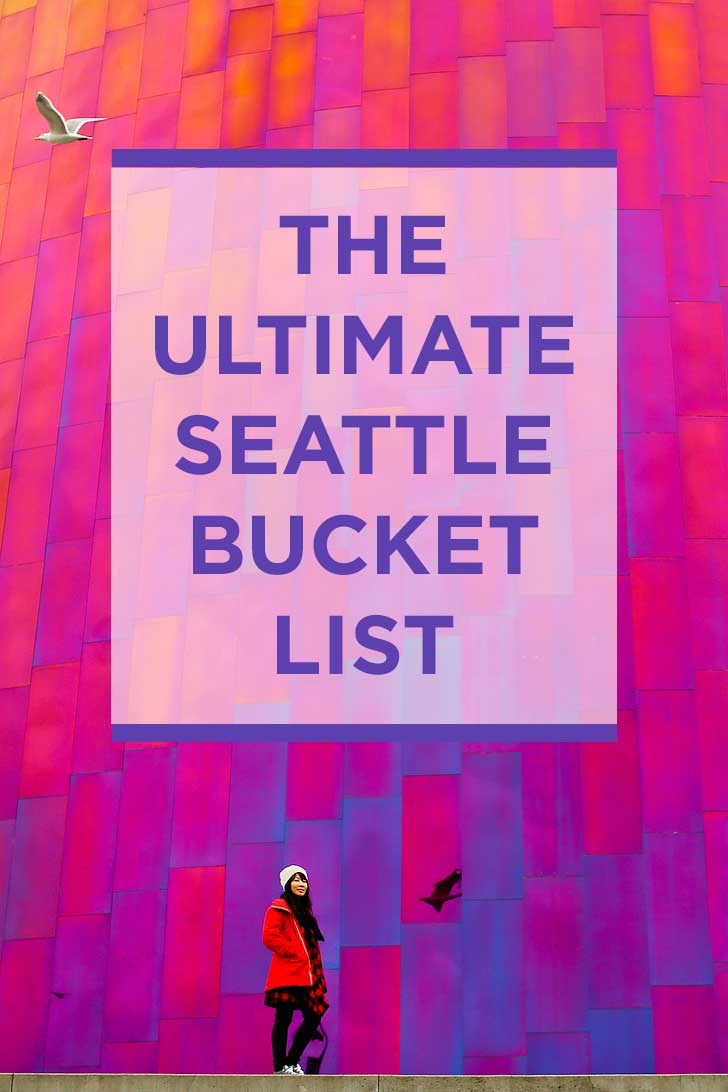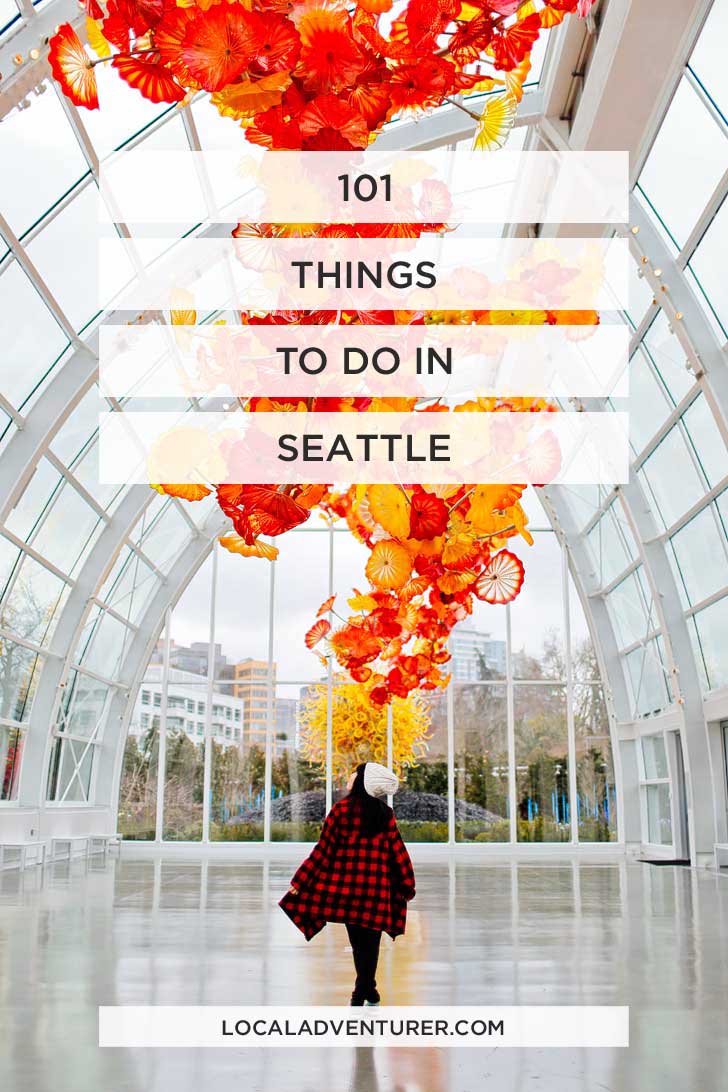 STAYING IN SEATTLE? READ REVIEWS AND FIND BEST HOTEL PRICES:
Looking for a Rental Car? Check out this link.


Last updated: Feb 2, 2017