Washington, D.C. has the distinct honor of being the nation's capital. There is evidence of power and politics all over the city. Look no further than the White House, the Capitol Building, and the Supreme Court, all of which are located here. If you want to see government in action, you've come to the right place. Many government buildings offer tours. But it's not all business. D.C has a really lively art, music, and food scene.
There are tons of museums and memorials for you to explore and many of them are free. You could spend days exploring the Smithsonian museums alone. As if that wasn't enough, there are many different venues where you can see a live show. Below is a list of our favorite things to do in DC.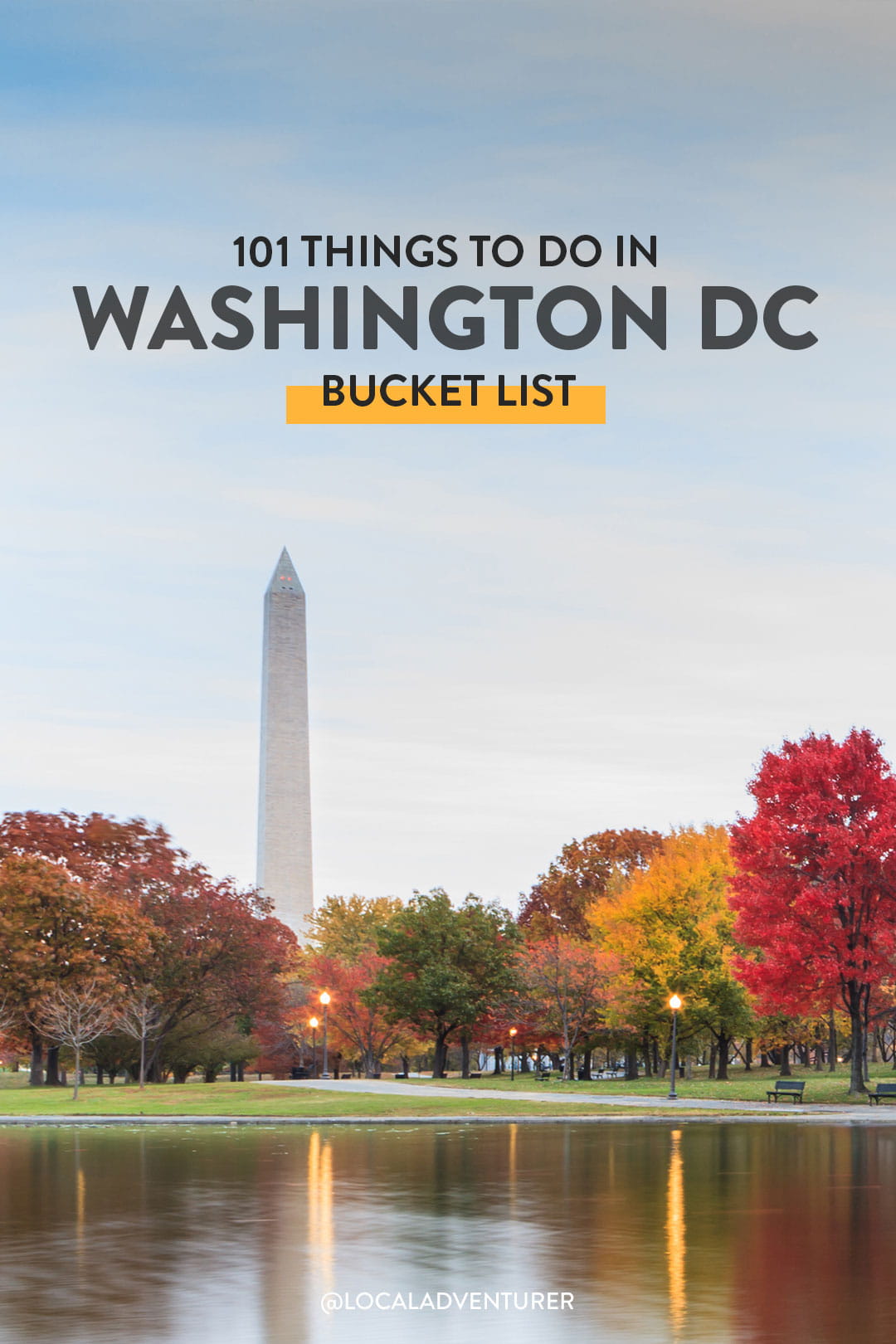 This post may contain affiliate links, where we receive a small commission on sales of the products that are linked at no additional cost to you. All opinions are always our own. Read our full disclosure for more info. Thank you for supporting the brands that make Local Adventurer possible.
Last Updated: January 21, 2023
101 Things to do in Washington DC Bucket List
Basilica of the National Shrine of the Immaculate Conception
It's the largest Christian church in the U.S. and in North America and the second-largest church in the world.
Bureau of Engraving and Printing
Learn about US currency and see how millions of dollars are printed.
The Capital Wheel at National Harbor
See views of the Potomac River from 180 feet above.
Carousel at National Harbor
Americana-themed carousel with a children's playground & picnic tables, right by the Capital Wheel. (currently closed)
A traditional Chinese gate constructed in 1986.
(Georgetown) See pre-Colombian and Byzantine art and artifacts and the mansion gardens.
See ornate buildings for each foreign embassy.
(Georgetown) Cool to see if you're in the area. Free to visit!
Federal Bureau of Investigation Tour
(Penn Quarter) Be sure to contact your congressional representative to be cleared first.
Franciscan Monastery of the Holy Land in America
(Brookland) Take a stroll through the grotto and gardens.
(Capitol Hill) Has great views of DC.
Riverboat Tour on the Potomac River
You can do a dinner cruise too.
Smithsonian Institution Building
Part of Martha Washington's family's estate.
Great architecture, several shops and restaurants. You can also take the free circle bus at the station to the Mall.
Grab a coffee and walk by the waterfront.
Washington National Cathedral
The Cathedral Church of Saint Peter and Saint Paul in the City and Diocese of Washington – Woodrow Wilson's Marble Tomb and Helen Keller's Ashes.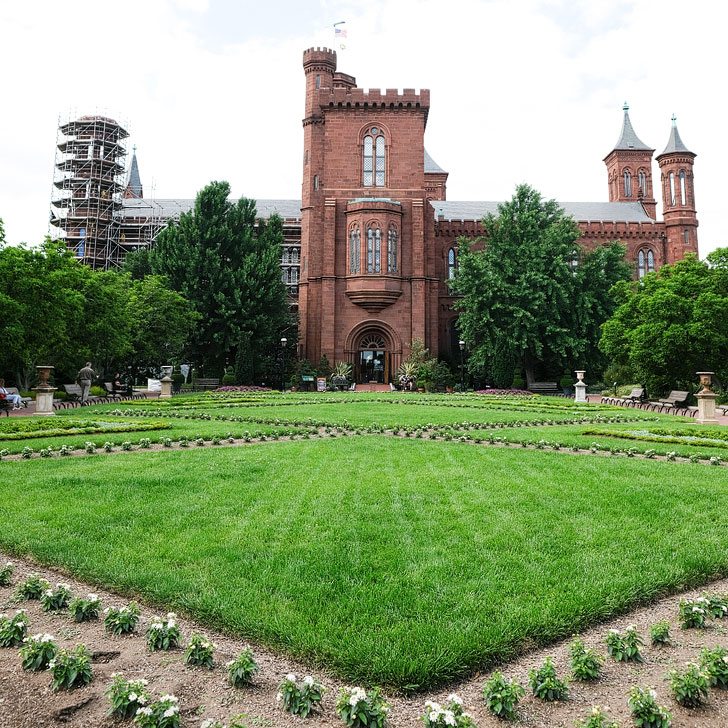 Monuments + Memorials + Historic Sites
Arlington Memorial Bridge
A bridge connecting the Lincoln Memorial and Arlington Cemetery.
Arlington National Cemetery
(Arlington) Be sure to see the Tomb of the Unknown Soldier.
Belmont-Paul Women's Equality National Monument
Carter G. Woodson Home National Historic Site
Chesapeake & Ohio Canal National Historical Park (C & O Canal)
Lots of events throughout the year within the park.
Ford's Theatre National Historic Site
Franklin Delano Roosevelt Memorial
Frederick Douglass National Historic Site
Korean War Veterans Memorial
Lincoln Memorial + Reflecting Pool
Lyndon Baines Johnson Memorial Grove on the Potomac
Martin Luther King Jr. Memorial
Mary McLeod Bethune Council House
National 9/11 Pentagon Memorial
Located by section of the Pentagon where the plane hit.
Pennsylvania Avenue National Historic Site
President Lincoln's Cottage at the Soldier's Home
Where he lived and worked for over a quarter of his presidency.
President Woodrow Wilson House
Well preserved home, reservations are recommended for house tour.
Senate and House Office Buildings
You need your government STAR ID to enter.
Walk around the public areas and take in the sheer magnitude of the marble hallways.
Thomas Jefferson Memorial
The U.S. Capitol Visitors Center / Capitol Tour
Be sure to book your tour time online before visiting.
Vietnam Veterans Memorial
White House + President's Park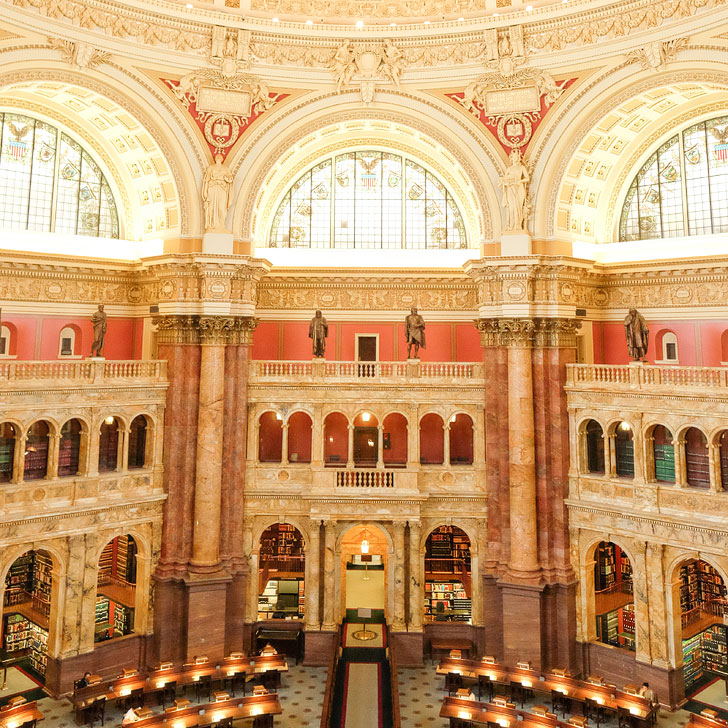 Arts and Industries Building
(Smithsonian) Interior is closed, but you can appreciate the architecture and explore the area around the building. (temporarily closed)
DEA Museum and Visitors Center
(Arlington) Go see their bong collection.
Folger Shakespeare Library
(Capitol Hill) Catch a play at the small stage inside the library.
Freer Gallery of Art / Freer and Sackler Galleries
Part of the National Museum of Asian Art. Don't forget to check out the Peacock Room.
Art gallery specializing in street art –  murals are in the alley behind the oyster shop on 8th St SE.
Hillwood Estate, Museum and Gardens
Check out the world renowned collection of Russian and French decorative art, all curated by Post Cereal heiress, Marjorie Merriweather Post.
Hirshhorn Museum and Sculpture Garden
Very informative and interactive museum. Great for both kids and adults alike.
Get tickets online to save $5.
The National Archives Building
See the original Declaration of Independence, Bill of Rights, Constitution and the 1297 version of the Magna Carta.
Learn about architecture, design, engineering, and more.
The National Gallery of Art + Sculpture Garden
See sculptures by Henry Moore, Rodin, Kusama, and more.
National Geographic Society-Grosvenor Auditorium / Museum
Tons of photographs on display, as well as rotating exhibits on scientific expeditions and explorations.
The National Museum of African American History and Culture
(Smithsonian) This museum is devoted exclusively to the documentation of African American life, history, and culture.
National Museum of African Art
The National Museum of American History
Anything and everything American. We really liked seeing flag that flew over Fort McHenry that inspired the Star-Spangled Banner.
National Museum of the American Indian
Exhibits are grouped by tribe.
The National Museum of Women in the Arts
See the contributions of women in the arts, through permanent and rotating exhibits. They also have several events throughout the year.
National Portrait Gallery
The presidential portraits are located on the second floor.
The National Postal Museum
The volume of stamps on display is enormous! Cool to see, especially if you're a collector.
Learn about the first amendment and importance and evolution of a free press.
Smithsonian American Art Museum
Open until 7pm, which is later than most Smithsonian museums.
Also part of American Art Museum but at a different location.
NASM / Smithsonian's National Air and Space Museum
(2 locations) One in DC + Steven F. Udvar Hazy Center aka Udvar-Hazy Center in Chantilly, VA.
National Museum of Natural History
Smithsonian National Zoological Park
Free admission, don't miss the giant pandas!
United States Holocaust Memorial Museum
There's also a room where you can listen to audio recordings of survivors telling their stories.
The Outdoors + Urban Parks
Kayaking, SUP, and even hydro-biking.
Georgetown Waterfront Park
Calmer and much more quieter part of the city.
Great place to see planes take off.
(Downtown) Ideal spot for a good view of the White House.
Great to visit in the spring and summer when the fountains are on.
Rock Creek Park Nature Center and Planetarium
Theodore Roosevelt Island
United States National Arboretum
More locals go here and bigger than the Botanic Garden – free for visitors.
United States Botanic Garden
Very pretty, especially during Christmas time.
(Navy Yard) Lots of restaurants by the park and various kid-friendly activities throughout the year.
Not a bad seat in the house! Great, high quality productions and performances.
The Wizards and Capitals both play here.
Come for a speciality drink at their quirky bar and see the interesting decor.
(Foggy Bottom) Catch a free concert.
See a perforamnce in this historic theatre.
Washington Nationals Baseball Game
Tour is $12 and includes a flight of 6 6 oz tasting pours, DC Brau Brewing Company (free brewery tours on Sat), Atlas Brew Works (free brewery tours on Saturdays, 100% solar powered), Bluejacket Brewery (tasting tours $29 a person on Saturdays at 3pm, includes 5 tasting pours), Capital City Brewing / Cap City (give tours upon request, or you can do a brewery tours through a third party).
Live music, cheap drinks. Where most of National fans gather.
(Capital Hill) Used bookstore.
Local food, fresh product and meat.
Fun place to browse for random trinkets and gifts.
(Georgetown) Several boutiques to peruse and restaurants to try.
Seasonal + Special Events
(July) Fringe theatre, music, art, dance.
(mid-May) See independentand international films.
(Fall) 11 blocks long and has 14 staging areas for musical performances, art, poetry, and more.
(Winter) Skate rentals are available for just $4.
Every Friday at the Sculpture Garden at the National Gallery of Art 5:30-8:30.
(Spring) One of the prettiest places to see cherry blossoms in the U.S.
Calling all art lovers! Stroll through these galleries for free on First Fridays.
Essential Tips for First Time Visitors
The Best Time to Visit DC
Visiting DC in the spring is great because the weather is really pleasant. Daytime temperatures range from the mid-fifties to the mid-seventies. I've always loved going there in the fall when the temperatures are milder as are the number of tourists. If you can't get away then though and want to travel in the summer, be prepared for the heat – it ranges in the mid to high 80's but has been known to creep even higher on occasion.
The city was once a swamp and though it looks a lot different than it used to, if you come in the summer, be prepared for the humidity! The winters can be unpredictable and brutal (ice, snow, sleet) but hotels tend to be a little cheaper in the winter because this is the off-season.
In DC, the locals call the train the Metro. If you say Subway, people will think you're looking for the fast-food restaurant. Oh, and when you're on the Metro, stay to the right and let people pass on your left. Otherwise, you may be in for some aggravated locals.
Lines are referred to by color: Red, Orange, Silver, Blue, Yellow, and Green. Look for tall brown columns with a large "M" identifying the station entrances. Colored stripes around the column show which lines serve the station. Train service is from 5 am on Weekdays to 12 am and 7 am on Weekends to 12 am. The city is in the midst of upgrading the system and we rode on several brand new railcars while we were in town.
To use the train, purchase a SmarTrip® card. It's $2.00 to purchase a card and is rechargeable so don't throw it away after you use it; keep on reloading it. You can use it for the bus (most of which are $1.75 per ride) and the Metro will help you plan the most efficient route and also tell you exactly how much it will cost.
If you can avoid having to drive into do DC, do just that. We recommend using public transportation (WMATA) whenever possible. Most locals use a combination of the bus, train, walking or a bike. It can be really busy in the morning and evenings when people are going to work but using public transportation can save you time and a headache because you won't have to hunt for parking. There are 91 stations located in Virginia, Maryland and DC.
What to Pack for Your Visit
Best Places to Stay in Washington DC
Are we missing anything? What would be at the top of your Washington DC Bucket List?
Did you enjoy this post? Pin it for later
SEE MORE CITY BUCKET LISTS
"Discovery consists not of seeking new lands but in seeing with new eyes" – M. Proust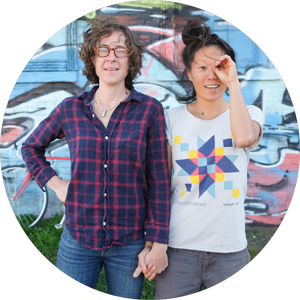 Pin
CAROLINE + ERIN
They are freelance web designers and photographers who love finding adventure, both big and small. The two make a daily practice of sharing vulnerabilities, truth telling, and side splitting laughter. They've honed the art of traveling fast and doing all of the things that an adventurer can do in a day or two. The couple lives in Asheville and loves spending their time in the mountains.