These are the best things to do in Red Rock Canyon.
Red Rock Canyon National Conservation Area is why we moved back to Las Vegas. We started climbing after our first stint in Vegas and didn't realize until we left that we had missed out on some epic climbing.
When the weather is just right (November-March), we're out here three times a week exploring new corners of the park. We're lucky to have Red Rock as part of Las Vegas. Even if you live on the opposite side of town, it's only 30 minutes to escape to great hikes, climbs, and scenery.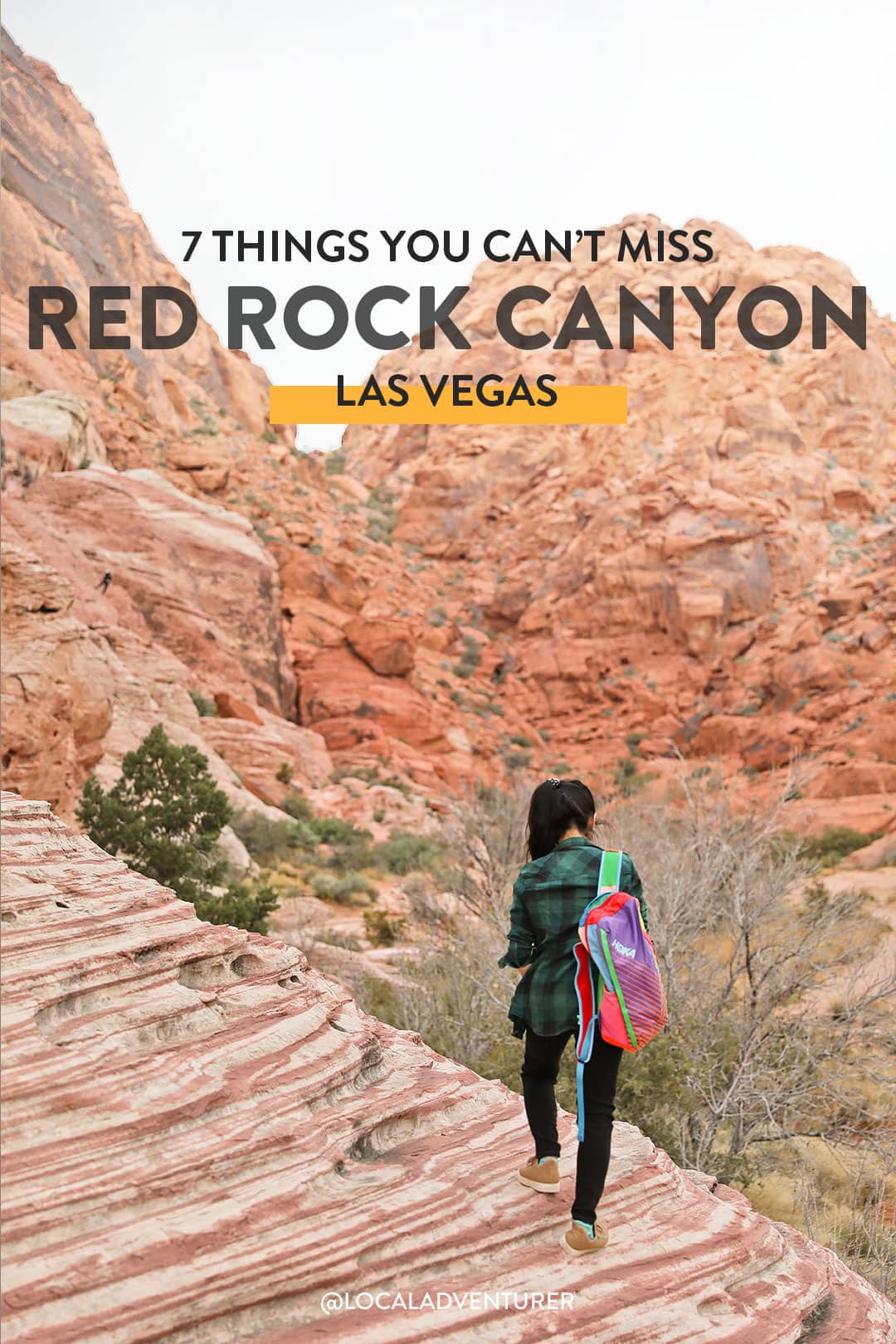 This post may contain affiliate links, where we receive a small commission on sales of the products that are linked at no additional cost to you. All opinions are always our own. Read our full disclosure for more info. Thank you for supporting the brands that make Local Adventurer possible.
Last Updated: December 29, 2022
What You Need to Know Before You Go
Is Red Rock Canyon worth visiting?
If you love the outdoors, Red Rock Canyon is a must. For us, it's the highlight of living in Las Vegas. The brilliant red colors pop out of nowhere in the desert backdrop, and you can see them from the scenic drive or get out to hike or climb.
How much is the Red Rock Entrance Fee?
Do you need reservations for Red Rock?
On top of the entrance fee, you need a reservation to get into the Scenic Drive. You can make reservations online here ($2 fee) or in person if there is availability. If they're full, you can try driving up to see if they have openings. There are also hikes outside this fee/reservation area.
What time does Red Rock Canyon open? For the Scenic Drive / Red Spring Picnic Area / Red Rock Overlook
Nov-Feb, 6 am to 5 pm
Mar, 6 am to 7 pm
Apr-Sept, 6 am to 8 pm
Oct, 6 am to 7 pm
How much time do you need at Red Rock Canyon?
The time you should allot all depends on your activities of interest. At a minimum, you should spend a couple of hours getting an overview of the park. That gives you time to do the Scenic Drive, take in the views at overlooks, and do a short hike. There are enough hikes to spend several days and climbing routes to last us years.
Leave No Trace
Pack out anything you pack in. Or better yet, if you're up for it, leave it better than you found it and pick up any trash you see. Poop does not decompose as fast in the desert as in more humid places. Use the pit toilets at specific lots or look for wag bag stations.
Where is Red Rock? + Getting to Red Rock
Red Rock Canyon National Conservation Area is 30 minutes from the Strip, on the west side of Las Vegas. To get there, map to the Red Rock Visitor Center, or 1000 Scenic Loop Dr, Las Vegas, NV 89161 (map).
If you plan on visiting parts of the park outside the fee area, like Red Spring or Kraft, make sure you take the Calico Basin road (it's before the main loop if you're coming from Summerlin or after if you're coming from Southwest). Google maps will have trailheads, parking lots, and significant landmarks. Download an offline map before you lose service.
Red Rock Visitor Center Info
The Red Rock Visitor Center is just inside the loop. It's a great place to stop to get insight from rangers to make the most of your visit. You can also pick up souvenirs and learn more about Red Rock and the Mojave Desert in their indoor and outdoor exhibits.
The address:
1000 Scenic Loop Dr
Las Vegas, NV 89161 (map)
Weather at Red Rock
Weather varies significantly between summer and winter. It's scorching in the summer and can be freezing in the winter if you stay past sunset. Luckily, it's typically 10 degrees cooler in Red Rock than the strip, but we still avoid Red Rock during the summer when it's scorching, and there's little to no shade. Here is the average weather each month.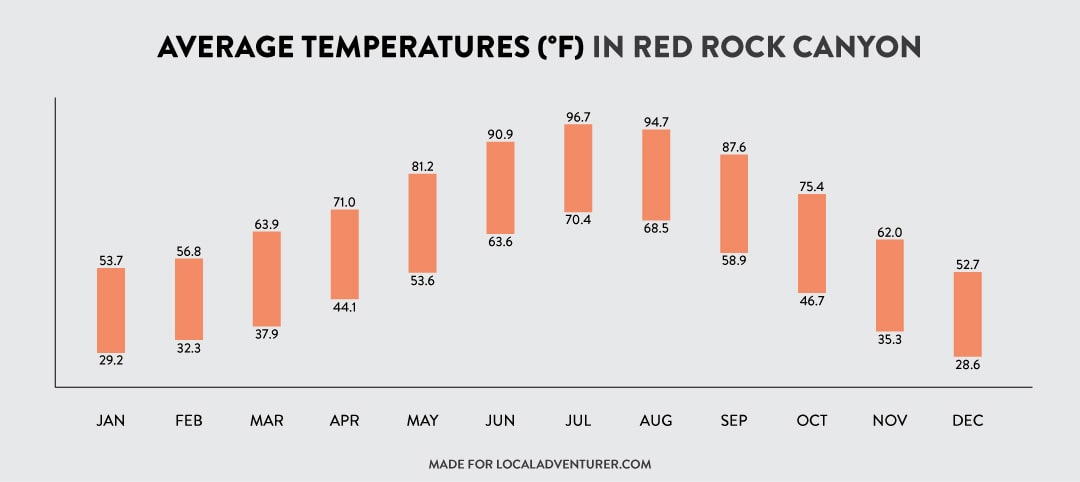 7 Best Things to Do in Red Rock Canyon
1. Scenic Drive
How long is the scenic drive Red Rock Canyon?
If you're not much of a hiker or climber, this 13-mile scenic drive lets you explore the park from the comforts of your car. It's the only way I'd do it with the 100+-degree weather during the summer. You not only get an excellent overview of the park, but it takes you to scenic overlooks and trailheads, should you choose to hike.
How much is the scenic drive?
On top of the park entrance fee ($15 per day, $30 annual), there is a $2 reservation fee to get into the loop. They kept saying they will get rid of the reservation fee, but that was last year.
LOCAL TIP: Driving the loop takes you roughly 30 minutes as long as you don't get stuck behind tours or visitors who don't realize there are two lanes. When the loop is busy, parking lots fill up quickly. The best time to avoid the crowds is early morning or late afternoon. On the plus side, many visitors only make quick stops at each spot, so you can always wait for a spot to open up.
See More: 11 Gorgeous Canyons in the US to Add to Your Bucket List
2. Hiking
Before we started climbing, we mainly hiked to see the park. To help you get started, here are the most popular hikes (full Red Rock hiking post coming soon!)
See More: 15 Best Day Hikes in the US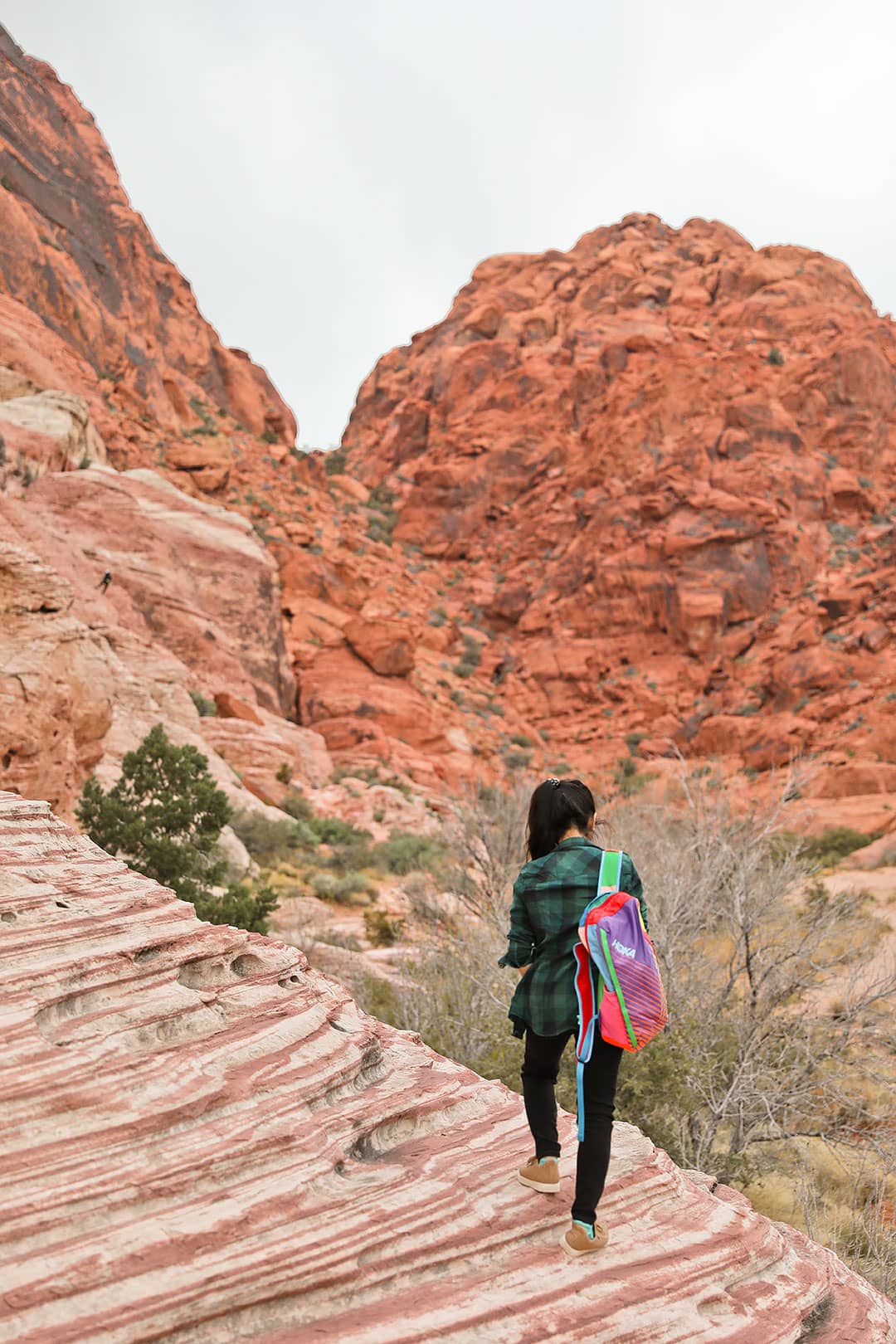 3. Rock Climbing
If you climb at all, Red Rock is a must for your itinerary, and chances are it's why you're visiting Vegas in the first place. You'll find tons of trad, sport, and bouldering here. We've done some sport climbing, but we mainly boulder for the social aspect.
Kraft Boulders is the main touristy bouldering area due to the sheer concentration of boulders. Check out other spots like Willow Springs, Red Springs, and Gateway to avoid the crowds. With climbing on the rise, though, these areas are also starting to get crowded.
Below is me on Plumber's Crack, a classic that's easy yet terrifying.
LOCAL TIP: Come say hi to us at our favorite climbing gym in Las Vegas! If it has rained in the past 48 hrs, do not climb on sandstone. In the winter, it may take longer than two days, and a good test is to dig about an inch down on the ground around the rock. If it is still damp, it's too wet to climb.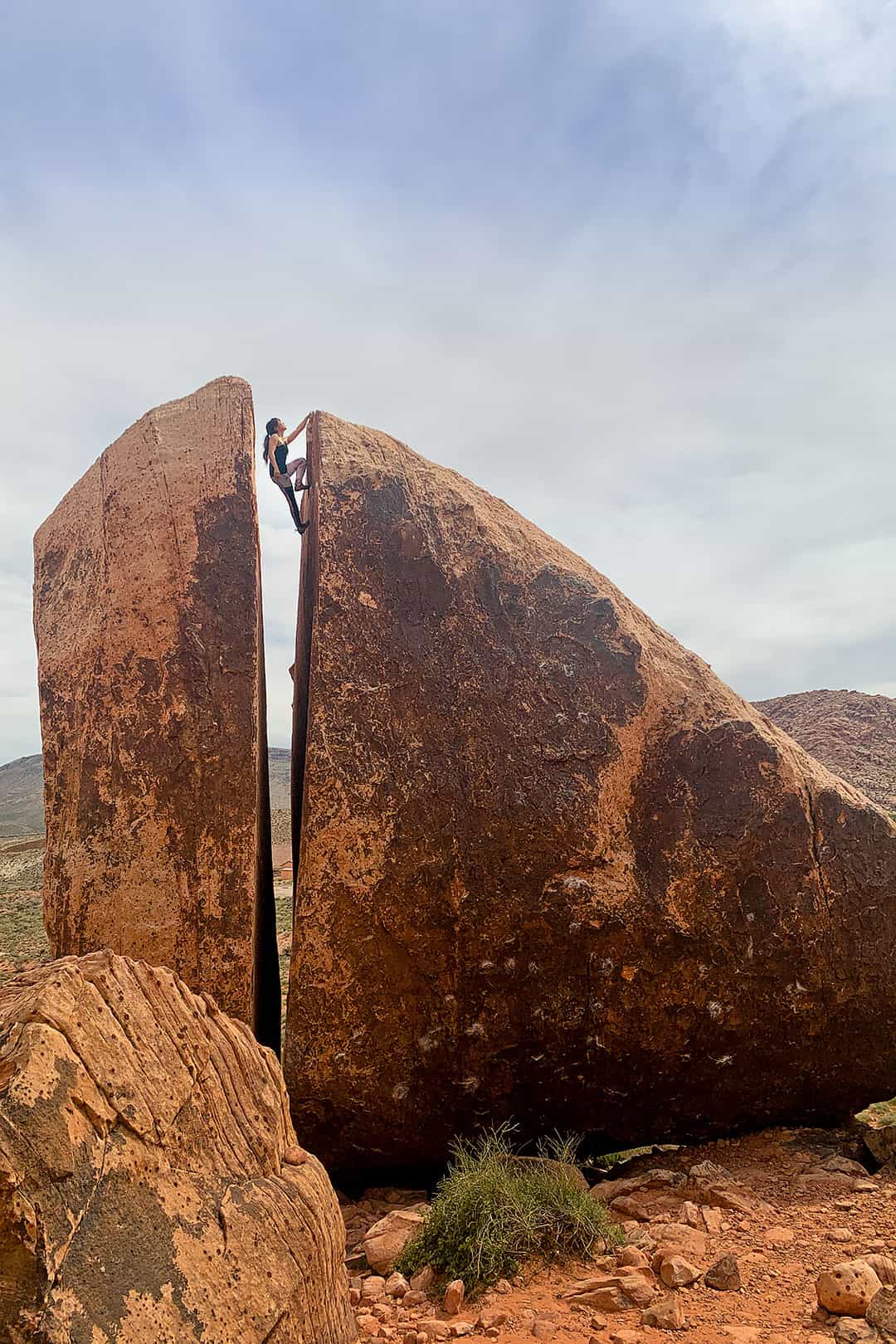 4. See Petroglyphs
You can find the Petroglyph Wall on a short walk from the Willow Springs picnic area. There are more petroglyphs throughout the park, but this is the most accessible.
5. Camping
Our San Diego neighbors (and friends who first introduced us to climbing) come to camp here twice a year. On their last trip here, we checked out their campsite. It's something we would consider if we were coming from out of town.
The one developed campground has 53 sites, six RV sites, and seven large group sites (with no hookups). Book your campsite here (some are walk-in only).
There's also an unofficial spot where van lifers camp for free. As you approach Red Rock, you will see vans and RVs parked there on the left near the Red Rock Detention Basin (map). This spot fills up fast during climbing season.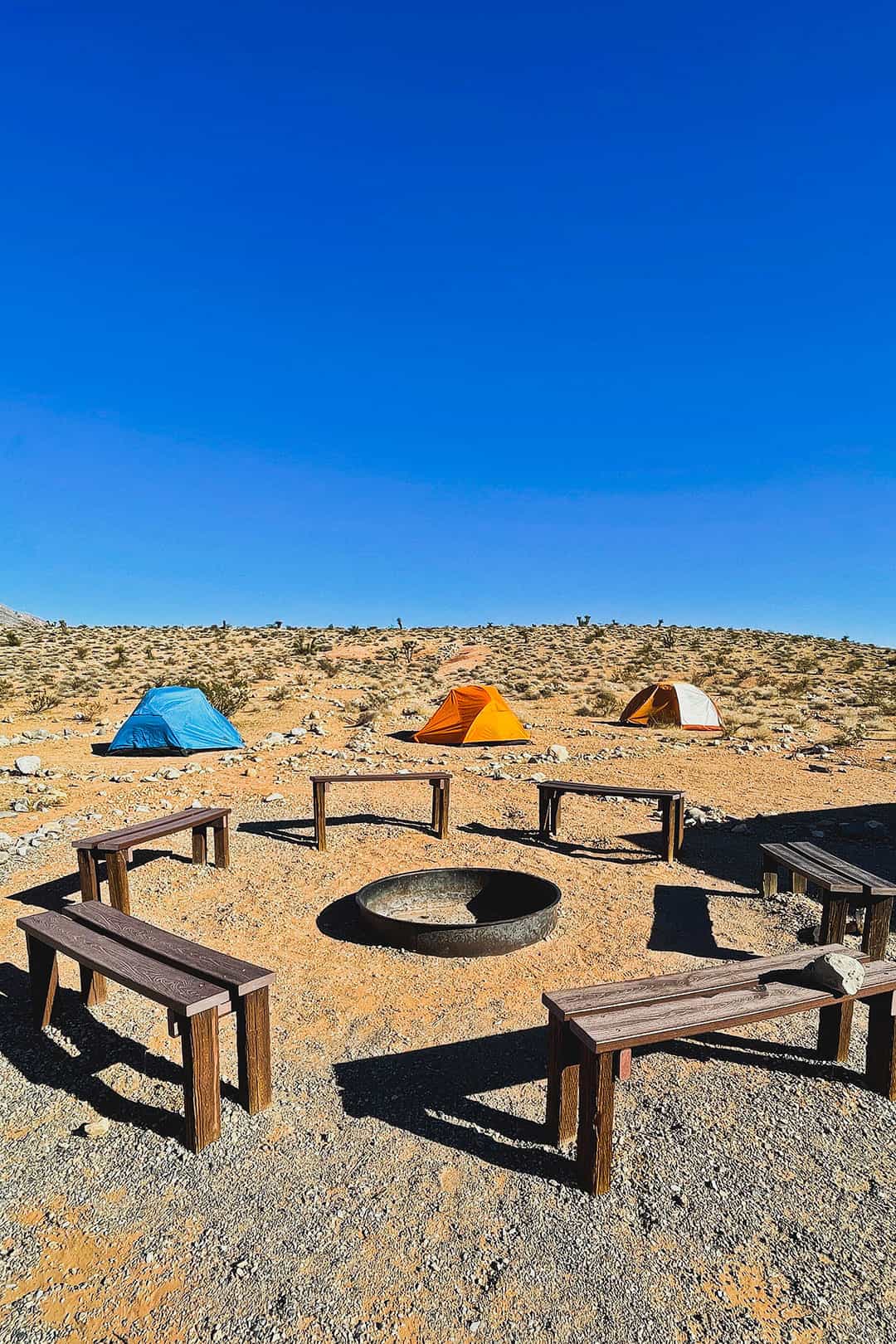 6. Wildlife
There are over 1000 species of plants and animals. We've only ever seen burros and rattlesnakes, but if you're lucky, you may even spot bighorn sheep, bobcats, coyotes, desert tortoises, and more.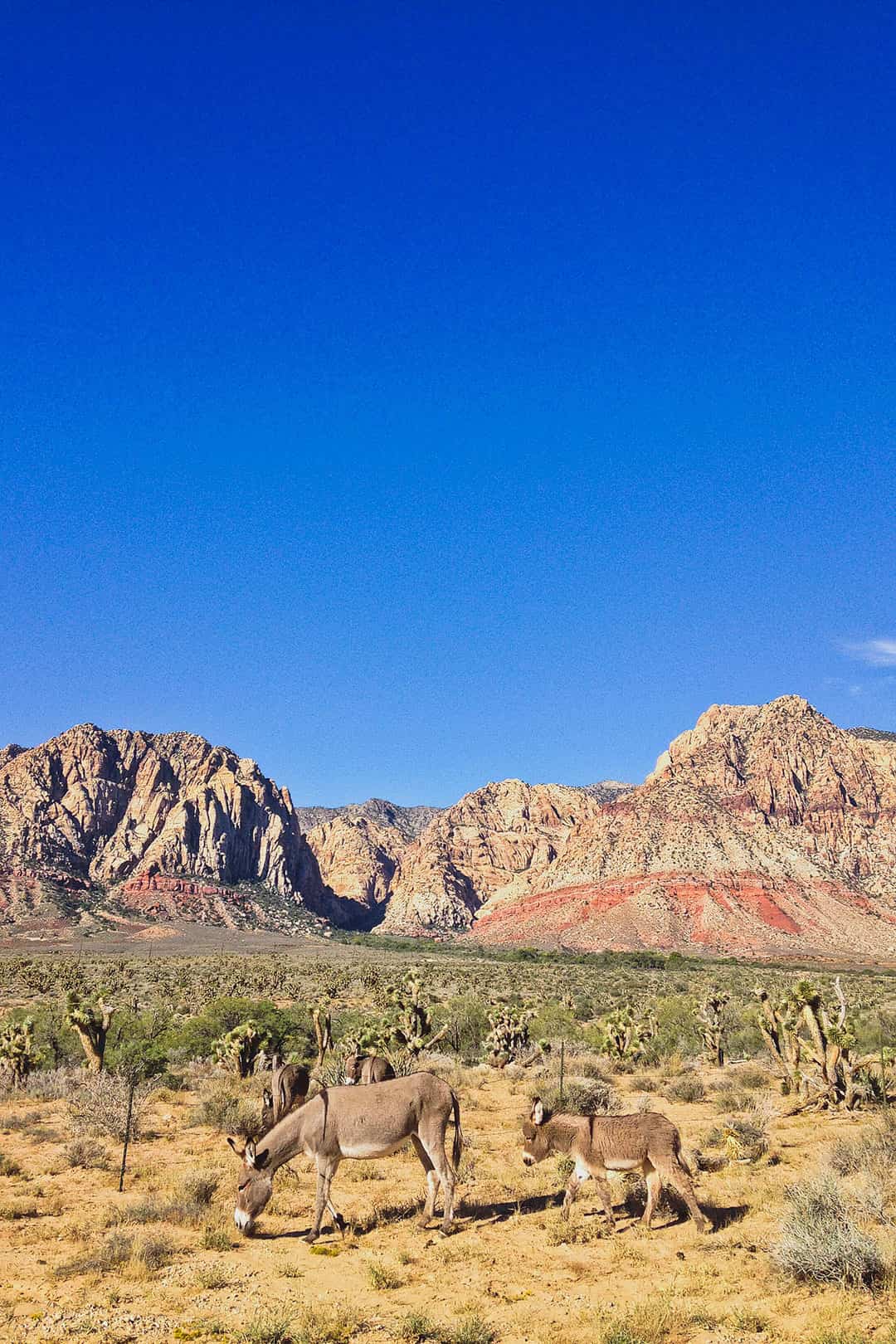 7. Fly Over Red Rock
We flew over Red Rock with All in Aviation. Jacob took a flight lesson and logged his first hour towards a pilot license while enjoying the views of brilliant red rocks.
See More: 17 Epic Bucket List Experiences in Las Vegas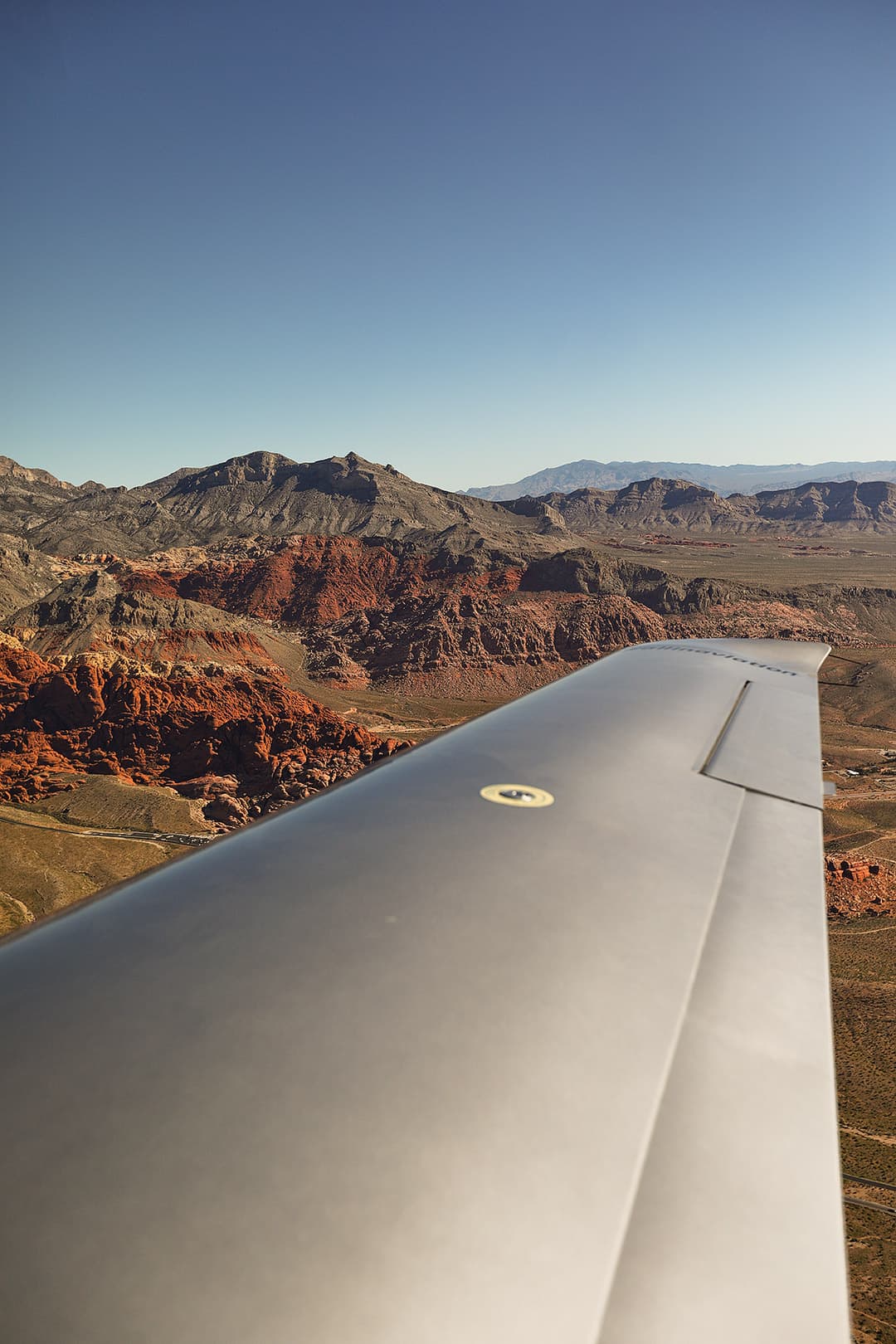 Where to Stay Near Red Rock
Tips for First Time Visitors
Avoid summers. It's hot and doesn't make it very enjoyable. Definitely avoid hiking in the heat. Our favorite time of year is winter. The weather is cool but the sun keeps you warm.
Early mornings or late afternoons are the best times to visit.
You will lose service as soon as you hit the Red Rock sign. If you're meeting up with friends, we recommend bringing walky talkies. Also, if you're unfamiliar with the area, download an offline google map for Red Rock (easy and free).
You can take tours, but having a car is the best way to see the park. You can go at your own pace and make as many stops as you want. Search for rental cars here.
Certain roads require a high-clearance vehicle, like Black Velvet.
Bring plenty of water and sun protection with you.
There is no cell service in most of the park, although there are a few spots you might get a bar or two. Don't rely on it though.
The loop is one-way and always takes us longer than expected, especially when you get stuck behind tours or slower cars. Many visitors don't realize it's two lanes because there aren't marks on the road. Once, someone tried to run us off the road because they thought we were in the wrong. We come here often enough, and we asked the rangers. Don't block both lanes if you see someone trying to pass.
For climbers, do not climb on wet sandstone. Please be good stewards. The rock is sandstone and you should not climb it when it's wet, otherwise you risk breaking holds. There is so much conflicting info on how much time is enough time. The sign at the front says 24 hrs, Mountain Project says 48, and we've seen it take longer than 72. The best test is to the dig 1 inch beneath the sand/ground near the rock. If it is damp, it's too soon to climb. It's raining here way more than it used to and taking longer to dry than in the past.
What to Pack
What should I wear to Red Rock Canyon?
In the summer, dress in cool clothes that protect you from the sun. In the winter, have layers since it's warm during the day but cold at night.
Do you need hiking shoes for Red Rock?
Depending on the hike, solid hiking shoes are essential. Some require you to scramble and walk on uneven ground. If you're unsure, it's always best to prepare for the worst. I sometimes go out in sandals for easy hikes, but you have to watch out for cacti and other spiky plants.
Frequently Asked Questions
Can you walk through Red Rock Canyon?
There are a lot of hikes you can check out to explore Red Rock Canyon, but it helps to have a car to get to the different trailheads since they are far apart.
Which is better Valley of Fire or Red Rock?
Each provides its own unique landscapes. Valley of Fire has more iconic spots that you probably have seen on Instagram and the hikes are shorter. Red Rock has longer hikes and more activities available, like rock climbing. It's also closer to Las Vegas.
Are there ticks in Red Rock Canyon?
Ticks do exist in Red Rock Canyon but are rarely seen.
How far is Vegas from Red Rock Canyon?
Red Rock Canyon is roughly 18 miles or 30 minutes away from the Strip. It may vary a bit depending on where you are on the strip.
Is Red Rock close to Hoover Dam?
Red Rock is about 50 miles or 1 hour away from Hoover Dam.
What Else is Near Red Rock Canyon?
Las Vegas Strip (13 mi SE, 30 min, map)
Lake Mead NRA (42.3 mi, SE, 45 min, map)
Hoover Dam (49.8 mi SE, 50 min, map)
Valley of Fire State Park (59.6 mi NE, 1 hr, map)
St George Utah (133 mi NE, 2 hr 5 min, map)
Lake Havasu City (165 mi S, 2 h 35 min, map)
Can you think of more things to do in Red Rock Canyon? Which of these have you done?
Did you enjoy this post? Pin it for later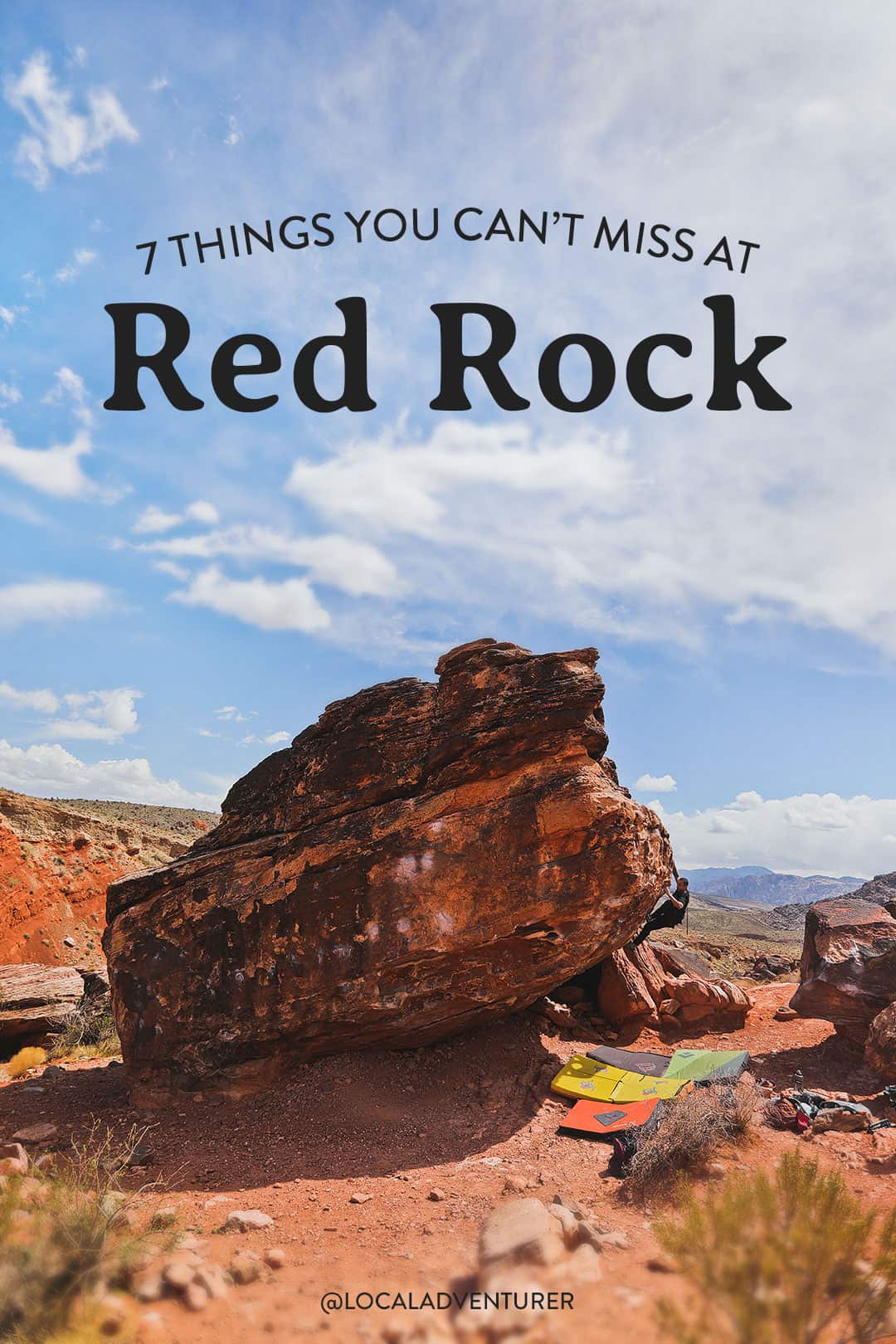 SEE MORE LAS VEGAS GUIDES
⟡⟡⟡⟡⟡
"Discovery consists not of seeking new lands but in seeing with new eyes" – M. Proust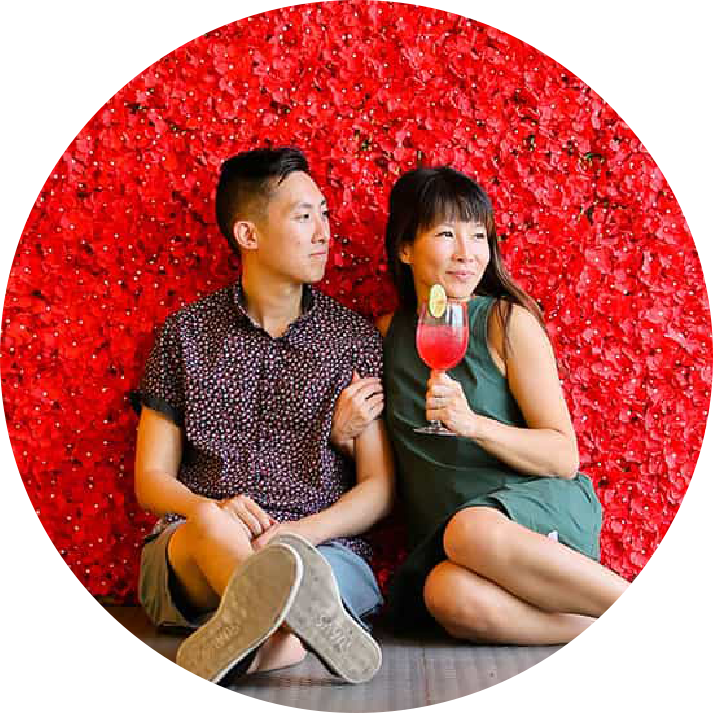 Esther + Jacob
Esther and Jacob are the founders of Local Adventurer, one of the top 5 travel blogs in the US. They believe that adventure can be found near and far and hope to inspire others to explore locally. They explore a new city in depth every year and currently base themselves in Las Vegas.
Follow on Instagram (E + J), YouTube, TikTok, and Pinterest.