Bryce Canyon National Park is an incredibly unique park in the US because it's home to a large concentration of colorful hoodoos (the stone pillars). The park itself is relatively small so you can see a lot in one day, but there's enough to do if you want to explore for 2-3 days too!
We wrote about more to do at the bottom, but these are the highlights of the park.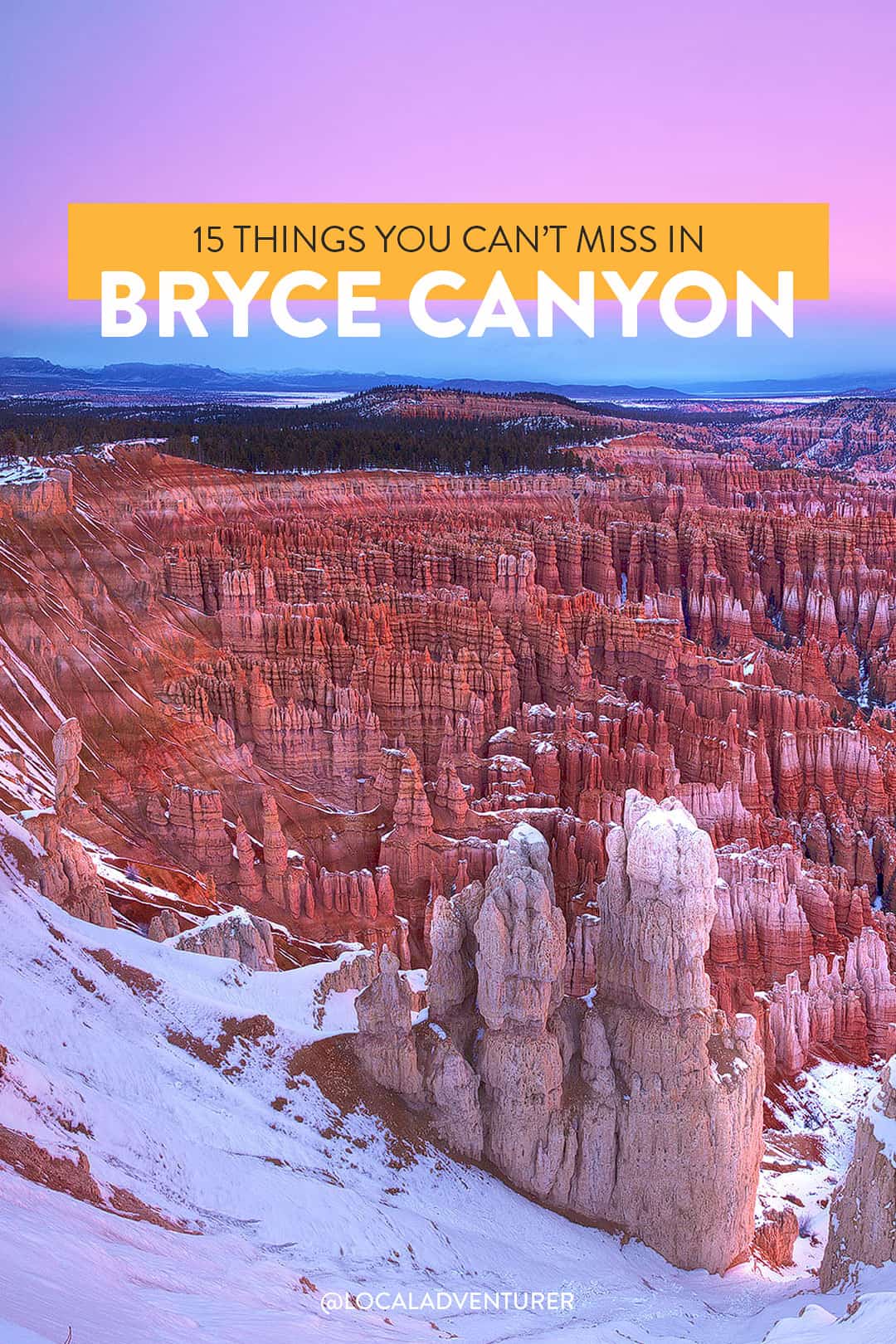 This post may contain affiliate links, where we receive a small commission on sales of the products that are linked at no additional cost to you. All opinions are always our own. Read our full disclosure for more info. Thank you for supporting the brands that make Local Adventurer possible.
Last Updated: August 12, 2022
What You Need to Know Before You Go
Parking is limited butthere is a free shuttle to get around the park.
Pay attention to the weather, flash floods can happen, especially in the summer.
Summer is hottest and busiest season to visit.
The park is open year-round although roads may close due to weather.
If you are visiting multiple parks, get an America the Beautiful Annual Pass to save money.
You can see all the highlights in a day but should spend 2-4 days if you want to explore the backcountry or multiple trails.
Roads and trails may close in the winter so be sure to check current conditions.
15 Amazing Things to do in Bryce Canyon National Park
You can take in a lot of the beautiful scenery of the park via the scenic drive. It takes a minimum of 3 hours to drive to the 13 viewpoints and back.
Pro Tip: Pick up an America the Beautiful park pass before you go to save time at the gate. It's especially great if you plan on visiting multiple parks!
Get up early and catch sunrise at Bryce Point. The morning light catches the hoodoos and gives it a beautiful orange glow. It's a short walk to the viewpoint and is one of the highest overlooks along the rim.
3. Get Inspired at Inspiration Point
Follow a short trail to upper Inspiration point to get panoramic views of the amphitheater where you'll find a ton of concentrated hoodoos.
Pro Tip: Photography here is best at dawn and dusk.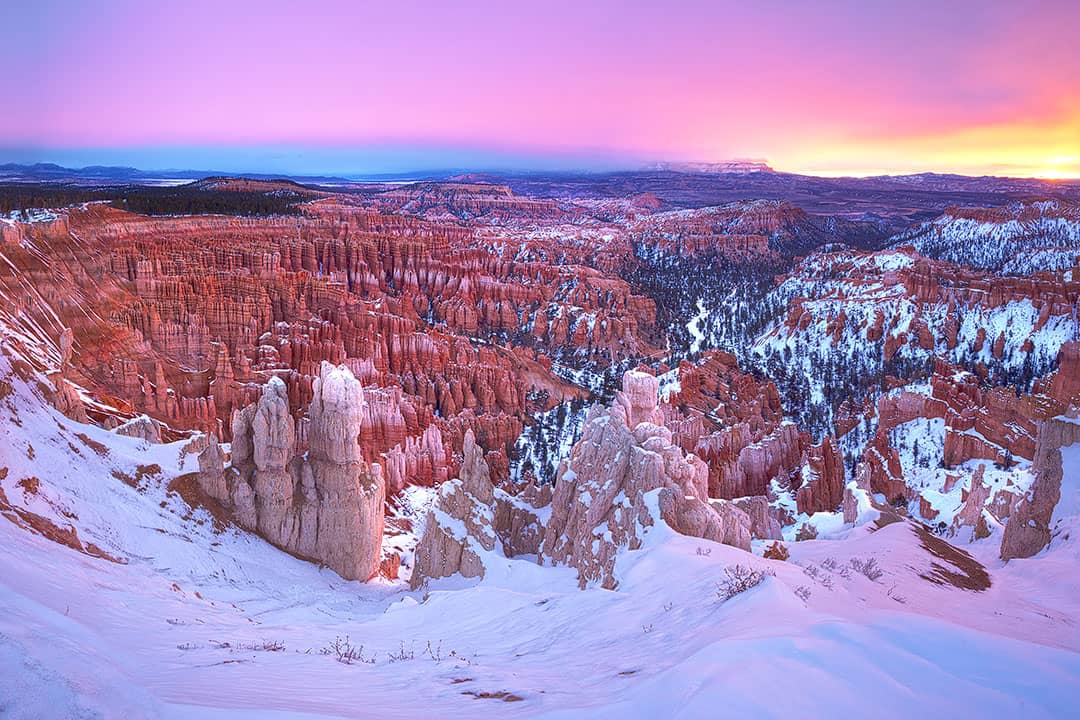 It gives you views of the main amphitheater and features Thor's Hammer. This is also where the Navajo Loop trail starts. 
This is just a 10-15 min walk from Sunset Point. Here you can see Boat Mesa and Sinking Ship against the backdrop of the Pink Cliffs and Aquarius Plateau. Bryce, Inspiration, Sunrise, and Sunset are the park's main attractions and also the busiest spots.
This moderate 3-mile hike begins at Sunset Point and takes you down into the amphitheater. The views are completely different down here. You'll get a chance to see large Douglas-fir trees, stand right next to the hoodoos, and see the gorge called Wall Street.
7. See the Natural Bridge
An easy pull-off gives you close-up views of this natural arch. It sits 85 feet long and 125 feet high.
You can see this viewpoint without paying the park entrance fee. The views here aren't as amazing as the other viewpoints, but it's worth a stop.
9. Views from Agua Canyon
This is one of the best views in the park. You see three layers of beauty, hoodoos in the front, Pink Cliffs behind them, and the Navajo Mountain on the horizon.
10. Stop at Rainbow Point + Yovimpa Point
The final stop through Bryce Canyon is Rainbow Point. You get panoramic views of Southern Utah. Yovimpa Point is just a minute walk from Rainbow Point.
2.6 mi, 623 ft elevation, moderate
This is considered the easiest trail that goes into the canyon where you can get closer to the hoodoos. Many people like to combine the Navajo Loop Trail with this trail, making this a 2.6 mile loop.
12. Hike the Peek-a-Boo Trail
5.2 mi, 1453 ft elevation, moderate
The Peek-a-Boo Loop is 3 miles in itself but can only be accessed through other trails. The shortest hike you can take starts from Bryce Point making it a 5-mile hike that takes you to the Wall of Windows, the Cathedral, and the Three Wise Men formations. If you're already hiking the Navajo Loop Trail, you can add the Peek-A-Boo Loop to get an 8.6-mile trek.
22.4 mi, 4366 ft elevation, difficult
If you want to go backpacking, Under the Rim Trail is the longest trail in the park. You can get an intimate look of Bryce with this one-way 23-mile hike over two days. It's the best way to see everything from Bryce Point to Rainbow Point.
UPDATE: Portions of the trail are deteriorating and damaged so strong navigating skills are a must.
Pro Tip: You will have to get a backcountry permit and arrange a ride at the end since it's a point to point hike.
14. Join a Night Hike with Their Ranger Program
Check the visitor center for the most up-to-date information. They offer ranger programs like Astronomy and Full Moon hikes where they give a short presentation. You get a closer look through telescopes. Don't forget to check out the other ranger-guided activities.
From April 1st through Oct 31st, you can ride into the canyon on a horse. This activity is weather dependent.
In the winter, you can get a unique experience of the park by snowshoeing, cross-country skiing, or sledding.
In case you are there to explore even more, here's a list of the other viewpoints and hikes. Several of the viewpoints are connected to each other, where you just get a slightly different perspective of the same view. If you're strapped for time, it's not necessary to visit them all.
Other Viewpoints in Bryce Canyon
Paria View
Swamp Canyon
Piracy Point
Farview Point
Ponderosa Canyon
Black Birch Canyon
Best Photography Spots at Bryce
Inspiration Point (sunrise + sunset)
Bryce Point (sunrise)
Sunrise Point (sunrise + sunset)
Sunset Point (sunrise)
Natural Bridge (mid-morning)
Agua Canyon (late morning)
Thor's Hammer (sunrise, after sunset)
Rim Trail
Paria View (sunset)
Pro Tip: Photopills app helps you map out exactly where the sun will be at a specific location. I use it the most for astrophotography, but it's also great for planning sunrise and sunset shots.
More Hikes in Bryce Canyon National Park
Mossy Cave (0.8 Mile, easy)
Rim Trail (11 Miles, easy)
Bristlecone Loop (1 Mile, easy)
Tower Bridge (3 Miles, moderate)
Hat Shop (4 Miles, moderate)
Swamp Canyon (4.3 Miles, moderate)
Fairyland Loop (8 miles, strenuous)
Riggs Spring Loop (8.5 miles, strenuous)
Bryce Canyon Visitor Center, Hours, and Fees
Visitor Center: 4.5 miles south of the intersection of Hwy 12 & Hwy 63
HOURS:
Spring Hours (April): 8 AM-6 PM
Summer Hours (May-Sept): 8 AM-8 PM
Fall Hours (Oct): 8 AM-6 PM
Winter Hours (Nov-Mar): 8 AM-4:30 PM
435.834.5322
We always recommend you visit the Visitor Center first to get the most up to date info from park rangers. They always have great insight into what's currently going on in the park.
ENTRANCE FEES
$35 per vehicle ($30 for motorcycles)
$20 per person if entering by foot, or bicycle
Admission is for seven days and includes unlimited use of the Shuttle
$70 Bryce Canyon National Park Annual Pass
$80 Annual Pass to National Parks and Federal Recreational Lands (we have this!)
CAMPGROUNDS
There are two campgrounds near the Visitor Center that have restrooms with flush toilets and drinking water. Daily rates start at $15. During the summer, there are coin-operated laundry and shower facilities. There are no hook-ups, but there is a dump station for RV users at the North Campground.
How to Get to Bryce Canyon National Park
BY PLANE:
The closest major airports to Bryce Canyon National Park are LAS (Las Vegas, NV) and SLC (Salt Lake City, UT). Both are roughly 270 miles from the park.
There are two smaller airports closeby as well: CDC (Cedar City, UT) which is 80 miles away and SGU (St. George, UT) which is 125 miles away.
BY CAR:
From the North: Take I-15 South to UT-20 East. Follow US-89 south to UT-12 East to UT-63. Take UT-63 south to Bryce Canyon.
From the South: Take I-15 North to UT-9 East through Zion NP to US-89. Go North on US-89 to UT-12 East to UT-63. Take UT-63 south to Bryce Canyon.
Bryce Canyon National Park Shuttle
The free shuttle system (with proof of entrace fee) in Bryce Canyon is a great way to see the park without having to worry about parking. 
The Shuttle Service Hours are as follows:
April 2 – May 20: 8 AM to 6 PM
May 21 – Sept 26: 8 AM to 8 PM
Sept 27 – Oct 17: 8 AM to 6 PM
Buses typically come every 15 minutes but you can also track them live here. The shuttle stops at these points in the order listed:
Shuttle Station (recommended parking)
Old Bryce Town
Best Western + Grand Hotel
Best Western + Ruby's Inn
Ruby's Campground
Bryce Canyon National Park
Visitor Center
Sunset Campground (Southbound)
Bryce Point 
Inspiration Point
Sunset Campground (Northbound)
Sunset Point
Bryce Canyon Lodge
Sunrise Point (General Store)
Visitor Center (Northbound)
Ruby's Campground (Northbound)
The Rainbow Point Shuttle Tour is currently closed but typically offers a free daily guided tour to Rainbow Point twice a day (9 AM and 1:30 PM). It is a 3.5-hour tour and cover 40 miles.
Tips for Visiting Bryce Canyon National Park
The park is most busy from 10 am to 4 pm.
The park reaches elevations of 9,100 feet.
Bryce is open year-round and the roads are plowed and sanded after heavy snowstorms. Some roads may still close due to weather.
Summer is the busiest and hottest (highs of 70s or low 80s) time to visit. With that said, fall, winter, and spring are great times to visit to avoid peak crowds and heat, but weather can vary greatly. Between October and May, temperatures fall below freezing at night and you may still get snow. Between December and February, you'll get the coldest temperatures in the area.
You can take the free shuttle to get around the park.
Save money by picking up an America the Beautiful Annual Pass if you want to take your own vehicle and you're visiting multiple national parks.
How Long Should I spend in Bryce Canyon National Park?
You can easily see all the major points in Bryce Canyon in one day. If you want to do longer hikes or more backcountry adventures, 2-4 days will give you more flexiblity.
What is the best time of year to visit Bryce Canyon?
Summer is the most popular time to visit, with roughly 60% of visitors coming at this time. The weather is the warmest and crowds are the highest. Shoulder seasons in late spring or early fall help avoid the crowds but still gives you decent weather, although Spring and Fall can still bring snow. Winter is cold and can have heavy snow.
Which is better, Zion National Park or Bryce Canyon National Park?
It's hard to answer which is better between the two. They offer very different landscapes. Zion is much busier and crowds are very hard to avoid during the busy seasons. It is also a much larger park requiring more days to see everything. Since they are so close, we always recommend spending a day at Bryce then the remainder of the time exploring Zion.
What is Bryce Canyon famous for?
Bryce Canyon National Park is best known for its hoodoo formations and the density of the features. A hoodoo is a spire or pinnacle shaped rock left standing by erosion.
Things to Do Near Bryce Canyon NP
Where else have you seen hoodoos? Can you think of any other things to do in Bryce Canyon that can't be missed?
Did you enjoy this post? Pin it for later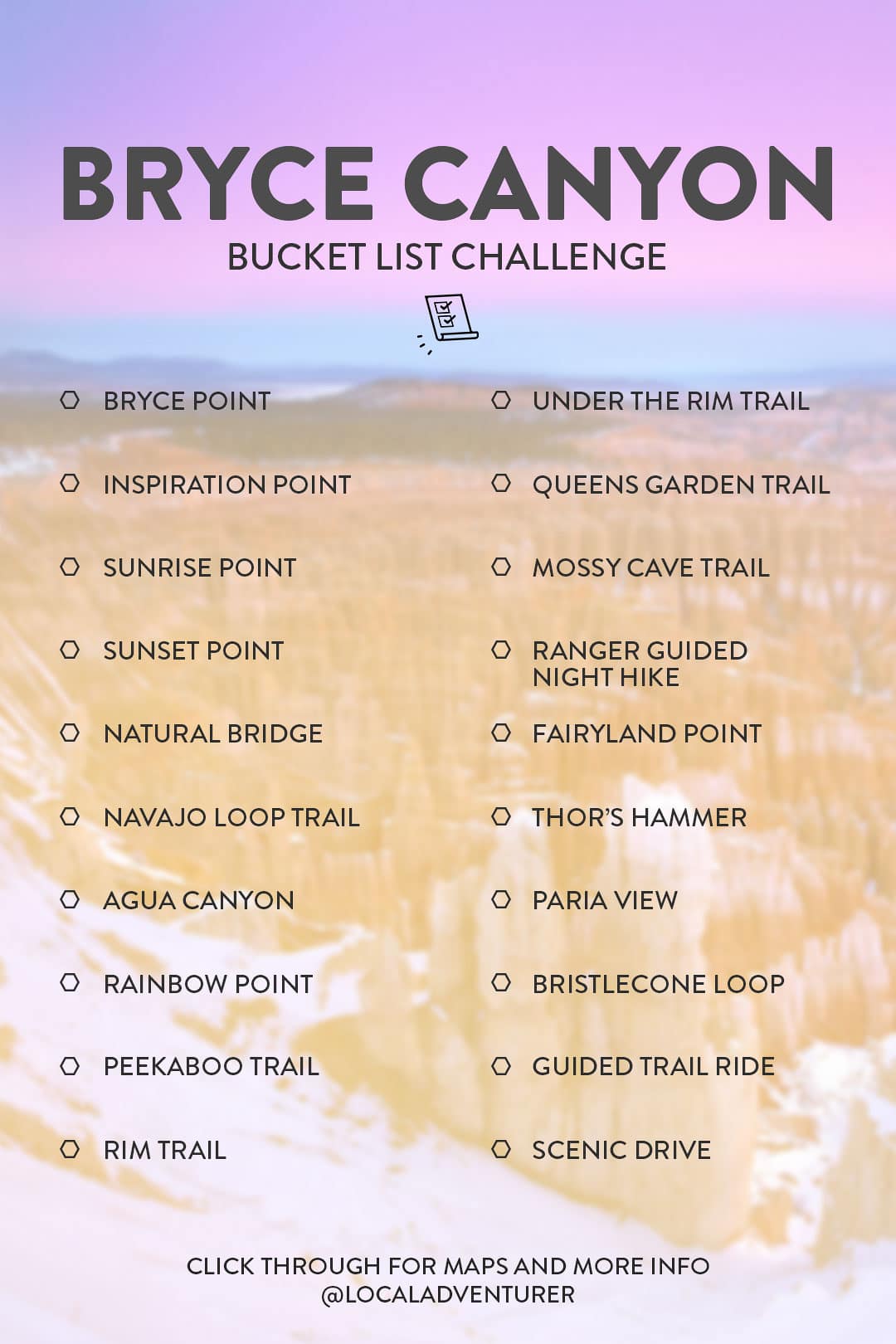 Pin
SEE MORE NATIONAL PARK GUIDES
"Discovery consists not of seeking new lands but in seeing with new eyes" – M. Proust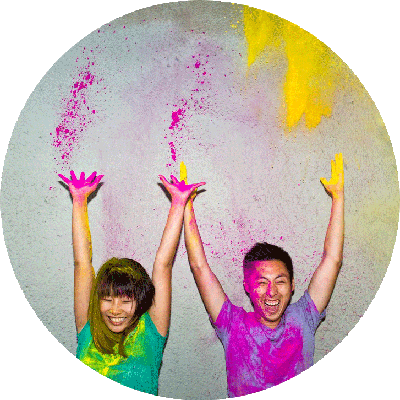 Esther and Jacob are the founders of Local Adventurer, which is one of the top 5 travel blogs in the US. They believe that adventure can be found both near and far and hope to inspire others to explore locally. They explore a new city in depth every year and currently base themselves in Las Vegas.