Before starting the hike, the welcoming sign warned us "six people have died by falling off the side of a cliff on this trail since 2004." We were already here, so we had to find out for ourselves how dangerous or scary this hike is.
Angels Landing is one of the most iconic and easily accessible day hikes in Zion, but there's one thing you have to overcome before conquering this peak: a fear of heights!
This post may contain affiliate links, where we receive a small commission on sales of the products that are linked at no additional cost to you. All opinions are always our own. Read our full disclosure for more info. Thank you for supporting the brands that make Local Adventurer possible.
Last Updated: February 1, 2022
Because of its popularity, starting April 1, 2022, permits will be required to do the entire Angles Landing hike.
The Seasonal Lottery opens 3 months before the date range and you have roughly 20 days to submit. It costs $6 to apply for a seasonal permit for up to 6 people, and if you are chosen, there is a $3 fee per person. You can cancel your permit at least two days before the hike to receive a refund of the $3 per person fee.
HIKE DATES: April 1 to May 31
Lottery Opens: January 3
Lottery Closes: January 20
Permits Issued: January 25
HIKE DATES: June 1 to August 31
Lottery Opens: April 1
Lottery Closes: April 20
Permits Issued: April 25
HIKE DATES: September 1 to November 30
Lottery Opens: July 1
Lottery Closes: July 20
Permits Issued: July 25
HIKE DATES: December 1 to February 28
Lottery Opens: October 1
Lottery Closes: October 20
Permits Issued: October 25
To apply for the lottery, follow these steps:
Go to Recreation.gov
Search 'Zion National Park' in the searchbar
Go to Seasonal Lottery on the date range you want to do
Read through what to expect on the hike
Click 'Register for Lottery' on the right-side panel
Fill in personal info (if you have an account it should auto populate)
Select 'Single Date' if you have a specific day you need to hike but use 'Date Range' if you have flexibility
Select group sizes
Enter up to 7 days for each lottery (in order of preference)
Read the 'Need to Know'
Proceed to Cart and enter your CC info
You will get an email when the lottery has been drawn
If you had no luck with the lottery, there is also a Day-Before Lottery. Starting on March 31, 2022, the lottery opens each day at 12:01 AM and closes at 3 PM Mountain Time. The permit is then issued at 4 PM MT. It is the same process except you look for the day-before date. There is still a $6 fee to apply for the permit and $3 per person charge if you win the permit.
How to Hike Angels Landing Zion National Park
Since doing the Half Dome hike in Yosemite, I've been scared to do any hikes that have me dangling at high elevations. Lately, I've been trying to push myself to conquer my fear of heights. I hate that fears can hold me back from truly experiencing amazing things like the views at the top of Angels Landing.
This is where things start to get interesting and is not for the faint of heart. A lot of the hikers who were afraid of heights would stop here, because the rest of the way is made of narrow and steeper trails with chains to help you through it, some of which had 1000 foot drop offs on both sides!
Once you're at the top you have an amazing view of the valley! We spent nearly an hour up here just taking in the beauty, munching on some snacks, and enjoying the great weather before we headed back down.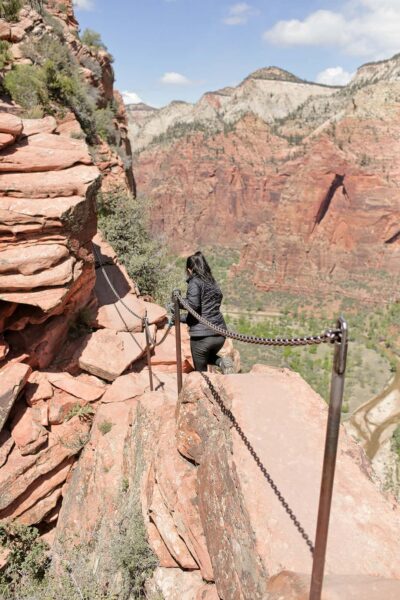 Pin
Our Hiking Timeline for Angel's Landing
10:50 AM Start Trail (mostly sandy)
11:00 AM Trail turned to paved walkway
11:15 AM Switchbacks start
11:25 AM Trail levels out
11:35 AM More switchbacks and Walter's Wiggles
11:45 AM Start of chains
12:00 PM Reach the first view point
12:25 PM Continue towards Angels Landing
01:00 PM Top of Angels Landing
01:50 PM Leave Angels Landing
03:35 PM Arrive back at bus stop
Essential Tips for Hiking Angels Landing Zion National Park
Distance: 5 miles roundtrip
Difficulty: Strenuous
Parking: You can park at their Visitors Center and take the free shuttle to the Grotto stop. 
Capacity: Since we hiked it, Angel's Landing has become extremely popular and there are now lines just to start the hike. Keep that in mind on when you want to start.
The first 25 minutes of the hike are fairly easy then you reach the switchbacks where you start gaining elevation aggressively.
There's a lookout point 1/3 of the way going up the chains. We thought it might have been the top since it levels out, but there's still more to go! There are, however, great views here too, and many people stopped here before heading back.
We spent nearly 5 hours hiking, but I've seen that some people have done the entire hike in 2 hours. We took our time with photos, and since I was incredibly scared and my legs were shaky, I also took my time with finding my footing on the portion with chains.
Also check out the 15 Best Hikes in Zion National Park.
Best Places to Stay in Zion
Zion Lodge (luxury) – it's the only hotel inside the park. You must reserve rooms at least 6 months in advance especially during peak season.
Best Friends Roadhouse and Mercantile (mid-range) – in Kanab and great if you have your pets with you!
The Advenire St George (luxury) – loved our stay here for Zion and also the nearby hikes. It has a nice luxury boutique feel and is conveniently located in historic St George with plenty of great walking distance food options after a full, active day.
What is one of your biggest fears? What's the scariest thing you've ever done?
Did you enjoy this post? Pin it for later
See More National Park Guides
"Discovery consists not of seeking new lands but in seeing with new eyes" – M. Proust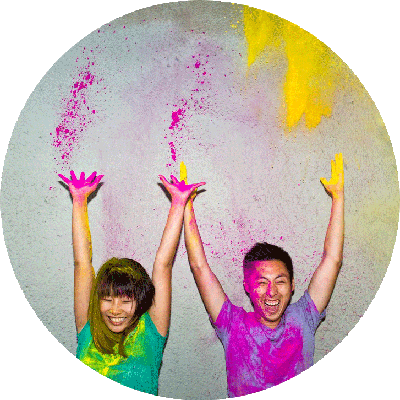 Esther and Jacob are the founders of Local Adventurer, which is one of the top 5 travel blogs in the US. They believe that adventure can be found both near and far and hope to inspire others to explore locally. They explore a new city in depth every year and currently base themselves in Las Vegas.