Broadway Shows are a huge attraction in NYC for locals and tourists alike. We know people who plan trips just for the shows. Whether you're into Broadway or not, it's worth doing at least once since it's such a big part of the New York experience. If it's your first time, you can't go wrong with classics like Wicked and Phantom of the Opera. There's also a constant flow of great new musicals and revivals of older ones that it can be hard to decide on one. If they made it to Broadway, they are here for a reason.
We're currently making our way through as many shows as possible (so far we've seen 16) and listed our current favorites. Check back to see our newest reviews and tips on how to score the best prices on tickets.
This post may contain affiliate links, where we receive a small commission on sales of the products that are linked at no additional cost to you. All opinions are always our own. Read our full disclosure for more info. Thank you for supporting the brands that make Local Adventurer possible.
Last Updated: October 24, 2022
Ultimate Guide to Broadway Musicals and Shows in NYC (+ Off-Broadway and Off-Off Broadway)
Did you know the difference between Broadway, Off-Broadway, and Off-Off-Broadway are the number of seats in the theater? It's not necessarily by location. Broadway has over 500 seats, Off-Broadway has over 100, and Off-Off-Broadway is under 100.
Components of a Great Broadway Show
Everyone has different preferences when it comes to shows, and these are the things we are looking for:
Overall, it must be entertaining.
Story / Book that moves you or compels you to care about the characters.
The acting that brings the characters to life.
For a musical, a great score, and the music gets weaved in effortlessly and helps to move the story along.
The lighting, set design, and sound aren't as crucial to us unless it's so bad that it's distracting.
It's a bonus if it's a celebrity we know, but it's not our highest priority.
7 BROADWAY SHOWS IN NYC YOU CAN'T MISS
AWARDS & PRESS: Winner of 11 Tony Awards, 2016 Pulitzer Prize for Drama
SYNOPSIS: "From bastard orphan to Washington's right-hand man, rebel to war hero, loving husband caught in the country's first sex scandal to Treasury head who made an untrusting world believe in the American economy, Hamilton is an exploration of a political mastermind. George Washington, Thomas Jefferson, Eliza Hamilton, and lifelong Hamilton friend and foe, Aaron Burr, all attend this revolutionary tale of America's fiery past told through the sounds of the ever-changing nation we've become."
OUR THOUGHTS: We finally got to see it and can see why this show has so much hype. It's brilliantly written, entertaining, educational (how much do you actually know about Alexander Hamilton?), the cast is talented, and the production is great. We heard from all our friends that this is the best show out there and it can't be overhyped, but we have to disagree. Our main issue is that we didn't enjoy it as much during the show. It wasn't until we listened to the music after that we started to understand the genius behind it all.
PRO TIP: Listen to the music before you go. It helps you follow along.
If you still haven't seen it, you should watch it for yourself and see if it meets the hype. Luckily, we had a friend in the cast who could get us tickets, but I'm not sure I would wake up at the crack of dawn to wait in line for the possibility of a ticket. Here are a few ways to try to score tickets:
The Hamilton app makes it so easy to enter the lottery and you can set daily reminders. This also means a ton of people enter though. We've entered every day for over 6 months with no luck. Rumor has it that if you have a NYC address, you get preferential treatment, but we don't know for sure.
You can also line up at the Richard Rodgers Theatre early in the morning and wait for cancellations. Most people start lining up at 11 AM, but the people we talked to at the front of the line had been there since 6 AM on a Wednesday.
Pro Tip: Listen to the music before you go. It helps you follow along.
If you still haven't seen it, you should watch it for yourself and see if it meets the hype. Luckily, we had a friend in the cast who could get us tickets, but I'm not sure I would wake up at the crack of dawn to wait in line for the possibility of a ticket. Here are a few ways to try to score tickets:
The Hamilton app makes it so easy to enter the lottery and you can set daily reminders. This also means a ton of people enter though. We've entered every day for over 6 months with no luck. Rumor has it that if you have a NYC address, you get preferential treatment, but we don't know for sure.
You can also line up at the Richard Rodgers Theatre early in the morning and wait for cancellations. Most people start lining up at 11 AM, but the people we talked to at the front of the line had been there since 6 AM on a Wednesday.
AWARDS & PRESS: Winner of 9 Tonys including 2011 Best Musical award.
SYNOPSIS: "A pair of mismatched Mormon missionaries, one serious and dedicated and the other socially awkward yet well meaning, are sent to Uganda to convert citizens to the Mormon religion. When they arrive in Africa, the missionaries find a community grappling with poverty, AIDS and violence."
OUR THOUGHTS: It's an older one, but it has been one of our favorite musicals. The music is catchy, the songs are hilarious, and the story kept us laughing and entertained all the way through. After watching other Broadway shows, however, we realized we had no investment in any of the characters.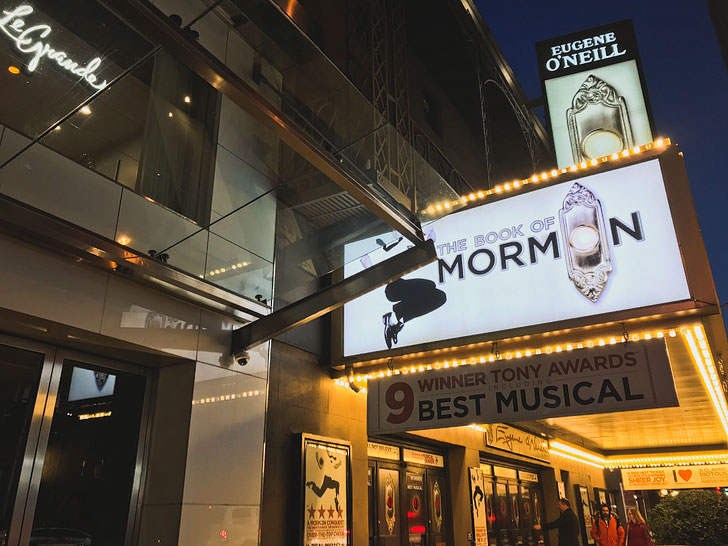 214 W 43rd St, 10036, map
Part I: 2 hrs and 40 min with one intermission
Part II: 2 hrs and 35 min with one intermission
SYNOPSIS: "It was always difficult being Harry Potter and it isn't much easier now that he is an overworked employee of the Ministry of Magic, a husband and father of three school-age children. While Harry grapples with a past that refuses to stay where it belongs, his youngest son Albus must struggle with the weight of a family legacy he never wanted. As past and present fuse ominously, both father and son learn the uncomfortable truth: sometimes, darkness comes from unexpected places."
OUR THOUGHTS: It was like watching a play and a magic show. The on-stage effects are spectacular and there were so many moments we both audibly oohed and ahhed. The play is in two parts, and you're basically paying for two shows so it gets pricey. It's also a full day commitment (or you can watch it over 2 separate days). You do need to watch both to get the full story, but if I had to pick one, Part I was much better than Part II.
Pro Tip: If it's been a while, it helps to watch the movies before you watch the play to get a refresher. They reference The Goblet of Fire the most.
Note for Kids: The dementors might be scary for small children. They freaked me out.
AWARDS & PRESS: Three Tony Awards in 2004
SYNOPSIS: "Long before Dorothy arrives in Oz, there is another young woman born with emerald-green skin—smart, fiery, misunderstood and possessing an extraordinary talent. When she meets a bubbly blonde who is exceptionally popular, their initial rivalry turns into the unlikeliest of friendships… until the world decides to call one "good," and the other one "wicked."
OUR THOUGHTS: We haven't seen it on Broadway but we've seen the touring one and it's still a great show.
AWARDS & PRESS: Winner of 6 Tony Awards (1997). Holds the record for longest-running American musical in Broadway history.
SYNOPSIS: "Set amidst the razzle-dazzle decadence of the 1920s, Chicago> is the story of Roxie Hart, a housewife and nightclub dancer who murders her on-the-side lover after he threatens to walk out on her. Desperate to avoid conviction, she dupes the public, the media and her rival cellmate, Velma Kelly, by hiring Chicago's slickest criminal lawyer to transform her malicious crime into a barrage of sensational headlines, the likes of which might just as easily be ripped from today's tabloids."
OUR THOUGHTS: If you're looking for a classic Broadway musical, this one definitely needs to make your list. We forgot how many recognizable songs came from Chicago. The dancing, ensemble, talent are all remarkable. If you've seen the movie, the Broadway version is much more comedic and has a different feel. You should absolutely watch the Broadway version!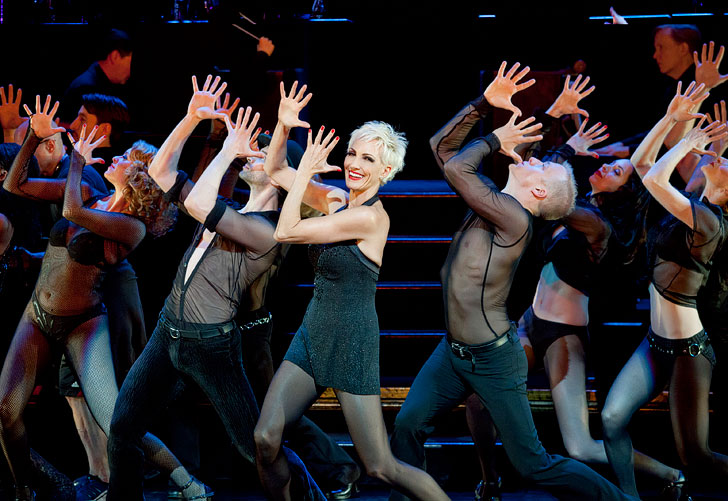 photo: Jeremy Daniel
AWARDS & PRESS: Winner of 8 Tony Awards including Best Musical and the Grammy Award for Best Musical Theater Album
SYNOPSIS: "Welcome to Hadestown, where a song can change your fate. This acclaimed musical by singer-songwriter Anaïs Mitchell and director Rachel Chavkin, intertwines two mythic tales — that of young dreamers Orpheus and Eurydice, and that of King Hades and his wife Persephone — as it takes you on an unforgettable journey to the underworld and back. Performed by a vibrant ensemble of actors, singers and dancers, Hadestown invites you to imagine how the world could be."
OUR THOUGHTS: We haven't seen this one yet but have heard great things! It's on our list of shows to see on our next visit.
AWARDS & PRESS: Winner of Tony for Best Musical
SYNOPSIS: "Lion cub prince Simba grows up in the African heartland until tragedy forces him to run away. He ultimately learns to take his rightful place in the animal kingdom, in this musical version of the Disney animated film."
OUR THOUGHTS: The puppetry is absolutely stunning in this show. There were a lot of moments where we awed and oohed and how they show the characters. The one downside is that it didn't quite capture the action moments in the movies, which were quite significant. If you know the story well, it's not a big deal, but if you've never seen it, you may be a bit lost.
10 TOP RATED AND MOST POPULAR BROADWAY SHOWS
10 BEST BROADWAY SHOWS FOR KIDS
Complete List of Current Broadway Shows
If the dates are not indicated, it's an open run.
& Juliet
A Beautiful Noise, The Neil Diamond Musical
Ain't No Mo'
Aladdin (2014 Tony Winner)
Almost Famous
Back to the Future
Bad Cinderella
Between Riverside and Crazy
The Collaboration
Cost of Living
Death of a Salesman
The Devil Wears Prada
Good Night, Oscar
Hadestown (2019 Tony Winner for Best Musical, Original Score, Direction of a Musical)
Kimberly Akimbo
The Kite Runner
Leopoldstadt
Lerner and Loewe's Camelot
Life of Pi
Mike Birbiglia: The Old Man and the Pool
Ohio State Murders
Once Upon a One More Time
The Piano Lesson
Prima Facie
Sidney
Some Like It Hot
Summer, 1976
Sweeney Todd
Topdog/Underdog
Walking With Ghosts
LIST OF CURRENT OFF-BROADWAY SHOWS
We're keeping this post as up to date as possible, but since there are an almost endless number of new shows, the Off Broadway and Off-Off Broadway is not comprehensive.
A Sherlock Carol
Becky Nurse of Salem
Blue Man Group
Camp Siegfried
Cat on a Hot Tin Roof
Fiddler on the Roof
Gazillion Bubble Show
Kinky Boots
Little Shop of Horrors
Melissa Etheridge Off Broadway
Primary Trust
Stomp
The Bandaged Place
The Play That Goes Wrong
The Wanderers
You Will Get Sick
LIST OF CURRENT OFF-OFF-BROADWAY SHOWS
Automatic Writing
Bottom of the Ocean
Days of the Dead Festival
Dear Mom, Sorry for Being a Bitch
Debate: Baldwin vs Buckley
Dracula: Finding a Shadow
The Drunk Texts: The Merry Busters of Ghosts
The Gold Room
The How and the Why
Where to Watch Broadway Online
Whether you're looking for a Broadway fix while it's dark or just can't make it to New York anytime soon, here are a list of broadway shows you can watch online:
Disney+: Hamilton, Newsies, Hello Dolly!
Amazon Prime: Billy Elliot,  Fiddler on the Roof, Into the Woods, Kiss Me Kate, Sweeney Todd, The SpongeBob Musical, Rent
Netflix: Jersey Boys, Oh Hello on Broadway, Springsteen on Broadway, Shrek the Musical, Sweeney Todd, Mike Birbiglia: The New One, The Prom
BroadwayHD: An American in Paris, Kinky Boots, Les Miserables, The Kind and I, Cats, Phantom of the Opera, Miss Saigon
Map of broadway theaters + off-broadway
SYNOPSIS: "Jenna, a waitress and expert pie maker, is stuck in a small town and a loveless marriage. When a baking contest in a nearby county offers her a chance at escape, Jenna must weigh her commitments against a rare shot at freedom and recognition. Her customers, co-workers, and the town's handsome new doctor all offer her conflicting recipes for happiness but Jenna must ultimately decide for herself."
OUR THOUGHTS: Waitress is one of the shows who bring in temporary guests to star in the show. Sara Bareilles and Katherine McPhee have been here since we moved to NYC, as well as Jason Mraz. It was a cute story and they do a good job of making it feel immersive. You can even buy mason jar pies to eat during the show. We loved the music during the show but didn't find any of them memorable after. Chris Fitzgerald absolutely steals the show. His first song completely blew away the audience.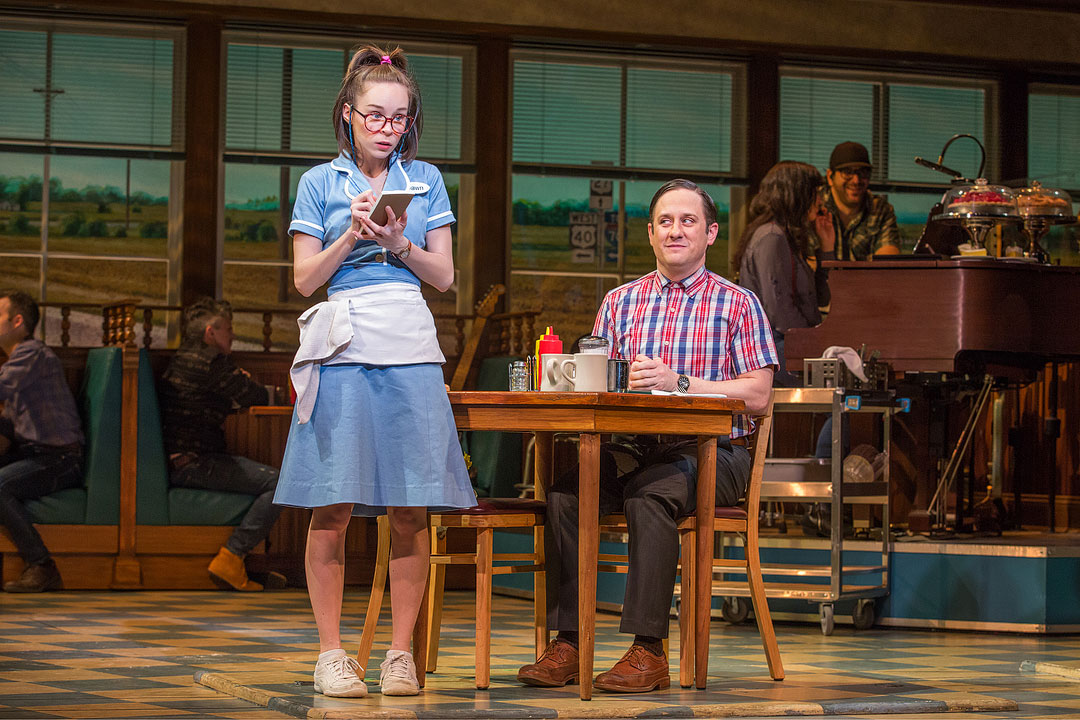 AWARDS & PRESS: Winner of Tony for Best Direction of a Musical
SYNOPSIS: "Following the 9/11 attacks, 38 planes and 6,579 passengers were forced to land in Gander, Newfoundland, doubling the population of one small town on the edge of the world. Based on interviews with locals, Come From Away is about how hosting this international community of strangers spurred unexpected camaraderie in extraordinary circumstances."
OUR THOUGHTS: We first heard about Come from Away on a previous trip to NYC when we met some folks from Newfoundland who were really excited about it. The musical does an amazing job of capturing so many different emotions from that day and masterfully weaved in difficult topics like racism. It had us laughing, crying, singing along, and certainly helped restore some faith in humanity.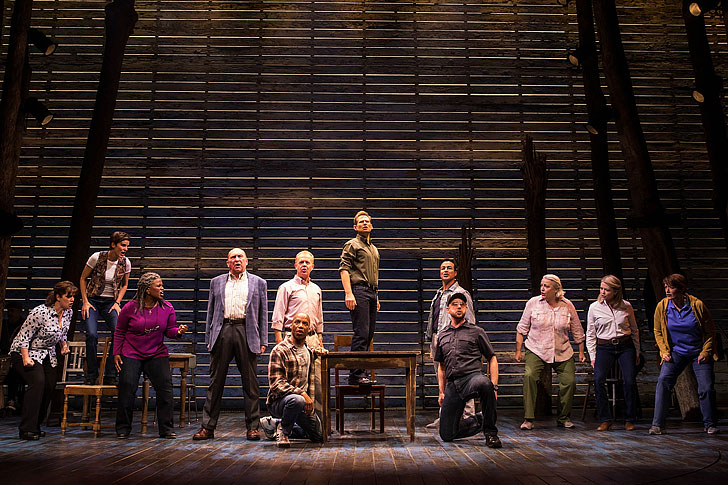 photo: Matthew Murphy
AWARDS & PRESS: Four Tony Awards including Best Musical (2006), 2009 Laurence Olivier Award for Best New Musical.
SYNOPSIS: "The story of the legendary Four Seasons, blue-collar boys who formed a singing group and reached the heights of rock 'n' roll stardom. The musical features such Seasons' hits as Big Girls Don't Cry, Oh What a Night, and Can't Take My Eyes Off of You."
OUR THOUGHTS: We love Jersey Boys! It's the only musical we've watched more than once. It was our third time watching it (we also watched it in Las Vegas and on a Norwegian cruise ship), but I have to admit that the talent on Broadway is unparalleled. The actor who plays Frankie Valli actually sounded very much like him. The songs are nicely woven into the story, and we're always impressed by what they're able to do using such a simple set.
Note: It helps to be familiar with the songs. We noticed a younger couple who didn't seem to enjoy it as much. They had no idea that it was based on a true story.
SYNOPSIS: Four Broadway stars head to a small town in Indiana to save a prom and change the world.
OUR THOUGHTS: Can't believe we're saying this, but this is now our favorite musical to date. We were reluctant to watch it at first since the advertisements made us think it was just another musical about high school, but this was one of the most well-rounded shows we've seen. We sat in the balcony behind some very large heads, but even then, we were so engaged in the show we didn't even notice how uncomfortable we were. That's pretty damn entertaining. The music was catchy, and they do an amazing job blending multiple stories. We loved the self-deprecating humor, and even though it's a musical comedy, there are a lot of heartfelt moments. It had you rooting for all the characters.
The Band's Visit (closed: Apr 07, 2019)
AWARDS & PRESS: Winner of 10 Tony Awards including Best Musical (2018)
SYNOPSIS: "In an Israeli desert town where every day feels the same, something different is suddenly in the air. Dina, the local café owner, had long resigned her desires for romance to daydreaming about exotic films and music from her youth. When a band of Egyptian musicians shows up lost at her café, she and her fellow locals take them in for the night. Under the spell of the night sky, their lives intertwine in unexpected ways, and this once sleepy town begins to wake up."
OUR THOUGHTS: The pace is slow, and although we thoroughly enjoyed it, I'm not sure I would recommend it to everyone. I would compare it to a beautiful and artsy indie film compared to a feel good blockbuster. Everything about it was beautiful: the lyrics, the music, the performances. You felt like you were part of the scene. The set design and lighting was some of the best we've seen, where it looks like sunset and daylight.
Kinky Boots at Al Hirschfeld Theatre (closed April 7, 2019)
302 W 45th St, 10036, map
2 hrs and 20 min with one intermission
SYNOPSIS: "Charlie Price has suddenly inherited his father's shoe factory, which is on the verge of bankruptcy. Trying to live up to his father's legacy and save his family business, Charlie finds inspiration in Lola. A fabulous entertainer in need of some sturdy stilettos, Lola turns out to be the one person who can help Charlie become the man he's meant to be. As they work to turn the factory around, this unlikely pair finds that they have more in common than they ever dreamed possible."
OUR THOUGHTS: Similar to Waitress, this show has had a constant rotation of leads. We were torn about the guy who played Charlie but Lola absolutely commanded the stage during our show. The show is fun but none of the songs were in particularly catchy.
Other shows we've seen that are no longer on Broadway are School of Rock – The Musical, Finding Neverland, Head Over Heels, Once on This Island, and The Play That Goes Wrong.
SYNOPSIS: "Based on the hit film, Pretty Women is a modern Cinderella story. A businessman hires an escort to spend the weekend with him, but before long, the two learn that their connection goes beyond a simple transaction."
OUR THOUGHTS: Watching it tonight! Review coming soon.
UPDATE: The show is now touring.
SYNOPSIS: "Beautiful tells the story of Carole King's remarkable rise to stardom, from being part of a hit songwriting team with her husband Gerry Goffin, to her relationship with fellow writers and best friends Cynthia Weil and Barry Mann, to becoming one of the most successful solo acts in popular music history."
OUR THOUGHTS: It was a lot of fun to see how many recognizable songs the four of them wrote. They were all performed by the ensemble casts dressed as the artists. The storytelling reminded us of Jersey Boys (although we still like JB better) and parts of the story felt slow, but overall we still left smiling.
*UPDATE* This show is now touring.
If you have a hard time deciding which show you want to go to and want to leave it up to chance, check out Broadway Roulette. It's a fun way to get a surprise and a perfect way to spend date night. You start of by selecting a date and number of tickets, then you select preferences (like musicals only family-friendly). You also get to select a few shows to eliminate in case you've seen them or you're not interested. On the morning of your date, you get an email with what spin you got! During our time in NYC, we saw The Prom, Head Over Heels, Beautiful, Once On This Island, and Kinky Boots through Broadway Roulette.
For those of you who have seen a ton of shows, it's not the best option, but for people like us who are relatively new to Broadway shows, it was an amazing way to discover shows that we would've never otherwise checked out.
Whether you're local or visiting, we highly recommend checking it out. If you want a $10 coupon code, email us at [email protected]
Essential Tips for Watching Broadway Shows on Broadway and Off Broadway
If you're in NYC during Broadway Week (mid-January to early Feb). The tickets are 2-for-1 so you can check off some of the shows that you've been meaning to watch. Check the dates early for when they release. The more popular shows (like the Disney ones) are sold out quick.
If you have kids, there's a Kids Night on Broadway, where kids go free if accompanied by an adult.
Don't limit yourself to just Broadway. There are a lot of amazing shows Off-Broadway as well.
Be sure to print out your tickets, some box offices will not print them for you. My brother came to a show during his visit and thought his online ticket would work only to find out he had to find a printer. Fortunately, he was able to hop into a nearby hotel to get them printed.
Picking up your tickets at the box office? We recommend going earlier in the day. When it gets close to showtime, the whole theater is much more crowded.
Plan your bathroom breaks! First off, be aware if there is an intermission, and even if there is, the lines get REALLY backed up.
Drop off Big Bags. There isn't a lot of space between the seats. If you've been out all day shopping or have a lot with you, make plans to drop bags off somewhere before heading to the show.
Most theaters will sell food and beverages but they come at a price. We picked up some Twizzlers and water for $15, which didn't surprise me too much. When the couple next to us ordered 2 cups of wine and it came to a total of $50, all of our jaws dropped including the couple who forgot to ask the price.
Try your luck with a ticket lottery. If you win, you can get tickets anywhere from $27-$49. Here are the lotteries available: Aladdin, Hamilton (or download the Hamilton app), Harry Potter, Lion King, Phantom of the Opera.
Discounted Tickets: If you're just looking for a deal, check out TKTS for same day tickets up to 50% off. Their main location in Times Square is hard to miss, but it also has long lines. Check out their other locations for shorter lines. It's better to go earlier, but sometimes better seats become available closer to showtime. Also try TodayTix app, Broadway Box, TheaterMania, New York Show Tickets with discount tickets to members for $4.95/month.
If you want to see some behind the scenes, go on the Disney on Broadway tour.
We can't wait to see many more during our year in NYC and will update this post as we do.
Pure Thai Cookhouse (0.3 mi / 7 min walk, map)
Totto Ramen (0.3 mi / 7 min walk, map)
Best Places to Stay Near Broadway Shows
Have you seen any of these Broadway shows in NYC or the traveling ones? What did you think? And which one are you hoping to see next?
Did you enjoy this post? Pin it for later
SEE MORE CITY BUCKET LISTS
"Discovery consists not of seeking new lands but in seeing with new eyes" – M. Proust
Esther and Jacob are the founders of Local Adventurer, which is one of the top 5 travel blogs in the US. They believe that adventure can be found both near and far and hope to inspire others to explore locally. They explore a new city in depth every year and currently base themselves in NYC.