Yosemite National Park is easily one of our favorite places in the United States. NPS is running a huge campaign next week to inspire people to #findyourpark, and Yosemite is our park. It was the first national park I visited as an adult, and as most firsts go, it will always hold a special place in my heart. We've even talked about making it our next home for the year after San Diego
There is so much to explore within Yosemite, that it's sometimes hard to figure out where to start. If you're planning a visit there, here's a quick guide to get you started.
This post may contain affiliate links, where we receive a small commission on sales of the products that are linked at no additional cost to you. All opinions are always our own. Read our full disclosure for more info. Thank you for supporting the brands that make Local Adventurer possible.
Last Updated: September 4, 2021
17 Things to Do in Yosemite National Park That Will Take Your Breath Away
This is one of Yosemite's best viewpoints that you can drive up to with easy access. Located on the south wall of Yosemite Valley, you get a spectacular view of the valley and Half Dome. If you can make it, sunrise and sunset are the best times to go.
2. Taft Point & Sentinel Dome
Taft Point and Sentinel Dome are right next to each other. Taft Point is easy to get to and a great spot to conquer your fear of heights. Edge up to the cliff and stare straight down into the valley to appreciate its grandeur. Sentinel Dome is an easy 1-mile walk from the parking lot and gives you a 360-degree view of Yosemite.
Standing at 2,424 feet, this is the highest waterfall in North America and sixth largest in the world! The best time to view it is in late spring when the melting snow creates the strongest flow. You can even day hike to different portions of the falls, including the top!
This spot can get crowded with tour buses and cars, but still makes the list of top places to see. From here you get a view of Yosemite Valley, Bridalveil Fall, Half Dome, and El-Capitan.
This waterfall is one of the most iconic waterfalls in the park and is just a short hike away (0.5 miles). It has quite the spray in the spring. The Ahwahneechee Native American tribe believed that inhaling the mist would improve your chances of getting married.
This is Yosemite's most popular rock formation. You can even hike to the top. Check out our guide on hiking this 15-mile trail here. I still can't believe I climbed those cables with my fear of heights!
This is the ultimate climb for rock climbers around the world, stretching about 3,000 feet from bottom to top. The most popular route is The Nose. You can watch the climbers or do this bucket list worthy climb yourself. You'll often see headlamps from climbers on El Cap at night.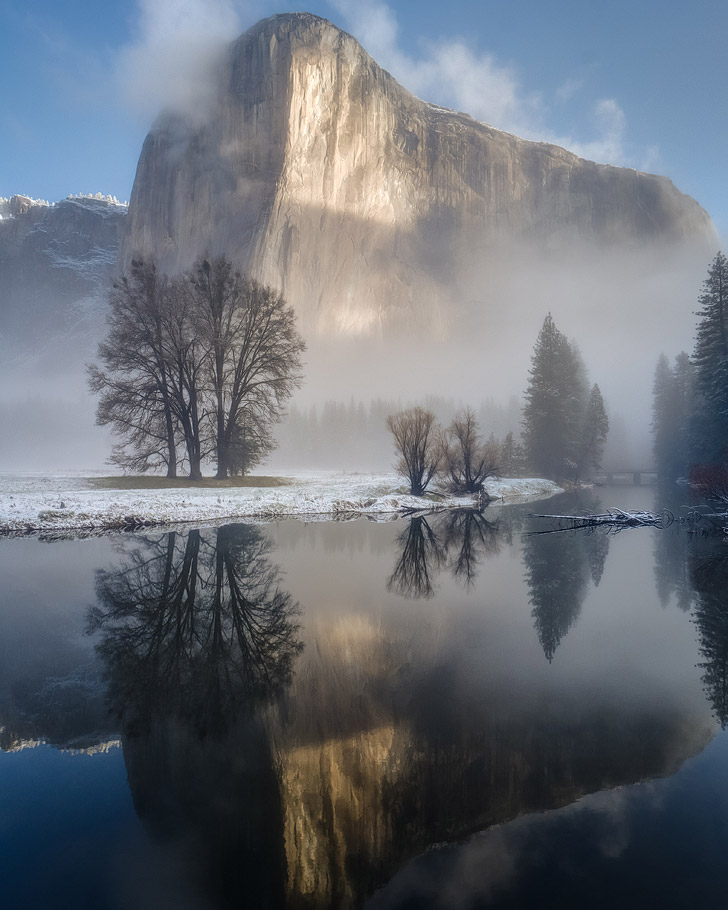 Cathedral Peak was first scaled by John Muir back in 1869 and is still as spectacular today.
10. Vernal and Nevada Falls
Take Mist Trail to gaze at this beautiful fall, but be sure you have hiking shoes on as the trail gets very slippery from all the mist. Just a bit further past Venal Fall is Nevada Fall. It is the closest waterfall to the Sierra Nevada mountain range.
Located about an hour from the valley floor, stop here to get a less common view of Half Dome and Yosemite Valley. You can even see people climbing the cables of Half Dome.
Some say that this is the most beautiful lake in Yosemite. Nestled in between granite peaks and domes, you can kayak, swim, or even ice skate (on very rare occasions in the winter) at this high country lake.
This beautiful meadow that runs along the Tuolumne River gives you great views of the Cathedral Range, Lembert Dome, and Mount Dana. Take a stroll or camp overnight.
Stand face to face with giant Sequoias. They even have a tree that you can drive through.
This is where Ansel Adams took some of his most famous photos. You get a great view of the Cathedral Rocks, Three Brothers, and Half Dome.
16. Camp and Boulder at Camp 4
Yosemite is a mecca for rock climbing. Camp 4 is an iconic and historic spot for the
growth of rock climbing in the 20th century
. The rock is really slick and polished, so it was a lot tougher for us than we imagined. If you're interested in trying it out, here are a few of our posts to help you get started.
Yosemite is a winter wonderland. There are less people in the winter too. You can snowshoe, ski, or snowboard. You can see more of our snow day adventure here.
Yosemite National Park Map / Yosemite Attractions Map
More Things to Do in Yosemite National Park
If you've already blown through all the above, here are some more ideas for your next visit!
Horsetail Falls during the Firefall
Photograph Valley View
Inspiration Point (2.3 mi out and back, 1043 ft gain, moderate)
Washburn Point
Merced Grove – densest sequoia grove in the park
Raft or Kayak down the Merced River
Chilnualna Falls Hike (7.9 mi out and back, 2188 ft gain, difficult)
Ansel Adams Gallery
Mirror Lake
Yosemite Museum
Pioneer Yosemite History Museum
Soda Springs
Happy Isles Bridge
See Frazil Ice (spring only)
Wawona Swinging Bridge Swimming Hole (summer only)
Camp in Half Dome Village (formerly Curry Village) – We did this before our Half Dome Hike.
Photograph Sentinel Bridge
Hetch Hetchy and Wapama Falls
Drive Tioga Pass Road / Tioga Road to get to quieter areas of the park (check road conditions on whether it is open)
Dine at Majestic Yosemite Hotel
Ribbon Falls Hike – unmaintained trail
Dewey Point Lookout
Yosemite Valley Chapel / Community Church (especially beautiful in winter)
Essential Tips for Visiting Yosemite
Best Time to Visit: If you want the least crowds consider visiting in the fall or winter. If you want to see the gushing waterfalls, visit in May or June.
Special Events: The Moonbow happens on select dates and times between April through June. The Firefall happens late February.
The Valley gets extremely crowded especially in the summer. Expect to wait and hit some traffic driving around. If you only stay in the Valley you might get overwhelmed by the crowds, but Yosemite is a massive park and there are plenty of places to find solitude.
It's always best to stop by the Visitor Center to get the most up-to-date info.
What to Pack for Yosemite
Best Places to Stay in Yosemite
Have you ever been to a park where you felt it was your park? Have you been to Yosemite National Park? Any others you think we need to add to this list?
Did you enjoy this post? Pin it for later
See More National Park Guides
"Discovery consists not of seeking new lands but in seeing with new eyes" – M. Proust
Esther and Jacob are the founders of Local Adventurer, which is one of the top 5 travel blogs in the US. They believe that adventure can be found both near and far and hope to inspire others to explore locally. They explore a new city in depth every year and currently base themselves in NYC.