Seeing baby sharks was the highlight of our paddleboarding trip! Is it just me or can you never unhear, "Baby Shark Doo Doo Doo Doo".. whenever you hear the word baby shark? Sorry not sorry, but we're going to suffer together.
Did you know that Stand Up Paddle Boarding (SUP) is the fastest-growing water sport in the world right now? We've been seeing them everywhere lately! Here at Local Adventurer, we're always down for trying something new. You never know how you'll do until you try, right?
I wanted to try paddleboard yoga but figured I should try paddleboarding first.
We booked a Mangrove Stand Up Paddleboarding Eco Tour with Big Blue Unlimited, who happened to have some of the best designed brochures on the islands. I'm telling you, I'm a sucker for packaging and design. Lucky for us, the book matched the cover. They also offered kayaking, kiteboarding, snorkeling, diving, biking, eco-tours, and more.
We started by getting some basic instructions from our guide. Then we hit the water and paddled around to get comfortable. We were a little nervous since we've never tried it before, but standing on the board was easier than we thought! The only thing that takes getting used to is steering your board and pushing your way through the currents.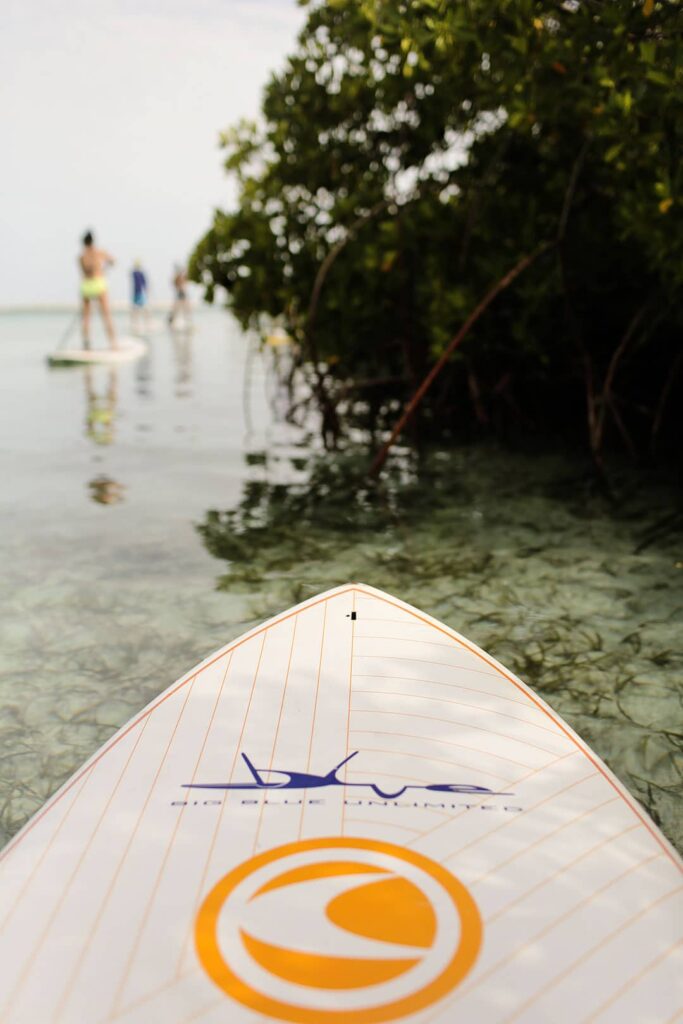 While we were in the mangroves, we learned how much they help protect the islands and the ecosystem. We saw baby sharks, turtles, sting rays, upside-down jellyfish, and an assortment of fish. Unfortunately, it's not easy to take photos while paddle boarding, so we didn't get many photos of the creatures we saw.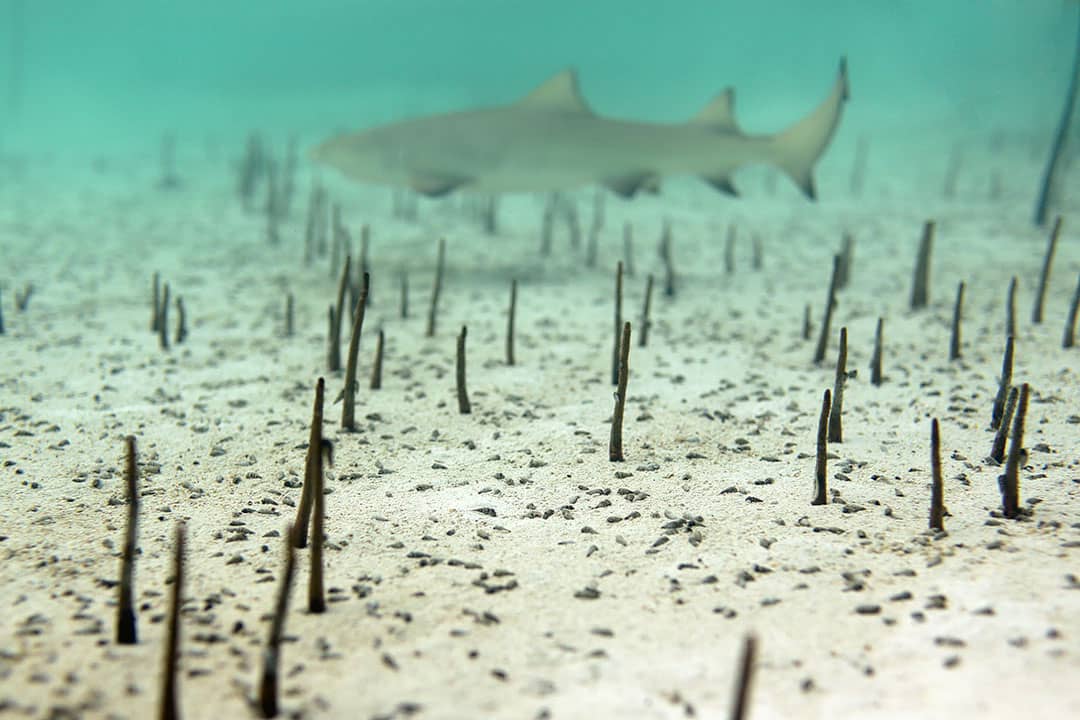 This was the upside-down jellyfish. Have you seen our jellyfish photos from the Monterey Aquarium? They look like a rug when all bunched together. This was the first time we saw one out in the wild!
Did you know mangroves are freshwater plants but have adapted to saltwater? On the tour, we were told that each one has "a suicide leaf" that takes in all the salt and dies so that the rest can keep living. That would be pretty smart for a plant! Having a science background, I had to know more and discovered that recent studies show that the yellow (older) leaves don't have more salt content in them than the rest. Boooo. I loved the suicide leaf theory!
The two-hour tour is a workout! Anytime you're heading upwind you have to put work into it. The last stretch to get back to the launch point was hardest part. I was the least fit person in the group, and I wasn't sure if I'd make it. I was paddling as hard as I could, and even with the slightest break you take, you're back farther than where you started. I was about to throw in the towel and tell them to send a rescue boat to find me somewhere in the middle of the ocean (I have very little willpower to survive), but we eventually all made it!
Overall, we had a great time and got in a good workout. My favorite part was being able to see the turtles and baby sharks!
Pro Tips for the Mangrove Stand-Up Paddle Boarding with Big Blue Unlimited:
SUP tours are based on high tide, so the times will vary daily.
Push with the hand holding the top of the handle rather than pulling with the lower one. It's so much easier on you. You switch hands depending on which side you're paddling. Paddling on the right means your left hand is on top.
Don't forget to put sunblock on the top of your feet! Jacob's got toasty! Big Blue Unlimited is one of the companies that only allow coral reef safe sunscreen to help protect the environment. If yours isn't, they have them available for you to buy.
Turks and Caicos is the best place to learn if you've never tried SUP. Many resorts have paddleboards for guests, and you can get plenty of practice on Grace Bay. We've never seen a beach with water so calm. Because there's a barrier reef that's a mile out, it breaks all the waves.
All of our photos were shot with a Canon 5D Mark III and 35 / 1.4 L lens in an Aquatech Elite Underwater Sport Housing and a Panasonic Lumix with Ikelite Housing.
They tell you if you bring your camera, it's at your own risk, but we had no issues with leaving our camera sitting on the board between our feet while paddling.
There are bins in the office where you can leave your stuff.
Bring a secure hat, sunglasses, and a long-sleeved top (rash guard) for extra protection from the sun. It gets hot, and you're not in the water to keep cool.
Drink lots of water before the excursion. Your body will thank you. You won't have access to any when you're on the water.
You can also explore the mangroves with their kayak tours. If you ride a two-person kayak, you and your partner can take turns resting.
The Conch Farm is not too far from here. We walked because we were told it was a 10-minute walk. It was more like 40 mins. We would not recommend walking there.
Big Blue Unlimited
Leeward, Providenciales, Turks and Caicos Islands
649.946.5034
Have you tried stand-up paddleboarding?
Did you find it easy or difficult?
Is it something you'd like to try?