Visiting Great Basin National Park? You don't want to miss these things to do.
In one day, we stood on top of the second-highest peak in Nevada, saw glaciers (yes glaciers in Nevada!), explored a cave system with unique and rare features, and stood next to the longest-lived life forms on earth, the Bristlecone pines.
I'd call that a full day.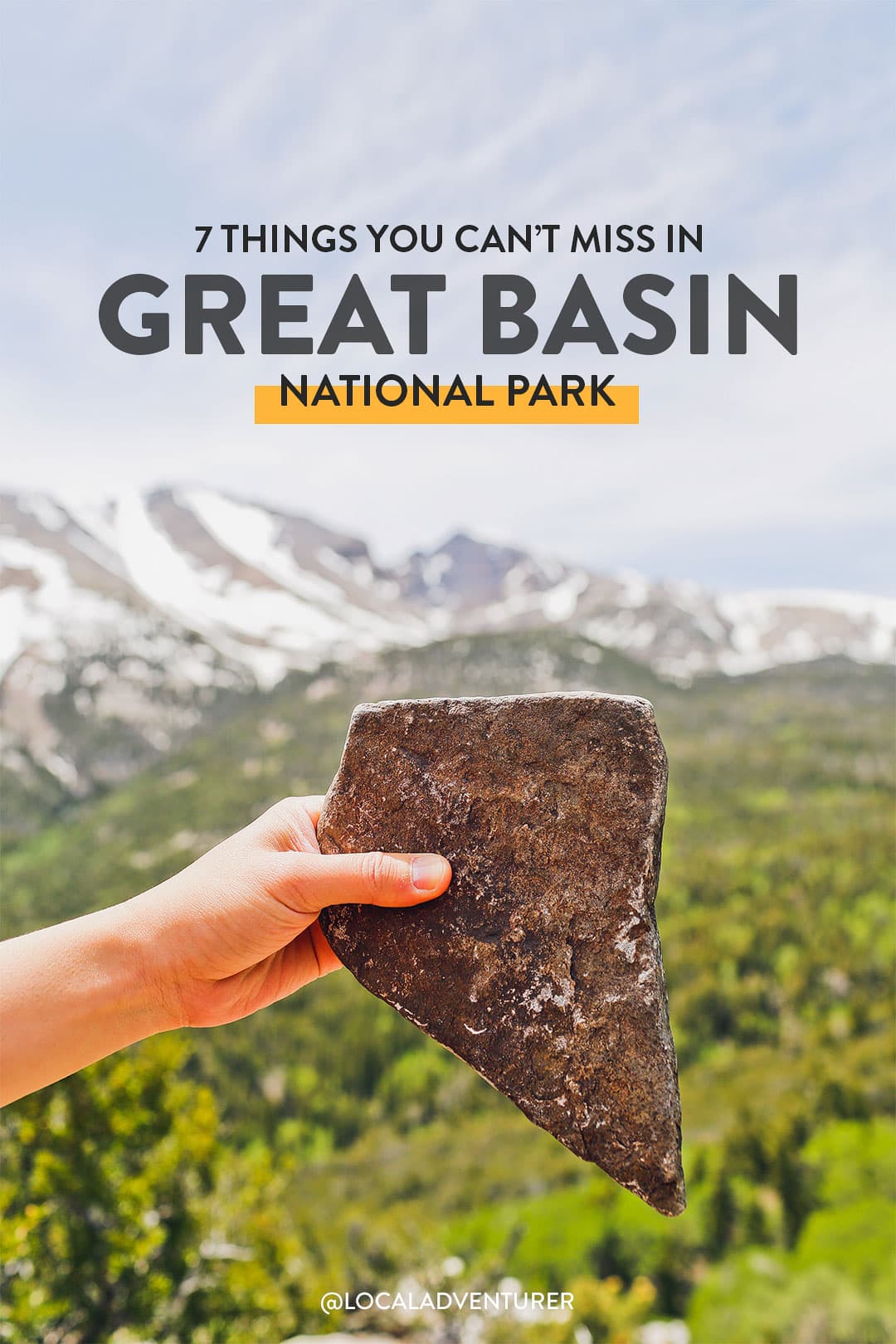 This trip was made possible in partnership with Travel Nevada and Matador Network. As always, all opinions are our own. This post may contain affiliate links, where we receive a small commission on sales of the products that are linked at no additional cost to you. Read our full disclosure for more info. Thank you for supporting the brands that make Local Adventurer possible.
Last Updated: August 3, 2023
Visitor Centers – Before You Go
Coordinates: 39.0148199,-114.1308944, map
We always recommend you start here to get any recent updates, current conditions of roads and trails, and other insights from the park rangers. The park has two visitor centers.
You'll first come across the Great Basin Visitor Center outside of the park (Coordinates: 39.0148199,-114.1308944 // map). It's open daily from 8 AM to 5:30 PM in the summer.
The main Lehman Caves Visitor Center is in the park and open from 8 AM to 5 PM in the summer and 8 AM to 4:30 PM from the fall to spring. Most of the park rangers work here, so this is the one you'll want to visit.
Best Things to DO in Great Basin National Park
You can't visit Great Basin National Park without seeing the Lehman Caves (read our full post here).
This is by far the most popular thing to do in the park. Cave tours are Ranger-led and offered daily, year-round, except for Thanksgiving Day, Christmas Day, and New Year's Day.
Book online here, and do it in advance because spots fill up fast. In the summer, you'll want to book 3-4 weeks ahead for weekends and 1-2 weeks ahead for weekdays.
Lodge Room Tour (0.4 miles) – This 60 minutes long tour highlights the Gothic Palace, Music Room, and Lodge Room. It's ideal for families with young children and is limited to 20 visitors.
Grand Palace Tour (0.6 miles) – This tour last roughly 90 minutes and takes you through the Gothic Palace, Music Room, Lodge Room, Inscription Room, and the Grand Palace. You'll also see the famous "Parachute Shield" formation. Tours are limited to 20 visitors.
Note: The Grand Palace Tour will not be available for the winter of 2022/23 since they are working on the infrastructure.
See Related – Lehman Caves Tours – What You Need to Know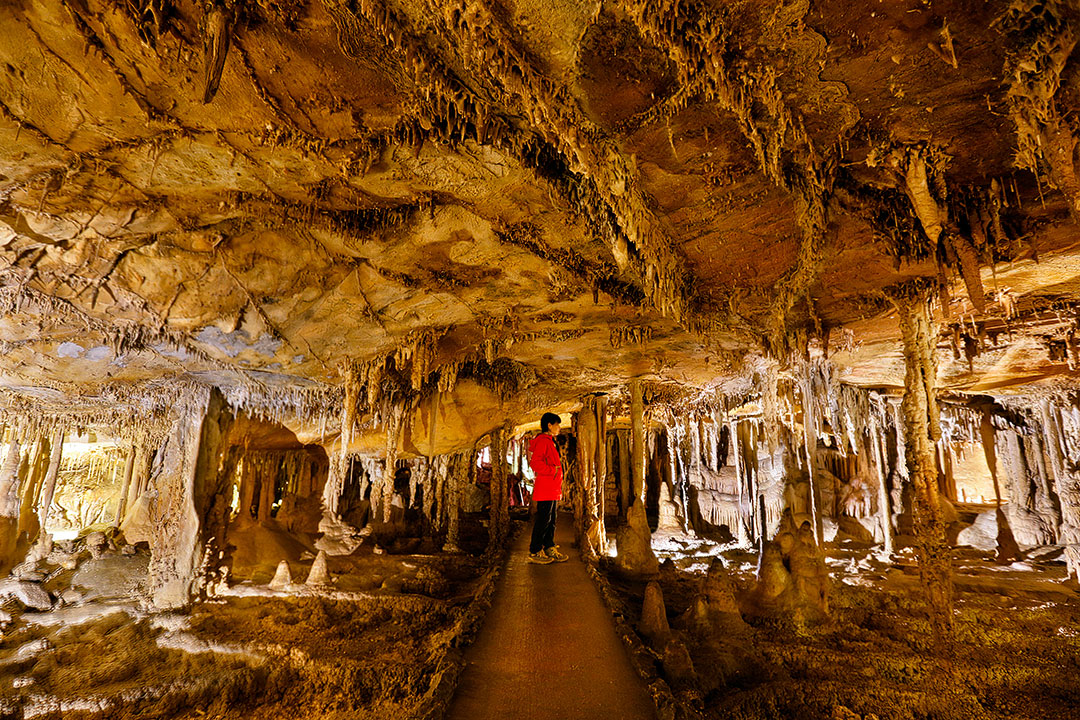 2. Scenic Drive
Wheeler Peak Scenic drive lets you take in the scenery for 12 miles as you go up the mountain. Be sure to stop at Mather overlook and Wheeler Peak overlook.
3. Best Hikes + Backpacking Trails in Great Basin National Park
There are some great day hikes in the park. If you're looking to backpack, stop by the visitor center to get a backcountry camping permit. They aren't required, but registration is free and strongly encouraged. It's always good to let someone know where you are.
Alpine Lakes Loop Trail
2.7 MILES LOOP, △600 FT, EASY
This trail takes you to two beautiful alpine lakes. Enjoy Stella and Teresa Lakes while getting great views of Wheeler Peak. Starting elevation is 9800 feet.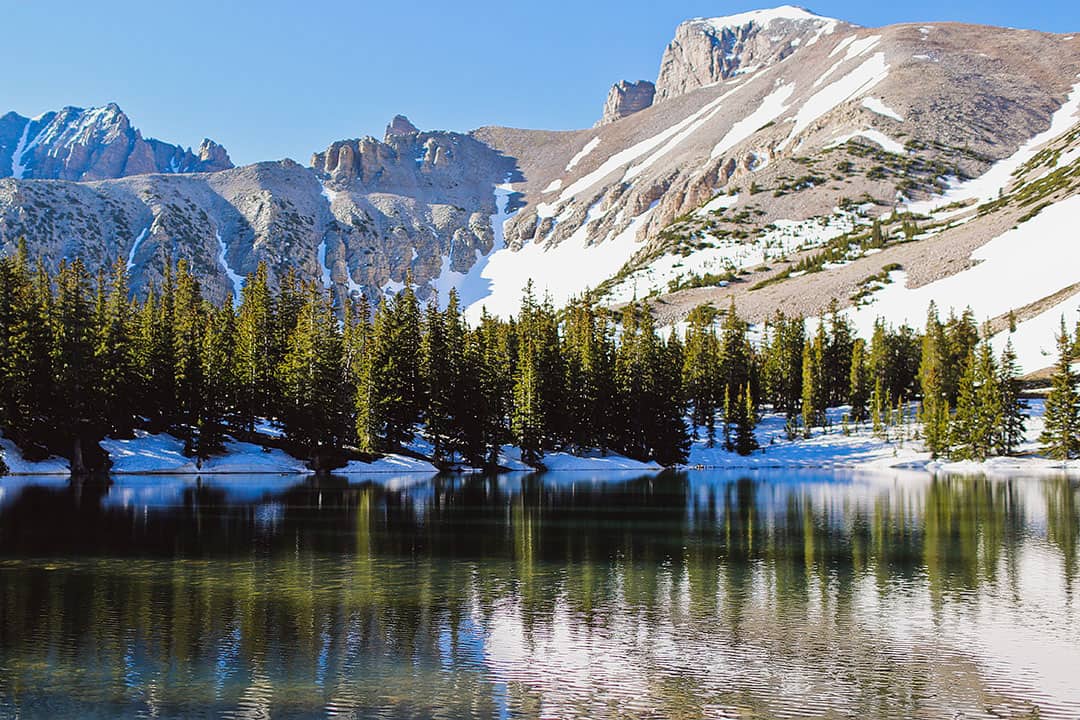 Mountain View Nature Trail
0.3 MILES RT, △80 FT, EASY
Easy walk through a pinyon-juniper forest. Starting elevation is 6,825 feet
Sky Island Forest Trail
0.4 MI RT, △0 FT, EASY
This is a wheelchair-accessible trail that walks you through a high alpine conifer forest. There are interpretive signs explaining the area's history. Starting elevation is 9800 ft.
Osceola Ditch Trail
0.3 MILES, △100 FT, E
Surround yourself with ponderosa pine, white fir, and Douglas fir trees along an 18-mile long channel build by gold miners in the 1880s. Starting elevation is 8400 feet.
Bristlecone Trail
2.8 MI RT, △600 FT, EASY
Make your way over to a grove of these ancient trees. Interpretive signs point out some of the most interesting facts. Starting Elevation: 9,800 feet. You can unofficially rent snowshoes from the park and give a donation. Just ask a ranger about it.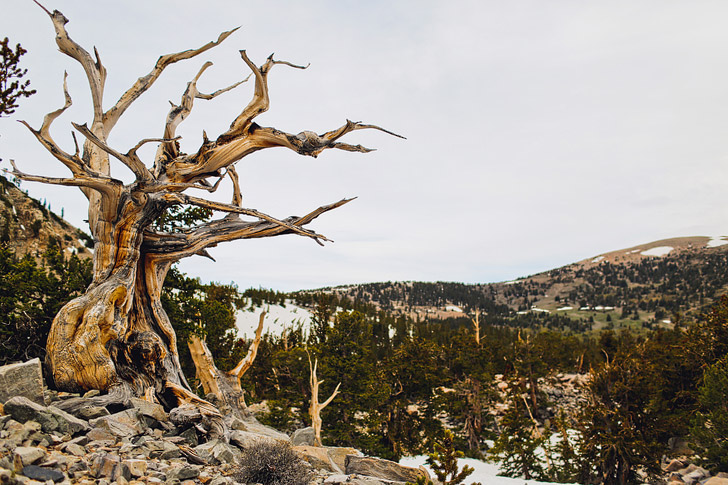 Bristlecone and Glacier Trail
4.6 MI RT, △1100 FT, MODERATE
The glacier trail continues beyond the Bristlecone Grove to the only glacier in Nevada. It's buried under rocks and debris so it doesn't look like what you might imagine. Starting elevation is 9,800 feet.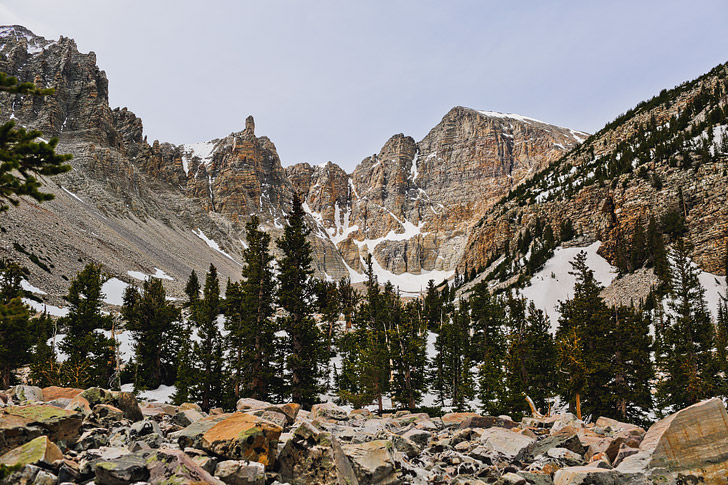 LEXINGTON Arch Trail
3.4 MI RT, △820 FT, MODERATE
The trailhead is outside the park and difficult to get to, but if you have the right type of car, you can hike out to a six-story limestone arch! Starting elevation is 7,440 feet.
Lehman Creek TRAIL
6.8 MILES, △2050 FT, DIFFICULT
This longer hike takes you through different habitats and along a creek for parts of the trail. It's a great way to see how diverse the landscape can be. Starting elevation is 7,750 feet.
Wheeler Peak Summit Trail
8.6 MI RT, △2900 FT, DIFFICULT
Summit the second tallest peak in Nevada. Since afternoon storms are common, start this hike early in the day. The hike starts out relatively easy, but as you approach the mountain, you will start gaining a lot of elevation.
High winds are common and you'll need to do some scrambling to reach the summit. Stop at the windshields if you need a break. They really help. Also, don't underestimate this hike. It's a beast. Your starting elevation is 10,160 feet and you are at 13064 at the summit.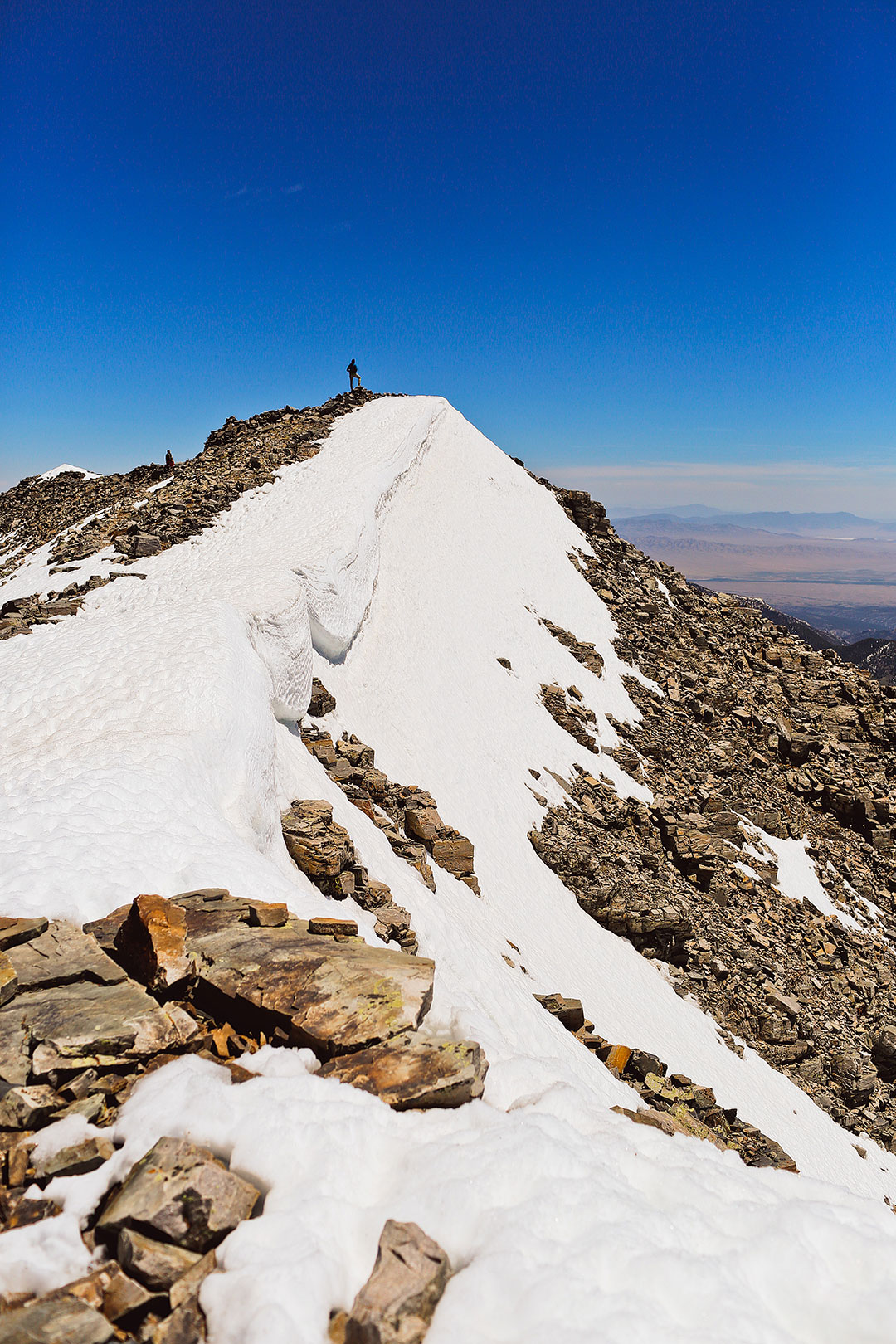 Baker Lake Trail
12 MI RT, △2620 FT, DIFFICULT
Hike up to this alpine lake surrounded by beautiful cliffs. Starting elevation is 8,000 feet.
Johnson Lake Trail from Snake Creek
7.4 MILES RT, △2420 FT, DIFFICULT
This steep hike takes you to Johnson Lake and the historic Johnson Lake Mine area. Warning: do not enter any mine structures! Starting elevation is 8,320 feet.
4. Walk Among the Ancient Bristlecone Pines
The Bristlecone pines are a huge attraction of Great Basin National Park and are the longest living trees and living organisms on earth because they can survive in harsh environments.
Because of the high-elevations, cold temperatures, and high winds, they grow very slowly. This has made their wood very dense and resistant to insects, fungi, rot, and erosion.
They do also grow in lower elevations but do not achieve their long-lived years or fascinating twisted features
Pro Tip: If you want to see the easiest sighting of a Bristlecone Pine in the park, there is one in the parking lot at the Lehman Caves Visitor Center (pictured right).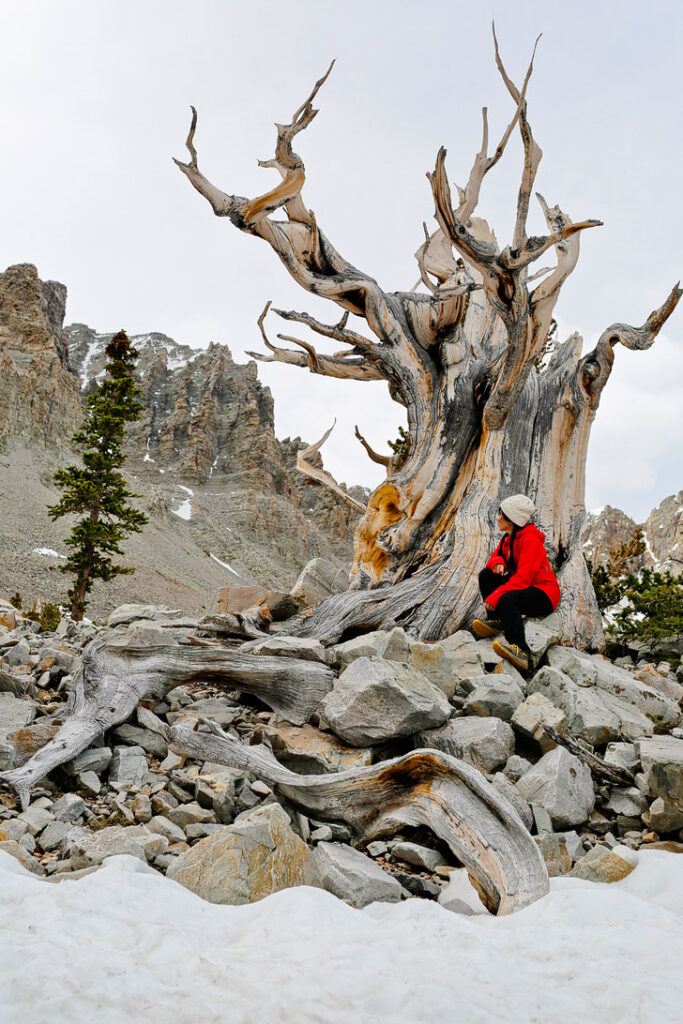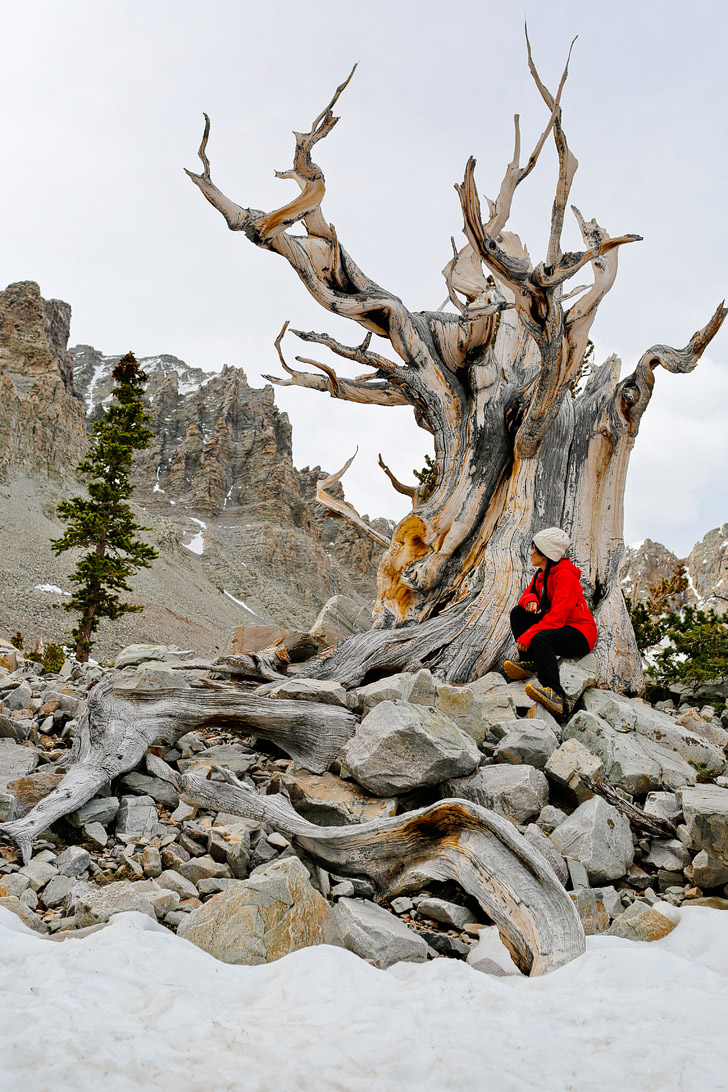 There are three bristlecone pine groves in Great Basin National Park.
Wheeler Peak Grove is the most accessible. The trail is well marked (assuming there isn't still snow on the ground) and it grows on a glacial moraine. There are interpretive signs to learn more about the trees and the older, dead trees make for spectacular photos.
Mount Washington Grove is the largest grove but access to it is difficult. Some sections have relatively tall trees, measuring over 40 feet. There is no developed trail to this grove so talk to a ranger if you're hoping to hunt it down.
Eagle Peak Grove is near Eagle Peak (10,842 feet) on a ridge between the Snake Creek and Baker Creek drainages. This is also difficult to get to and there isn't a developed trail.
5. Astronomy + Astrophotography
People come from all over the world to see the night sky at Great Basin National Park. It is a designated International Dark Sky Park, and you can see five planets, satellites, the Andromeda Galaxy, and the Milky Way with the naked eye.
The combination of low humidity, minimal light pollution, and high elevation have created some of the best conditions for stargazing.
Astronomy programs are offered but change from year to year. Typically they run from April through October on Saturday nights, with additional Tuesday and Thursday night programs during the summer season. Check their calendar for start times and dates.
Unfortunately, we didn't get a chance to visit during the ideal time, but we need to head back from some milky way shots.
The train ride starts at Ely and has Dark Rangers from the park on board to guide you through the night sky.
7. Become a Junior Ranger
This is an educational program mostly for kids, but we know plenty of adults who do it too. It definitely helps me learn new things as I am exploring.
When to Visit Great basin National Park Nevada
Each season brings a unique feel to the park. Summer and Fall are the best time to visit for accessibility, but if you get there during the winter or spring, you'll find beautiful solitude.
Summer – This is the busiest season of the year. Activities are in full swing and weather is comfortable (highs around 85F and lows around 55F). Afternoon thunderstorms are common, so hit the trails early in the day. Also, don't forget to explore the night skies where you get the best visibility of the Milky Way in the Continental US.
Fall – This is a favorite season for a lot of the locals. Yellow and gold colors explode from the aspen trees, the air is crisp, and the crowds thin making it a perfect time to explore the trails.
Winter – If solitude is your thing, then winter is when you want to visit. Access is limited with the scenic road closed to cars, but you can still snowshoe or cross country ski. It's also a great time to see all the tracks left by the wildlife sharing the space with you.
Spring – Temperatures start to rise, but much of the park is still closed until Summer. The snowpack in higher elevations stays around slowly melting into streams.
Know the Moon Schedule! If you're looking to see the Milky Way, go during New Moon to see the most stars. If you're there during Full Moon, they do a full moon ranger-led hike during the summers. Stop by the Lehman Caves Visitor Center for more info.
Astronomy Festival – Every September, the park hosts an annual Astronomy Festival that is three days and nights of astronomy-themed events. They even set up over 30 different telescopes to check out.
Weather Stations
Remember that there is almost an 8,000-foot difference in elevation between Wheeler Peak and the valley floor.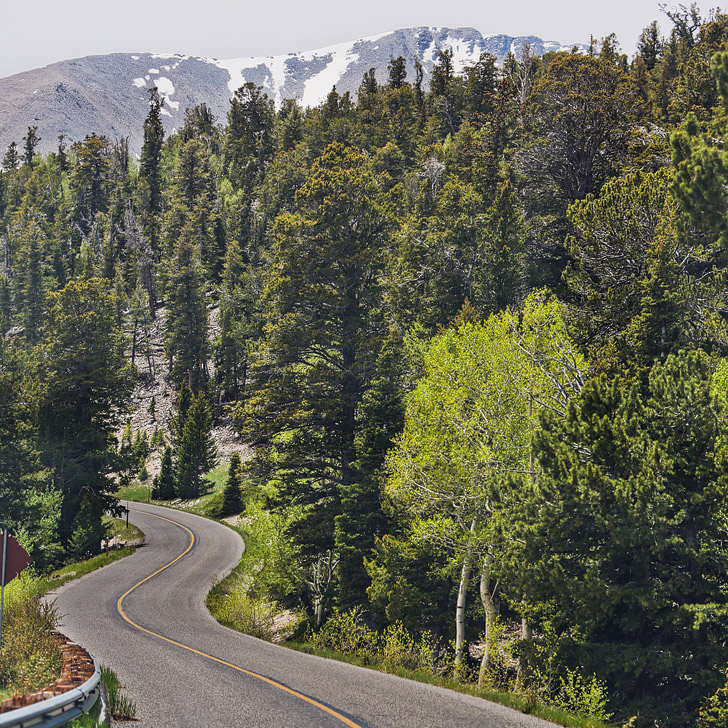 Directions + Roads
The park has limited road access, especially outside of the summer and fall months. Be prepared with the right type of car depending on what you want to see.
Wheeler Peak Scenic Drive is paved, steep, and winding. The upper portion of the road is generally open from June to October, weather permitting, and is closed to trailers over 24 feet.
Baker Creek Road is a gravel road that is generally open May through November.
Snake Creek Road is open year round but is usually muddy or snowy in the winter and spring. High clearance is recommended.
Strawberry Creek Road is currently closed.
Lexington Arch Road is a rough and rutted dirt road. High clearance and 4-wheel drive is required, and advanced 4-wheel driving dills are required to reach the trailhead.
Find the most up-to-date info on the road conditions here.
Map of Great Basin National Park Nevada
More Tips for Your Visit
You may get altitude sickness at elevations over 8000 ft. If you are prone to getting altitude sickness, and you don't want to get prescription drugs, you can try Dramamine, though it doesn't work for everyone.
Always check road conditions before heading to the park, especially early in the summer.
Do hikes in the early mornings. Afternoon thunder storms are common in the summer.
Photography Tips
The best time to shoot in the park is with morning light. Baker lake at sunrise, Stella Lake at sunrise or sunset, and the overlooks at sunrise are some of the best landscape photography spots. There's a pullout on the right overlooking the valley and it looked best at sunset.
The sun sets over the mountains so you will not get much of a golden hour sunset glow unless you're shooting the valley.
If you plan on being on the trails before sunrise or after sunset, don't forget a headlamp.
Where to Eat
We didn't love any of the food options near GBNP, but your options are limited out here. We highly recommend buying groceries and preparing your own meals, but if you don't want to cook, here are the places we tried:
Cafe at Lehman Caves Visitor Center (GBNP)
Kerouac's (Baker, NV) – restaurant attached to Stargazer Inn
T&Ds (Baker, NV) – small diner and grocery store
Where to Stay in Great Basin National Park NV
Great Basin National Park doesn't have too many options for accommodations. You can camp within the park, or stay in the small town of Baker just outside of the park.
Camping at the Park
There are five developed campgrounds within the park. Each campground has vault toilets, picnic tables, tent pads, and campfire grills. There are no hookups and each site is limited to eight people, three tents, and two vehicles.
Lower Lehman Creek Campground – this is the only developed one open all year (elevation: 7,300 feet, 11 campsites, $20 per night)
Upper Lehman Creek Campground – open mid-April through October (elevation: 7,752 feet, 22 campsites, $20 per night)
Wheeler Peak Campground – open June to October (elevation: 9,886 feet, 37 campsites, $20 per night)
Baker Creek Campground – open May to October (elevation: 7,530 feet, 38 campsites, $20 per night)
Grey Cliffs Campground – open Memorial Day to Labor Day (elevation: 7,530 feet, 16 sites, $20 for indiv sites)
There are also primitive campgrounds along Snake Creek and Strawberry Creek roads.
Snake Creek Campground – open year-round (elevation: 7,800, 12 campsites, free)
Strawberry Creek Campground – currently closed due to fire recovery
Most campgrounds are reservation-only from Memorial Day until Labor Day with the exception of Baker Creek which is first-come, first-served.
RV & Camping Outside the Park
If all the spots are full within the park, here are a few options outside of the park. There are no full hook-up RV sites in the park, but here are a few options nearby.
Whispering Elms Motel, Campground, & RV Park (Baker, NV) – offers 25 full-service RV sites
The Border Inn (13 miles from Baker, NV) – has 22 full-service RV sites and pull-through spaces
Hidden Canyon Guest Ranch (15 miles south of Baker, NV) – has campsites and showers
Ely KOA (60 miles west of Baker, NV) – has campsites and RV sites with full hook-ups
Hotels Outside of the Park
If camping isn't your thing, the town of Baker is just outside of the park. We stayed at the Stargazer Inn, which has many of the rooms recently renovated.
Have you been to Great Basin? Any epic things to do in Great Basin National Park that we missed?
DID YOU ENJOY THIS POST? PIN IT FOR LATER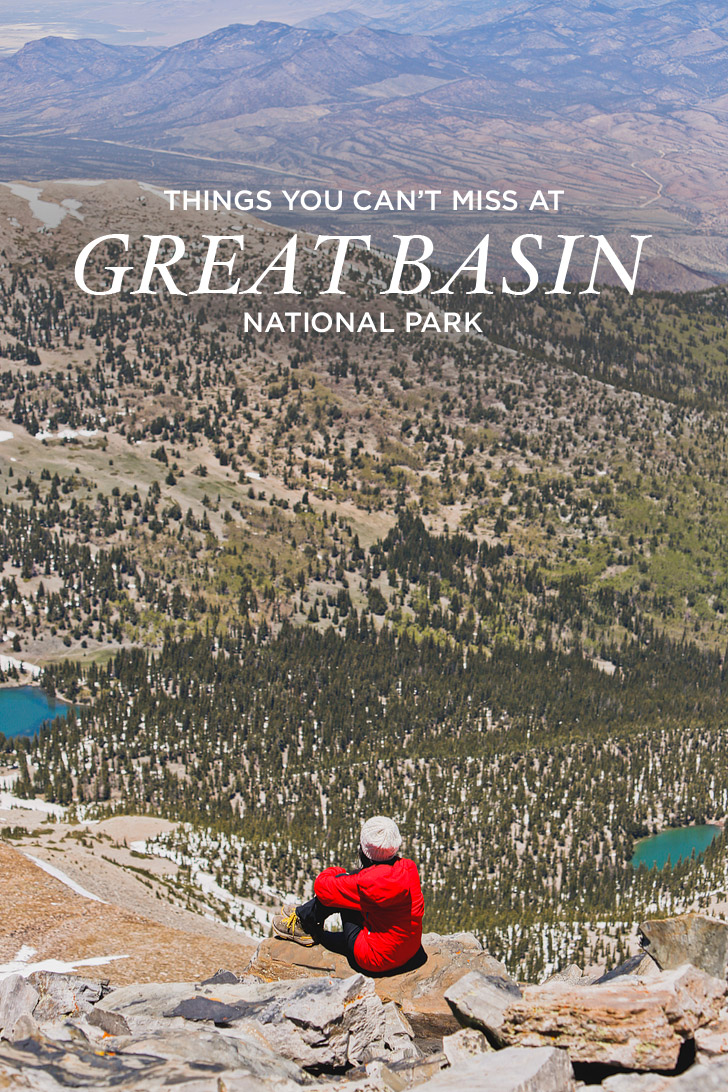 SEE MORE NATIONAL PARK GUIDES
⟡⟡⟡⟡⟡
"Discovery consists not of seeking new lands but in seeing with new eyes" – M. Proust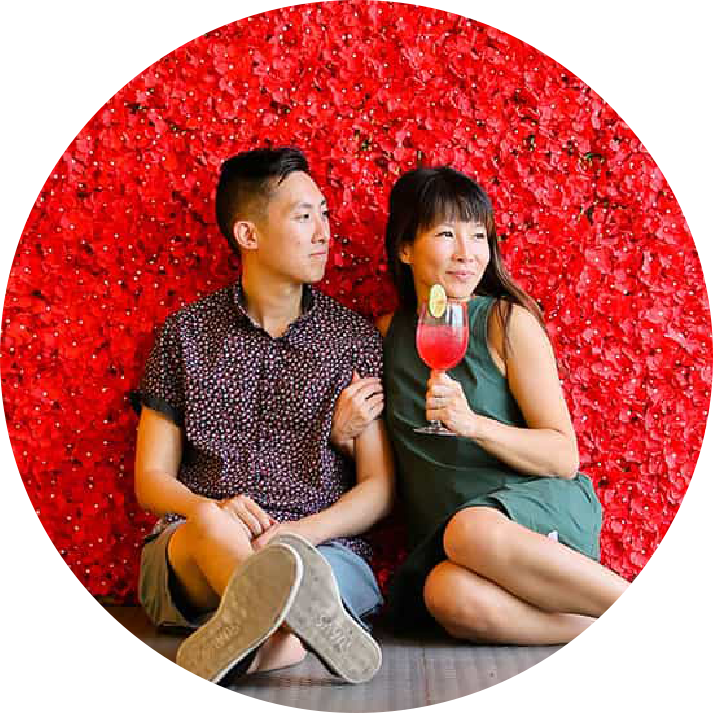 Esther + Jacob
Esther and Jacob are the founders of Local Adventurer, one of the top 5 travel blogs in the US. They believe that adventure can be found near and far and hope to inspire others to explore locally. They explore a new city in depth every year and currently base themselves in Las Vegas.
Follow on Instagram (E + J), YouTube, TikTok, and Pinterest.