Smith Rock State Park is one of Oregon's Seven Wonders, and it feels somewhat out of place like someone plucked the red rocks from the SouthWest and dropped them in the middle of Oregon.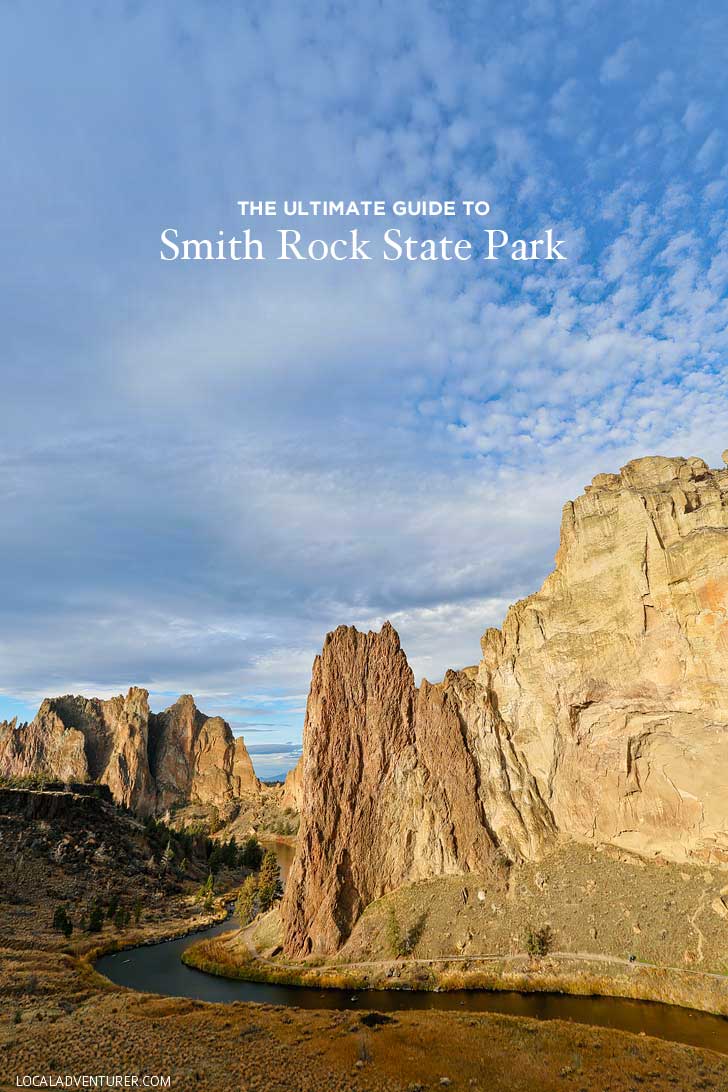 This post may contain affiliate links, where we receive a small commission on sales of the products that are linked at no additional cost to you. All opinions are always our own. Read our full disclosure for more info. Thank you for supporting the brands that make Local Adventurer possible.
Last Updated: June 19, 2020
Best Things to do at Smith Rock State Park
We started climbing a year ago, but ever since we moved to Portland, people kept telling us we needed to make it out to Smith Rock. It's also the birthplace of sport climbing in the US and a popular climbing destination.
Neither of us had tried sport climbing before, but we're always down to try just about everything once. Even if you're not a climber, the stunning views make it worth a visit.
One of the first things you'll notice when you visit is that the park is full of climbers. You'll see people hiking with their rope, shoes, and gear, and you'll find them on practically every rock face. If you've never tried sport climbing outdoors, this is a great place to try it. There are around 2000 routes with plenty of routes for all levels. 
There are 12 official hikes for all levels at Smith Rock. The most iconic hike is Misery Ridge Loop where you get a chance to pass by Monkey Face and see the Crooked River from above. There is a lot of elevation gain but you get amazing views. (full post coming soon!)
Rim Rock Trail (0.5 mi, easy)
North Point Trail (0.5 mi loop, easy)
River Trail (2.5 mi, easy)
Wolf Tree Trail (1 mi, easy)
Rope-de-Dope Trail (0.5 mi, moderate)
Canyon Trail (1.5 mi, moderate) – you use this trail to get in and out of the park
Mesa Verde Trail (0.65 mi, moderate)
Chute Trail (difficult)
Homestead Trail (1 mi, difficult)
Misery Ridge Trail (3.7 mi loop, difficult)
Burma Road Trail (difficult)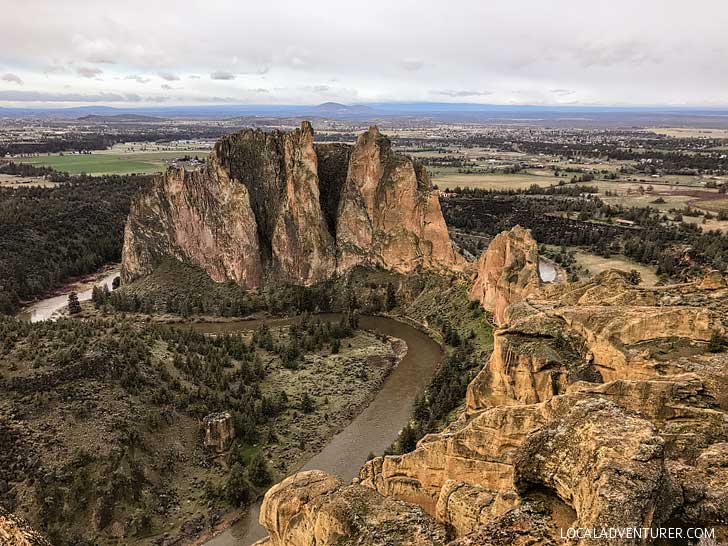 Enjoy a gentle horseback ride along the river. Horses are limited to certain areas of the Canyon River, Wolf Tree, and Homestead trails, but it covers a large area of the park. If you want to add mileage, you can continue into surrounding BLM land.
As popular as this park is for us humans, it's also home to a lot of wildlife. Keep your eyes out for Golden eagles, prairie falcons, mule deer, river otter and beaver. You can also stop by the welcome center to find out more about the creatures.
Smith Rock State Park offers a number of different Mountain Biking trails. Most of the trails aren't great for beginners, but since you can also bike on riverside trails and the road, all levels can find a place here. Summit Trail is the most popular mountain biking route, and you can continue to adjacent BLM lands if you're looking to add miles to your ride.
Check out these Mountain Biking Trails:
Canyon Trail
Homestead Trail
Summit Trail
River Trail
Wolf Tree Trail
6. Camping & Other Accommodations
The Bivy (walk-in Bivouac area): This campground is within the park. The cost is $5 a person per night and no reservations are required, but it fills up quickly on the weekends and summer days. There are hot showers and restrooms and even a small charging station. 
This is the perfect place to camp if you're hoping to catch sunrise at Smith. As far as the camping experience, it can get really crowded. Below is on a cold, rainy day, but when there's nice weather, your tent might only be a foot away from other tents.
Note: RV camping, sleeping in vehicles and open fires are not allowed.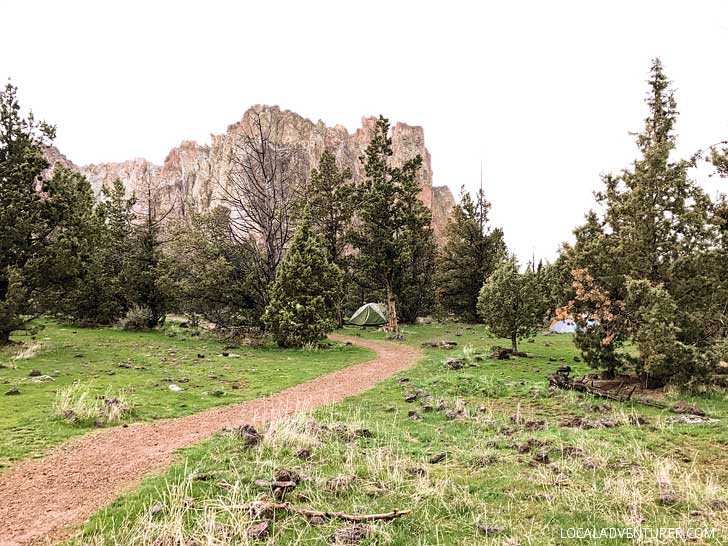 Skull Hollow Campground: If you're hoping to have a campfire and socialize, camp at Skull, which is where we camped. It's about 8 miles away and there are 28 campsites with parking pullouts. Each single site is $10 per night (including 1 vehicle, $5 per additional vehicle) and allows up to 6 people to camp.
You can sleep in your car or pitch a tent, and there are fire pits and picnic tables at each site. There are primitive toilets, a few porta potties scattered around, and no running water.
Pro Tip: If you're looking to buy firewood, do not buy it at Thriftway. We got a couple bundles that wouldn't light up because it was such young wood. Even if the outside looks dry, the inside might not be. The wood peeled off instead of chipping off and had so much moisture inside. Each log would just turn into hot coal and give us no fire. Skull sells firewood there. Bad wood can really ruin your camping trip, especially when it's cold!
Airbnb: During my first trip, we stayed at an Airbnb nearby that accommodated almost 20 people (not all on beds). There are a ton of options but they do get booked quickly during the summer. You can also find hotels in Terrebonne and Bend.
7. Kayaking Down the Crooked River
Kayaking down the Crooked River is a popular activity. Although you most likely wouldn't start or stop here, it's a big highlight as you make your way down the river through the park.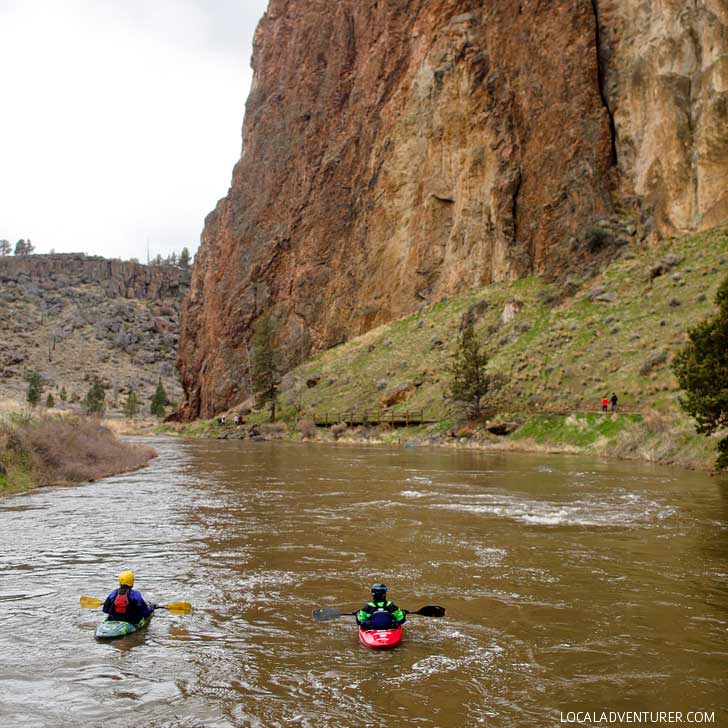 Essential Tips for Your Visit to Smith Rock State Park
Weather: Smith Rock lives in its own micro climate. Weather varies even from the NOAA condition reports taken from the airport 12 miles away. To see the current state, check out this weather web cam. Traditionally, June and July are the warmest temps with a high in the mid-90s and lows in the high 40s. November through February, the high temps are under 50 and lows in the mid to high 20s. Precipitation stays under 1-inch year round, with the highest months in Nov through January, and May.
Best Time to Go: High season is typically summer since most people are free and the weather is consistently nice. If you want to avoid the crowds, the best times to go are during the week in the spring and fall. The weather will be good and the crowds will be much thinner. It's also the best time to climb since it gets really hot in the summer. Winter is the slowest time at the park as it gets really cold, but sometimes you can get some amazing shots with Smith Rock lightly dusted with snow. They also shut off some of the water so the pipes don't freeze and amenities are more limited.
If you're driving down from Portland, we highly recommend you stop by Trillium Lake since it's on the way.
Have you ever been to Smith Rock? Would you add this to your Oregon Bucket List?
Did you enjoy this post? Pin it for later
"Discovery consists not of seeking new lands but in seeing with new eyes" – M. Proust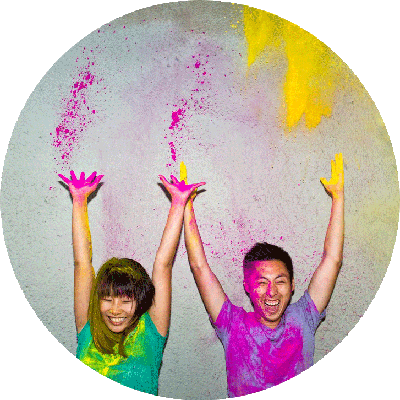 Esther and Jacob are the founders of Local Adventurer, which is one of the top 5 travel blogs in the US. They believe that adventure can be found both near and far and hope to inspire others to explore locally. They explore a new city in depth every year and currently base themselves in Las Vegas.