Tiny penguins, a beautiful library, and one too many cups of coffee. That's what I remember most about Melbourne (or Mel-bin as the locals say). Today, we're sharing the best things to do in Melbourne for first-timers.
Our trip to Australia was the last trip we took before the world changed from the pandemic. We've been holding off on posting some of our travel content, but we're cautiously excited to see the world open up again.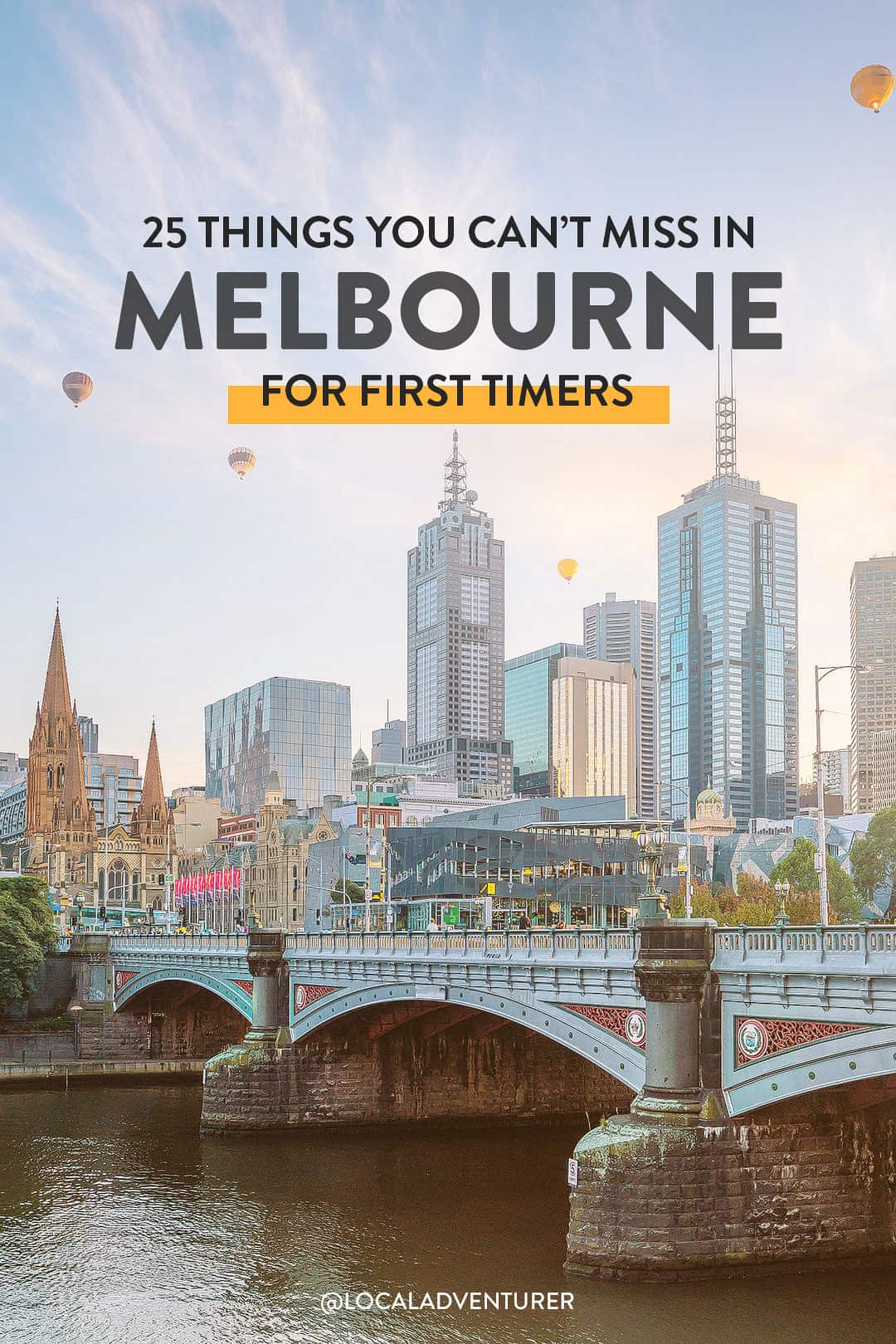 A big thank you to Doubletree Melbourne for hosting our stay. All opinions are always our own. This post may contain affiliate links, where we receive a small commission on sales of the products that are linked at no additional cost to you. All opinions are always our own. Read our full disclosure for more info. Thank you for supporting the brands that make Local Adventurer possible.
Last Updated: May 29, 2020
25 Best Things to Do in Melbourne Australia
Melbourne is the biggest city and capital of Victoria. The city is known for its laneways, unique blend of international cuisine, and coffee. If you love food and coffee, this city is perfect for you.
We also loved that it's a walkable city, which always makes exploring so much easier and you get in your 10,000 steps.
The city also has a bunch of cobbled laneways, or alleyways, which are filled with coffee shops, cafes, and boutiques. It's a lot of fun to get lost and wander the city through the laneways.
In some of the laneways, you will find incredible street art. Here are some notable ones:
Hosier Lane is easily the most famous and the most crowded. 
AC/DC Lane + Duckboard Place
Centre Place
Caledonian Lane
Pro Tip: When we walked down a bit further to AC/DC Lane and Duckboard Pl, the crowds thinned out.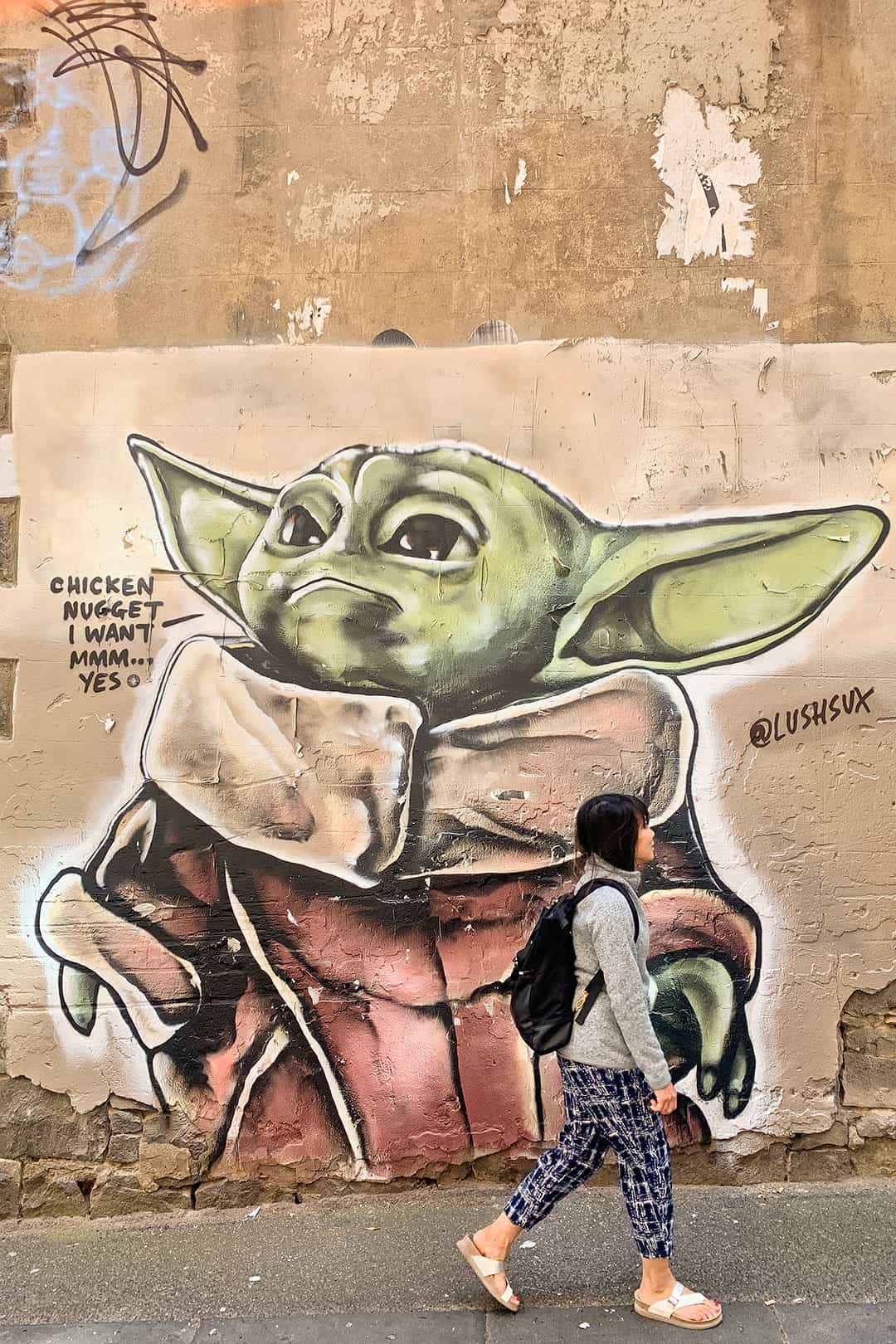 We may have OD'd on some coffee while we were in Melbourne. I know I was walking around jittery. Was it worth it? Absolutely.
There is a rich coffee culture in Melbourne. Many reputedly say it's the coffee capital of the world. With thousands of cafes to choose from, you could spend an entire trip just hunting down some of the best baristas. 
Pro Tip: The Flat White is Australia's signature coffee. Similar to a latte, it's an expresso-based drink with a thin layer of steamed milk. Don't say it to an Aussie, but there's still a feud going on about whether the Flat White was invented in Australia or New Zealand.
QVM aka Vic Market or Queen Vic is the largest open-air market in the Southern Hemisphere covering 2 city blocks.
We spent a few hours wandering up and down the rows and buildings, picking up snacks along the way. There was so much to see and eat that it can get overwhelming without a plan. You'll find everything here from general goods, fruits, vegetables, meat, poultry, seafood, delicatessen foods, and more. 
We braved the long line at the American Doughnut Kitchen truck. It's hard to see in the photo below, but the line keeps going. Maybe it's because we come from the land of doughnuts but it didn't taste all that special either. Pretty standard donut. We did enjoy the fresh oysters, but it's also the most touristy part of the market.
Pro Tip: Bring cash. We found several spots we wanted to eat at only accepted cash. The market is closed on Mondays and Wednesdays so be sure to plan accordingly. During the summer, they open it up on Wednesday evenings as a night market.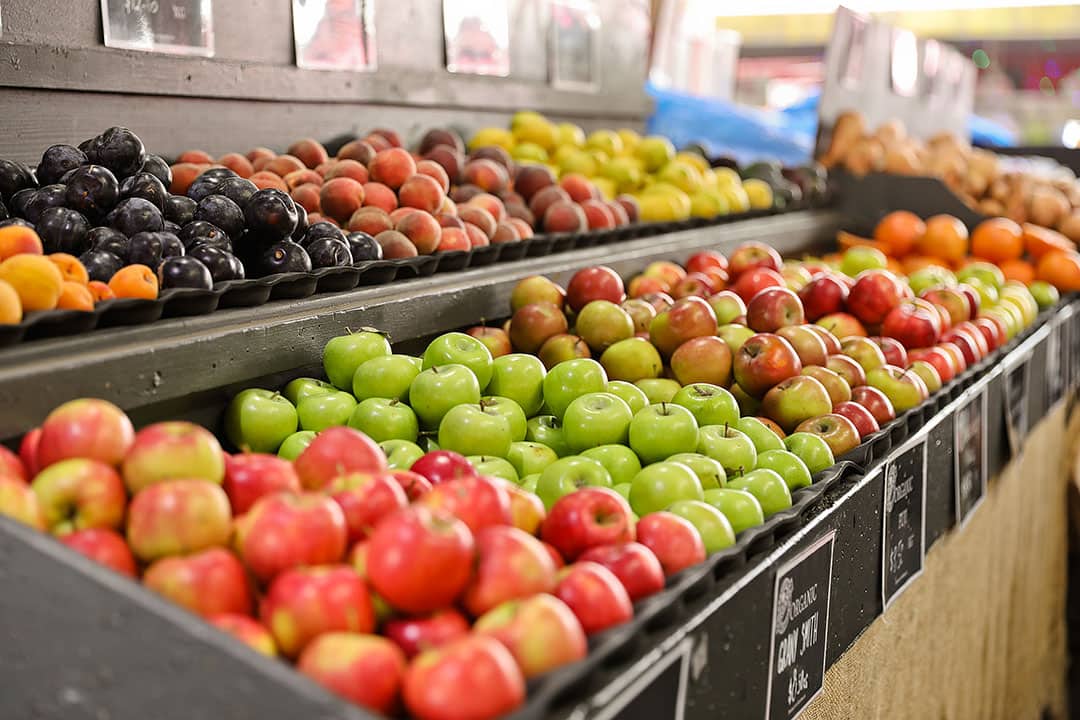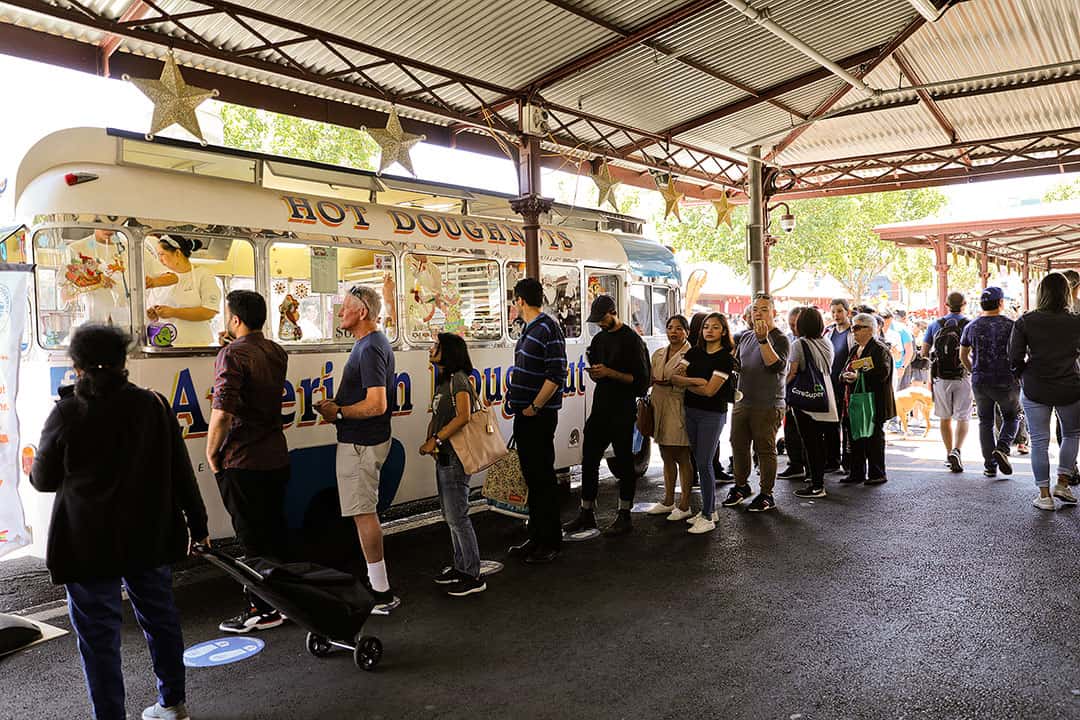 Federation Square is a great spot to relax and people watch. As a center for arts, culture, and public events, you'll find yourself surrounded by beautiful architecture, locals picnicking outside, and restaurants.
We picked up some Luna Croissants and devoured them as we people watched.
Local Tip: There are a lot of pigeons in the area that really come after your food!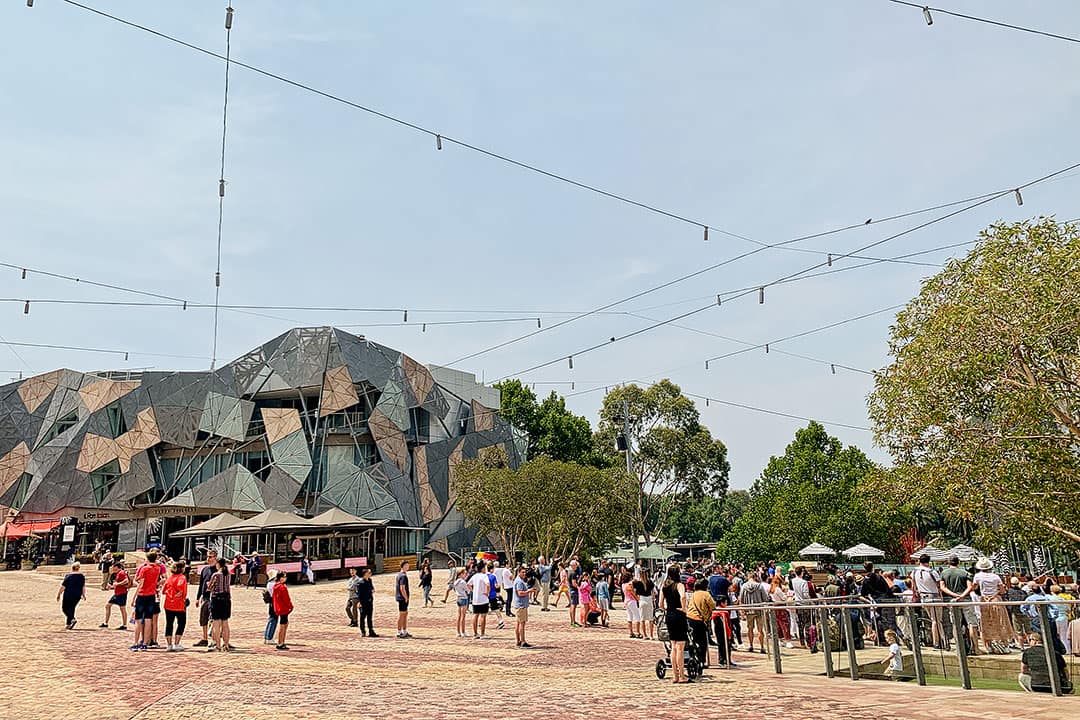 5. Flinders Street Railway Station
This iconic metro hub opened in 1909 as the first railway station in an Australian, and is still one of the most recognizable landmarks in the city. The station is responsible for two of Melbourne's busiest pedestrian crossings.
The photo below is from our hotel room window at DoubleTree. You can see the station and the pedestrian crossing.
Note: If you hear a local say "I'll meet you under the clocks," they are referring to the row of clocks above the main entrance.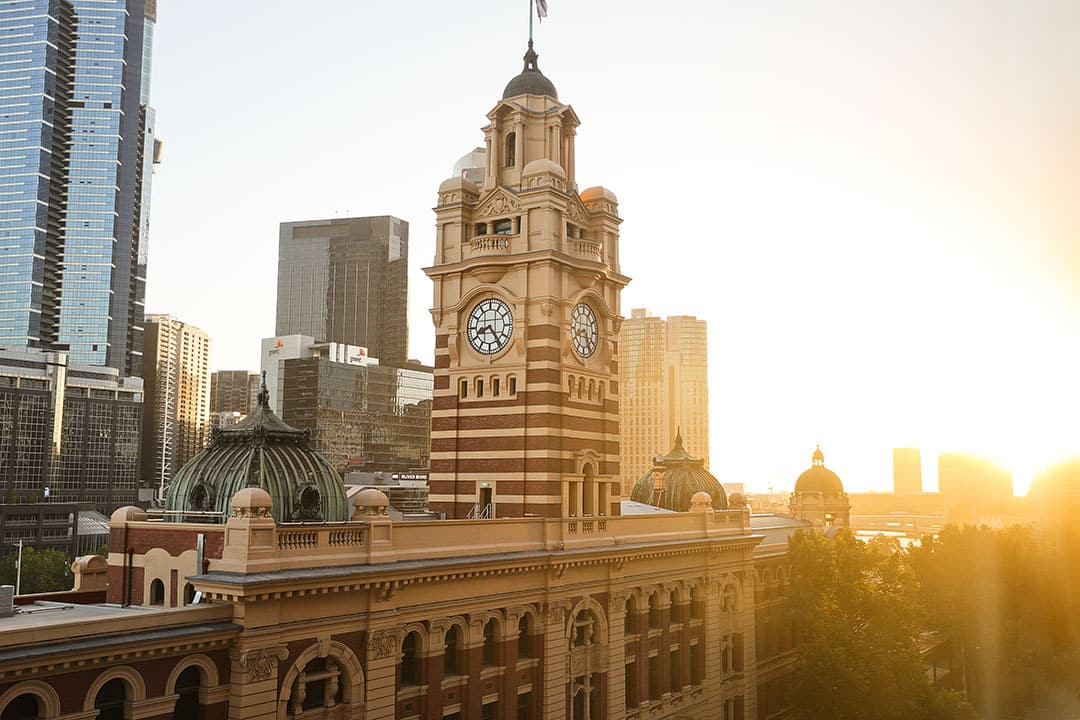 The Yarra River runs right through the heart of Melbourne so it's hard to miss it. I love a good cityscape with a river. A great way to see the city from the river is via a river cruise or kayak tour (or a hot air balloon from above it!).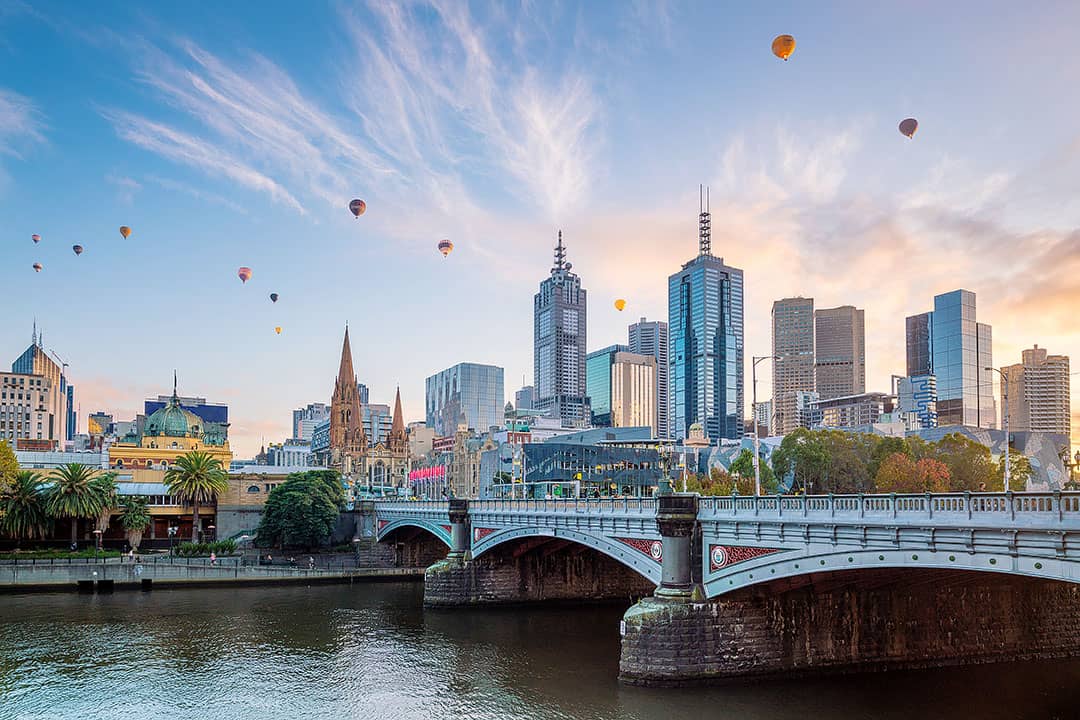 This Fitzroy Gardens is a huge garden located right in the city. It reminded us a lot of the Mall in Central Park. Within the park, you'll find historic sites, unique fountains, memorials, and even a conservatory.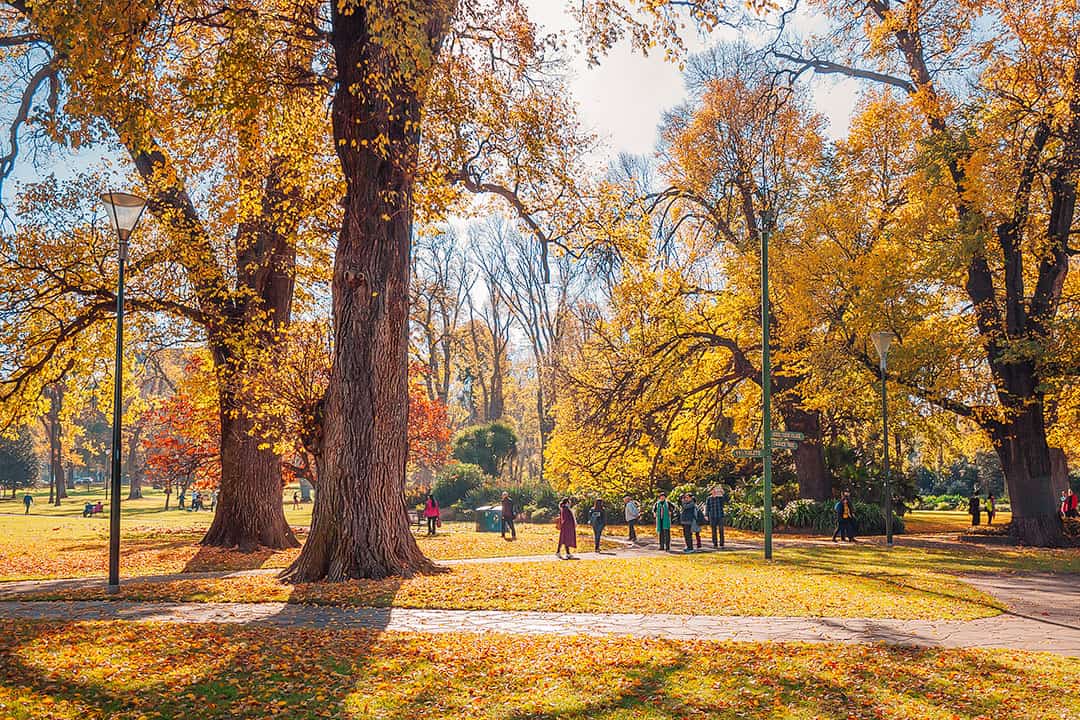 Talking a walk in the Royal Botanic Gardens transports you out of the busy city. That's what we love about these urban green spaces. There are over 8,500 plant specifies covering 94 acres of land, right in the center of the city.
You'll often find walkers and joggers here, and it's the perfect spot to picnic. 
Pro Tip: Stop by the Visitor Centre to get details on their audio tour.
The Eureka Skydeck gets you 88 floors above the city with panoramic views and photo ops. After riding the fastest elevator in the South Hemisphere, you get to enjoy the floor-to-ceiling views. If you dare, you can also step out on The Edge, which was the world's first glass cube.
Pro Tip: You can see Dandenong Ranges National Park from the skydeck!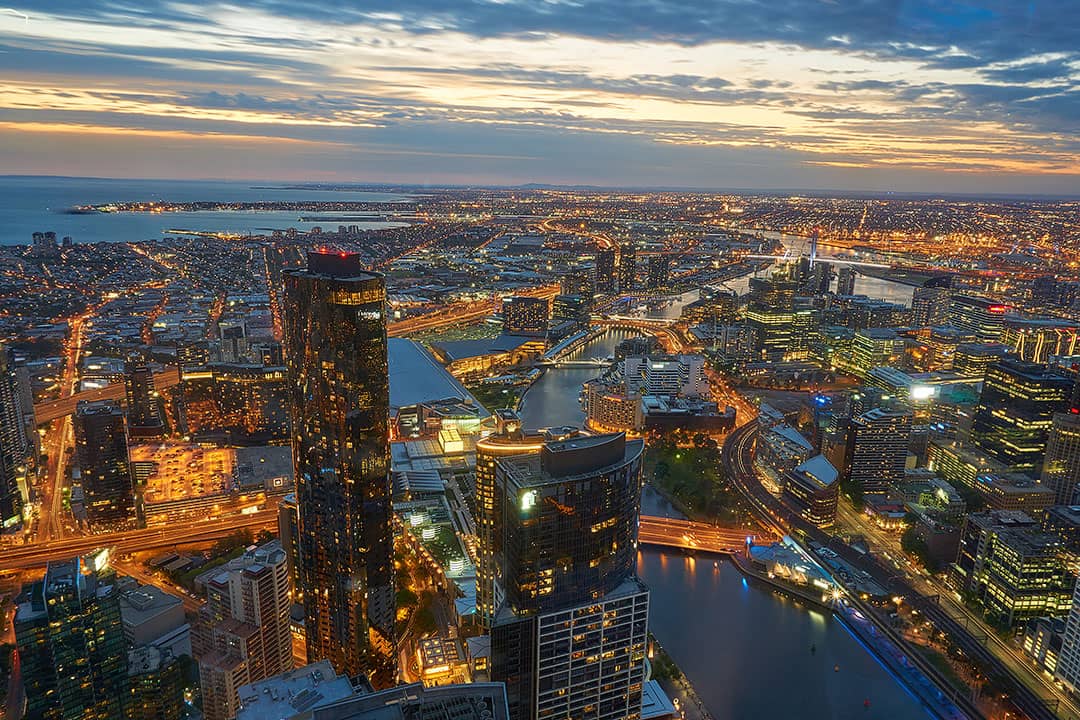 10. National Gallery of Victoria
The NGV is Australia's oldest and largest art museum. Admission to the permanent collection is free and features art from all over the world.
They also have special exhibits with an entrance fee, and while we there, there was a Yayoi Kusama exhibit.
Melbourne has over 100 art galleries scattered throughout the city. Here are some worth checking out:
The Ian Potter Centre: NGV Australia – dedicated to Australian art
Australian Centre for Contemporary Art
Buxton Contemporary
Centre for Contemporary Photography
Heide Museum of Modern Art
NGV International
Head to the St Kilda Breakwater to see this unique penguin habitat. They live in the breakwater and return here every evening. There are volunteers there to help protect the penguins, answer any questions, and they even have red flashlights to help point out the penguins without disturbing them (white light and flash is prohibited). The best viewing time is 30 minutes after sunset, although some may show earlier.
We arrived an hour before sunset and the viewing platform was already packed. By the time the penguins arrive, it's practically dark and most people start leaving.
Local Tip: The volunteer told us that it's better just to come after sunset so you don't have to wait around and that's what most local photographers do.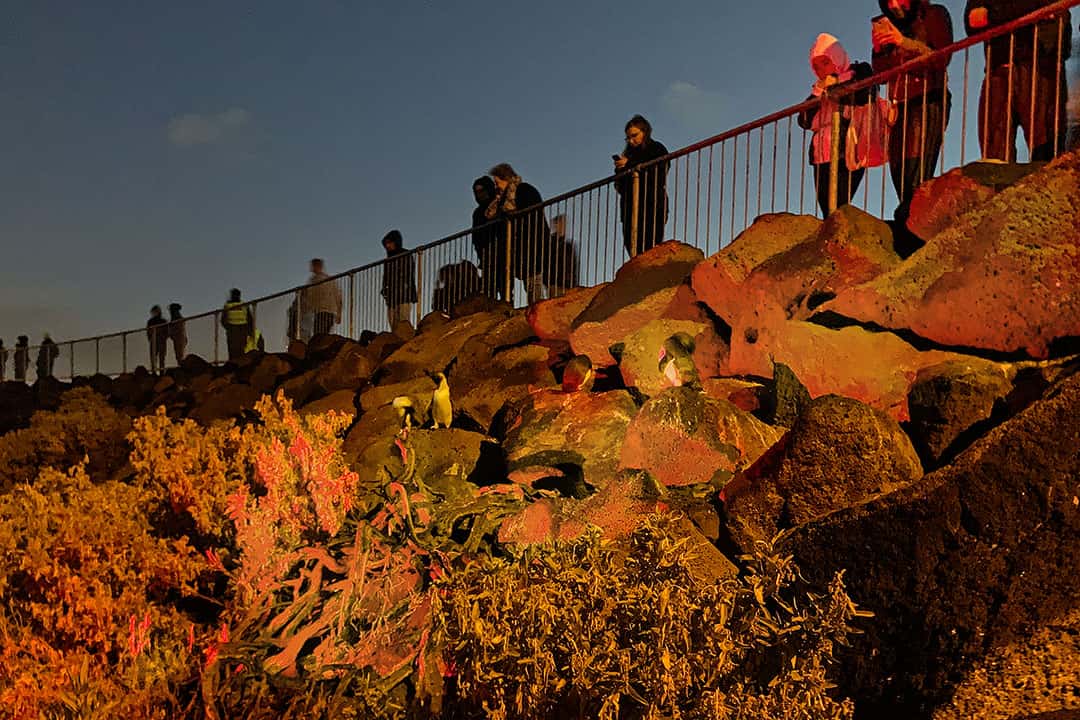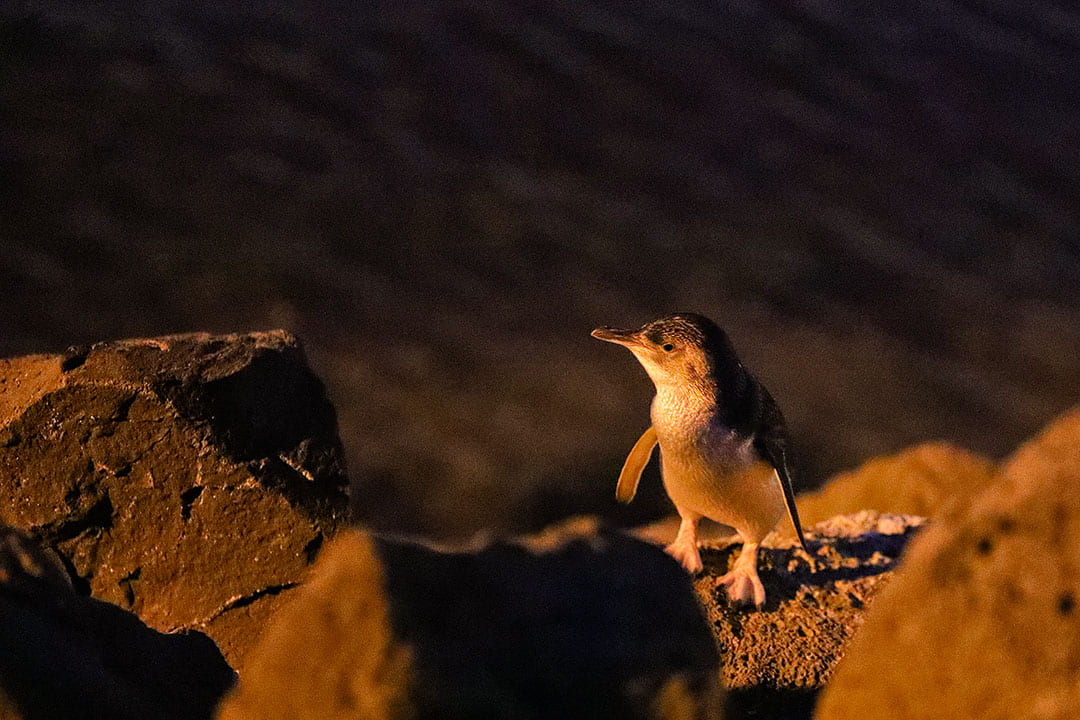 This historic amusement park is a great spot for families. We came to St Kilda for the penguins and happened to park right next to it. 
The Luna Park in Melbourne was built in 1912, 9 years after the Luna Park on Coney Island was built. It's not affiliated with the original Luna Park but found its inspiration from it.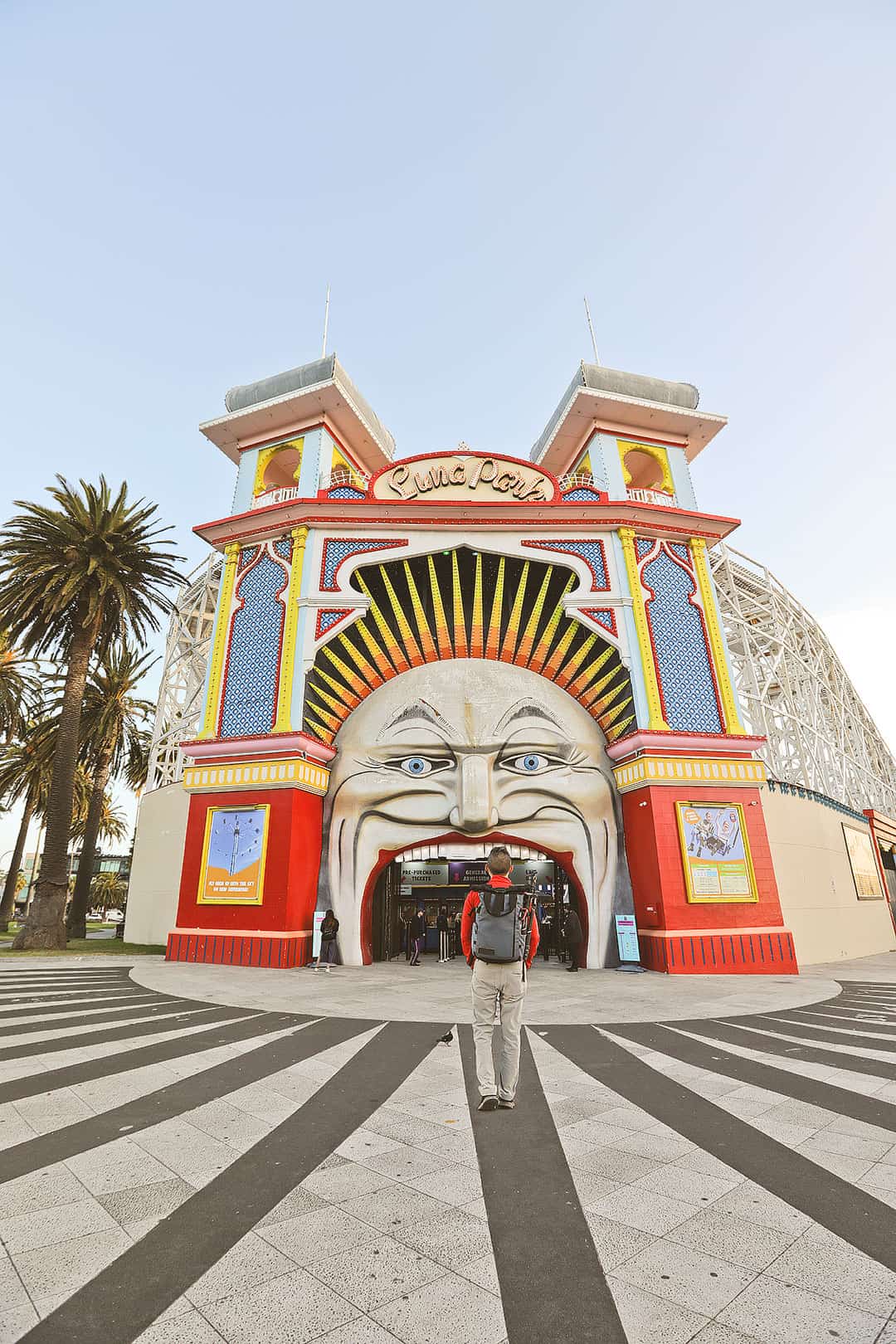 14. State Library Victoria
The state library is another cultural landmark that is popular amongst locals and tourists. The building was built in 1956 and is now a mix of old and new architecture.
Don't miss the La Trobe Reading Room, which is the centerpiece of the library and super photogenic. The six-story high domed space is absolutely stunning and worth checking out from the ground level as well as from higher levels.
Pro Tip: If you want to learn more about the library, head to an information desk and ask about the free tours.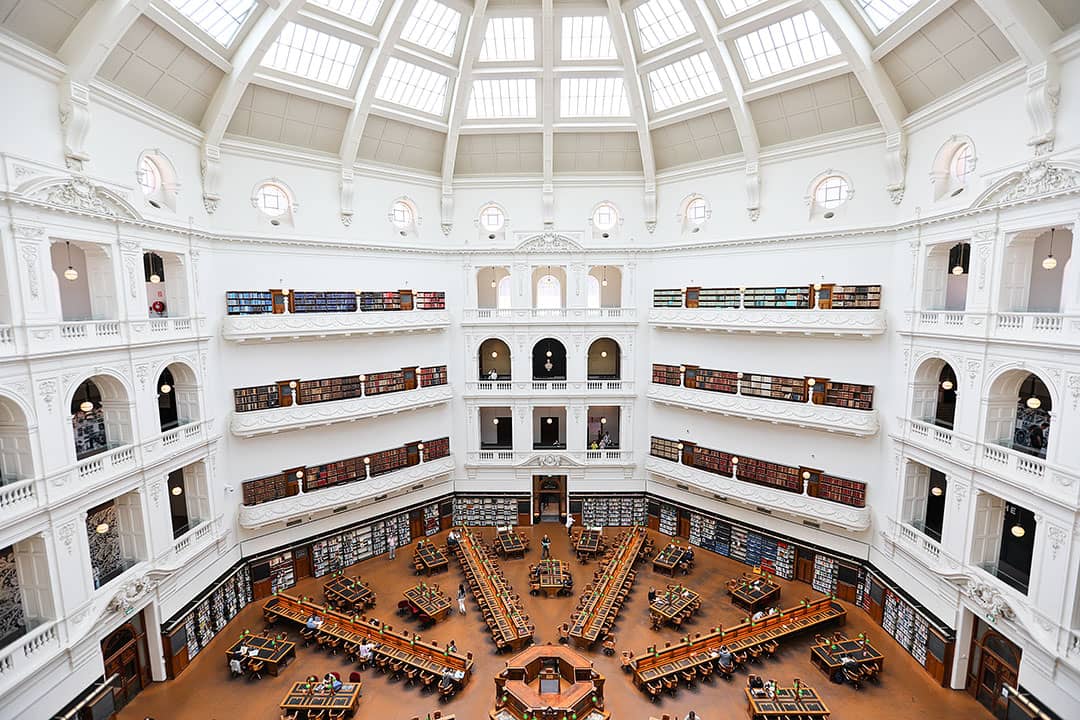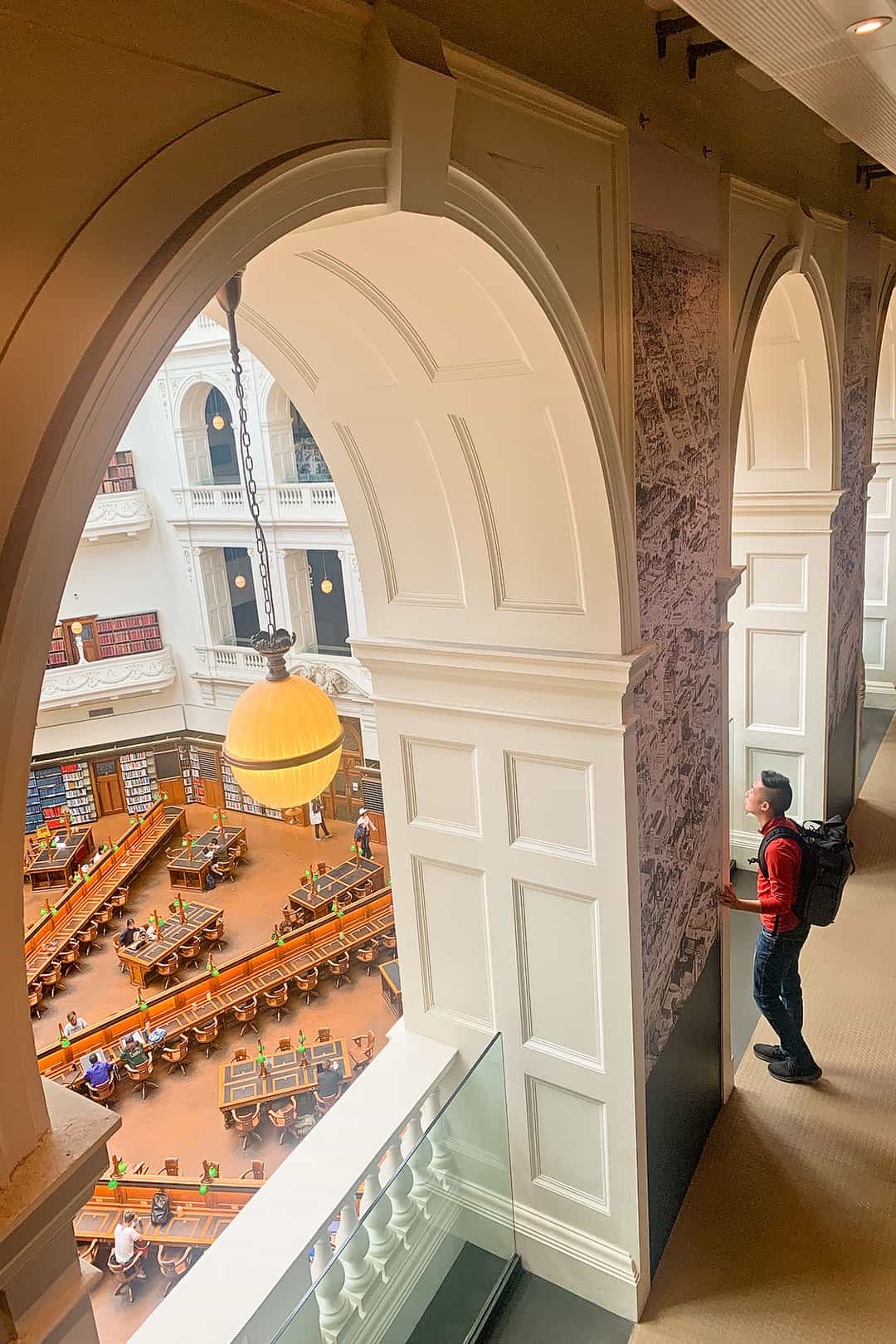 15. Australian Centre for the Moving Image (ACMI)
ACMI is Australia's national museum of film, TV, video games, and digital culture. We didn't make time to visit this round, but it's one of the spots we're bummed we missed after the fact. We checked out a moving image museum in NYC that we loved, and ACMI is apparently the most popular moving image museum in the world.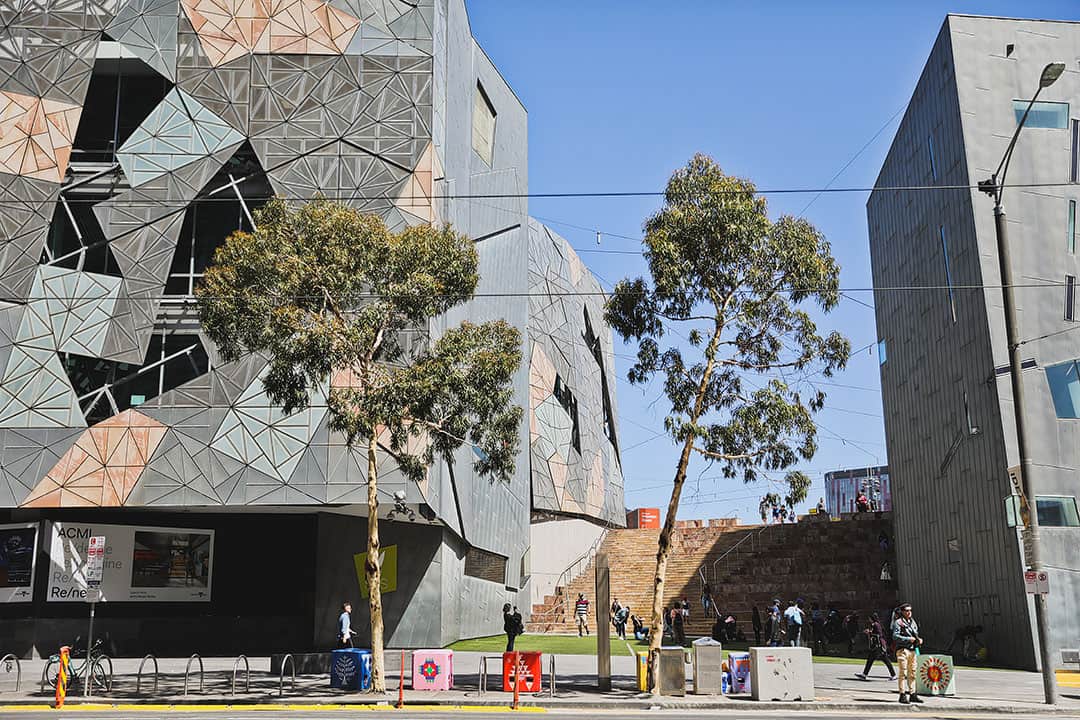 The twin spires of this Neo-Gothic cathedral is one of the cities big landmarks. It is free to enter, but if you want to take photos, there is a $5 fee. We found that the architecture on the outside was more impressive than inside, but it's still cool to see.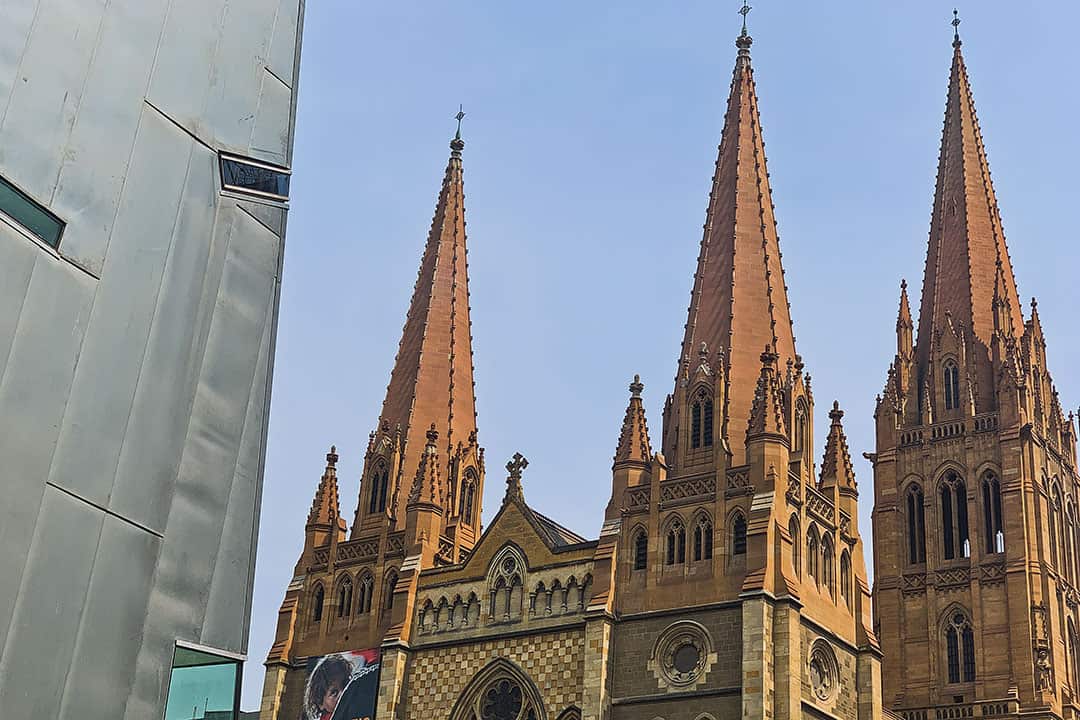 This was an operating prison from 1842 to 1929, housing some of the most infamous criminals in Australia. It's now a museum that gives you a glimpse into life in the 1800s and is considered to be haunted. There are ghost tours!
The colonnaded Victorian building is hard to miss when you're walking by since it towers over you and can be seen at the end of Bourke Street. We stumbled across it while walking hopping coffee shops and couldn't resist stopping for a few photos.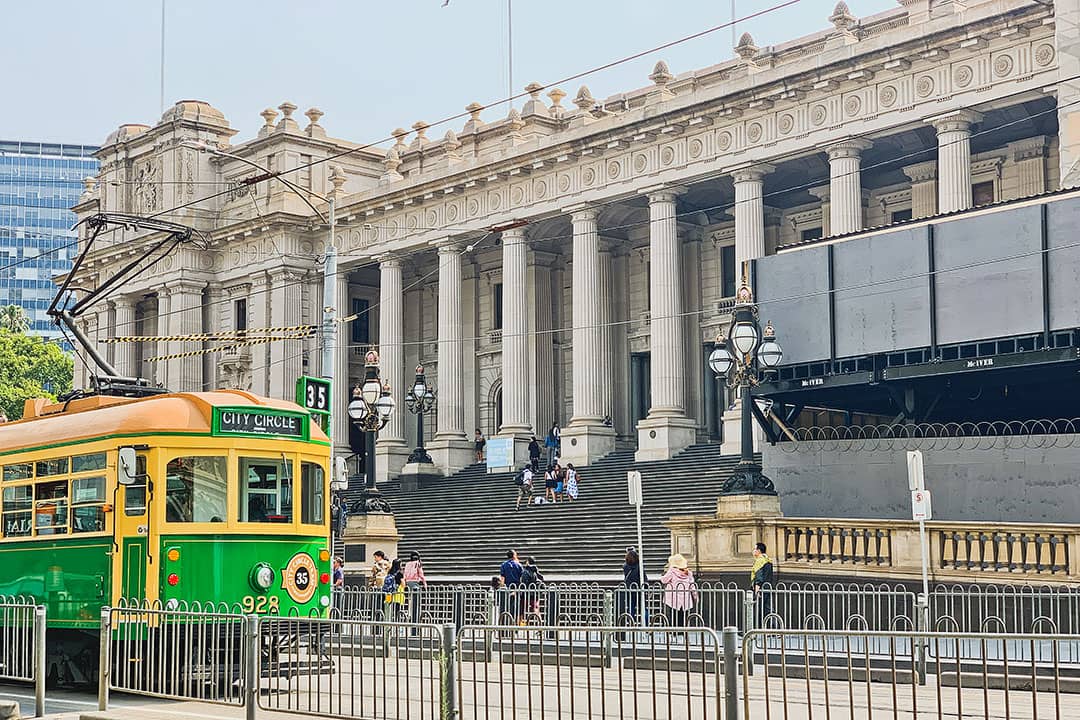 Melbourne isn't known for its beaches like Sydney, but Brighton Beach is located in the burbs of Melbourne. It's a nice spot for a swim and is famous for its colorful Brighton Bathing Boxes. On windy days, you'll find kiteboarders.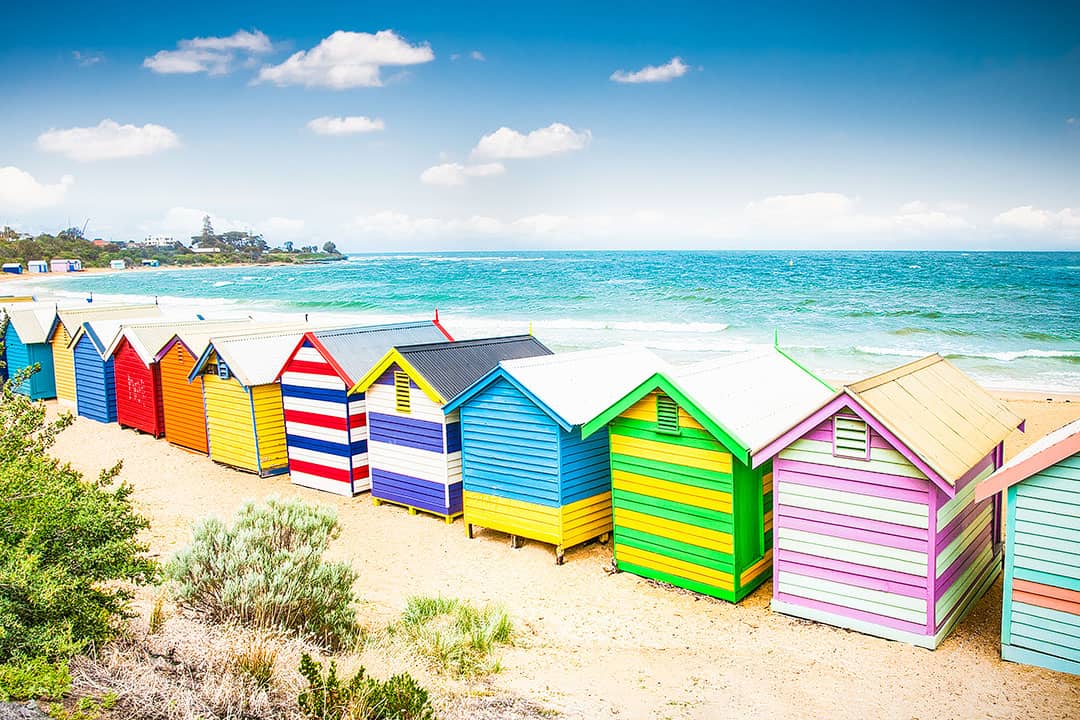 20. Melbourne Cricket Ground
The Melbourne Cricket Ground isn't only about cricket. They also host the AFL, international soccer, rugby, and more. It's the largest stadium in Australia and 10th largest in the world.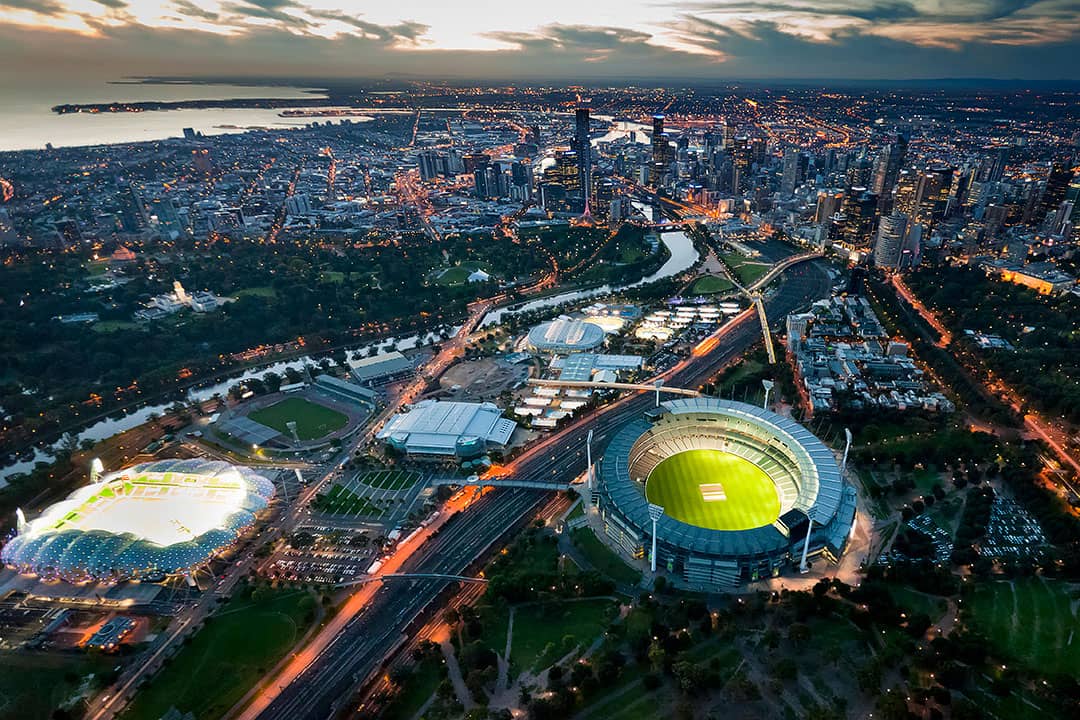 21. Dandenong Ranges National Park
The Dandenong Ranges National Park is just on the outskirts of Melbourne and draws nature-lovers, bird-watchers, and hikers from all over. Don't miss the SkyHigh lookout, 100 Steps Trail, and One Tree Hill.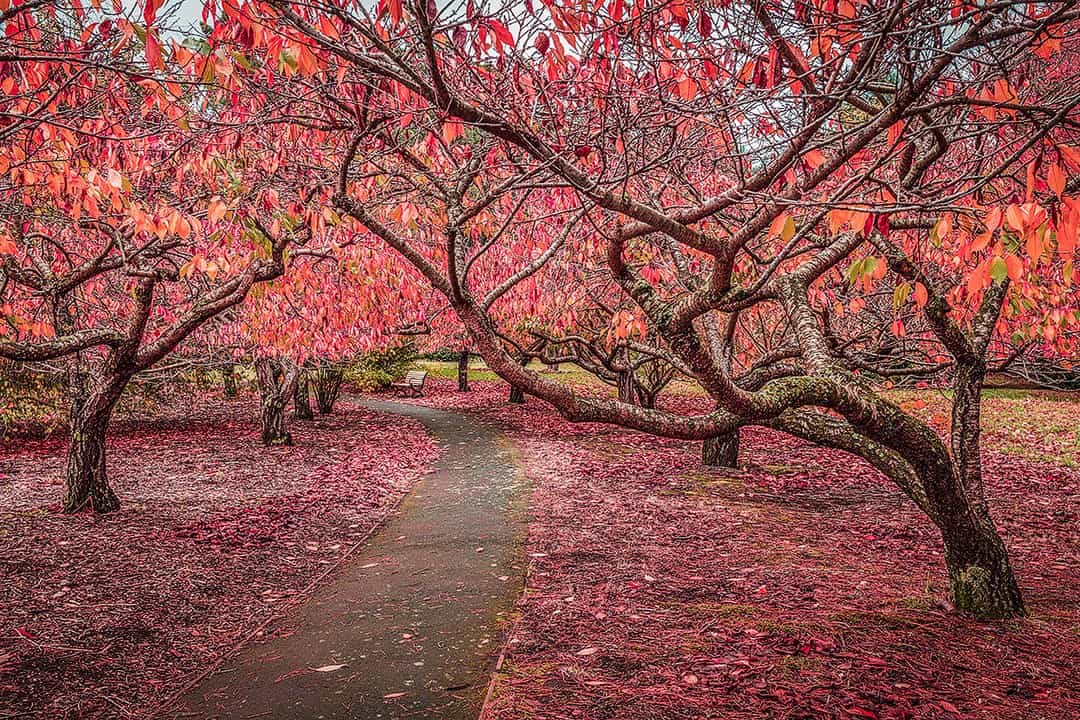 22. Shrine of Remembrance
This memorial commemorates all the Australians who served in World War 1. You can walk through the memorial for free, although donations are welcome, and there's a great view of the city from the top of the stairs.
Pro Tip: This is a great spot for sunset as well.
23. Star Observation Wheel
The Star Observation Wheel gives you another high vantage point of Melbourne. It is 394 ft (120m) tall and each ride, or one complete rotation, takes 30 minutes.
Photo Tip: For great photos of the wheel itself, head over to the Victoria-Harbour Promenade.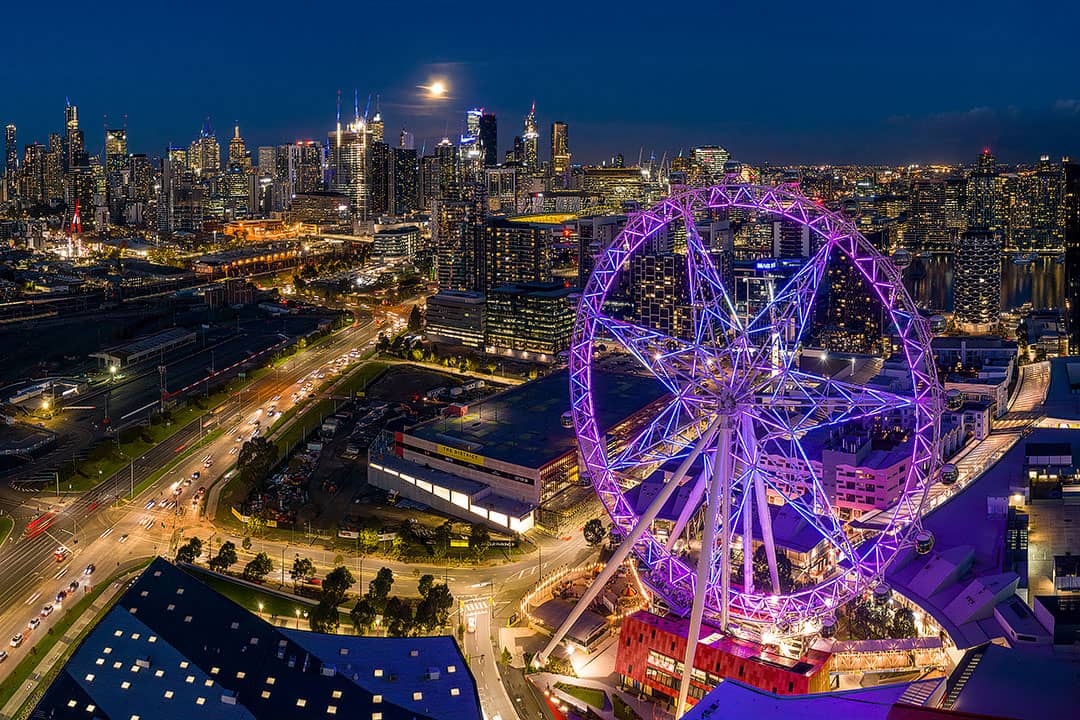 Melbourne has some amazing rooftop bars. Here are a few you should check out:
Naked in the Sky
Rooftop Bar
The Emerson Rooftop
Imperial Hotel
Easey's
The Docklands is known for its shopping and waterside dining. You'll find urban art sculptures, beautiful bridges, and plenty of shops and restaurants.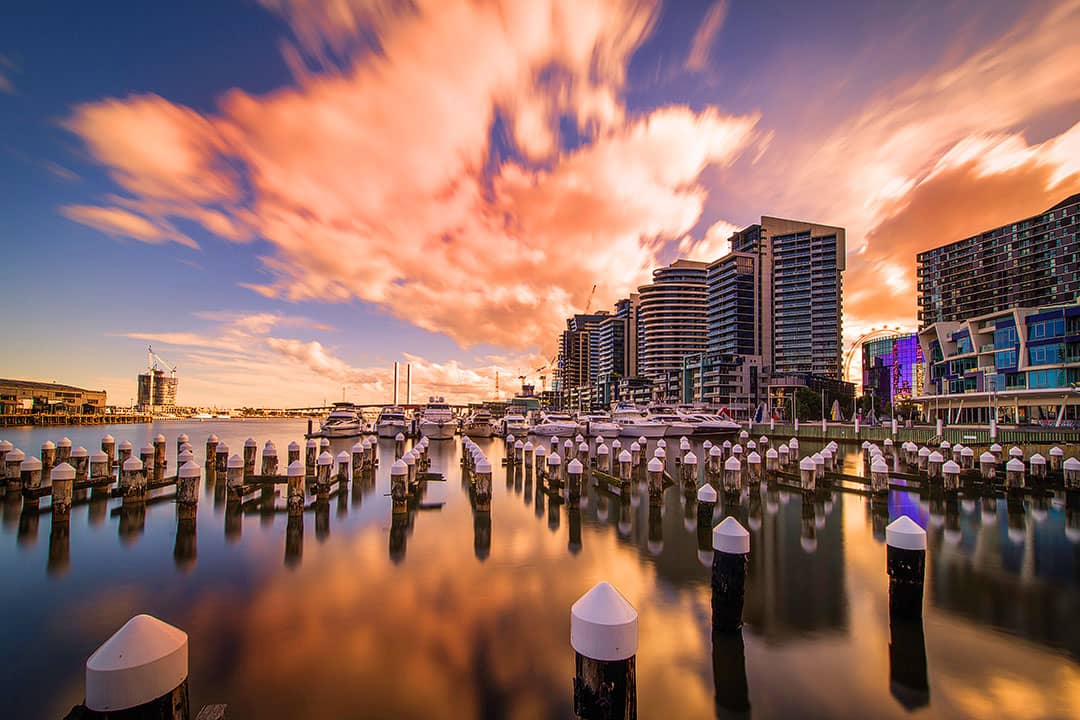 Map of Best Things to Do in Melbourne
More Things to Do in Melbourne
On your second, third, or 10th visit? Here are some more places to visit in Melbourne.
Abbotsford Convent
The Australian Ballet
The Australian Music Vault
Australian Sports Museum
Bunjilaka Aboriginal Cultural Centre
Chinatown
Esplanade Hotel
Half Moon Bay
Hammer Hall
Immigration Museum
Koorie Heritage Trust
Melbourne Museum
Melbourne Zoo
Peninsula Hot Springs (has an Ice Cave)
Pumping Station at Scienceworks
Royal Melbourne Show
Sea Life Melbourne Aquarium
Shop (Chapel Street, Bourke Street, Block Arcade)
Sidney Myer Music Bowl
State Theatre
Welcome to Thornbury
The Wheeler Centre
Werribee Open Range Zoo
Seasonal Things to Do in Melbourne
Pink Lake (Summer)
Australian Open (Jan)
Midsumma Festival (Jan)
Lonsdale Street Greek Festival (Feb)
Melbourne Japanese Summer Festival (Feb)
MSO Sidney Myer Free Concerts (Feb)
Moomba Festival (Mar)
Formula 1 Australian Grand Prix (Mar)
Melbourne International Flower and Garden Show (Mar)
Melbourne Food and Wine Festival (Mar)
Light Up Melbourne Festival (Mar)
Victoria's Multicultural Festival (Mar)
Melbourne International Comedy Festival (Apr)
Good Beer Week (May)
Good Food and Wine Show (Jun)
MIFF – Melbourne International Film Festival (Aug)
Melbourne Festival (Oct)
Melbourne Cup Carnival (Nov)
MMW – Melbourne Music Week (Nov)
Essential Tips for First Time Visitors
Melbourne is known for its fickle weather, so it's always good to be prepared for weather changes throughout the day by packing layers and an umbrella. In general:

Summer (Dec – Feb) with average temps of 57° to 77°F
Fall (Mar – May) with average temps of 51° to 69°F
Winter (Jun – Aug) with average temps of 43° to 58°F
Spring (Sept – Nov) with average temps of 49° to 68°F

Walking is the best way to see most of these attractions. It's a great walkable city.
Public transportation is an option in Melbourne. There are free tram rides within the city center. Otherwise, you can purchase a myki card to use public transportation outside of the city center.
Want to know what to wear to the airport? These are our ideal airport outfits.
Carry on essentials to improve your next flight.
We stayed at the DoubleTree by Hilton during our time in Melbourne and it was the perfect home base. As you can see below, we were right in the heart of all the CBD action with a view of Flinders Station right from our window. We even took sunset photos from our window on the day we arrived.
Besides being in such a convenient location, we absolutely loved the design of the building. Unlike the cookie cutter DoubleTrees you see in most cities, this one had a boutique vibe. The rooms drew inspiration from the location across such a historic station with custom headboards designed like pulled back drapery in train carriages and subway-inspired bathrooms.
The lobby had a semi-industrial urban feel, and the breakfast buffet was on another level. Neither of us like to wake up for breakfast, but we woke up early each morning to try all the international cuisine.
If you have any questions about our stay, just let us know in the comments below.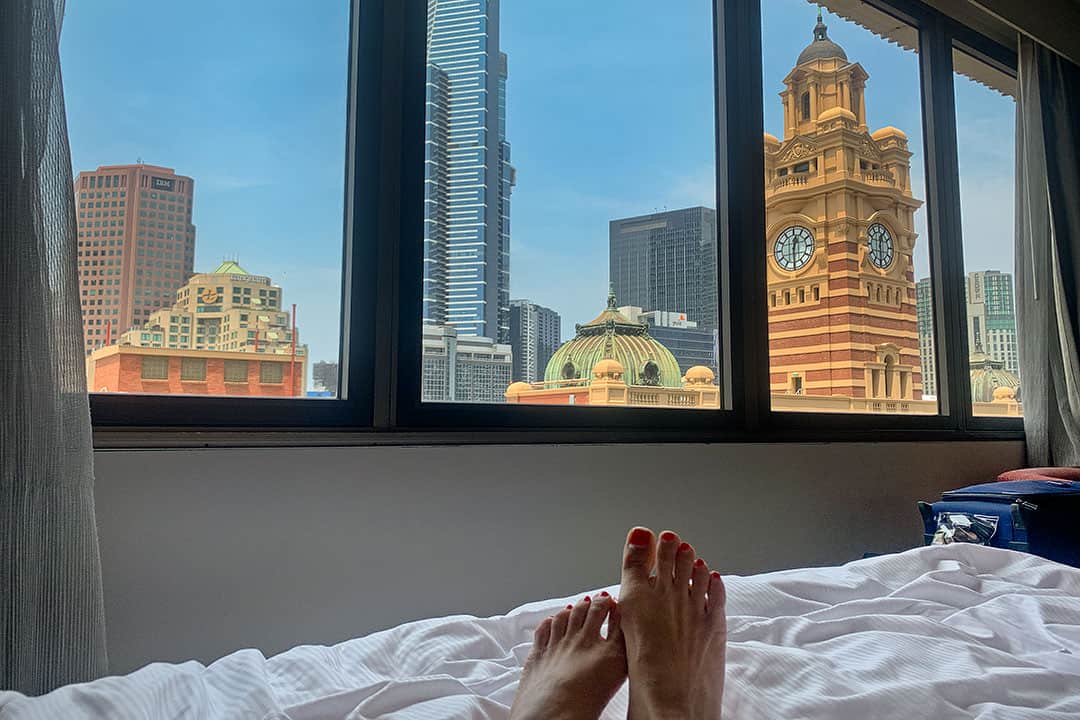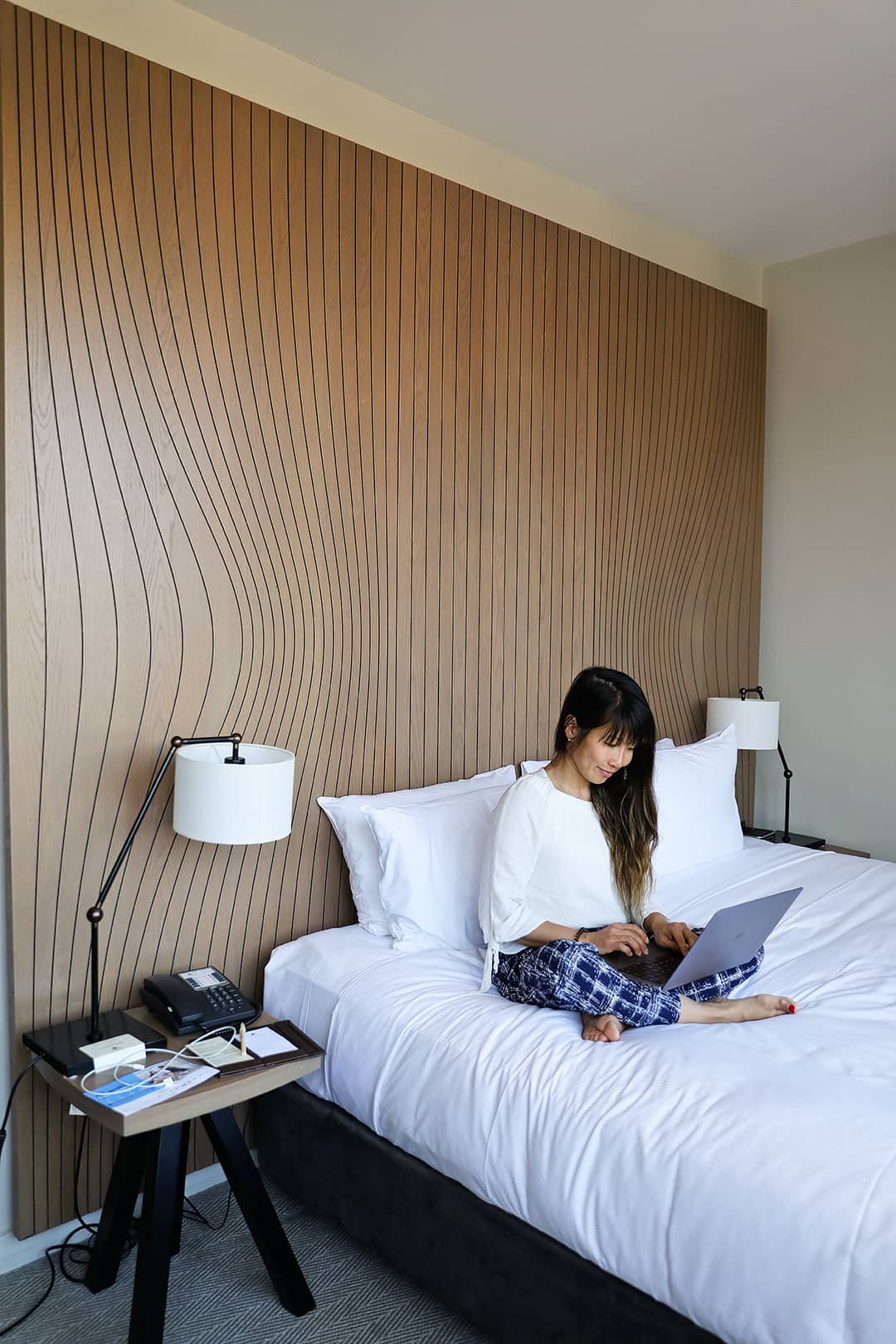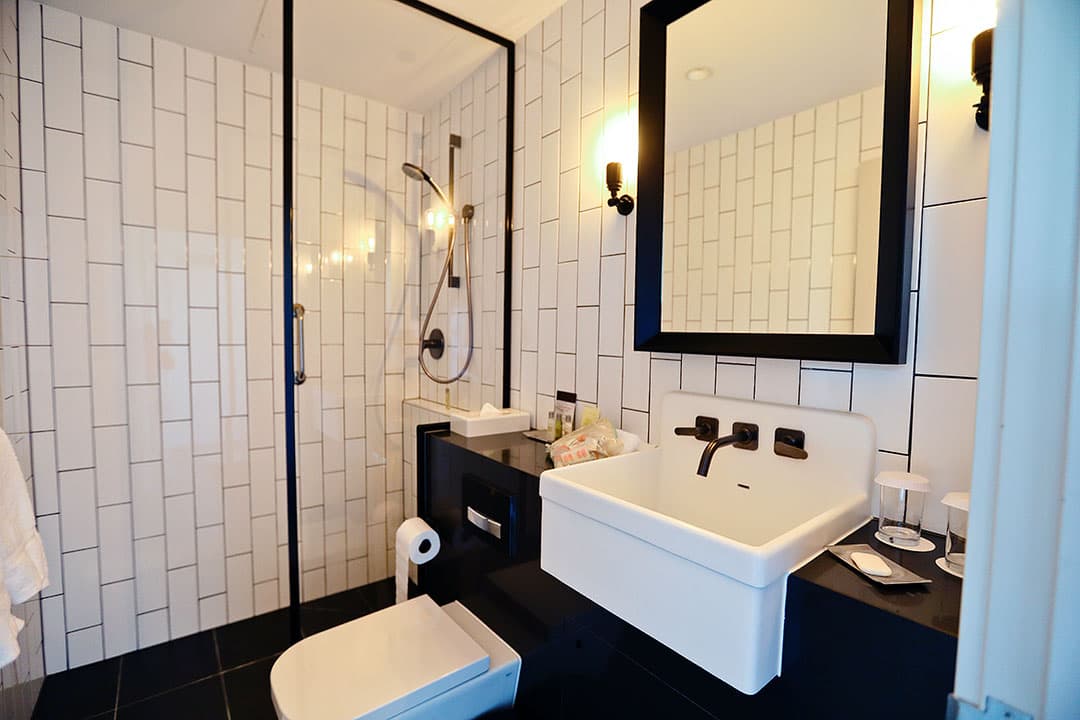 These are some great day trips from Melbourne:
Great Ocean Road is probably the most popular day trip.
Mornington Peninsula
Phillip Island
Yarra Valley for wine tasting
Can you think of any other things to do in Melbourne that we missed?
Did you enjoy this post? Pin it for later
SEE MORE CITY BUCKET LISTS
"Discovery consists not of seeking new lands but in seeing with new eyes" – M. Proust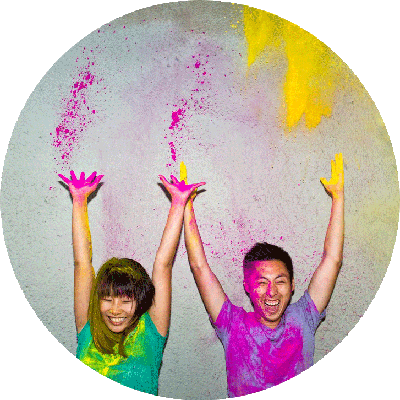 Esther and Jacob are the founders of Local Adventurer, which is one of the top 5 travel blogs in the US. They believe that adventure can be found both near and far and hope to inspire others to explore locally. They explore a new city in depth every year and currently base themselves in Las Vegas.