There are only two places in the world where you can safely swim with stingless jellyfish! One is Palau, which is quickly becoming a popular destination (I know I've pinned it and added it to my bucket list), and the other is Kakaban Island, which was sadly not on my radar. Kakaban Island is part of the Derawan Islands in East Kalimantan, Indonesia. It's a popular destination for divers and locals but not as known to the general public since it can be difficult to get to.
I've been stung by jellyfish before, so the idea of getting in the water with millions of them was freaky, but after seeing others get in the lake without being harmed, we made our way in.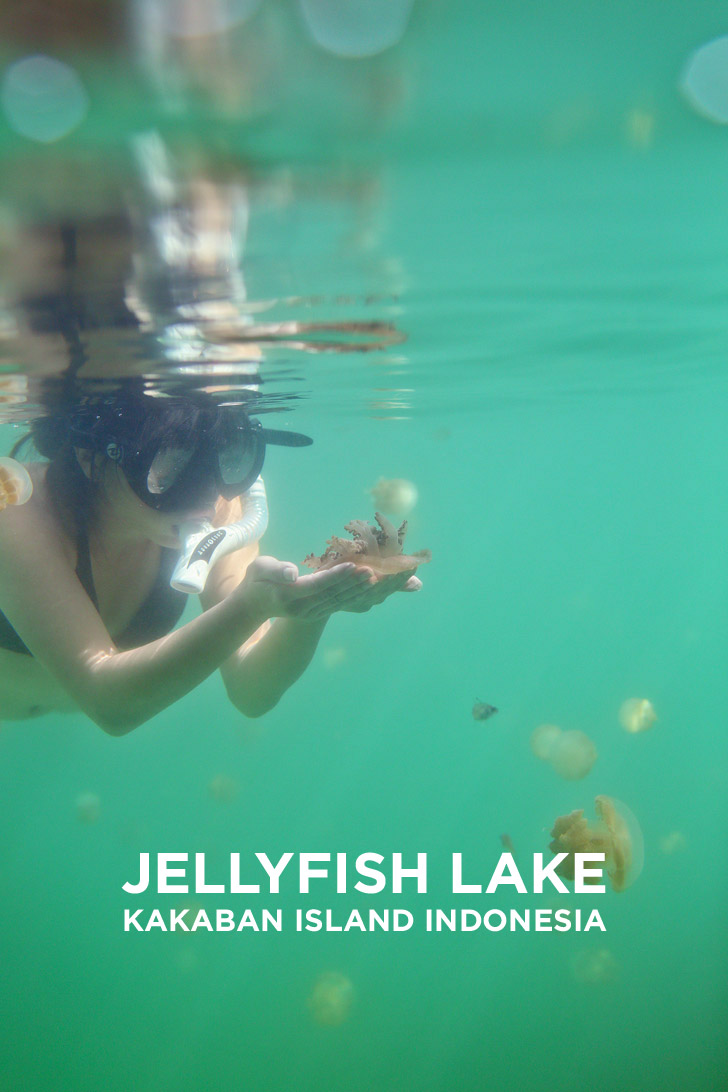 Pin
Kakaban was about an hour and half boat ride from Derawan Island, where we were staying.
Once we arrived at the dock, we climbed up and followed the path to the jellyfish lake. It's made up of huge stairs and long walkways through the rainforest. After the short 10-minute walk, the walkway opened up onto another dock right on the lake!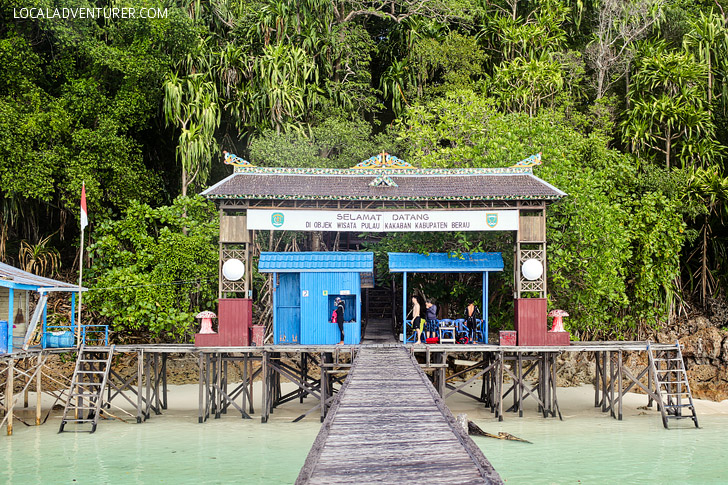 Pin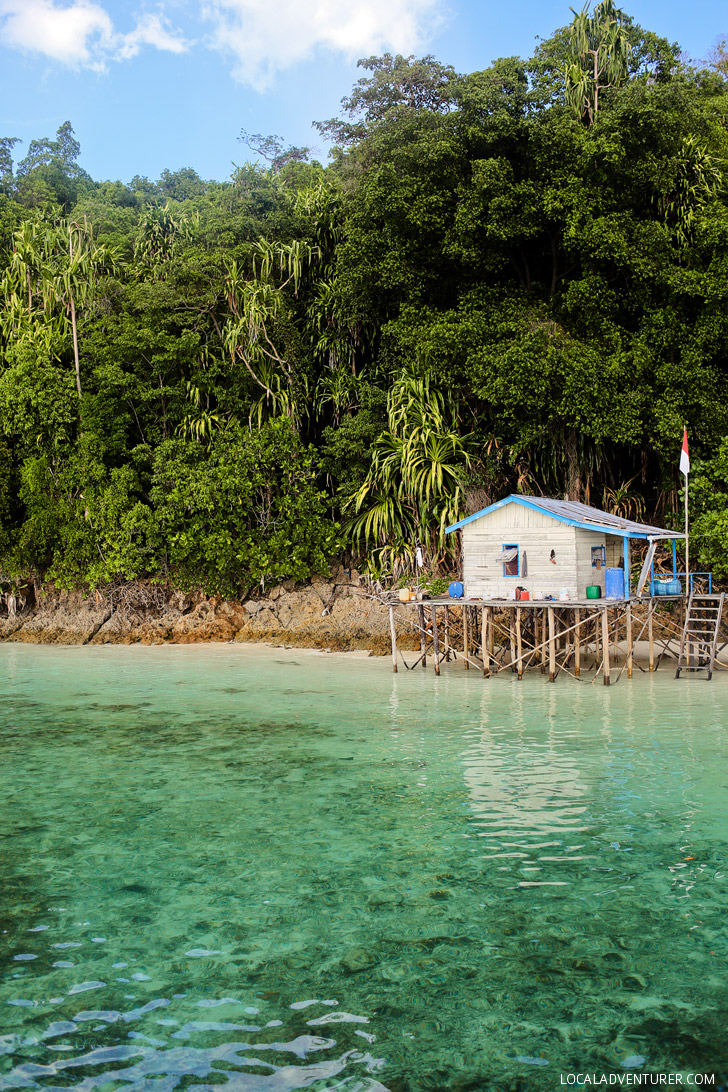 Pin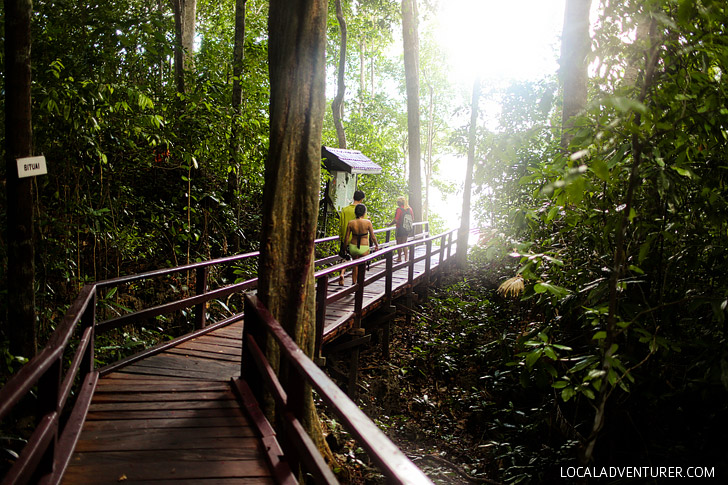 Pin
Jellyfish lake was once part of the ocean but was separated a long time ago and is now surrounded by a wall mangroves. Some sources say that in the lake the jellyfish had no predators and eventually evolved to lose their stingers. Other sources say that they do still have stinging cells but they have evolved to no longer be harmful to humans.
There are four different species of jellyfish, but we were only able to spot three of them. The most common one we saw was the spotted jellyfish (mastigias papua, bottom right), which has evolved to no longer have spots. Evolution is so fascinating!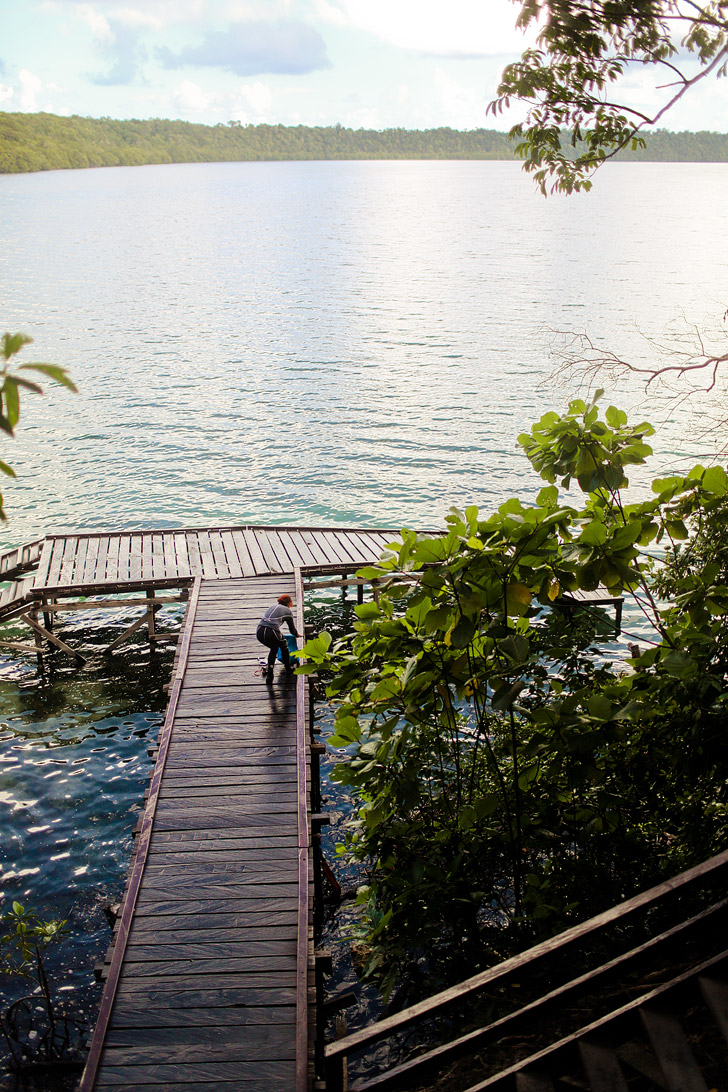 Pin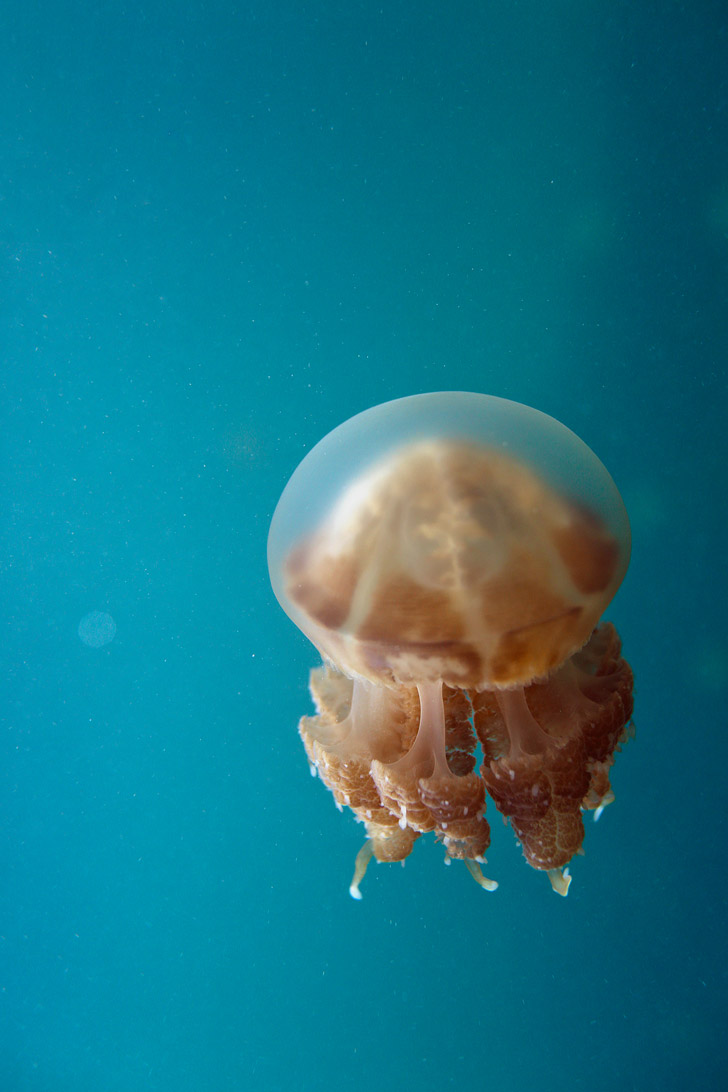 Pin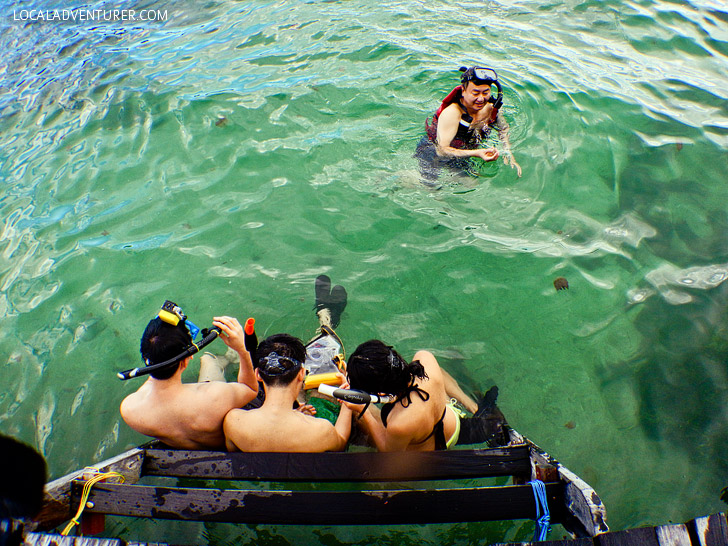 Pin
The second kind is the upside down jellyfish (cassiopea ornata), that you see me holding below and on the lakebed. The first time we ever saw the upside down jellyfish in the wild was in Turks and Caicos! These guys out in the ocean have a mild sting that can only be felt by sensitive individuals. I couldn't feel anything from the one I held in TCI.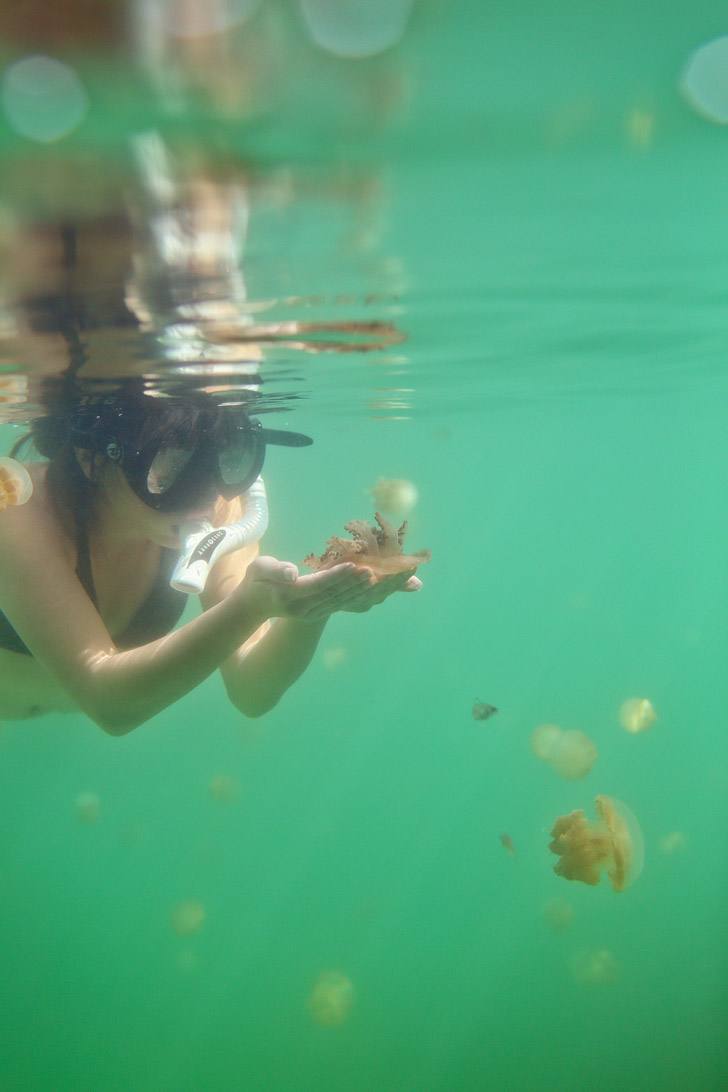 Pin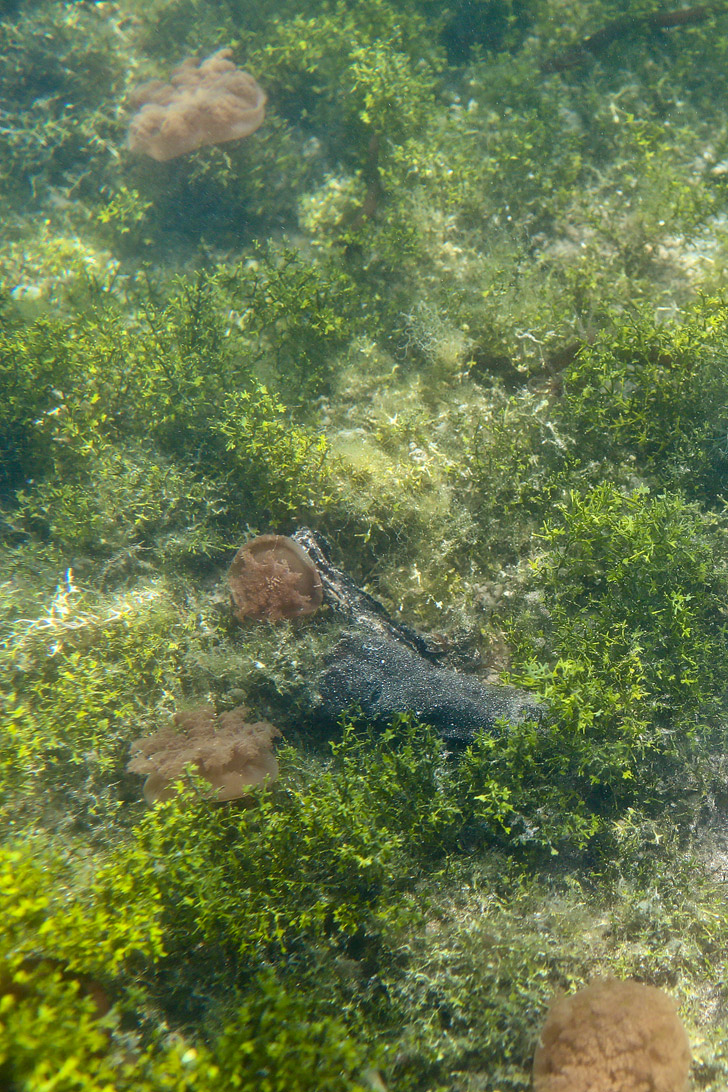 Pin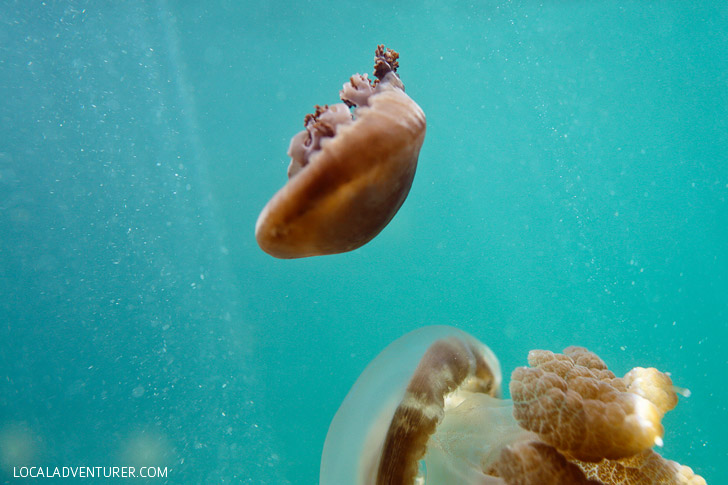 Pin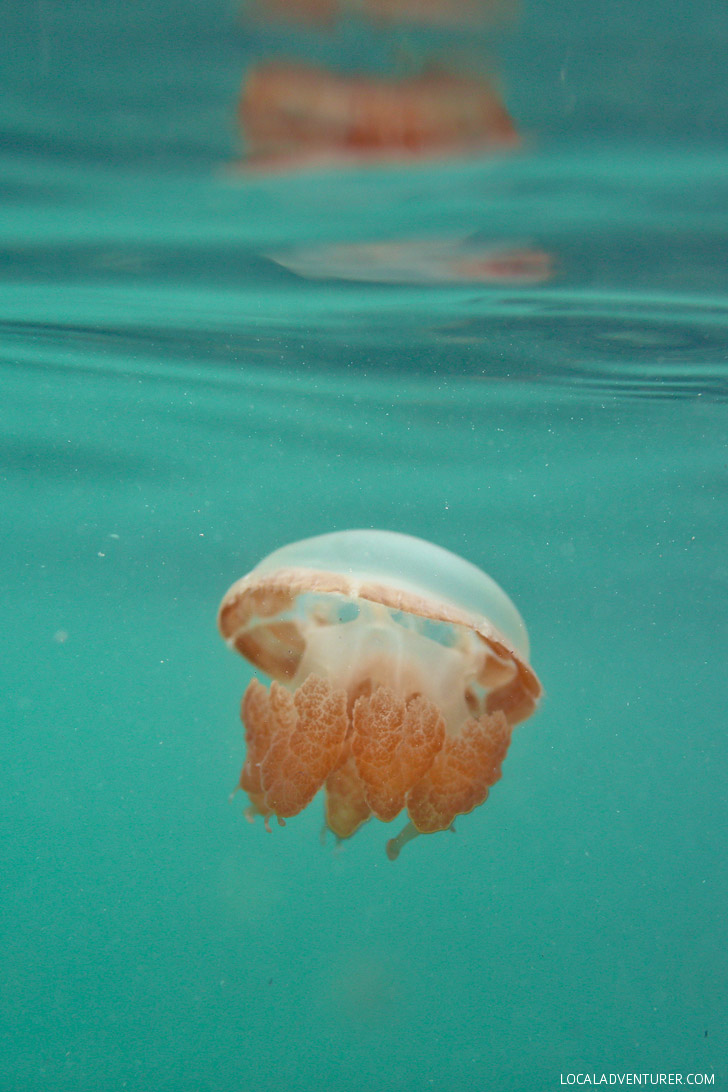 Pin
Pin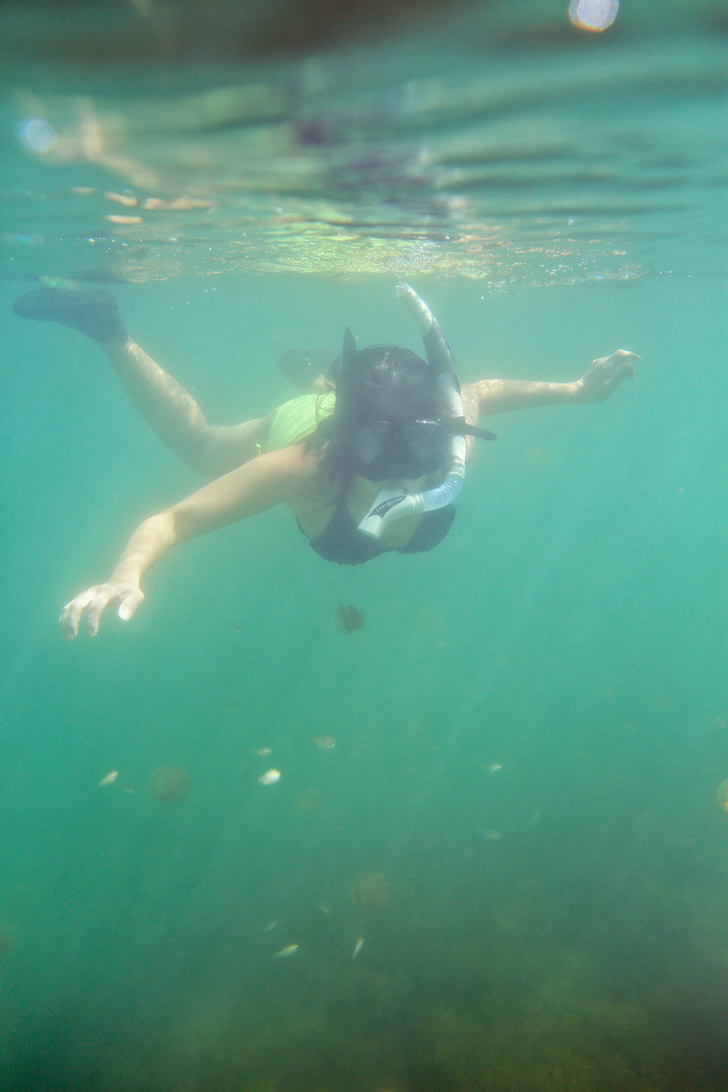 Pin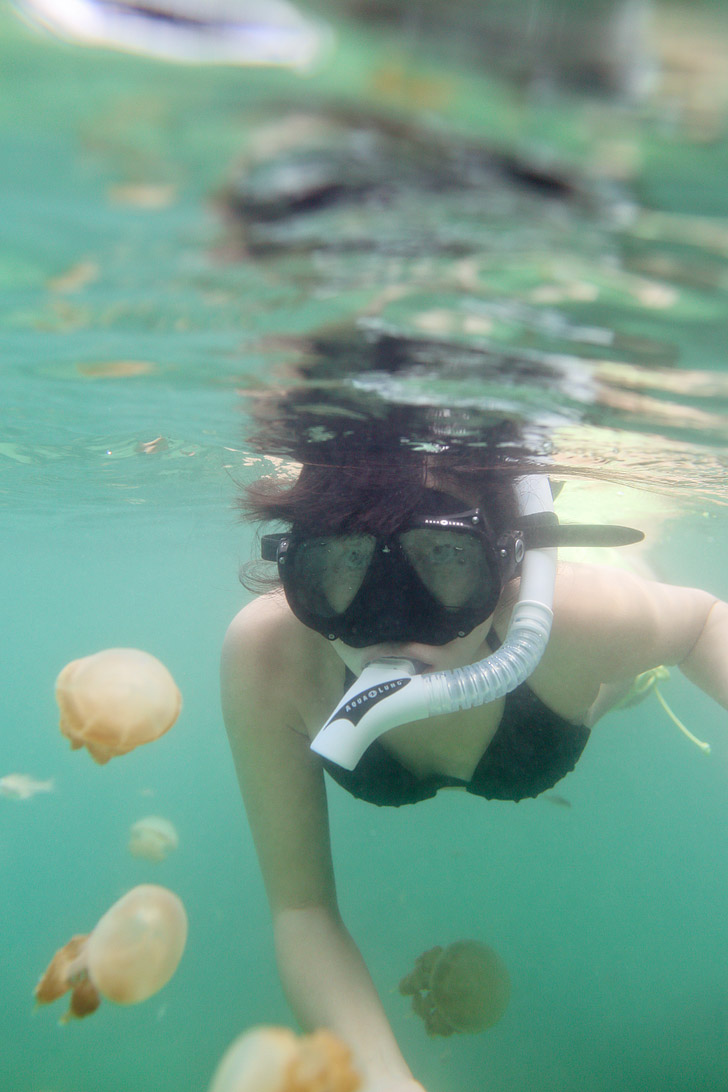 Pin
The third is the moon jelly (aurelia aurita), which were my favorite.
The fourth species was the box jellyfish (carybdeidae), which is known to be one of the most venomous jellyfish in the world. We didn't spot any of them, and we later learned that they evolved to shrink to a third of their size (the size of our fingertip).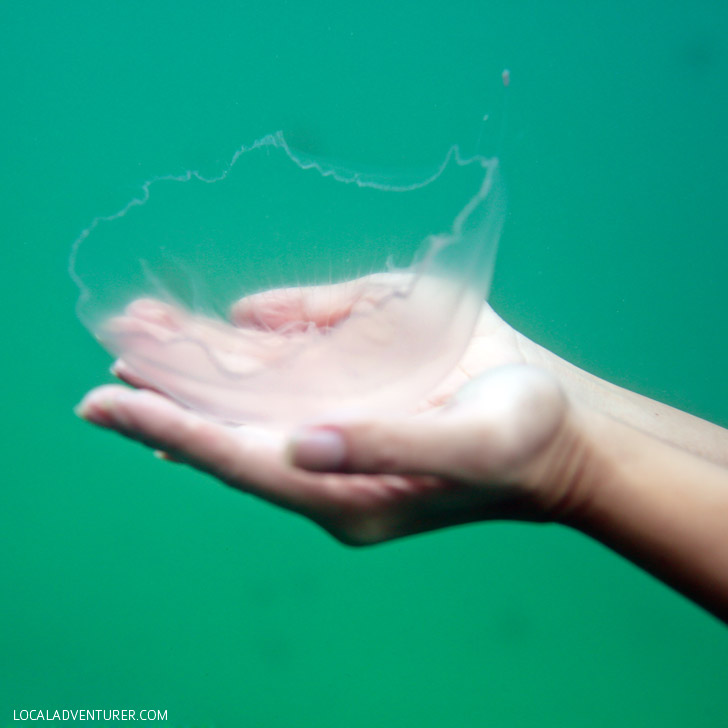 Pin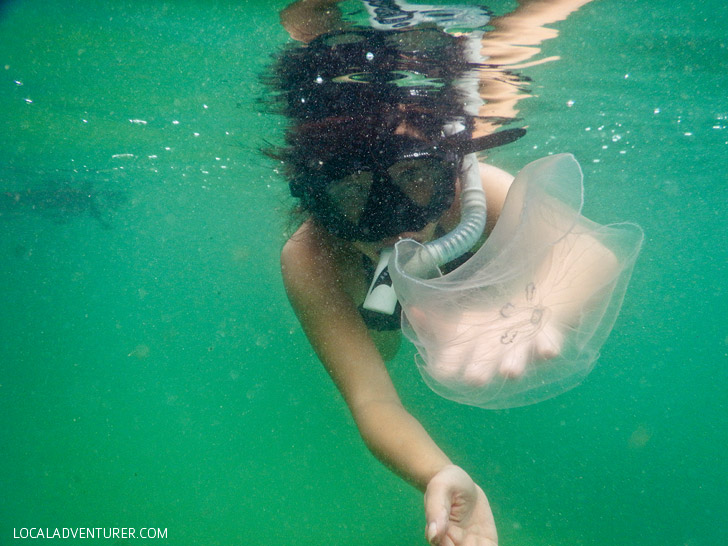 Pin
We saw other fish (maybe even the squid on the right) attacking the jellyfish. I don't know if it was only the sick jellyfish, but the one below looked healthy to me. From what we saw, it appears to me that the theory that they evolved because there are no predators isn't true unless someone recently introduced the predators into the lake.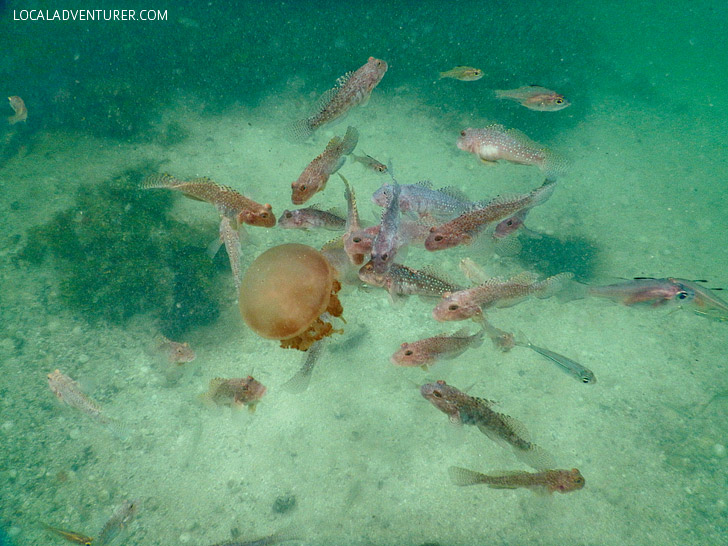 Pin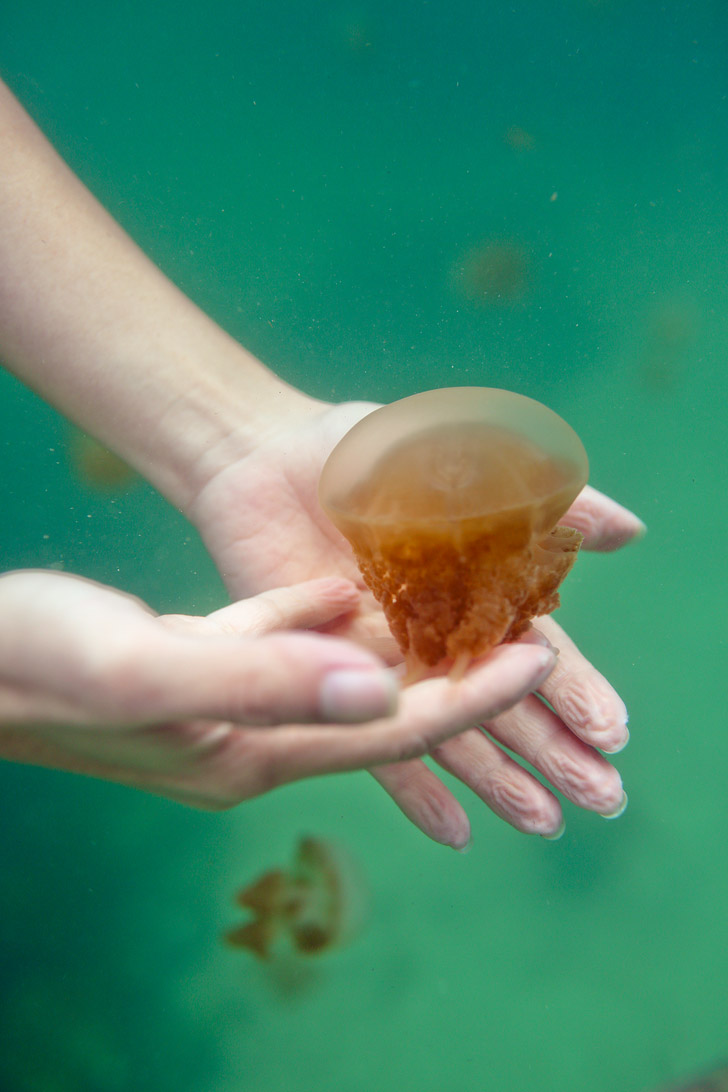 Pin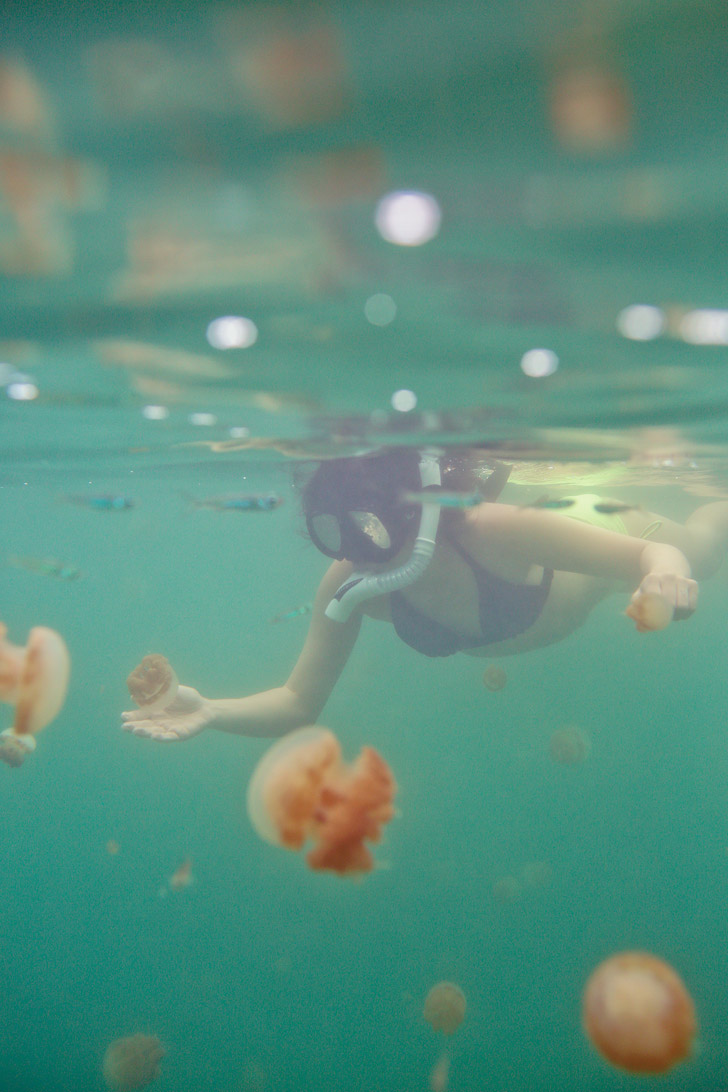 Pin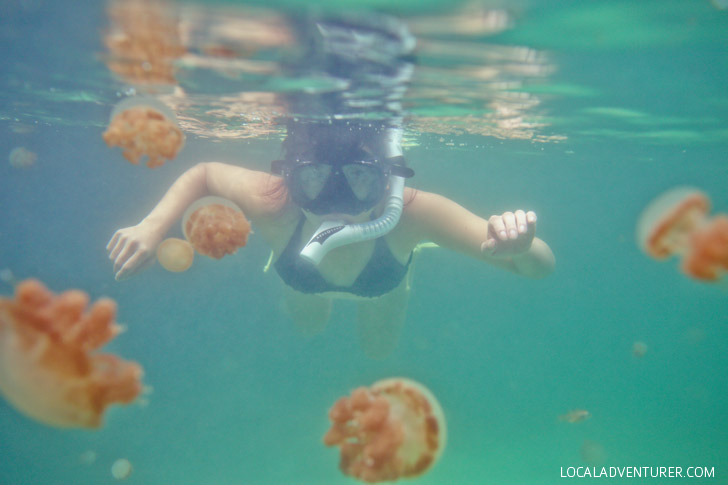 Pin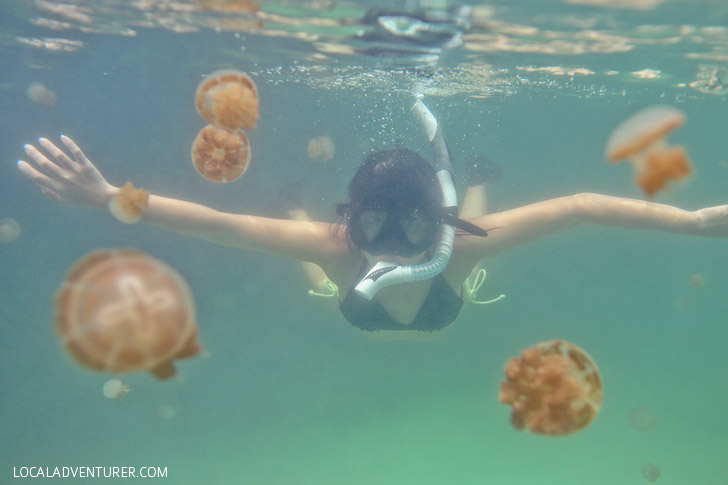 Pin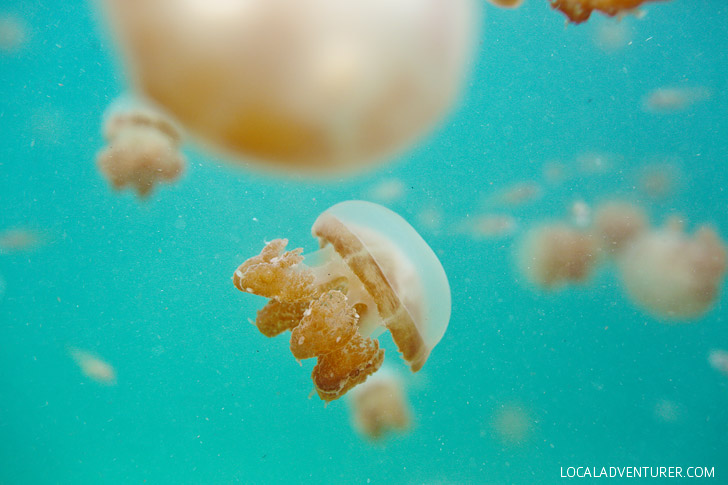 Pin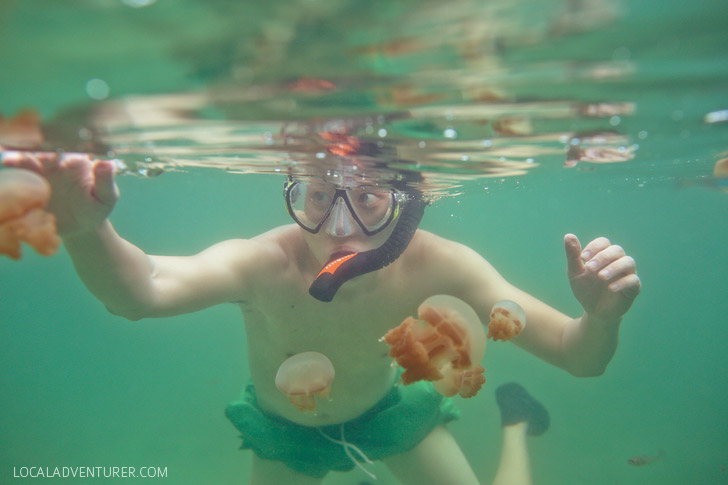 Pin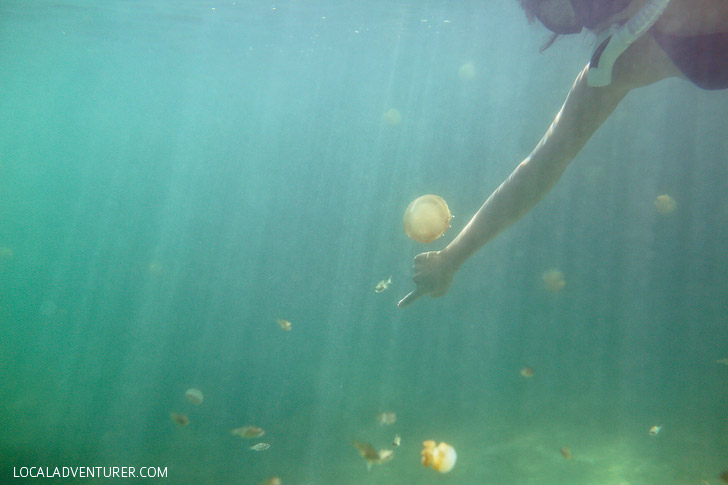 Pin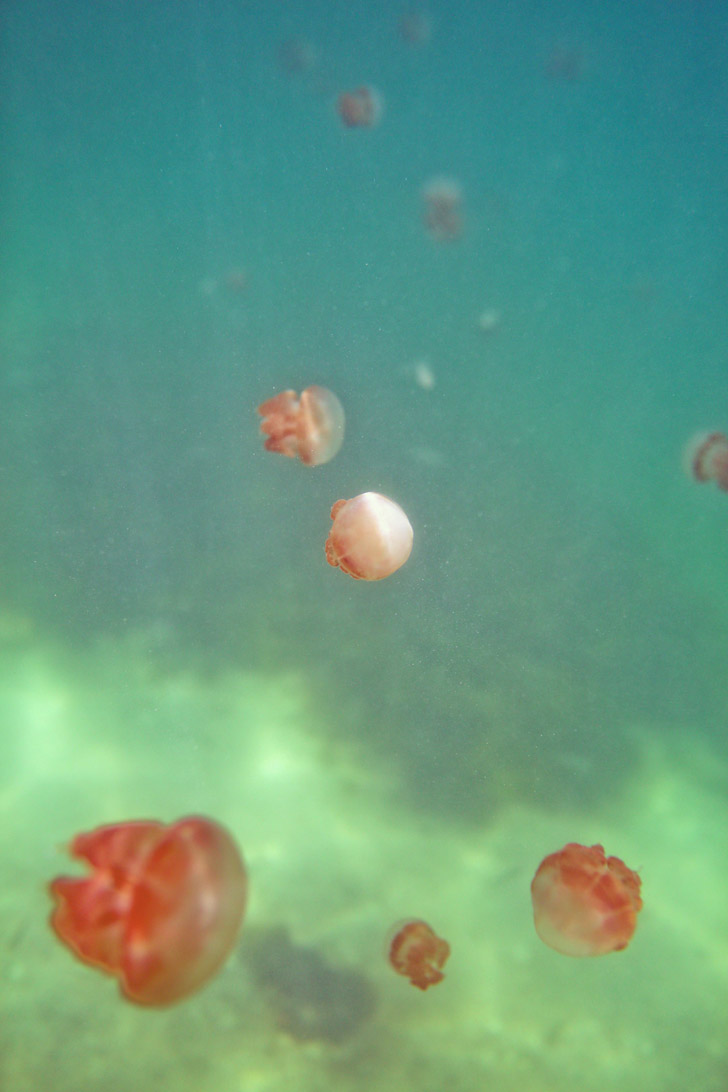 Pin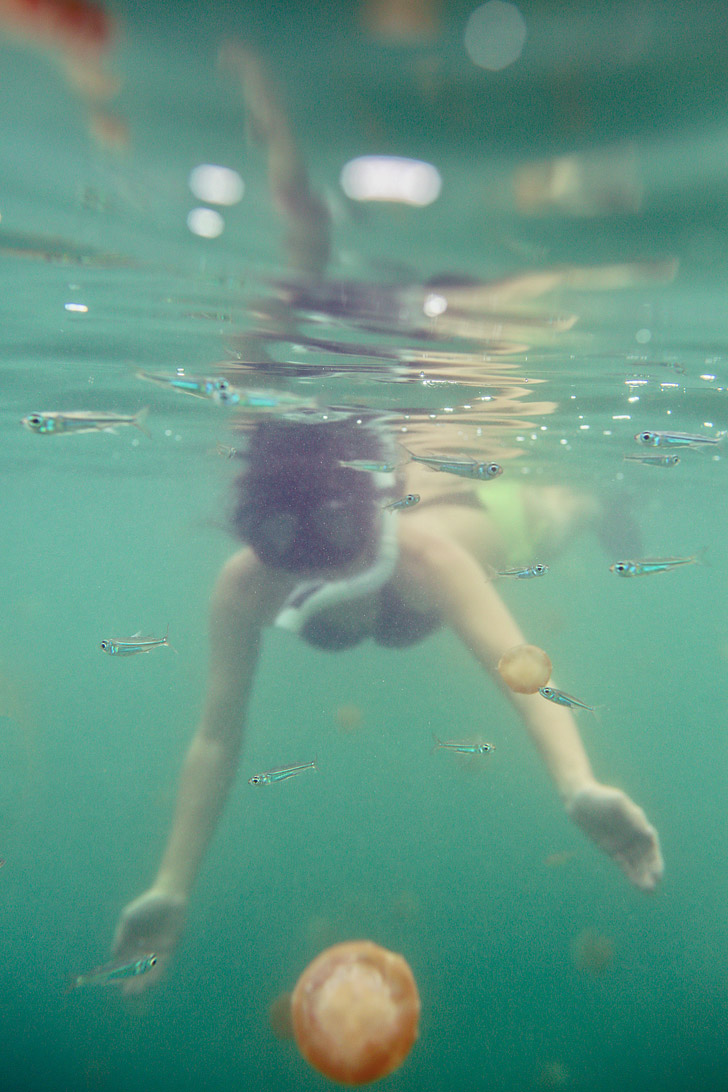 Pin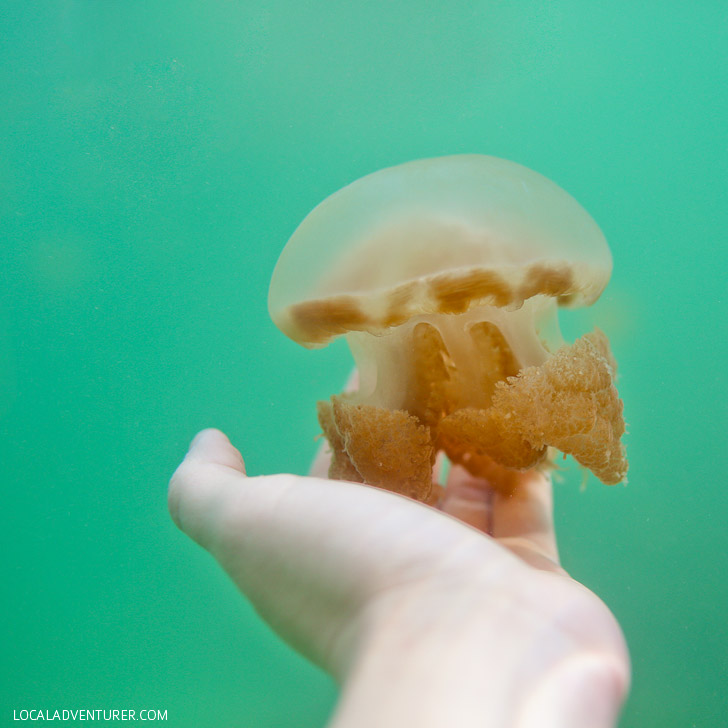 Pin
When these jellyfish bumped into you, they felt like mushrooms! Jellyfish are already my favorite to photograph, but getting to swim up and touch them was the most magical experience.
TIPS FOR YOUR VISIT TO JELLYFISH LAKE ON KAKABAN ISLAND
Jellyfish are fragile creatures so be gentle with them.
There is a fee of 25000 IDR, but it was included in our tour.
Swim slowly and carefully. The lake doesn't have great visibility already with all the particles in there. Our guides told us not to kick up the debris from the floor because it's itchy, but it also makes the visibility worse.
WHAT TO PACK / BRING
Swimsuit
Booties / flip flops for the short walk to the lake (fins are not allowed).
Dramamine if you get seasick. Take them at least one hour before your boat ride.
Don't forget your coral safe sunscreen and rashguard if you want even more protection.
Camera gear (below)
PHOTOGRAPHY TIPS
If we get the chance, we'll definitely visit again and hopefully find that elusive fourth jellyfish!
Would you get into the lake with jellyfish? Is Palau on your bucket list? Now that you know about the lesser known Kakaban Island, are you adding this to your bucket list? :)