As we turned into the park, we held our breaths with anticipation. We've seen thousands of photos from Painted Hills and it has earned its place on Oregon's 7 Wonders, but we were still skeptical about whether or not the hills would be as vibrant as they are in photos. After all, we know the power of photoshop. As we rounded the first bend to get the first glimpse of the Painted Ridge, we both exhaled with relief. The hills showed streaks of reds, oranges, and yellows!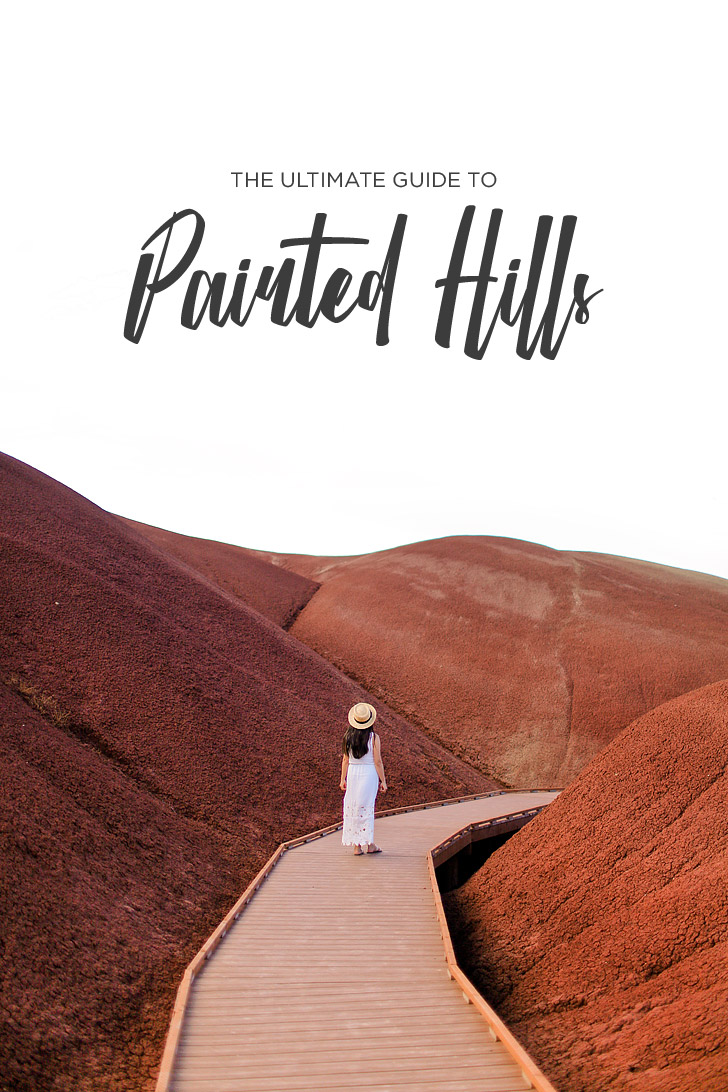 We loved our Oregon Coast road trip so much, we teamed up with Travel Oregon to do an Eastern Oregon road trip. All opinions are always our own. This post may contain affiliate links, where we receive a small commission on sales of the products that are linked at no additional cost to you. All opinions are always our own. Read our full disclosure for more info. Thank you for supporting the brands that make Local Adventurer possible.
Last Updated: October 11, 2022
The Ultimate Guide to the Painted Hills Oregon
Want to find a National Park Unit near you? Find out using this list (There are over 400).
Painted Hills covers 3132 acres and is the most popular of the three units that make up the John Day Fossil Beds National Monument. The great thing about this park is that it's pretty small so you can do all of it easily in a day. Unfortunately, there isn't a ranger station or a visitor center, so if you just show up, you may be a bit confused on what there is to see. Hopefully, this guide will come in handy and show you everything you need to know about the park.
How Were the Painted Hills Formed
When you're looking at the Painted Hills, you're getting a look into history. The colorful layers represent different geological eras. The red is laterite soil from a time when it was warm and humid, the gray is mudstone, siltstone, and shale, and the black is lignite that used to be plant life.
The unique colors formed over 35 million years ago. Different volcanic eruptions and changing climate patterns mixed with different types of soils, minerals, and plant material resulted in what we see today.
The Painted Hills Unit is located just off Highway 26, 9 miles northwest of Mitchell, and 75 miles east of Bend (map). Get the coordinates here.
Keep in mind that if you're planning on visiting the other units of the John Day Fossil Beds National Monument, they are quite far from each other. The Sheep Rock unit is just over an hour away and the Clarno Unit is almost 2 hours away.
Driving the Painted Hills
Painted Hills has one main road taking you from the front of the park to Red Scar Knoll, the last trail. Each offshoot is well marked.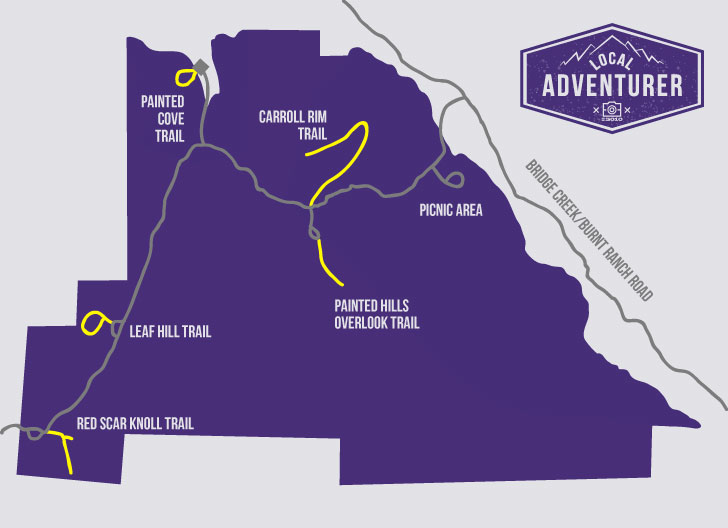 The Painted Hills Hikes and Trails
We had no idea until we arrived, but this is not a park for hikers. Although there are a few short trails, most of them are simply to get a better view or different perspective of the hills. Of all the trails, don't miss Painted Hills Overlook Trail and Painted Cove Trail. They are by far the most photogenic. I've listed the trails in order of when you will see them as you drive through. We ranked them below with *** being the best and * being the ones you can skip if you don't have time.
(1.6 Mile Round Trip, 400 ft elevation gain, Easy-Moderate)
This is the most difficult established trail in the park and gives you panoramic views of the Painted Hills. That's not saying much though since most trails happen to be relatively flat.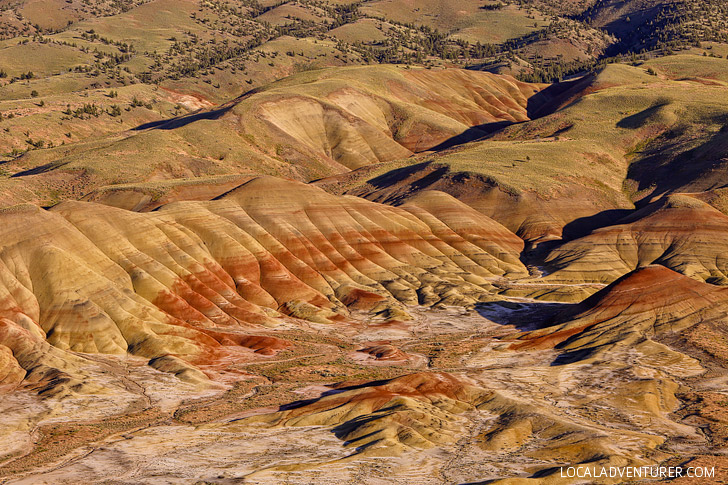 Painted Hills Overlook Trail***
(1/2 Mile Loop, 100 ft elevation gain, Easy)
This takes you to an overlook over one of the largest sections of hills and the postcard view of the park. You walk parallel along it giving you different vantage points of Painted Ridge and plenty of photo opportunities.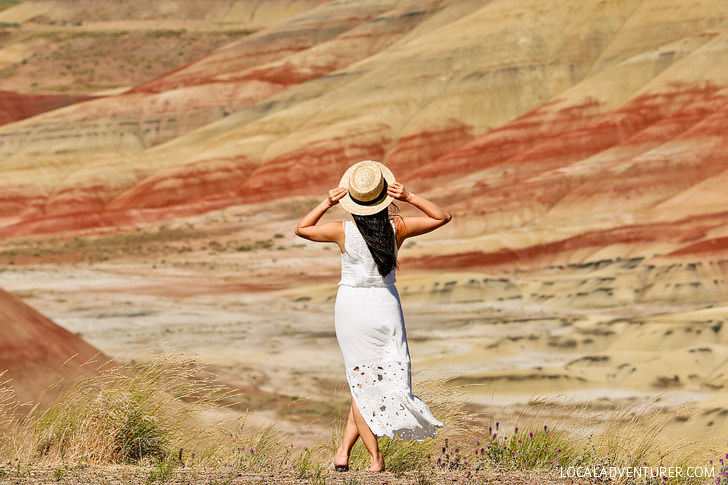 This is a very popular spot for Instagram. The boardwalk portion of the trail takes you through vibrant red hills, then you can climb up a few stairs and see them from above.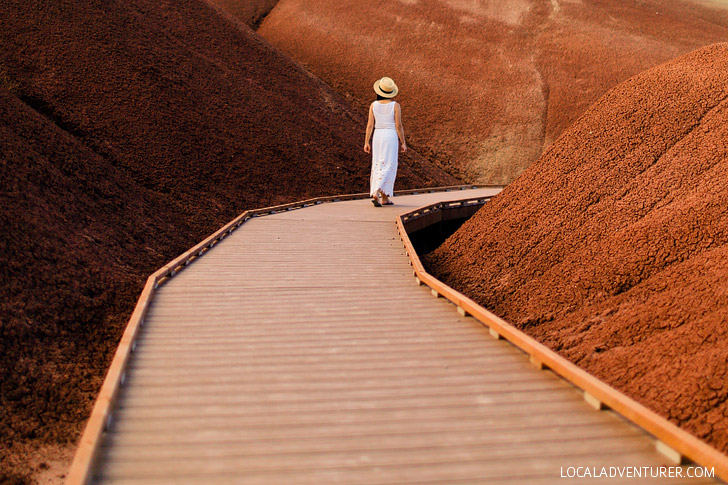 See a site of extensive paleontological research on this short loop trail. No fossils can be seen along the trail, but an exhibit shows a few examples of leaves that have been found here. Unless you're really into fossils, this one isn't the most interesting hike.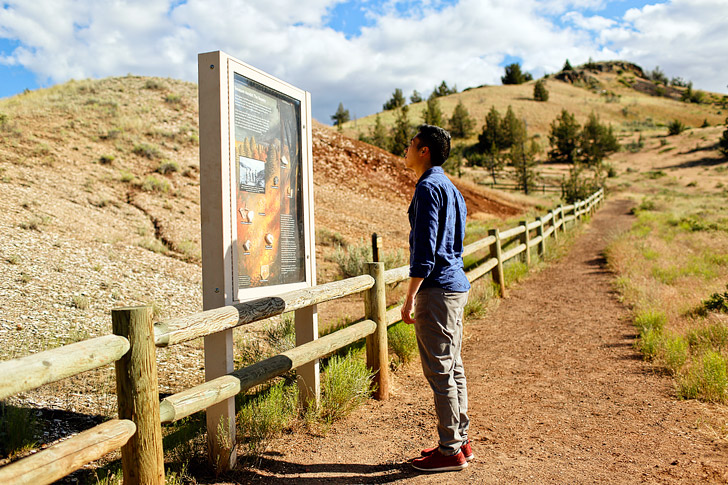 (1/4 Mile Round Trip, Easy)
This is the newest trail at the Painted Hills and takes you to two sides of a hill colored bright red and yellow. It's the brightest hill in the park that we saw.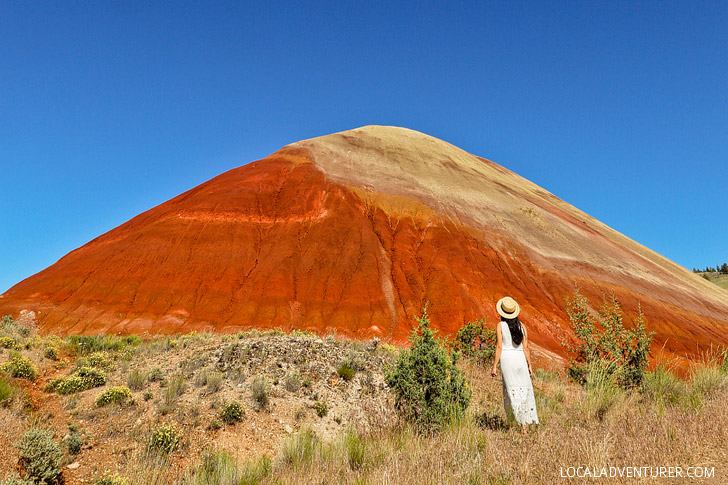 Note: Please Hike Responsibly
Please, please, please, hike responsibly. They have signs posted everywhere reminding you to stay on established trails, but we saw plenty of random trails made by people going off trail and even saw people walk onto the hills. You'll see footprints on random hills throughout the park and because the landscape is so fragile, they'll stay there for a long time ruining it for everyone else. Thank God for photoshop, but I'm not appreciating the extra time spent editing out ugly footprints.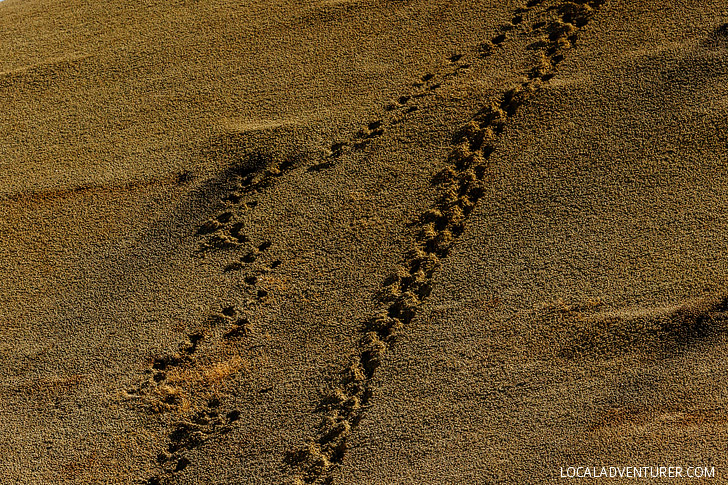 When to Photograph the Painted Hills
Sometimes it's hard to tell how places will look in person when all you see are photos on Instagram and Pinterest. Even as photographers, there have been plenty of times where we've been disappointed, not realizing the photo we saw was extremely photoshopped.
How the Painted Hills look depends on the light and moisture levels. The yellows, golds, blacks, and reds may look bright during one part of the day but dull during others. During our visit, we arrived mid afternoon and stayed until sunset.
Naturally, like most things, the hills look best late afternoon close to sunset. Golden hour will bring out the red tones and give it that glow. During mid-day, the colors were clear as well as long as the hills were getting direct sunlight. Once it was backlit or shaded, you would lose the colors. The area doesn't get much rainfall throughout the year, but if you manage to come after a rainfall, the hills will be even more saturated with color. You can also enhance the colors with these filters (72mm, 77mm, 82mm)
Note: We've heard that on cloudy days, the reds look faded but the golds and yellows seem to be brighter. Let us know if you go on a cloudy day and it appears that way!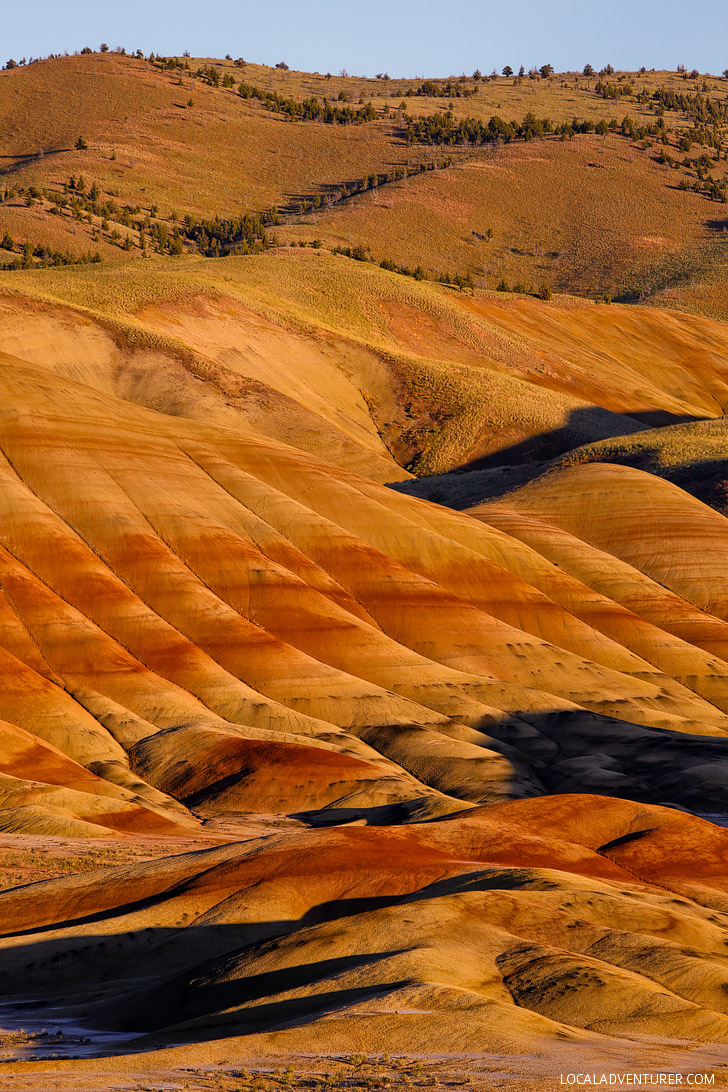 Where to Stay Near the Painted Hills
Camping is not allowed in any of the John Day Fossil Beds National Monument units. There are a few motels in the nearby cities, but we decided to stay just outside of the city of John Day since we were headed further south the next day.
The Victorian Lane B&B is a beautiful B&B style home. Andrea greeted us warmly as we arrived, offered us cookies and tea, and showed us to our room. We were planning on leaving really early the next morning so she put together some breakfast burritos and fruit for us to take to go. We hope to visit again and spend more time on their beautiful property.
Note: If you do want to camp, this map shows the known campgrounds near the three units of the monument as well as services available in towns. Dispersed camping is also allowed on Bureau of Land Management and Forest Service lands without a permit, but keep in mind the boundaries may be unclear so a map is recommended.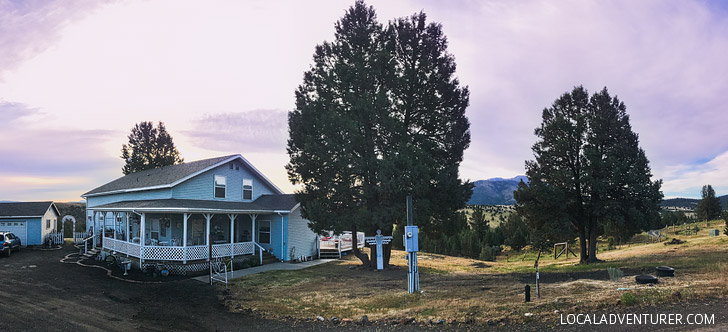 There are no food options within the Painted Hills. There is a picnic area if you want to bring your own food, otherwise, you'll need to check out some of the surrounding small towns. Keep in mind that there aren't many options and many of them are closed on random days of the week. But between cafes, stores, and restaurants, you can find yourself a decent meal.
Mitchell (30 minutes away)
Dayville (1 hr 15 minutes away)
Spray (1 hr 20 minutes away)
Note: With all the changes, check for current hours before visiting.
It's best to come with a full tank of gas or fill up when you see a gas station. There was a gas station at Mitchell, but Oregon requires someone to pump your gas and stations have limited hours.
Plan your trip around the light that you want!
If you're staying after sunset, be careful as you drive to your accommodations. We almost hit 3 deer and 1 elk as we drove to John Day.
Road tripping around Eastern Oregon? Check out our guide with all the best stops.
Have you seen any landscapes like this?
Did you enjoy this post? Pin it for later
SEE MORE NATIONAL PARK GUIDES
"Discovery consists not of seeking new lands but in seeing with new eyes" – M. Proust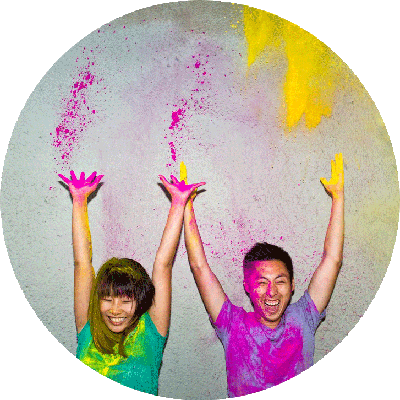 Esther and Jacob are the founders of Local Adventurer, which is one of the top 5 travel blogs in the US. They believe that adventure can be found both near and far and hope to inspire others to explore locally. They explore a new city in depth every year and currently base themselves in Las Vegas.