Visiting the Badlands? These are the best things to do in Badlands National Park.
Badlands National Park is a must-visit if you're in South Dakota. We stopped during a cross-country trip and were amazed by the dramatic landscapes, steep canyons, and towering spires. It was also the first time we saw bison (the US national mammal) and prairie dogs, which were the best part, IMO.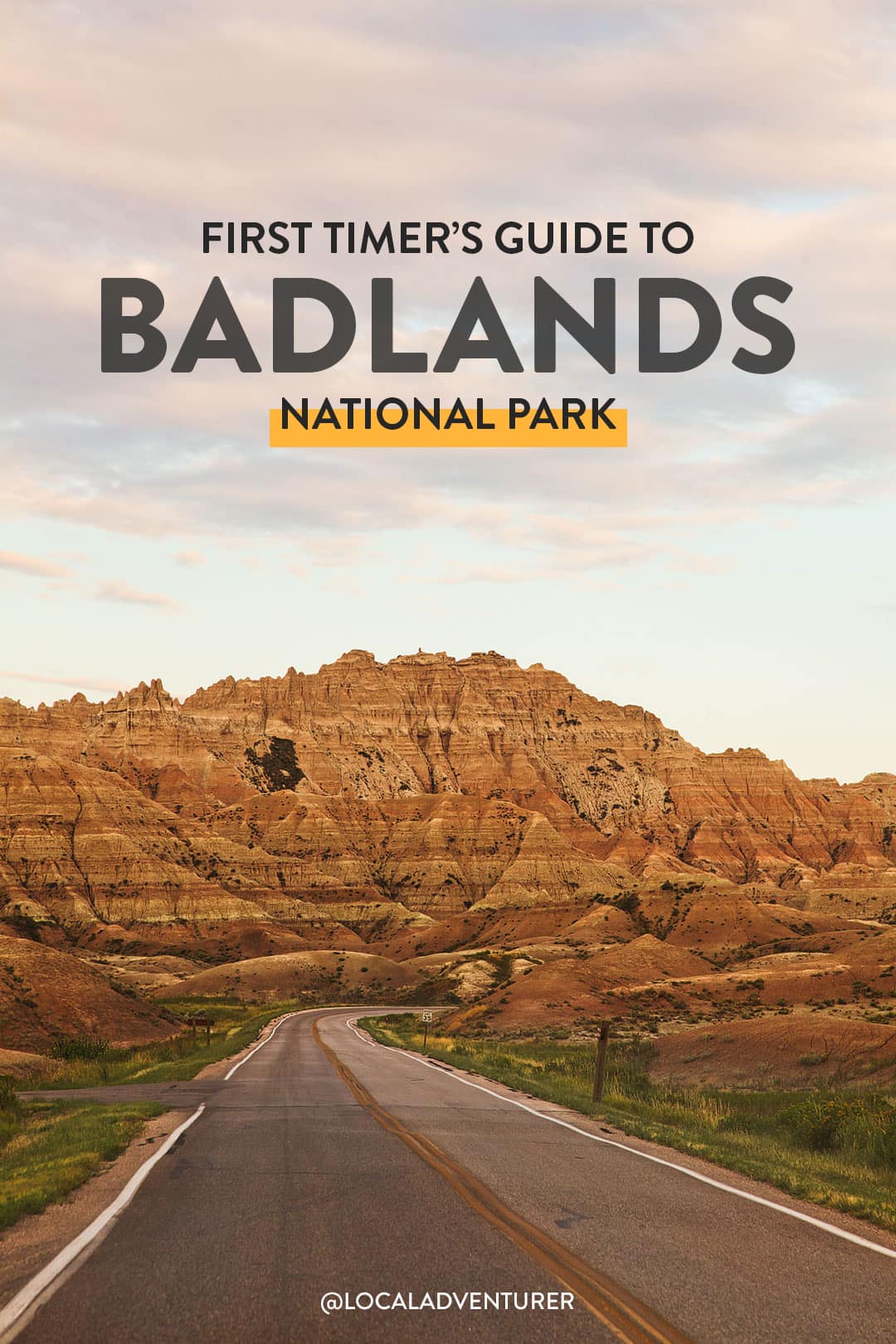 This post may contain affiliate links, where we receive a small commission on sales of the products that are linked at no additional cost to you. All opinions are always our own. Read our full disclosure for more info. Thank you for supporting the brands that make Local Adventurer possible.
Last Updated: August 28, 2023

Before we get into it, we want to remind everyone to explore the parks responsibly using the 7 Leave no Trace Principles. Have a plan, stay on established trails, carry out anything you carry in, leave what you find, minimize campfire impact, respect wildlife, and be considerate of others.


This scene below was the most memorable part of our trip.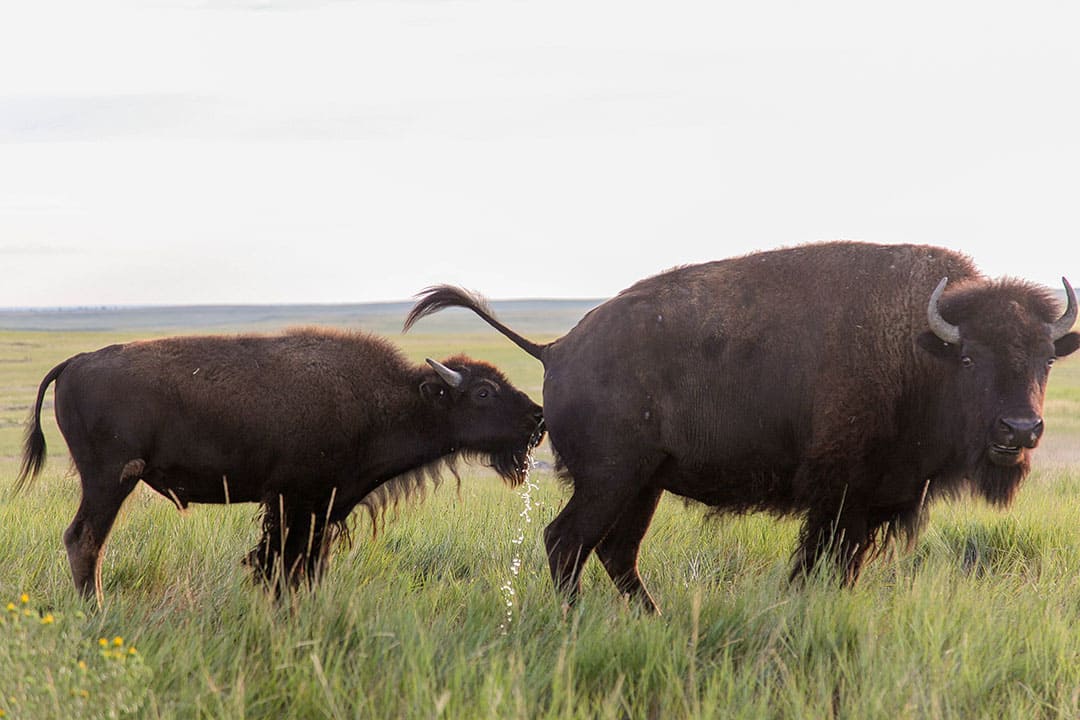 What to Know Before You Go
Is the Badlands worth seeing?
Contrary to its name, the Badlands are beautiful! The area was originally named mako sica or bad lands by the Lakota people because of its rocky terrain, extreme temperatures, and lack of water. Today, it's a great place to recreate, take in the landscape, and see wildlife.
What is the Badlands best known for?
Seventy-five million years ago, Badlands National Park looked very different. It was a shallow sea instead of the rock formations you see today. The sea eventually dried up, leaving behind one of the world's richest fossil beds. It is also home to many species today, including bison and prairie dogs.
Badlands was featured in a bunch of movies from the 90s like Armageddon, Starship Troopers, Dances with Wolves, and more recently, Nomadland. Have you seen all of these? If you love visiting filming locations, it's another reason to visit.
What is the best time of year to visit the Badlands?
Early Fall (September) is the best time to visit Badlands National Park since the temperatures are cool and mild, and summer crowds have dissipated.
Can you drive through the Badlands at night?
The Badlands Loop Road is open to vehicles 24 hours a day. Just drive carefully, and watch out for wildlife on the road. We got stuck in a mini cow traffic jam.
Do you need reservations for the Badlands?
You can visit Badlands National Park without reservations. Book ASAP if you plan on staying nearby since accommodations can book up, especially during the high season.
Badlands National Park Entrance Fee. How much does it cost to drive through the badlands? Can you drive through the badlands without paying?
Badlands National Park Fees are as follows (all are good for seven days):
$30 Private Vehicle (for a car and its occupants)
$15 Individual (hikers or bikers)
$25 Motorcycle
$55 Badlands National Park Annual Fee
$80 National Park Annual Pass (we highly recommend this to save money if you're exploring multiple national parks within one year).
To drive through the National Park, you will need to pay the park entrance fees unless you have a National Park Annual Pass.
Hours of Operation
Badlands National Park is open 24 hours a day, seven days a week. In the winter or in extreme weather conditions, roads may be closed.
Which entrance to Badlands is best?
The most popular drive at Badlands National Park is the Badlands Loop Road starting in the town of Wall. It will take you through viewpoints, trailheads, and the Ben Reifel Visitor Center.
How much time do you need in Badlands National Park?
Park rangers recommend two full days to experience the park.
Is Badlands National Park busy?
Overall, it's one of the least visited national parks in the US and is much less crowded than parks like Zion, Yosemite, and Yellowstone. The busiest time at Badlands is in the summer, particularly July and August.
What are the current conditions at Badlands National Park?
Check out their official site for the park's current conditions.
Geography / Overview Map (North & South Unit) – How far do the badlands stretch?
The Badlands stretch for a hundred miles through the plains of South Dakota, and Badlands National Park has two units.
The North Unit has two main roads and is the most popular part of the park.
The South Unit doesn't have any roads that go through it, but you can drive up Sheep Mountain Table and do a scenic drive around the South Unit.
See More: 17 Best National Parks to Visit in September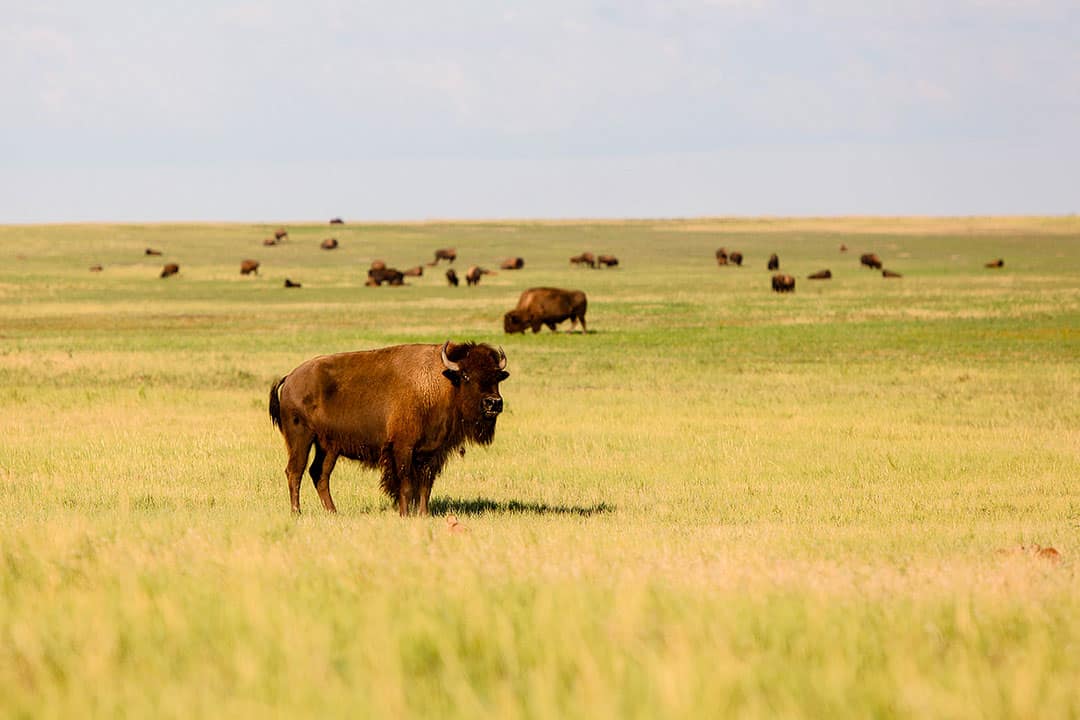 Best Things to Do / What Should I Not Miss at Badlands National Park?
1. Badlands Loop Road (SD-240)
The Badlands Loop Road is one of the best ways to see the park. During the 40-mile stretch, you'll find sixteen designated scenic overlooks and several trails. The drive can take 1-2 hours, depending on how often you stop.
Most people start from the Wall, but since it's a two-lane highway, you can drive in either direction. Here are some highlights.
Wall / Badlands Wall
Pinnacles Overlook (sunset)
Yellow Mounds Overlook
Conata Basin Overlook (sunset)
Prairie Wind Overlook
Panorama Point (sunset)
White River Valley Overlook
Norbeck Pass (sunset)
Hike a trail – Fossil Exhibit Trail, Cliff Shelf Nature Trail, Notch Trail, Castle Trail, Door Trail
Big Badlands Overlook (sunrise)
Local Tip: You'll commonly see wildlife along the road, so keep your eyes peeled and drive slow.
See More: 21 Epic Road Trips in USA to Put on Your Bucket List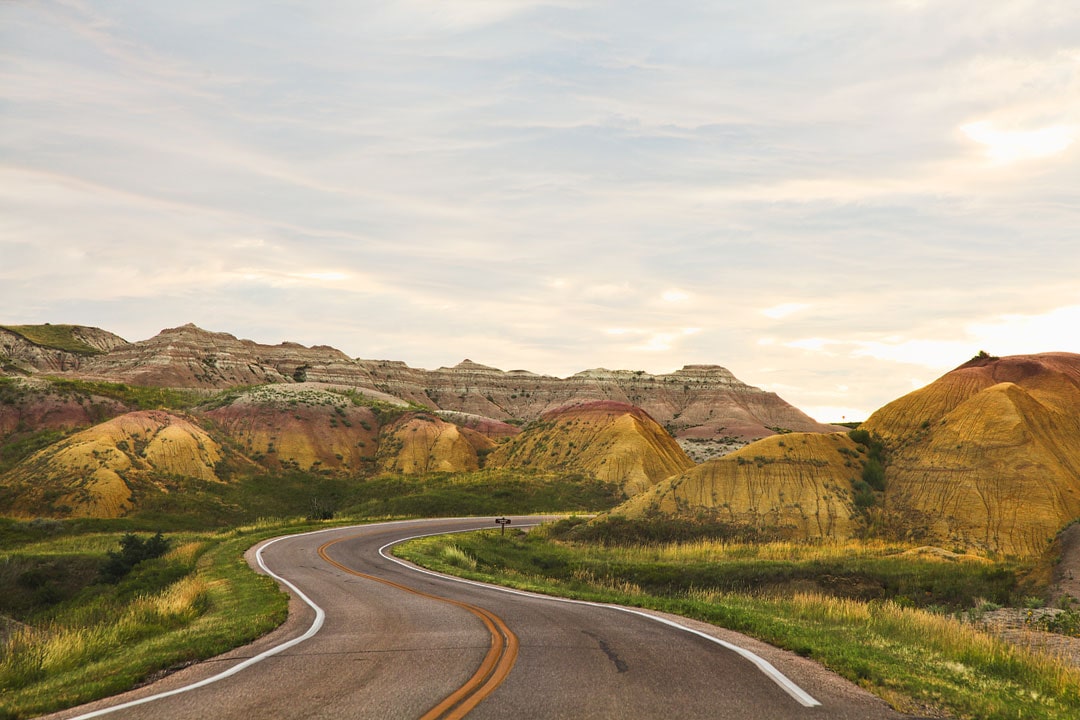 Map of the Best Things to Do at Badlands National Park
More Things to Do at Badlands National Park
Drive Conata Basin Road
Backcountry Hike: Sage Creek Wilderness Area or Deer Haven Wilderness Area
Wildlife – Bison, Bighorn Sheep, Rattlesnakes, Prairie Dogs, mule deer, coyotes, pronghorn antelope, porcupine
Night Sky Viewings – while it's not a designated dark sky park, it's still amazing for star gazing.
Horseback Riding
Biking
How to Get There
What city is closest to the Badlands?
Badlands National Park is 75 miles east of Rapid City, South Dakota. The Park Headquarters address is:
25216 Ben Reifel Rd
Interior, SD 57750 (map)
By Plane: If you're flying in, Rapid City Regional Airport (RAP) is the closest major airport, roughly 55 miles away. Allegiant, American Airlines, Delta, and United fly in and out of Rapid City. You can then grab a rental car and drive to the park.
By Car: If you are driving in, here are the distances from some of the nearby cities:
75 miles Rapid City, South Dakota
275 miles from Sioux Falls, South Dakota
370 miles from Denver, Colorado
450 miles from Omaha, Nebraska
500 miles from Minneapolis, Minnesota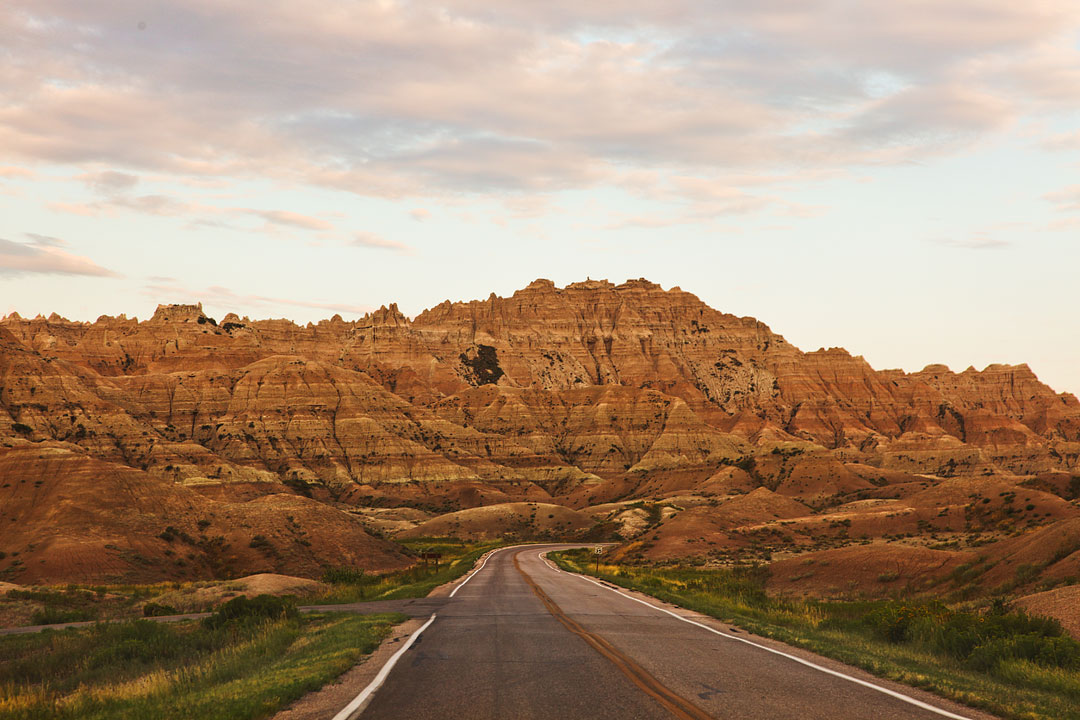 Visitor Centers at Badlands National Park
There are two Visitor Centers at Badlands National Park.
Ben Reifel Visitor Center (25216 SD-240, Interior, SD 57750, map) and park headquarters are at the North Unit. There are exhibits, an air-conditioned theater, and restroom facilities. Current hours from November to March are 9 AM to 4 PM.
White River Visitor Center (43.5340291,-102.6283376, map) is in the South Unit on the Pine Ridge Reservation. You'll find an information desk, exhibits, and restrooms here. It is currently closed between October and April.
Hikes at Badlands National Park
Here is a list of all the official park trails in Badlands National Park. For the most up-to-date info and current trail conditions, stop by the Visitor Center for more information.
Local Tip: Badlands National Park has an Open Hike Policy, meaning you can hike off-trail if it is not marked otherwise. With that in mind, be good stewards of the land and be prepared since cell service isn't always available in the backcountry. If you see any wildlife, maintain a distance of at least 100 feet (if they notice you, you are probably too close).
Overlooks at Badlands National Park
Hate hiking? Overlooks are a great way to see the park without having to hike. Since there are so many pullouts with amazing views and information signs, you can learn a lot at these spots. Here is a list of all the park's overlooks.
Ancient Hunters Overlook – expansive views of the Badlands and exhibits about the history of paleo-Indians
Badlands Wilderness Overlook – expansive views of the park
Big Badlands Overlook – eastern portion of the Badlands Wall
Bigfoot Pass Overlook (includes a picnic area)
Burns Basin Overlook – fully accessible boardwalk
Conata Basin Overlook – accessible boardwalk with exhibits discussing climate change
Hay Butte Overlook – see Badlands formations and grassy ecosystems
Homestead Overlook – scenic viewpoints and exhibits discussing the homesteading history
Panorama Point Overlook – a view towards White River Valley
Pinnacles Overlook – one of the most popular overlooks with unique geology and dramatic sunsets
Prairie Wind Overlook – vast prairie landscape
Red Shirt Table Overlook, Highway 41, South Unit – significant geologic and scenic features in the South Unit
Sage Creek Basin Overlook – expansive views of the mixed-grass prairie environment
Sheep Mountain Overlook, Sheep Mountain Table Road (gravel road) – gives you views of the South Unit and the Black Hills
White River Valley Overlook – the upper portion of the White River Group
Yellow Mounds Overlook – one of the more colorful features of the park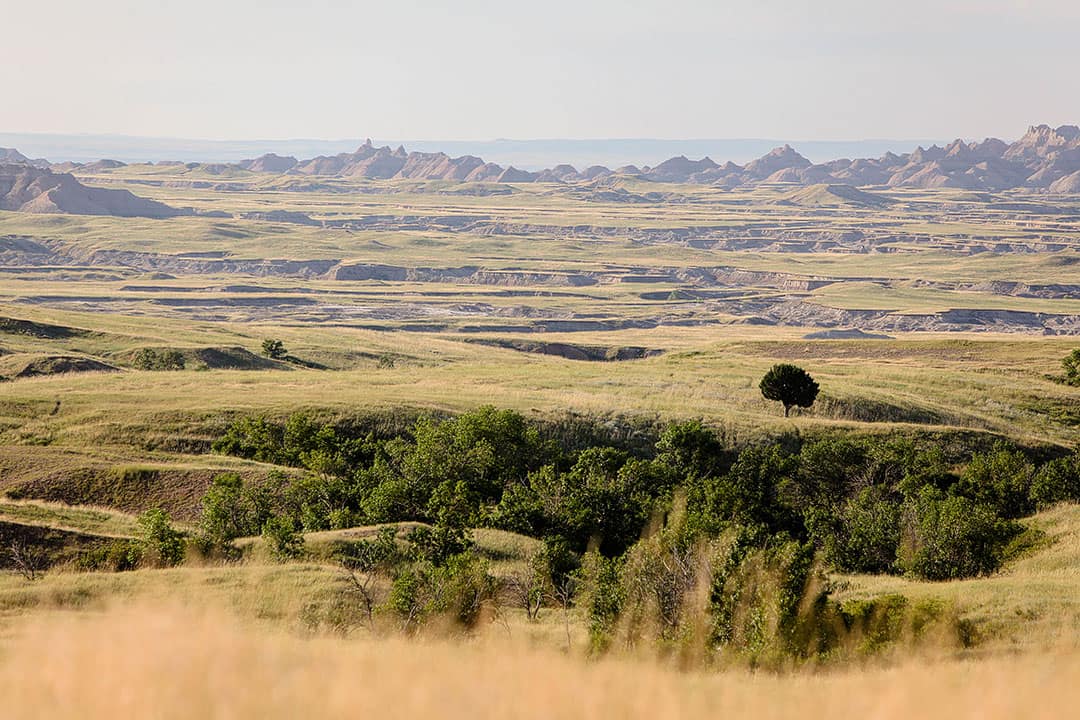 Seasonal Events at Badlands National Park
Badlands Astronomy Festival (August)
National Fossil Day at South Dakota School of Mines (October)
Where to Eat at Badlands National Park
What food options are there in the park? With limited food options in the park, it's a good idea to bring snacks if you're spending all day or multiple days here.
The only place to buy food in Badlands National Park is at the Cedar Pass Lodge, where there is a sit-down restaurant and a place to pick up snacks. There are also picnic areas at the Ben Reifel Visitor Center, Big Foot Pass Overlook, Conata Picnic Area, and White River Visitor Center. Just pack out what you pack in.
Here are a few other nearby areas to eat.
Where to Stay at Badlands National Park
There are a few different places to spend a night in Badlands National Park. The only lodging in the park is at Cedar Pass Lodge, which offers cabin rentals.
There are also a couple of camping options in Badlands National park.
Cedar Pass Campground has 96 sites, some designated for RV camping with electric hookups. You can make reservations here.
Sage Creek Campground has 22 first-come-first-serve free sites that only fit vehicles or RVs up to 18 feet.
Backcountry camping is permitted anywhere as long as it is 0.5 miles from and not visible from a trail or roadway. Deer Haven and the Sage Creek Wilderness Area are the most popular spots.
You can find a few options outside the park in Wall, South Dakota. Otherwise, there are more options in Rapid City. Check the map below for hotels and rentals.
Badlands National Park Tips
& FAQs
Are there restrooms at Badlands National Park? Full restrooms are inside the Visitor Centers, or vault bathrooms (no running water) are near popular trailheads.
Are dogs allowed at Badlands National Park? Pets are permitted in Badlands National Park but must be kept on a leash no more than six feet long.
What can I bring into the Badlands? Pack appropriate gear, plenty of water, and snacks. Check out our packing list below.
Are there showers in Badlands National Park? There are pay-per-use showers available in the summer at the Cedar Pass Campground.
Can you have campfires in the Badlands? Due to fire danger, campfires are not allowed. You can, however, bring your camp stove or contained charcoal grill to use at campgrounds or picnic areas. Backpacking stoves are allowed in the backcountry.
Is there Wifi or phone signal in Badlands? The Visitor Center has Wifi. Cell signal can be spotty, so we recommend downloading offline Google maps to help you navigate.
What camera gear should I bring? Bring wide lenses for landscape photography and a long lens for wildlife.
What is the best guidebook for Badlands National Park? If you want a physical guidebook, check out Fodor's Black Hills of South Dakota, which includes Mount Rushmore and Badlands National Park.
What is the best map of Badlands National Park? The NatGeo Map of Badlands National Park is waterproof, tear-resistant, and includes trails and topographical info.
Fun Fact – During World War 2, they used this area to test explosives.
Have you been? Are there any things to do in Badlands National Park that we missed? Let us know in the comments below.
SEE MORE NATIONAL PARK GUIDES
⟡⟡⟡⟡⟡
"Discovery consists not of seeking new lands but in seeing with new eyes" – M. Proust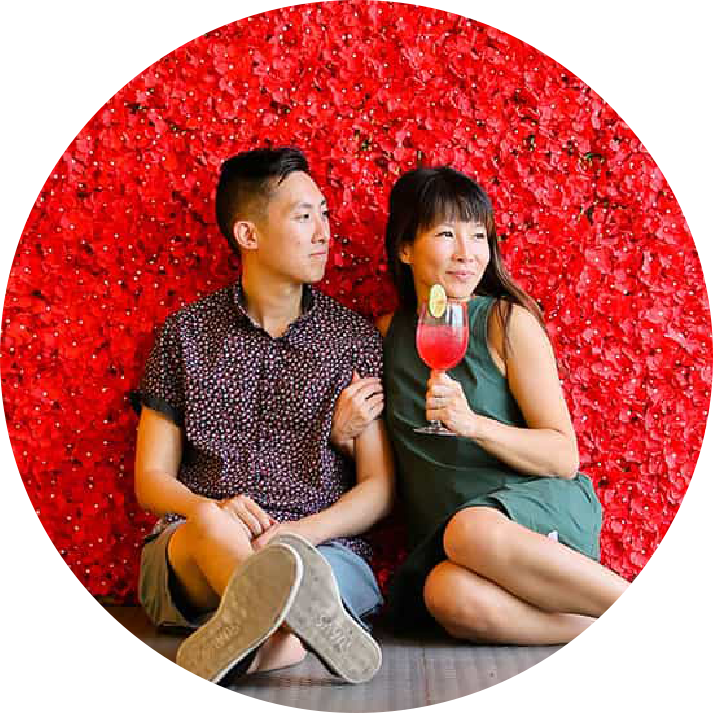 Esther + Jacob
Esther and Jacob are the founders of Local Adventurer, one of the top 5 travel blogs in the US. They believe that adventure can be found near and far and hope to inspire others to explore locally. They explore a new city in depth every year and currently base themselves in Las Vegas.
Follow on Instagram (E + J), YouTube, TikTok, and Pinterest.