Located an hour outside of Las Cruces, New Mexico are huge glistening white sand dunes covering 275 square miles of desert, creating the world's largest gypsum dune field. White Sands National Monument is one of the world's great natural wonders and a beauty to photograph!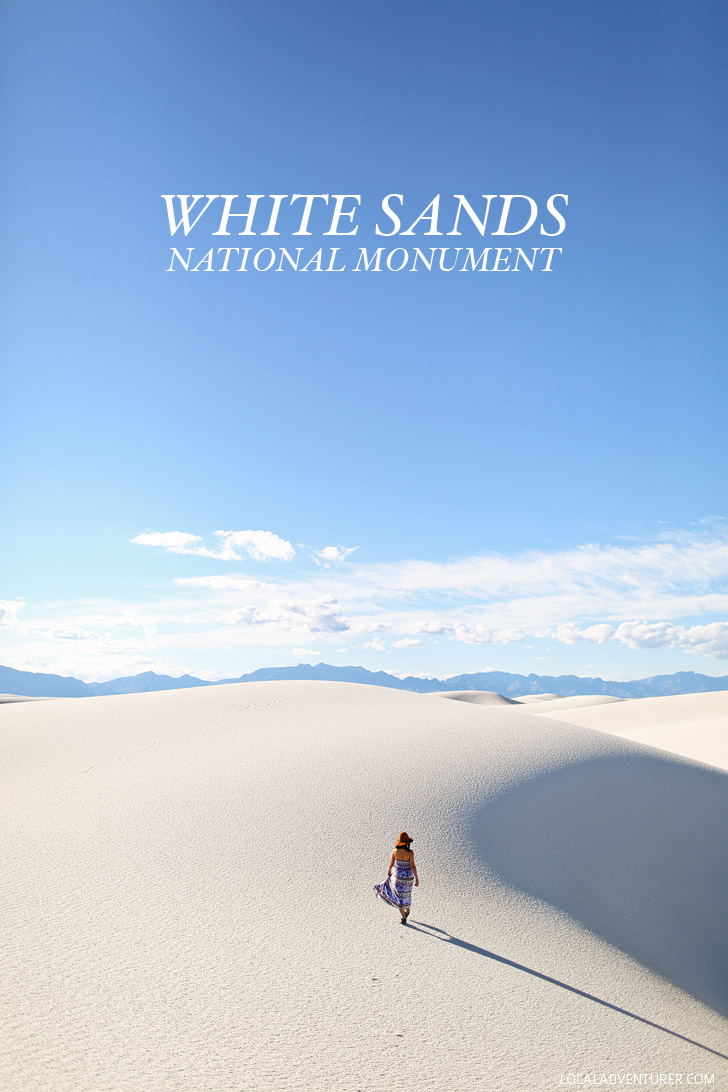 After visiting Saguaro National Park, we couldn't resist driving a few hours more to White Sands. We've seen so many beautiful photos of the dunes and wanted to go take our own.
The park itself is mostly open land with endless dunes. After stopping by the visitor center, you can head in and park at any of the number of pullouts. There are a few marked trails, the largest being the Alkali Flat Trail, which is the trail we took. We mostly tried to walk in a direction with the least amount of people.
Like the way I styled myself? Summer maxi dress + hiking boots!
One thing that you should try while at White Sands National Park is sand sledding (though you should do it at your own risk, because we both took a tumble)! You can pick up a cheaply made and overpriced sled at the gift shop, or get a more solid one online. This sled is from REI, so if you try it and it doesn't work out well for you, you can always return it within a year. Don't forget to get wax too. We had so much fun sledding that we almost missed sunset!
PHOTOGRAPHY TIPS FOR WHITE SANDS NATIONAL MONUMENT:
Bring a wide angle lens if you want to capture the grandness of the dunes. We shot our photos with a 35mm but could have gone wider.
A small handy tripod is nice to have in case you want to take any longer exposure shots.
If it's windy, be careful not to expose your camera to too much sand. It gets in everything and can scratch up your lenses.
For more general photography tips, sign up for our newsletter here. We have a lot of resources that will be coming out soon!
TIPS FOR YOUR VISIT TO WHITE SANDS NATIONAL MONUMENT NEW MEXICO:
In case you're using a hand help GPS to find your way around, the visitor center is located at 32º 46′ 45″ North, 106º 10′ 19″ West.
It gets incredible hot during the summer so remember to bring plenty of water and always keep in mind where you are. We've heard of tragedies, and our friends who live near White Sands told us people get lost out there all the time. The park recommends bringing 3.8 L of water. We always carry a small, lightweight backpack and a couple soft water bottles and managed okay since we went during cooler temperatures (sunset & late September).
Since it's easy to get lost, pay attention to the mountain ranges and the direction of where the sun sets. Jacob also has a good sense of direction, but we still ended up one parking lot over.
Make sure you sign the park's entry register, so that rangers can find you in case you get lost.
The best time to go is early morning or close to sunset. Otherwise, the sun is beating down on you the entire time.
Be sure to check the site before your visit, they sometimes close the park for missile testings in the surrounding areas.
White Sands National Monument
19955 Highway 70
West Alamogordo, NM 88310
whsa_interpretation@nps.gov
(575) 479-6124
Have you visted any sand dunes? Would you hike, sled, or ride on horseback?