Thai Basil Chicken recipe was sent to me by a friend of mine when I barely knew how to boil water. She told me it was a really easy chicken recipe and that it was also a crowd pleaser. Ever since, it's one of my favorite go-to recipes when I have people over. Plus, it's in my regular rotation that I've been making it once every other week or sometimes even once a week!
[ UPDATE* Took newer photos of this recipe!! :D ]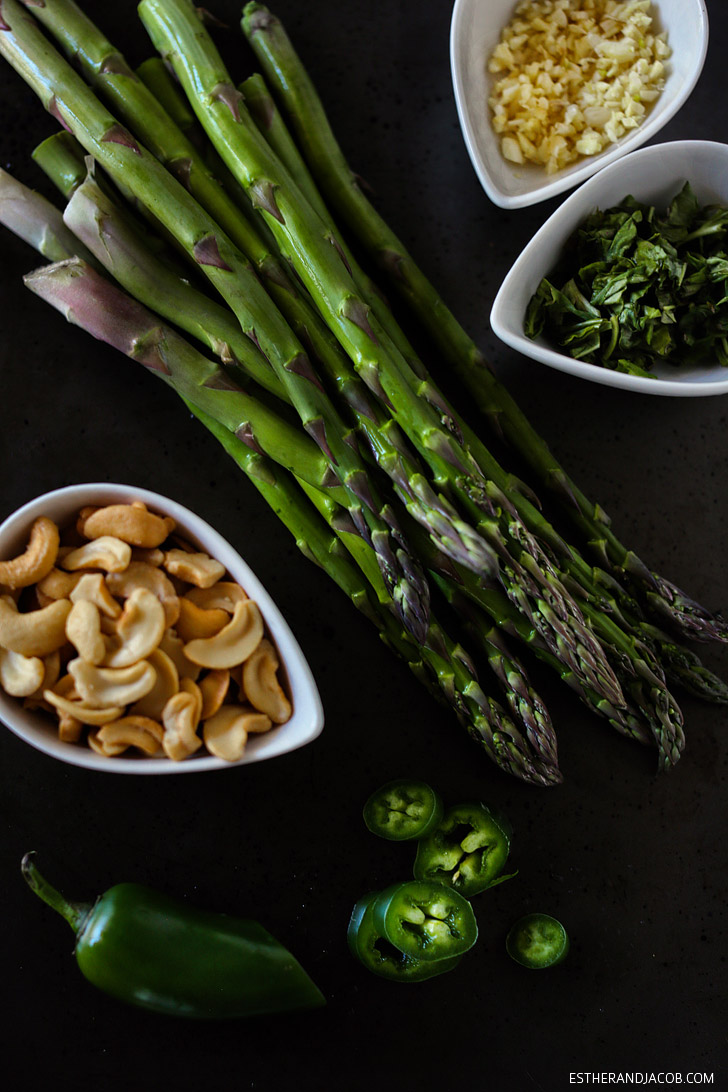 Pin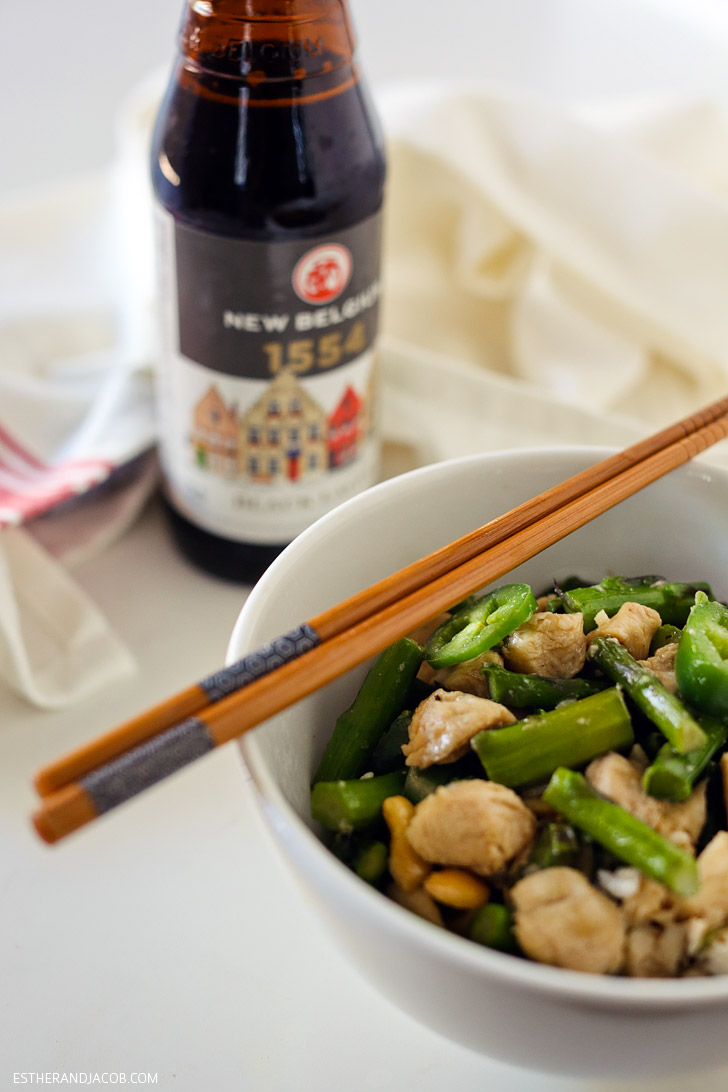 Pin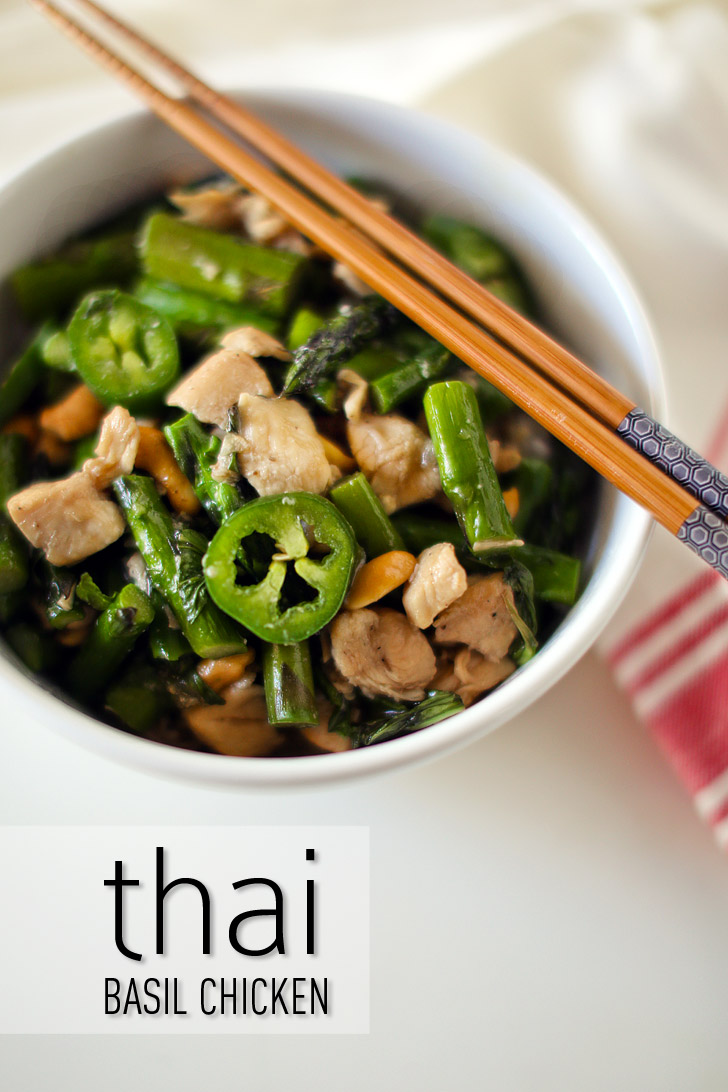 Pin
Older photo here showing that you can use whatever vegetables you like:

Pin
THAI BASIL CHICKEN RECIPE | EASY THAI RECIPES
times: 30 minutes
serves: 4
Ingredients for Marinade
2 tablespoons lager-style beer
1 tablespoon oyster sauce (we use this one)
1/4 teaspoon ground white pepper (or black pepper)
12 ounces boneless, skinless chicken breasts, cut into 1/2-inch cubes
Ingredients for Marinade Sauce
1/4 cup chicken broth
1 tablespoon lager-style beer
1/4 teaspoon sugar
1 tablespoon fish sauce (my mom swears by this one)
1 teaspoon soy sauce
Ingredients
2 tablespoons vegetable, canola or peanut oil
2 teaspoons chopped garlic
4 ounces asparagus, trimmed and cut into 1-inch pieces
1 teaspoon cornstarch, dissolved in 2 teaspoons water
1 fresh jalapeno chili, thinly sliced into rings (optional)
1/4 cup lightly packed Thai basil or sweet basil leaves.
1/2 cup roasted cashews
Directions
Combine the marinade ingredients in a bowl.
Add the chicken and stir to coat. Let stand for 15 minutes.
Combine the sauce ingredients in a small bowl and set aside.
Place a wok or wide saute pan over high heat until hot. Add the oil, swirling to coat the sides.
Add the garlic and cook until fragrant, about 10 seconds.
Stir in the chicken and asparagus and cook, stirring constantly until the chicken is no longer pink, about 2 minutes.
Add the sauce and bring to boil.
Add the cornstarch solution and cook, stirring, until sauce thickens, about 1 minute.
Remove pan from heat and stir in jalapeño chili, basil leaves, and cashews.
Notes
If the sauce does not thicken within a couple of minutes, I usually continue to add more & more cornstarch solution until it does thicken.
You can see a list of different lager-style beers on beer advocate. Our new favorite is now New Belgium 1554, a black lager, but we often also used Yuengling, an amber lager. We encourage you to cook with different kinds to see which one you fancy. There's a huge difference in flavor with richer and darker lagers versus lighter lagers. :)
I also made the recipe with bell peppers instead of asparagus. You can use any veggies you like.
Since I like my food spicy, I like to add two jalapeños peppers and stir it in the heat for 1 minute.
If you don't have fish sauce, you can add an additional 1 1/2 tsp soy sauce instead).
Let me know if you end up trying this Thai basil chicken recipe!
Do you have any easy Thai recipes or easy chicken recipes you can share?
I do a recipe a month, and you can check out some of the others if you click on the banner below:


Pin


Pin