The Devils Garden Trail is the longest and most difficult maintained trail in Arches National Park, and it has also been on our list of must do day hikes in the US. We've done plenty of hikes where the journey is boring with an amazing view at the end or vice versa. This hike, however, has a little bit of everything! It has diverse landscapes and takes you to 8 different arches directly on the trail and several offshoots to see more.
NOTE: Timed Entry Tickets are needed if you plan on visiting between April 3 to October 3, 2022. It doesn't cost extra but there is a $2 service fee. If you have camping, backcountry, Fiery Furnace, or special use permits, they qualify as your ticket. You also don't need one if you are doing a tour with an approved company.
Distance: 7.8-mile loop, with more optional offshoots
Elevation Gain: 1178 ft
Time: 4.5 hours
Difficulty: Moderate to Strenuous (especially in summer)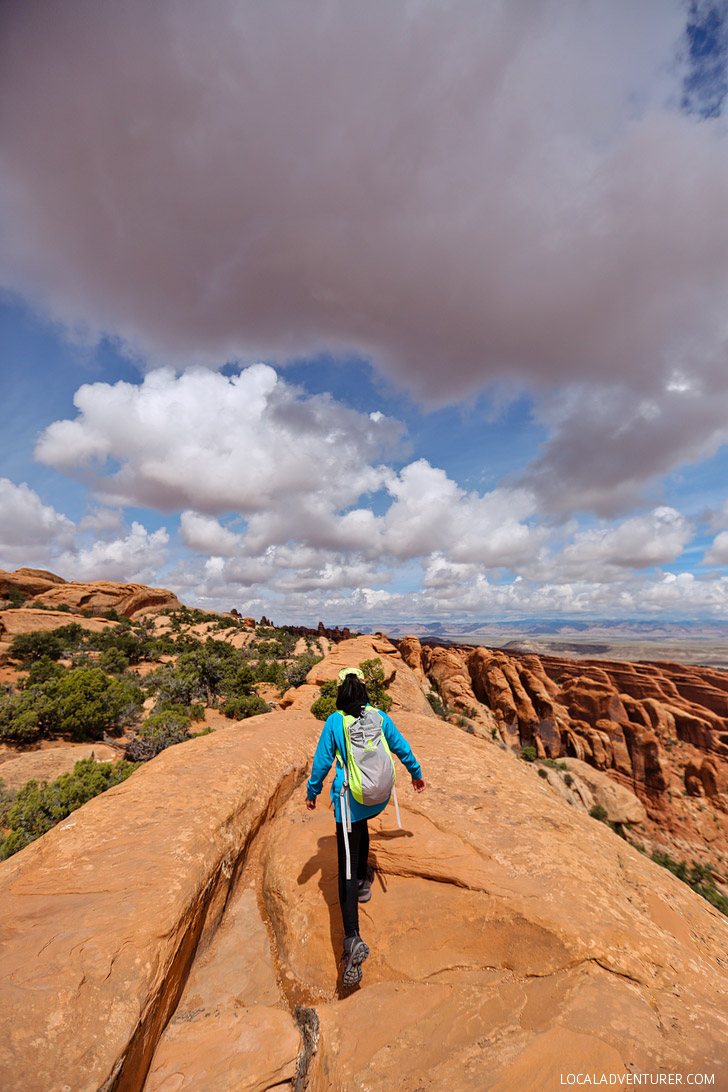 Pin
The first part of the hike is well marked and easy, but most of the hike consists of primitive trails with narrow portions of slick rock and drop offs. At first, we were worried that we might get lost like we tend to do on hikes, but there was always a steady stream of people on the hike that we didn't have to worry about it. The hike itself isn't very difficult, but I imagine when you factor in the heat of the summer, it can be brutal. The weather was mild when we went, and we saw plenty of retired folks on the trail who completed the entire loop. It was inspiring to see that age doesn't have to stop you from adventuring. Hopefully, we'll be just like them!
TUNNEL ARCH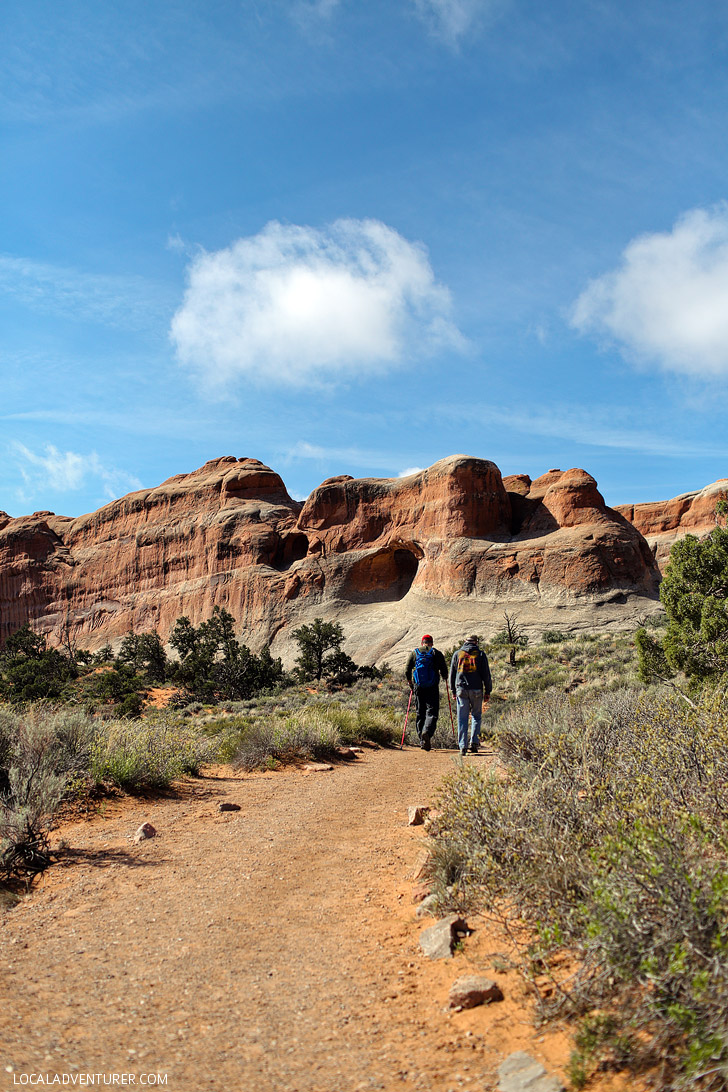 Pin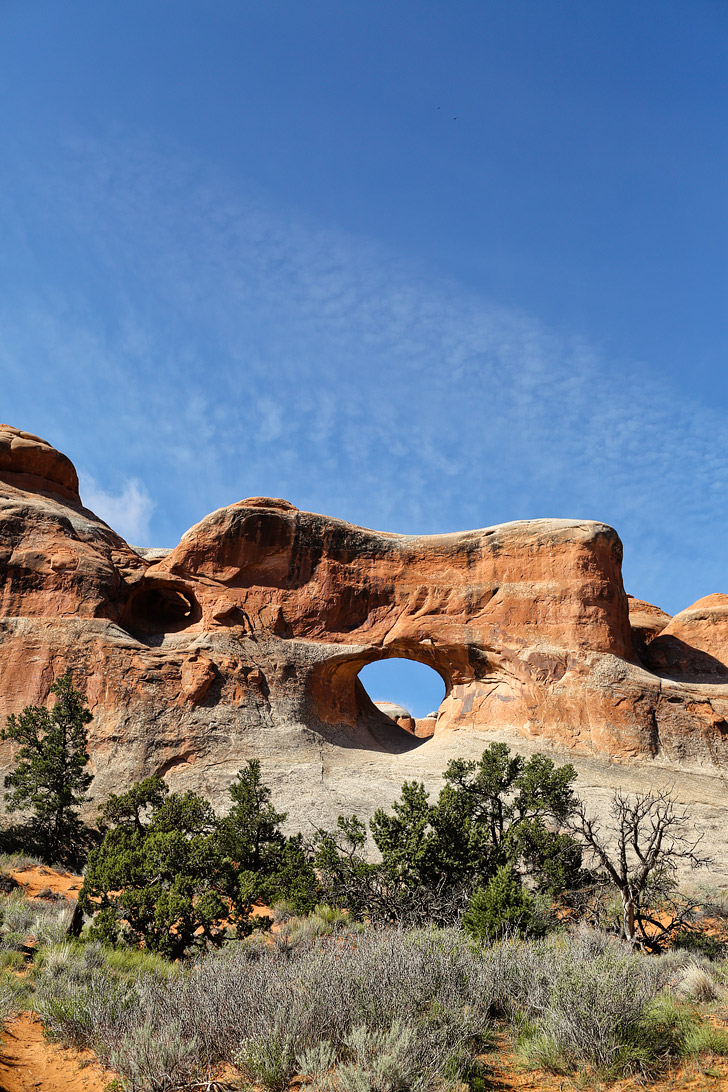 Pin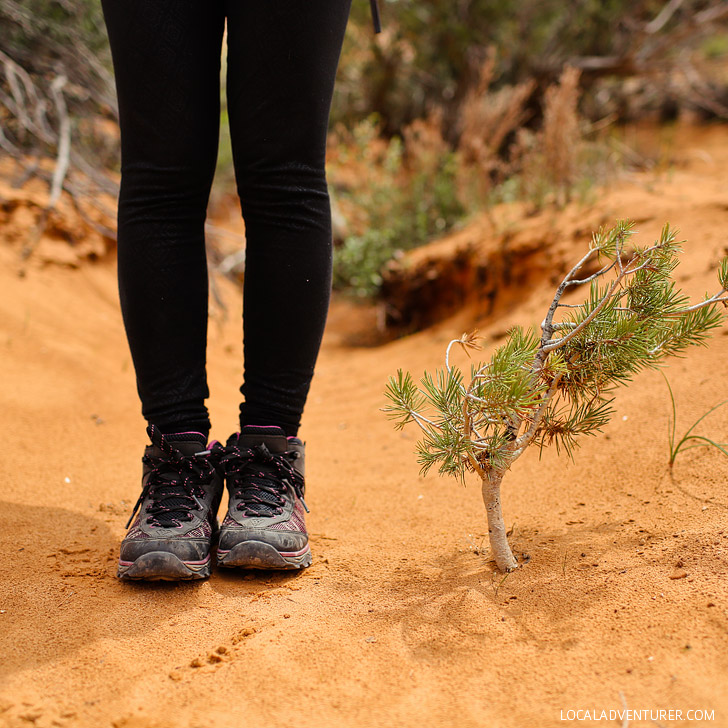 Pin
PINE TREE ARCH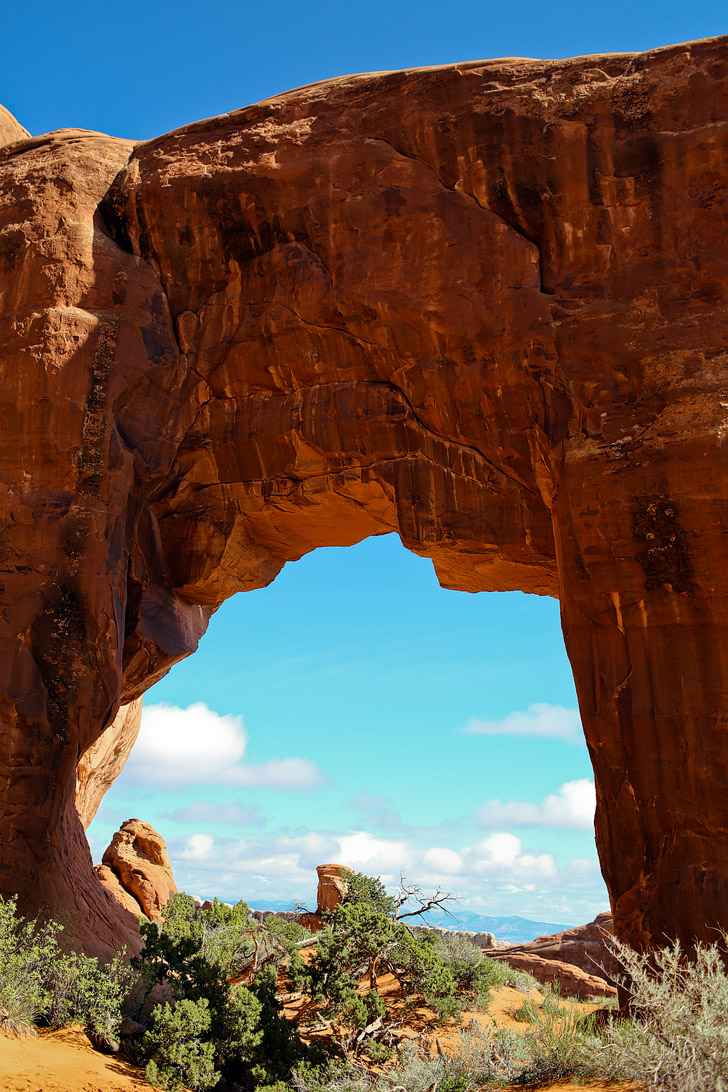 Pin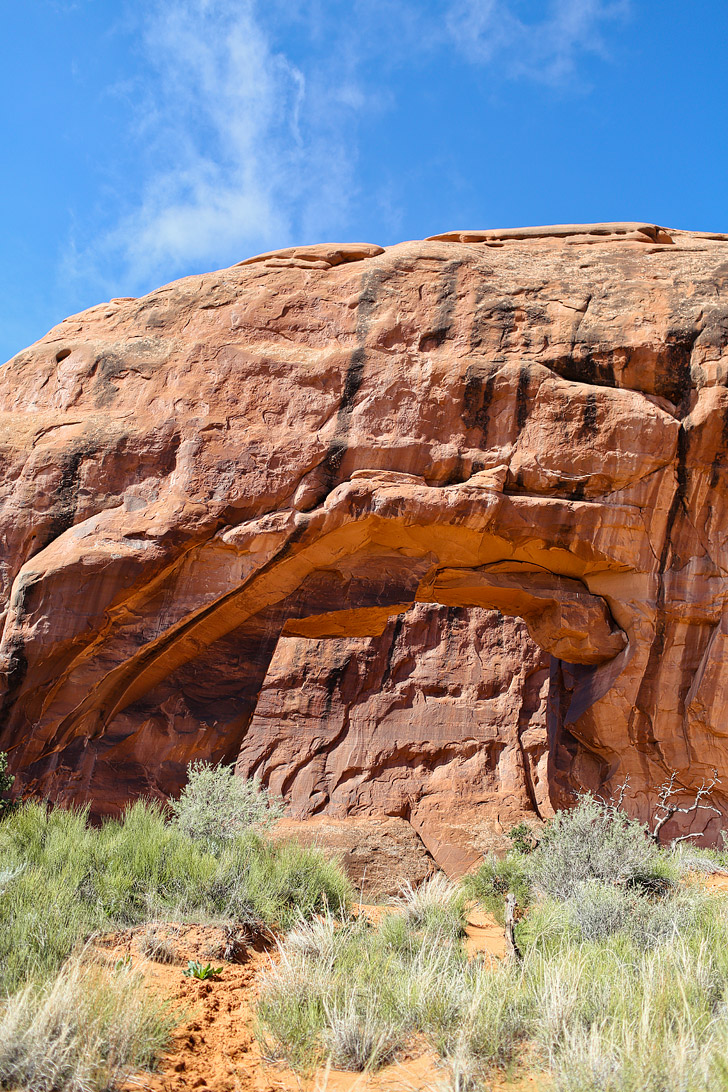 Pin
LANDSCAPE ARCH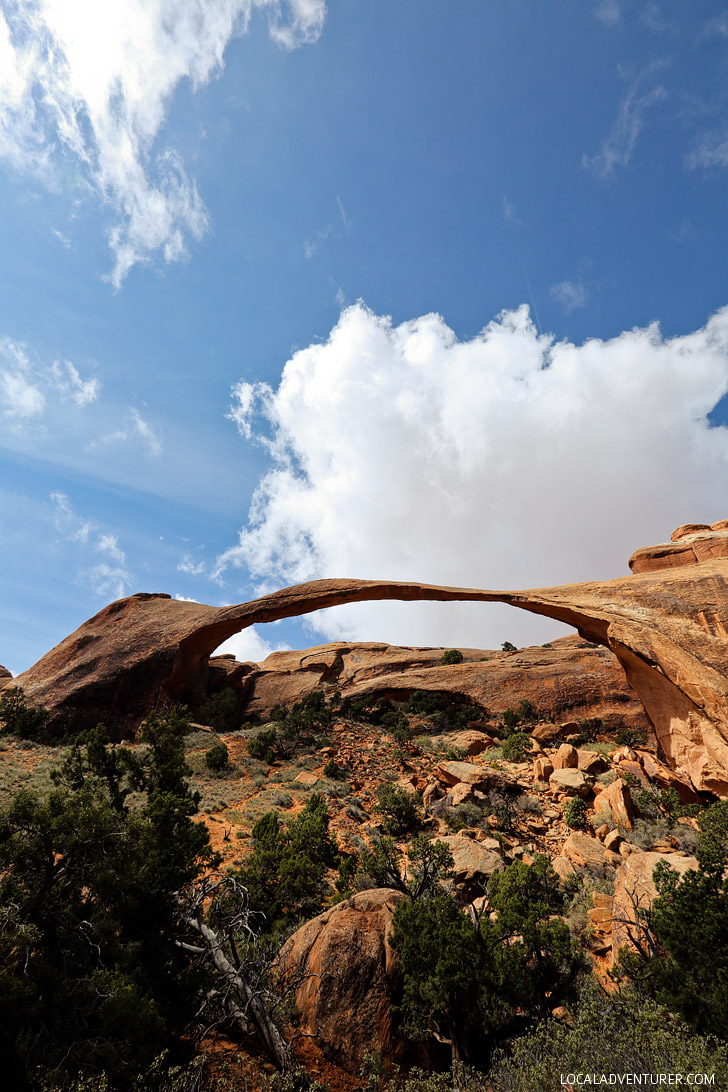 Pin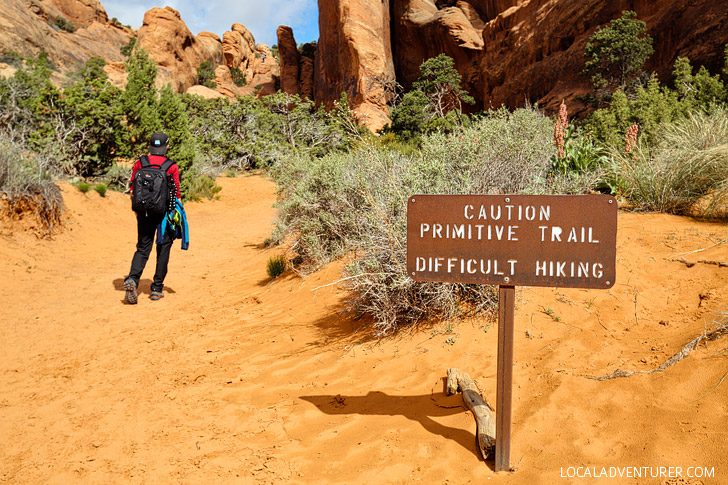 Pin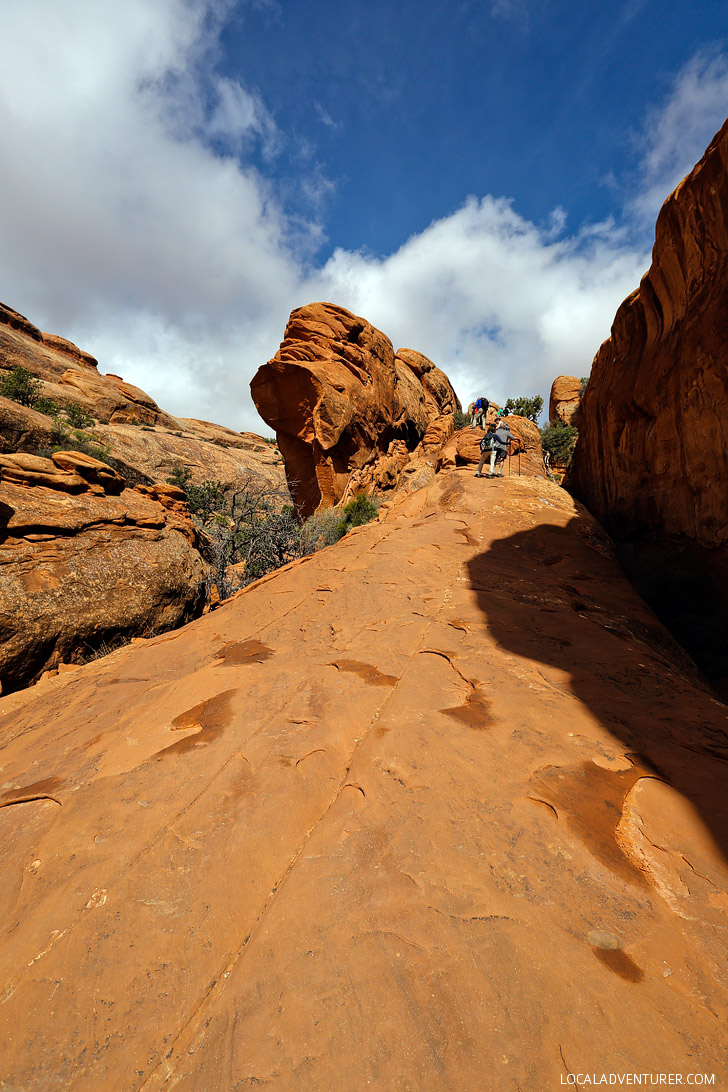 Pin
NAVAJO ARCH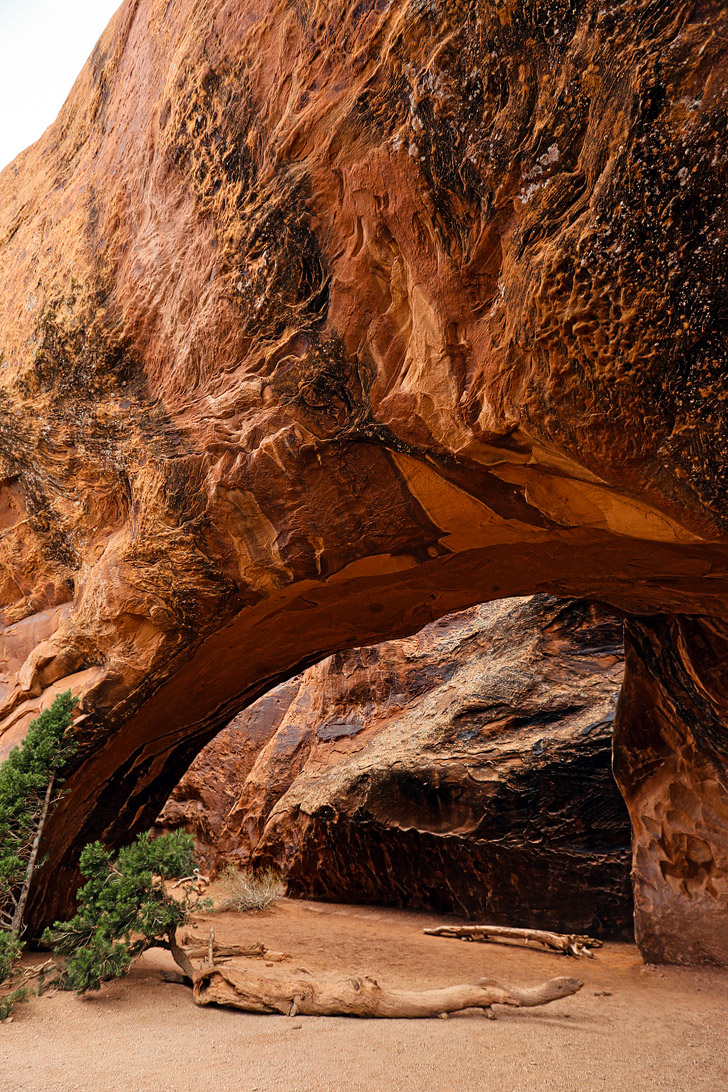 Pin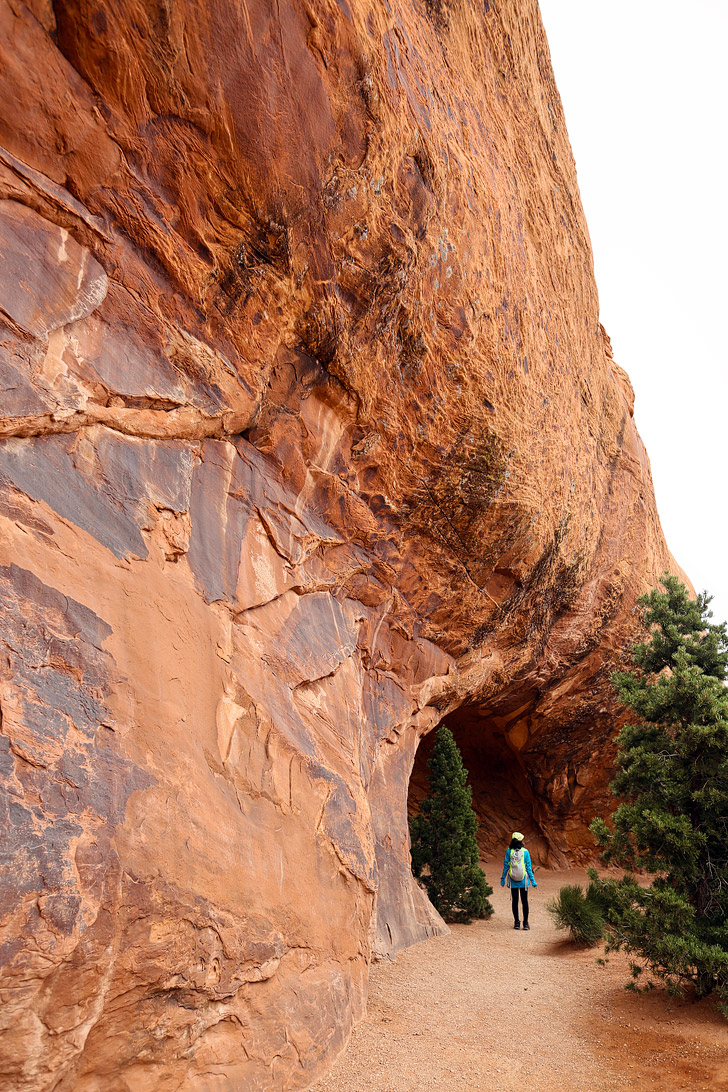 Pin
PARTITION ARCH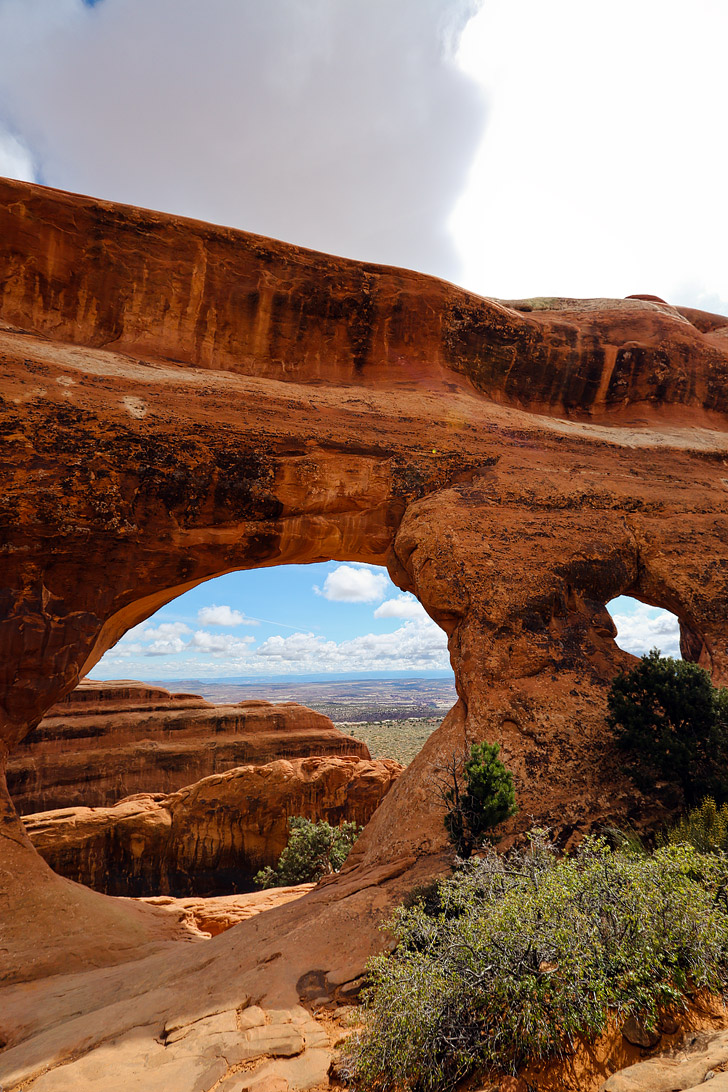 Pin
WALL ARCH
It has collapsed, but you can see the remains.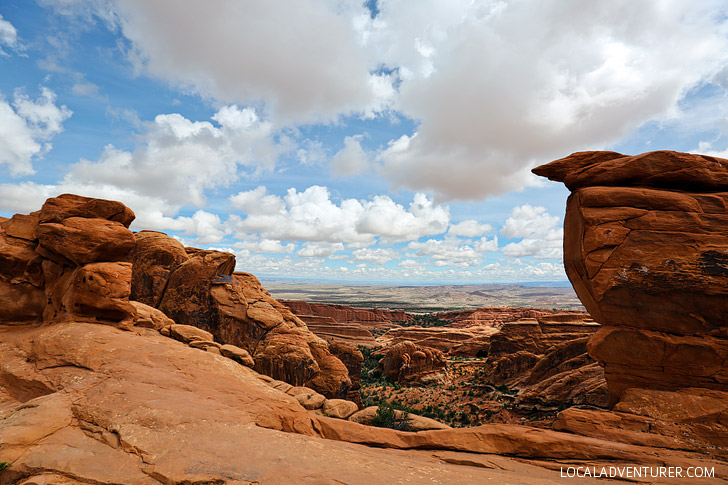 Pin
BLACK ARCH
Can you see the dark spot in the middle right of the photo?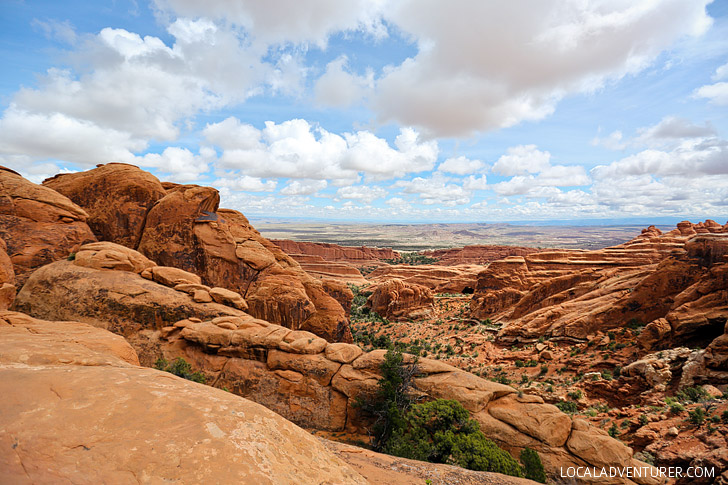 Pin
DOUBLE O ARCH
(not to be confused with Double Arch)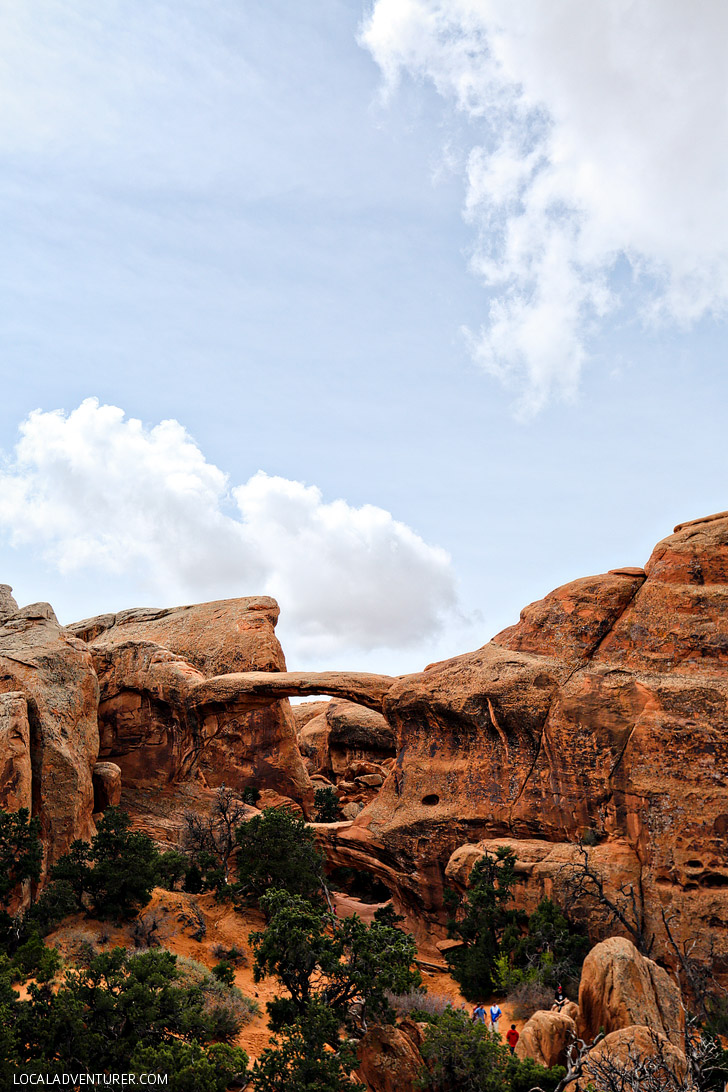 Pin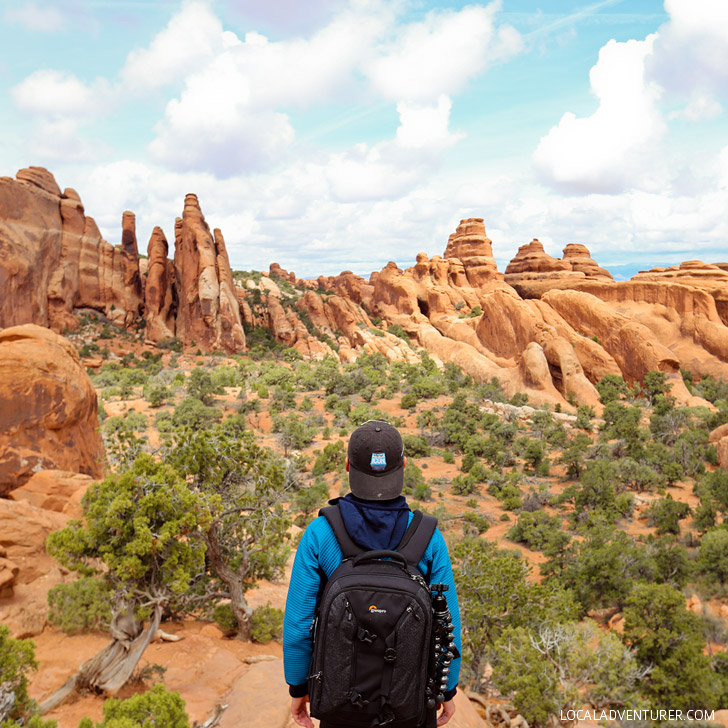 Pin
DARK ANGEL
This was our view of Dark Angel from Double O Arch. We talked to a few people who did the additional hike to Dark Angel and they said it wasn't worth it.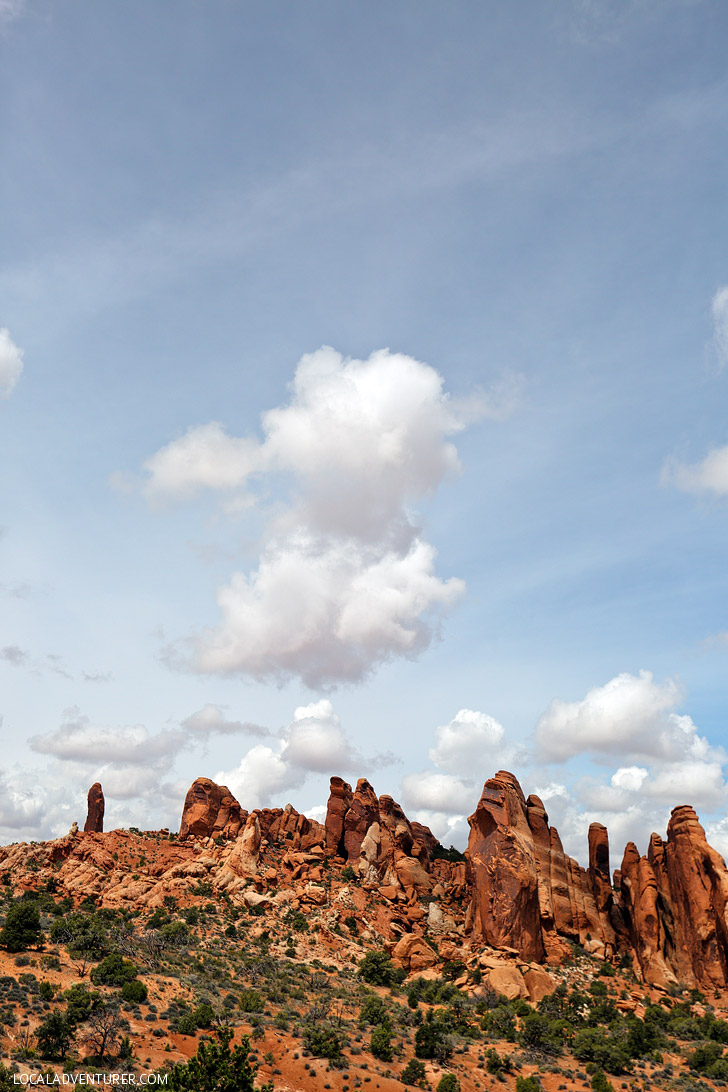 Pin

Pin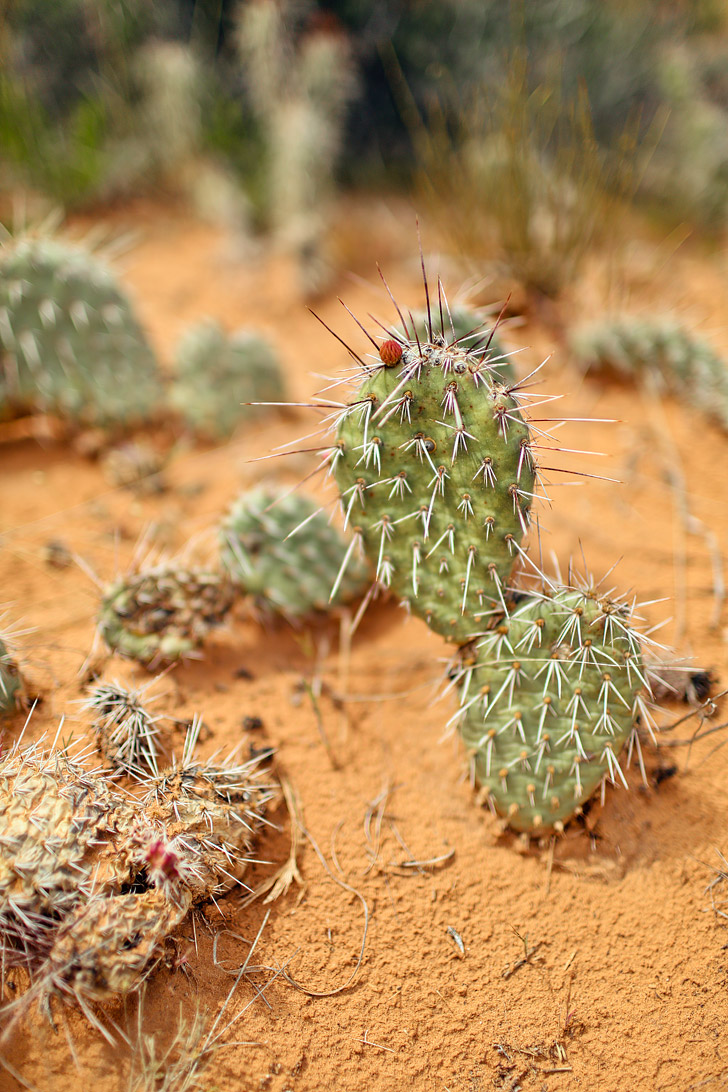 Pin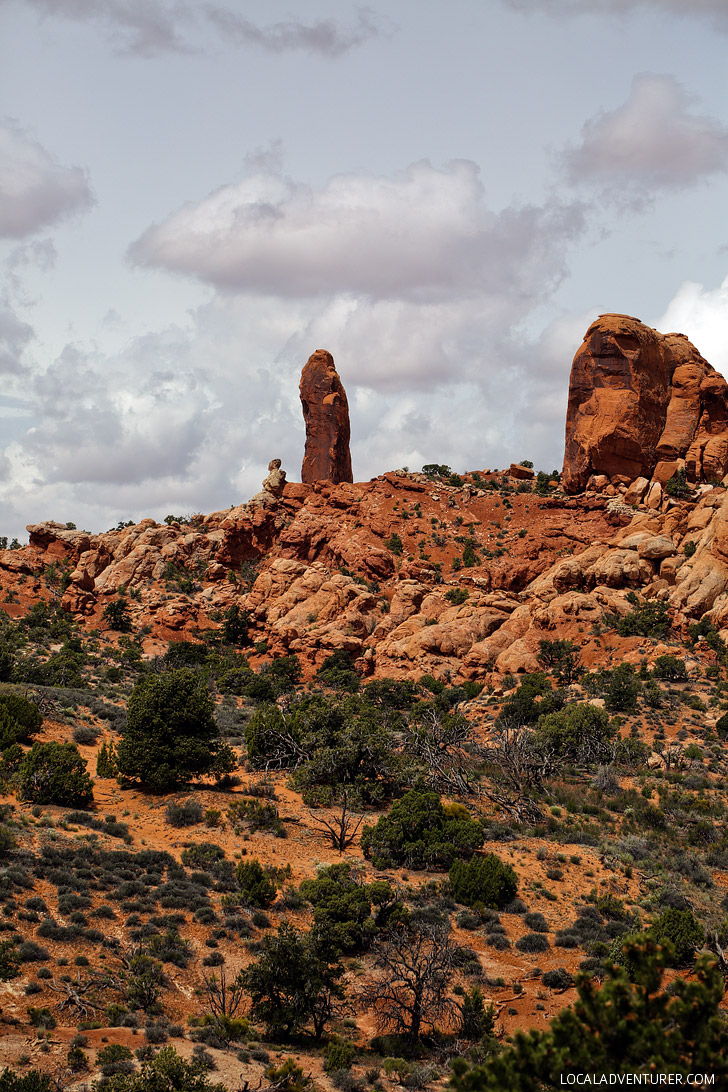 Pin
PRIVATE ARCH
The quietest spot we found was the offshoot hike to Private Arch. It lived up to the name! There were a few groups that came in and out, but it was not nearly as crowded as any of the others.
Pin

Pin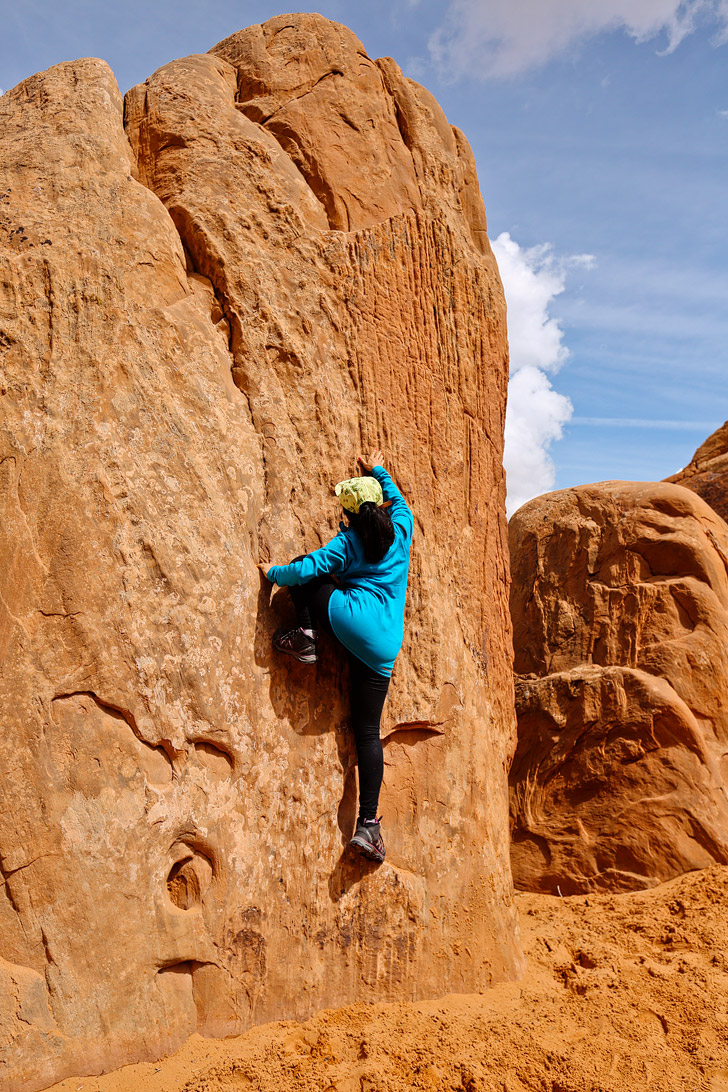 Pin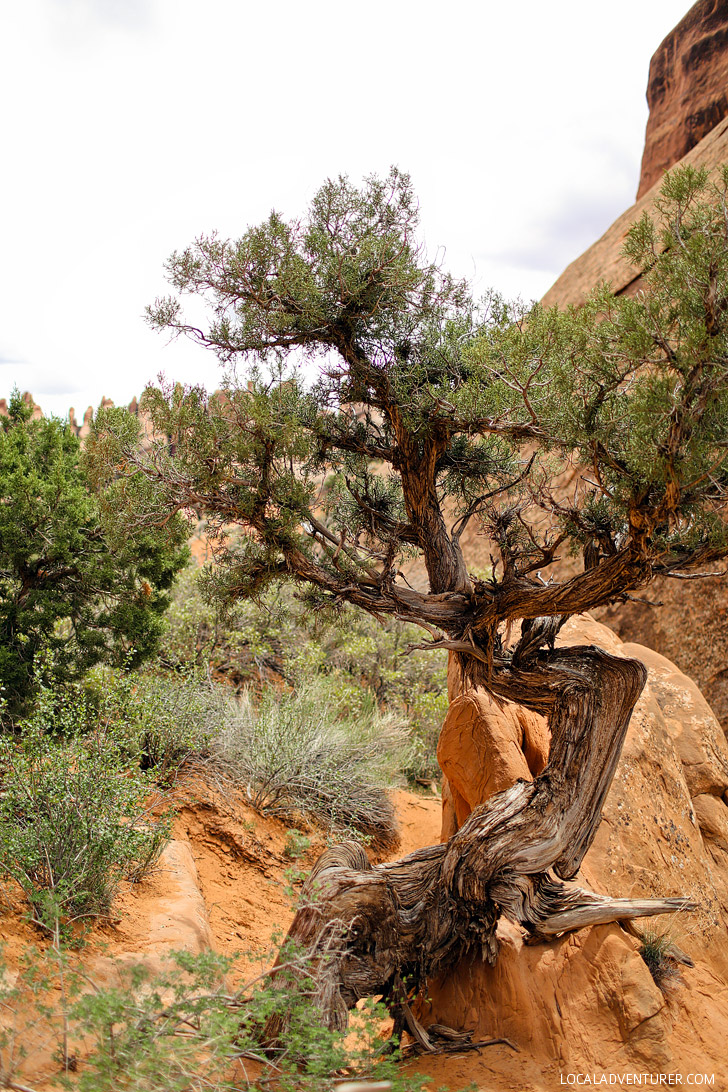 Pin
Although it's heavily trafficked, there are portions of the hike where you can find a quiet moment. The majority of hikers turn back after visiting Landscape Arch, which is one of the longest arches in the world. Others make the journey to Double O before turning back. The further in you go, the fewer people you'll see.
We loved how much versatility there was on the hike. There aren't many hikes I'm pumped to repeat again and again, but I wouldn't mind going again to spend more time at the different arches. Next time, we also need to bring our climbing shoes!
RECAP OF ARCHES YOU SEE ON THE DEVILS GARDEN TRAIL
Tunnel Arch
Pine Tree Arch
Landscape Arch
Navajo Arch
Partition Arch
Wall Arch (collapsed)
Black Arch
Double O Arch
Dark Angel (unique rock formation, not an Arch)
Private Arch
Here's a map of the Devils Garden Trail (zoom into the north part of the park).
TIPS AND WHAT TO PACK FOR YOUR DEVILS GARDEN TRAIL HIKE
Most of the hike is exposed so it's important to have plenty of water and sunblock. We each brought a softbottle, hat for sun protection (this one protects your neck too), and sunglasses.
Wear sturdy hiking shoes. There are also portions with steep drop-offs and slick rock! One spot later in the hike had some people turning around, especially those who weren't wearing hiking shoes with good grip or those afraid of heights. I'm usually freaked out by heights, but didn't have any issues with these shoes on (his + hers).
Depending on how long you want to stay at each of the arches, this can be a full day hike. We spent a lot of time taking photos. Make sure you bring a lightweight daypack with plenty of food and snacks. I brought my Cotopaxi Luzon 18L daypack and Jacob brought his Exped 25L daypack (similar to REI's flash pack, but we have both and like the exped better since it folds into itself).
In order to photograph some of the arches in full, it's best to have a wide-angle lens.
WANT TO STAY NEARBY? Click Here For Best Prices and Hotel Reviews
Have you been on any fun hikes lately?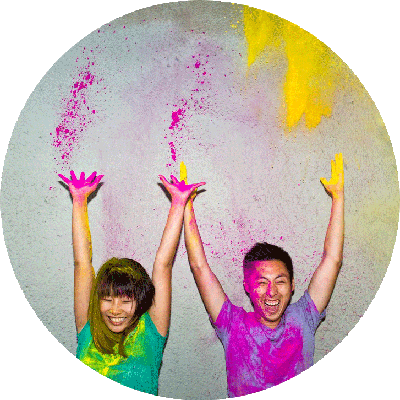 Pin
ESTHER + JACOB
Esther and Jacob are the founders of Local Adventurer, which is one of the top 50 travel blogs in the world. They believe that adventure can be found both near and far and hope to inspire others to explore locally. They move to a new city every year and currently live in Portland, Oregon.