We heard about the long days in Alaska, but it felt unreal to experience it in person. Dinner at 9pm felt like an early dinner with our plates perfectly lit up by the window light. At 1 am, we had to pull the blackout curtains, because golden hour last for several hours. It was all very trippy, and I thought to myself, I could live here for a summer.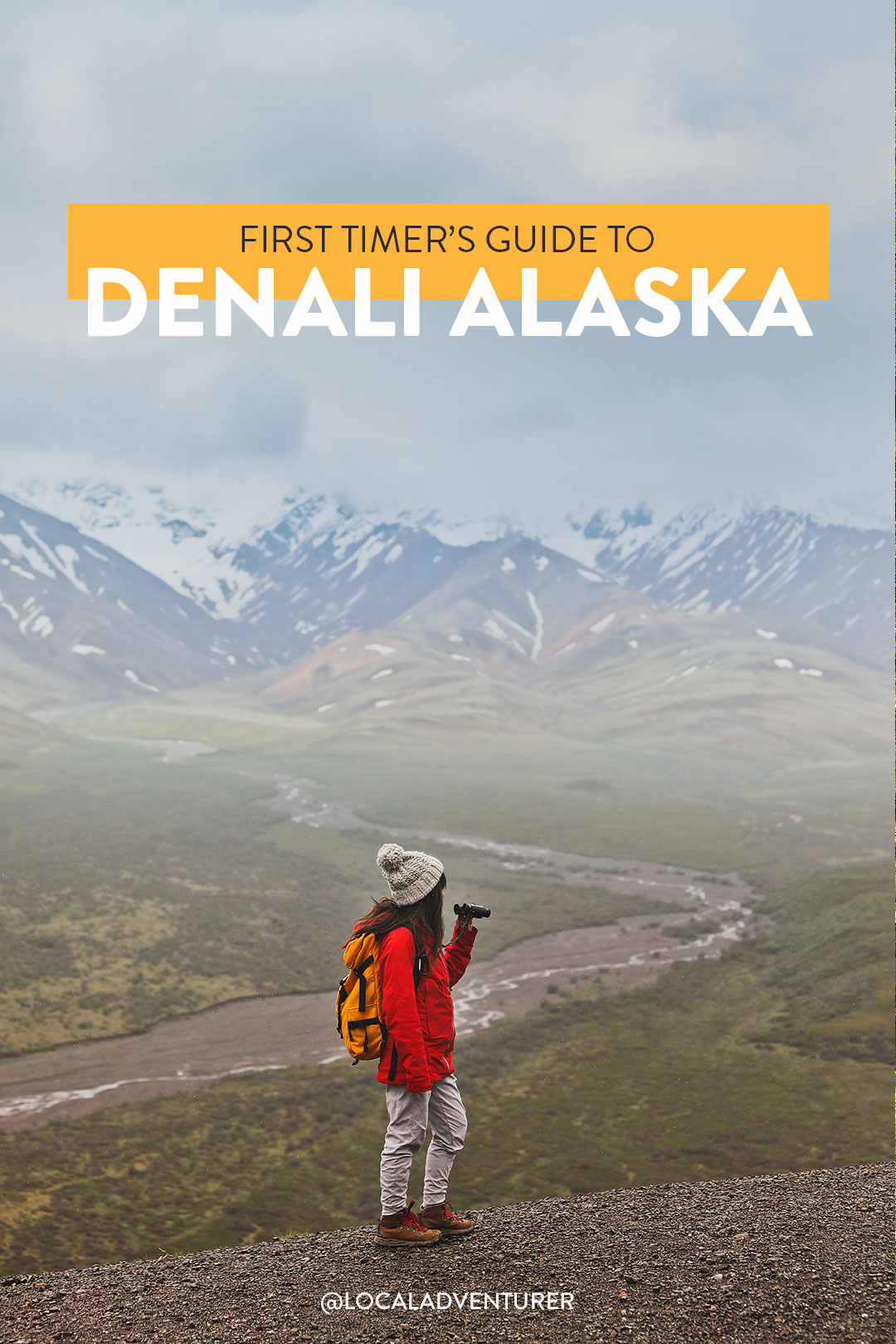 A big thank you to Nation's Vacation and Denali Park Village for hosting our trip and sponsoring this post. All opinions are always our own. This post may contain affiliate links, where we receive a small commission on sales of the products that are linked at no additional cost to you. Read our full disclosure for more info. Thank you for supporting the brands that make Local Adventurer possible.
First Published: July 26, 2019
17 Unforgettable Things to Do in Denali National Park
After spending 5 days exploring Denali National Park, we're already putting together a game plan on how get an RV and slow travel through Alaska!
While we were there, a lot of the people we met were just passing through on a cruise. Most people only spend a day or two in the Denali area before heading to their next destination on their Alaska itinerary. We stayed 5 days and still felt like it wasn't enough. Meet you there next year?
What You Need to Know Before You Visit
You can only drive the first 15 miles into the park. From Savage River Check Station, you must either take a bus, bicycle, or hike in. Most people see Denali National Park by either shuttle bus or interpretive bus tour.

Mt McKinley was renamed Denali in 2015 so you'll still hear both names.

Weather is fickle. Our driver was told us that only 30% of people get to see Denali. A lot of the times, it is shrouded in clouds. For your best chances, go as early morning as possible. Clouds tend to come in during the day.
Bring a map (NatGeo Denali National Park) or hike with a guide. Denali is wild. It's the backcountry and there are not many well-maintained trails. It's easiest to hike when you stick near river beds but you can expect bushwhacking and stream crossings as well.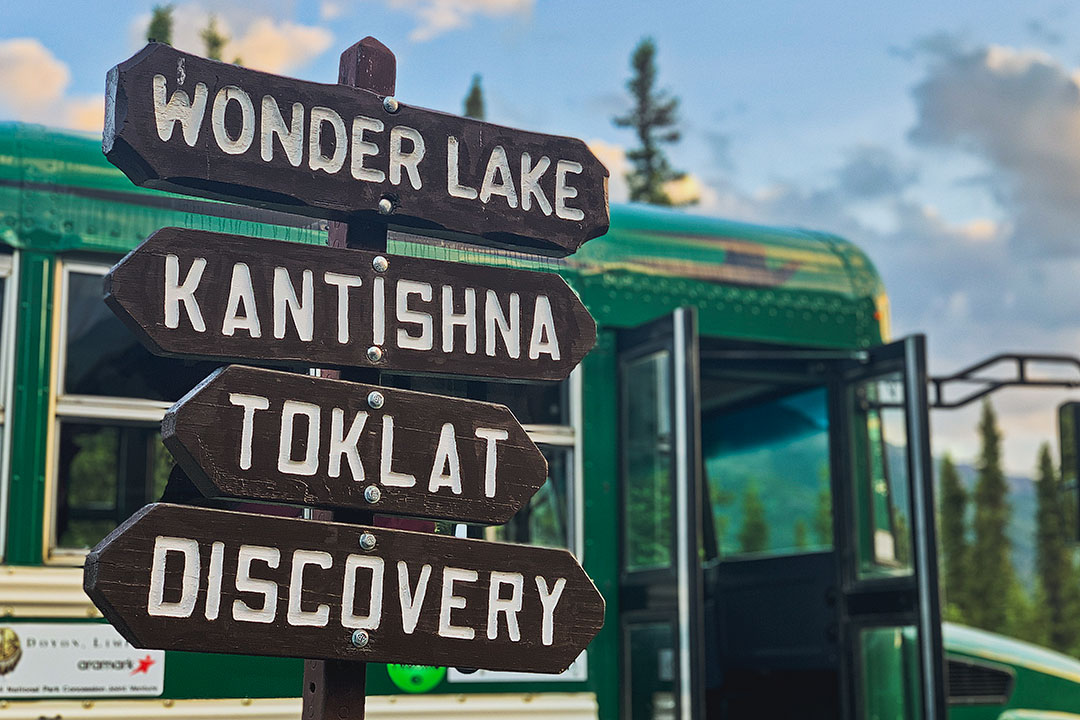 How the Buses Work - 4 Types of Buses
This was probably what confused me the most before I arrived in Denali.
Free Shuttle Buses only travel the first 15 miles of the park road. It connects visitor centers and points of interest where you can already drive your own vehicle.
Tour Buses are narrated and can travel further into the park along Denali Park Road. There are three types of tours that range from 4.5 hours round trip to 11 hours round trip. The biggest advantage of these is that they will stop when wildlife is spotted and give everyone plenty of time to watch them in their natural habitat.
Transit Buses are non-narrated. These are cheaper than tour buses and more flexible on stops. You can disembark or rebound anywhere along the road (although most of the time, they are full and those who have tickets to that specific bus get priority). They make brief stops for wildlife, but their main purpose is to get you from point A to point B. For paid buses (both tour and transit), reserve in advance as they fill up quickly.
Camper Buses take you to campground and backcountry hikes but can only be accessed through a reservation or backcountry permit.
Specific schedules are subject to small adjustments throughout the season. Always check the latest schedule when you arrive.
When you purchase your tickets, you will be charged the park entrance fee. Be sure to bring your annual park pass (good for up to 4 people) with you. If you forgot it like we did, you can bring it the next day and get a reimbursement.
Bus trips range from 4.5 to 12 hours. Keep that in mind while you're planning your days. If you plan on trying to catch a bus back, be patient. Those who have tickets for that particular bus will have priority.
The Denali Visitor Center is only open in the summer from 8am to 6pm. This is the main visitor center near the entrance of the park. Watch the park film, check out exhibits, or join one of the ranger led programs. You can also get backcountry permits here.
The Murie Science and Learning Center (MSLC) is the main visitor center during the fall, winter, and spring. It is also located at the front of the park and showcases research from living laboratories like Denali National park. It is open daily from 9:30am to 5pm.
The Eielson Visitor Center is also only open during the summer. It's located at Mile 66 and can be reached by most shuttle buses and the Kantishna Experience tour bus. There are ranger-led programs, a small art gallery, and beautiful views of Denali on clear days. It's open from 1pm to 3pm in the summer and 9am to 5:30pm the rest of the year.
The Denali Bus Depot (formerly Wilderness Access Center) is only open in the summer. You can busy bus tickets, reserve campsites, and check in for existing reservations. It is located near the park entrance and is open from 5am to 7pm. There is a small coffee shop, bookstore and is where you will catch your bus.
The Walter Harper Talkeetna Ranger Station is located about 100 miles south of the Denali National Park and Preserve in the town of Talkeetna. This ranger station is the center of mountaineering operations. Climbers who plan on hiking Denali or other peaks in the Alaska Range need to stop here first. It is open year round from 8am to 5:30pm.
With Explore Denali Rafting, you can either hop on a mild Wilderness Float Trip where you can simply enjoy the views, or get your adrenaline pumping on a Paddle or Canyon Run.
We did the Paddle Run and hit some gnarly rapids! There were only four of us in the raft in addition to our guide, where we all had to paddle. Another raft floated along with us on the Canyon Run, where the guests just hold on while the guide does all the heavy lifting. BUT did you really raft if you don't paddle? We'll let you decide. Either way, we highly recommend experiencing the Nenana River.
You'll be on the water for about 2 hours and 3-4 hours total including pickup, instruction, and gearing up. They provide all the equipment you need, including dry-suits since the water stays cold year round, transportation to and from your hotel, and experienced river guides.
Pro Tip: If you'd rather watch your friends raft, head to Milepost 242 of the George Parks Highway. You'll be able to see them raft through the Cable Car Rapid. There's easy parking and you can even hike down to the Nenana River.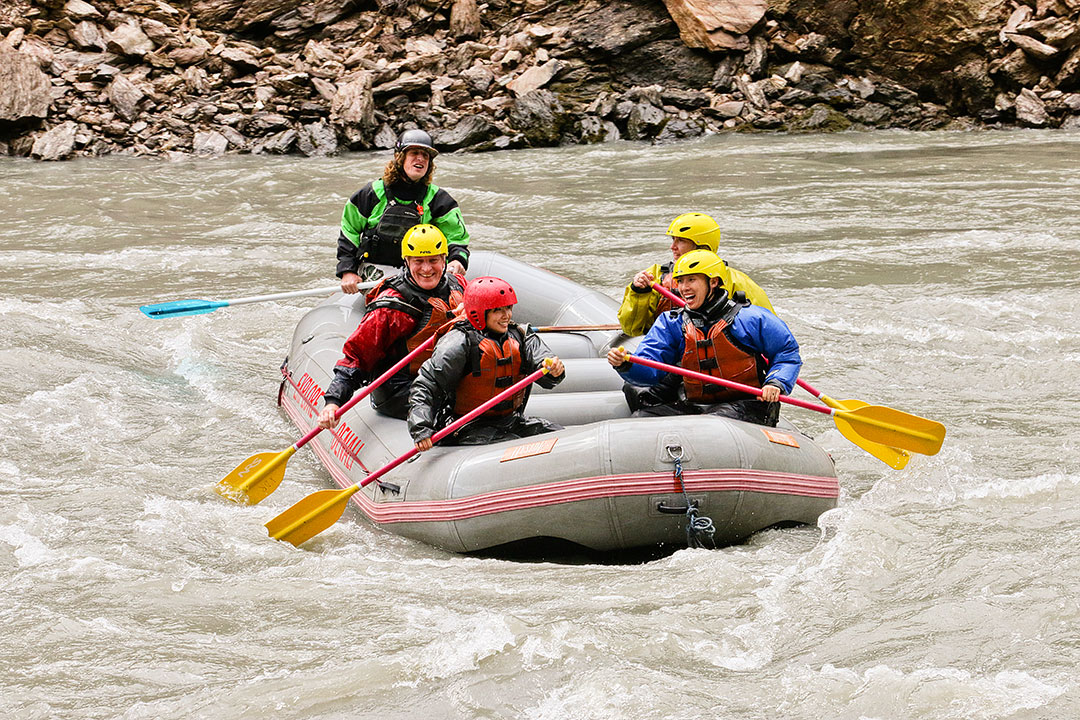 Out of the Big 5, the only ones we didn't see was the last one. 
Caribou / Reindeer
Dall Sheep – look for a white dot
Grizzly Bears – look for a golden bail of hay
Moose – look for a large brown mass
Wolves
More Denali Animals to Look Out For: Collared pika, coyotes, golden eagles, hoary marmot, lynx, porcupine, red fox, snowshoe hare, wolverines, and more. See the full list here.
Pro Tip: Bring the longest lens you own. I was wishing I had a 400 mm on a crop sensor. Unless you're lucky, most of the animals are far away. Keep in mind that it's not a zoo, and you're never guaranteed to see wildlife. We've been to plenty of national parks where we didn't see much, meanwhile, everyone and their moms would have epic sightings. This was by far our luckiest trip for seeing wildlife. 
When: June 1 – September 12
Time Needed: 7-8 Hours
Distance: 63 Miles to Stoney Hill Overlook then Back
We rode both the narrated bus and a shuttle bus, and actually recommend both if you have the time. The Tundra Wilderness Tour is great because you have more time to see wildlife and our driver was insanely good at spotting wildlife. They even have a camera where they can zoom in so you can see them closer on the bus monitors.
During the tour, the driver shared the history of Park Road and stopped at every opportunity to see wildlife, where you had plenty of time to take photos and watch them in their natural habitat. When Denali is visible, you also get some of the best views of the mountain. The bus stops roughly every 1.5 hours for bathroom breaks and to stretch your legs. 
Pro Tip: They provide a box of snacks, but also bring your own lunch and extra snacks since it's a long day out.
There are 3 Interpretive Bus Tours with different itineraries. All tours stop every 1.5 hours for restroom breaks and offer either a snack or full lunch.

Denali Natural History Tour (4.5-5 hr, 30 mi one way) – History of humans in the park
Tundra Wilderness Tour or Toklat Shoulder Season Tour (7-8 hr, 63 mi one way) – Focus on wildlife
Kantishna Experience Tour (11-12 hr, 92 mi one way) – Focus is on the landscape. Out of the 3 interpretive bus tours, this is the only one that takes you to the end of the Park Road, the only one that stops at Eielson Visitor Center, and the only one with an Interpretive Ranger from the National Park Service that joins you at Wonder Lake.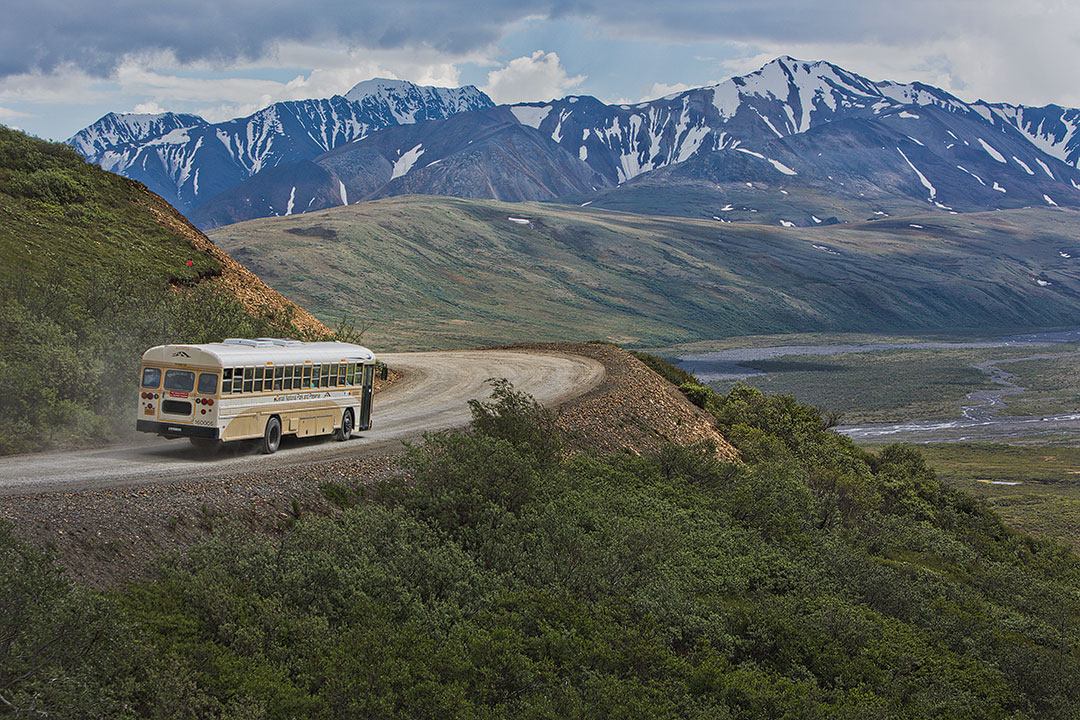 When we go hiking on our own, we miss a lot of details because we're focused on getting to the destination or worried about running into wildlife. The Triple Lakes Trail Interpretive Hike was a great way to learn more about the boreal forest, where to keep an eye out for wildlife, and the best vantage points.
Our guide tailored the hike to what we were interested in, helped us stay on pace, and answered questions about the local flora and fauna. He also gave us suggestions on other hikes to check out and places in town we should stop by.
Pro Tip: Let your guide know if there is something in particular that you're interested in, so he or she can point them out and tell you more about it during the hike.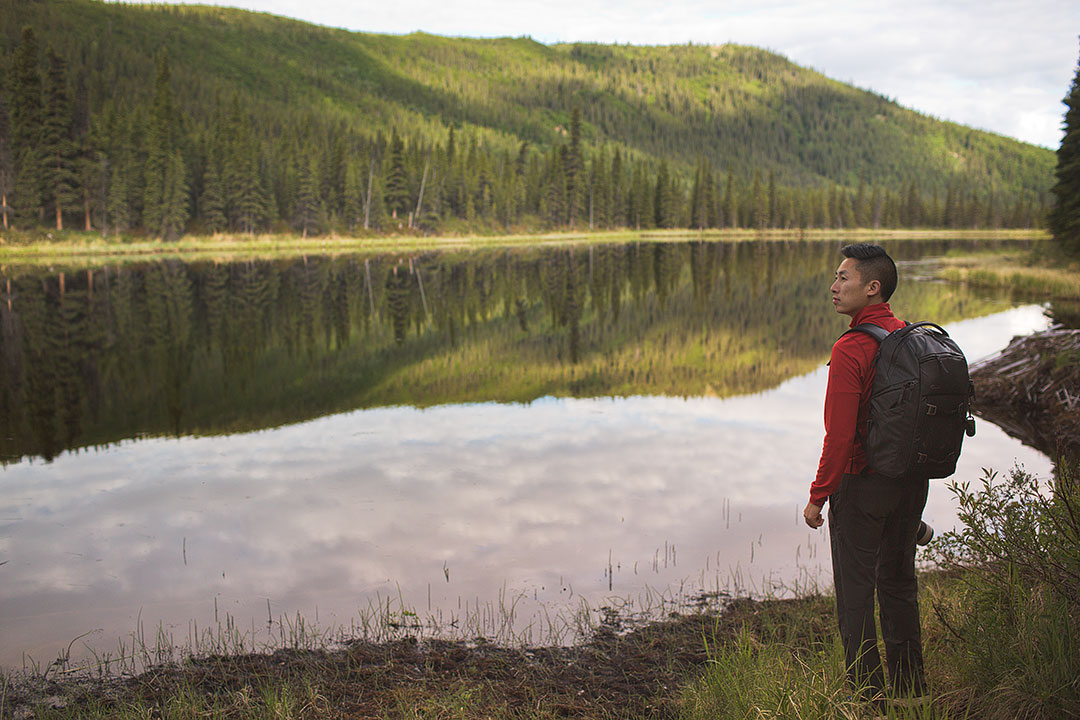 These views were jaw-dropping. The mountains went on forever, and you get to soar above the clouds for better chances to see Denali.
Denali Air navigates through the park through their small aircrafts giving you views of mountains, glaciers, and even Denali up close. Our pilot pointed out the different basecamps of the mountaineers too.
During our trip, it was amazing to see the park from land, water, and air.
Pro Tip: The pilot does a great job trying to give both sides of the plane good views. If you're shooting, it helped to have a longer lens to get past the wing and propellers of the plane. We mostly used our 70-200 mm lens.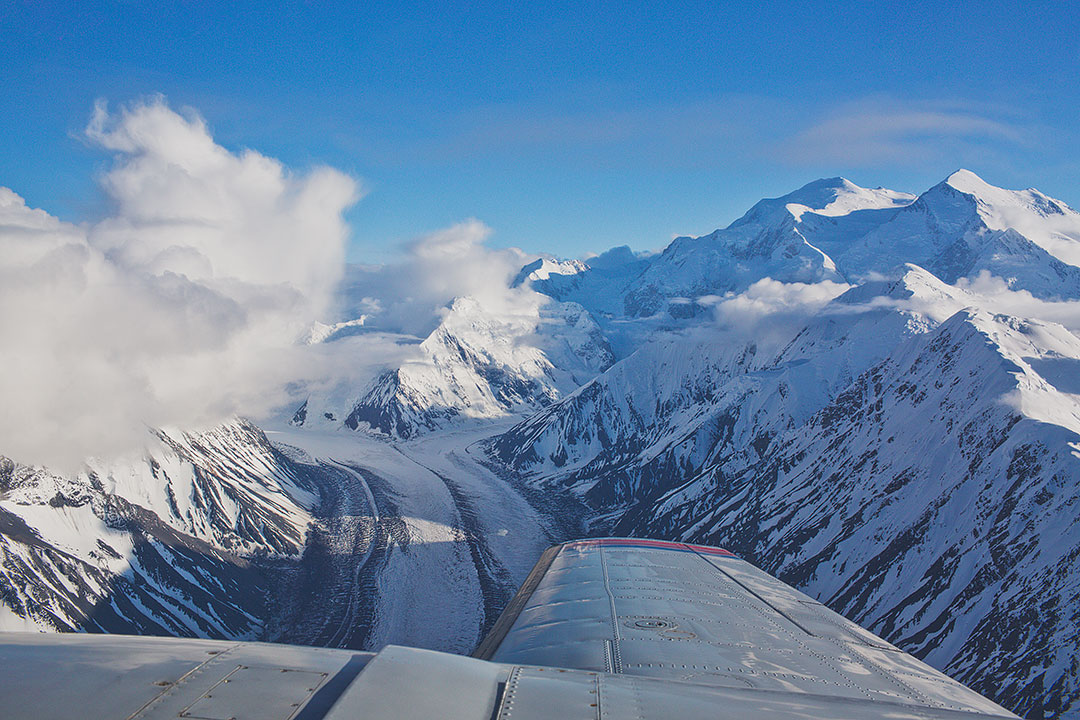 If you love dogs, this is a must! Denali National Park is the only park that uses sled dogs, and these canine rangers have worked alongside their human counterparts since the 1920s.
The kennels are roughly 3 miles into the park and open year-round. During the summer, you can stop by to meet the pups and watch a sled dog demonstration. During the winter, the dogs and rangers are frequently in the park, so be sure to check at the visitor center before making your way to the kennels.
Pro Tip: Everyone talks about the sled dog demonstrations, but if you are short on time, you can just go see them. You can drive your car to the kennels but parking is limited. During the summer, you can take a free shuttle bus here.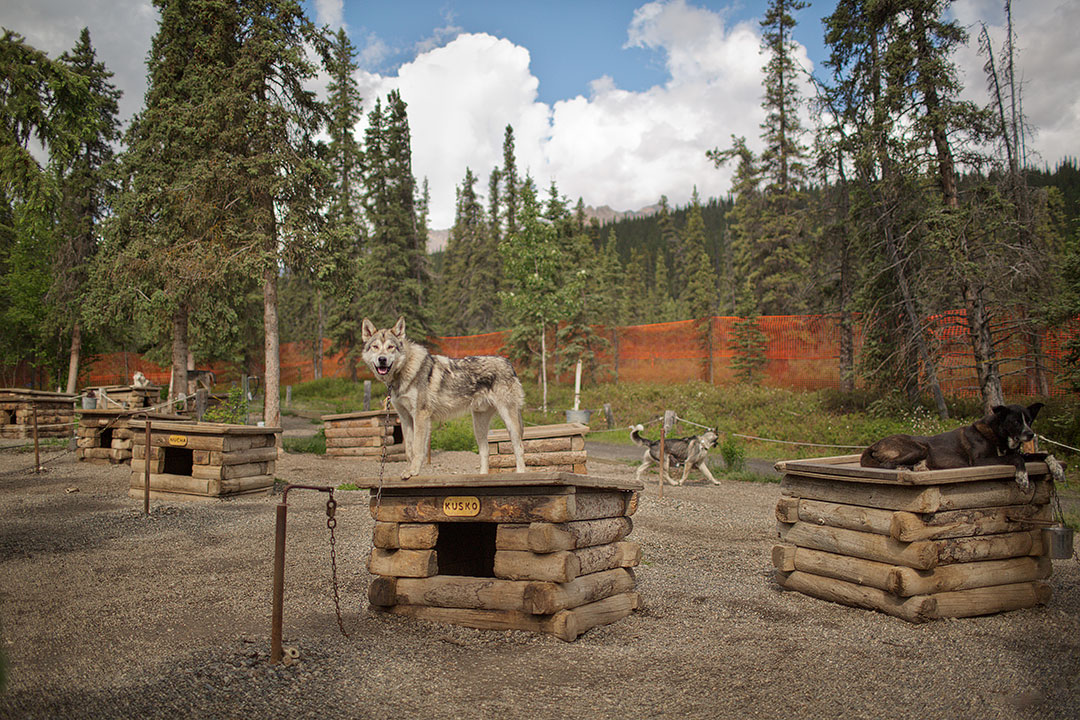 7. Stony Hill Overlook (Mile 62)
This was our favorite view of Denali and the last stop on our Tundra Wilderness Tour. When we took the transit bus out to Wonder Lake, we were hoping we might make a stop here again, but since the Eielson Visitor Center is just a few miles past this, the driver didn't bother stopping here.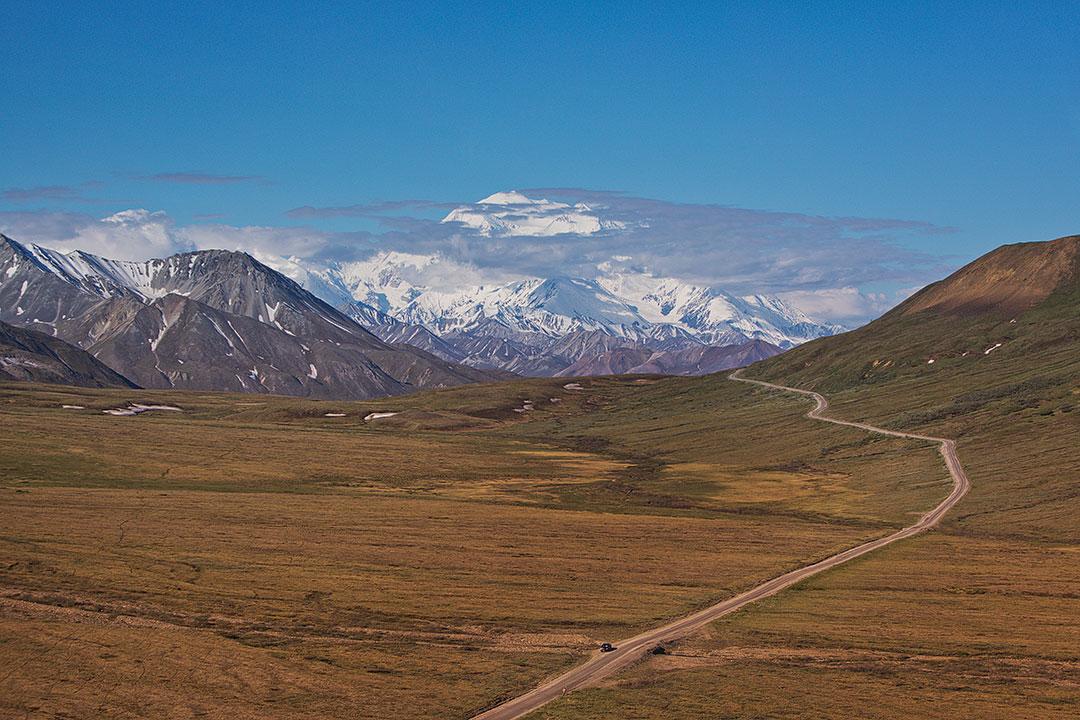 If you only do one thing in the park, visit the Eielson Visitor Center. You get amazing views and see a lot of the park on the way – Josh, Youth Volunteer
The Eielson Visitor Center is only open in the summer and has great views of Denali on clear days. There are daily ranger-led programs, a small gallery of art, and has some of the few established trails in the park.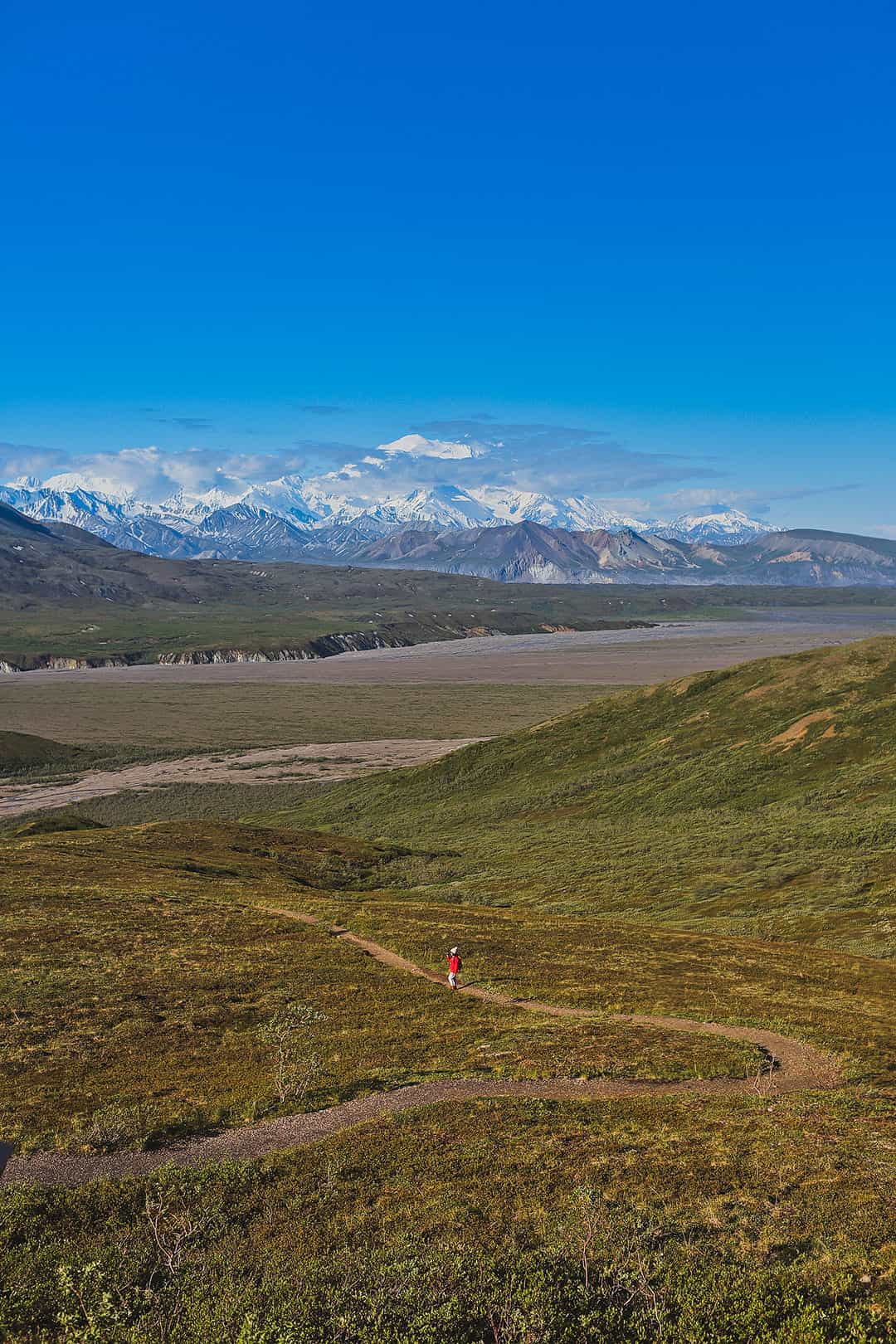 The Murie Science and Learning Center is also Denali's winter visitor center. Check out exhibits and learn how to be better stewards of national parks in Alaska.
10. Wonder Lake (Mile 84.5)
Wonder Lake is a popular campground with 28 sites and the closest to Denali (although it's still 26 miles from the mountain). Our initial plan was to come up here to find Reflection Pond, which is next on the list, but since clouds covered Denali by the time we were here, we decided to enjoy the lake for a bit then head back.
Pro Tip: Mosquitos here were ruthless! Not only because of the sheer number of them, but nothing seemed to phase them either. If we visit again, we're definitely bringing bug nets.
11. Reflection Pond (Mile 85.3)
Photographers love Reflection Pond. As its name implies, you can get beautiful photos of Denali and Foraker reflecting off the surface of the pond. We were bummed that Denali was covered in clouds by the time we got there. Next time, we'll have to camp at Wonder Lake to take advantage of the morning light and increase chances to see the mountain.
Pro Tip: If you're taking the bus to Wonder Lake to get here, ask the bus driver to drop you off before he descends down to Wonder Lake. That will save you from hiking back up the hill just to find the pond.
Enjoy a family-style dinner and show at Denali Park Village. The show shares about the local history through music and humor. Set in the early 1900s, the cast is talented and charismatic and they do a great job getting the crowd involved.
Note: We'll admit that this is usually not our cup of tea, but it was a great way to meet other people at the communal restaurant tables.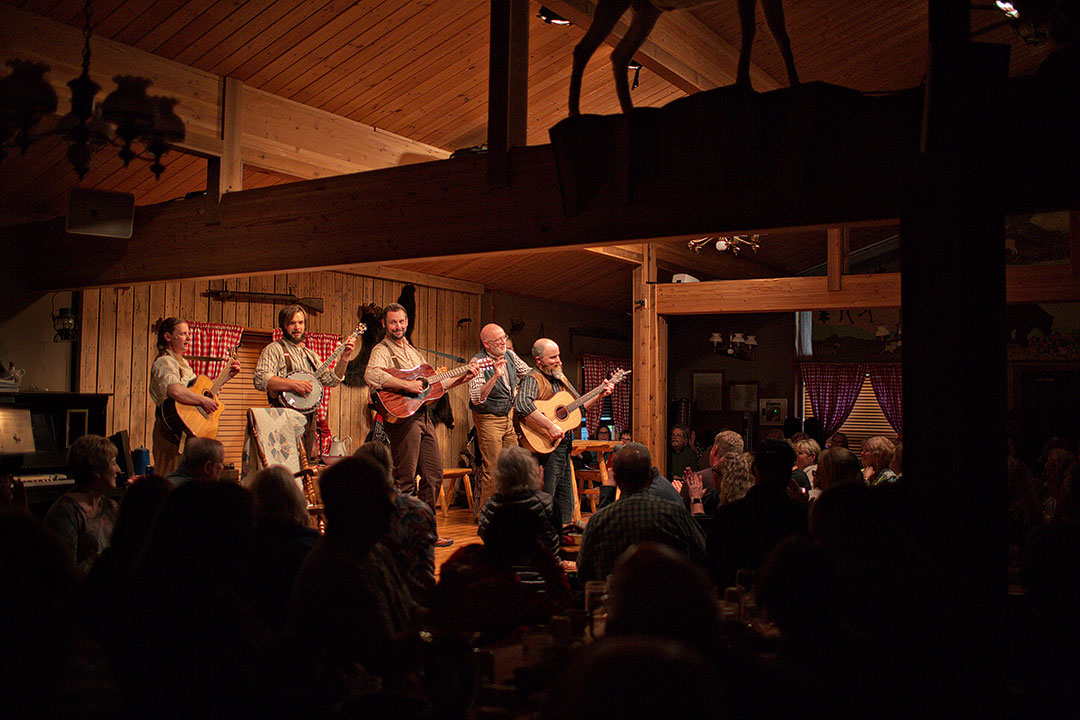 We've never taken old-timey photos before, but Alaskan themed old-timey photos? Down! They use authentic clothes, help you get dressed, and make the experience really quick and smooth. Everything in the photo was real except for the snow and husky.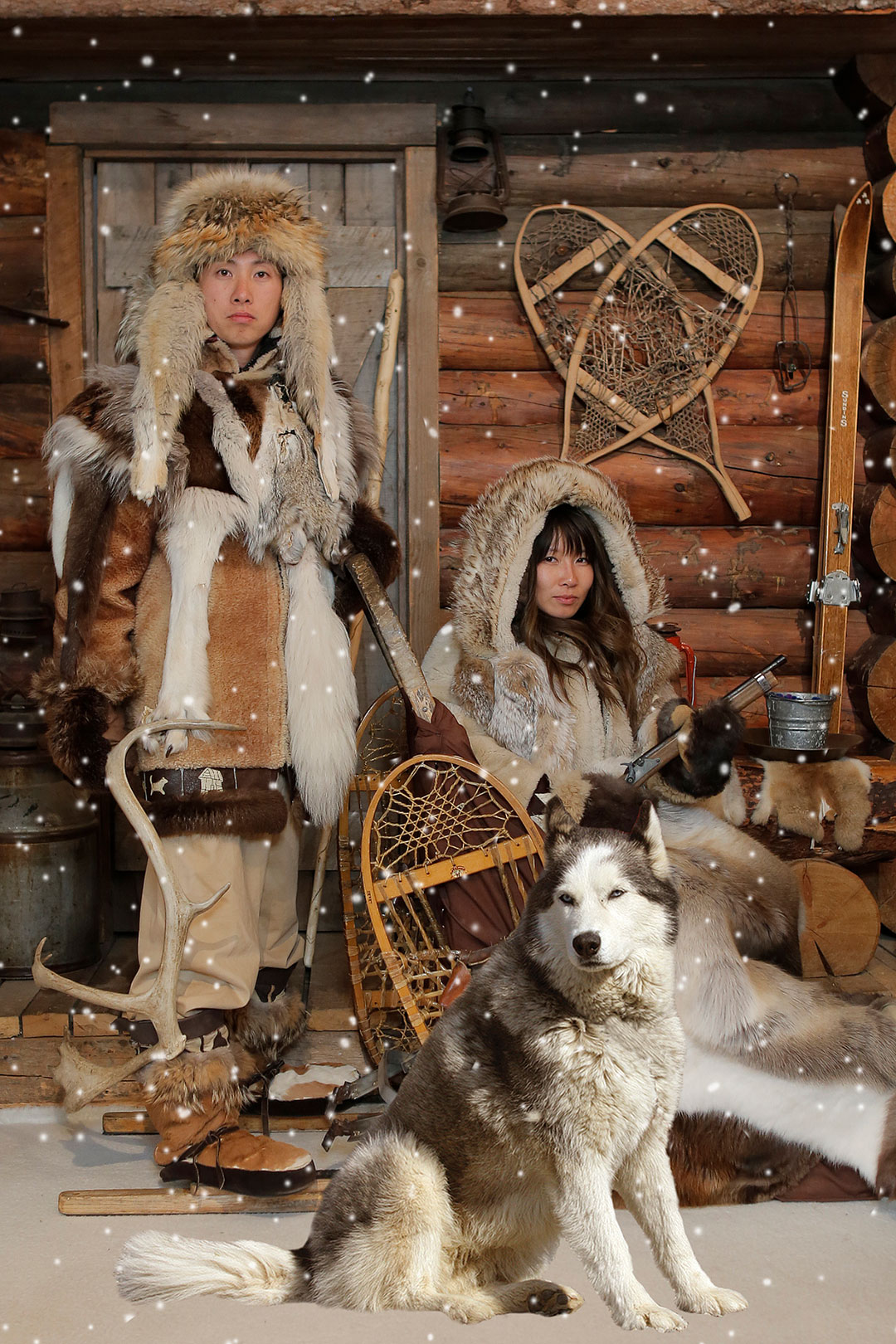 If you want to explore more of the park, much of it is done in the backcountry. Stop by the Wilderness Access Center to get all the info you need about camping and backcountry in Denali. The six million acres are divided into 87 backcountry units (each unit is tens of thousands of acres). 41 of those units have a limit on the number of people allowed to camp each night.
Tips:
Your entire party must be present when obtaining your permit.
You must have a backcountry permit before purchasing a camper bus ticket.
Supplies are limited in the Denali area. Try to purchase items you need before arriving.
Backpacking units are subject to availability. They are only issued the day before or the day of your trip. Your best chances are to arrive at 8am the day before your trip to get your choice in unites.
You will need to complete a backcountry orientation and it will be good for the season. You can even save time by watching the video at the Denali Visitor Center before the day of your permit. Just be sure to document with the park staff that you watched it.
Have a few units picked out ahead of time so you can select the one that is available. You can read more about each unit here.
If it's your first off-trail backpacking trip, these units are a good starting point: 1 (features a trail), 9-13, 18, 34, and 42.
Read more about how to plan for your trip here.
Pro Tip: If you're new to hiking in the backcountry, we highly recommend you go on a ranger-led backcountry hike before you venture out on your own. One of the locals told us that they ran into 16 grizzlies on one hike.
15. Bike Denali Park Road
Cycling is a great way to see the park plus visitors are allowed to bike all 92 miles of the Park Road. You can check out trip ideas here. More Tips:
You can ride on park roads, parking areas, and campground loops. Bicycles are prohibited on all other trails.
Electric bikes are not allowed beyond the first 15 miles.
Bring your own repair kits.
Eielson Visitor Center at mile 66 is the only place to refill water.
Be aware of wildlife. You cannot cycle faster than a bear (they can run up to 35 mph).
Remember weather can be fickle. Be prepared for all types of weather.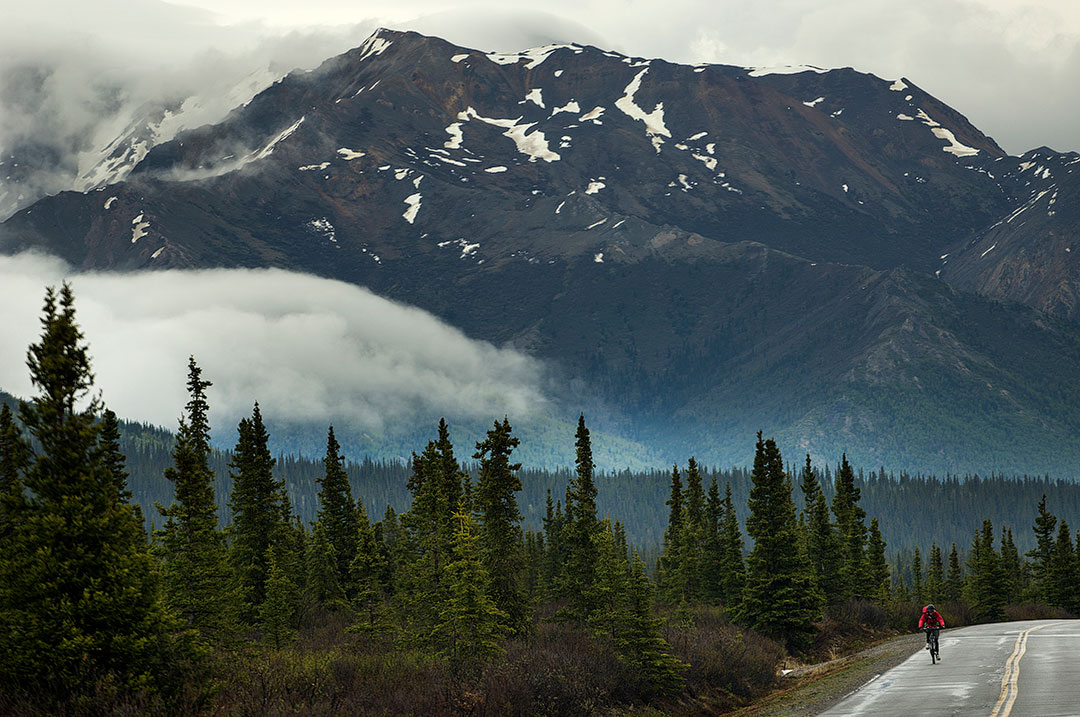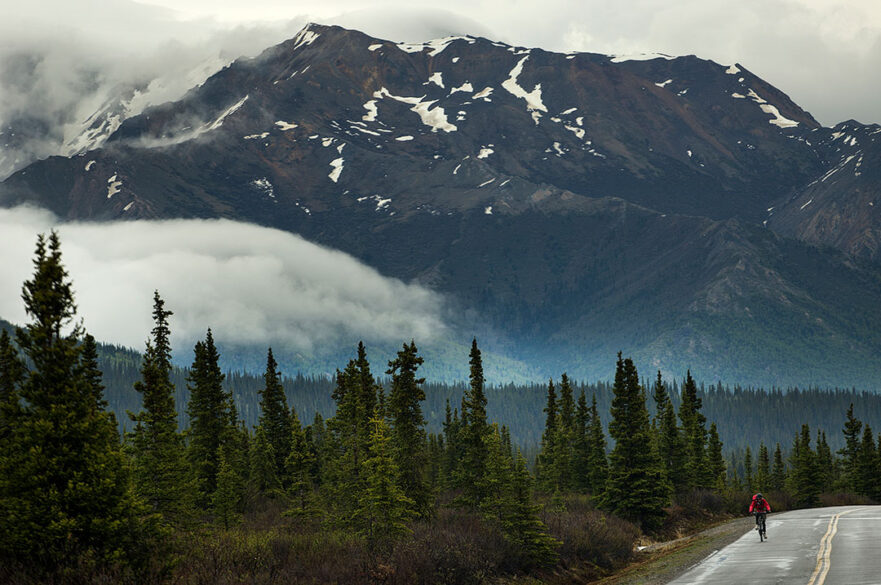 September is my favorite time of year. The weather is perfect, the bugs are gone, and you get a chance to see the Northern Lights. – James, Our Local Hiking Guide
Summer is amazing because you get such long days, but if you visit in the spring, fall, or winter, you also get a chance to see the Aurora Borealis or Northern Lights. The sky is usually dark enough starting the second week of August.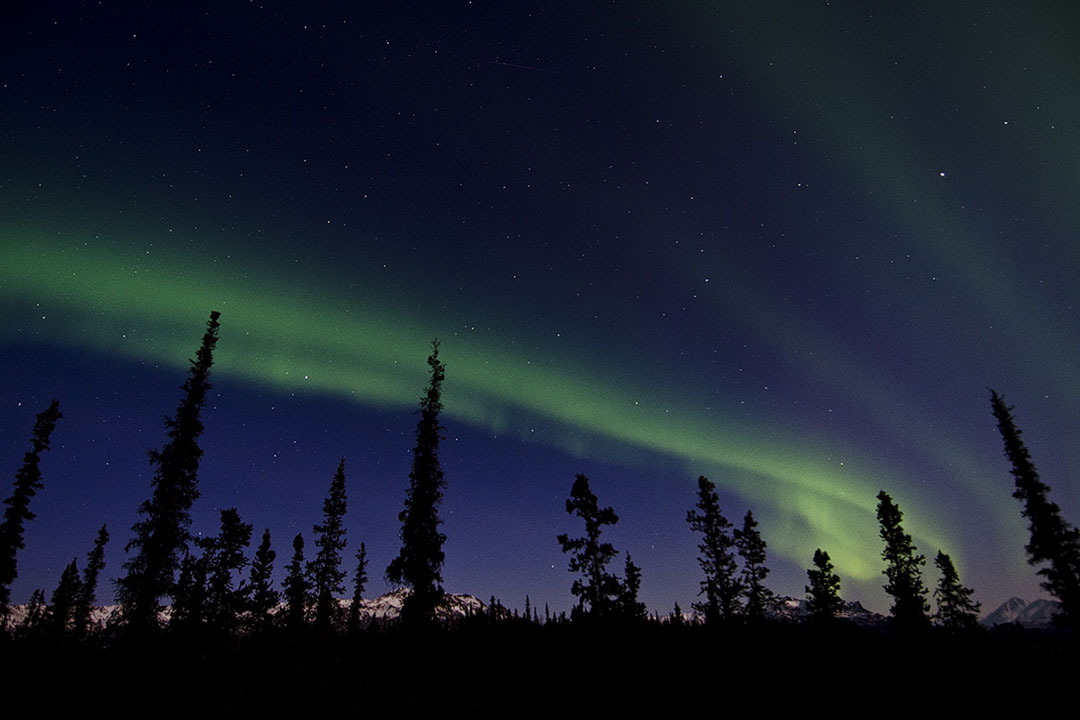 Every year, they open the Park Road to the public through a lottery.  Applications run from May 1-31 and they only award 400 passes each day. If you're lucky enough to win the lottery for this 4-day event in September, you can drive as far as Wonder Lake (mile 85). Otherwise, you'll have to join the rest of us via bus. Find more details here.
More Things to Do at Denali National Park
Become a Junior Ranger – always a fun way to learn about the park. It's great for kids, and most of the time they don't discriminate against adults. ;)
Fishing – although it's not a super popular fishing spot because of the glacial silt, you can fish at Wonder lake and a few clear streams that flow into Savage River.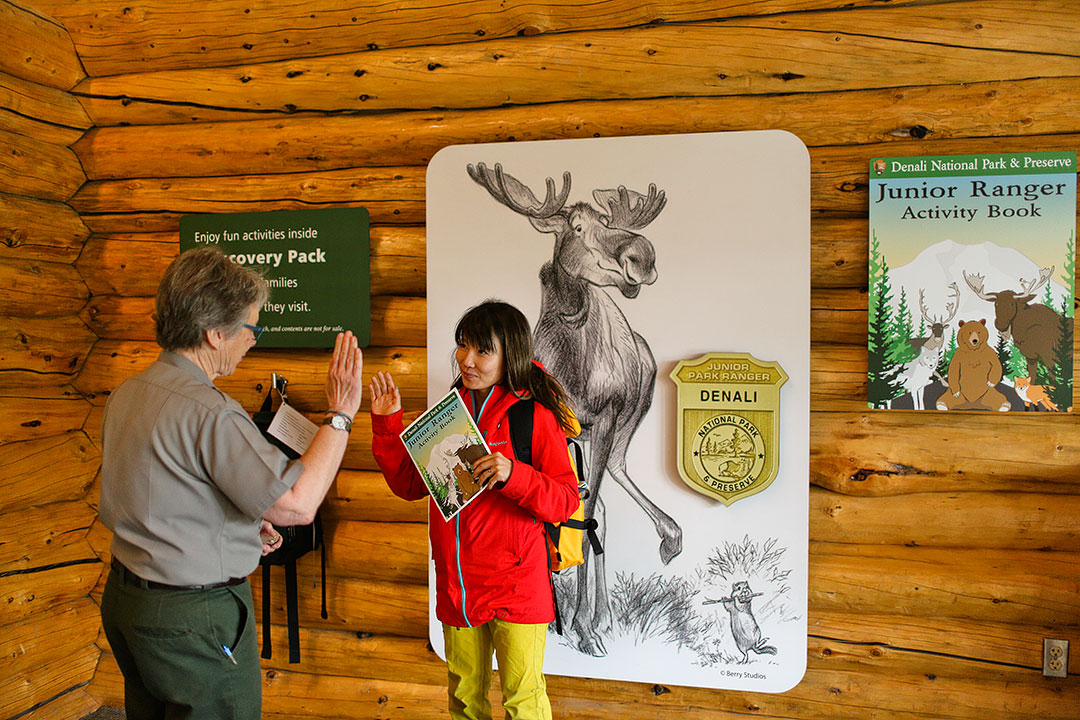 Best Overlooks and Views in Denali
9 Mile Marker – first view of Denali view (you can access with your own car)
10.6 Mile Marker – both Denali peaks are visible
13 Mile Marker – Mountain Vista Trailhead. See Denali on clear days.

16 Mile Marker – Primrose Ridge – you can see Denali, wildflowers, & wildlife

30 Mile Marker – Teklanika River Bridge

46 Mile Marker – Polychrome – colorful mountains (watch for grizzlies, moose, caribou)

 53.1 Mile Marker – Toklat River – caribou and other wildlife

61.95 Mile Marker – Stony Hill Overlook – one of the best views of Denali

66 Mile Marker – Eielson Visitor Center – 33 miles from Summit of Denali

85 Mile Marker – Wonder Lake – moose here at dusk and dawn
Horseshoe Lake Trail (2.1 mi loop, 393 ft △, easy) – look for moose
Mt Healy Overlook Trail (4.3 mi roundtrip, 1666 ft △, moderate) – a lot of exposed trail
Savage River Area
Eielson Visitor Center Area
Triple Lakes Trail (18.5 mi round trip, 3690 ft, strenuous) – the one we did. It's the longest established trail where you see three lakes, blueberry patches, bears, waterfowl, beavers.
Rock Creek Trail (4.4 mi, 944 ft, moderate)
McKinley Station Trail – easy, 3.2 mi
Visit this page for a complete list of day hikes.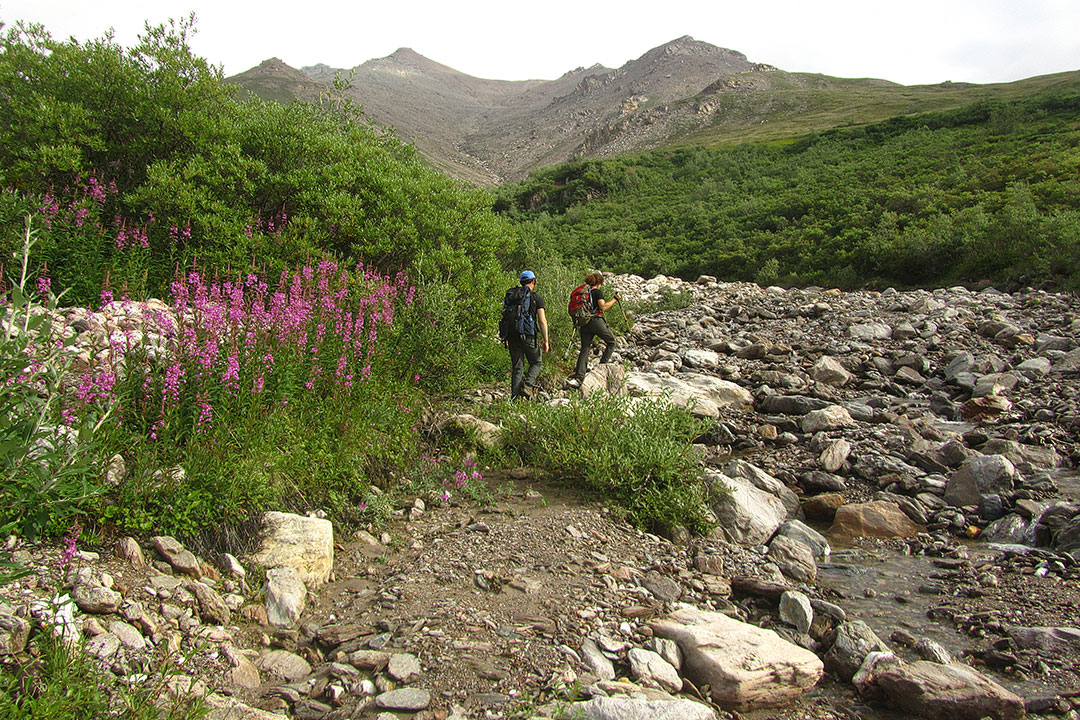 If you spend all day in the park or do the guided tours, bring food with you. We opted to get the sack lunches from the Gold Rush Dining Room (if you do this, you need to order your lunch the day before). By evening, we were so exhausted, we stayed close to home.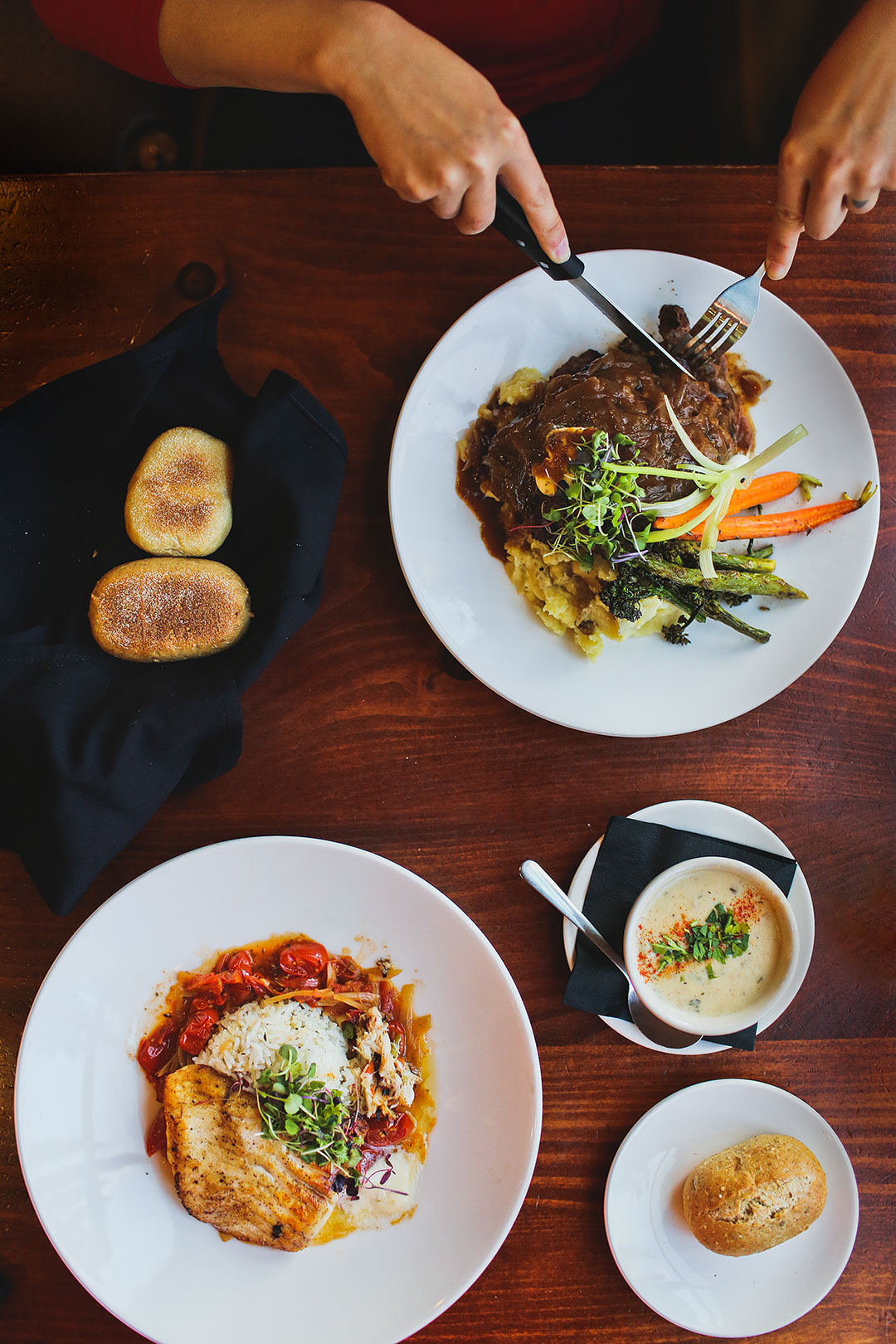 Denali Park Village was the perfect home base during our stay in Alaska. You can choose between The Lodge or Cabins. Either way, you have easy access to all of the grounds and its amenities.
The main Lodge has beautiful views of the river, an indoor fireplace, a shop, and restaurants. It's where you will meet for any tour pickups and they also provide a free shuttle to the National Park. You can also hang out at the Miner's Plaza, which has a general store, Cabin Nite Dinner Theater, and outdoor stage, a museum, shops and more.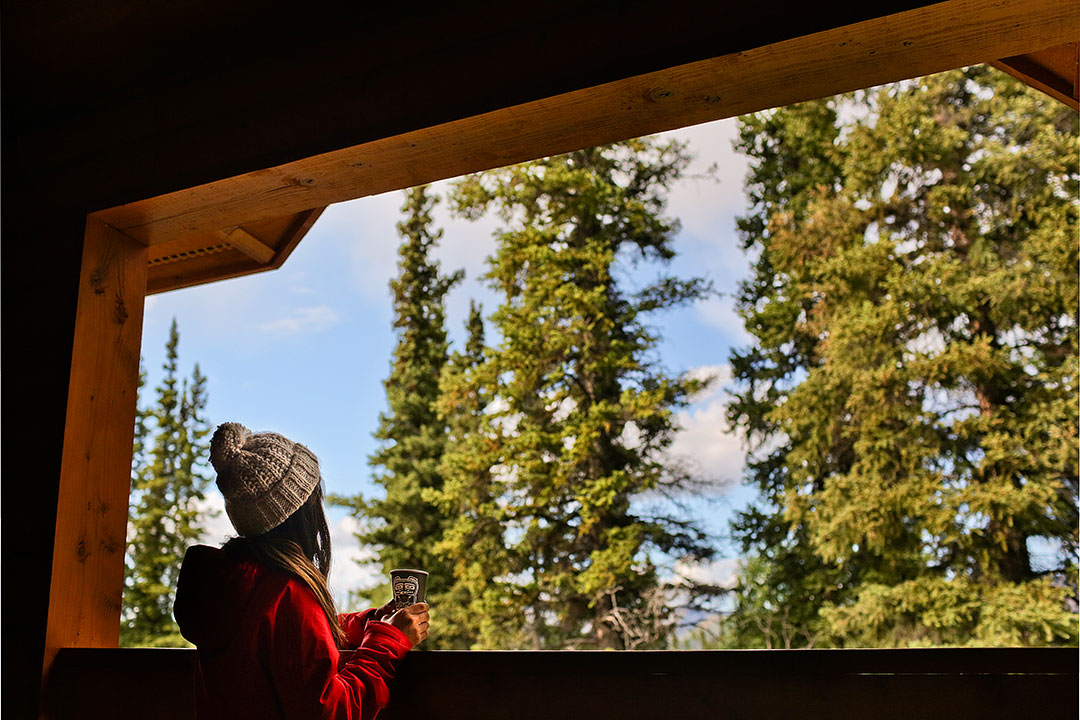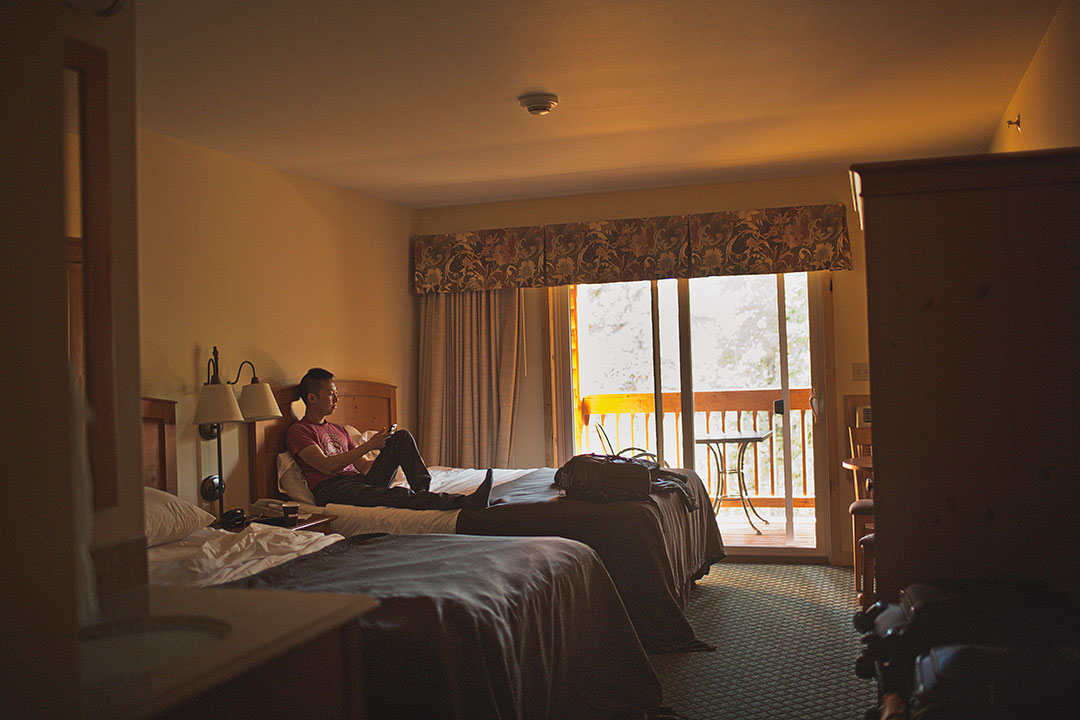 If you're looking to camp in Denali National Park, you can make reservations online as early as December 1 of the year before your visit. Campground fees will be between $12-27/night and is free in the winter (late Sept to early May)
Riley Creek Campground (Mile 0.25, Year-round) – RVs and tent camping
Savage River Campground (Mile 14, mid-May to mid-Sept) – RVs and tent camping
Sanctuary River Campground (Mile 22, May 20 – mid Sept) – tents only
Teklanika River Campground (Mile 29, May 20 – mid Sept) – RVs and tent camping
Igloo Creek Campground (Mile 35, May 20 – mid Sept) – tents only
Wonder Lake Campground (Mile 85, June 8 – mid Sept) – tents only
More Camping Info:
Check in & checking out is 11am
There are no spaces for RVs over 40′ long
None of the campgrounds have electrical or water hookups for RVs
All campgrounds have toilets (some flush, some are vault-style)
Campgrounds all have potable water except Igloo Creek and Sanctuary River
All campgrounds have recycling containers for aluminum cans, glass, plastic jugs and bottles (#1 and #2, and plastic containers (#5)
Pets are allowed on campground roads and Park Rod, but not on trails on in the wilderness
You can have fires in established grates in Riley Creek, Savage River, and Teklanika River. Fires may not be used for cooking
There is a 14 night maximum in the summer season
Click here for more info on campsites
You can find backcountry camping info here
Have you been to Alaska? Any other things to do in Denali National Park that we missed?
Did you enjoy this post? Pin it for later
See More National Park Guides
"Discovery consists not of seeking new lands but in seeing with new eyes" – M. Proust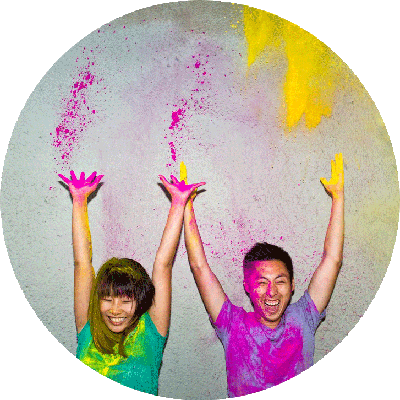 Esther and Jacob are the founders of Local Adventurer, which is one of the top 5 travel blogs in the US. They believe that adventure can be found both near and far and hope to inspire others to explore locally. They explore a new city in depth every year and currently base themselves in Las Vegas.