Very few cities in the US transforms like NYC during the holidays. Parks, hotels, trains, display windows, and more become completely unrecognizable from their summer counterparts. Since there is so much to see, we've gathered all the info you need here to plan your perfect Christmas in NYC.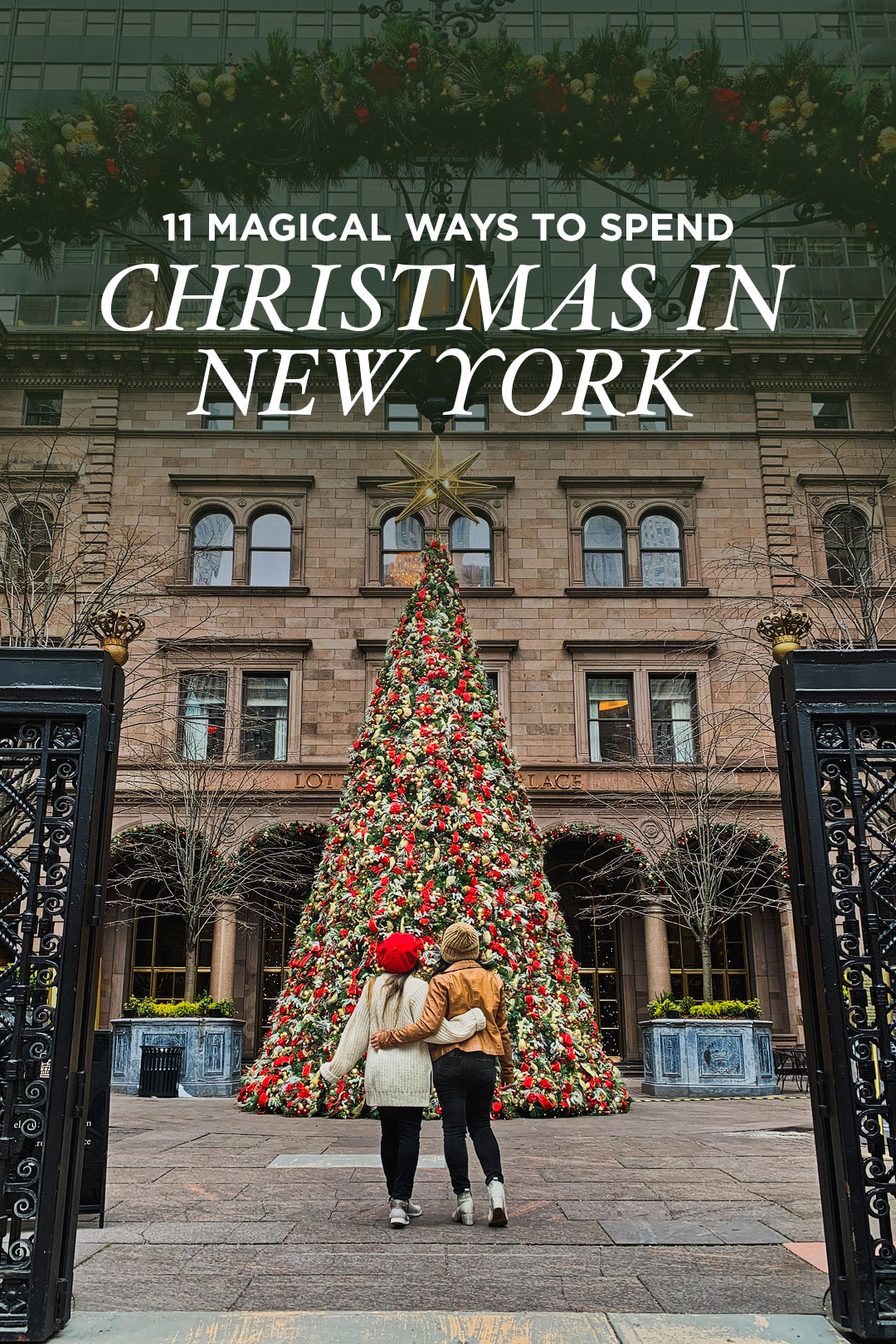 Thank you CORT for sponsoring this post. All opinions are always our own. This post may contain affiliate links, where we receive a small commission on sales of the products that are linked at no additional cost to you. Read our full disclosure for more info. Thank you for supporting the brands that make Local Adventurer possible.
Last Updated: November 8, 2022
We love so many things about living in NYC, but we do not love the cold. It certainly feels more Christmasy than when we lived in socal, but since our place has a view, we don't mind staying home bundled up with our cats. We tried to go out as much as possible during the warmer months, so we can stay warm and cozy at home most of the holidays. We do, however, take some micro adventures to experience all the magic as well.
It's just great to know that after our fingers and toes are frozen, we can come home to an apartment that feels like home thanks to CORT.
When we moved in, it was such a burden off our shoulders that we didn't have to worry about getting furniture. We were able to pick out the pieces we wanted online, and they delivered them straight to our apartment. When we're ready to leave next month, we're glad that they're coming to get it too!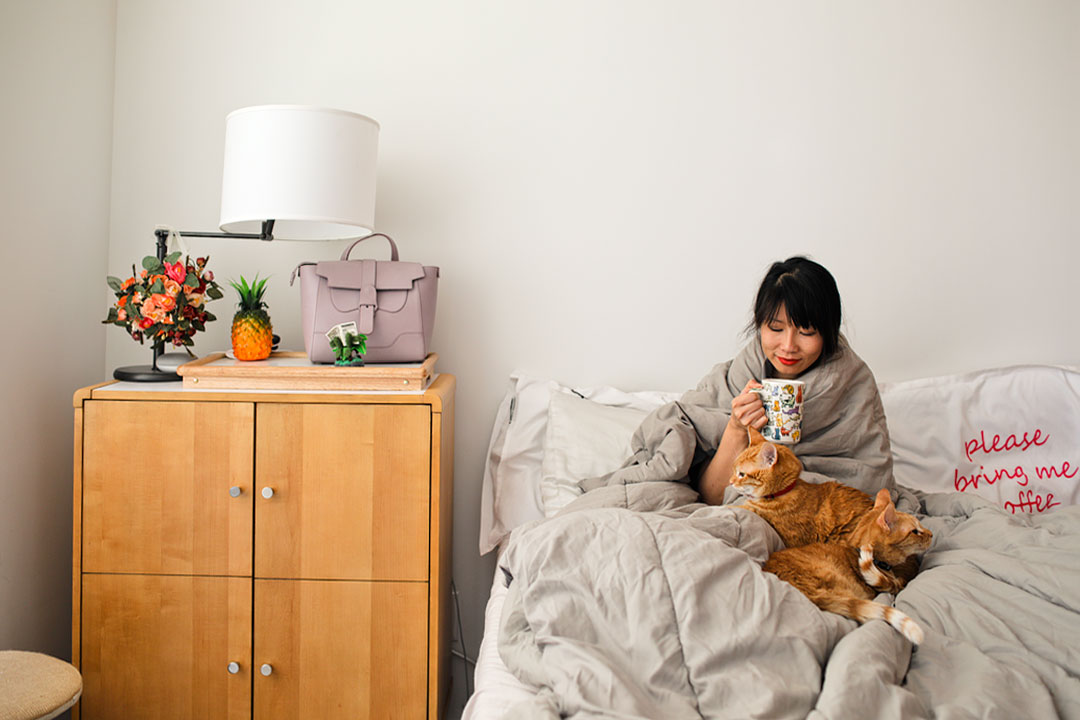 11 Magical Ways to Spend Christmas in NYC
We love walking through the Christmas Markets during the holidays. For the most part, similar vendors are set up at all of the markets that stick around all season. For smaller and unique vendors, visit ones that are only open for a day or weekend. Here are some of the main markets in the order that we like them, click here for more details and a complete list of markets.
Union Square Holiday Market – if you're on a mission to shop, this one has this best shops plus the adjacent farmer's market.
Bryant Park Winter Village – This one also has decent shops, but has the best overall ambiance for hanging out, doing some people watching, and you can even ice skate.
Grand Central Terminal Holiday Fair – It's a small market, but you don't have to be outside in the cold.
Columbus Circle Holiday Market – also very small, but if you're visiting Central Park, it's convenient to stop by.
Local Tip: If you're too intimidated to navigate the city on your own, you can even take a tour of the markets.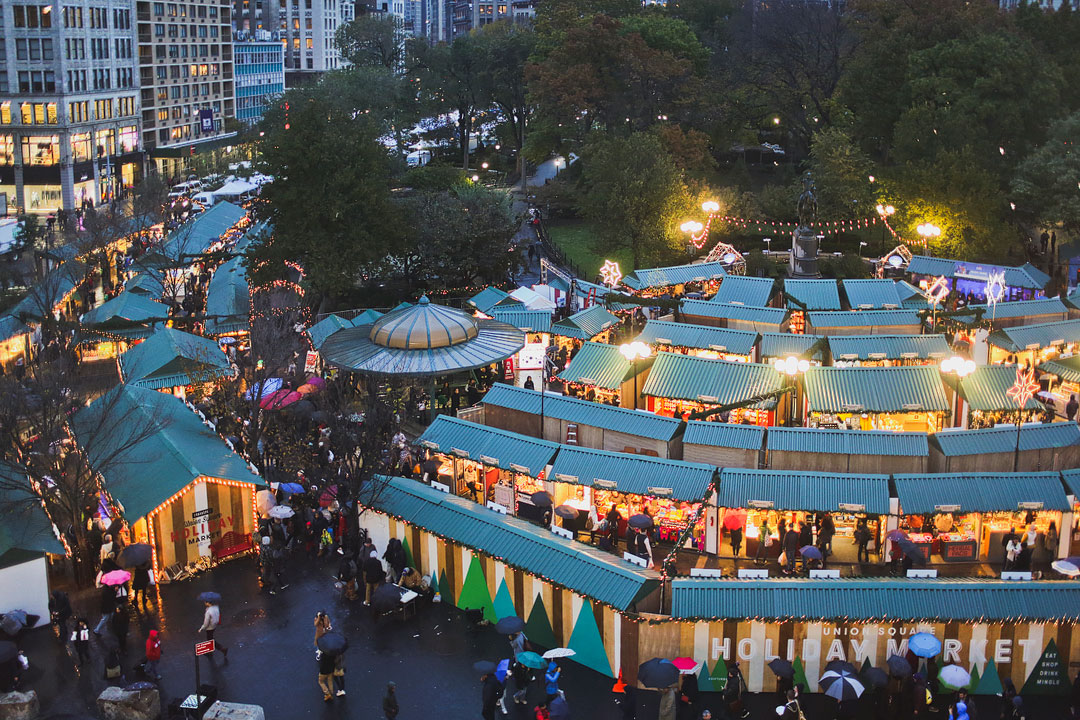 Bundle up and hit the ice at one of the many ice skating rinks that pop up all over town. Head to Rockefeller for one of the most famous rinks in the world or escape to Central Park and skate around Wollman Rink.
Rockefeller Center Ice Rink
Wollman Rink and Lasker Rink in Central Park 
Bryant Park – Bank of America Winter Village
Brookfield Place
Riverbank State Park Ice Skating Rink
Pro Tip: The rinks get extremely busy during the month of December. Book sessions ahead of time or look for exclusive VIP experiences that help you skip the line. We personally like to visit in November, before the Christmas crowds come in. January is also less busy, but so much colder.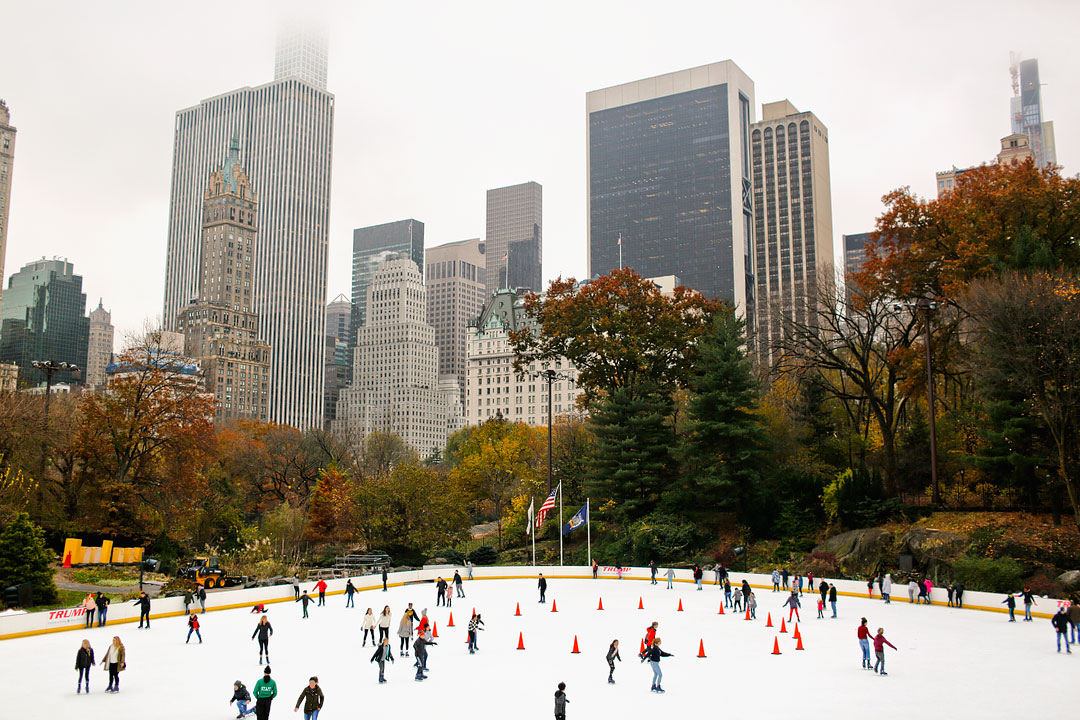 When it snows in NYC it's magical, but within a day, it gets pretty gross. But that doesn't mean you can't take advantage of fresh powder and find some hills to fly down. Prospect Park in Brooklyn is a popular spot for sledding. Central Park is another great spot. The two best hills are Pilgrim Hill and Cedar Hill.
Pro Tip: Plan ahead and pick up a sled so you're ready when it starts snowing!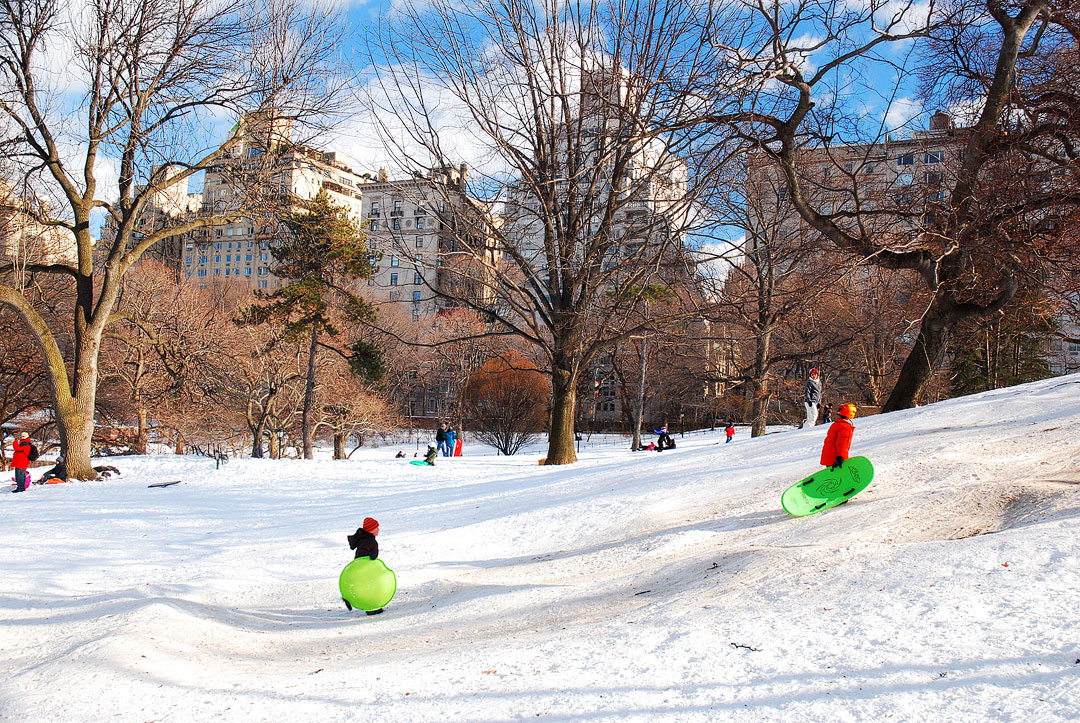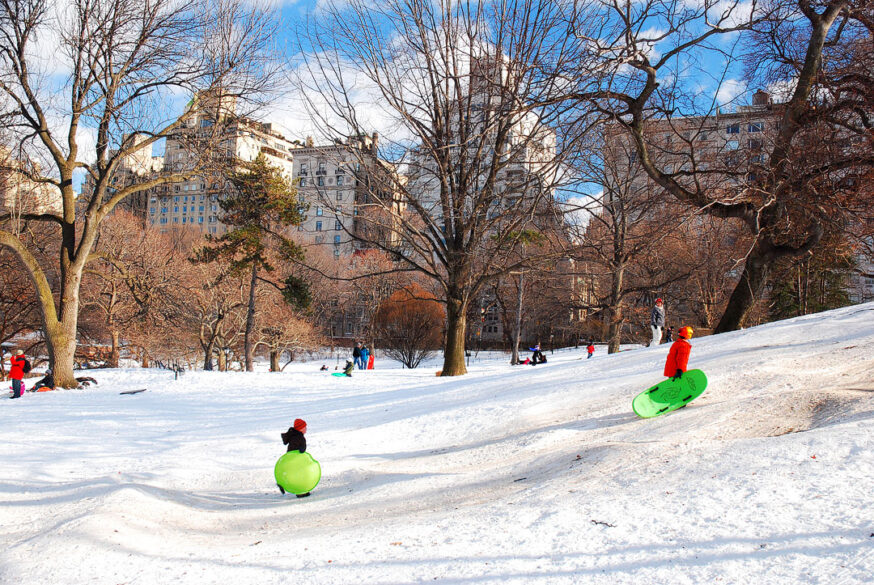 Travel back in time by hopping onto a vintage subway car. These 1930 subway cars are typically on display at the Transit Museum, but every holiday season they are brought out to take passengers on special rides between Thanksgiving and New Year. They run on Sundays between 10 am and 5pm. You can find details on their schedule and stops here. They also have four Vintage Buses running along the M42 bus route.
Pro Tip: If you're there for photos, arrive by 9am at the 2nd ave station. The 10am train is there, and you'll have time to take photos outside. By 9:30, a lot more people start coming in. If you're there to just ride, arrive 30 minutes before the train is scheduled to leave to be sure you don't miss it.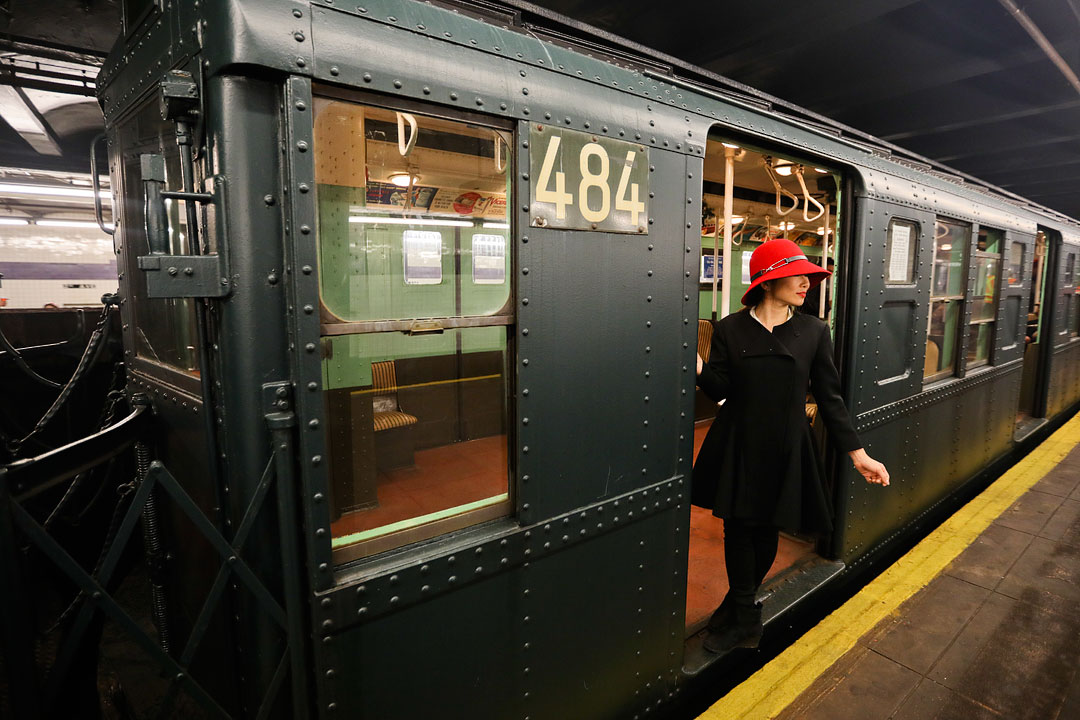 5. Holiday Windows & Decorations
It's no surprise that retail stores also kick it up a notch during the holidays. Stores turn their window displays into their own attractions during the holidays. Here are some of best windows to check out.
Pro Tip: Visit at dusk to see the lights in their full glory
Here are some other notable decorations in the city to check out.
The Baccarat (28 W 53rd St, map)
Empire State Building – Lit Red and Green for Christmas (20 W 34th St, map)
Giant Ornaments one across from Radio City (map)
NY Transit Museum Gallery Annex – Holiday Train Exhibit (89 E 42nd St, map)
NYBG's Holiday Train Show – Miniature NY Landmarks (89 E 42nd St, map)
The Plaza's Palm Court (768 5th Ave, map)
St Regis's Kong Cole Bar (2 E 55th St, map)
Two Little Red Hens – Gingerbread Houses (1652 2nd Ave, map)
William Poll – Gingerbread Houses (1051 Lexington Ave, map)
The Oculus keeps it simple but classy 
Dyker Heights, Brooklyn (map) – this neighborhood in Brooklyn is known for its over-the-top Christmas decorations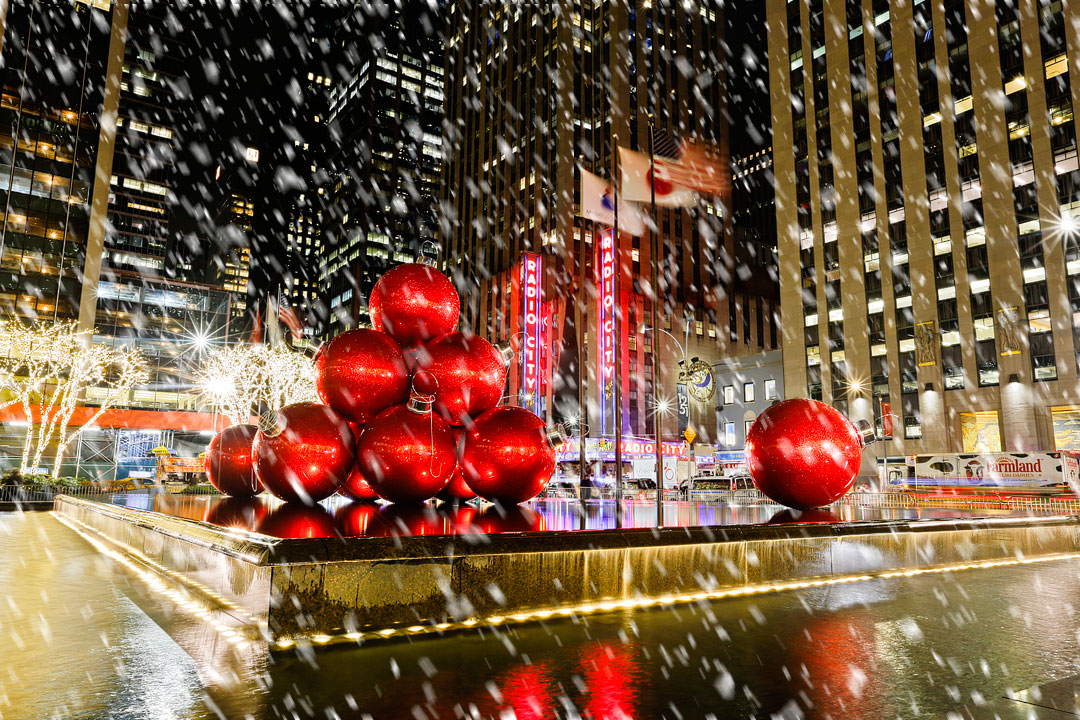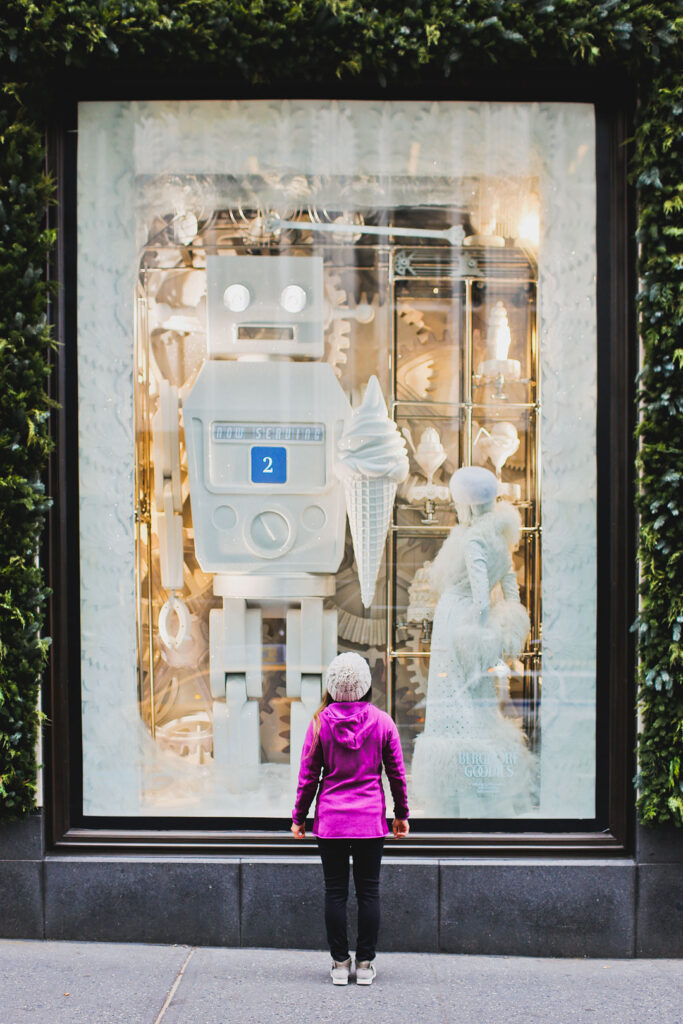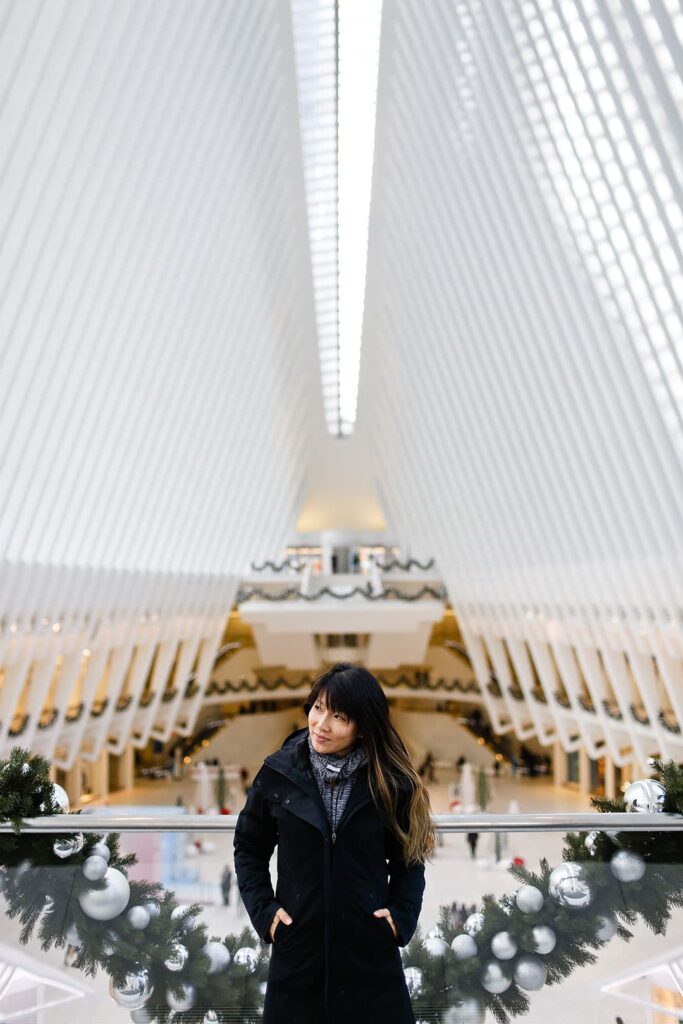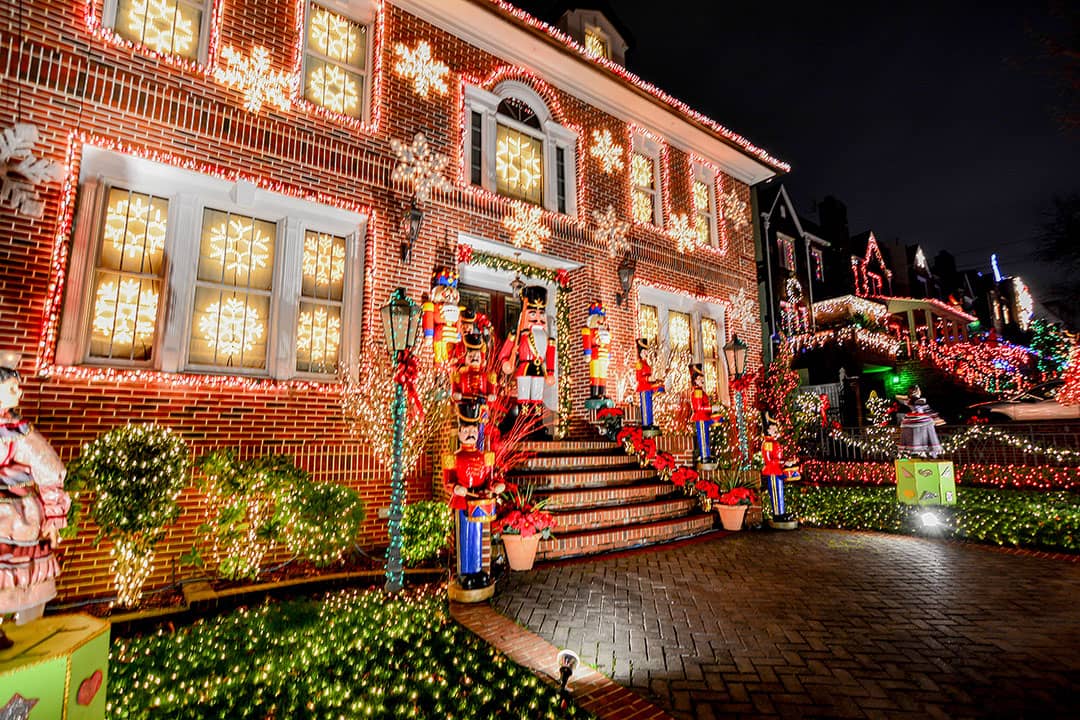 photo: DiegoMariottini / Shutterstock
Imagine the streets of NYC flooded with people dressed as Santa. Every year, tons of people gather in a secret location that's announced the day before to spread 'absurdist joy'. After taking an epic photo to kick off the event, people disperse all over the city to hang out at bars and different events that are happening. For more details, click here.
Note: Santacon is a worldwide event (although NYC is the biggest), so even if you're not going to be in NYC on Dec 10th, check their site for other locations. If you're a local that doesn't like to partake, avoid going out. We have some friends that hide from the drunken debauchery every Santacon.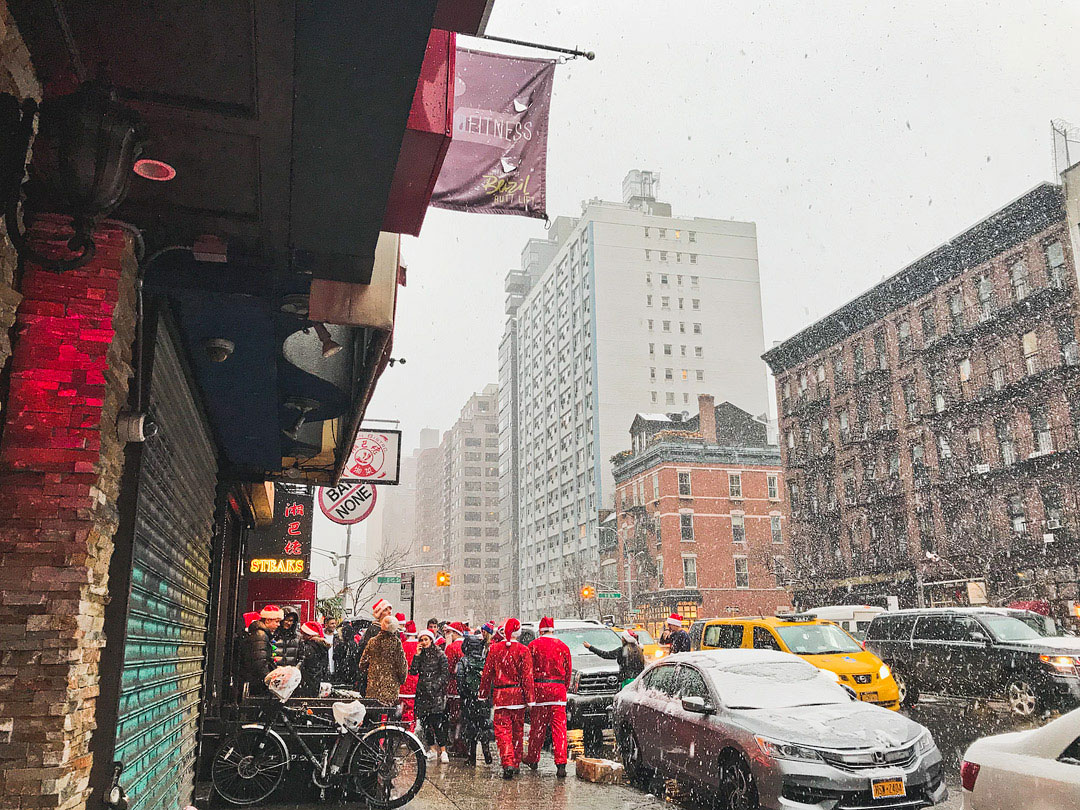 7. Holiday Themed Bars & Restaurants
Bars and restaurants join in on the holiday spirit as well. A lot of places have holiday drinks or Christmas specials, but some go above and beyond with decorations and offerings. Here are the ones you should check out.
Local Tip: Like most restaurants in NYC, expect long waits if you go during any peak hours. If possible make reservations or go during off-hours.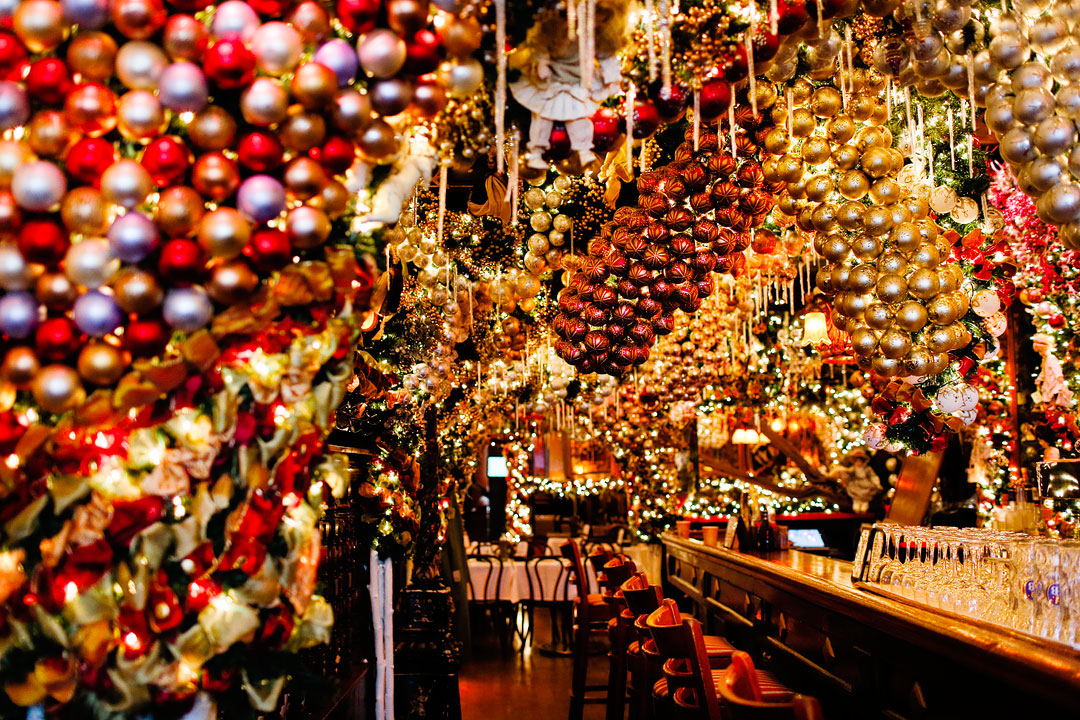 One of the best ways to warm up after being outside is sipping on delicious hot chocolate. Needless to say, there are a ton of places to get a cup, but here are some of the most popular.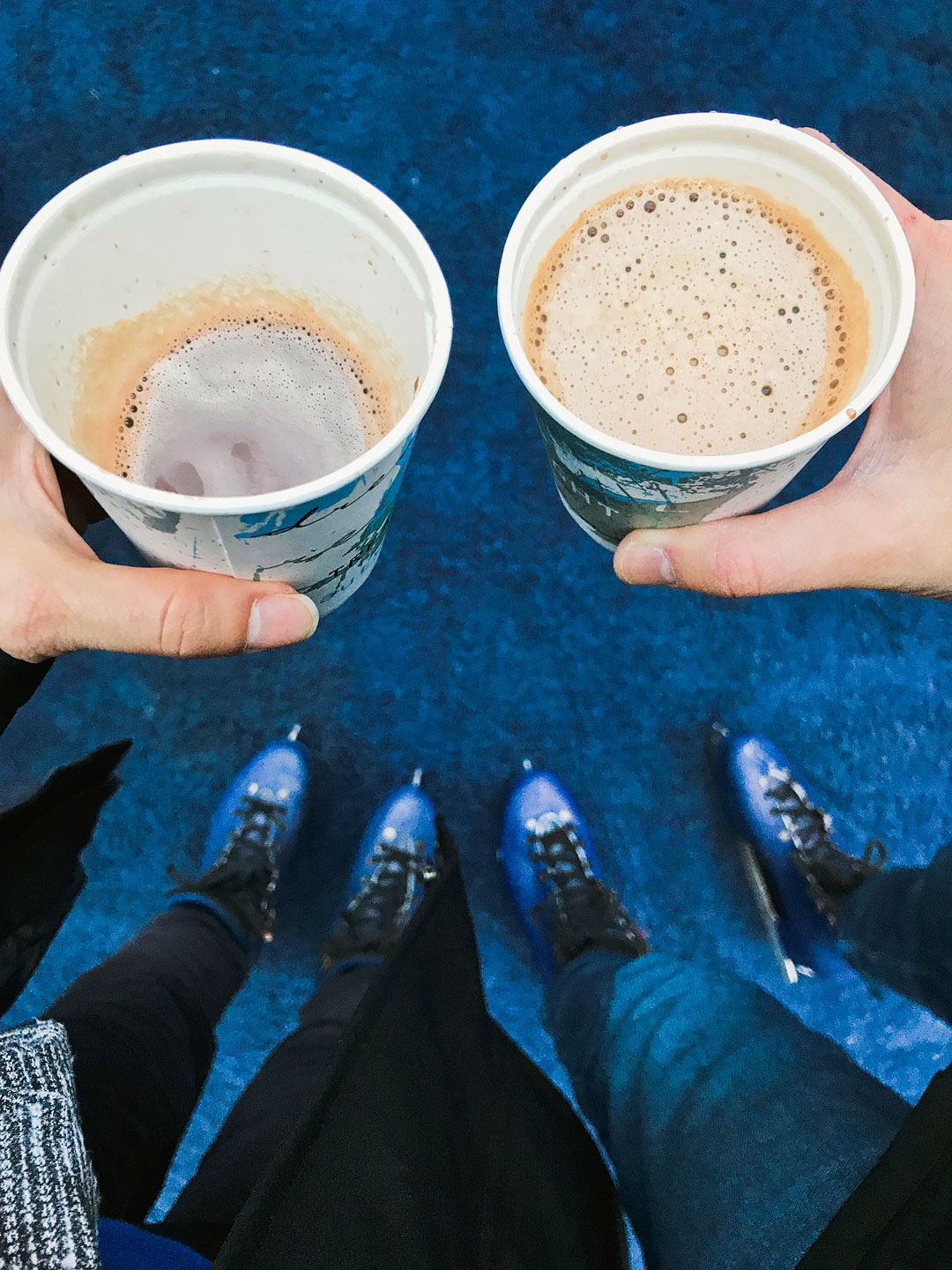 If you're visiting New York, you're probably going to make time to see a Broadway Show, but you can also take advantage of all the holiday shows that fill the city.
The most famous show is probably the Christmas Spectacular featuring the Rockettes at Radio City Music Hall, but there are also multiple renditions of the Nutcracker by the New York City Ballet, Christmas themed musicals, and more. See the complete list here.
Pro Tip: Get tickets as soon as you know you want to see a show, so they don't sell out. The holidays are high season for NYC.
More: 20 Christmas Shows in NYC You Can't Miss This Holiday Season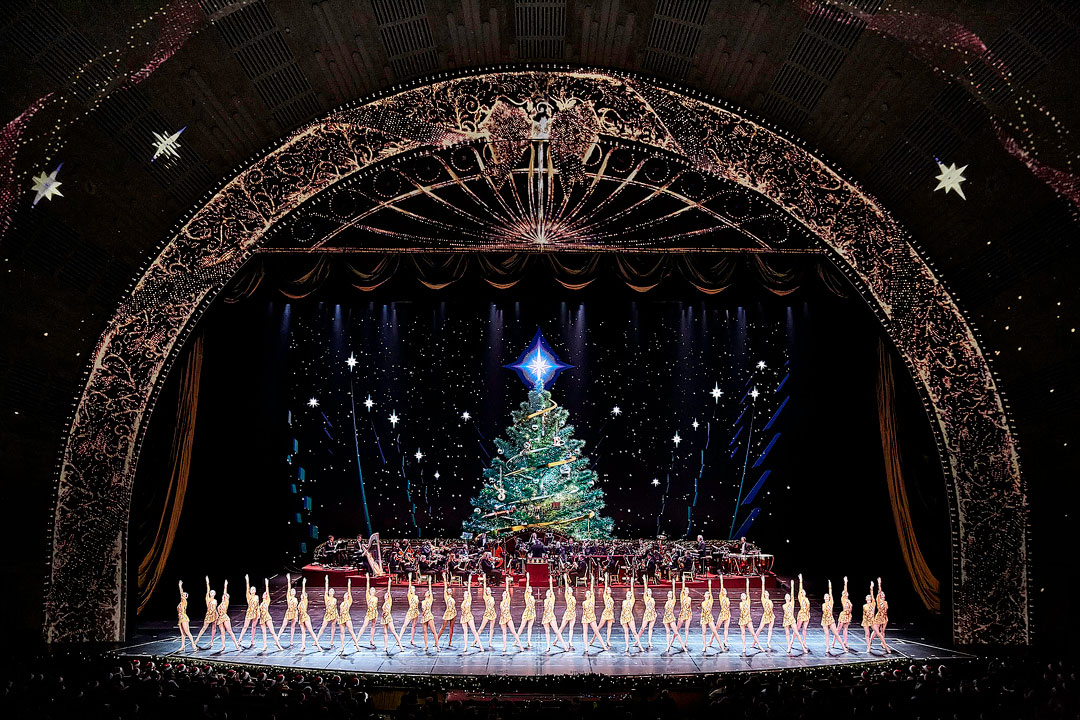 10. Christmas Trees & Lighting Ceremonies
As you may have guessed, NYC doesn't mess around when it comes to Christmas Trees. We've only been to a few, but here is a list of trees you can check out.
Are you on the naughty or nice list? Stop by to see one of the many Santas in NYC to take a photo and tell him what's on your wishlist.
Brookfield Place Santa's Winter Garden (230 Vesey St, map)
Bloomingdale's (1000 Third Avenue 59th, map)
Bryant Park (map)
Macy's Santaland (151 W 34th St, map)
One World Observatory (
The Shops at the Plaza (768 5th Ave, map)
The Shops & Restaurants at Hudson Yards (20 Hudson Yards, map)
There are also unique opportunities to dine with Santa
Pro Tip: Make reservations early!
What to do on Christmas Day
The great thing about a New York City Christmas is that not everything closes down Christmas Day. Instead of watching a movie, here are some more options:
Ice Skate at Bryant Park (map)
Listen to Jazz at Blue Note (131 W 3rd St, map)
Where to Eat on Christmas Day
A lot of restaurants are closed during Christmas, but some places do stay open. A safe bet is heading to Chinatown or Flushing since a lot of Chinese restaurants stay open. Here are a few of our favorites. Be sure to call ahead to make sure they are still open and expect long lines.
Don't Forget to Pack These

Don't forget to pack and dress appropriately when visiting NYC in the winter. Here are few essentials.
Have you ever spent Christmas in NYC. Before we moved here, it was a long time bucket list item of mine.
Did you enjoy this post? Pin it for later
"Discovery consists not of seeking new lands but in seeing with new eyes" – M. Proust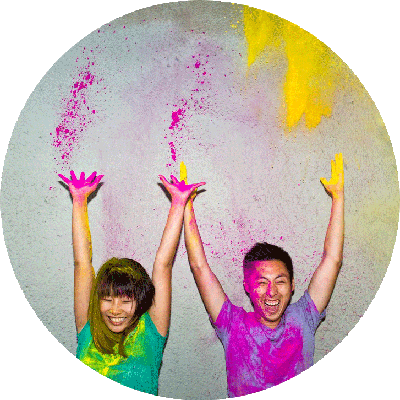 Esther and Jacob are the founders of Local Adventurer, which is one of the top 5 travel blogs in the US. They believe that adventure can be found both near and far and hope to inspire others to explore locally. They explore a new city in depth every year and currently base themselves in NYC.