When my friend Hsiao told us that she got us reservations for 4 on a Saturday evening to the French Laundry restaurant, I was in disbelief. Jacob and I were taking a walk outside when I heard the news, and I was literally jumping up and down like a lunatic.
Originally, I felt reluctant to share about our experience here, because I know some people can never imagine spending so much money on food. However, this place has been on our bucket list for a long time, and this was an opportunity of a lifetime for us. While others would be happy to spend their money on remodeling their home or a new car, since we've been married we talked about collecting experiences over things. To each their own to what they find more worthwhile.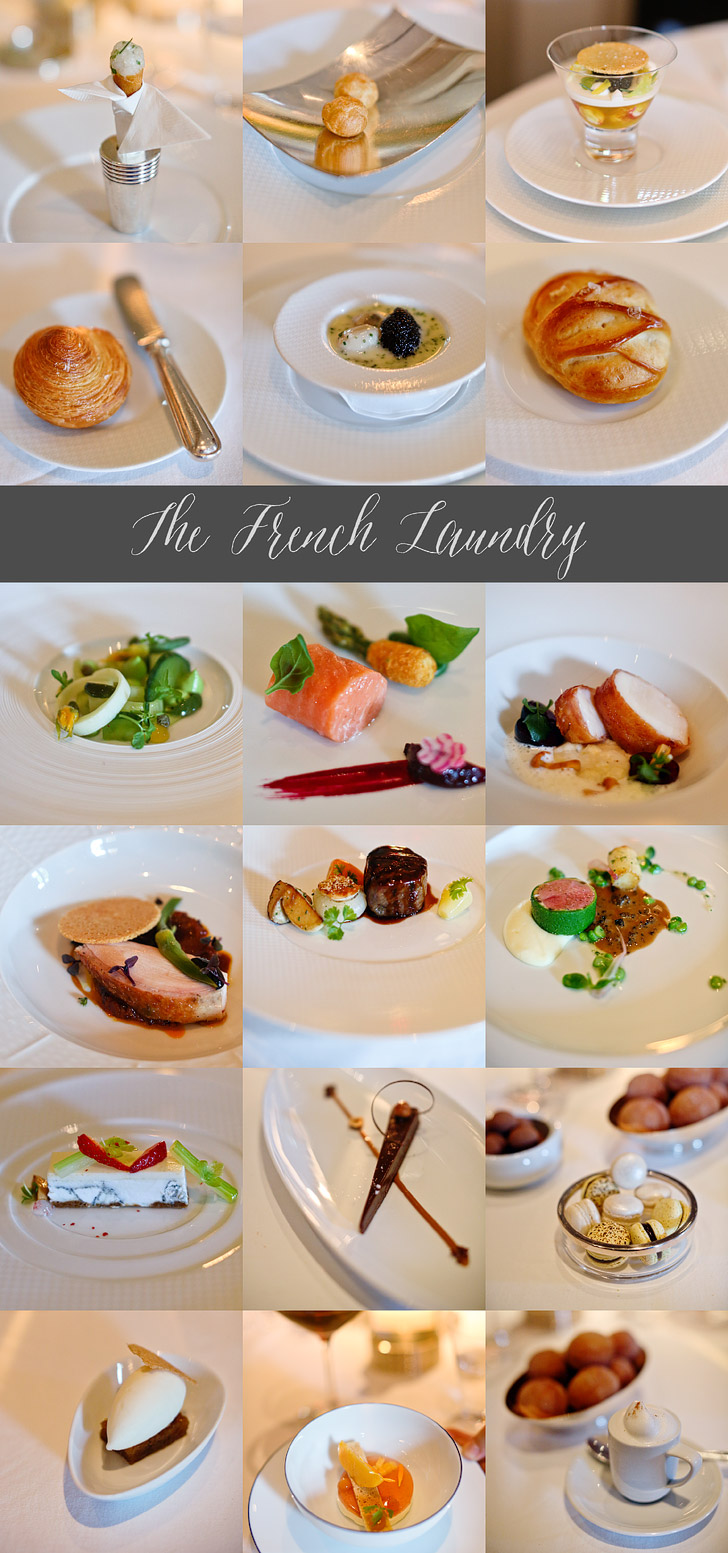 Pin

Pin
So the biggest question people ask is "WAS IT WORTH IT?"
I'm not sure if every dish they served fit my personal palette, but I couldn't complain about how well they prepared and cooked their food. Because I'm huge on texture, I was thoroughly impressed to see that they nailed it every time. It certainly raised the bar for me, but I also have not been to many Michelin star restaurants to compare. I know I'm no expert in the kitchen, but even if I picked one of the dishes and repeatedly cooked it for the rest of my life, I don't even think I could get that type of consistency. Looks like being a chef is definitely not in my future. Ha. BUT if any of you want to give it a go, Thomas Keller has a French Laundry Cookbook. Let me know how it goes!
I would only recommend eating here to people who are huge food lovers or have lots of expendable income. Jacob wanted to be there to experience it with me, but he would have never gone on his own. We also probably would never pay to go a second time, but yes, it was worth the splurge once.
Some yelpers have complained that it's the most pretentious experience and how you're paying people to be rude to you. I was a little worried about this, but to our surprise everyone was extremely friendly! It makes me wonder if their rudeness was just a response to the attitudes of the diners.
THE FRENCH LAUNDRY RESTAURANT MENU:
The night before the staff and Thomas Keller get together in the kitchen to decide on the menu for the next day depending on what is most fresh and available. When we went, this is what the menu offered:
Oysters and Pearls (right) – "Sabayon" of Pearl Tapioca with Island Creek Oysters and White Sturgeon Caviar. Royal Ossetra Caviar (left) – Cauliflower "Bavarois," Maine Lobster "Gelée," Horsradish Creme Fraiche and Toasted Brioche.
Pin
Salade Vert – Young Fennel, Garden Cucumbers, Green Tomatoes, Brokaw Avocado, Castelvetrano Olives and Green Goddess Dressing:
Pin
Slow-cooked Fillet of Wild King Salmon – Crispy Sacramento Delta Asparagus, Garden Beets, Creamed Arrowleaf Spinach and Ruby Beat Essence (This one was the most photogenic, so it deserved two photos):
Pin

Pin
Georges Bank Sea Scallop "Poêlée" – Sweet Corn "Porridge," Chanterelle Mushrooms, Brooks Cherries and Watercress Salad:
Pin
Herb-Roasted Four Story Hill Farm Poularde – Garlic Scapes, Cerignola Olives, Opal Basil and Spiced Tomato Conserve:
Pin
"Chateaubriand" Of Marcho Farms Nature-Fed Veal – English Peas, "Pomme Fondante," Pickled Ramps and Morel Mushroom "Blanquette":
Pin
Charcoal-Grilled Japanese Wagyu – "Petit Oignon Farci," Oregon Cèpes, Garden Carrots and "Sauce Bordelaise":
Pin
Andante Dairy "Acapella" – Silverado Trail Strawberries, Graham Cracker, Cutting Celery and Pink Peppercorn "Gastrique":
Pin
Assortment of Desserts – Fruit, Ice Cream, Chocolate and "Candies" (most pictured in the first photo).
Pin
THE FRENCH LAUNDRY RESERVATIONS:
Reservations are extremely difficult to get. You take what you can get. We've been wanting to go for years, and Jacob gave up on taking me for our anniversary after calling for two months straight at 10 AM on the dot every day. They only open reservations two months in advance, and he told me that it's harder to get reservations at FL than to win something on the radio. When Hsiao got us reservations, we moved our schedule around and road tripped back up to SF just for this. I had been in SF earlier that month too!
PRO TIPS ON HOW TO GET A RESERVATION AT FRENCH LAUNDRY: 
Check Open Table for cancellations. This is how we got in. You must check every day with different combinations of times and number of people.
It's generally easier to book a larger party of 10 by phone, because they have a separate queue. We found that there are not  are and they do not take reservations further in. We couldn't get a confirmation.
Rumors are that it's easier to book through American Express Black / Platinum's concierge service. You can also stay at a hotel in Yountville / Napa Valley and try booking through their conceirge or through the Google concierge if you know someone who works at google. We haven't confirmed whether this is true or not.
For more detailed tips visit this forum.
FRENCH LAUNDRY PRICES:
The Chef's Tasting and the Tasting of Vegetables were Prix Fixed. There were three upgrades available and were 75-100 extra per course. (None of us knew what to expect other than the prix fixed prices, but this one came a bit as a shock to Jacob). Wine was 100 per half bottle. Service was included.
Pro Tip: Go with more people to split the cost of upgrades and try different dishes.
Pin

Pin

Pin
The French Laundry
6640 Washington St
Yountville CA 94599
707.944.2380
Is French Laundry on your bucket list?
Do you like splurging on food?
If not, what are the things you'd rather splurge on?