We've been seeing flyboarding pop up all over the place and were excited to hear that there was a flyboard rental location opening up near us! Flyboard Las Vegas is brand spanking new and opened up 3 weeks ago. The only other watersports I've tried were waterskiing and wakeboarding, and most of the time I was dragged underwater and eating it. Naturally, I was nervous I would look a fool. Turns out it isn't as difficult as I had anticipated. Their motto is "if you can stand, you can fly!" and that was true. Woop Woop!
Pin

Pin
Took me a bit to get the hang of it, but I can fly! I can fly! I can fly! Jacob managed in only 2 minutes.

Pin
Pin

Pin

Pin
Pin

Pin

Pin
Pin

Pin
I had some pretty epic wipe outs (Jacob not so much, but we got one on video!):

Pin
Pin

Pin
Pin

Pin
Pin

Pin

Pin
Pin

Pin

Pin
Pin

Pin

Pin

Pin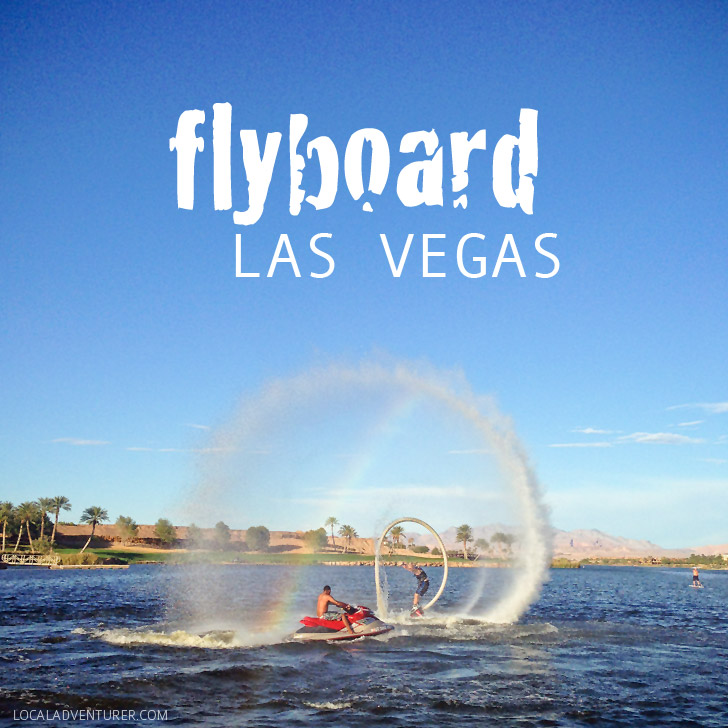 Pin

We got to talk to the owner, Remco, and hear more about the sport and how they decided to bring flyboarding to Lake Las Vegas.
How it works:
The Flyboard is attached to the back of a jet ski by a pump. All the water pushes through the hose to the flyboard. The jetski is now only acting as a pump and is rudderlessly being pulled by the flyboarder. The more gas you give, the higher you go. The maximum height can go up to 40 feet (but that's with enough practice, and beginners seldom get up that high).
Why Vegas?
We decided to open up a Flyboard Experience location in Lake Las Vegas because 1. The weather is perfect for water sports at least 9 months out of the year. 2. Three million unique visitors come to Las Vegas every month. 3. Lake Las Vegas is the closest body of water to the strip.
Remco also is competing at the upcoming World Cup in Dubai on Dec 4-6th. So we can all be rooting for him!
Book your experience here.
They were nice enough to give our readers 25% off with promo code: localadventurer
FlyBoard Las Vegas Address:
10 Costa Di Lago
Henderson NV 89011
702.608.8922
Have you seen flyboarding before? Would you try it?