This dulce de leche cheesecake recipe was the first cheesecake recipe I have ever baked! I first saw this on clubnarwhal (check her blog out bc she has tons of yummy recipes), and it looked SO delicious that I had to try it for myself. I'm not a huge cheesecake fan, but I will eat dulce de leche anything!
For my first cheesecake, I would say it came out a success. I did have a meltdown in the kitchen, but luckily, thanks to some friends on twitter & facebook, the cheesecake came out of the oven at the right time! The cheesecake itself did crack a bit, but luckily I had tons of toppings to cover it up! And everyone who has tried it has loved it.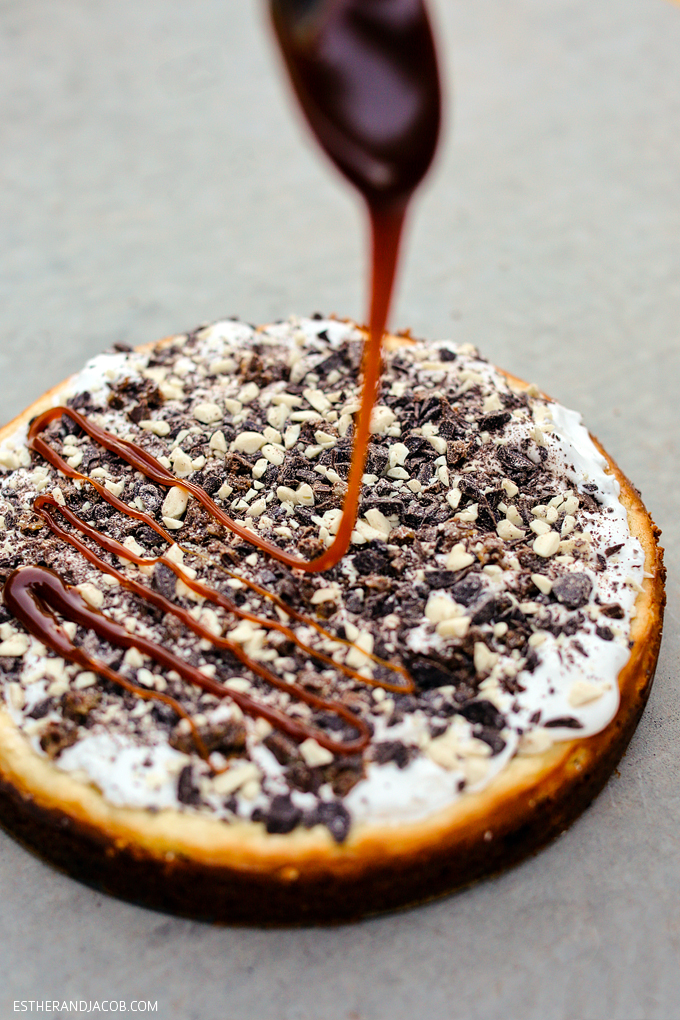 Pin


Pin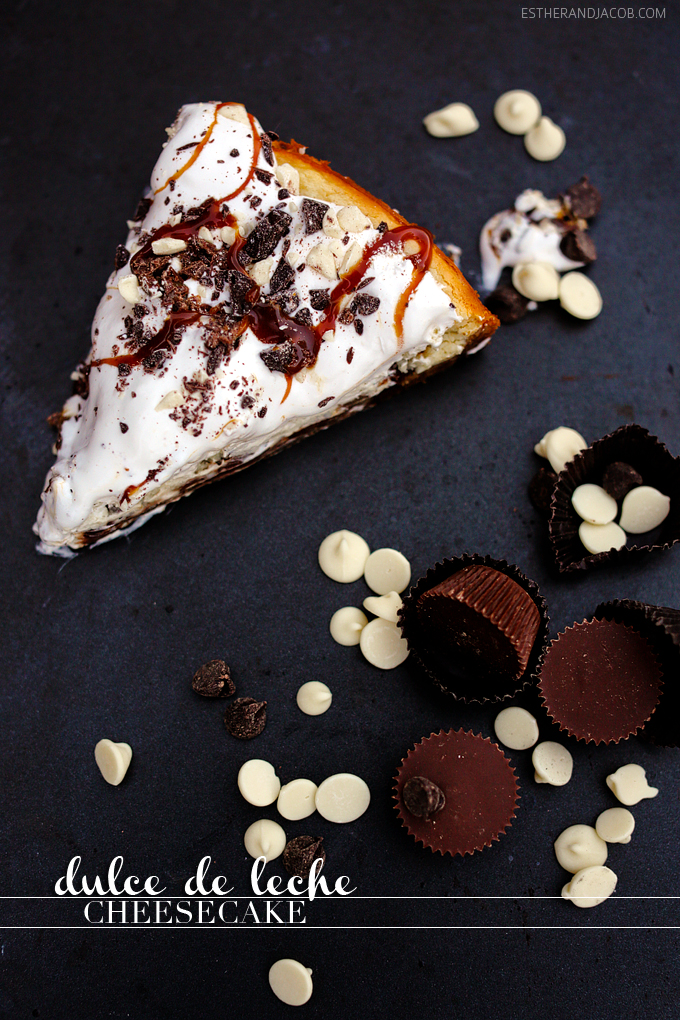 Pin
Dulce de Leche Cheesecake Recipe (via clubnarwhal)
Ingredients:
16 oz. nestle pecan turtle delight cookie dough
15-20 caramel-filled chocolate cups (use these or double the amount of rolos)
8 oz. cream cheese, room temp
8 oz. plain greek yogurt
1/2 cup sugar
1 egg
1 tsp vanilla
1/8 cup of white chocolate chips, chopped
1/8 cup of dark chocolate chips, chopped
1/2 cup of caramel cups, chopped
8 oz whipped topping
Dulce de leche or caramel sauce (took her advice and got this one)
Directions:
Preheat oven at 350 degrees. Grease a 9-in spring form pan (we just bought this one since it's our first cheesecake), press the cookie dough evenly onto the bottom and bake (approx 15 mins or until brown on edges). Completely cool on a wire rack.
Place 15-20 caramel cups on the cooled cookie crust.
Mix the cream cheese, greek yogurt, sugar, egg, and vanilla with a hand mixer and pour over the cookie crust.
Bake for 35-40 mins or until lightly brown on the edges, then cool completely.
Chop up the caramel cups and dark and white chocolate chips (however much you want).
Top the cheesecake with whipped topping, chopped caramel cups and chocolate chips, and caramel sauce.
Refrigerate for 4 hours or overnight before serving.
Some beginner tips I learned while baking my first cheesecake:
When it's done, it should be a little brown on the top and have no wiggly center when you shake it. It should spring back when you touch the top. You can also use a toothpick and see if it comes out clean.
Cheesecake needs to bake slowly, so it bakes best in a water bath.
To make sure there are no cracks, bake in a water bath. Don't open the oven door while baking. Leave in oven for one hour after you turn the oven off.
Always cool a cheesecake to room temperature before refrigerating or you will trap in condensation and make it soggy.
Have you made cheesecake before? What's your fave cheesecake recipe (link in the comments)?