Am I a more grateful person after this gratitude challenge?
Can you believe I've made it to 52 weeks?!! Discipline is not my strong suite, so I am giving myself a pat on the back for sticking it out for this long.
So am I more grateful? I am! I'm certainly not the most grateful person I know, but I've at least taken some baby steps since the start of this challenge. Some weeks were like pulling teeth and felt forced. Other weeks were discouraging where I saw zero progress. Some weeks I even felt like I was going backwards. But after a full year of being intentional, I have a more positive attitude, which Jacob has also noticed. :)
It's helped me recognize when I'm being ungrateful and need to change my attitude. And man.. do I still love to complain! I know there are still times, I can still be pretty jaded and negative, but I feel like for the first time in a long time, I've been going in the right direction. That's something!
What does that mean for weekly gratitudes?
I met my quota for a lifetime, right? ;) I'm actually going to take a little break from blogging gratitudes, so TBD if I will restart it next year. Instead, I'm still going to fill up my gratitude jar until the end of the year, and I also may start writing in my gratitude journal daily.
If you want to give it a go, here are some prompts for you to try your own gratitude challenge this year! I know this would have helped me if I put it together earlier this year.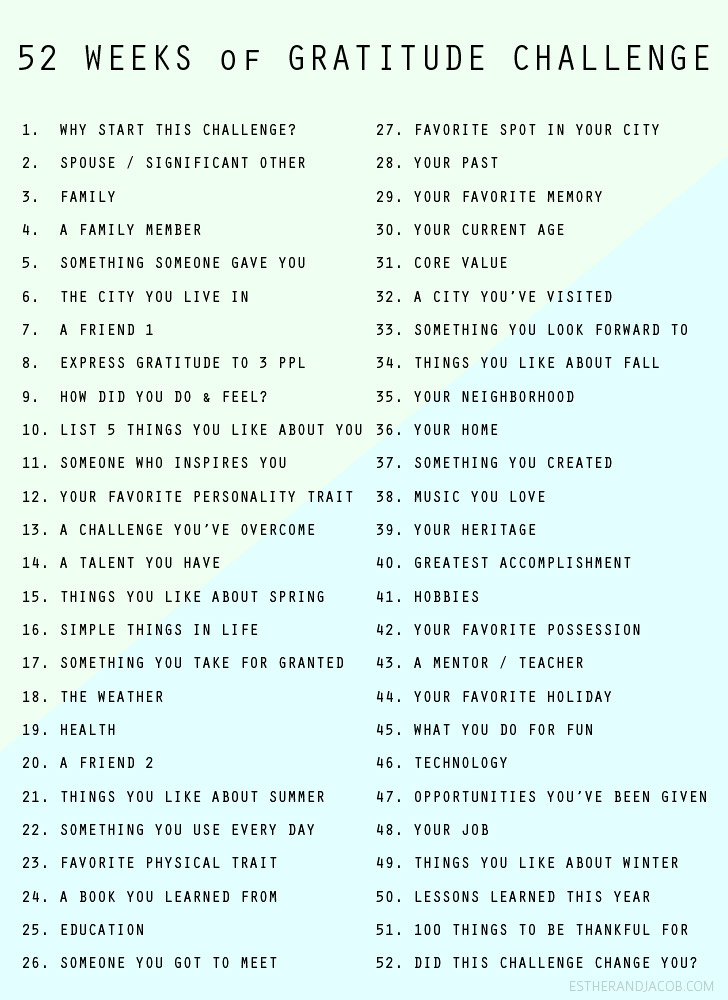 If you've missed any of the gratitude posts and want to follow my journey this year.
52 WEEKS OF GRATITUDE CHALLENGE:
Final Thoughts for This Gratitude Challenge
Before I end this post and complete this challenge, I wanted to thank Erika whose reflections on gratitude first inspired me to start practicing gratitude regularly on the blog. I want to thank Jacob for helping me list out gratitudes on weeks I felt deflated and ungrateful. Last but not least, I thank all my friends, my family, and everyone else passing through my life give me so many reasons to be grateful. Now, your turn!
How do you practice gratitude?
Would you try a gratitude challenge like this?