Today we are celebrating 4 years of marriage! Can't believe it! Every year we've been doing a session with different photographers that we love and admire. We especially love seeing them capture us in their unique styles. Last year we did our anniversary session with Jeff Newsom in San Luis Obispo. This year, we were excited to do our anniversary shoot / lookbook with Jeza Photography in SF!
Zabrina and Jeremy are wonderful friends of ours who were actually mentored under the same photographer as me! We have followed their careers since and have been so happy and excited to see them become internationally acclaimed photographers. They are truly talented, and if you're looking to do an anniversary, wedding, or any stylized session, you should totally book them. :)
A few teasers from our nautical theme photo shoot (will post many more on a separate post!):
Pin

Pin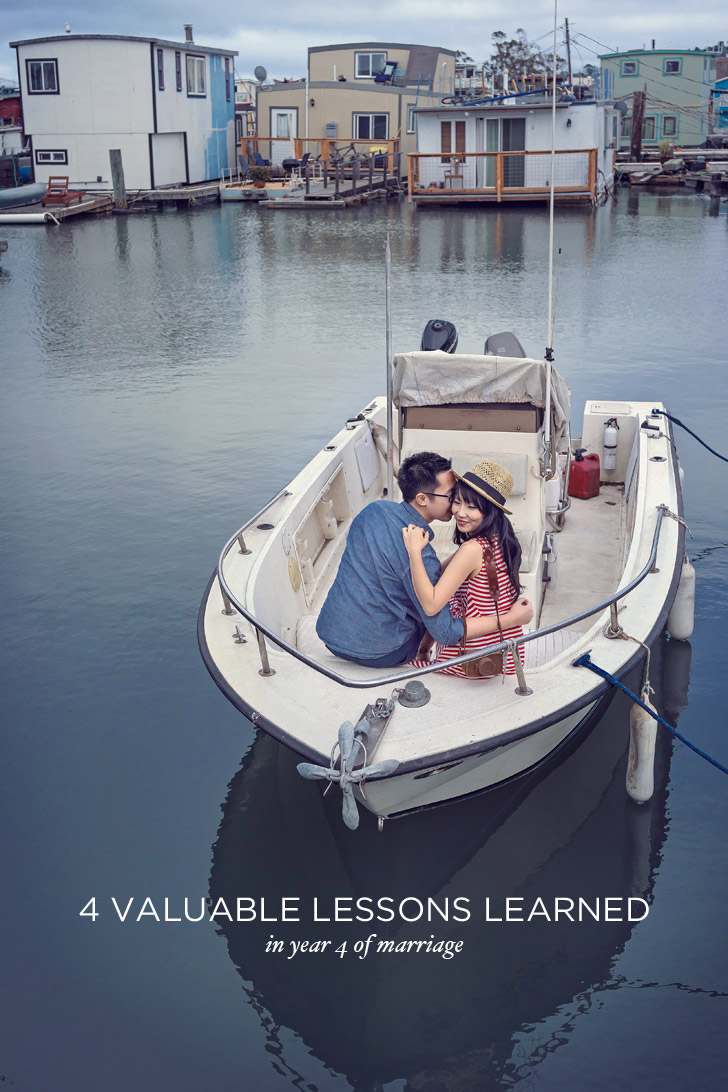 Pin
Also since our Gratitude Wednesdays happen to fall on the same date as our anniversary, I figured I would share a few things I am grateful to learn this year. I'm sure it's different for every couple.
4 VALUABLE LESSONS IN MARRIAGE (learned during year 4):
1. We should be more intentional about loving the other person in their love language.
I feel like we have talked about this since we got married, but it wasn't until this year that we started getting intentional. This year, Jacob has been writing me notes in a small moleskine notebook because he knows that I like having written words. His love language is acts of service, so I have been trying to learn to cook and bake more (but I know I'm the one slacking more in this area).
2. We're not always going to want the same things in life. Be patient. It take times.
I've always lived under the assumption that great marriages required two people with the same vision. This never meant we had to see eye to eye on every subject, because we're total opposites, but it was important to me that we were journeying to the same place. It was often disappointing when we found ourselves wanting different things.
It was refreshing (and shocking) to hear from my happily married parents who have been committed to each other for over 30 years that they had a decade or so when they weren't on the same page at all. They even lived in different cities. My mom was taking care of me in Iowa while my Dad was in seminary in Missouri. Can you imagine? Maybe I haven't lived long enough to realize this is just another phase of life and to see the bigger picture.
I know we have both changed a lot over the last 4 years. We've moved twice. We've changed careers twice. I can't even count how many times we rethink our "life plan". There were definitely times where we were more of one mind, but that's not where we are at now. I'm sure one day we'll get there. We just need more patience.
3. We should take turns being the support system.
Last year I was too busy battling depression and hating LA to see that Jacob needed my support during his job transition. I thought it was sufficient that I gave up my career and moved cross-country for him. This year as things are calming down, I'm learning to be more supportive in what he needs during his job transition. I'm usually the less emotionally stable one, so Jacob has always been more supportive of me, but I know that nobody wants to be the support system 100% of the time.
4. We need to carve out time to have fun together. 
No matter how busy we get, we need to make time to date. This is one we constantly have to remind ourselves. This year we are doing a bit better because of our 52 dates in 52 weeks challenge. We might bicker at each other. We might not always want to do the same things or have the same interests, but we always try our best to make time for one another.
GREAT MARRIAGE RESOURCES (that we use allll the time):

Life is always changing for us, and not knowing what's next has become the norm for us. We're just thankful to have made it through year 4! Woohoo! Year 5 here we come! :)
What's something you learned in your relationships this past year?