Lately, I've been feeling lethargic and easily distracted. Was it the thanksgiving food last week? Or the binge eating when we had friends in town?
I'm saying "oh, this is gonna be my lazy day" one too many times this week, and it's only Wednesday! I guess I also have a lot on my mind, and I can't seem to focus on any one thing. Every day I've been making it a point to write at least five things I'm grateful for. Today, I seem to be drawing a blank when I'm looking down at my gratitude journal. I know I should have things to be thankful for but I'm at a loss for words. All I want to do is lay in bed and finish my book. That's why I will just keep this post short and simple with a highlight from each day of my gratitude journal this past week:
Going backwards from yesterday, here's a simple gratitude list…
music – Started putting together a christmas playlist! Music has this incredible ability to lift your mood.
clean bathrooms – Feels so good after Jacob cleaned the toilet, and I cleared out all the junk under the sink.
beautiful sunsets – Went to crystal cove in laguna beach. Gonna miss living so close to the beach.
black friday – We actually went, didn't have to fight crowds, and got a lot of our christmas shopping done.
heartphilippines and all the people who have so far helped and donated so far.
movies – We watched frozen and hunger games catching fire, and we loved them both!
kickboxing – I went for the first time last week, and it was really fun. I got out a lot of my angry energy. ;)
My favorite gratitude quote of the week by Thornton Wilder coupled with one of my instagram photos from crystal cove: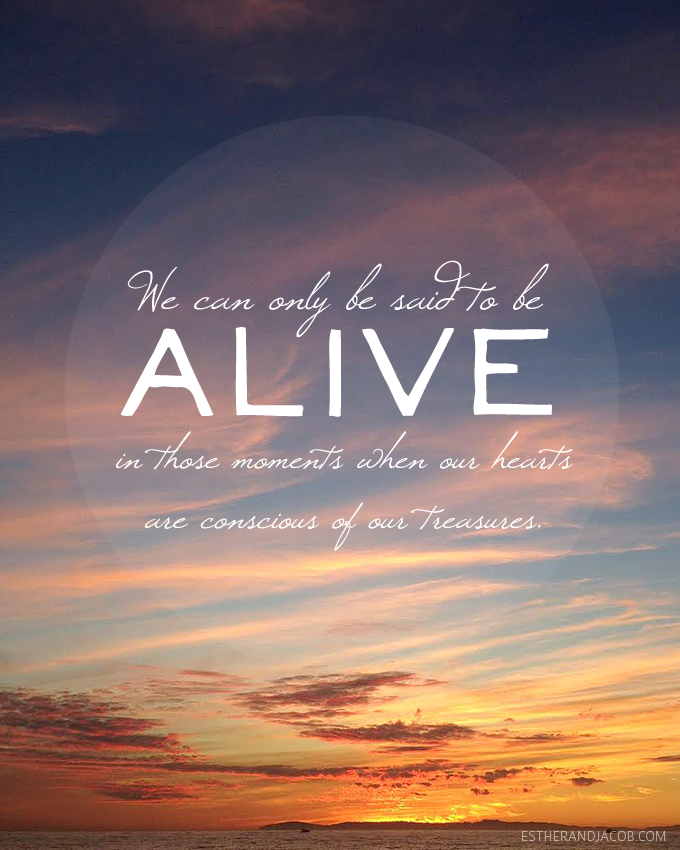 Pin
I joked that on Thanksgiving I was going to be ungrateful since I had been practicing gratitude for several weeks on my blog, but I really have been feeling crabby and ungrateful ever since Thanksgiving. Maybe longer. I have been writing my gratitude list in my journal, but my heart hasn't been in it. If the above quote is true, I don't feel as alive as I would like. What do you do on days you feel stuck and ungrateful?
This is week 12 of practicing gratitude. I'm hoping to keep these gratitude Wednesdays going for as long as I can. I want it to be an essential part of my blog journey and sharing my process of growing into a kind, grateful, and generous person one day. One fine freakin' day. You can see my other posts if you click on the banner below: