These past couple years I've been trying out all sorts of methods to practice gratitude. Ever since reading one thousand gifts, I've kept a gratitude journal where I list out all the little things I'm thankful for in my daily life. Also, because I'm not much of a disciplined person, I started blogging weekly gratitudes here. I knew that I would skip days here and there in my journal, so I needed something more public to keep me on track. There's nothing like not wanting to look like a public failure to keep you motivated! :P Today, I'm on week 39! Woohoo! :)
This year, instead of a gratitude journal, I decided to switch things up and try keeping a gratitude jar on my desk where I put in a weekly recap of gratitudes. Gotta keep things fresh!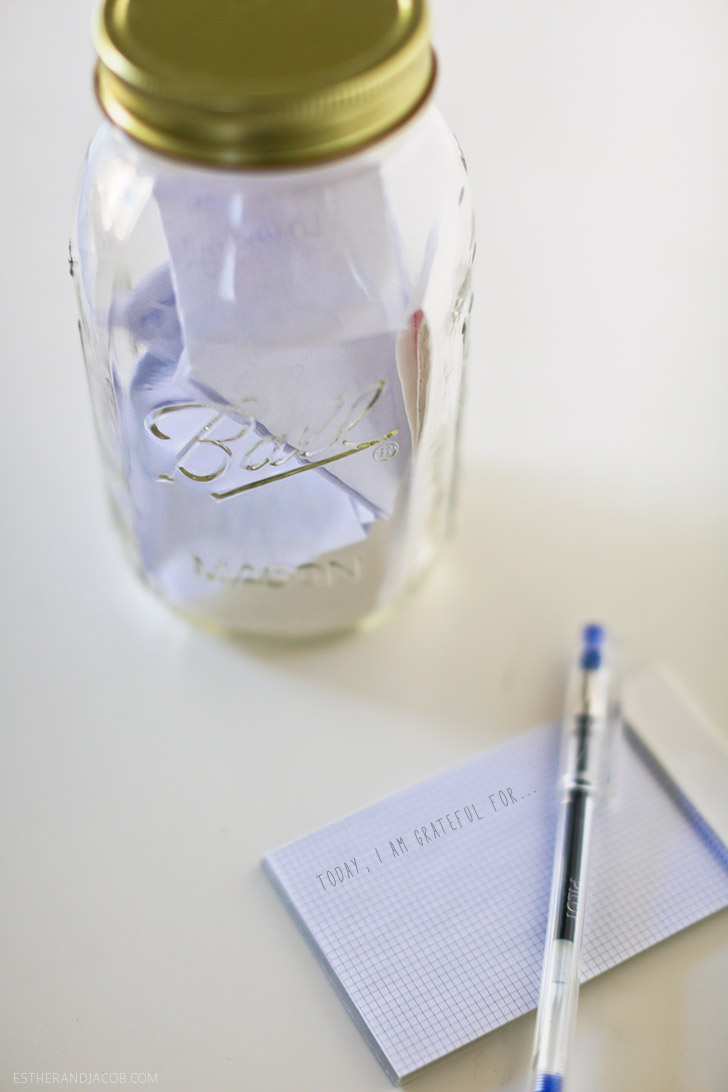 Pin
I wasn't always a grateful person.
Maybe because I was not a happy with myself, I found it easier to look down on people who maintained a positive outlook on life. I thought they were weak and fooling themselves, because they couldn't face the reality of how dreadful life really was. (Can you tell I was an angsty teen?) Now, as I grow older, I realize it takes a really strong person to utter the words "thank you" in the midst of all the troubles that accompany life.
I am no longer the same person who I was a few years ago. The person that used to always live with a grass-is-greener-on-the-other-side mentality. The person that used to wallow in misery and find comfort in it. And don't get me wrong, old habits die hard. There are still days that my older selves come up for air. But over time, I noticed that I am seeing differently as I look for treasures rather than disappointments. I'm able to identify my negative thoughts and turn them around quicker.
My life is never linear, so I imagine there will be more backtracking. There will still be MANY days on this journey where practicing gratitude will be a total drag. But my hope is that I will continue to pick myself up and point myself in the right direction.
WHY I KEEP A GRATITUDE JAR:
Practicing gratitude helps me be present and stop and reflect on the good stuff.
Having the gratitude jar on my desk is a visual reminder to practice gratitude.
It is also a visual reminder on bad days that there is much to be grateful for.
Also, I love mason jars. I will use them in as many ways possible. :D
This year I've also participated in the #100happydays challenge on instagram, which I completed last week! There's no sign of a photobook, and I have no idea where they got 71% stats from. I'm pretty sure they aren't keeping track, BUT don't let that stop you from tryimg it!!
Have you tried practicing gratitude outside of the month of November? What are some other ways you can think of to practice gratitude?
This is week 39 of practicing gratitude. 13 more weeks left! Click the banner below to see other gratitude posts:


Pin

Pin