GUYS.. I am so weirded out seeing myself being on camera. I especially hate hearing my own voice. I can barely even leave voicemails. It's so SO weird. Anyone else feel the same?
I'm a person of extremes, and I sway back and forth between these extremes. It's all or nothing. An example of this is I either care too much what people think that it inhibits me from being myself or I don't care at all and end up hurting people in the process. I know that somewhere in between is a happy medium where one can be mindful of others while having confidence.
This past year, ever since quitting wedding photography, I felt like I lost my self-worth. I had incredible travel experiences and got to explore a lot of new hobbies, but I'm embarrassed to admit that I spent most of my year feeling insecure and caring too much about what other people thought. I guess I did put a lot of my worth in what I do. I never liked answering people when they asked me what I am doing with my life now, because it made me feel like a bum to say I was taking the time to do some soul searching. The truth is we're very fortunate to have the savings to quit our jobs to pursue new dreams. Jacob's new dream is youtube, and me? I'm still figuring it out. When the circumstances change and the time comes to support our future kids, it'll be a different story. But right now, I'm having to teach myself that it's okay to take time off. It's okay to not know.
I read an article lately that inspired me to create a growth list. A growth list is where you list out your fears or things that make you uncomfortable and you complete them in order to reclaim your freedom. Who wants to live in fear for the rest of their lives?
My Growth List (Start Date Mar 5, 2014)
Watch the entire video with the sound on (SO uncomfortable).
Look at the camera next time.
Talk to and take a photo of a stranger.
Try a class 3 hike.
Hike Angel's Landing (April 15, 2015)
Attend a new meetup by myself.
Take an improv class.
Take a speech class.
Kill a spider.. even if it is with one of these. :P
Today I am crossing off the first item on the list. I posted up my first vlog (click on photo below).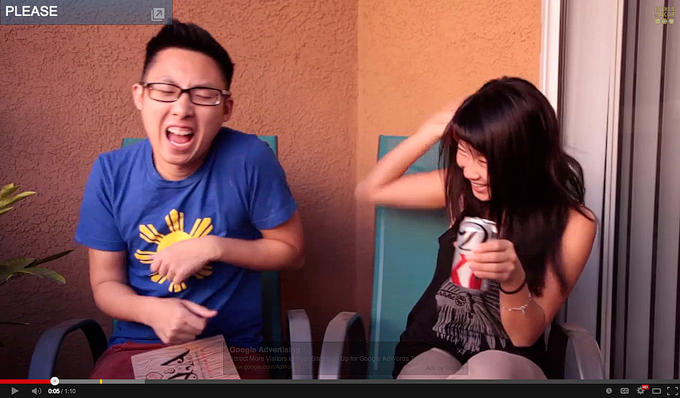 Pin
It wasn't much of a success, because I struggled with talking. PERIOD. And looking directly at the camera. But the point is, I did it! So be it if I look or sound like a complete idiot. I know I can always improve upon it next time. Somehow I forced myself to be comfortable with being in photos. It's unfair for a photographer to ask someone to do things in front of camera they're not willing to do themselves, so I had to make it work. Now, I am going to make this work.
With enough exposure, these fears actually can be overcome.
What's a fear you have that you would put on your growth list?
I'm thankful for firsts. I'm thankful that I allowed myself to be in this video. I'm thankful that I can make the decision to change and grow and live in more freedom each and every day. Cheers to finding a happy medium! This is week 25 of practicing gratitude on my blog. You can see all my other gratitude posts by clicking on the banner:

Pin