When people ask us out of all the cities we've lived in which is our favorite, it's no doubt San Diego. Though we didn't take advantage of being near the beach nearly as much as we should have, it was nice only being a stone's throw away.
Of all the areas we hiked in around the city, this was easily one of our favorite spots, so you're getting the best of the best! The Torrey Pines hiking trails are all relatively easy, short, and you get beautiful coastal views with different vantage points. Plus, you get to walk amongst one of the rarest pine trees in the world. You can also link many of the hikes together if you want to spend all day exploring the area.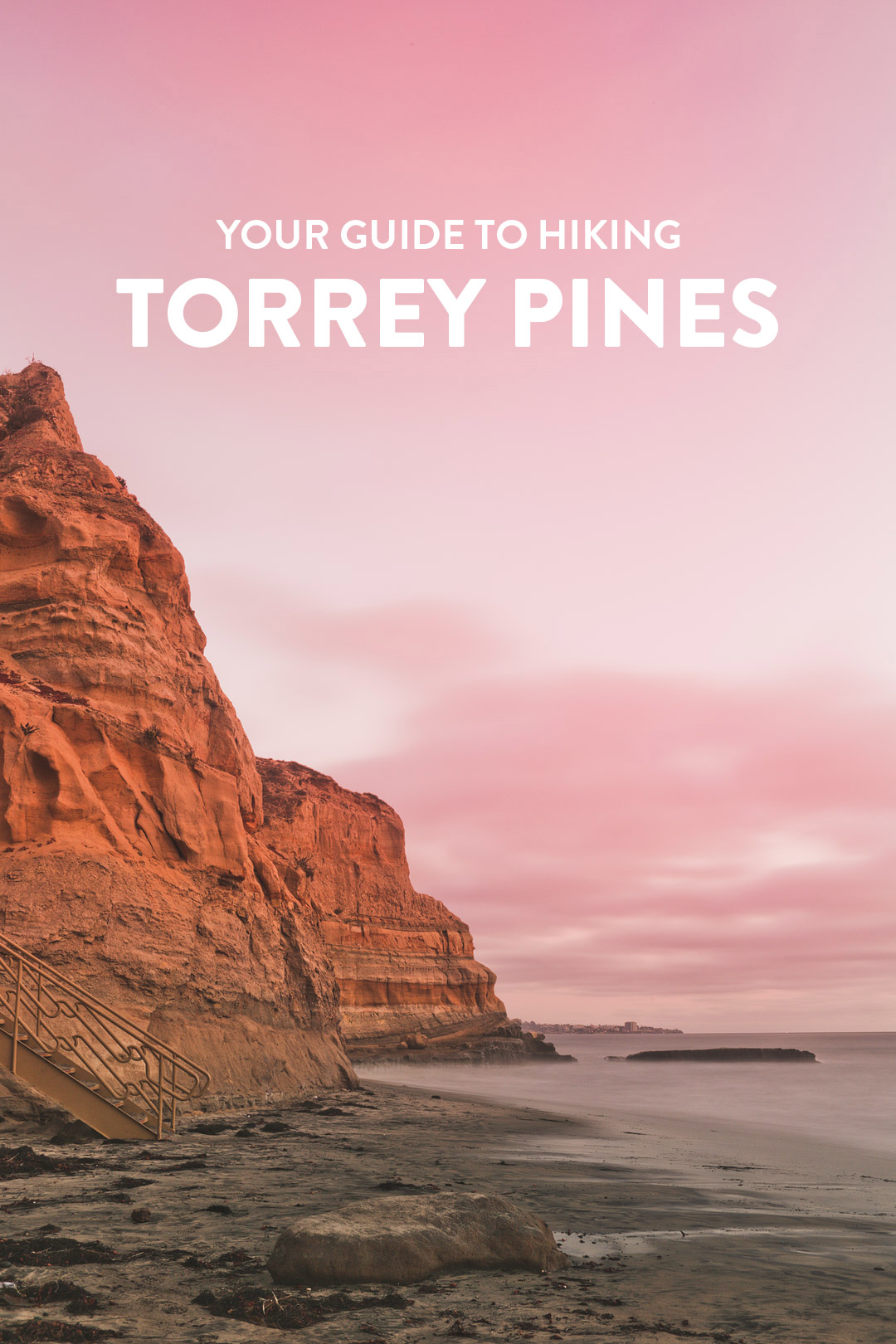 This post may contain affiliate links, where we receive a small commission on sales of the products that are linked at no additional cost to you. Read our full disclosure for more info. Thank you for supporting the brands that make Local Adventurer possible.
Last Updated: June 15, 2020
Easy Hikes in San Diego with Coastal Views - Torrey Pines Hike
Note: Although the Torrey Pines State Beach is open for passive and active recreation, the Reserve including all trails are still closed. Check their website for the most up-to-date information.
The beach trail hike (0.75 mile)
Our first hike was the Beach Trail in Torrey Pines South because Esther loves the water. Like it's name suggests, this trail takes you 300 feet down to the beach. Once we saw the sign for the trail, we left the paved road and continued to follow the signs. Along the way, you'll get a chance to see Red Butte, and there are also other offshoot trails. You can hike up to Razor Point or Yucca Point for additional viewpoints.
Since it was already getting dark, we headed straight down to the beach. After the descent, we followed the beach back towards the parking lot. The tide was high and there were moments when we thought we might not have any beach left to walk on, but it ended up being okay.
It was a relaxing hike and next time we can't wait to explore some of the other trails.
Pro Tip: Arrive early to ensure you get parking, especially on weekends and the holidays.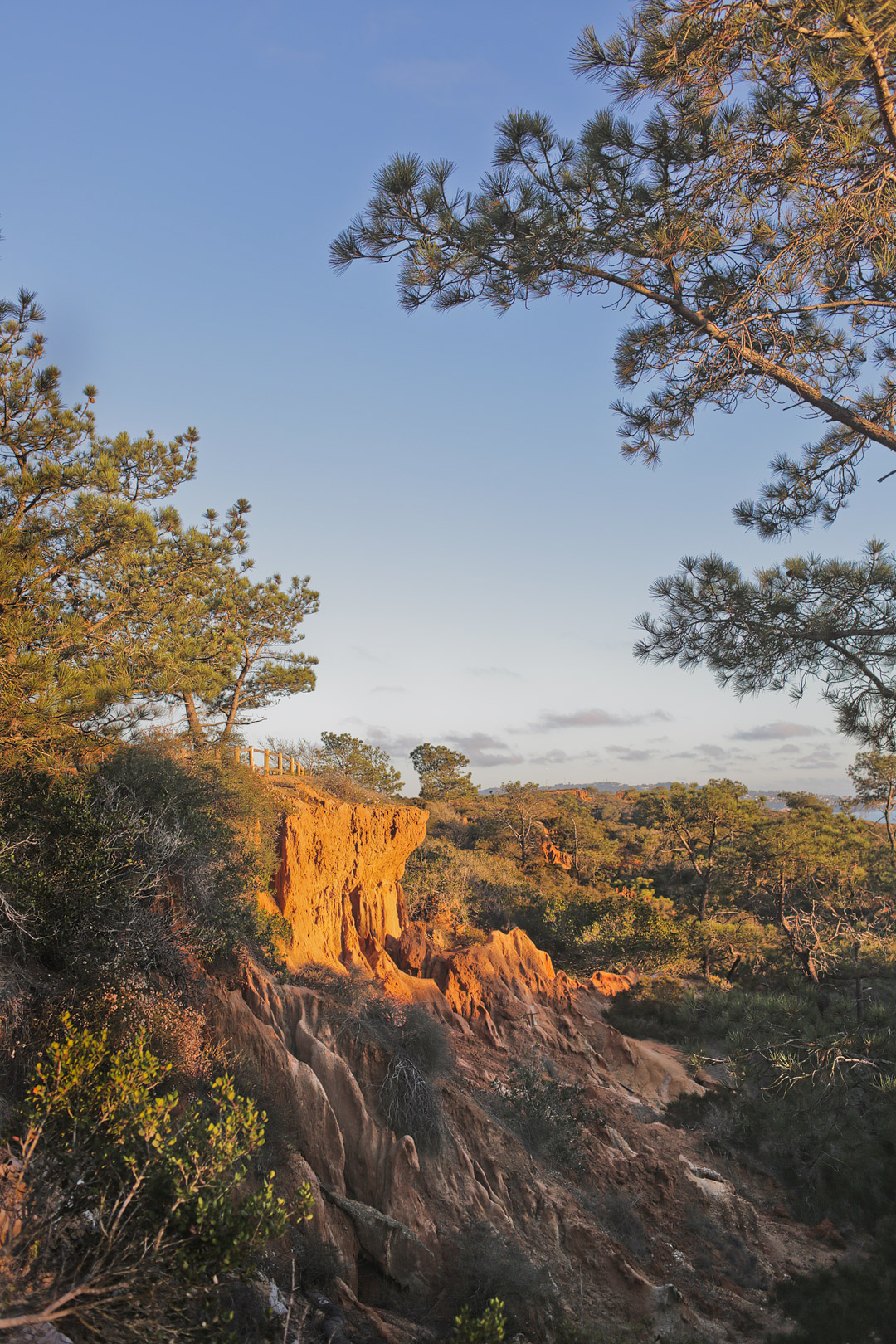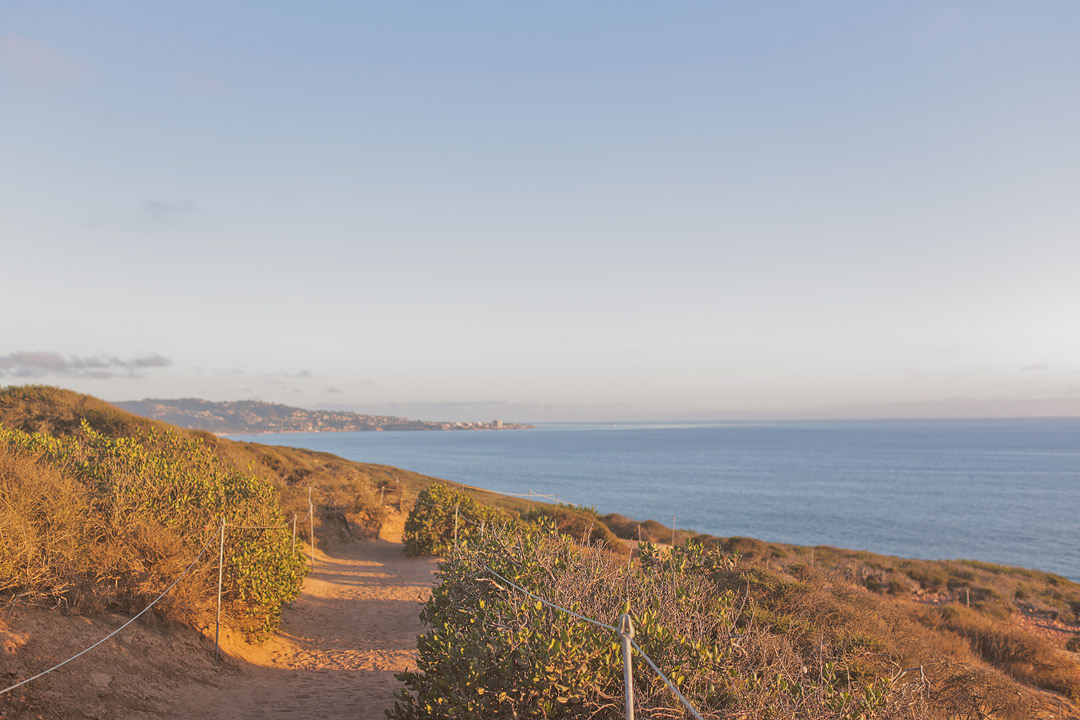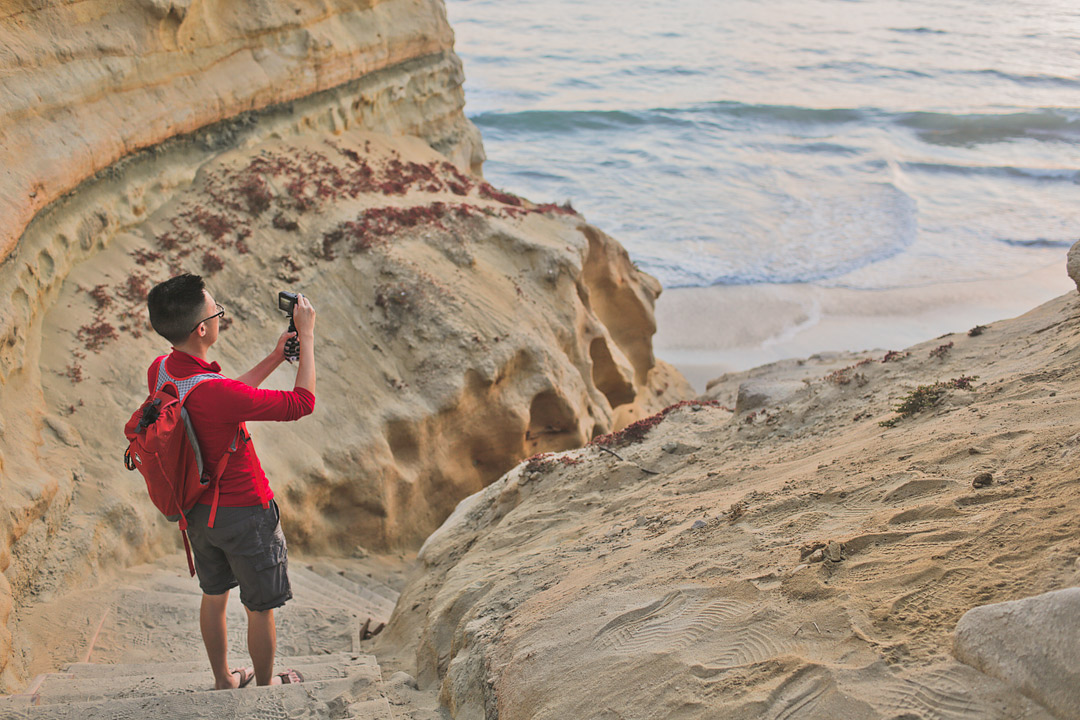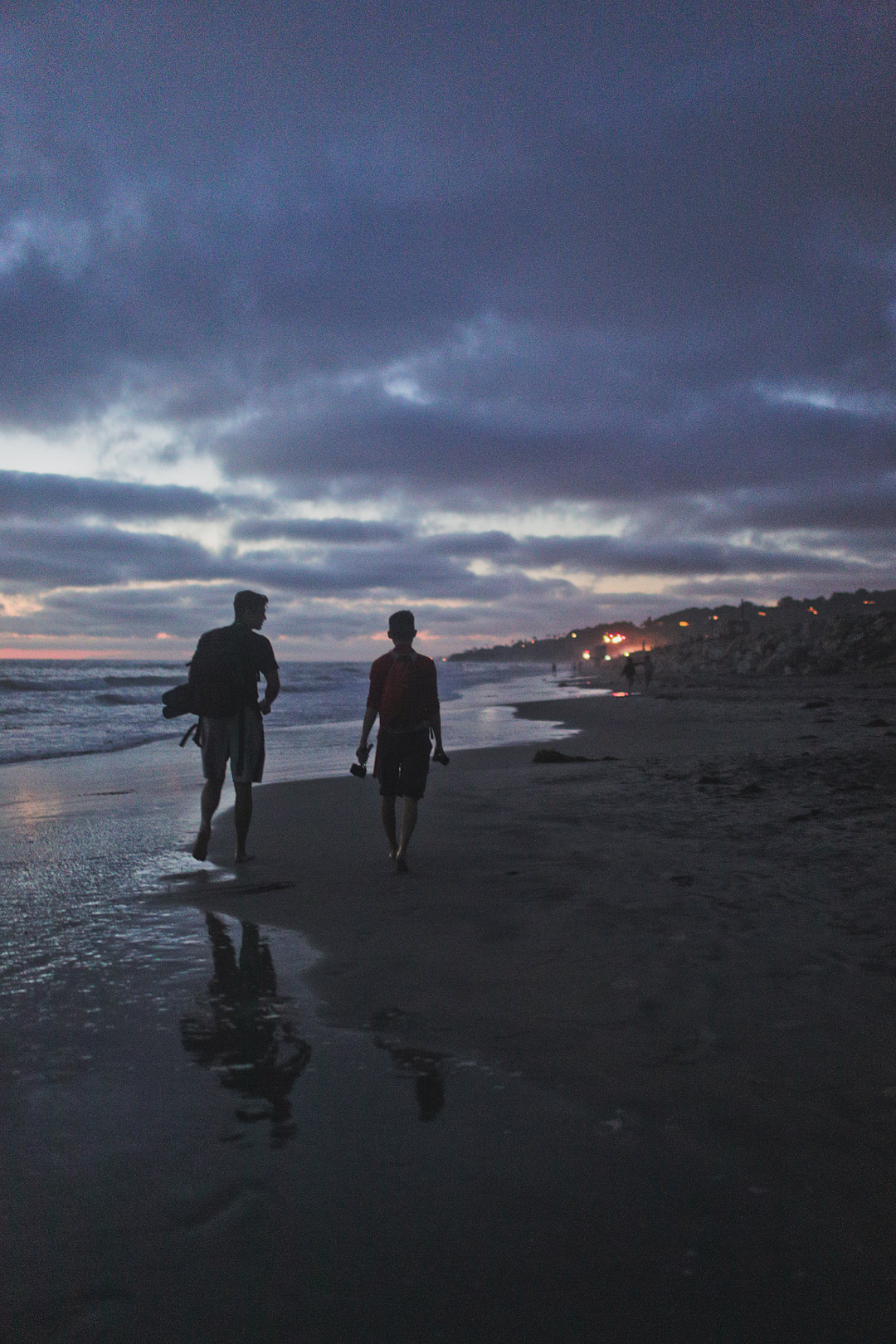 Broken Hill Trail (1.3 miles)
The Broken Hill trail is the longest Torrey Pines hiking trail
Note: It's currently closed for repairs.
Guy Fleming Trail (0.6 mile loop)
The Guy Fleming Trail has two scenic overlooks with panoramic views. This hike has the widest variety of wildflowers, ferns, and cacti.
High Point Trail (0.1 mile)
High Point Trail is a short and steep hike that takes you to a 360-degree panoramic view.
Parry Grove Trail (0.5 mile loop)
This is a nice secluded hike that has 100 stone steps at the entrance.
Razor Point Trail (0.7 mile)
You can see unique sandstone formations and beautiful coastal views. It also gives you access Yucca Point Overlook from this trail.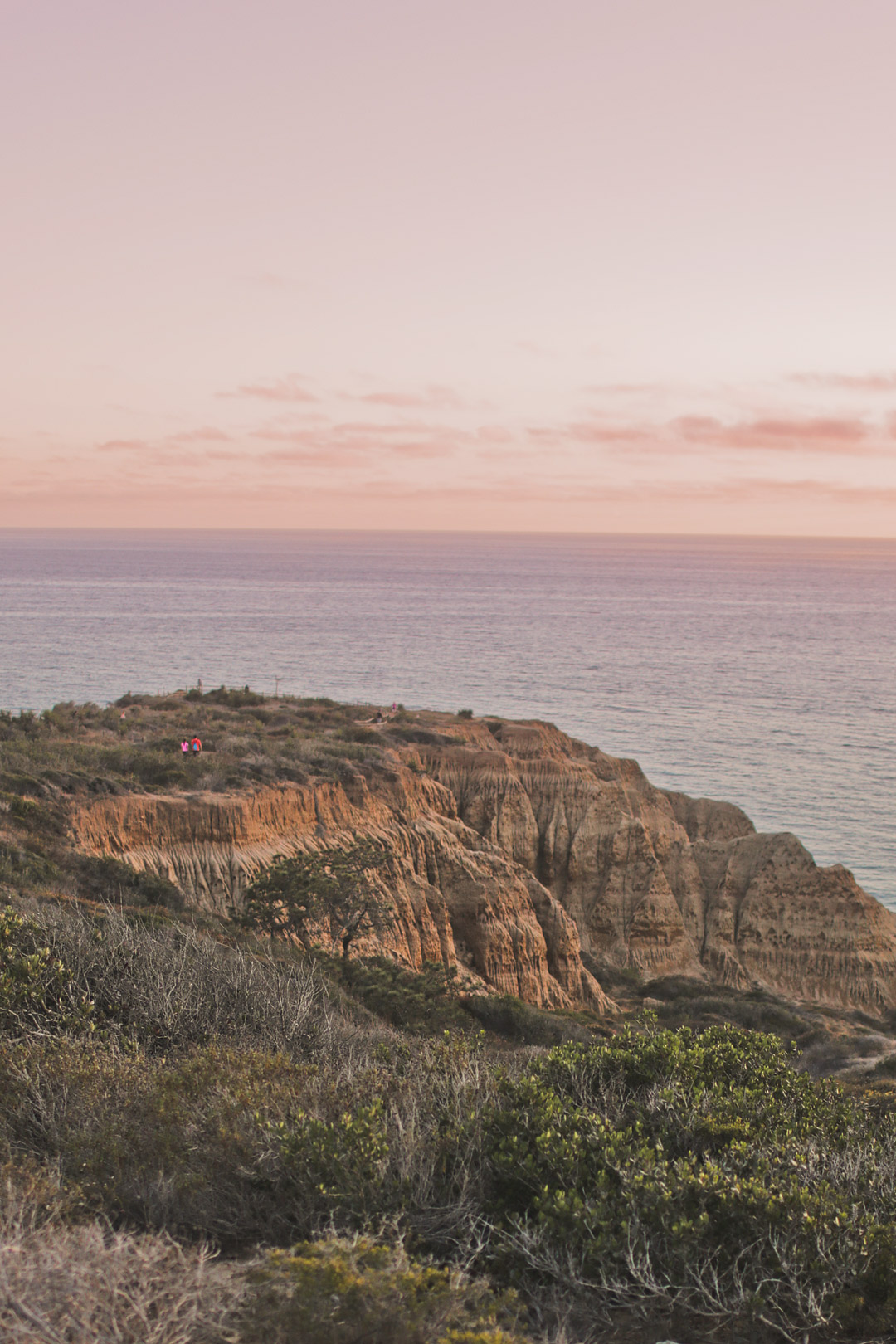 This is an unofficial trail that goes through Torrey Pines State Natural Reserve. It's not well maintained and used to only be trafficked by surfers going to Black's Beach. It involves some scrambling and isn't one of the more easy hikes in San Diego.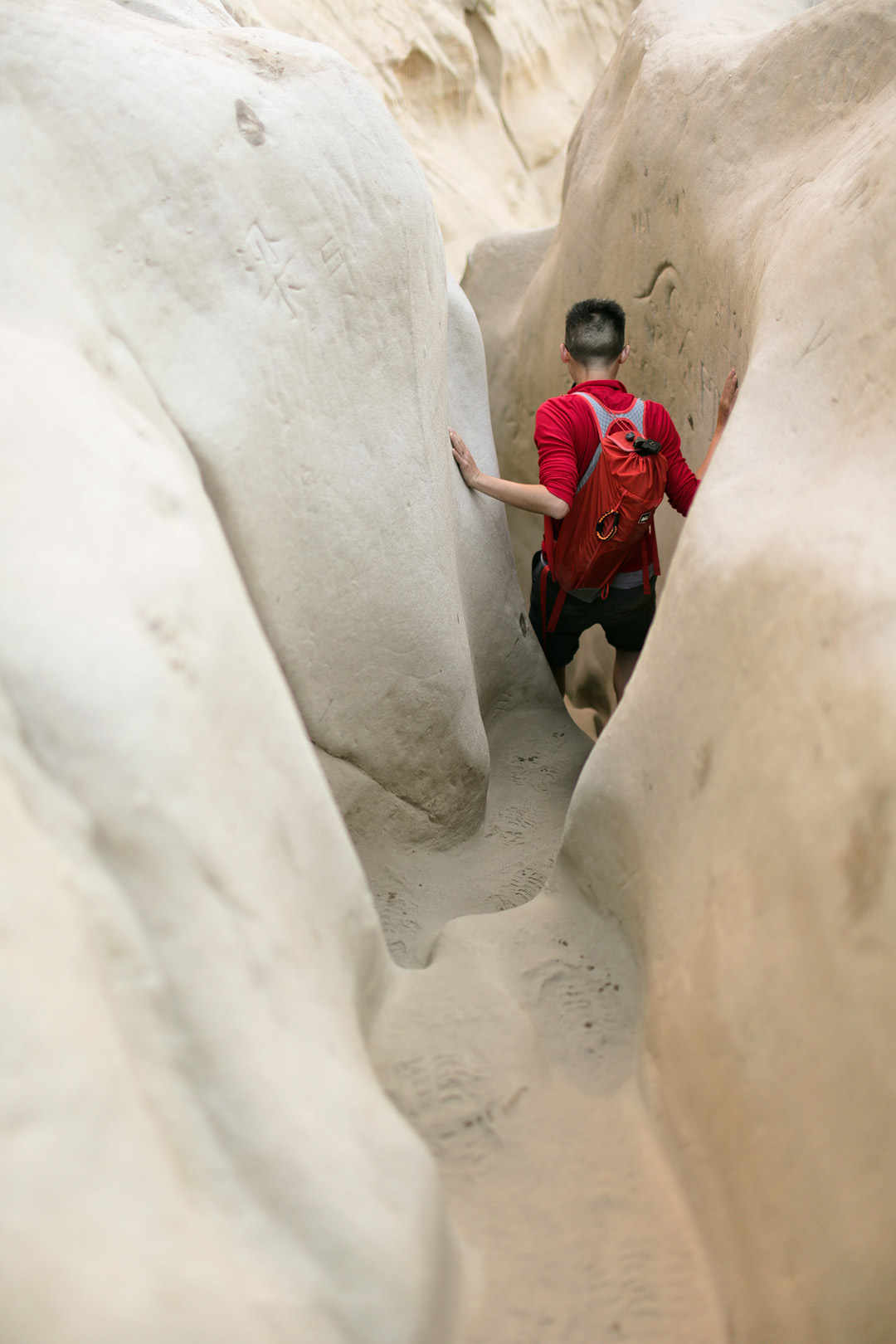 Torrey Pines State Reserve Northeast Extension
The reserve also has a Northeast extension. The difference between Torrey Pines North vs South is that the North is much less crowded and has fewer hiking trails that are less maintained. It gives it a more of an outdoorsy vibe over a tourist destination.
Mar Scenic Trail (0.5 mile) – A hike that follows a seasonal creek.
Daughters of the American Revolution (DAR) Trail (0.5 mile) -Get views across the marsh to the main reserve and ocean.
Margaret Fleming Nature Trail (0.75 mile) – Hike through coastal sage scrub.
Red Ridge Loop Trail (0.3 mile) – See the lagoon, the main reserve, and unique formations.
More: Best Beginner Spots for Rock Climbing in San Diego County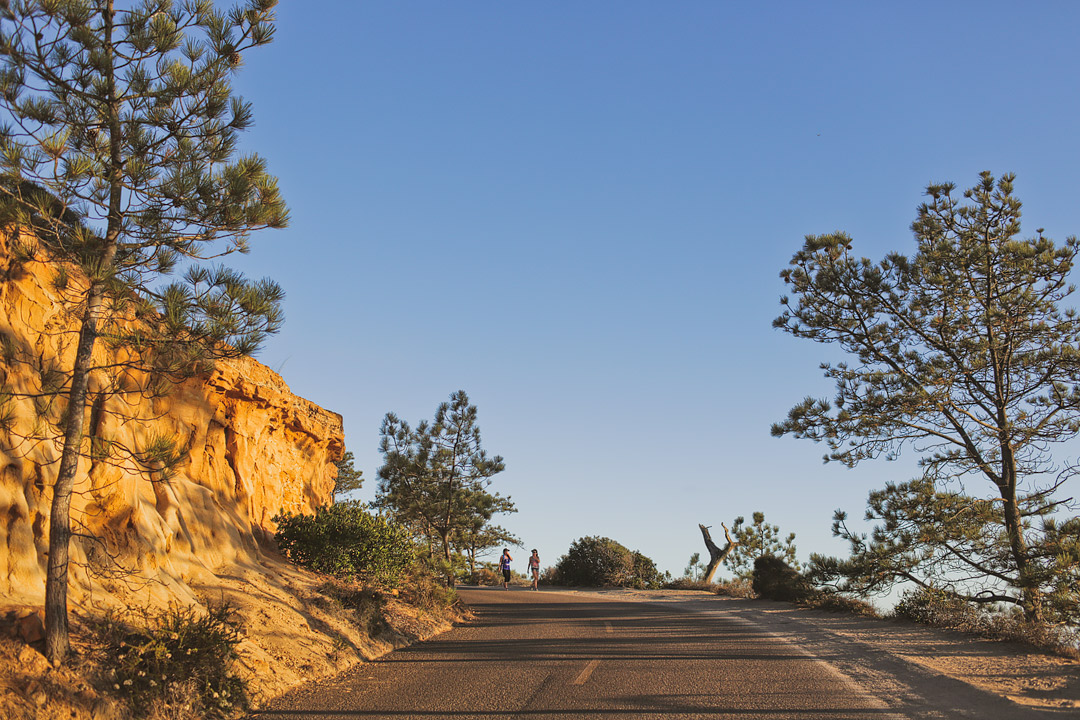 About the Torrey Pine Tree
The Torrey pine tree (Pinus torreyana) is a rare and endangered pine species that only grows here at Torrey Pines State Natural Reserve, on Santa Rosa Island, and random coastal areas of California.
Fun Fact: The world's largest Torrey pine tree at 126 ft tall is named Wardholme Torrey Pine. It lives in the beach town Carpinteria just 11 miles east of Santa Barbara.
Directions, Hours, & FEES
Address: 12600 N Torrey Pines Rd, La Jolla, CA 92037
We headed to the Torrey Pines in the evening to catch sunset. After parking our car, we headed up Torrey Pines Park Rd. Along this paved road, you'll find well marked trailheads and you'll also eventually see the Visitor Center (Lodge) to your left.
Operating Hours:

The Reserve is open from 7:15 AM to sunset, 365 days a year. Sunset is around 5PM in the winter and 8PM in the summer. The Lodge (Visitor Center) opens 9 AM year round. It closes at 6 PM during summer daylight saving time and 4 PM during winter.
Parking & Fees

There are two parking lots at the Reserve. The South Beach parking is the more popular and the fee also gives you access to the top of the mesa. Fees differ based on season. High Season typically runs from Spring Break to the end of September, and Low Season starts in October and goes through Spring Break.
South Beach Fees:
High Season – $15 Mon to Thurs, $20 Fri to Sun
Low Season – $12 Mon to Thurs, $15 Fri to Sun
North Beach Fees:
High Season – $10 Mon to Thurs, $15 Fri to Sun
Low Season – $3 Mon to Thurs, $10 Fri to Sun
During Thanksgiving and Christmas break, special holiday pricing applies. $25 for the South Beach parking lot and $20 for the North Beach parking lot. You can also purchase an Annual Pass at the South Beach entrance station for $195.
Essential Tips for Your Visit to Torrey Pines State Reserve
Best Time to Visit: Year Round. In January it can get down to 45 degrees, and the hottest time of year is going to usually fall in August at around 80 degrees. In June and July, the coastal fog can last all day.
Stop by the Visitor Center (Lodge) to check out exhibits on local wildlife, flowers, and geology. You can also grab one of the free trail maps.
Please stay on the trails! The ecosystem is very fragile and going off trail causes unnecessary erosions and can harm the plant and wildlife.
No food is allowed in the Reserve or on the trails. Water is okay.
If you want to picnic, you can at the beach, but please pack out what you pack in.
There are bathrooms and trashcans near the parking lots, but not at the Visitor Center.
No pets are allowed in the Reserve or on the beach.
During the summer, the busiest times are usually between 10 AM and 1 PM.
If you're hiking through the beach, check the times and heights of Torrey Pine tides.
La Jolla Hiking Trail Packing List
Hotels near the Torrey Pines State Reserve Hike
Have you been hiking in San Diego? What's your favorite hike?
"Discovery consists not of seeking new lands but in seeing with new eyes" – M. Proust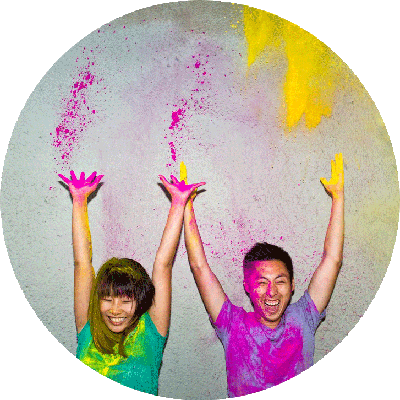 Pin
ESTHER + JACOB
Esther and Jacob are the founders of Local Adventurer, which is one of the top 5 travel blogs in the US. They believe that adventure can be found both near and far and hope to inspire others to explore locally. They explore a new city every year and currently base themselves in NYC.