One of our goals for 2016 was to learn to climb / boulder, and a few weeks ago I finally did my first V2!! At the beginning, I could never see myself even 'graduating' to V1s. I was afraid of heights, afraid to hurt myself, and afraid to fail especially in front of a lot of other people who are way more badass than I could ever be. I was way too intimidated to talk to anyone or ask for help, but after going the same times and days every week, we began running into familiar faces.
There's something about having to figure out similar physical challenges that naturally brings people together and builds community. Does this happen at all climbing gyms? Maybe it's when you realize that the struggle is real that you start to lean on others and others lean on you for support. Or maybe the climbing community is just that awesome!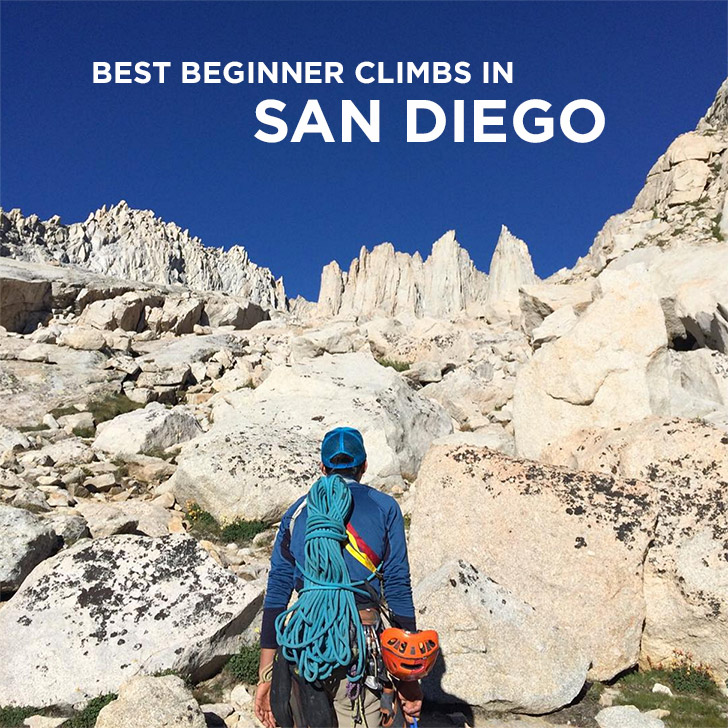 This post may contain affiliate links, where we receive a small commission on sales of the products that are linked at no additional cost to you. All opinions are always our own. Read our full disclosure for more info. Thank you for supporting the brands that make Local Adventurer possible.
Last Updated: December 14, 2022
We have been itching to go outdoors, so our friends at the Grotto helped us put together a list of beginner climbs in San Diego County!
BEST BEGINNER SPOTS FOR ROCK CLIMBING IN SAN DIEGO COUNTY
1. Santee Boulders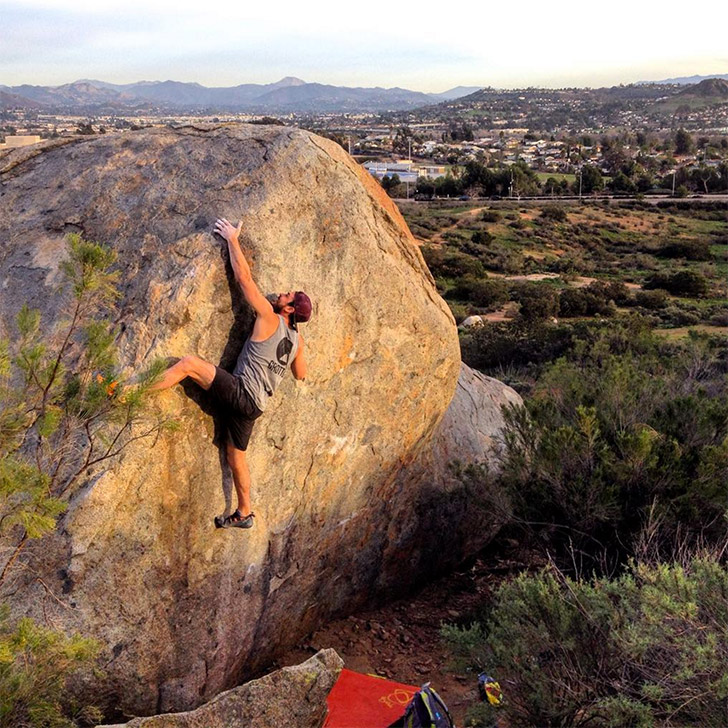 Matt Martinez of Grotto Climbing on "Suzies discharge", Santee Boulders
Santee Boulders is one of the San Diego classic bouldering areas. The climbing is easily approached via a 5-minute walk which is by far the shortest and easiest rock climbing approach in the city. Santee features a lot of slab type climbing where appropriate foot technique goes a long way. Small crimps, low angle rock and often nothing but pure friction will pave your way to the top.
It is a great bouldering destination for beginners and advanced climbers with lines in all difficulties. It is also an amazing spot to improve your fancy footwork and overall balance that is very typical for California granite climbing.
More info on Santee Boulders and directions to parking.
See Related – 15 Games and Exercises to Improve Rock Climbing
2. Jasper Boulders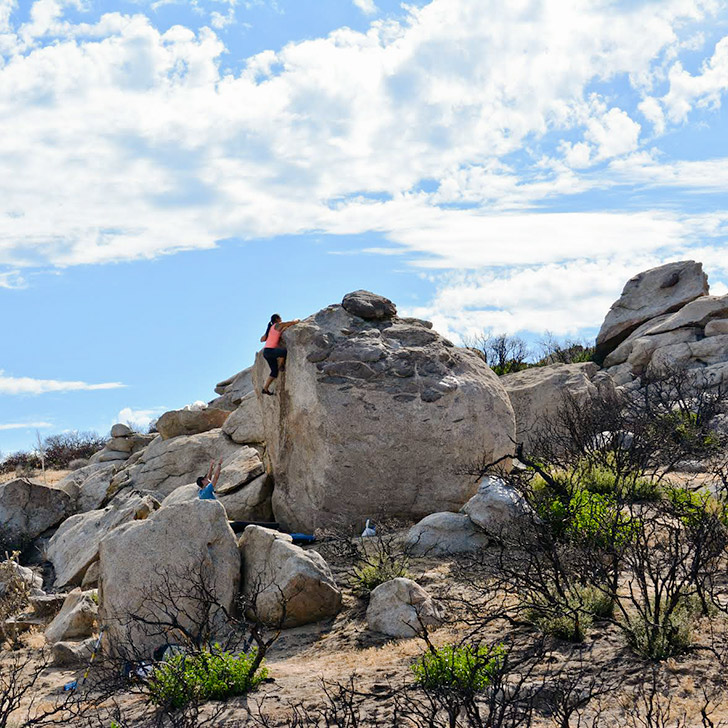 Jasper boulders is another hidden gem in San Diego County. Over 400 high quality boulder problems in a beautiful desert landscape just 15 miles southwest of Borrego Springs. All the boulders are located on Anza Borrego State Park nearby a small community called "Ranchita".
Despite at least 6 years of establishing new problems, there is currently no guidebook or topos available which makes for an adventurous field trip of exploring. There is only a little information found on the internet.
Please feel free to ask Grotto founder Bryan for more info. He is eager to share his knowledge as one of the main establishers and first ascensionist of the area. Classic formations like "Crystal Ship" or "Jim Morrison Memorial Boulder" have been introduced to our Grotto community on one of our fun outdoor field trips.
Directions to parking at Jasper Boulders
3. Mount Woodson
Mount Woodson has great potential to be the best bouldering area in Southern California. With thousands of granite boulders sprinkled over the hillsides it features an incredible variety of different climbing styles. Crack climbing from super thin to mega wide, strenuous mantles, thin friction climbing and even overhanging lines are part of the climbing program at local Mount Woodson.
The San Diego County rock climbing guidebook is a great resource for navigating through Woodson and finding the super classics. Be aware! Many boulders are hidden behind thick chaparral and mazes of small deer trails that spread all over the mountain. Don't be surprised to see large groups of hikers on their way up to the mountain top to take a picture with the infamous "Potato Chip Rock" – probably the most photographed rock formation in the county.
Next to the endless amounts of bouldering, there is also a fair number of short rope climbs that are usually top roped. The first boulders are as close as 10 minutes walking from the trailhead which allows for quick and easy climbing access.
For more info on Mount Woodson / Directions to parking
See Related – 17 Practical Gifts for Rock Climbers They'll Love and Use
4. McCain Valley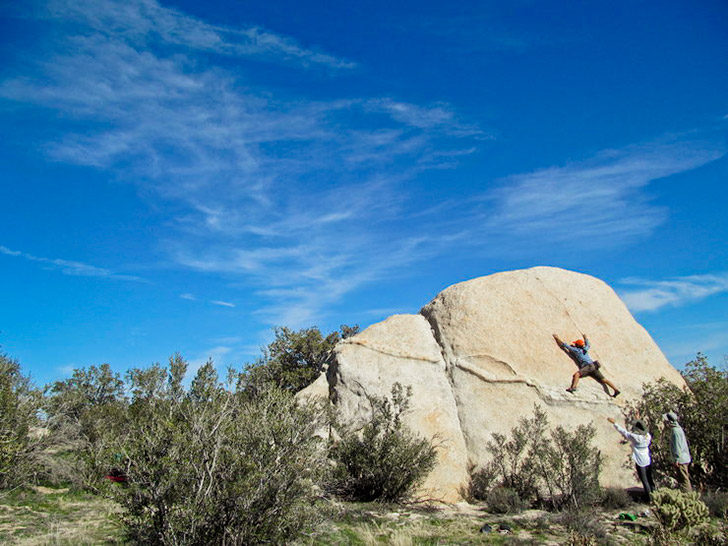 McCain Valley is a vast BLM recreation area in Eastern San Diego county. Besides one particular taller rope climbing formation ("Löwenbräu Pinnacle"), there is lots of bouldering to discover. Many of the climbs are unrecorded making way for your own inspiration to find the perfect line.
The area has a few campgrounds and is frequented by a fair amount of off-roaders usually in the Lark Canyon area. As with most of the San Diego rock climbing areas, the main season spreads from late fall to early Spring as temperatures tend to get hot out there quickly.
For more info to McCain Valley and Directions to Parking
5. Culp Valley
Culp Valley offers amazing bouldering on typical SoCal desert granite. Very close to Jasper boulders, this area features more than a hundred boulder problems up to V10.
The "Cottonwood Campground" is an ideal basecamp for exploring the vast desert landscape with seemingly endless bouldering opportunities. Classics like "Vector Crack (V0)" or "Gutenobbin (V1)" are amazing beginner routes that also enlightens the more advanced climber. Our San Diego winter months have proven to bring in ideal climbing conditions so make sure to go before it gets too hot out there.
More info on Culp Valley / Directions to parking
See Related – Easy Portable Hangboard DIY
6. El Cajon Mountain Boulders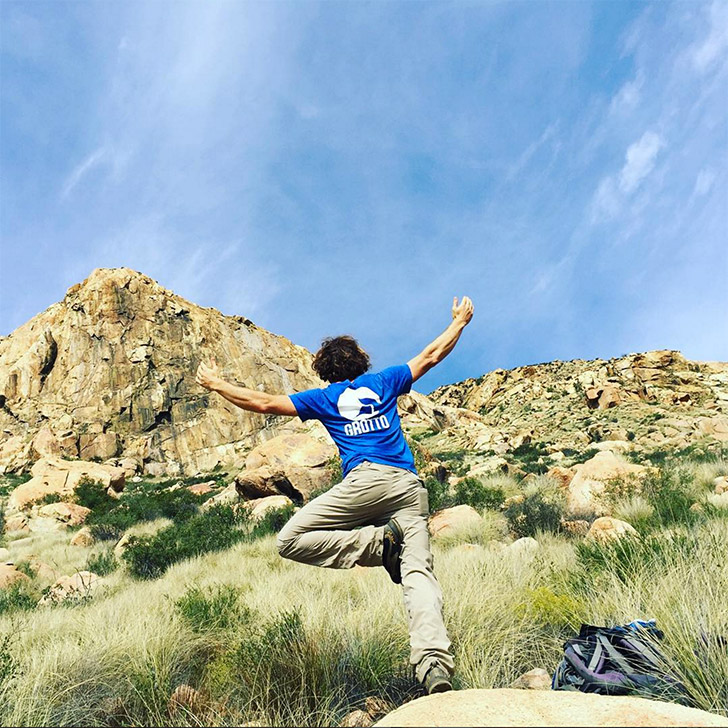 Fabi Chillino of Chillino Rock Climbing at El Cajon Mountain
El Cajon Mountain is widely known for its stunning multi-pitch sport climbing in San Diego. An impressive wall of 450 feet high up on the rim of our local 3,600 foot peak! Despite amazing rope climbing there are also two great bouldering circuits that are well worth to check out. It is important to pay close attention to the right turns on the trail. The lower circuit "Alluvial Field" requires a 20 minutes approach and the upper circuit "Big Rock" takes about 40 minutes to get there.
Start at the same trailhead as for the rope climbing, a ¼ mile before the entrance gate of El Capitan Reservoir. From the trail, eventually branch off to smaller trails that lead to the boulders. Stay safe and only boulder with at least one friend and carefully inspect each climb for rock quality before trying. The longer approach combined with amazing boulder problems guarantees for great day out climbing in San Diego.
Directions to El Cajon Mountain parking
Best Places to Stay in San Diego
Thanks Favi & the Grotto for putting this awesome list together! Can't wait to check them all out.
If you haven't already, check out our 10 climbing tips for beginners.
Also if you're petite and you're in the San Diego area, please come climb with me! There aren't enough of us short ppl! haha It's fun getting to workshop together. And even if you're not, we'd love to have you join us at the gym or at any of Grotto's free outdoor climbing events!
What's something new you're trying to do this year? Any new fitness goals?
SEE More Climbing Destinations + Tips
⟡⟡⟡⟡⟡
"Discovery consists not of seeking new lands but in seeing with new eyes" – M. Proust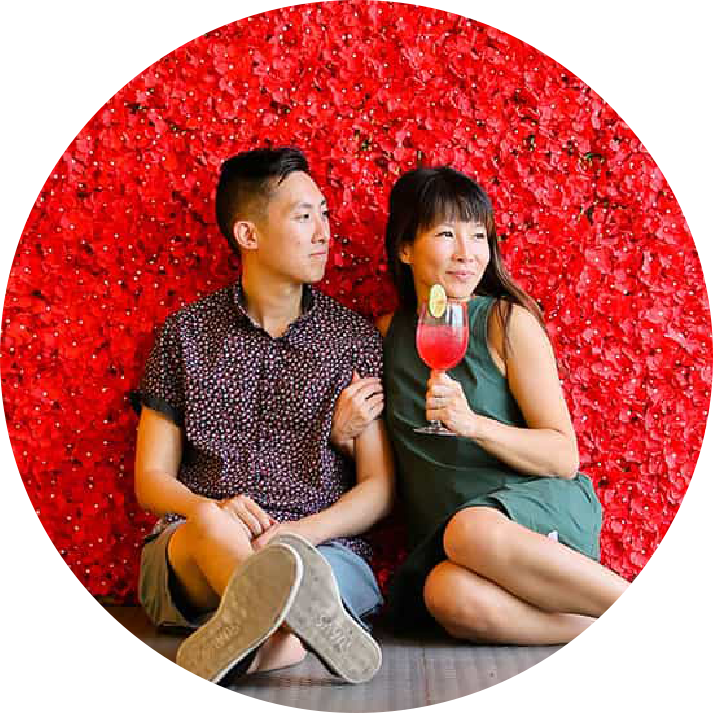 Esther + Jacob
Esther and Jacob are the founders of Local Adventurer, one of the top 5 travel blogs in the US. They believe that adventure can be found near and far and hope to inspire others to explore locally. They explore a new city in depth every year and currently base themselves in Las Vegas.
Follow on Instagram (E + J), YouTube, TikTok, and Pinterest.