Summer is here, and we are feelin it here in Vegas! I've only recently been putting on sunscreen religiously ever since my doctor spotted an irregular mole on my arm. I should have been more careful especially since we're out in the sun quite a bit. Fingers crossed that it won't be a big deal, but I'm pretty scared to go in and get a skin biopsy!
This week as we were doing some of our own research, we wanted to share about the best and worst sunscreens out there. Generally, we pay more attention to cost and efficacy over whether it's organic or non-toxic. What doesn't kill you makes you stronger, right? ;P I guess we won't know until it's too late. I do think it's good to stay informed of what exactly you are putting on your body regardless of your opinion on going organic.
5 guidelines to help you pick sunscreens:
Don't trust sky-high SPF claims. EWG (Environmental Working Group) recommends that you avoid anything higher than SPF 50 and that you should reapply sunscreen often.
Avoid oxybenzone – It messes with your hormones and could trigger allergic reactions.
Don't try killing two birds with one stone (or lotion). Avoid combined sunscreen and bug repellant products. You don't need to reapply bug repellant as often so this helps you avoid unsafe levels of chemicals.
Use creams, not sprays, powders, or wipes.  Sprays and powders pose an inhalation risk, while wipes don't necessarily transfer to your skin. Also, it's hard to tell if you have full coverage.
Your makeup is NOT an effective sunscreen. Although more products are adding sunscreen ingredients, they are not effective. This is also true with moisturizers and body lotions.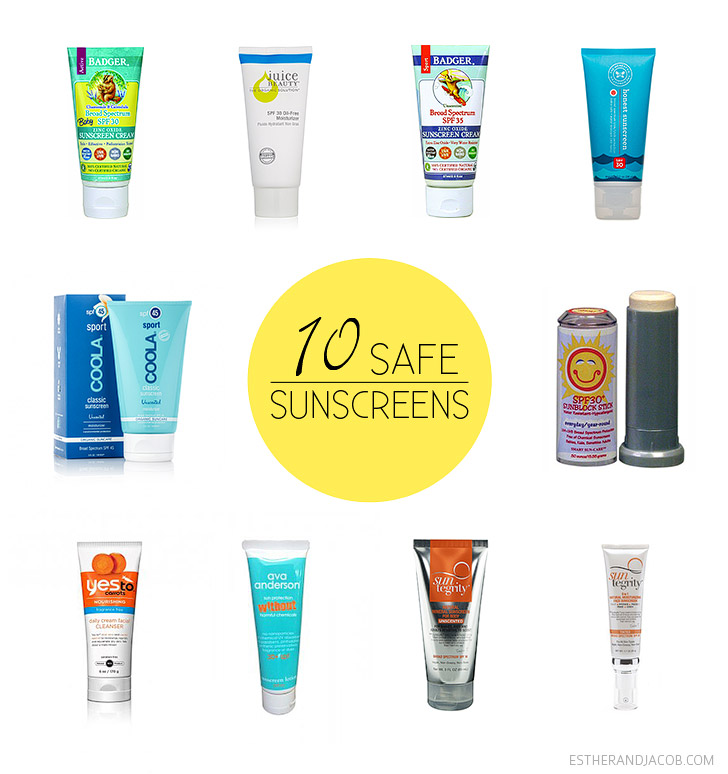 Pin
10 Safe / Least Toxic Sunscreen Picks (From EWG Sunscreen Guide):
Some of the Most Toxic Sunscreens:
Well at Walgreens Sport Continuous Spray Sunscreen, SPF 30, 50, and 90
up & up Sport Sunscreen Lotion, SPF 30 and 50
Trader Joe's Nourish Spray Sunscreen, SPF 50+
Rite Aid Renewal Sport Continuous Spray Sunscreen, SPF 30 and 50
Rite Aid Baby Sunscreen Lotion, SPF 60
Neutrogena Ultra Sheer Dry-Touch Sunscreen, SPF 55, 70, 85
L'Oreal Invisible Protect Dry Oil Spray Sunscreen, SPF 50+
Hawaiian Tropic Silk Hydration Clear Mist Spray Sunscreen, SPF 15 and 30
Coppertone Water Babies Sunscreen Lotion, SPF 70+
CVS Age Renewal Firming & Hydrating Moisturizer, SPF 30
I'm sure you recognize most of these brands. Two-thirds of sunscreens analyzed by EWG researches didn't work well or contained potentially hazardous ingredients.
All of this is based on the 2014 EWG Sunscreen Guide where you can find a well-sourced comprehensive list of all the latest sunscreens tested (7-9s are toxic and the lower the number rating the better). Here's EWG's entire list of safe beach and sport sunscreen and sunscreen with moisturizer.
I'm a little sad, because I used to be a fan of the Neutrogena Ultra Sheer Dry-Touch sunscreen and have even recommended it in previous blog posts (will be changing that once we find a new favorite!). I just liked the fact that didn't make you feel as gross like many other sunscreens. To be honest, we will probably still use up what we have left, but now that we're more aware, we will be keeping this into consideration for our future purchases. We will let you know what we find as a good replacement. :)
What sunscreens do you currently use? Is it a big deal to you? Would you make the switch?
Follow us on [ instagram ] + [ pinterest ] + [ twitter ] + [ bloglovin ]