Glacier National Park is tucked away in Montana's Rocky Mountains and filled with glacier-carved peaks and forest filled valleys. They used to call it the Switzerland of America, and we can see why. Many Glacier especially reminded us of our time in Switzerland! After spending a week there, we realized that you could spend a lifetime exploring this park, but since most of us don't have a lifetime to spend in Glacier, here's a list of things we think you shouldn't miss!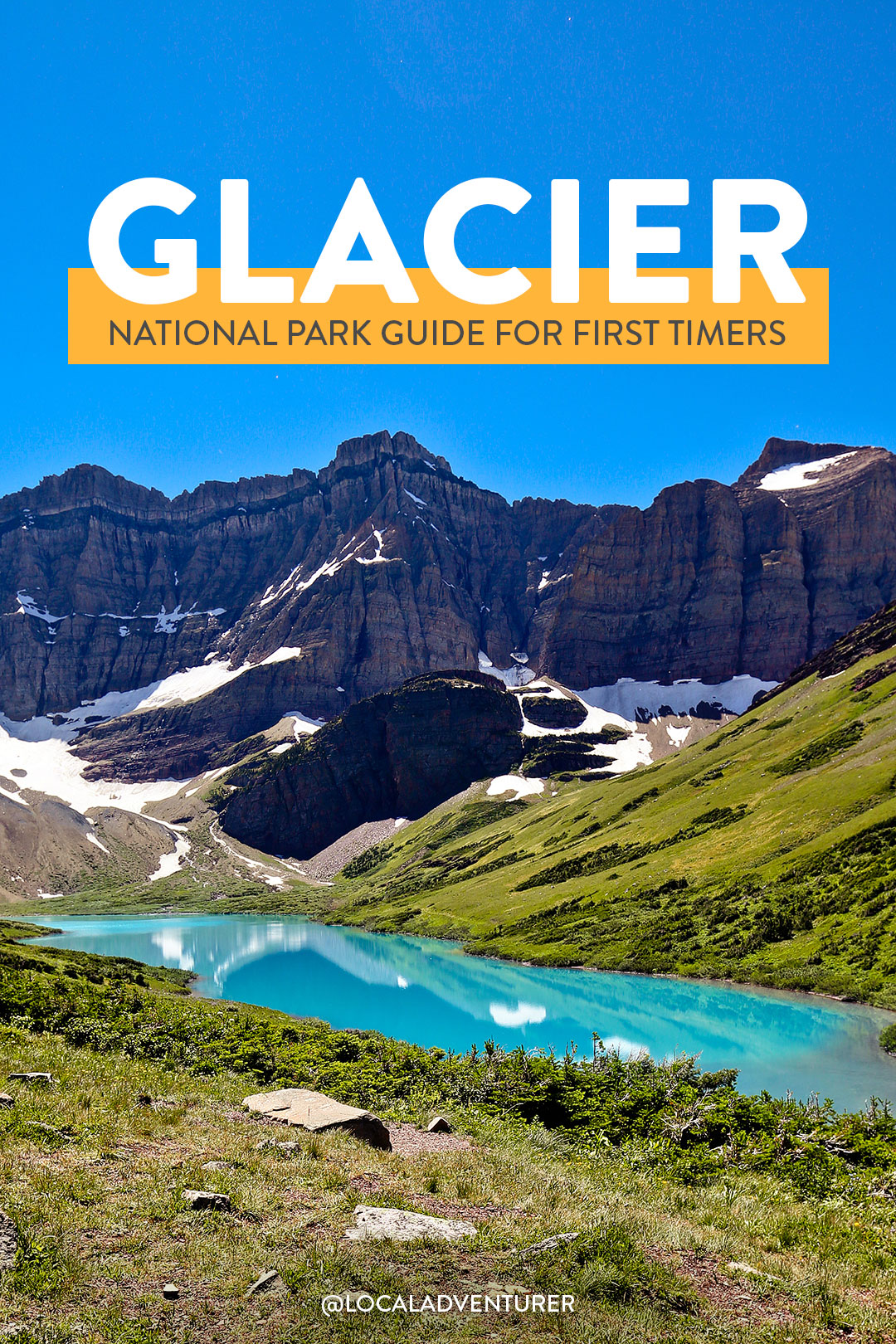 This post may contain affiliate links, where we receive a small commission on sales of the products that are linked at no additional cost to you. All opinions are always our own. Read our full disclosure for more info. Thank you for supporting the brands that make Local Adventurer possible.
Last Updated: April 6, 2019 // First Created: August 15, 2016
9 BEST THINGS TO DO IN GLACIER NATIONAL PARK
1. Drive the Going-to-the-Sun Road
This is the most iconic thing to do and why so many people visit this park. It's only open during the summer, and the season changes year to year based on snowfall. They suggest allowing yourself 2 hours to drive the full 50 miles of the road, and depending on the time of year, it can take even longer due to traffic jams. Also, keep in mind that the road gets very narrow at certain sections, so they have regulations on the types of vehicle you can take. When we were driving the Ford F-150, we had to pull in the mirrors.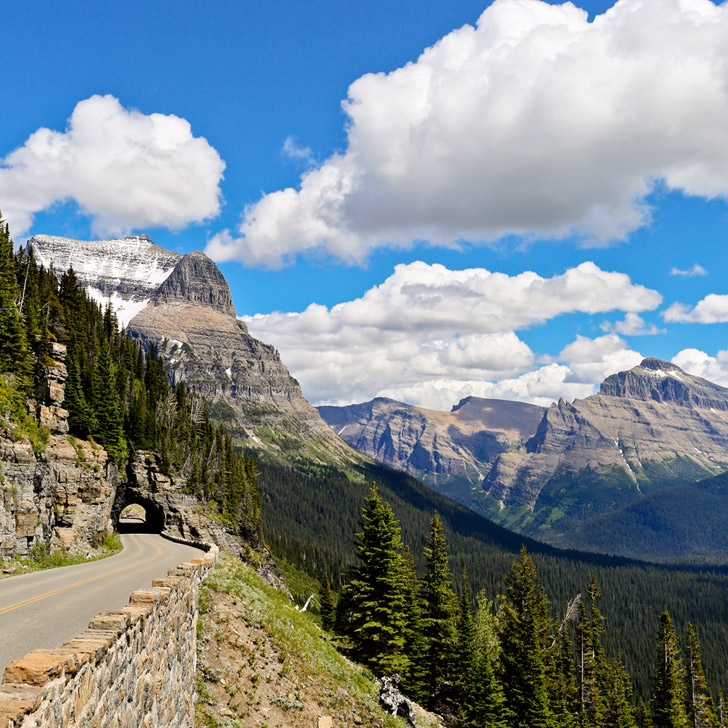 A ride on the famous Red Buses is a great way to get an intro to the park. We're usually not a huge fan of tours and like to DIY, but these Red Buses are a long time tradition and have been the longest continuous running tour in the world! They were originally driven by Blackfoot Indians, and just being in them makes you feel like you're part of history.
Their knowledgeable drivers will guide you and give you more insight on the park and perhaps share a few stories of American Indian folklore. There are a handful of tours to pick from, and on clear days, the top will be rolled back so you get plenty of vantage points. We did the Westside Crown of the Continent tour.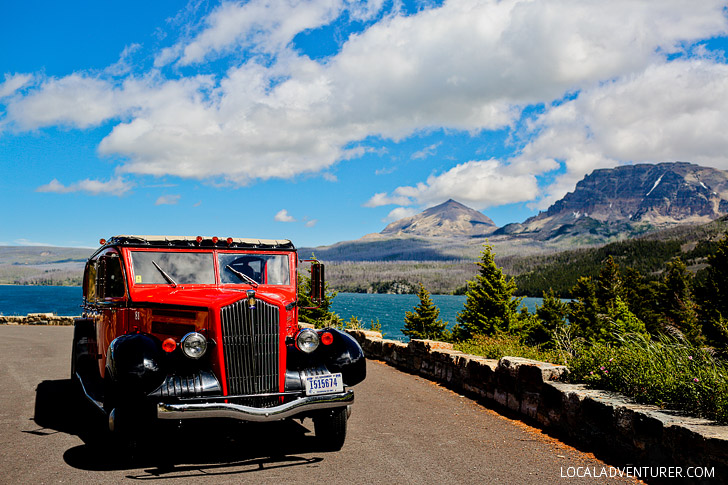 Glacier National Park offers hikes at all levels. We have a separate post on best hikes, but here are a few of our top suggestions.
Stroll: Trail of the Cedars Nature Trail
Short But Moderate Hike: Avalanche Lake (4.5 miles round trip, 730 ft elevation gain)
Strenuous Hike: Cracker Lake Hike (12.6 miles round trip, 1400 ft elevation gain). We also heard Iceberg Lake was a great 10-mile hike from fellow RVers, and the elevation gain was nice and gradual.
There are also endless trails in the backcountry.
Note: Keep in mind that many hikes close due to snow or bear activity so check with the Visitor Center for the most up-to-date info. Also, pick up some bear spray before you head there. You can also rent, but if you want to buy it, it'll be much cheaper. Bear spray is a must and you need to have it handy at this park! You should also make a lot of noise and clap, but since that can get pretty tedious, we really wished we had these bear bells.
4. Camp in the Backcountry
There's no better way to appreciate the beauty of the park then to camp in it! There are numerous campsites throughout the park and the rangers will be the best resource to find out which ones are available. When we arrived at Cracker Lake, we met several people who had camped there the night before and we were so envious. They got to camp right next to a beautiful lake under a million stars. Next time, we will extend our hike and spend some time out there!
5. Kayak or Stand up Paddleboard at One of the Lakes
Lake McDonald is the largest lake and probably the best lake for water activities. It's especially beautiful during sunset! We spent an afternoon kayaking and SUP around the lake and even got the chance to spot a couple bald eagles. We got our kayaks and stand-up paddleboards from the folks over at Glacier Outfitters who were super friendly and helpful with recommendations on where in the lake to go.
Made famous by The Shining, Wild Goose Island is one of the most photographed spots in Glacier National Park. There are multiple overlooks along Going-to-the-Sun road where you can pull out and check it out for yourself. Also, right down the road there, you can also see the mountains in the Glacier scene in Forrest Gump!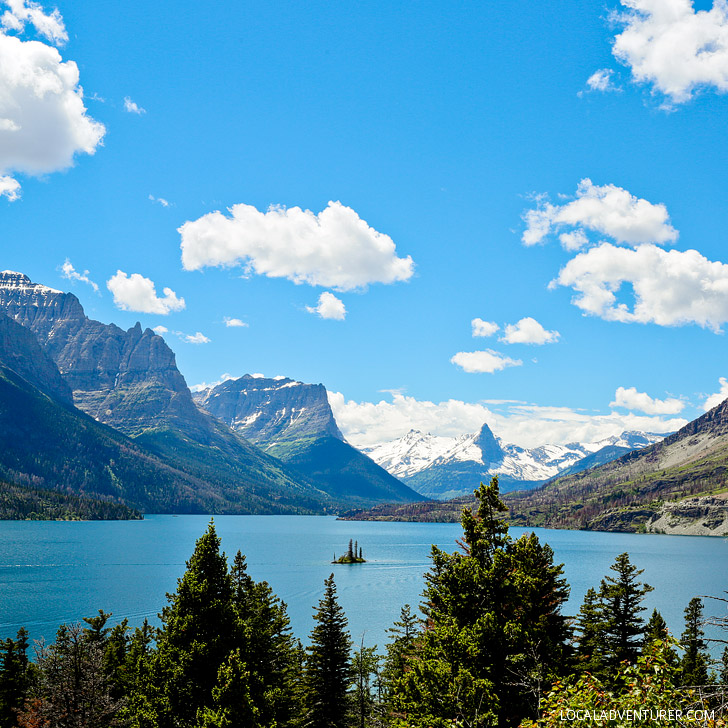 7. Sunrise at Two Medicine Lake
We were staying over at West Glacier but made the 3AM trek out to Two Medicine Lake for sunrise and it was well worth it! This was our favorite photo spot, and it was just so peaceful with no one else around! Just look at the colors on the mountain and stillness of the clear water. PS: this is a bear frequenting area.
8. View and Photograph Wildlife
During our time at Glacier, we spotted deer, marmots, mountain goats, big horned sheep, and a couple glimpses of bears. Just remember that these are WILD animals and you should keep your distance and respect their space. This is very rare and hasn't happened in over a decade, but while we were in Glacier, there was a bear mauling right near our campsite. Always carry bear spray and wear bear bells if you're hiking (buy these online since it's cheaper or you can rent).
This is something we didn't get a chance to do because we didn't know about it beforehand, but it's something Jacob would have loved to do! The rivers are a popular spot for fly fishing. You can go with a guide or get your own permit. If you're on the East side of the park in the Indian Reservation area, you need special permits. Check with the Visitor Center for all the rules and regulations.
Join an #InstaMeet (Summer only)
During the summer season, you can join in on one of the #InstaMeets that the park puts together. It's fun to meet others who want to capture that epic photo and explore the park together. We didn't realize (because we had no internet) that there was one going on while we were there! You can see a list of their upcoming meets here.
Where to Stay in Glacier National Park
Any other favorite things to do in Glacier National Park? Other than the Shining and Forrest Gump, can you think of another movie that was shot here?
Did you enjoy this post? Pin it for later
See More National Park Guides
"Discovery consists not of seeking new lands but in seeing with new eyes" – M. Proust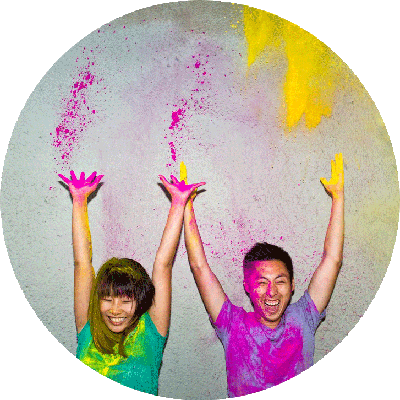 Esther and Jacob are the founders of Local Adventurer, which is one of the top 5 travel blogs in the US. They believe that adventure can be found both near and far and hope to inspire others to explore locally. They explore a new city in depth every year and currently base themselves in NYC.
All articles loaded
No more articles to load