Like many of you travelers out there, we've been searching for the perfect travel backpack for over 6 years.
Though we like to keep things minimal at our place, we've racked up quite a collection of backpacks during this search. Our backpacks are important to us since they do the job of helping us carry our bare necessities on all our adventures.
These are the best travel backpacks we found.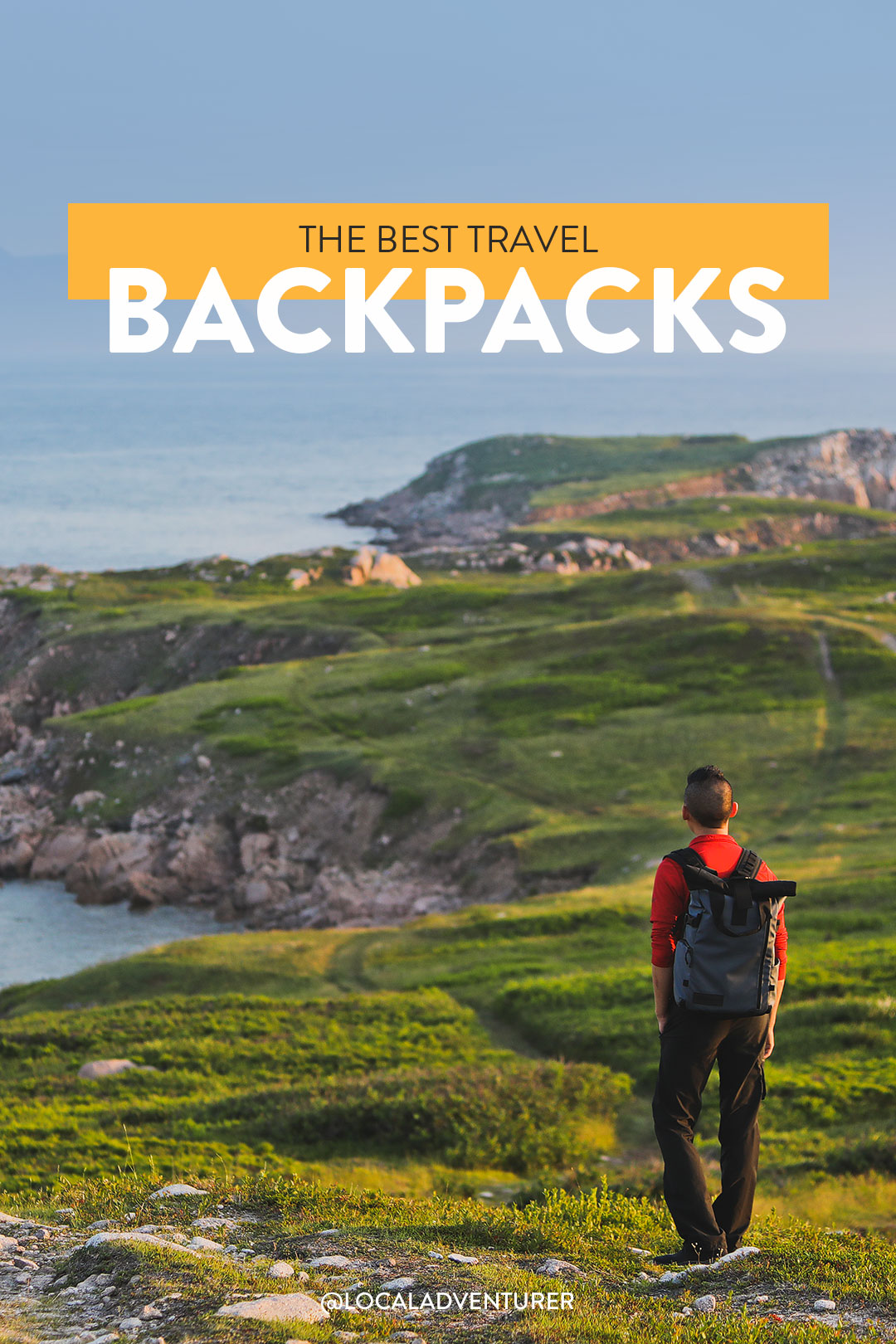 This post may contain affiliate links, where we receive a small commission on sales of the products that are linked at no additional cost to you. All opinions are always our own. Read our full disclosure for more info. Thank you for supporting the brands that make Local Adventurer possible.
Last Updated: October 21, 2019
15 Best Travel Backpacks You Need To Check Out In 2020
Before we get into them, we need to first say that we've come to the realization that there isn't a perfect bag for every need and scenario. There are a lot of factors that go into what makes the best travel bag for each type of trip. Over the years, we've gathered our favorite bags so we can pick and choose the right one for each adventure.
What to Look for in a Travel Backpack
When we started our search for the best travel backpack, we had a list of requirements. Over time, as we found more features that we loved, that list grew even bigger.
We also acknowledge that everyone's needs are different. For us, we carry a fair amount of camera gear. Regardless of our different needs, here are some features you should consider when looking for your bag.
Size matters. You want a bag big enough to hold what you need (plus some extra space in case you pick up items during your travel), but not so big that it's cumbersome. Also, will you primarily be using it to get your stuff from point A to point B? Or will you need to wear it while you explore the city as well? Here are a few general rules to follow:
15-30 L – Good for weekend trips and as a day pack. Perfect to pair with a small suitcase and our current preference.
35-45 L – Nice, all-around size (unless you're small like me). It can be used for week-long trips or even month-long ones but feels large to use out and about during the day.
50-65 L – These are bigger in case you need extra space. They may also get flagged if you try to carry them on depending on the size of the plane and how you pack it.
70-120 L – Way too big for the average traveler. Moreso used for multi-day backcountry hiking. It's also really heavy.
The lighter the better! With that said, you still want quality and durability. A light bag that falls apart won't help you on your travels. Also, consider the weight of the bag after it's filled. It might not seem heavy at first, but it all adds up. As we get older, we've realized that we prefer a smaller backpack paired with a small suitcase to relieve the weight we're carrying on our backs.
Durability + Weather Resistance
Where will you be wearing your bag? Outdoors? Rainy weather? In the city? You want materials that can handle all your adventures. Since we're carrying a lot of electronics, we try finding bags that are waterproof, water-resistant, or have the option to throw on a rain fly if we're in a serious downpour.
This all comes down to preference and covers the aesthetics of the backpack and also the usability of it. Do you prefer a top-loading backpack or clamshell so you can access everything without digging through everything? We always prefer one that also has easier side access to our camera gear.
Also, pay attention to how the straps fit and if they pack away. Are there separate handles to use to help you pick up the bag? If the bag is larger, you may also want waist straps to lighten the load on your back.
What are your travel essentials. It's really helpful to put that list together so you know what type of organization you'll need. Do you travel with a laptop? Camera gear? Extra shoes? A non-negotiable for us was a place to keep our camera gear safe and secure, but also have easy access for any unforeseen photo opps.
It's impressive to see how bags have evolved over the years. What other features do you want in your backpack? Here are just a few that we've loved:
Compressions Straps – helps pack more without making your bag bulky. It also helps make the bag smaller when it's not full.
Lockable Zippers – extra security when traveling.
Secret Compartments – another feature for security.
Sternum and Waist Straps – always a good feature to help lighten the load but can cause more dangly straps that get in the way if not designed well.
Back Panel – a well-designed pack panel can be the difference between a soaking wet back and a nicely-ventilated back.
Best All Around Travel Backpacks
The first few bags that we'll look at are all around travel backpacks. They are flexible bags that can be used in most scenarios. These are generally larger bags, and I usually don't carry them because of their sheer size on my petite frame, but luckily I have Jacob who likes to travel with them.
As you scroll down, you'll realize that we love Peak Design bags. The main reason is that we're always carrying camera gear, and they build their bags with cameras in mind. When they announced a Travel backpack, we knew it would be promising.
The bag is well designed and packed with a ton of features. They excel at giving you a clean, minimalist design but still many ways to customize the bag to how you travel.
PROS
Plenty of compartments while still have a large clamshell design
Can pair with their other organizational items and camera cubes to have access to it while out
Quality material and weatherproof
Side pockets for water bottles or tripods
Can sit upright on its own
Hideaway straps to convert to a duffel
Tuck away zippers for extra security
CONS
Like other bags this size, it's heavy and bulky when full
Even when compressed, it still has a larger profile than other bags
The Aer travel pack was a kickstarter we were excited about from day 1. We've had this backpack for a long time, and it was our first travel-focused backpack we used. We've been very happy with the bag and all of its features. The main reason we stopped using it is because it doesn't have easy access to our camera.
PROS
Large capacity with clamshell design
Easy to organize with packing cubes
Separate area to pack shoes
Compression straps work well to lower the profile of the bag
Lockable zippers
Organizational panel to store smaller items
Water resistant
CONS
Heavy when full
Doesn't have easy access to camera gear
Waist straps are sold separately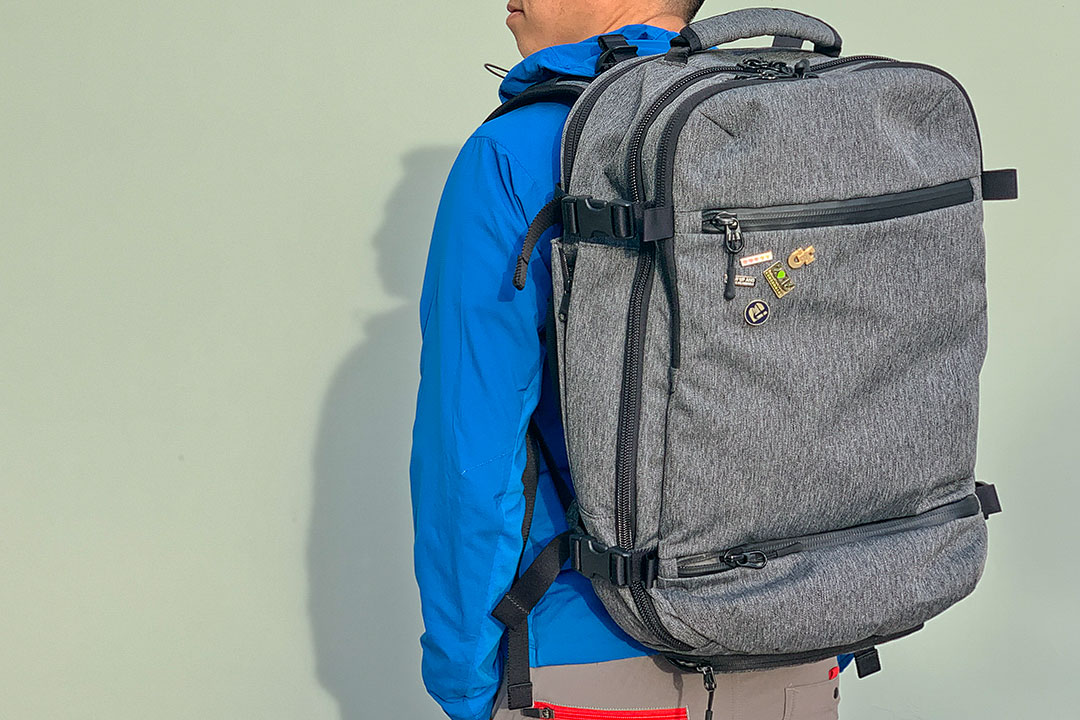 This is the most durable backpack we own. It's built like a tank and is also great because it doesn't look huge on me. Although the Tom Bihn Aeronaut looks smaller, it's a black hole. I don't know how it fits so much, but just when you think it's at it's max, it still fits in more!
PROS
Ridiculously durable and can take a serious beating
Multiple ways to carry the bag (backpack, messenger, duffel)
Has accessories/cubes that fit perfectly into this bag
Three distinct sections that adjust in size
Interior tie-down straps
Tons of color options and two sizes
Low profile
CONS
Doesn't have exterior compression straps
No water bottle pocket
There isn't a laptop sleeve
Nowhere to keep camera gear and have access to it
Doesn't have waist straps
This is the newest bag we added to our arsenal. Because we can't easily access camera gear, we don't use it for travel, but we do throw all our climbing gear in there to bring with us to our local crags. It gives us the right amount of organization with a large section for all our rope and gear. 
PROS
Quick transition between backpack and duffel mode
A lot of different compartments and organization
Large shoe compartment
Weather-resistant material
Comes in 30L and 40L
Pass through a charging cable for your phone
CONS
Doesn't have side pockets for easy grab water bottle or tripod
Rigid, boxy shape
Some awkward pockets – unsure of how to practically use it
Detachable waist straps that you have to find storage for
No compression straps
Camera backpacks are our bread and butter since we're always traveling with gear. At the same time, we don't travel with so much gear that we need a full bag dedicated to it. We need a bag that is versatile for different set ups, has room for other items, and works well traveling and as a day pack.
This is our newest camera backpack and we've been taking it on the last few trips to test it out. Overall, it has worked well. We usually travel with our 5D Mark IV, two lenses (usually the 35mm and 70-200mm), and our DJI Mavic 2 with Smart Controller. It keeps everything nice and organized.
Jacob still has mixed feelings about the roll top. It's a nice feature to have since the bag can expand without making the bag's profile any larger, but it's also more annoying to access.
PROS
Modular organization for camera gear 
Multiple access points to the bag
Easy, side access to a camera
Secure pocket for valuables along your back
Weather-resistant material
Low profile
Expandable with roll top design
Can add waist and accessory straps
Weather-resistant plus dedicated rainfly pocket
Low profile
CONS
Camera side access is from the left side (it feels more natural on the right side to me)
Roll-top is slower to access
No dedicated storage for waist straps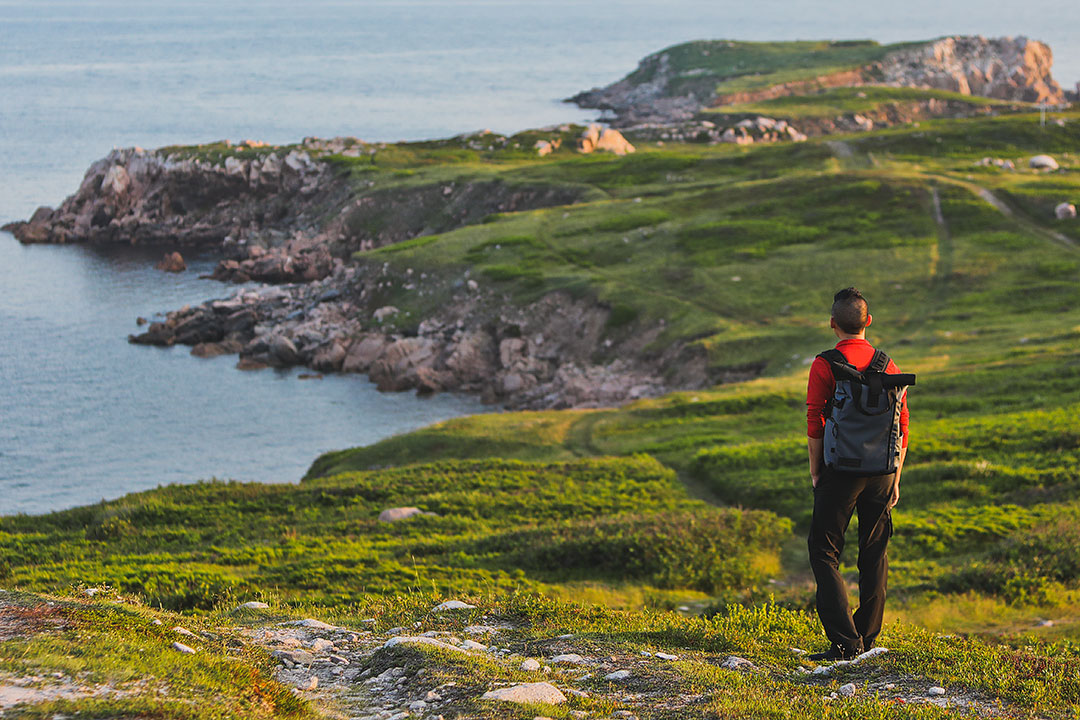 We've used the Everyday Backpack longer than any other bag. It's still our go-to day-to-day bag when we're in town, and we traveled with it quite a bit. We sport the 20L bag since it fits our bodies better.
PROS
Dividers give you the flexibility to configure the inside any way you want
Easy and quick access from two sides and the top
You can access the sides and panel pockets while still wearing the bag
Expandable side pockets for water bottles or tripods
Weatherproof shell
Organization pockets specifically for camera gear (memory cards etc)
CONS
Expansion on top doesn't give you that much extra space
Waist straps aren't padded
Removing or putting back all shelves can be annoying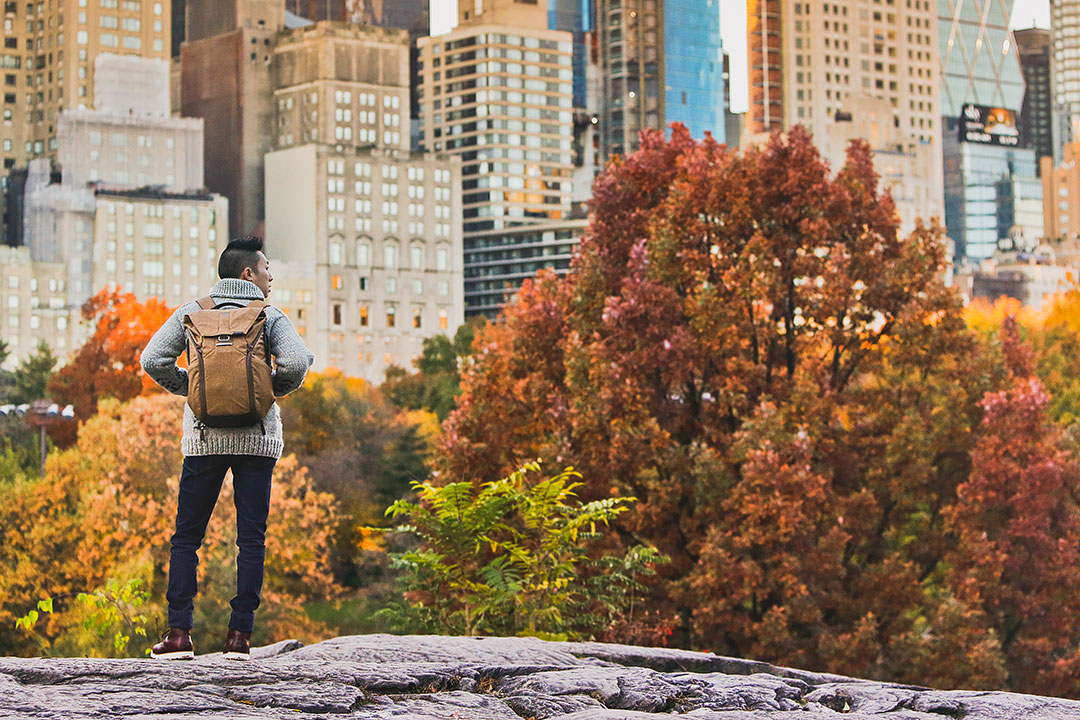 We unintentionally added the Freeline to our collection when Jacob won it at a B&H raffle. The very first thing we noticed was how similar it is to the Peak Design Everyday bag. They definitely took the popular bag and improved upon it, but it still very much looks like a camera bag.
PROS
Modular three-shelf organization system that can be easily removed
Organization pockets specifically for camera gear (memory cards etc)
Side access zippers for camera gear
Weather-resistant
Additional gear box included to organize cables and adapters
CONS
Looks like a camera backpack, which can be a target for theft
Waist straps aren't padded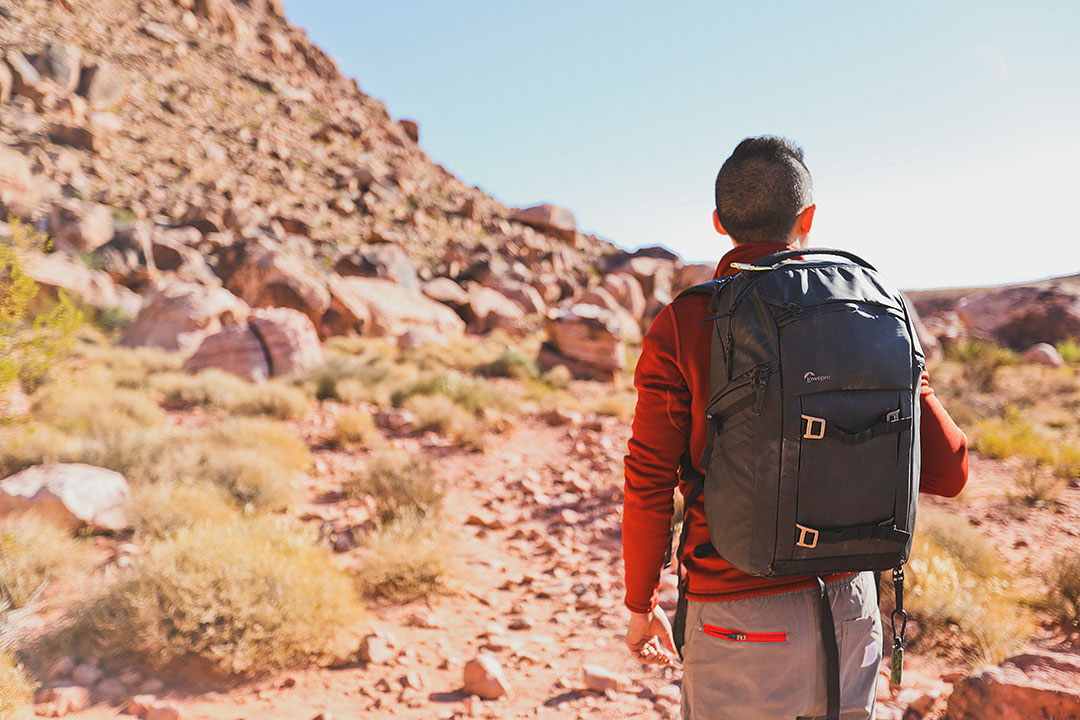 We started using this backpack in Portland and loved it for rainy weather. Not only does it have great support if you're hiking, but you can access everything in the bag without putting it down, which was perfect for the wet climate in the Pacific Northwest.
PROS
Plenty of storage space for all your camera gear with a modular system
Weather-resistant material plus dedicated rainfly pocket
Great support to carry heavy loads
Easy to flip the bag while still on your waist to access all your gear
CONS
Mostly built for camera gear
No laptop sleeve
Cannot store away bulky waist straps which means there are a lot of loose straps when traveling with it
Definitely looks like a camera bag, which can be a target for theft.
We only travel with these packs when we're headed on multi-day backpacking trips. Jacob has the Aether and unfortunately, the women's version doesn't fit me, so I actually use the kid's Ace Pack instead.
PROS
Top-lid can be removed and converted into a daypack
Great support while allowing your back to breathe
Zippered hipbelt pockets
Zippered sleeping bag compartment with a removable divider
Can be used without the lid
Hydration reservoir sleeve
Side panel zip access to the main compartment
CONS
No dedicated spots to carry electronics
A huge bag that is cumbersome to travel with
May not fit into all overhead compartments (specifically smaller planes)
Lightweight Backpacks (Day Packs)
These packs aren't meant to stand alone as travel bags, but can pair well with other bags giving you a better daypack option. 
We use this bag day-to-day when all we need is our camera and some small items. It's nice because I can easily swing it from my back to front and stash my camera away quickly when I don't need it. There are two sizes, the 5L and 10L, and we have the 5L. The 10L allows you to carry a tripod on it.
PROS
Can adjust the strap with one hand
Weatherproof main compartment
Flexible dividers to help you organize
A couple of extra pockets to organize smaller items
Can be adjusted to carry on your waist
Can pack down flat if you want to pak it with your other 
CONS
Not big enough to store a laptop (only a tablet)
Too small if you need more than a DSLR & 2 lenses and excludes large lenses like the 70-200.
Pro Tip: I have carried a tripod on it by putting one of the legs through the strap. It's not the most comfortable carry but works if you need your hands free.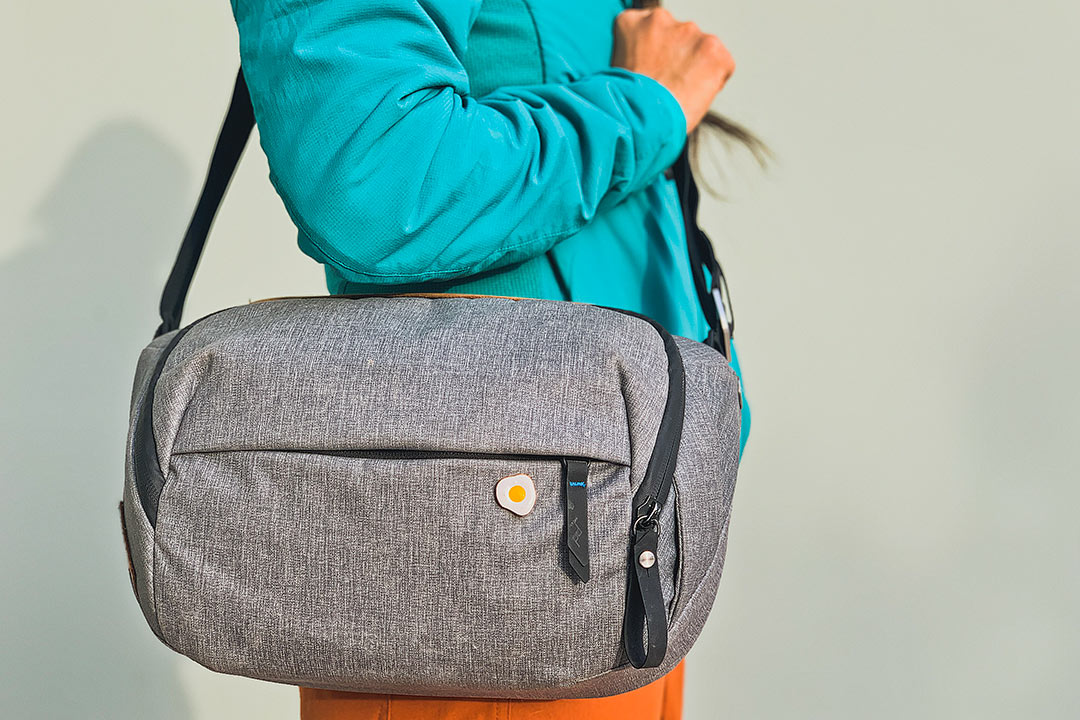 This backpack was a recent addition to our collection. Based on our initial look of it, we love how small it packs down, yet when expanded, it gives you 24L of storage including a pocket to organize smaller items. Plus, it doesn't look like a packable bag and blends perfectly into an urban environment. After we log more miles, we'll let you know if our opinion changes.
PROS
Packs into itself and fits in the palm of your hand
Nice aesthetics and doesn't look like a packable bag
Extremely lightweight
Additional pocket for smaller items
CONS
Thin should straps not great for heavier loads
No water bottle pocket
Up until we got the Solo backpack, this was our go-to packable bag. It packs itself into the lid and works great as a small daypack.
PROS
Packs into itself
Water bottle holder plus a zippered pocket to keep small items
Very lightweight
CONS
Looks outdoorsy, so not the best for urban environments
Thin shoulder straps are not great for heavy loads
Not all functional bags look great for photos, so we've collected a few different bags over the years that are more stylish depending on the occasion. If the aesthetic of the bag is what you're more worried about, these are the bags to get.
We got this bag at the same time we added the packable bag to our collection. I used it on a recent weekend trip and love the look and feel of it. It's definitely great for any city travel.
PROS
Converts from a backpack to tote
Plenty of organization for smaller items
Low profile and hugs the body
Zipper top to secure everything inside
More stylish than any of my other backpacks
CONS
No dedicated space for a DSLR and would make it bulge awkwardly
Capacity is limited so it's only good to pair with a suitcase or for short weekend trips
Still a tad big for my petite frame
We were looking for a nice leather bag that has a classic look and found it in this Pad & Quill Rolltop Backpack.
PROS
Quality leather
Water-resistant
Quick side access zippered opening
Looks stylish
Should age well (we'll keep you updated)
CONS
It's heavy
Rolltop designs take a bit longer to access
Leather needs to be broken in to be comfortable
No dedicated camera storage
15. Topo Designs Klettersack
This one is a more stylish outdoorsy bag, and the one I've used the most out of the three. Although it lacks in function in comparison to many of the other bags listed in the post, the color really pops for photos, so we take it out often on our trips.
PROS
Tons of color options
Classic look
Has basic organization and compartments
Includes side water bottle pockets
Water repellent finish
CONS
Just one large main compartment so you have to dig through everything to get access to your stuff
No dedicated camera storage or easy access to it
Local Tip / Pro Tip / Note: dsfsdfsd
Aer Duffel Pack
Golla Weekender Bag (discontinued)
Lo & Sons Seville and Rhodes Duffel Weekender (discontinued)
What do you currently consider your best travel backpack? What features would you add to make the perfect travel backpack?
Did you enjoy this post? Pin it for later
See More Travel Gear Reviews
"Discovery consists not of seeking new lands but in seeing with new eyes" – M. Proust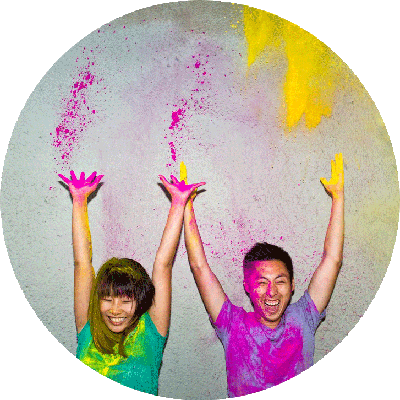 Esther and Jacob are the founders of Local Adventurer, which is one of the top 5 travel blogs in the US. They believe that adventure can be found both near and far and hope to inspire others to explore locally. They explore a new city in depth every year and currently base themselves in Las Vegas.
All articles loaded
No more articles to load