A visit to San Diego doesn't have to break the bank. If you know what to look for, it's a pretty laid back city that offers plenty of free activities if you're on a budget. If you want more options, also check out 101 Things to Do in San Diego, a bucket list we're constantly updating.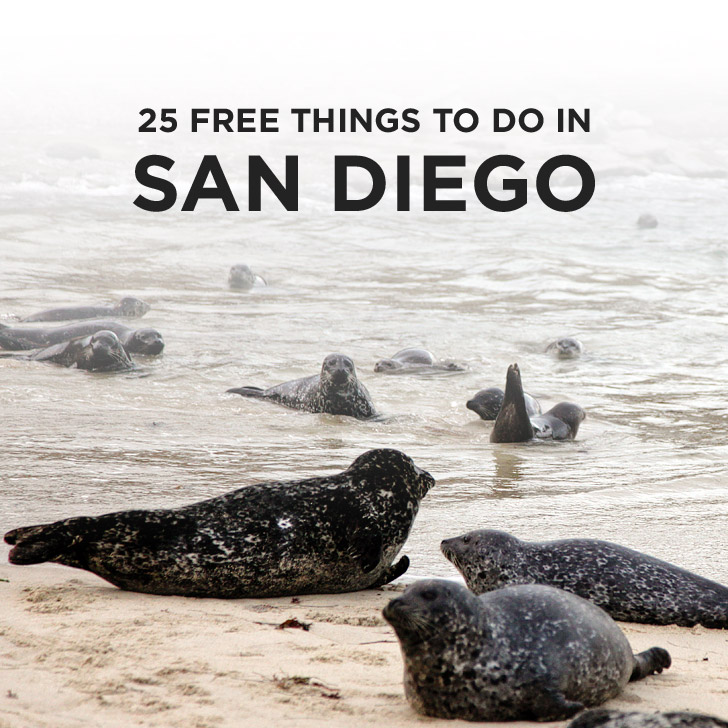 25 FUN FREE THINGS TO DO IN SAN DIEGO
San Diego is known for its sunny weather and over 30 beaches. In most cases, it's relatively easy to find free parking, and if you have your own gear, you can surf, snorkel, kayak, paddleboard, or scuba dive anytime. Lately, our favorite beach has been Imperial Beach with the pier:
2. Stand on Potato Chip Rock
This is a popular hike in San Diego. We have mixed feeling about it, which you can read on our full post, but at least you can take an impressive Instagram photo.
3. Watch the Sunset at Sunset Cliffs
This is our favorite sunset spot in San Diego. The scenery is beautiful. You can climb down to the beach if you want to get away from the crowds or join everyone jumping off the arch at your own risk. We see a lot of people having picnics here too.
We did the tour on our first visit to San Diego since Jacob plays a Taylor guitar. Here you can see how guitars are made at one of the top manufacturers. Free tours happen every Mon-Fri at 1 PM (with a few exceptions).
This historic area of San Diego is rich in history. See the first San Diego courthouse and jail, visit the El Campo Santo Cemetery, and see the historic Whaley House, all within a few blocks. And if history isn't your thing, there are plenty of shops and restaurants as well!
This 14-acre waterfront shopping, dining, and entertainment complex is a great place to spend the afternoon. Check out their monthly calendars to see upcoming live musical performances too. They have a lot of little shops here that remind me of the shopping area at Pier 39 in San Francisco. There is a park right next to it where you get great views of the Coronado Bridge and you can have a picnic and fly kites.
This historic landmark always wins awards for its hotel, beach, and dining. Wander the grounds or spend time at their beach to see why.
A sea wall protects this popular cove that is great for snorkeling and diving. There are usually a ton of sea lions and seals hanging out too.
9. Bike Along the Boardwalk
Take to the boardwalk between Mission and Pacific Beaches. You can walk, bike, rollerblade, or just grab a seat to people watch.
10. Go on a Hike
San Diego has some of the best weather in the US, where you can get outdoors all year round. Cowles Mountain is the most popular hike within the city of San Diego, but our favorite 3 so far are the Torrey Pines beach trail, Los Penasquitos Canyon, and Ho Chi Minh Trail (shown below with some scrambling required).
You don't have to be in the park to enjoy these fireworks. You can see them from all of the city. One of the best spots to watch is Mission Bay. Be sure to check their site for the schedule.

12. Take a 59-Mile Scenic Drive
Take this drive in one afternoon or split it up amongst a few days. This looping drive takes you through everything worth seeing in San Diego and takes roughly three hours to drive in total.
Bonfires have to be kept to the official pits that are first-come-first-serve, but there are plenty of options in San Diego. Grab some wood, bring your chairs, and enjoy some s'mores.
There are multiple spots in San Diego where you can discover the little creatures that live in tide-pools. Be sure you check when low-tide will be that day so you can have a few hours to see what you can find. Some popular spots where you can go tide-pooling are Cabrillo National Monument, Seaside Beach in Cardiff-by-the-sea, Flat Rock in La Jolla, and Black's Beach in La Jolla.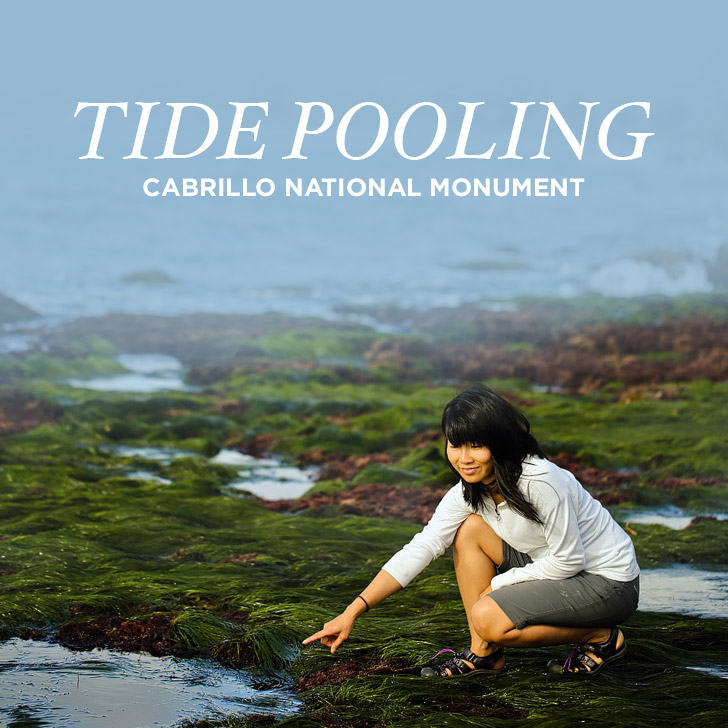 Torrey Pines Natural Reserve gives you plenty of options. Hike to amazing views of the ocean, enjoy the beach, or just watch the gravity-defying hang gliders from the Gliderport.
Trails, gardens, historical sites, museums, and more fill this 1.875 square mile park. There is plenty to do and explore even if you've been before. Take Advantage of the Free Museum Days at Balboa Park on Tuesdays for residents.
They have been around for years and even after a name change from Quail Botanical Gardens, there is still something magical about these gardens. Normally there is a fee to enter but every first Tuesday of the month, the entrance fee is waived for San Diego County residents.
18. Farmers' Markets
There are a ton of Farmers' Markets in San Diego happening each day of the week. Check the schedule to find one that best fits your week and go enjoy some of the free samples. From what we hear, the locals love the Hillcrest Farmer's market (Sundays). It's not as small as North Park's (Thursdays), but not as big and overwhelming as the one in La Jolla (Sundays).
Starting in June and running through August, there is a phenomenon called the Grunion Run where thousands of Grunion make their way up the shore to spawn. Although it's never a guarantee that you'll see them, check the schedule to see the peak times. We've gone twice and only saw a few, but there are years when they completely cover the beach.
Swing by Chula Vista and take a self-guided tour through this complex where Olympic hopefuls train. If you want more information, there is a guided tour every Saturday.
Check out the Veteran's Memorial at the top of Mount Soledad, and you can also enjoy a panoramic view of San Diego.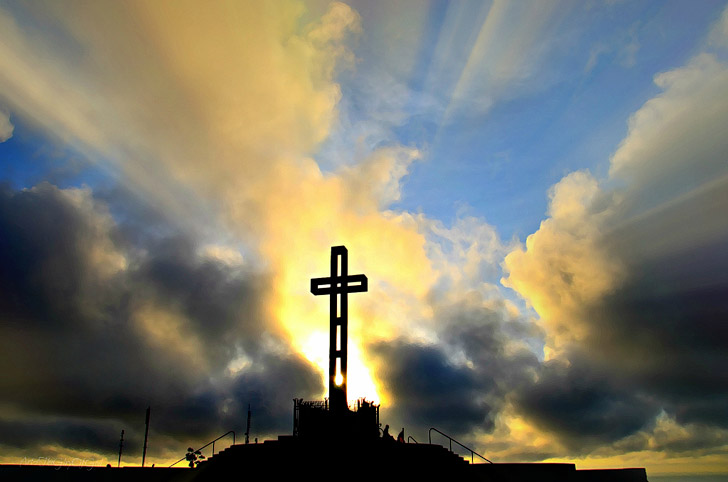 San Diego is definitely a surf town and the California Surf Museum is the best place to learn about its history. Visit on the first Tuesday of the month for free entrance.
This is a small gallery that's worth checking out if you love Dr. Seuss. Although they carry art from different artists, the highlight is seeing the illustration art of Dr. Seuss! Did you know that Dr. Seuss is a San Diegan and resided in La Jolla until his death? Many of his works are said to be inspired by the landscapes from the area. We ended up buying our first Dr. Seuss illustration here to give our home some San Diego vibes.
24. Horton Plaza
Horton Plaza is a Westfield shopping mall in downtown San Diego that is known for its bright colors and architectural tricks. A lot of people say it's like walking through a Dr. Seuss book. I personally thought it was a little underwhelming. I was under the impression that the entire mall looked Seuss-like, when in reality most of the mall is like any other outdoor mall in California. It was still cool to check out and free! The parking garage is $8 an hour, but you can get parking validated for up to 3 hours at several validation machines in the mall without any purchase.
25. Strike a Pose at the Unconditional Surrender Statue
This sculpture was based on a photo by Victor Jorgensen of V-J day in Times Square. See if you can match the pose. There is a parking lot where you have to pay for metered parking. There aren't many street parking options.
A Map to Help You Get Around San Diego:
BONUS. Visit Each San Diego Neighborhood Sign
Each area of San Diego is really unique and has its own character. Whether you want to window shop at the thrift stores of Hillcrest, visit the high-end boutiques of La Jolla, or walk through the Gaslamp Quarter in downtown, there is plenty to keep you busy! What we thought was really unique, is that every neighborhood has a distinct sign.
Some more free things to do that didn't make the top of our list for various reasons:
Can you think of any other free things to do in San Diego that are worthwhile? Which of these would you most likely check out if you're in San Diego? What's your favorite free activity in your area?
Photos courtesy of (creative commons): 11. Bill Gracey 14. Chris Palmer 16. Michael Seljos
20.Amy Ash Craft 21.Art4TheGlryOfGod by Sharon 22. Roman Konigshofer