Joshua Tree National Park is frequented by SoCal residents, because it's only a couple of hours from LA. It easily made our list of must-see places while we've lived in LA and San Diego.
The park isn't very big in comparison to Death Valley or Yosemite, and there isn't as much variety in terms of scenery.
For those who like rock climbing or stargazing, though, you'll never tire of this place. It also offers beautiful photo opps and has the most fiery sunsets we've seen.
This post may contain affiliate links, where we receive a small commission on sales of the products that are linked at no additional cost to you. All opinions are always our own. Read our full disclosure for more info. Thank you for supporting the brands that make Local Adventurer possible.
Last Updated: September 8, 2022
11 Amazing Things to do in Joshua Tree National Park
Joshua Trees remind me of Dr. Seuss trees. They just don't seem like they belong to this world. They were given their name by Mormon settlers who thought the tree's shape resembled the biblical story where Joshua reaches his hands to the sky in prayer.
What You Need to Know Before You Visit Jtree
There is no cell service in the park. Although one of our RVer friends told us they found some small patches to stream a show, we've never had any luck with it. Download your google maps and keep a park map handy.
Get the America the Beautiful Pass to save money. An annual costs less if you plan on visiting Jtree more than once or plan on visiting two national parks within a one-year period.
October to May is peak season since it's so hot in the summer.
March to May has the best weather, but visitation is the highest. It's great for wildflowers and is peak climbing season. If you come on a weekend, expect crowds. In the summer, temps get up to the hundreds, but you can still explore in the mornings and evenings and take an AC break mid-day.
Late April to late July for the best stargazing and astrophotography since the galactic center is visible longer.
If you don't want to drive, take the free RoadRunner Shuttle Bus. It takes you to all the main attractions and gives you free entry into the park. They run every 30 minutes and depart Twentynine Palms Transit Center and Oasis Visitor Center every hour. During peak season, if you don't go early, parking lots fill up at popular spots.
If you're trying to get a campground at peak season, plan ahead. We've gone a couple of times on a whim where we were circling the campgrounds for hours. Most weekends will be full. Try to arrive between 9 am and noon when people are leaving. Come by Fri morning if you want to get in for the weekend (if not earlier). If you can't snag a campsite, have a backup plan.
Pets are only allowed at campgrounds, picnic areas, and paved and unpaved roads. They are not allowed on trails and must always be on a leash.
Bring enough drinking water. There aren't many places in the park where you can get water. If you're there multiple days, you can always do a supply run in town or drive out daily for what you need.
Pack layers. The desert temperatures can change drastically from day to night.
Don't forget your sunscreen. There isn't much shade in the park.
Pets are only allowed at campgrounds, picnic areas, and paved and unpaved roads. They are not allowed on trails. They also must always be on a leash.
Your National Park Passport to collect your stamp! We recently started buying the stickers they sell in store (3 for $1) that we can stamp and stick in our book rather than bringing the book everywhere we go.
Joshua Tree Attractions You Can't Miss
An easy 0.5-mile nature trail with lots of large rock formations to climb on and a natural arch. It's fun to explore and scramble on the rocks.
A 0.25-mile loop where you can view a concentrated area of cholla cactus. Also nearby is the Ocotillo Patch. These two areas are extremely far from the rest of the park's attractions.
I wouldn't recommend visiting them unless you also have other plans to do Desert X, Coachella, or to see the superbloom.
Climbing at Hidden Valley is world-class. It's a mecca for SoCal climbers and during the winter, those from NorCal come down to play. It's the first place we started bouldering outdoors, so it has a special place in our hearts.
The campground is also popular for climbers, so get there early if you want a campsite. 
The grades at Jtree are sandbagged (much harder than other places we've climbed), so if you can crush them, it's legit. Think 1-2 grades harder than other outdoor spots, 2-3 grades harder than most gyms.
If you don't climb, there's also the Hidden Valley Loop (1 mi, easy), where you can watch climbers in action.
Check out this post to see what climbing gear we use.
A high elevation lookout point on the crest of the Little San Bernardino Mountains that you drive up to. You can see Palm Springs and Coachella from here.
We stopped here to take sunset photos, but another great spot to scramble on rocks. There is some climbing here as well and it's a popular spot for slack-lining. We've seen people walk a line stretched between the rock outcroppings and it's hard to look away.
A 7.2-mile moderate hike through a canyon that involves some scrambling. We haven't done this hike yet since we tend to spend all our time climbing when we're in the park.
A 3-mile moderately strenuous hike to an oasis. 300 ft elevation gain twice. Our friends tell us that it's not exactly what you would picture as an oasis, but I love the desert and it's not too long of a hike.
Take an 18-mile off-roading adventure through Pleasant Valley (four-wheel drives only). While it doesn't have the most interesting views of the park, you're going to have a lot of it to yourself. It helps to go with other people to have spotters on the more difficult terrain.
Note: Check road conditions. If it had rained recently, you can even get stuck in a 4×4.
This hike is 3 miles, has a 1000 ft elevation, and is considered strenuous taking roughly 1.5 – 2.5 hr. It's one of the most popular hikes in the park with dramatic 360 views. We did it once years ago and never felt the need to do it again.
10. Skull Rock Nature Trail
It's visible off the main road and worth a quick stop since the rock formation is so unique. There is also 1.5-mile nature trail loop if you want to see more of the area.
We also saw a lot of great photo ops and plenty of pullouts for Joshua Trees and stacks of boulders along the main road in the park. I would prioritize the main spots but if you've seen all of that, you can start exploring the unmarked pullouts too.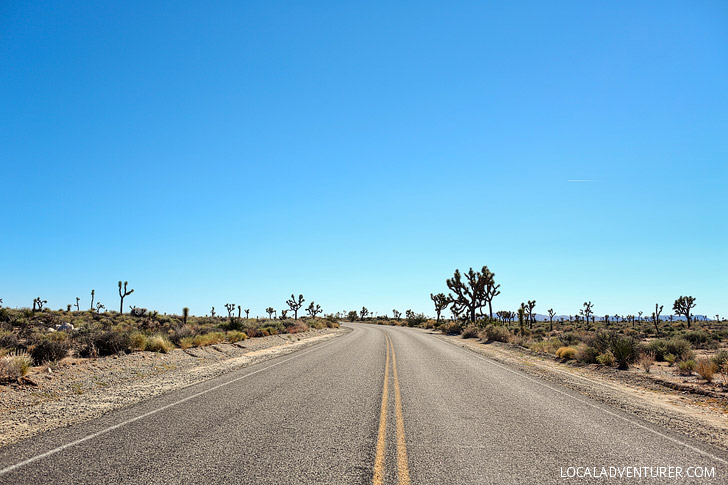 Summer Only: Stargazing & Astrophotography
Joshua Tree is an International Dark Sky Park, and stargazing is great anywhere in the park. You do get a little light pollution from surrounding communities, and if you're going for (hour+) long exposures Cottonwood Campground has the darkest skies. If you want to see the Milky Way, make sure you're visiting during New Moon on a clear day.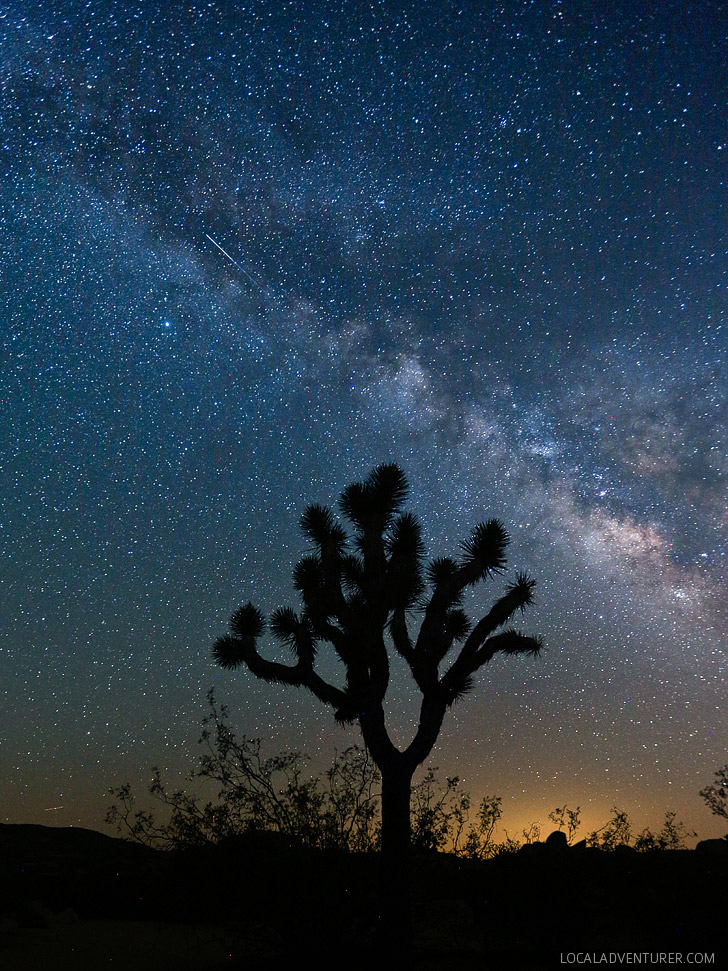 Spring Only: See Joshua Tree Wildflowers
In the spring, especially during a superbloom, the valleys fill up with a variety of flowers. We came during the first week of. April and in the south near Cottonwood Visitor Center, we saw California bluebells (wild Canterbury Bells). In Wilson Canyon we saw a variety of flowers, but mostly Parish poppies that weren't open for the day yet. Now, the flowers are slowly making their way up north in the park.
Pro Tip: I've looked at various websites for the superbloom, and this one has been the most accurate. Check the dates carefully, because sometimes posting date is different from their visit date. 
We collaborated with @mytraveltoons to create an illustrated map of the highlights of the park. You can check out more of his work here.
Directions to Joshua Tree
The closest airports are Palm Springs (42.7 mi), Santa Ana (120 mi), Long Beach (130 mi), Los Angeles (146 mi), San Diego (162 mi), Las Vegas (182 mi).
We've driven in from San Diego and Las Vegas for both day trips and weekend trips. The road from Las Vegas goes through the Mojave National Preserve. It doesn't have much light and it's windy, so drive carefully. We saw one person speeding who drove off the road.
More Things to Do in and near Joshua Tree
Become a Junior Ranger. Mostly kids 4-14 complete the Junior Ranger program to get a badge, but adults can too. I always do it at every National Park since it helps me learn so much about the park. Plus, it's a free souvenir!
Desert Institute Field Class – adult classes to learn more about the cultural history, survival skills, desert naturalist studies, creative arts, and more.
Join a Ranger Program – talks, hikes, and guided walks given by park rangers.
Ocotillo Patch – it's not the most concentrated that we've seen, but if you haven't seen ocotillos before, it could be worth the trek to the southern end of the park.
Barker Dam Trail – petroglyphs
Mastodon Peak Hike – A 3-mile strenuous hike with views of the Eagle Mountains and Salton Sea.
Lost Horse Mine Loop (4 mi, moderate) – pass several mines and ruins.
Cottonwood Spring Nature Trail (0.1 mile, easy, 10 min out and back) – You end up in a fan palm oasis with cottonwood trees. It's also a great spot for wildflowers and birding. Other great birding spots are Oasis of Mara and Barker Dam.
Cottonwood Wash is a good place to spot bighorn sheep.
Night Sky Festival (Sept)
Pappy and Harriet's, Pioneertown – live music and BBQ.
The Integraton, Landers – a dome used for sound baths. You can choose private or public sound baths, but book early since they book up months in advance.
World Famous Crochet Museum, Jtree – It's free and open 24 hours.
Beauty Bubble Salon and Museum, Jtree – it's right next to the crochet museum
Noah Purifoy's Outdoor Desert Art Museum, Jtree
What to Pack for Joshua Tree
Places to Eat Near Joshua Tree
Since driving in and out takes time, we suggest packing your own meals. The only exception is if you're visiting in the summer. Retreating to a restaurant with AC might be a good idea.
We love camping in Joshua Tree. We've camped in three of their campgrounds, brought an RV into the park, and even slept on BLM land. Click here to see our full guide on camping in Joshua Tree.
Coachella and Desert X (34.1 mi east, 45 min, map)
Palm Springs (54.7 mi east, 1 hr, map)
Anza Borrego State Park (103 mi southwest, 1 hr 45 min, map)
Have you been? Any other things to do in Joshua Tree that we missed? Also trivia question: Do you know what band named their album after the Joshua tree?
Did you enjoy this post? Pin it for later
See More National Park Guides
"Discovery consists not of seeking new lands but in seeing with new eyes" – M. Proust
Esther and Jacob are the founders of Local Adventurer, which is one of the top 5 travel blogs in the US. They believe that adventure can be found both near and far and hope to inspire others to explore locally. They explore a new city in depth every year and currently base themselves in Las Vegas.