During our RV adventure across the US, we really fell in love with the Pacific Northwest, so we decided to move to Portland for the year. We toyed with the idea of moving to Portland last year, but San Diego won out (Sorry, we hear there's mad hate for Cali folk in PDX, but it's so hard to say no to 70 degrees year round). This year? Portland, here we come! We didn't mean for you to be second choice, but we were really intimidated by your rainy weather (good thing our friend recommended we take vitamin D so we won't go into depression).
We already put together a bucket list of 101 things to do in Portland, and while Portland may be a fun city to explore, we're even more excited to see all 200+ waterfalls in the state as well as explore the parks in Washington, Montana, Idaho and BC. We're going to keep adding as we go, but here's our current bucket list for the PNW (some are new and some are places we hope to revisit).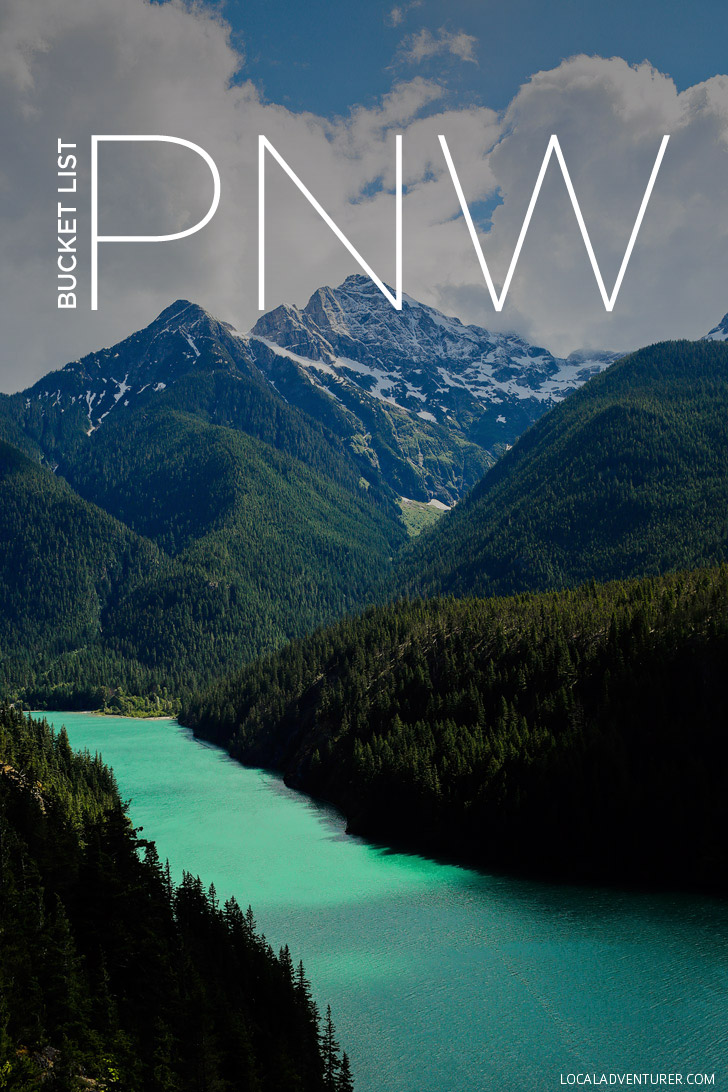 ULTIMATE PNW BUCKET LIST – Best Things to Do in the Pacific Northwest
Last Updated: Jun 1,2018      Date Created: September 12, 2016
Oregon
☐ Abiqua Falls (need a 4 wheel drive with high clearance)
☒ Astoria
☒ Bandon
☒ Bend
☒ Cannon Beach (+ Ecola State Park)
☒ Cape Kiwanda State Natural Area
☐ Cascade Head Hike
☐ Cougar Hot Springs / Terwilliger Hot Springs, Willamette National Forest
☒ Devils Punchbowl State Park
☐ Downing Creek Falls (upper)
☐ Eagle Creek Trail (26.5 mi) to Metlako Falls↠ Punch Bowl Falls↠ Loowit Falls↠ Tunnel Falls↠ Twister Falls
☒ John Day Fossil Beds National Monument (including Painted Hills)
☐ Lewis and Clark National Historical Park
☒ Oregon Coast Road Trip (all 363 miles)
☐ Oregon Caves National Monument and Preserve
☒ Oregon Dunes National Recreation Area
☒ Portland
☐ Mt Hood – Timberline Trail or Summit
☒ Multnomah Falls
☐ South Sister Hike (11.8 miles out and back near Bend)
☐ Tamolitch Blue Pool (temporarily closed)
☐ Toketee Falls
☒ Trillium Lake – picnic or kayak in the summer or snowshoe in the winter
☒ Wallowa Lake / the Wallowas
☒ Willamette Valley Wineries
☐ White River Falls
☒ Wooden Shoe Tulip Festival (Mar-April)
Washington
☒ Cape Flattery Trail (most northwesterly tip of the lower 48 states)
☐ Deception Pass State Park
☒ Dog Mountain Hike (best in the spring)
☐ Doe Bay
☐ Dungeness Spit + National Wildlife Refuge
☐ Ebey's Landing National Historical Reserve
☐ Enchantments in Leavenworth
☐ Franklin Falls (in the winter it's iced over)
☐ Fort Vancouver National Historic Site (also Oregon)
☐ Gold Bar (for climbing)
☐ Lake Chelan National Recreation Area
☐ Lake Roosevelt National Recreation Area
☐ Langley at Whidbey Island
☒ Leavenworth (for climbing but also a cute touristy town)
☒ Mount Rainier National Park
☐ Mount St Helens
☒ North Cascades National Park
☒ Seattle
☐ San Juan Islands + San Juan Island National Historical Park
☐ Skagit Valley Tulip Festival in La Conner (April 1-30)
☒ Snoqualmie Falls
☒ Palouse Falls
☐ Port Townsend
☐ Whitman Mission National Historic Site
☒ Yakima Valley
Everyone agrees that Washington and Oregon are part of the PNW. Some folks loosely consider Idaho, Montana, and British Columbia to be part of it too. All I know is we're going to try to explore as much as possible while we live in the upper left coast.
Idaho
☐ City of Rocks National Reserve
☐ Craters of the Moon National Monument and Preserve
☐ Hagerman Fossil Beds National Monument
☐ Minidoka National Historic Site
☐ Nez Perce National Historical Park
☐ Palouse (rolling hills, also in Washington)
☐ Sawtooth Mountains (hiking / backpacking)
☐ Shoshone Falls
☐ Thousand Springs State Park
☐ Yellowstone Bear World
Montana
☐ Big Hole National Battlefield
☒ Bighorn Canyon National Recreation Area
☒ Flathead Lake
☐ Giant Springs State Park
☐ Grant-Kohrs Ranch National Historic Site
☐ Grizzly and Wolf Discovery Center
☐ Kerr Dam
☐ Lewis and Clark Caverns State Park
☒ Little Bighorn Battlefield National Monument
☐ Missouri River
British Columbia / Alberta
☐ Banff National Park
☐ Pacific Rim National Park Reserve
☒ Vancouver
☐ Whistler
☐ Yoho National Park
After 2 months of visiting with friends and family in Atlanta, TODAY we're starting our first leg of our 38-hour drive to Portland with our cats (they are going to hate us). We keep going back and forth about whether we should make a couple stops along the way or do it straight (not so easy road tripping with cats). Wish us luck!
Anything else we need to add? If you could live in any city in the world, where would it be?
ESTHER + JACOB
Esther and Jacob are the founders of Local Adventurer, which is one of the top 50 travel blogs in the world. They believe that adventure can be found both near and far and hope to inspire others to explore locally. They move to a new city every year and currently live in Portland, Oregon.