When our spotify started getting spotty, we knew we had entered a dead zone. With each unit over an hour away from each other, we gave each other an alarming look. Why had we not mapped to all three when we had cell service?
Luckily, we remembered our trusty Rand McNally road atlas from our endless caravan. Remember a time before google maps? This was bringing us way back and our innate navigational skills started surfacing again… at least until we figured our way back to cell service.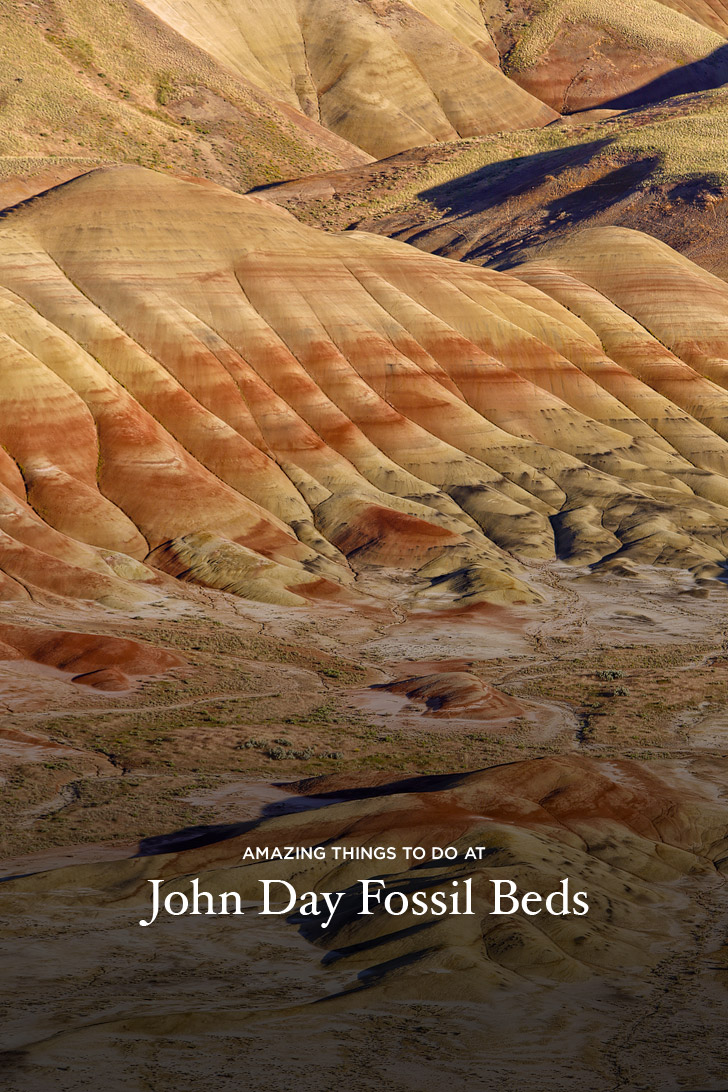 Pin
John Day Fossil Beds National Monument is made up of three units: the Clarno Unit, Painted Hills, and the Sheep Rock Unit. Each location is 45 min to at least an hour away from each other, and unfortunately there isn't much information at two of the three.
JOHN DAY FOSSIL BEDS NATIONAL MONUMENT
HOW TO VISIT ALL THREE
If you're doing a day trip from Portland and ending in Portland, you will drive the shortest distance if you visit Clarno, Sheep Rock, and then Painted Hills. If you're staying the night in John Day after like us, the shortest distance would be Clarno, Painted Hills, Sheep Rock, and then John Day. Keep in mind that Sheep Rock Unit has the Visitor Center where you can talk to the rangers, watch films about the area, and pick up information about all three units. Since we were trying to see all three units in one day, we started out with what geographically made sense from Portland (Clarno) and ended with where we wanted to be at sunset (Painted Hills).
WHO WAS JOHN DAY?
So much of the area is named after John Day so we were curious on learning who this guy was, and boy were we happy that we did. He is best known for being robbed and stripped naked by Indians. Apparently he was so well known for this that they named the river after him as well as the National Monument. He worked for the Pacific Fur Company and was hired on as a hunter, but after the incident, he was left and lived out the rest of his life in the PNW. It is to date, my favorite named landmark since it's basically a big joke.
CLARNO UNIT
The Clarno Unit is best known for the Palisades. These volcanic lahars, or mudflows, formed 54-40 millions years ago amongst a lush rainforest environment. Petrified wood from 173 species of plants have been found here so far.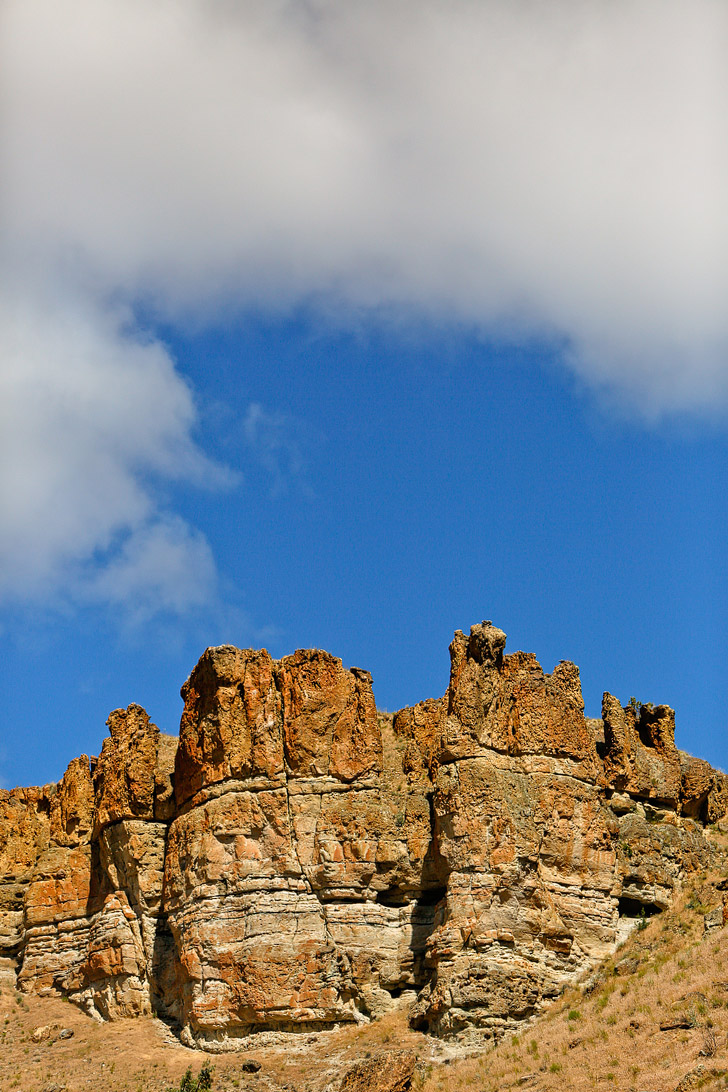 Pin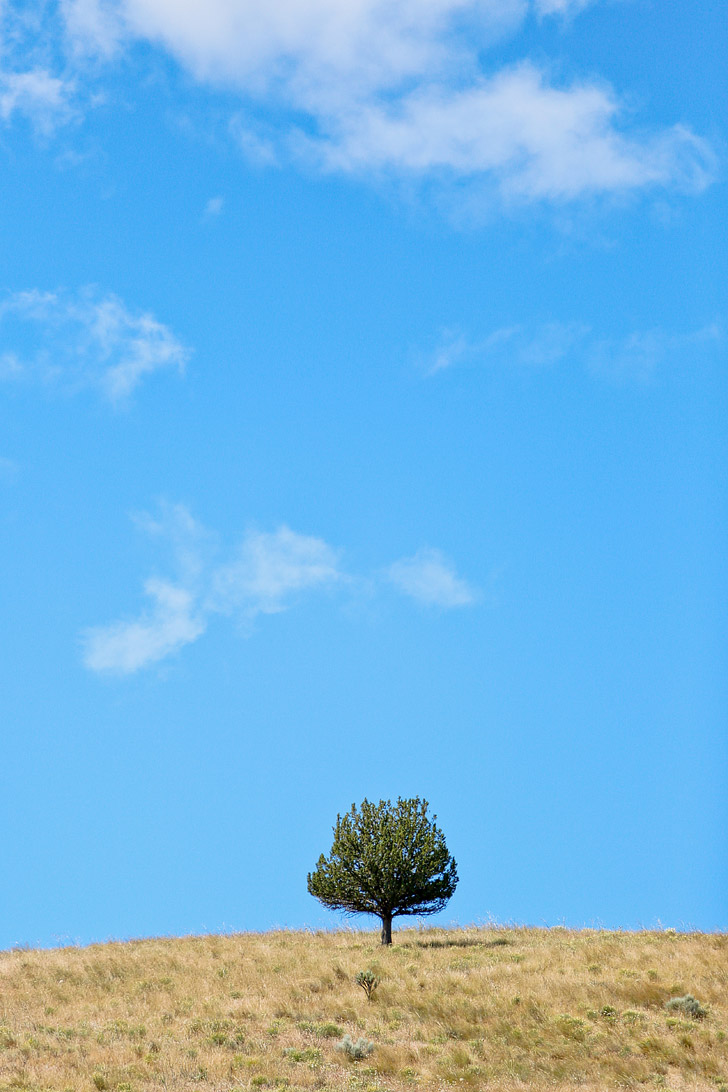 Pin
WHAT THEY HAVE AT CLARNO UNIT
Hiking Trails
Picnic Area
Restrooms
Drinking Water (typically available May – September)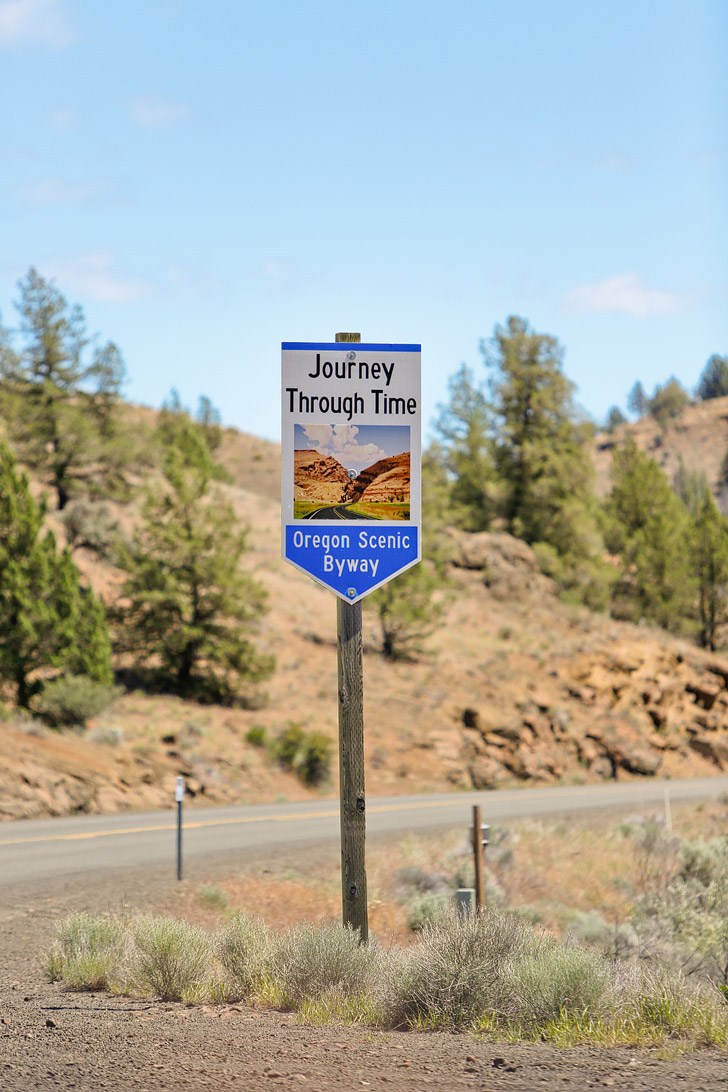 Pin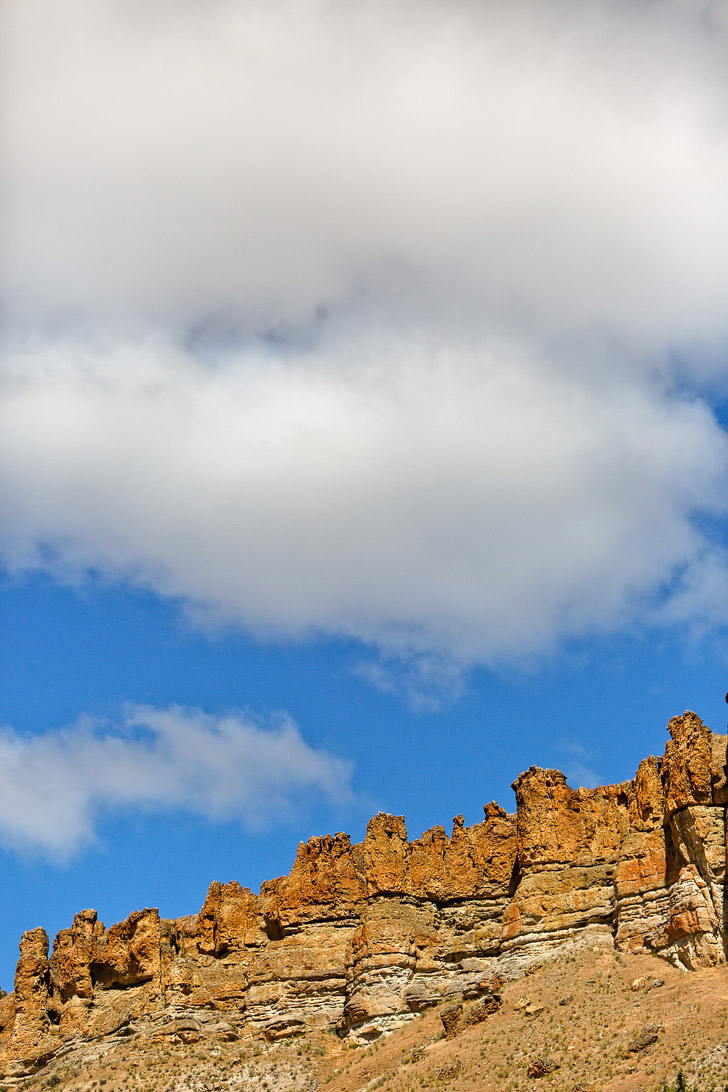 Pin
CLARNO UNIT HIKING TRAILS
Arch Trail (0.5 mile round trip) – This trail climbs up to the base of the Palisades. You'll find two fossilized logs about 40 feet above the trail and a stone arch at the end of the trail.
Trail of Fossils (0.25 mile loop) – Hike through a boulder field to see leaf and wood fossils exposed naturally.
Geologic Time Trail (.25 mile round trip) – Get great views up toward the rocky spires of the Palisades. This trail connects to the other two trails.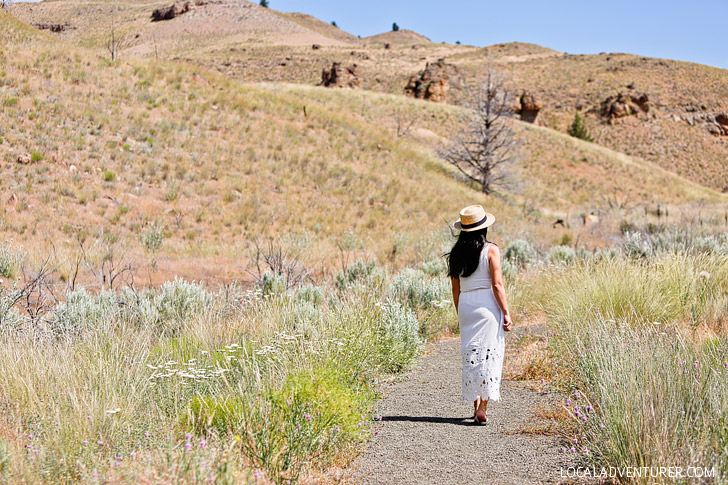 Pin
PAINTED HILLS
The Painted Hills Unit is easily the most popular of the three. Stripes of red, tan, orange, and black, show past climate change. They've also found leaf fossils dating back to 39-30 million years old. Check out our full guide to the Painted Hills.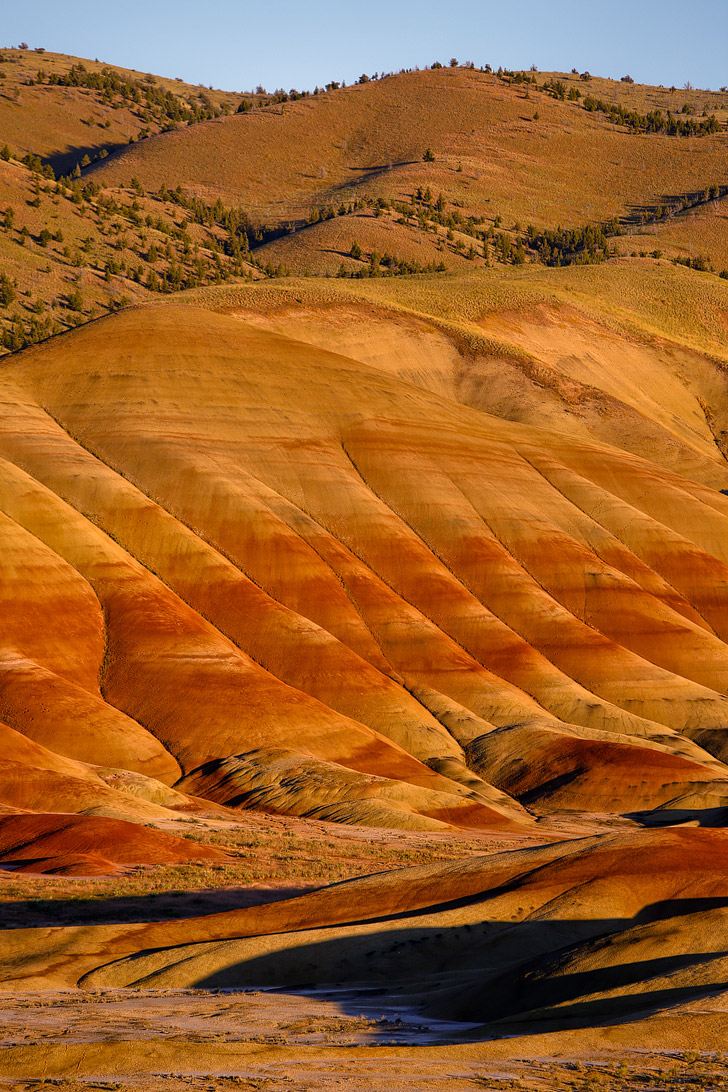 Pin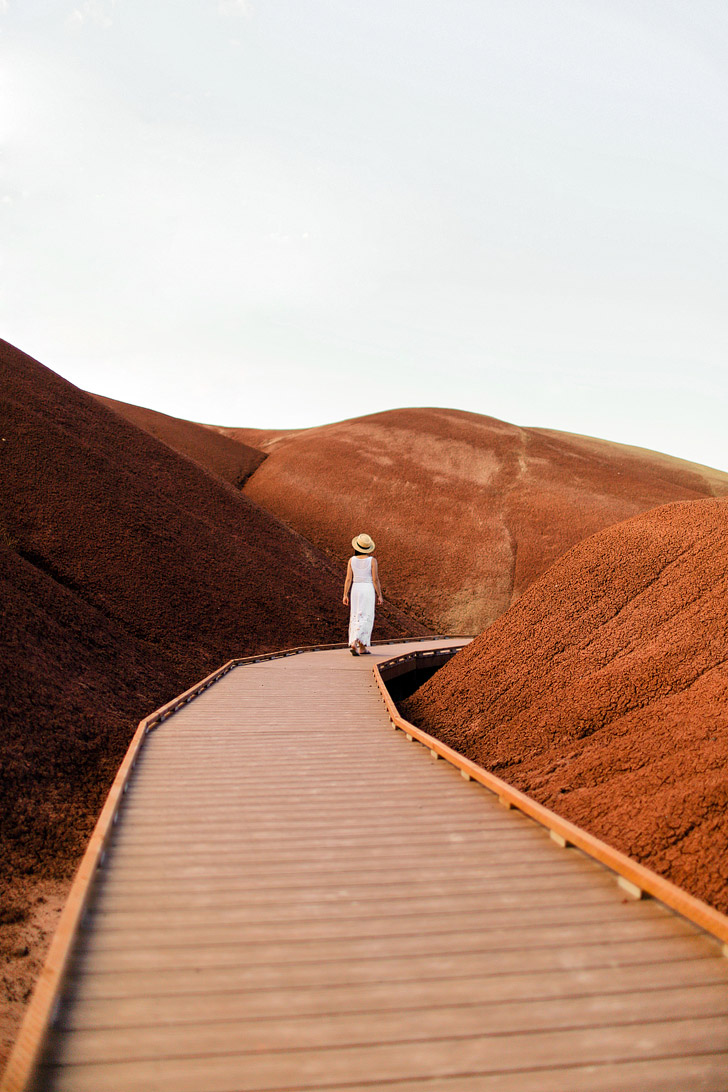 Pin
WHAT THEY HAVE AT PAINTED HILLS
Trails (see our Painted Hills Guide for more photos and details)
Picnic Area
Restrooms
Drinking Water (typically available May – September)
Wildflowers (typically in bloom April- May)
PAINTED HILLS UNIT HIKING TRAILS
Carroll Rim Trail (1.6 mile round trip, moderate) – panoramic views of the hills.
Painted Hills Overlook Trail (0.5 mile loop, easy) – Postcard views of the park.
Painted Cove Trail (0.25 mile loop, easy) – Boardwalk and popular instagram spot.
Leaf Trail Hill (0.25 mile loop, easy) – used to have a lot of fossils.
Red Scar Knoll Trail (0.25 mile round trip) – walk around the bright red and yellow Red Scar Knoll.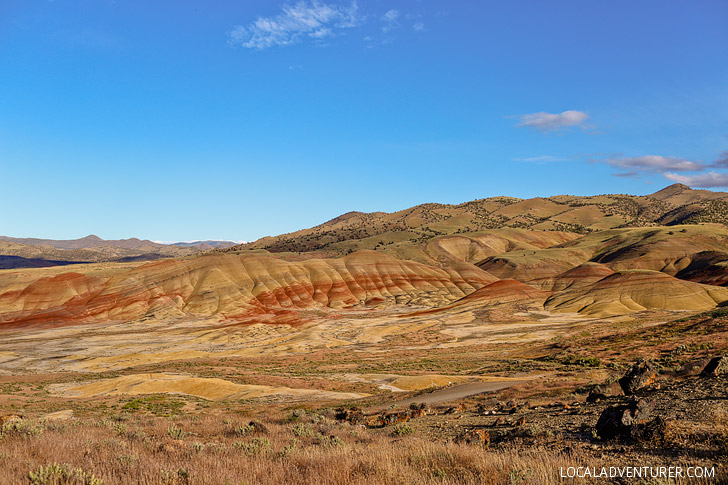 Pin
SHEEP ROCK UNIT
The Sheep Rock Unit features yet a different kind of geological formation, including the green claystone layers of the Turtle Cove Member. It is also where the Visitor Center is located and a great place to start exploring John Day Fossil Beds National Monument if you're a planner.
It is still an active research facility and a great place to get all the information you need to explore each unit. There's a large window where you can observe paleontologists at work if they are not out in the field. Check out the 18-minute park orientation film, browse through their bookstore, and check out the museum displays that include over 500 fossil specimens.
Address: 32651 Highway 19, Kimberly, OR 97848 // map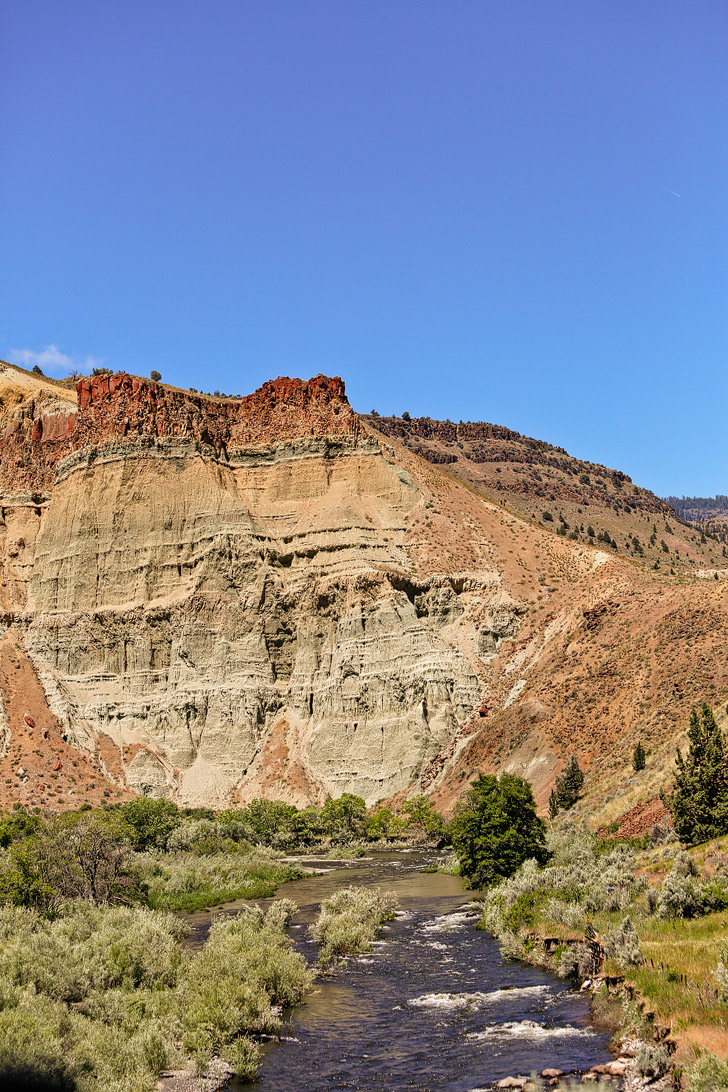 Pin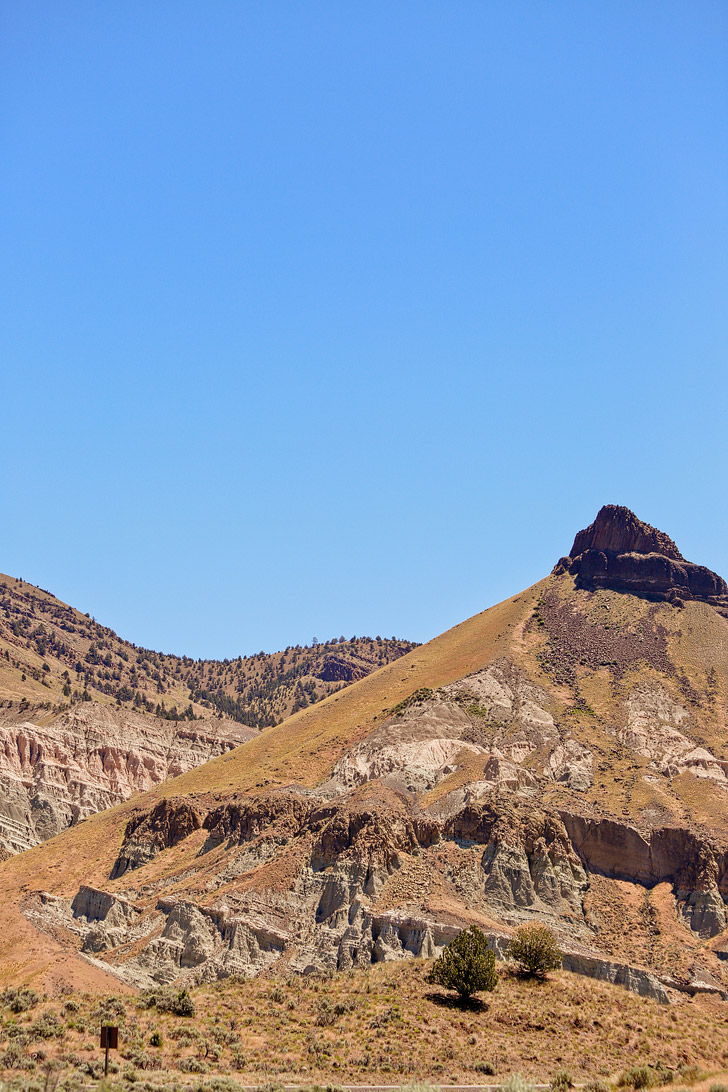 Pin
WHAT THEY HAVE AT SHEEP ROCK UNIT
Thomas Condon Paleontology Center / Visitor Center
Historic Cant Ranch Museum – open with limited hours in the summer, see updates here.
Subregions: Mascall Formation Overlook, Picture Gorge, Cathedral Rock, Blue Basin, and the Foree Area
Ranger Programs (weekend hikes, Cant Ranch tour, gallery tour, talks)
Picnic Areas
Restrooms
Drinking Water (when the Thomas Condon Paleontology Center is open)
River Rafting (but you don't start in the park)
SHEEP ROCK UNIT HIKING TRAILS
River Trail (0.6 mile round trip) – Pass through the historic fields and orchard of Cant Ranch down to the John Day River. Fruits can be collected when in season
Sheep Rock Overlook Trail (0.5 mile round trip) – Hike from the Cant Ranch House to an overlook with a view down to the river and Sheep Rock above.
Thomas Condon Overlook Trail (0.25 mile round trip) – From the paleontology center, hike to an overlook to get a great view of the river valley.
Story In Stone Trail (0.3 mile round trip) – Check out colorful badland outcrops along this hike. The trail is wide and mostly paved.
Island In Time Trail (1.3 mile round trip) – Follow the canyon floor and admire the blue-green canyon walls. There are exhibits and fossil replicas along the trail.
Blue Basin Overlook Trail (3.25 mile loop) – Hike to a breathtaking overlook of Blue Basin to views into badlands and the John Day River valley. This is the most strenuous trail with 760 feet of elevation gain. Also note that the clay surfaces are very slippery when wet.
MORE TIPS FOR YOUR VISIT
Fees: There are no entrance fees for regular visits at all three units of John Day Fossil Beds National Monument.
Operating Hours:

 The outdoor areas, trails, and overlooks at all three units are open year-round during daylight hours. The visitor center is located at the Sheep Rock unit and is open at the following times: 

Summer Hours (Memorial Day through Labor Day) 9 am – 5 pm daily and Fall, Winter, & Spring: 10 am – 5 pm daily
Weather:

John Day Fossil Beds National Monument is a semi-arid desert landscape. Summers can get into the 110's and winters tend to be mild, with occasional snow and ice and temperatures getting as low as the single digits. Check the following sites for detailed weather info: 

Clarno Unit Forecast , Painted Hills Unit Forecast, Sheep Rock Unit Forecast
WHERE TO STAY
During our time there, we stayed at the Victorian Lane B&B, which is a beautiful B&B style home. You can also check out reviews and best prices for nearby hotels here.
Camping is not allowed in any of the units but there are plenty of nearby camping options. Check out this Camping and Services Map to find the best option for you.
WHERE TO EAT
None of the locations serve food, but there are a handful of small towns scattered throughout the area. They have an updated list of places open at the Visitors Center (many of them have limited days or hours open) and you can check out our Painted Hills guide for food options near that unit.
Did you enjoy this post? We'd love for you to pin it for later.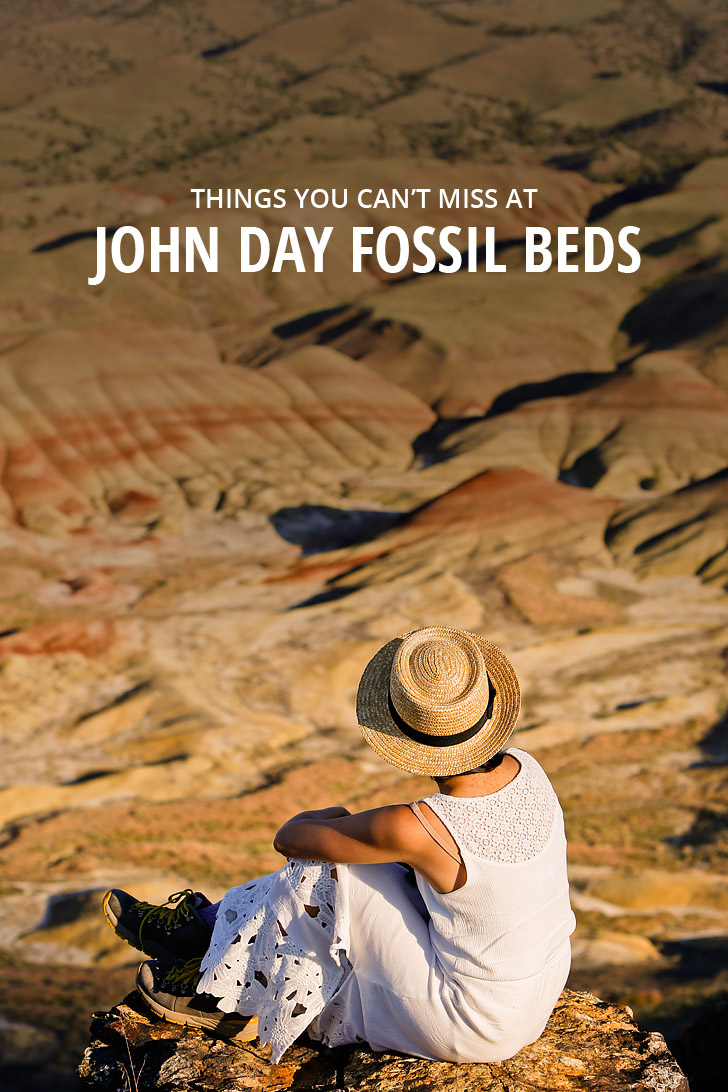 Pin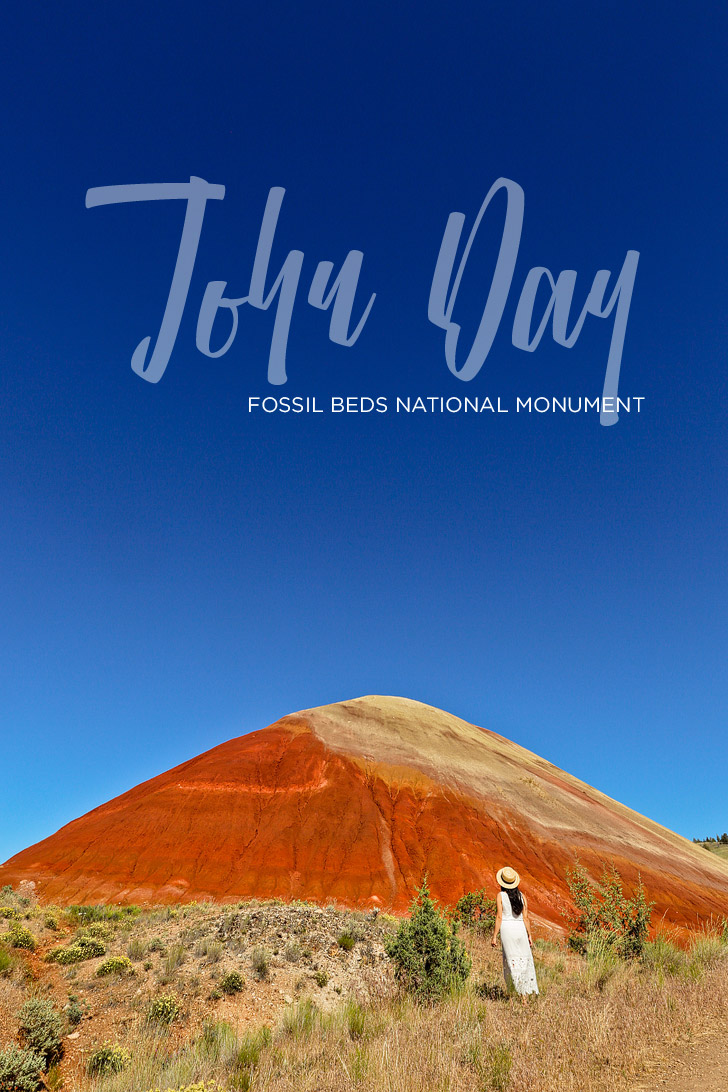 Pin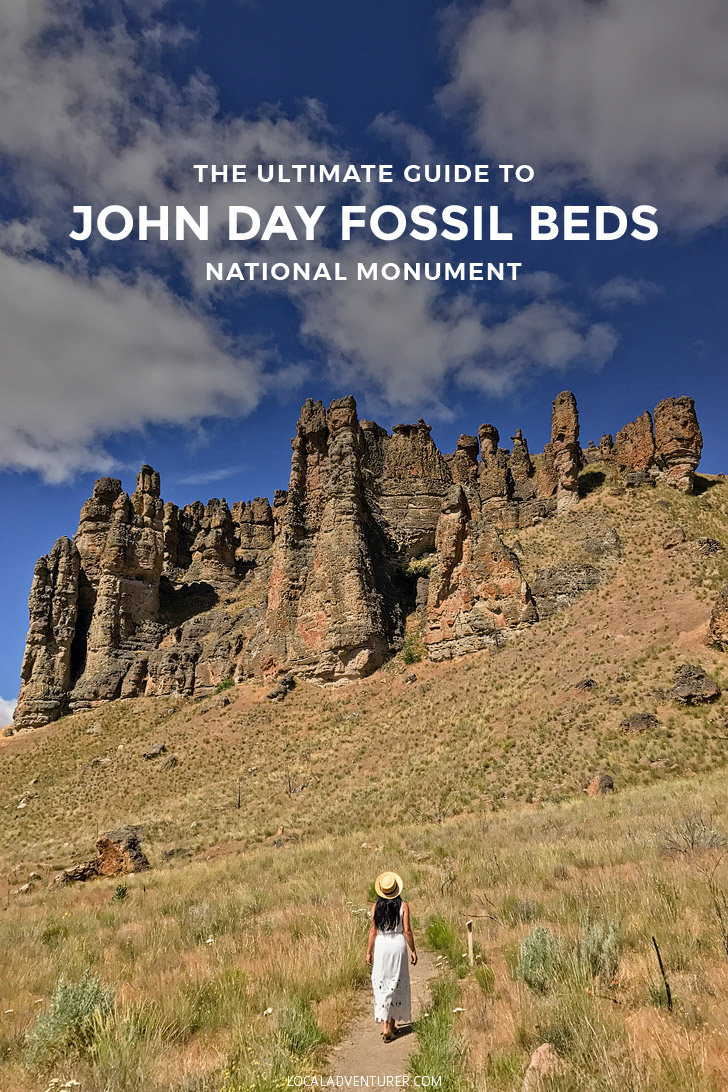 Pin
Have you been to John Day Fossil Beds National Monument? Anything else we need to add?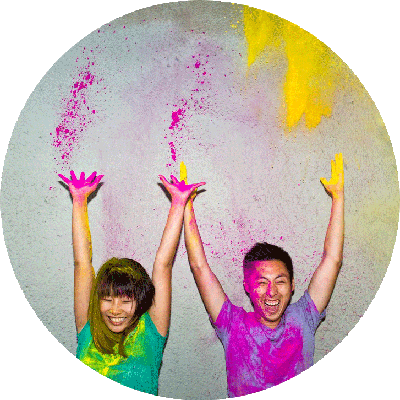 Pin
ESTHER + JACOB
Esther and Jacob are the founders of Local Adventurer, which is one of the top 50 travel blogs in the world. They believe that adventure can be found both near and far and hope to inspire others to explore locally. They move to a new city every year and currently live in Portland, Oregon.