Our first taste of the Oregon coast was in Astoria, Oregon. I've been hearing so much about it from Goonies fans, and I'm ashamed to admit that I finally watched it the night we arrived in Astoria to see what exactly I was working with. No, I'm not a true Goonie. 🙈
You can also use Astoria as a launching point to doing the ultimate Oregon Coast road trip.
This post may contain affiliate links, where we receive a small commission on sales of the products that are linked at no additional cost to you. All opinions are always our own. Read our full disclosure for more info. Thank you for supporting the brands that make Local Adventurer possible.
Last Updated: January 21, 2021
15 Unique Things to do in Astoria Oregon
Astoria was regionally the trading center for the lower Columbia basin, and still remains a hub to this day. Its economy is centered around fishing, fish processing, and lumber, but most people who visit now see it as a great weekend getaway and a pilgrimage to see where the Goonies was shot.
We spent two days in this charming little town, and here's what we did!
The Astoria Column is a popular attraction along the Oregon coast. It is covered in a hand-painted spiral frieze that gets you 600 feet above sea level to give you a stunning view of the bridge and the town.
Pro Tip: There is a $5 parking fee that needs to be purchased from the gift shop.
2. Astoria Riverwalk / Riverfront Trolley
Enjoy the beautiful Columbia River from the Astoria riverwalk. You'll often find locals running or walking their dogs along the way, and if you're there over the weekend, you can even hop on the Old Riverfront Trolley.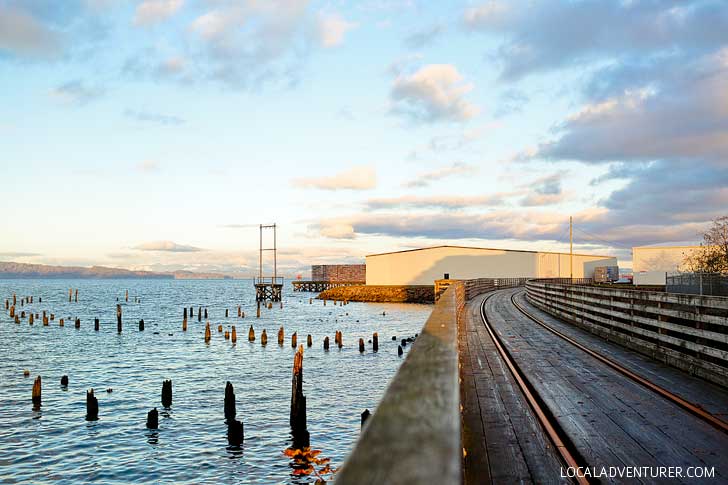 This is one of the largest attractions to Astoria. Most of the movie was shot in Astoria, and it's where the house and jail are. You can still visit the jail from the opening scene at the Oregon Film Museum and the town just screams Goonies.
Note: Unfortunately, if you want to see the house, it is privately owned and they explicitly say no trespassing. In the past you were allowed to get on the property, but now you must enjoy the house from afar. There are plenty of street signs telling you not to stop for photos.
The Oregon Film Museum is in the original Clasp County Jail, which is also the jail from the opening sequence of The Goonies. You can step into the cell that it was shot in, check out the Goonies memorabilia, or see items and exhibits from all the other films shot in Oregon. They even have interactive sets where you can shoot scenes from some of the movies (we may or may not have reenacted one of the Twilight scenes)!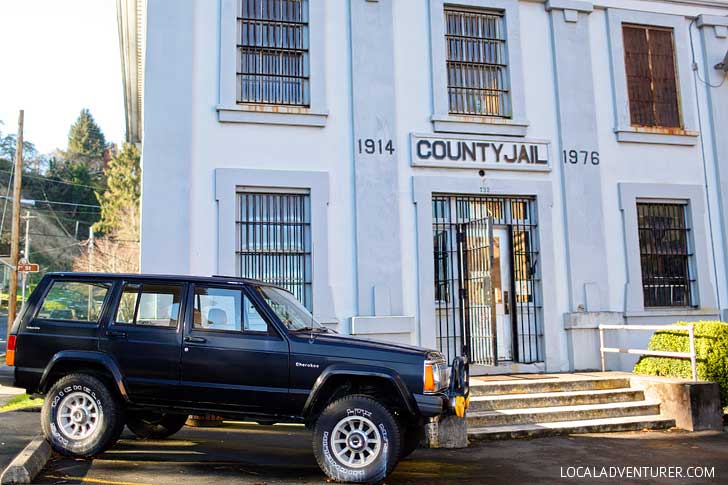 One of the best things about small towns is how walkable it is. Stroll through downtown and check out the local shops and art galleries. Some had a lot of Scandinavian influence.
Astoria has a great brewery and brewpub scene. Fort George Brewery is the most popular and touristy brewery in Astoria, but this time we decided to go to Buoy Beer Company based on a local's recommendation instead. They had great beer, a good food selection, and a small section of the floor is glass where you can see the sea lions under the pier!
You can't be on the coast and not have local seafood. Another local recommendation sent us to Clemente's Cafe and Public House where we had delicious clam chowder.
8. Pick Up Dessert at Peter Pan Market
This was a great find after talking to locals. The market is in a neighborhood and sells groceries, necessities, sandwiches, and desserts, but make sure you try the carrot cake! The locals go crazy over it.
9. Photograph the Astoria-Megler Bridge
This steel cantilever bridge is 4.1 miles long and connects Oregon to Washington. It's the longest continuous truss bridge in North America and rated one of the best photo spots along the coast. There are beautiful views of it along the riverwalk or from the Cannery Pier Hotel.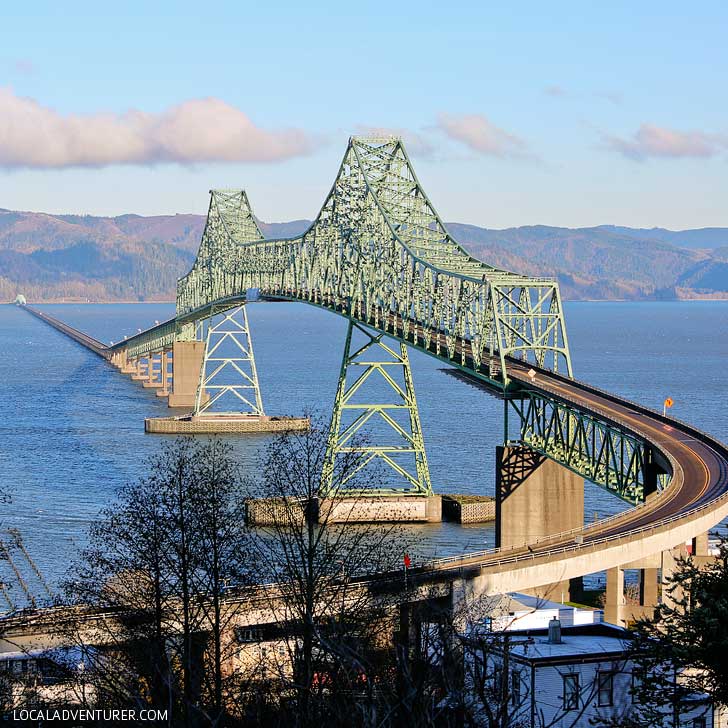 10. Columbia River Maritime Museum
This national renowned maritime museum houses a great collection and tells the stories of the Columbia River Bar, which is one of the most dangerous passages in the world.
The Old City Hall houses the Heritage Museum that typically gets overshadowed by the other museums in town. It dives into the history of Clatsop County, from the Chinook and Clatsop Indian tribes to how the iconic Astoria-Megler bridge was built.
12. The Flavel House Museum
This was the home of Captain George Flavel, who was one of Astoria's most influential citizens in the late 1800s. Get a glimpse of what life was like back then and see how he spared no expense when building the beautiful home.
13. Fort Clatsop / Lewis and Clark National Historical Park
This is a must stop for any National Park lover. Fort Clatsop National Memorial was where the Lewis and Clark Expedition made their home in 1805-6 before returning east to St. Louis. Explore the replica of the fort and get an idea of what life was like back then.
14. Fort Stevens State Park
Just 9 miles west of Astoria, you'll find this state park that gives let's you check out the coast, as well as the mouth of the Columbia River. There are multiple parking lots that give you access to the water where you can enjoy the wildlife and beautiful scenery.
Within For Stevens State Park lies the shipwreck of Peter Iredale. This four-masted steel barque sailing vessel ran ashore in 1906 and has since made its home there. When the tide is lower, you can walk right up to is to explore and take photos.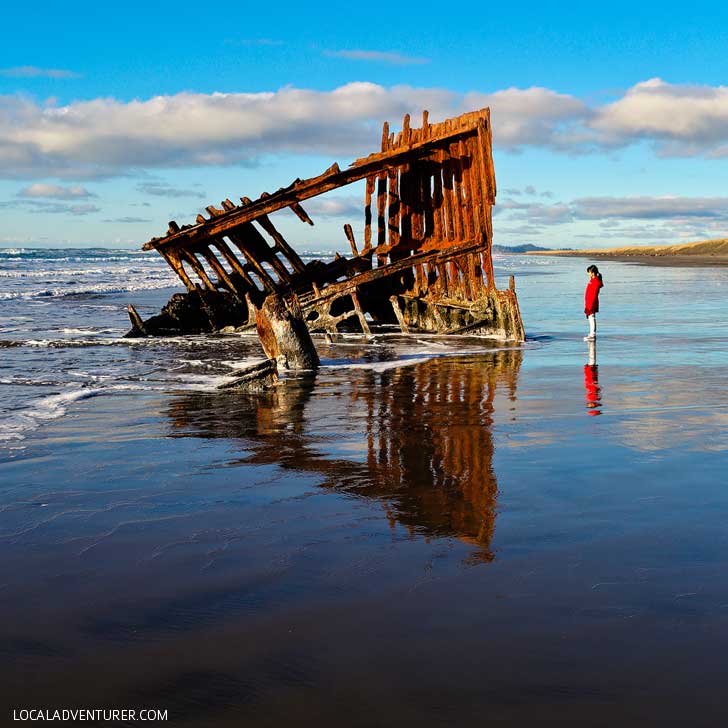 If you need a home base, the Cannery Pier Hotel is an amazing spot that gives you amazing views of the bridge and the barges right from your room. The staff is amazing and we really enjoyed their cheese and wine reception that they had from 5-6 PM every day.
Young River Falls (10 miles / 22 mins away) – This waterfall cascades over a large 54-foot wall into a locked in pool. If you are hoping to hunt down all the waterfalls in Oregon like we are, be sure to make time for this!
Cannon Beach (26 miles / 42 mins away)
Tillamook Rock Lighthouse (27 miles / 50 mins away)
Kelly's Brighton Marina (48.3 mi south / 1 h 14 min drive, map) – go crabbing or just eat fresh crab
Best Places to Stay in Astoria Oregon
Are you a Goonies fan? Have you visited Astoria Oregon? Anything we're missing?
Did you enjoy this post? Pin it for later
SEE MORE CITY BUCKET LISTS
"Discovery consists not of seeking new lands but in seeing with new eyes" – M. Proust
Esther and Jacob are the founders of Local Adventurer, which is one of the top 5 travel blogs in the US. They believe that adventure can be found both near and far and hope to inspire others to explore locally. They explore a new city in depth every year and currently base themselves in Portland Oregon.