Charleston, South Carolina is just under four hours away from our home in Asheville and it's become a place we love to visit. There's so much to love about this city on the water. For starters, it's often a little warmer in the winter months than it is in the mountains.
It also has tons of outdoor activities for you to participate in such as kayaking, hiking, bird watching, and horseback riding. In addition, Charleston is rich with history and unique architecture, incredible restaurants, and of course, southern hospitality. There is no shortage of fun and interesting things to do in this city.
This post may contain affiliate links, where we receive a small commission on sales of the products that are linked at no additional cost to you. All opinions are always our own. Read our full disclosure for more info. Thank you for supporting the brands that make Local Adventurer possible.
Last Updated: September 4, 2021
The Ultimate Charleston Bucket List - 101 Things To Do in Charleston SC
Tourist Attractions + Local Attractions
One of the tallest aquariums in the US.
Great selection of YA books, local authors, and gifts.
You'll recognize this from The Notebook and Days of Our Lives.
Ferry takes you out to a protected island where you'll learn about marine wildlife and more.
This was our favorite house tour. It's full of antiques, oddities, and stories told by great guides.
Take a 90-minute tour and see the "Holy City" from the harbor.
Learn about the real pirates that invaded Charleston.
Take a trolley tour around the gardens and learn how tea is grown.
Several blocks of sweetgrass baskets, local art, food, and low country gifts.
College stomping grounds to notable alumni such as actor, Orlando Jones and Robert Mills, who designed the Washington Monument.
Stroll through well manicured swamplands and see various wildlife.
Enjoy wine tastings and live music.
Get your scare on with a haunted tour.
Learn about the culture of Gullah people of the Lowcountry regions.
Great leisure way to see and learn about the city.
Take a short house tour and learn about the architecture of the time period.
One of the nicest minor league stadiums in America, situated on the banks of the Ashley River.
We recommend packing a picnic lunch. They're dog friendly too! If you want to learn more about the history of slavery, we recommend taking the Magnolia Cabin Project Tour.
Various offerings throughout the year. We especially love the holiday market during Christmas.
Located inside the Restoration Hotel.
See America's oldest landscaped gardens.
Take a tour of the dungeons where they jailed pirates.
Nice walking and bike path. Beautiful views of the the harbor and Sullivan's Island.
Visit early hours in the morning to get Instagram worthy shots.
They were the first non-Major League Soccer professional club in the United States to build its own stadium.
Clothing boutiques, antique shops, art galleries, and more.
It's a very unique looking lighthouse but just for viewing (you can't go inside).
Start your Charleston adventure here. Pick up maps, brochures, and coupons.
First shots of the Civil War were fired here.
Free to visit. Learn about Charles Pinckney's influence in shaping the U.S. Constitution.
Wear waterproof boots! There's a lot of swamp water.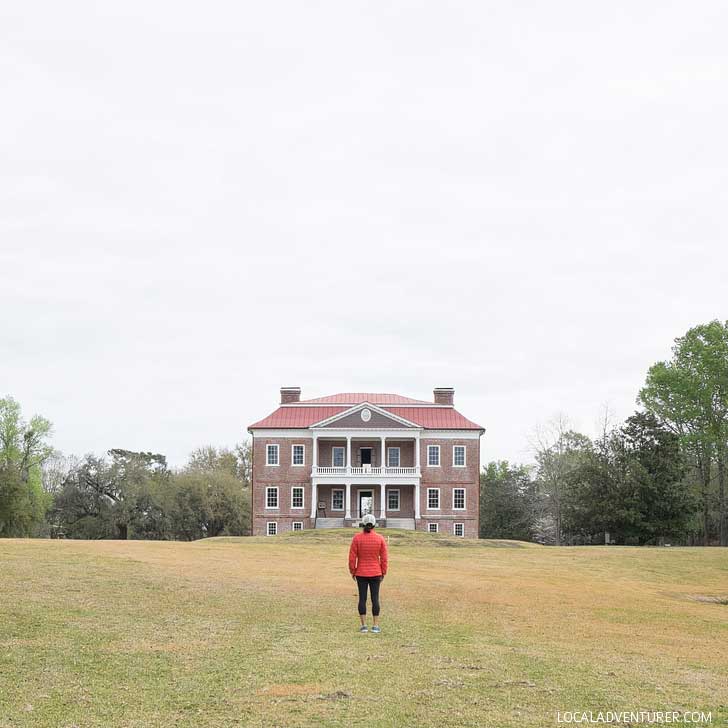 One of the best-preserved townhouse complexes in the nation.
Remarkable colonial architecture with all original woodworking.
Great overview and small exhibits that display the history of Charleston.
We loved the original Mary Jackson sweetgrass weavings.
There's also an art room where kids can create their own artwork.
Free to the public. Rotating exhibitions throughout the year.
We recommend the 2-hr. walking tour in the morning.
See how researchers are restoring this submarine from the American Civil War.
South Carolina Historical Society Museum
See 350 years of South Carolina history through the artifacts, documents, and more.
Tour the aircraft carrier USS Yorktown, battleship and submarine. Museum is loaded with artifacts from Vietnam War as well as WWII.
(Free admission) The old stamps on display were cool to see.
Mace Brown Museum of Natural History
Check out their huge collection of unique fossils.
Check out old and modern fire engines and interactive displays.
Take a guided tour to learn more about the final resting place of notable South Carolinians.
Visible from Folly Beach.
Karpeles Manuscript Museum
They have the largest private collection of original documents and manuscripts in the US.
Col. William Rhett, who brought down Blackbeard, is buried here.
See the room where George Washington slept in. You can also touch the original handrail that he used.
Year-round Wednesday night performances of original music.
Enjoy a concert in this smaller, more intimate music venue with great acoustics.
Historic theatre from 1809 that is also on the National Register of Historic Places.
See a flight demonstration.
SouthEastern Wildlife Exposition (SEWE)
We especially liked the dockdog competitions.
Audience can also participate.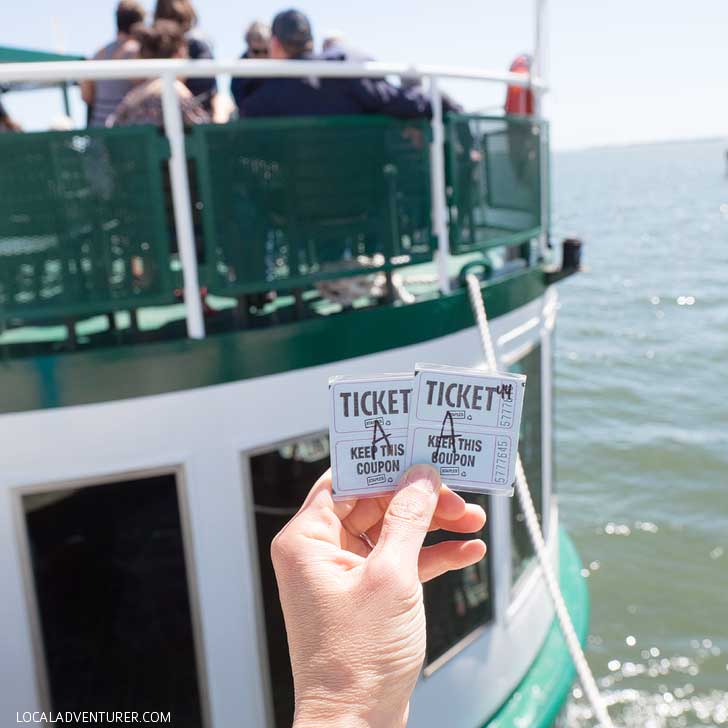 We saw dolphins up close during our tour.
Estimated to be between 400-500 years old.
See difference species of birds, turtles and even some alligators.
Great spot for a walk by the waterfront with lots of benches to sit and boat watch.
Be sure to wear shoes to prevent yourself from stepping on driftwood branches and old trees.
You can get here by ferry.
Site of the first settlement in the Charleston area during the colonial period.
Nice area for a walk or biking by the water.
Lots of restaurants within walking distance after your dip in the ocean.
Secluded walking pathway through shady foliage.
Clean beach, laid-back resort vibes.
This dog park features a dog beach.
You can take a kayak or canoe down 62 miles of the Edisto River's Main Stem.
Rent some beach chairs and umbrellas and lounge the entire day.
Go golfing or bike by the beach. There's something for everyone.
Kids love the climbing towers.
Former Navy base, lots of picnic tables to enjoy.
1,250 ft.-long pier with bench swings, a pavilion, fishing, and beautiful harbor views.
Sk8 Charleston Skate Park
Admission is three dollars per day to skate.
Tons of restaurants and quiet beaches.
The iconic fountain is a must see. Catch the sunset here.
Rope courses that are great for all ages and abilities.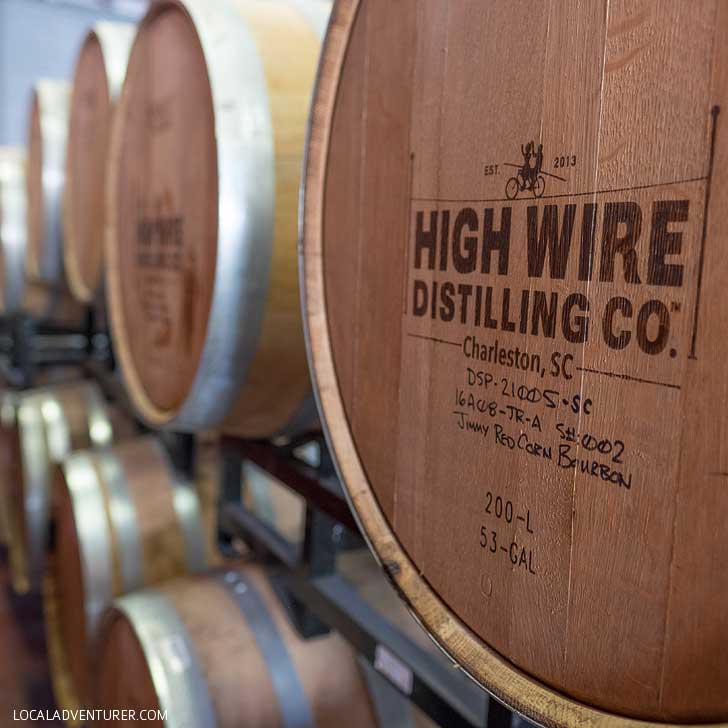 Stop by some of the best restaurants and bars in the city all in one tour.
(Downtown) Oysters. Raw Bar!
Charleston's first cat cafe. All cats are adoptable.
(James Island) All-You-Can-Eat oysters served to you on a shovel in the basement.
(Downtown, New American, $$) Southern classics using local and seasonal ingredients.
Learn about the distilling process, see fermentation tanks, barrel aging process, and bottling operations.
Specialty coffees, craft beers, and live music on the weekends.
(Sullivan's) A short hop over the bridge for exceptional Italian style seafood.
Sunset drinks on the rooftop of the Restoration.
(Downtown) Smoked oysters and oyster sliders.
Great outdoor patio with killer fries and a beer.
Great if you love seafood.
We never leave Charleston without one of their rum cakes.
(Downtown) Okonomiyaki with pork candy.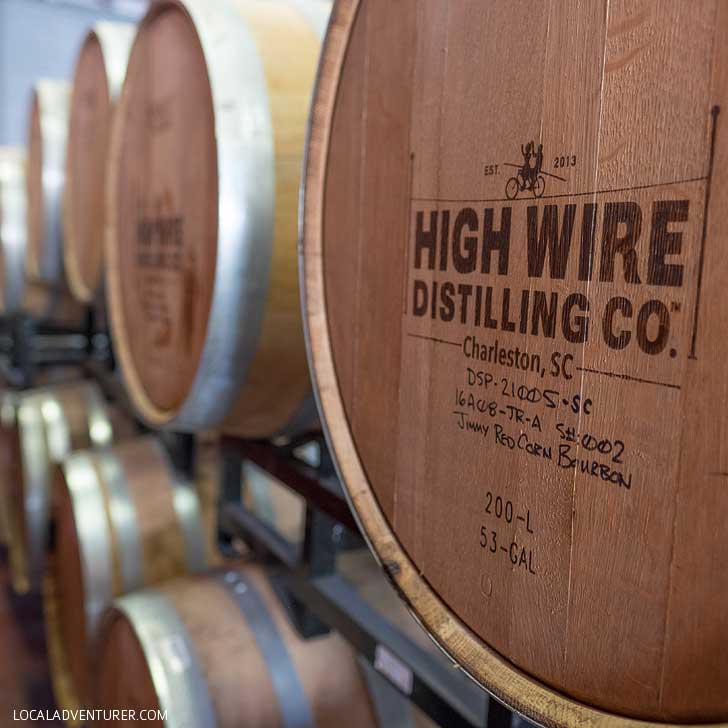 101 THINGS TO DO IN CHARLESTON CITY MAP
Essential Tips for First Time Visitors to Charleston SC
Best time to visit Charleston: Personally we love the springtime because the weather is really pleasant. Daytime temperatures range from the mid-60's to the high 70's. You can expect hotel rates to increase along with the crowds in the springtime (especially around Easter) but if you don't mind paying extra and dealing with more people, there's a lot to love about traveling here in spring. Summer temps get up to the mid to high 80's and August is the rainiest month. Be prepared for humidity! September to November is peak tourist season so competition for lodging and large crowds are something to consider. The winters are mild (temps rarely dip below 40 degrees) and since it's the off-season, you can find hotel deals.
Pack Layers: Be sure to pack layers so that you can adapt to the change in temperatures which can sometimes dip 10-15 degrees when the sun dips below the horizon.
Parking: There are 13 garages and two non-metered lots in Charleston and all of them accept cash and credit cards. The rates are $1 per half hour and $16 max per day. There are also 7 metered lots so bring lots of quarters. Time limits range from 30 minutes max to 10 hours max at $1 per hour.
Extended Parking: If you find a good parking spot and want to stay put for an extended period of time, consider getting around on foot or bike.
Head Out of the City: If you have time to spend some time outside of the city, book a scenic-view or oceanfront vacation rental on Kiawah Island, a naturally preserved island that's just 45 minutes from the city of Charleston. Greet the morning from a beachfront balcony or palmetto-shaded porch, and spend the day exploring a Lowcountry village, 11 miles of beach, and world-class golf courses.
Get a Charleston Tour Pass: If you plan on doing multiple activities, check out this tour pass where you can save on 40+ attractions.
Best Places to Stay in Charleston & Rental Car
Are we missing anything on this list? What would be at the top of your Ultimate Charleston Bucket List?
Did you enjoy this post? Pin it for later
SEE MORE CITY BUCKET LISTS
"Discovery consists not of seeking new lands but in seeing with new eyes" – M. Proust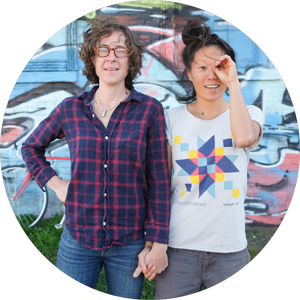 Pin
CAROLINE + ERIN
They are freelance web designers and photographers who love finding adventure, both big and small. The two make a daily practice of sharing vulnerabilities, truth telling, and side splitting laughter. They've honed the art of traveling fast and doing all of the things that an adventurer can do in a day or two. The couple lives in Asheville and loves spending their time in the mountains.