This was the beginning of a streak of hikes which we underestimated. It's a funny thing how your mind can destroy your body. Though we were huffing and puffing the entire way, once we reached the opening near the top, we saw what all that work had been for. The hills were alive and in full bloom, and there was no end in sight of yellow Balsamroots.
DOG MOUNTAIN HIKE
Distance:
6.9 miles
Elevation Gain:
2800 feet
Difficulty:
Difficult
Seasons:
Spring-Fall, Blooms Best During Late May to Early June
Trailhead Coordinates: 
45.6992035,-121.7101786
Dog Mountain is a really popular hike, especially in the spring when the top of the mountain is covered in flowers. It's easily accessible (especially from Portland Oregon) and the trail is well maintained. Don't let its popularity fool you though! This is very steep hike which means you'll have to take it slow or be in really good shape.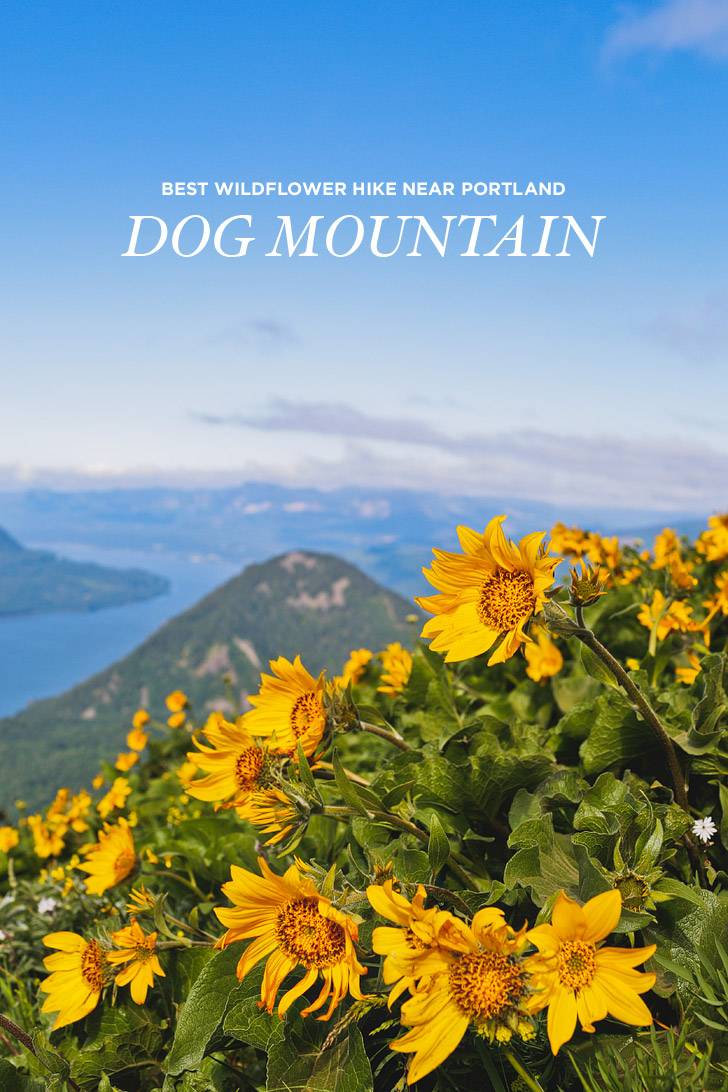 Pin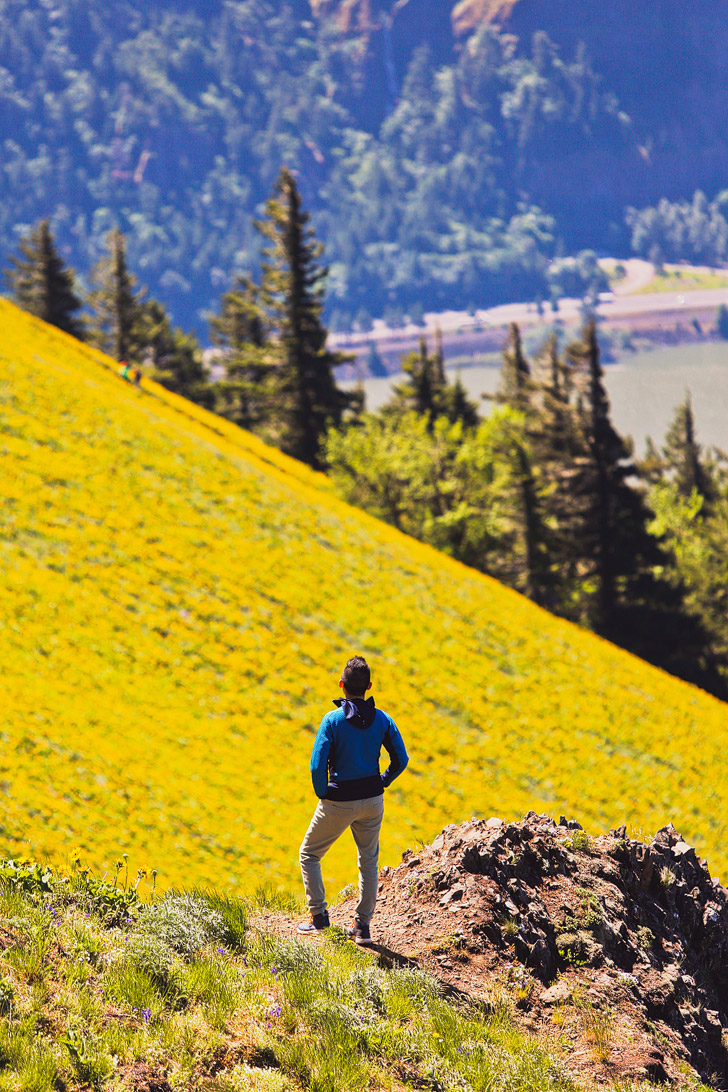 Pin
Pin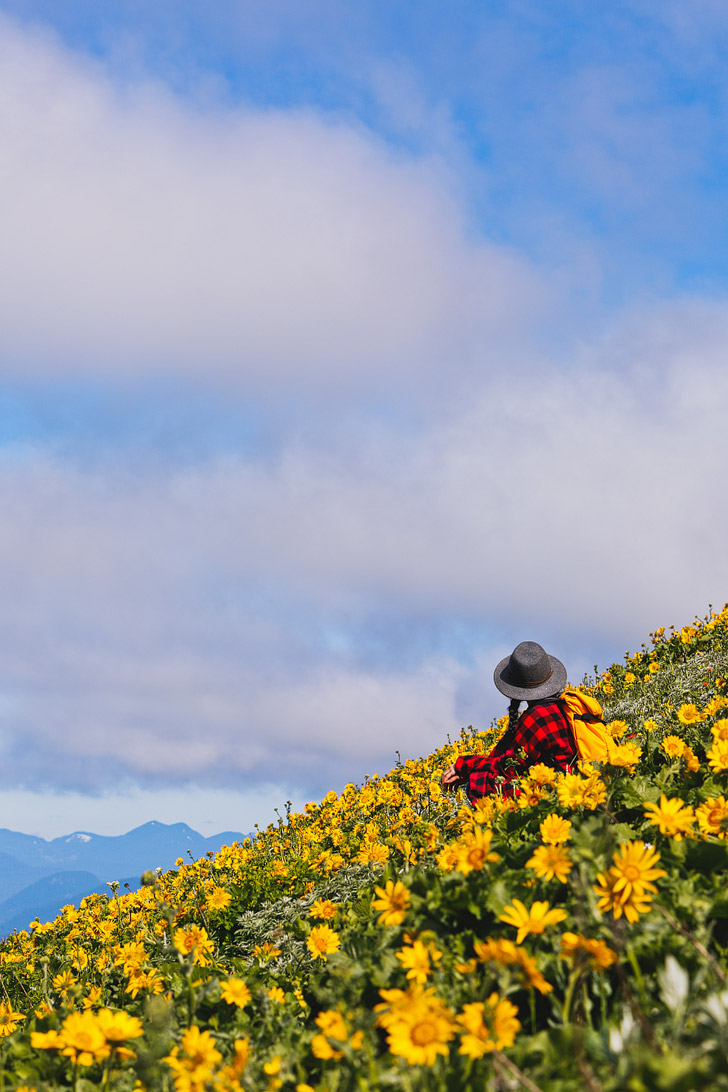 Pin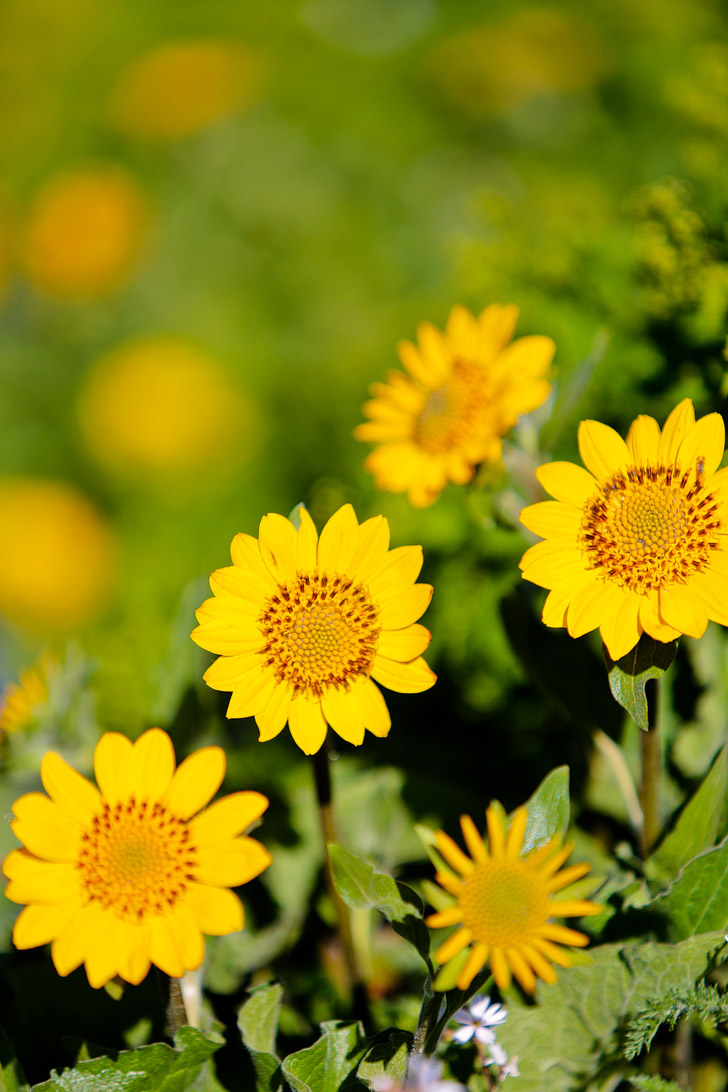 Pin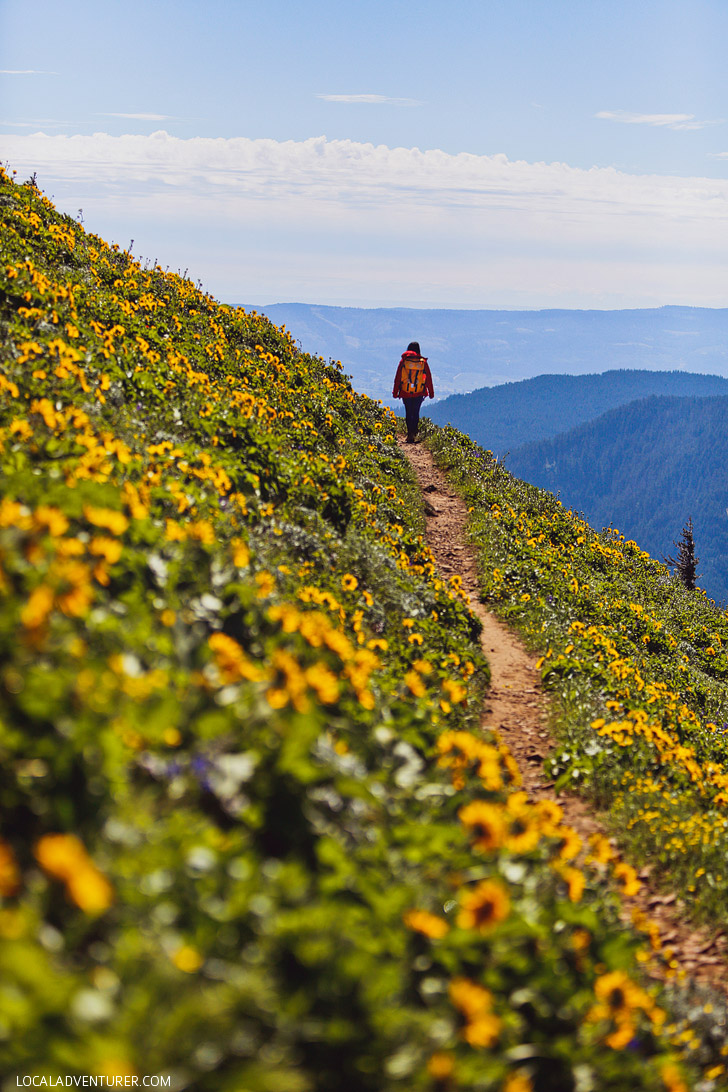 Pin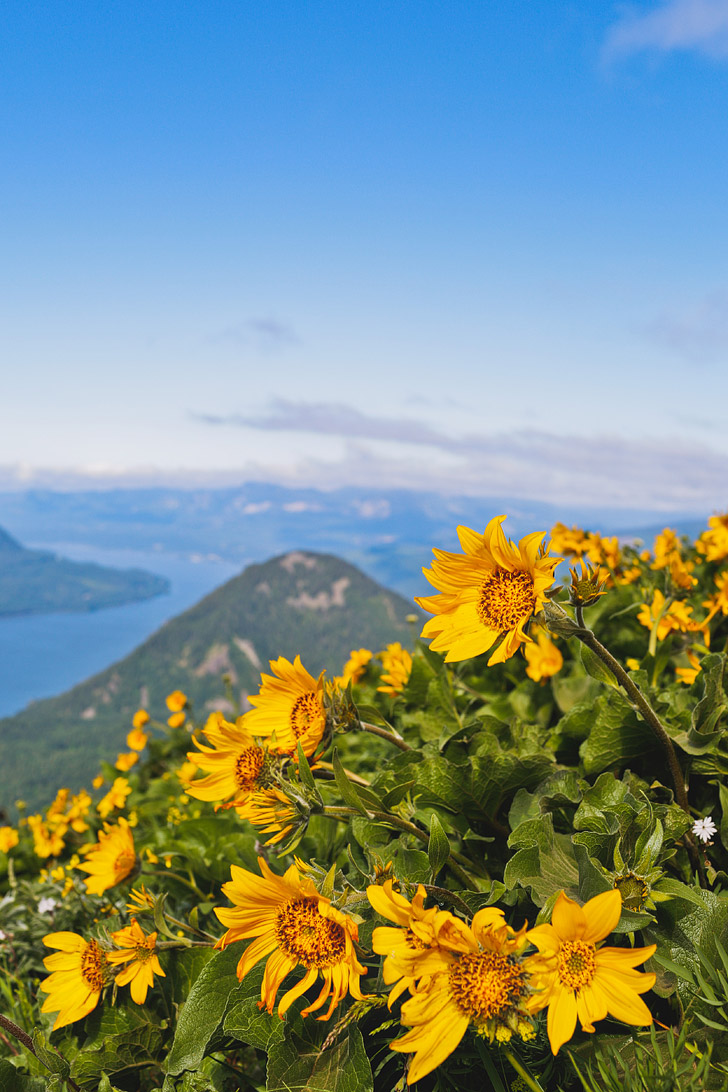 Pin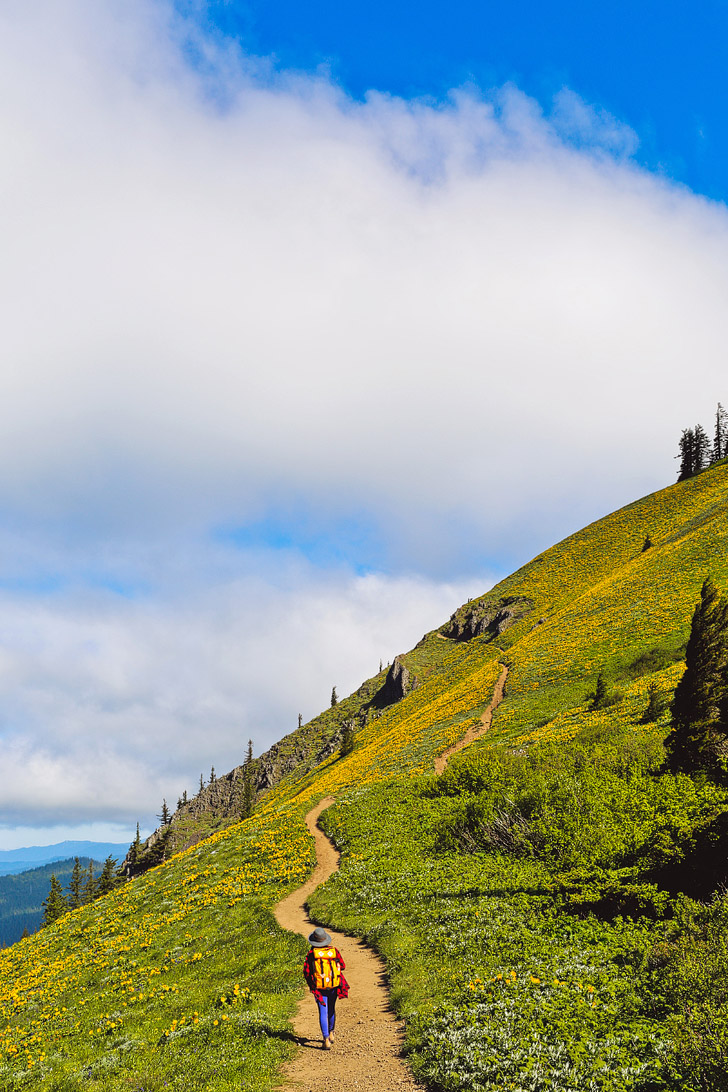 Pin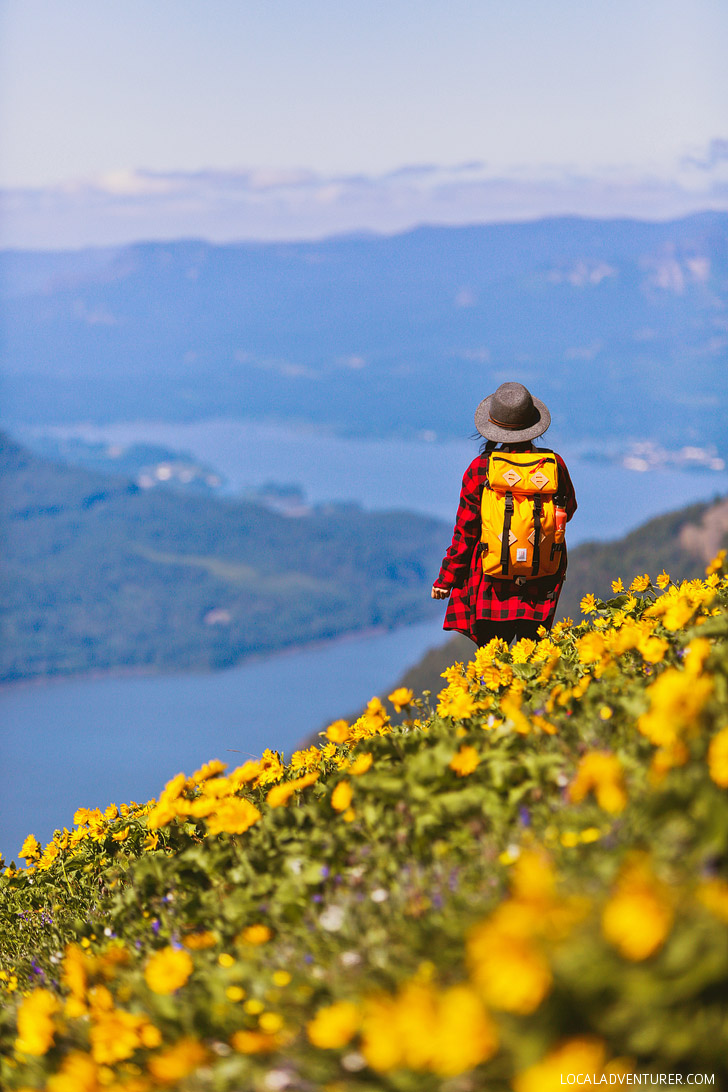 Pin
SEE MORE PHOTOS FROM THE TRAIL
[wds id="3″]
DIRECTIONS FOR DOG MOUNTAIN HIKE
From the Dog Mountain Trailhead (to the east side of the parking lot), hike up through the woods for about 0.7 miles to a junction. You will pass a primitive bathroom on the way up, which will be the only bathroom available on this trail.
NOTE: There is A LOT of poison oak in the lower section so stay on the trail.
At this junction, there will be a post that doesn't have anything clearly visible on it. If you go left from here, it is the older version of the trail that is more difficult. Most people say it's not worth it and stay to the right for the less difficult trail. Follow it up 1.2 miles to the lower viewpoint. This first viewpoint will give you a great view of the gorge and the first glimpse of the wildflowers. Take a break if needed, then continue up the trail to the summit.
After another half mile, you'll come to another junction where the old trail meets the new one. Take the right path to continue upwards. The trail gets even steeper at this point, but you'll start seeing the summit meadows through the trees. Eventually, you'll come out of the woods and if you're there at the right time, you'll be greeted with endless yellow Balsamroot flowers. We definitely didn't expect that many, since other wildflower hikes in the area only had patches here and there.
At the top, there is a lookout on the Oregon side, then the main trail continues up to the summit. You will reach another signed junction but continue right up to the top. There you'll find a nice area to sit and enjoy the views. It will most likely have a bunch of other people there resting and picnicking.
When you're ready to head down, you can decide to take the easy or more difficult way on the way down until you're back at the parking lot.
WHAT TO PACK
OUTFIT (HERS)

Buffalo Plaid Fleece // Airism Racerback // Topo Designs Klettersack (in Saffron) // Popflex Leggings (in Peony) // Felt Fedora Hat (in Charcoal) // Hiking Boots
OUTFIT (HIS)
Hoody // Mid Layer // Capilene Daily Tee // Stretch Twill Pants (in Grey) // Portland Select Mountain Hiking Boots // Adventure Photographer's Backpack
PRO TIPS FOR YOUR HIKE
Spring Blooms: You will see mostly Northwest Balsamroot with some Columbia Gorge Lupine, Harsh Paintbrush, Spring Gold, and others mixed in. It's generally best to go during late May or early June. The window only lasts a couple weeks. We went during the last week of May and it was perfect. Remember, though, that the bloom can change every year. Otherwise, it's a pretty boring hike in comparison to the many other Columbia River Gorge hikes.

Respecting the Flowers: We're not going to tell you what to do, but it's courteous not to pick the flowers or to trample them so that future hikers can also appreciate them. Try your best to stay on established trails or if you go off trail, step on durable surfaces like rock, dry grass, or snow. Plus, there's a lot of poison oak in the lower section, so you might want to think twice before you go off trail.
Parking: The parking area fills up early! Try arriving before 8AM or after 5PM between March and October. We arrived at 7AM and had no issues.
Bathrooms: There is a primitive bathroom just up the hill from the parking lot. During our visit, it looked clean and there was toilet paper. Not sure what it's like after it gets really crowded later in the summer.
Want a Longer Hike? You can lengthen the hike to 7.4 miles by connecting with the Augspurger Trail. You can also continue to Augspurger Mountain from this area.
WHAT'S NEARBY
Did you enjoy this post? We'd love for you to pin it for later.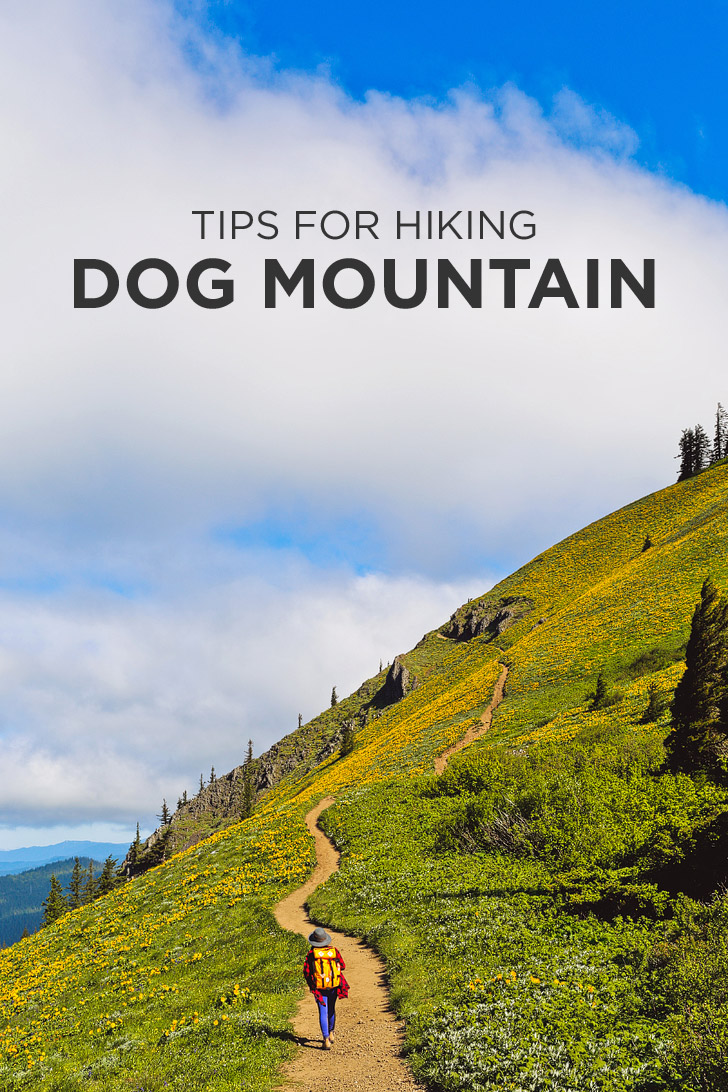 Pin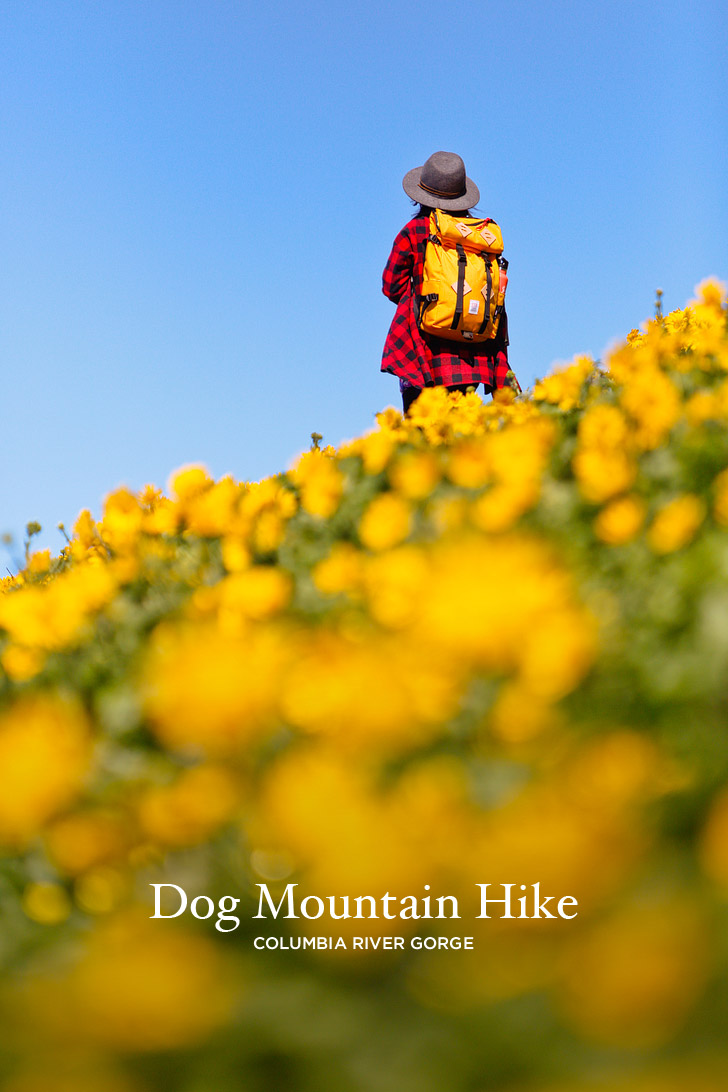 Pin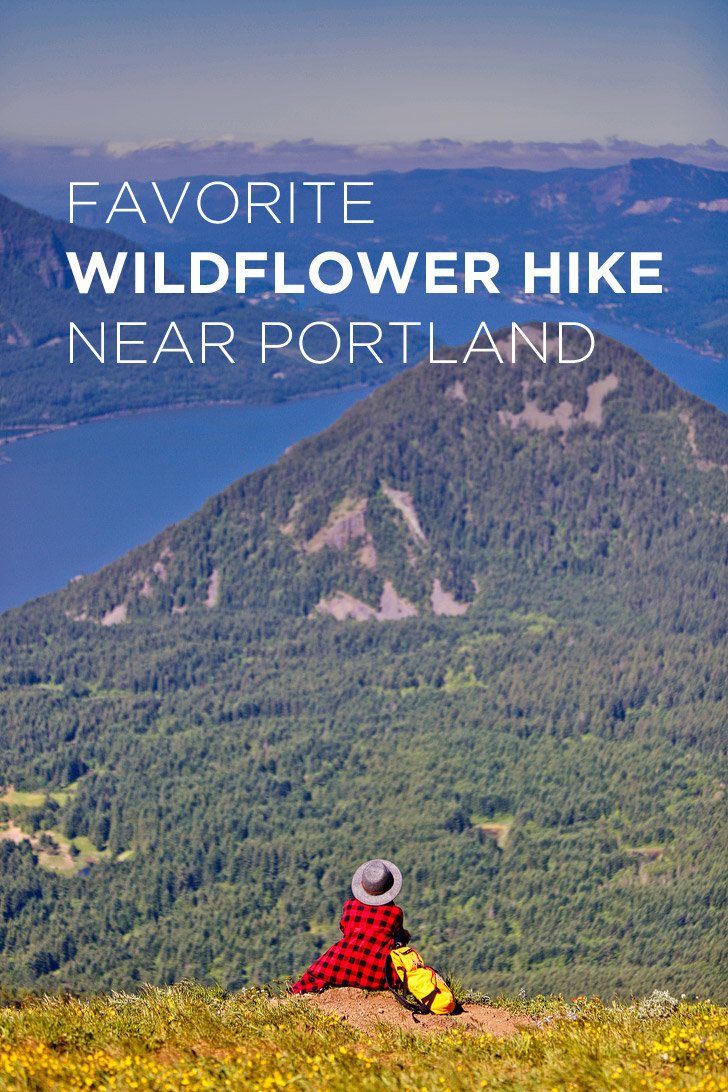 Pin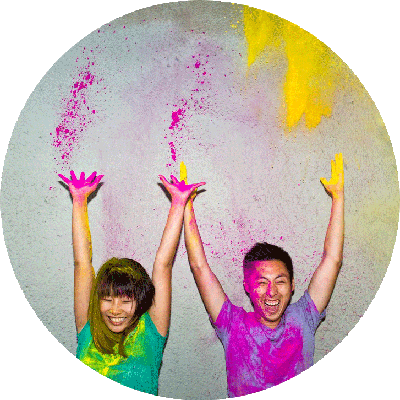 Pin
ESTHER + JACOB
Esther and Jacob are the founders of Local Adventurer, which is one of the top 50 travel blogs in the world. They believe that adventure can be found both near and far and hope to inspire others to explore locally. They move to a new city every year and currently live in Portland, Oregon.