Visiting Los Angeles? Use this bucket list to plan your trip.
We lived in LA last year, and while we didn't think it was a place we wanted to settle down, we still loved that there's always something to do in LA (and eat). We've still been staying in LA one week out of every month since we moved to Las Vegas. The funny thing is (and I'm sure most people who live in LA agree) when we lived in LA, we didn't want to drive anywhere. Now that we moved away, we're exploring much more of the city. Now that we're coming in from out of town, our friends are also more likely to meet us too.
Just like our Las Vegas bucket list that we're quickly checking off, we created one for LA with a mix of both touristy and off the beaten path activities.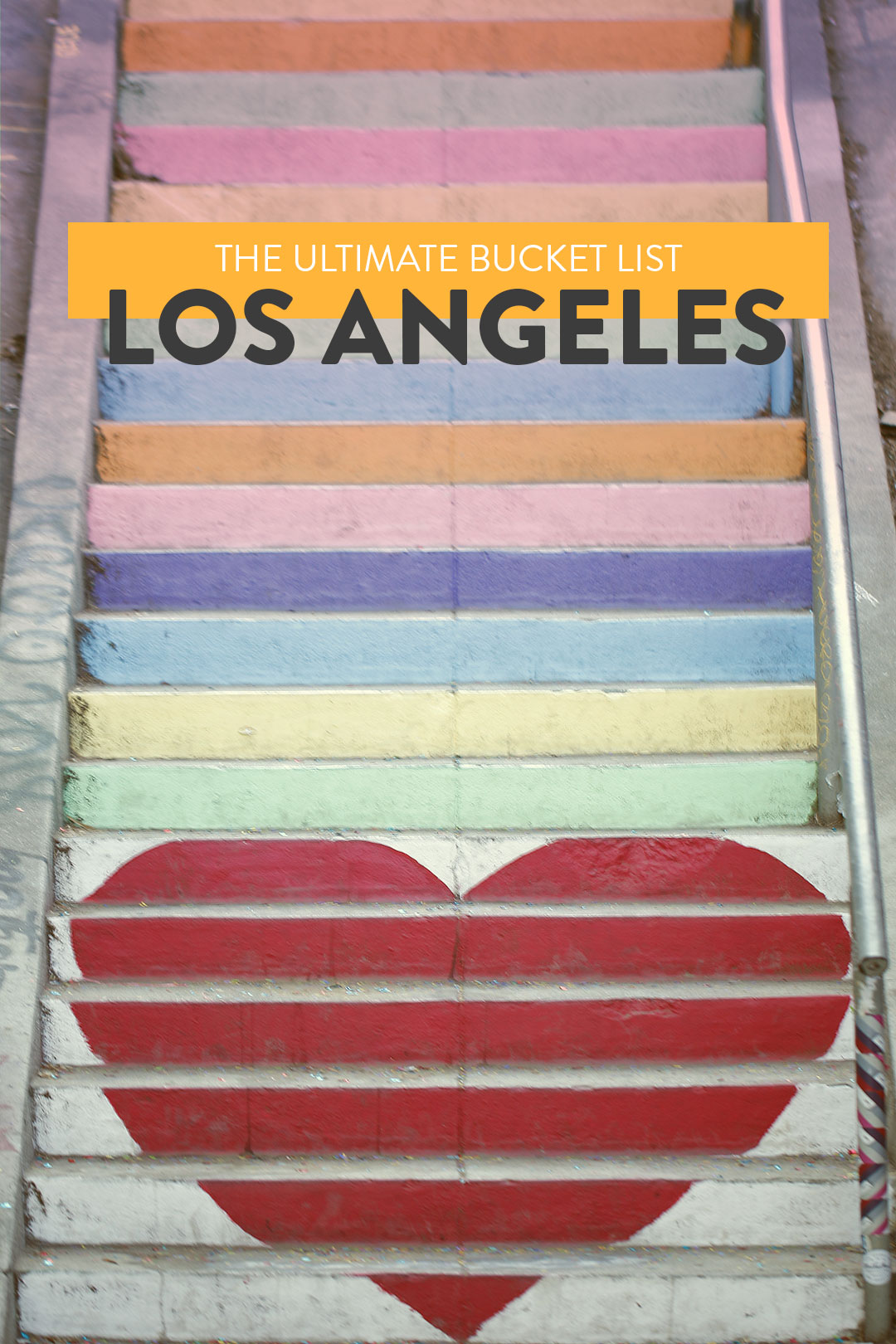 This post may contain affiliate links, where we receive a small commission on sales of the products that are linked at no additional cost to you. All opinions are always our own. Read our full disclosure for more info. Thank you for supporting the brands that make Local Adventurer possible.
Last Updated: September 1, 2023
Tourist Attractions
1.

Union Station
(DTLA) The largest railroad passenger terminal in the Western United States.
2.
(Griffith Park) Our favorite view in the city.
3.
(Anaheim) The O.G. of Disney theme parks.
4.

Studio Tour, Universal Studios Hollywood
(North Hollywood) Tour the iconic studio.
5.

Angel's Flight Railway
(DTLA) The world's shortest railway!
6.
(San Pedro) Allow yourself at least 2-3 hours for the round-trip hike. Lake Hollywood Park gives you the best view without hiking)
7.

Hollywood Walk of Fame
(Hollywood) Take a pic with your favorite celebrity's sidewalk star.
8.

MULHOLLAND Drive
This is the road that was made famous by several movies.
9.
(Pomona) Various competitions (culinary, DIY, etc) and classic fair rides.
10.

Six Flag Magic Mountains
(Valencia) Pulse-pounding thrill rides. We've heard the X2 rollercoaster is crazy scary.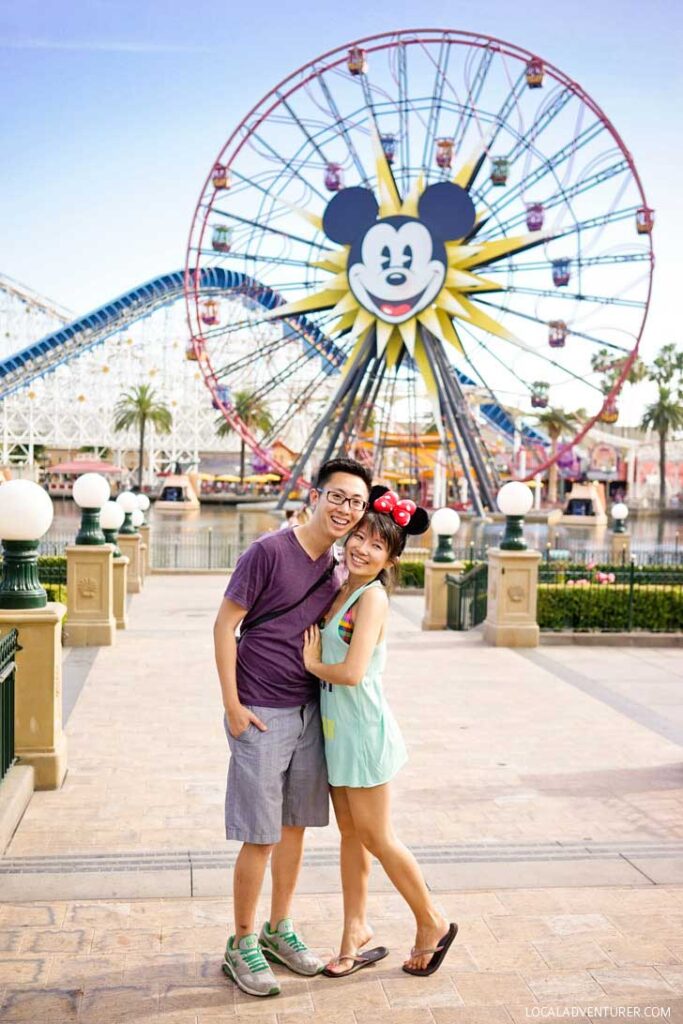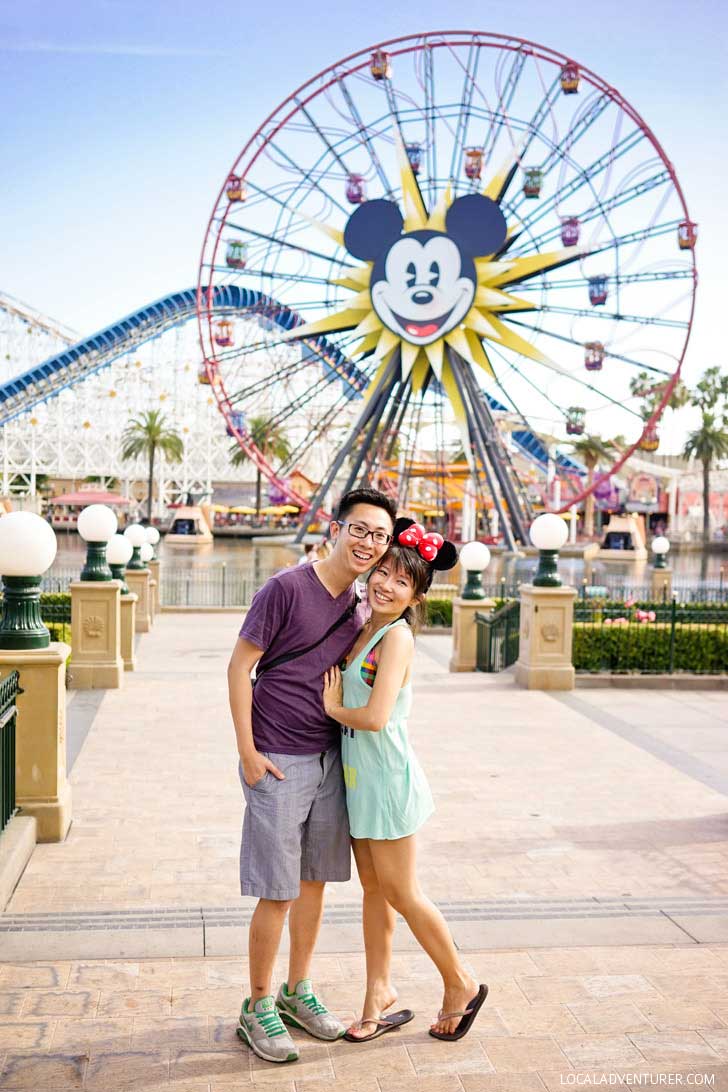 11.

The Queen Mary
(Long Beach) 1930's ocean liner turned hotel and tourist attraction.
12.

LA City Hall Observation Deck
(DTLA) Beautiful 27th-floor observation deck.
13.

Paramount Studio Tour
(Hollywood) Go on a studio tour!
14.

Hollywood Bowl Overlook aka Jerome C. Daniel Overlook
(Hollywood Hills) Great view of the iconic venue.
15.

Baldwin Hills Scenic Overlook
(Culver City) Breathtaking views.
16.

Warner Bros Studio Tour
(Burbank) Get a behind-the-scenes look at one of the oldest film studios.
17.

Chateau Marmont Hotel
(Hollywood Hills) Popular amongst celebrities. Modeled loosely after the Château d'Amboise in France's Loire Valley
18.

Universal Studios Hollywood / Universal City
Allow at least 30 minutes for parking and security.
Museums
19.

The Getty Center
(Westside) Admission is always free, but parking isn't. Be sure to check out the view from the gardens.
20.

Getty Villa
(Pacific Palisades) Over 44,000 Greek, Roman, and Etruscan antiquities to check out.
22.

Los Angeles County Museum of Art / LACMA
(Mid-Wilshire) This is where you'll find the Instagram-popular "Urban Light."
23.

DTLA Art Walk
(DTLA) Take a guided walking art tour of galleries and exhibits.
24.

Santa Monica Camera Obscura
(Santa Monica) Take a guided walking art tour of galleries and exhibits.
25.

Bergamot Station Arts Center
(Santa Monica) Served as a railroad station for the Los Angeles and Independence Railroad. Free parking and free admission.
26.
(Santa Clarita) Home to more than 40 highly endangered gibbon apes.
27.

Wildlife Learning Center
(Sylmar) Small animal center, great for young kids and families.
28.

Museum of Jurassic Technology
(Culver City) We loved the micro mosaics and 3D x-rays.
29.

Watts Towers Arts Center
(Watts) Public art sculpture that is a California Historical Landmark and a National Historic Landmark.
30.

Aquarium of the Pacific
(Long Beach) Check out one of their VIP animal encounters.
31.

Grammy Museum of LA Live
(Santa Monica) Full of music history, hands-on and interactive exhibits. You can even record your own tracks.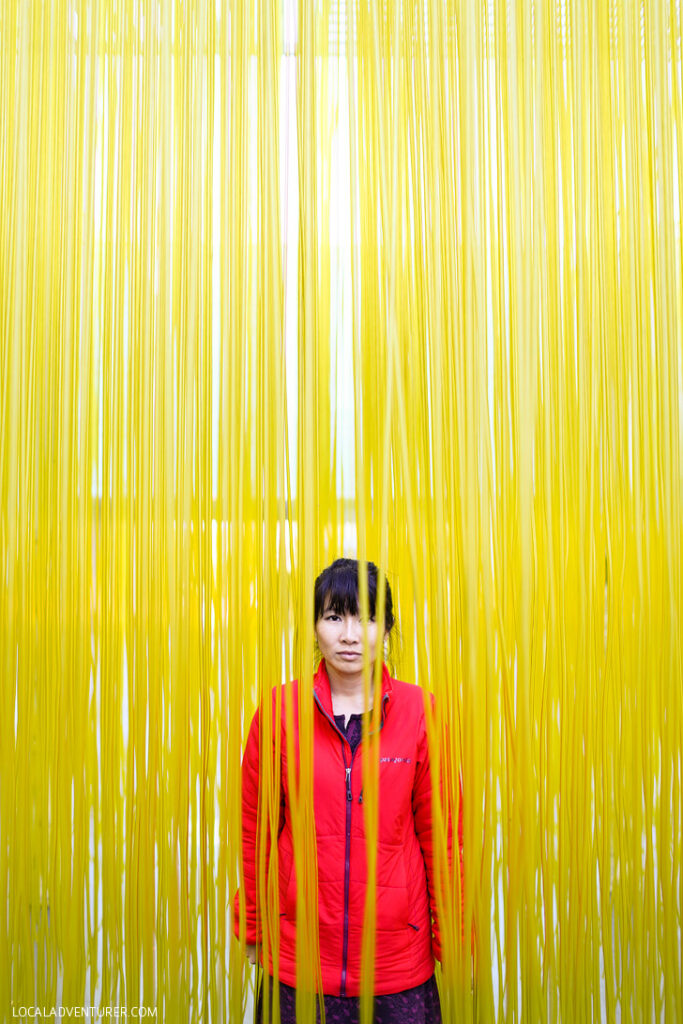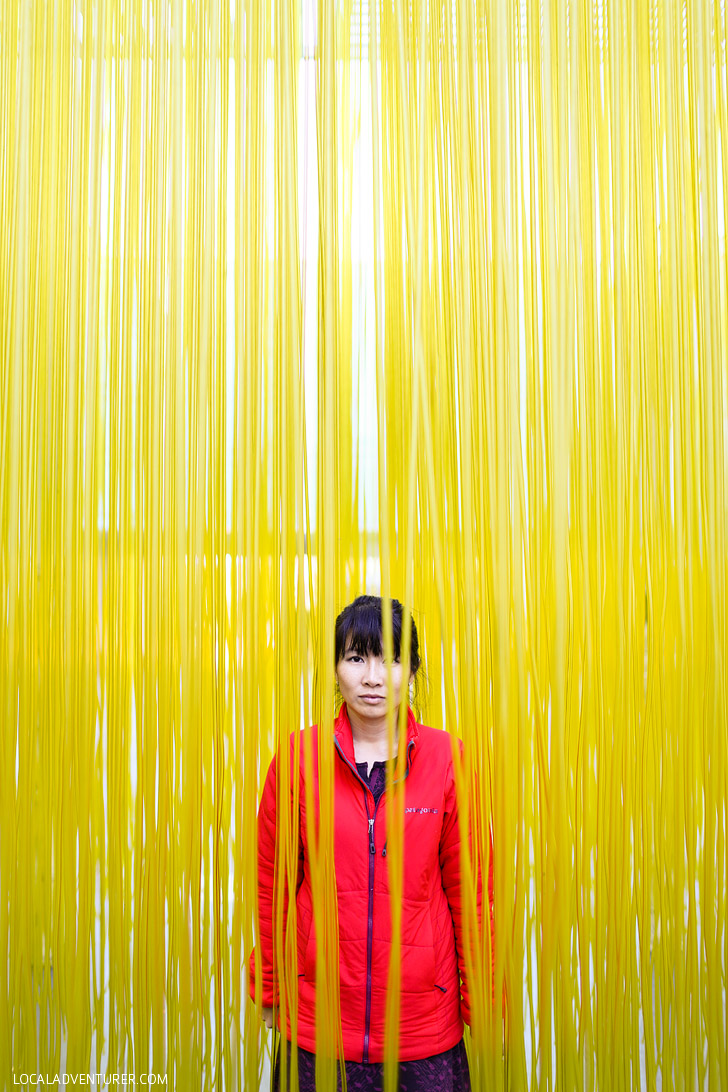 32.

Madame Tussauds Hollywood
(Hollywood) Meet some famous celebrities in wax form.
33.

La Brea Tar Pits aka Page Museum
(Mid-Wilshire) Faux mammoths trapped in tar pits.
34.

Korean Friendship Bell
(San Pedro) Huge bronze bell housed in a stone pavilion.
35.

Natural History Museum of Los Angeles
(Exposition Park) Largest historical museum in the western US.
36.

Carolwood Barn
(Griffith Park) Model train museum with memorabilia from Walt Disney's life.
37.

Night Gallery
(DTLA) We love their unique art expos and events.
38.

The Broad
(DTLA) Contemporary art museum.
39.

California Science Center
(Exposition Park) The West Coast's largest hands-on science center.
40.

Museum of Neon Art
(Glendale) Dedicated tot he preservation, collection, and interpretation of neon art.
41.

Petersen Automotive Museum
(Mid-Wilshire) One of the world's largest automotive museums.
42.

Academy Museum of Motion Pictures
(Miracle Mile) Learn more about the history, science, and culutral impact of the film industry.
43.

MOCA Museum of Contemporary Art
(DTLA) Only artist-founded museum in LA.
44.

Bates Motel by Vincent Lamouroux Projection at Sunset Pacific Motel
(Silver Lake) Quick stop to check out the exterior.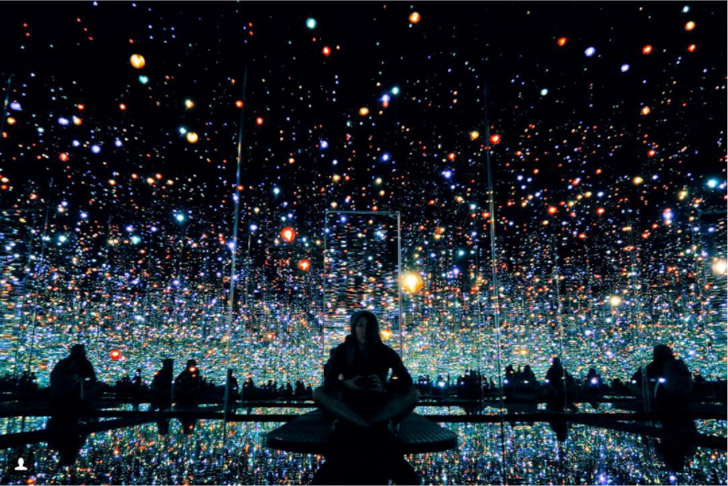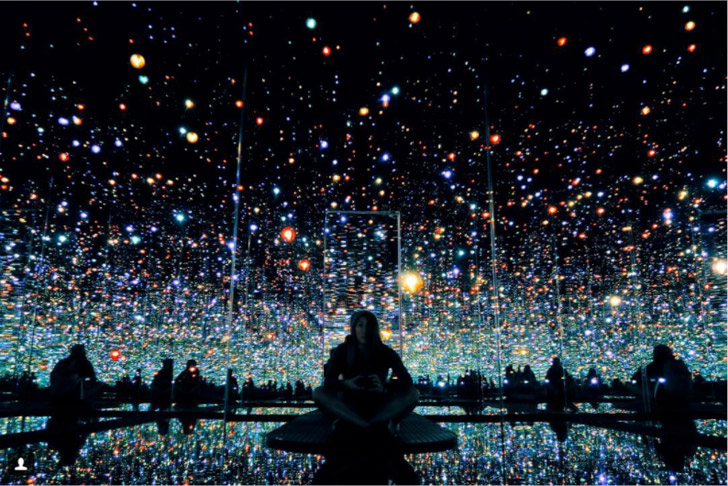 Shows + Entertainment
45.

Show Taping
Check out any of the talk show's live tapings.
46.

Magic Castle
(Hollywood Hills) You need a magician friend to invite you.
47.

Grauman's Chinese Theatre
(Hollywood) World heritage site.
48.

El Capitan Theater
(Hollywood) The venue for a majority of the Walt Disney Studios' film premieres.
49.

Hollywood Bowl
(Hollywood) Also a public park when there are no performance (usually Winter and Spring).
50.

Upright CItizens Brigade Theatre
Alternative comedy troupe founded by Amy Poehler and other comedians.
51.

Hollywood Forever Cemetery
(Hollywood) Lots of community events, live music and summer movie screenings.
52.

Crypto Arena (Formerly Staples Center)
(DTLA) For a Lakers Game.
53.

Dodger Stadium
(Elysian Park) Also home to baseball competition of the 1984 Summer Olympic Games.
54.

The Room at the Landmark Westwood
(Westwood) Tommy Wiseau shows up in person from time to time. Don't forget your plastic spoons.
55.

Vineland Drive-In Theater
(City of Industry) Old school drive-in with concessions. Perfect for a date night!
56.

Whisky a Go Go
(West Hollywood) Vibrant nightspot with live rock bands and other musical performances.
57.

Bob Baker's Marionette Theater
(Highland Park) The oldest children's theater company in LA.
58.

Walt Disney Concert Hall
(DTLA) Even the exterior is amazing!
59.

Lucha Vavoom Burlesque Show
(DTLA) Lucha libre meets burlesque.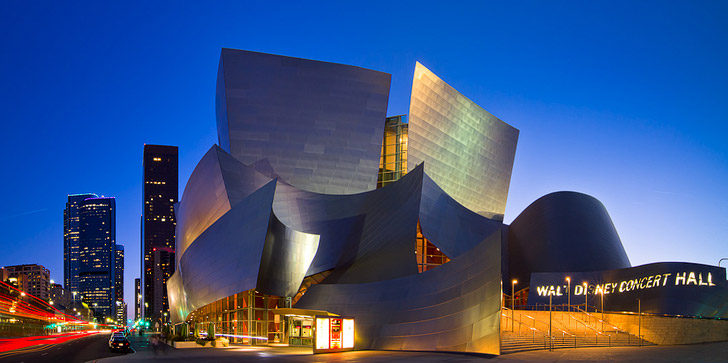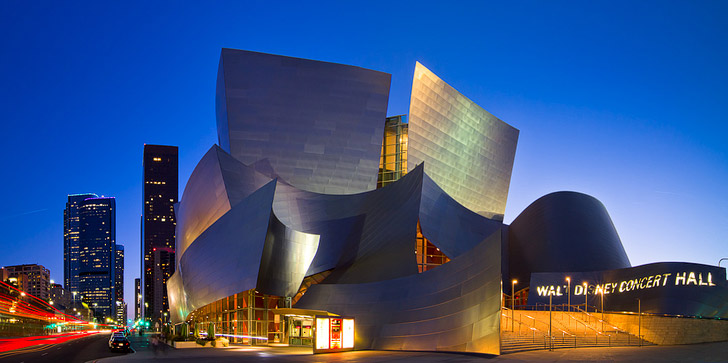 Outdoors + Beaches
60.
(Malibu) Dog friendly, tons of tide pools that kids really enjoy.
61.

Redondo Beach
(Redondo Beach) Grab seafood and take a seaside walk.
62.
(Malibu) Beautiful white sand and very few rocks.
63.

Eaton Canyon Trail, Eaton Canyon Natural Area Park
(Pasadena) 40 ft. waterfall and views of the San Gabriel mountains and Santa Monica mountains.
64.
(Malibu) Overwhelmingly beautiful ocean views.
65.
Moderate hike to see hidden green plants against a small creek and a walkable makeshift bridge.
66.

Sunken City
(San Pedro) Aka the "Atlantis of California"
67.

Venice Beach
(Venice) Outdoor skate park, BoHo boutiques, and trendy restaurants.
68.

Venice Canal Historic District
(Venice) Man-made canals built in 1905 by developer Abbot Kinney.
69.
(Hollywood Hills) Avoid going in the afternoon, as there is no shade to shield you from the sun.
70.
(Griffith Park) Free to visit, you can even picnic up there.
71.
(West Hills) Short hike to the caves, be cautious of some steeper parts and prickly plants.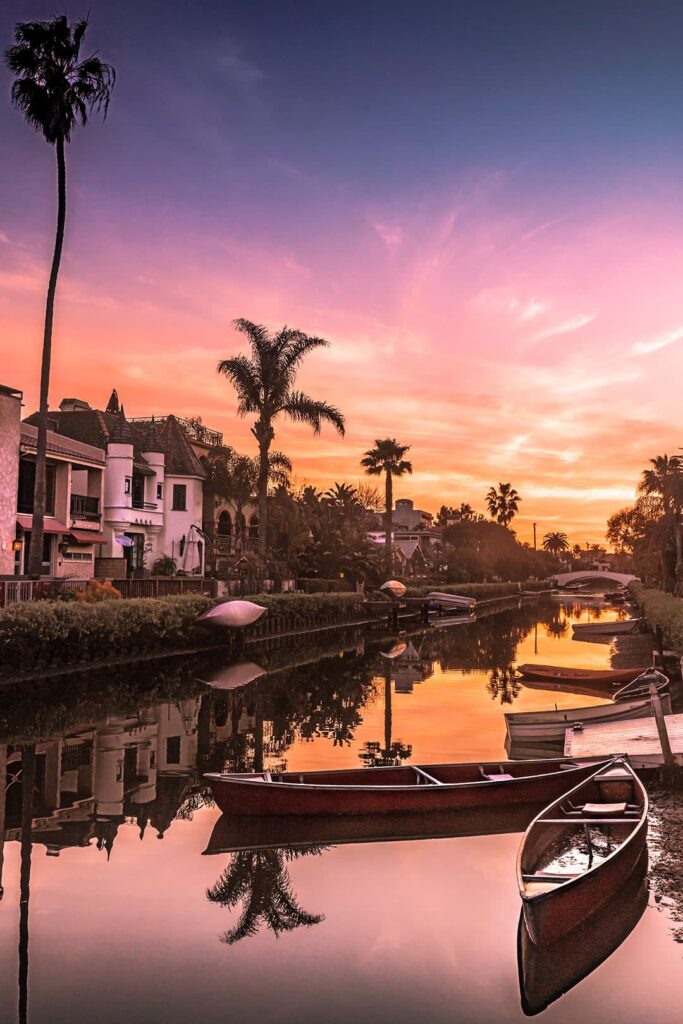 72.

Silver Lake Meadow
(Silver Lake) Come for a peaceful stroll or a picnic in the meadow.
73.

Hermosa Beach
(Hermosa Beach) Clean pier, limited fishing allowed. Great neighborhood bars.
74.

Descanso Gardens
(Pasadena) Admission is free every third Tuesday of the month.
75.

El Matador State Beach
(Malibu) Beautiful beach with stunning formations.
76.

Point Vincente Lighthouse
(Rancho Palos Verdes) Historic lighthouse, not open to the public, but can be seen from shore.
77.

Exposition Park Rose Garden
(Exposition Park) 7-acre sunken garden that is known as one of the city's best-kept secrets.
78.

Echo Park Lake
(Echo Park) Rent a paddle boat.
79.

Pacific Park, Santa Monica Pier
80.

South Coast Botanic Garden
(Palos Verdes) Every third Sunday of the month you can bring your pets.
81.

Bike the Strand
22-mile bike bath that follows the coastline. Pedestiran-friendly spots can be found in Santa Monica, Venice, and Manhattan Beach.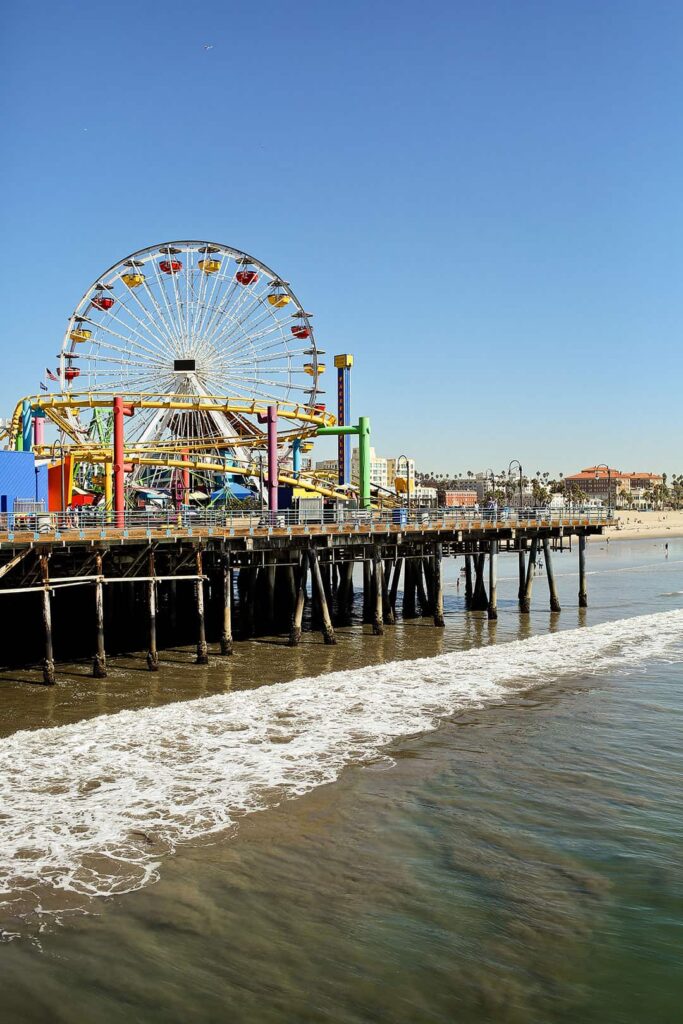 Shopping + Food
83.

Farmers Market DTLA
(DTLA) Fresh fruits and vegetable and healthy prepared foods in a historic marketplace.
84.

Grand Central Market
(DTLA) Been in operation since 1917. Tons of food stalls and delis.
85.
(DTLA) Check out their amazing tunnel of books.
86.

Book Soup
(West Hollywood) Featuring over 60,000 books, author and celebrity events in a small storefront on Sunset Strip.
87.

The Grove
Tons of stores, dinings, and pop up shops.
88.

Rodeo Drive
(Beverly Hills) Did you know that a lot of designer stores have personal VIP rooms in the back where they bring you all the clothes? The Dior one is amazing! They wouldn't tell me the minimum you need to spend to shop back there, but we're guessing it's 100k+.
89.

Millennium Biltmore REndezvous Court
(DTLA) Afternoon tea is offered Saturdays and Sundays. Call ahead for reservations.
90.
(Pasadena) Stunning building with great restaurants. The Royce was delicious!
91.

Amoeba Music
(Hollywood) Largest Independent Record Store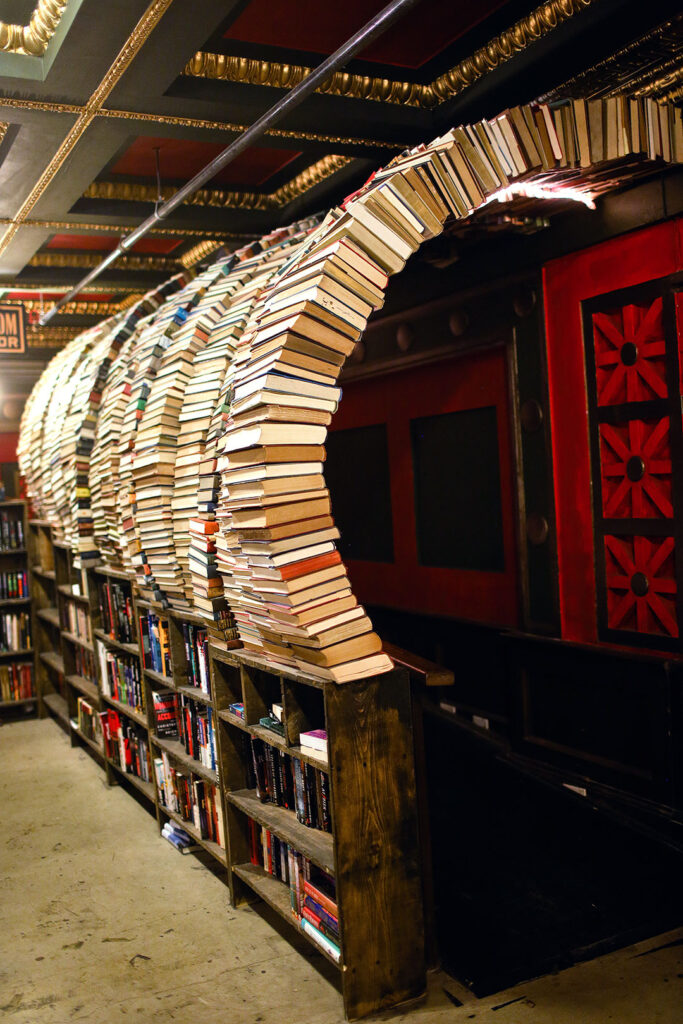 92.
(Fairfax) Sunday open-air market where you'll find antiques, vintage goods, and collectibles.
93.

Rose Bowl Flea Market
(Pasadena) Second Sunday of every month.
94.

Wacko Soap Plant
(Los Feliz) Art space, gift shop, and other interesting goods.
95.

Brennan's
(Marina Del Ray) Turtle races on Thursdays.
96.

Original In-n-Out Replica
(Baldwin Park) Check out a replica of what started In-n-out.
97.

Yamashiro
(Hollywood) Popular filming site where you can dine.
98.

Citizen Public Market
(Culver City) Food hall with great bites.
99.

Third Street Promenade
100.

Smorgasburg
(DTLA) Huge open-air food market.
101.

Randy's Donuts
(Inglewood) The big donut is iconic.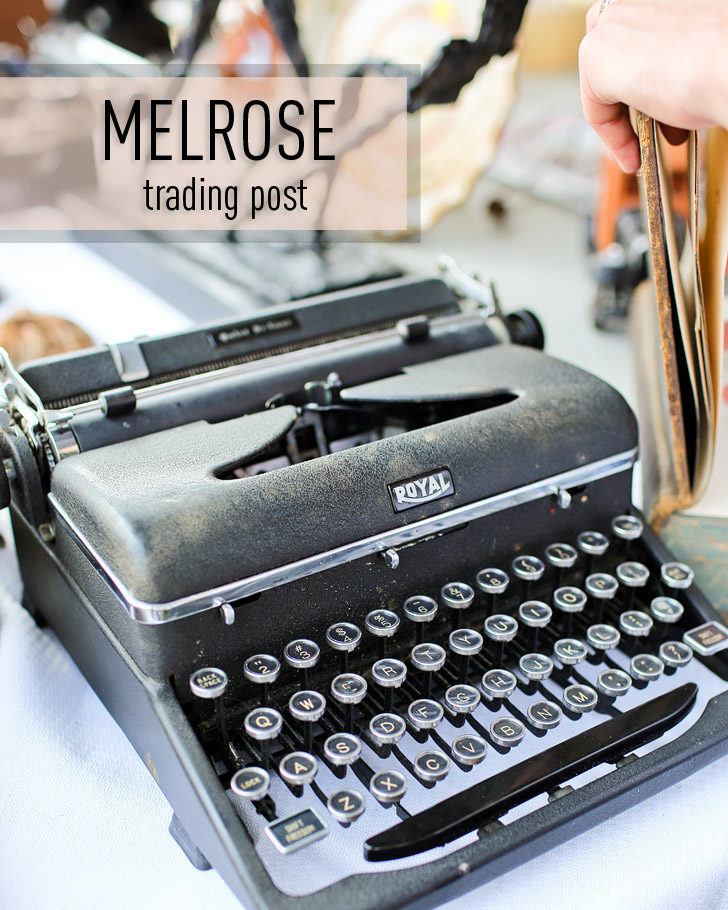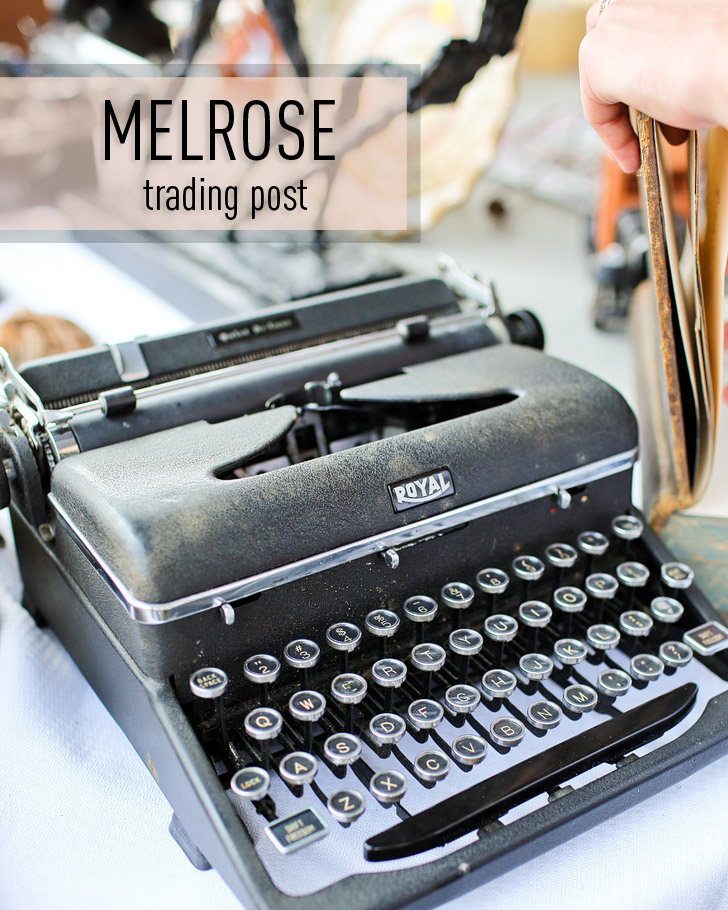 Map for the Ultimate Los Angeles Bucket List
Best Places to Stay in Los Angeles
What's the first thing you would do if you visited LA? Anything I'm missing on this list?
Did you enjoy this post? Pin it for later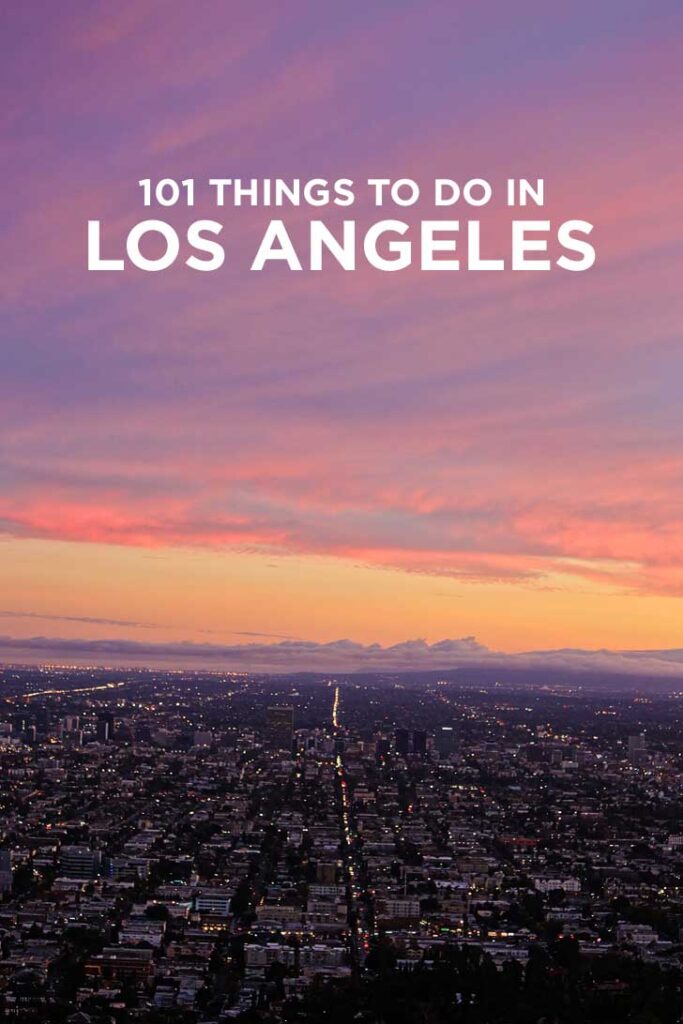 SEE More CITY Bucket Lists
⟡⟡⟡⟡⟡
"Discovery consists not of seeking new lands but in seeing with new eyes" – M. Proust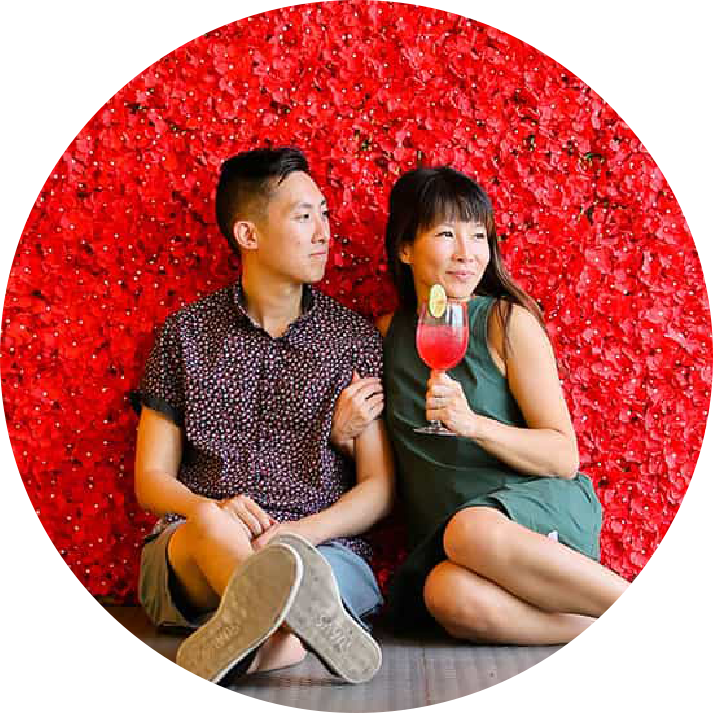 Esther + Jacob
Esther and Jacob are the founders of Local Adventurer, one of the top 5 travel blogs in the US. They believe that adventure can be found near and far and hope to inspire others to explore locally. They explore a new city in depth every year and currently base themselves in Las Vegas.
Follow on Instagram (E + J), YouTube, TikTok, and Pinterest.